Isle of Wight Trip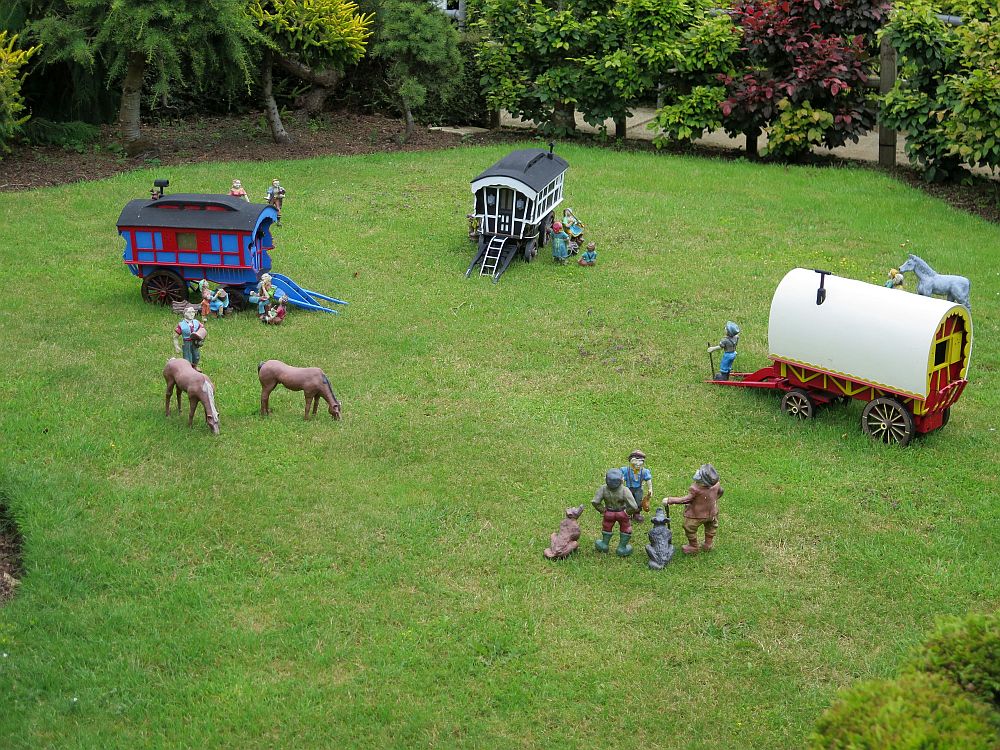 Friday 9th July. Since 2019 this will be our first multisite trip. Today we are heading for the CMC Centenary Site at Bransgore in the New Forest. We needed fuel so a quick stop at Tesco in Buckingham, which was en route. Interesting to note that prices have increased by 10p a litre in two months! Perhaps one of the penalties of travelling on a Friday is that traffic can be heavy and that was certainly the case from Bicester south. Not stand still, except for a few areas, but heavy nonetheless. We made our usual stop at Sutton Scotney for a lunch stop. M3 and part of the M27 quite slow. We had to override the sat nav to avoid being taken around the houses and taken down narrow roads so against my better judgement I decided to go via Lyndhurst which is renowned for traffic queues. There was a queue but not that long and the delay was quite short. Another eight miles and we arrived at the site.
The CMC Centenary Site at Bransgore in the New Forest is a large site, 275 pitches! Disappointing that less than half the pitches are hardstandings which meant we ended up on a grass pitch. Fortunately, it seemed quite firm. Interesting site, very large with not a lot of character. I suspect a destination for those that want to stay a couple of weeks rather than a couple of days?
As the site name suggests it was opened to celebrate the centenary of the Caravan Club, now the Caravan and Motorhome Club. To mark this anniversary the site has a Centenary Garden where you can escape the hustle and bustle of the site.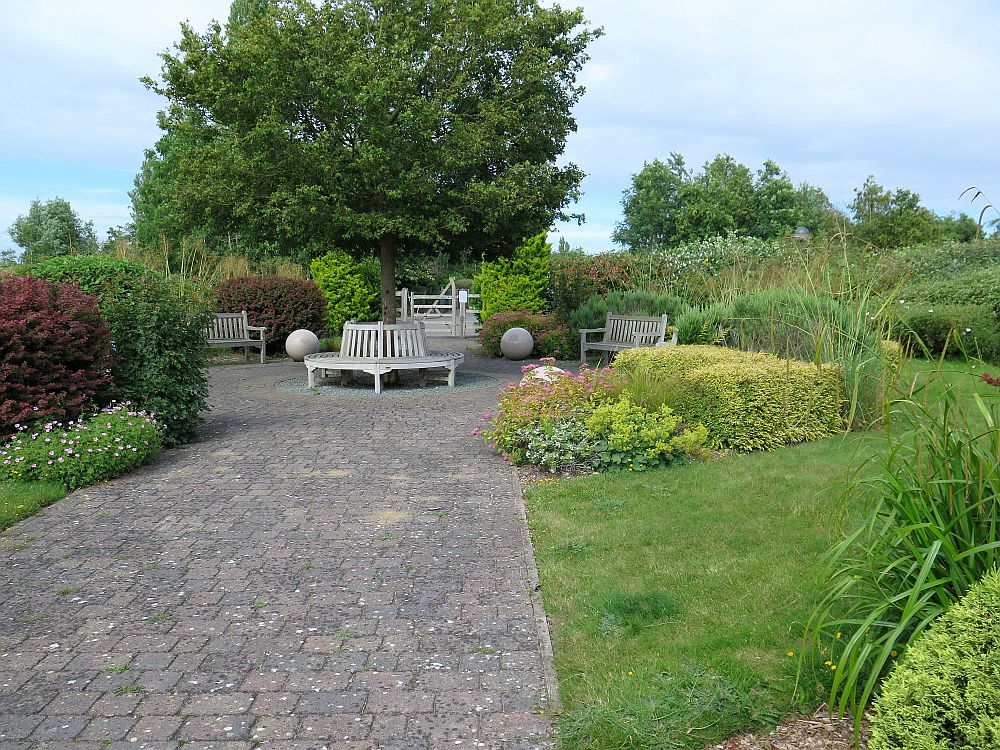 Saturday 10th July. Today we were being treated by my sister to celebrate her 70th birthday back in November 2020. Her and Neil had arranged to pick us up at the campsite. Although no visitors were allowed on site, I did clear it with the warden that they could come as far as reception. We were heading for a restaurant called Pebble on the Beach at Barton on Sea not that many miles from the campsite. This was the first time we had been to a restaurant since my sister in laws 80th birthday in January 2020! Whilst spacing had been meticulously worked out we were far closer to more people than we had been in all that time. The meal was very nice with good service and it was good to catch up in person. This is our last day in the New Forest before moving onto the IOW tomorrow.
Sunday 11th July. Our ferry to the IOW was due to depart at 11.00am from Lymington, so we were up fairly early. In fact, a bit too early as we had to wait around to make sure we didn't arrive too soon at the ferry terminal as we were once turned away at Southampton for doing that! Just as well we had a bit of time in hand as somehow, I had got the A35 mixed up with the A337. The built in sat nav was telling me to go one way but I was so fed up with it being wrong I ignored it!!! After a few false starts, including turning round in a pub carpark, we eventually found the right road. We got to the ferry departure point with plenty of time to spare and we were allotted the first place in one of the queuing lanes! Plenty of time for a coffee and to watch the incoming ferry unload. Some cars went on ahead of us as they were going on the higher deck but we were on pole position on the lower deck. The crossing is just over half an hour. The exit down the Lymington River is quite narrow and twisty and there was just about room for the incoming ferry to pass. Somehow, we managed to navigate our way across the Island to Newchurch where the Club site is situated.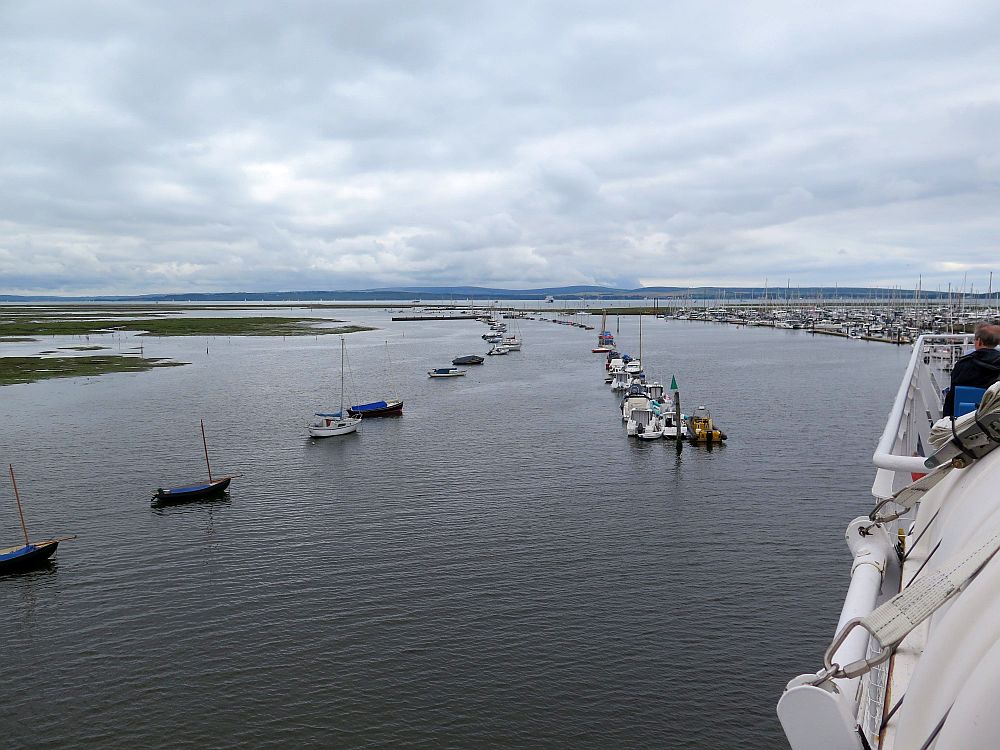 This was our first time using the Wightlink crossing to the Isle of Wight. Whilst it was interesting to use a different route, I think any future crossings will revert to the Southampton – East Cowes route. It is a bit longer but generally it is also cheaper. It is difficult to understand why ferry fares to the Island are so expensive, even more difficult to understand why the shorter routes are even more expensive!! You almost imagine the ticket clerks wearing balaclavas and a sawn-off shot gun by their side!!! About time for a Bridge or a Tunnel?
I knew that Southlands CMC Site had more grass pitches than hardstandings so wasn't hopeful that we would get one of the latter. Luckily there were still a handful of hardstandings available to choose from. We must have tried three or four to check for level just as Margaret was bagging our final choice, we seemed to have competition from a caravanner. Fortunately, they didn't seem too bothered so we set ourselves up. We obviously didn't upset them as not long after the lady from the couple came across and said they were going shopping and wondered if we needed anything, which was exceeding nice of her and the first time I can recall that happening.
Monday 12th July. The morning after the day before. Despite much anticipation the English Football Team failed in its bid to win its first major title since the World Cup in 1966. They came close, managing to get to the Finals of the Euro's. They were up against an Italian team of considerable renown. It all started well. Within two minutes England were ahead but then began a two-hour assault by the Italians which ended in a draw by extra time but ended in tears after a penalty shoot-out. Gareth Southgate has a young team excellently groomed for better things so who knows what will happen in the years to come?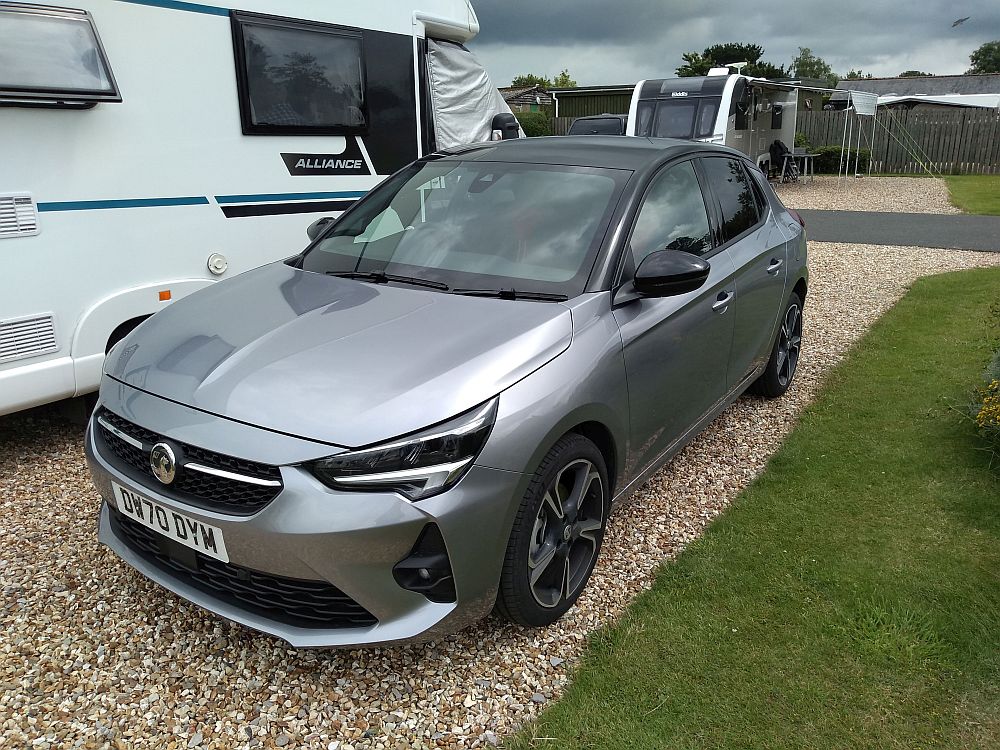 Putting the frustrations of the football behind us we had an important date today. For the first time we are hiring a car whilst away in the motorhome. We had arranged for Enterprise (they have a deal with the CMC) to pick us up at the campsite to collect the car from Newport. We hired a fairly new Vauxhall Corsa which whilst would not be a car I would buy it will do for our four-day hire period. Given that the Isle of Wight has a population of less than 150,000 there seems to be a lot of congestion on the Island! Fortunately, I knew some of the roads from previous visits so we headed for the Waitrose at East Cowes once we had extracted ourselves from the labyrinth that is Newport. We returned via Ryde and Sandown spotting some useful shopping locations en route. Weather thus far on this holiday has not been brilliant but not a complete washout.
Tuesday 13th July. At long last a day where we didn't have to get up early for something. Not that we stayed in bed to an unrespectable hour but it was more like normal! This is the first full day with the car to explore the Island. Our choice for today was Carisbrooke Castle which is quite near to Newport. Unfortunately, Newport is in a terrible state due to road works so trying to navigate your way around is troublesome. We eventually woke up our, now, ancient TomTom sat nav to rescue us from some large housing estate! We managed to find the Castle carpark and the machine seemed to suggest you could use cashless payment but this did not seem to be the case, luckily, I had some coins.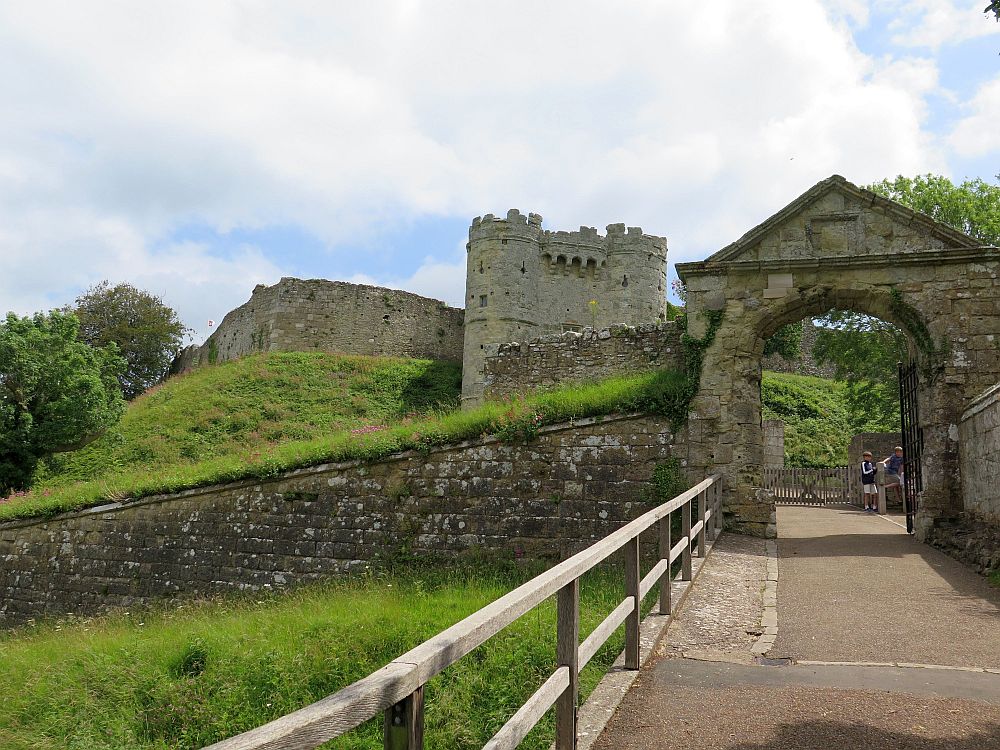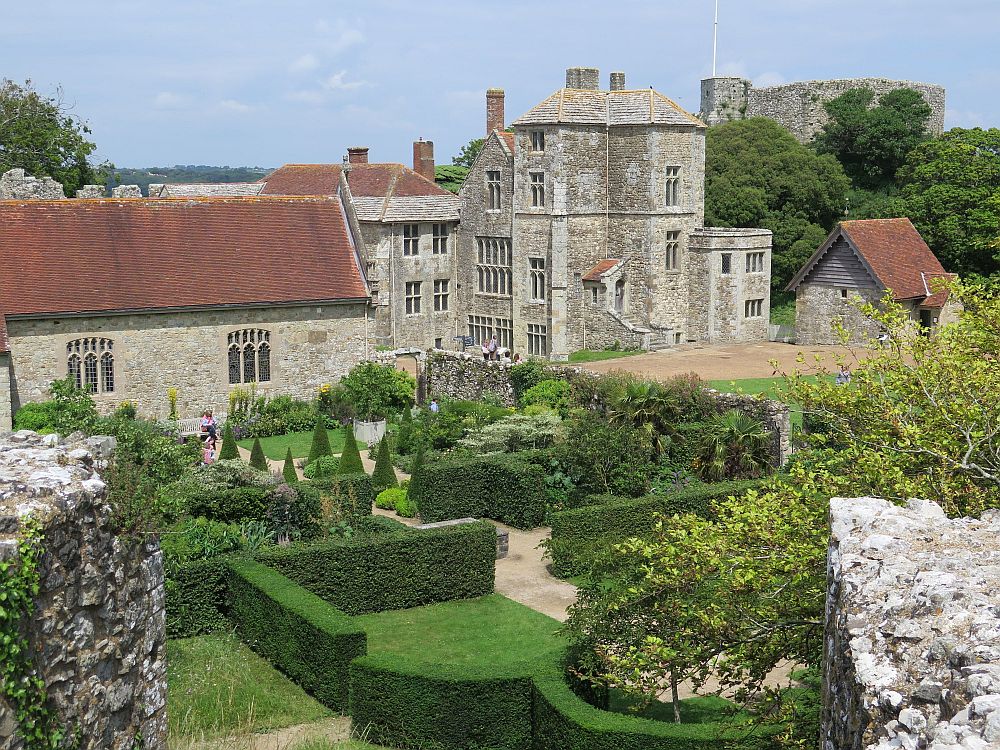 Given the strategic position of the location it is possible some form of fortification existed during pre-Roman times. But it seems that it was during the reign of Elizabeth 1st that serious work took place because of the threat of a Spanish invasion. As castles go it is in pretty good nick. You can walk round the walls. If the knees can stand the climb! You can also get up into the Keep but we called it a day once we had been around the walls. Carisbrooke Castle does have a café although under covid it is restricted to takeaway. We had a sandwich and a weak coffee! Ancient TomTom managed to get us out of Newport ( which is almost impossible to avoid going anywhere on the Island) and take us to a Morrisons which we discovered was fairly near the campsite.
Wednesday 14th July. Lovely and sunny today and getting hotter. The plan was to visit Shanklin and Ventnor and then the south/western side of the Island. Arrived in Shanklin and nowhere convenient to park but it looked lovely. Similar with Ventnor. Some of the roads up and down to the beach would put Alpe d'Huez to shame!!! Not only this but roadworks seem to be everywhere, peak holiday season as well!! Thinking we would be due for more of the same we changed plans and diverted to Godshill. A decent cup of coffee this time! Just across the road is the famous Model Village which is quite fun to look round and doesn't cost an arm and a leg. Apparently, it was set up in 1952 and based on the real Godshill, there is even a model within a model. On the way back we stopped at Arreton Barns which is a collection of arty, crafty outlets and a pub. Not really our sort thing.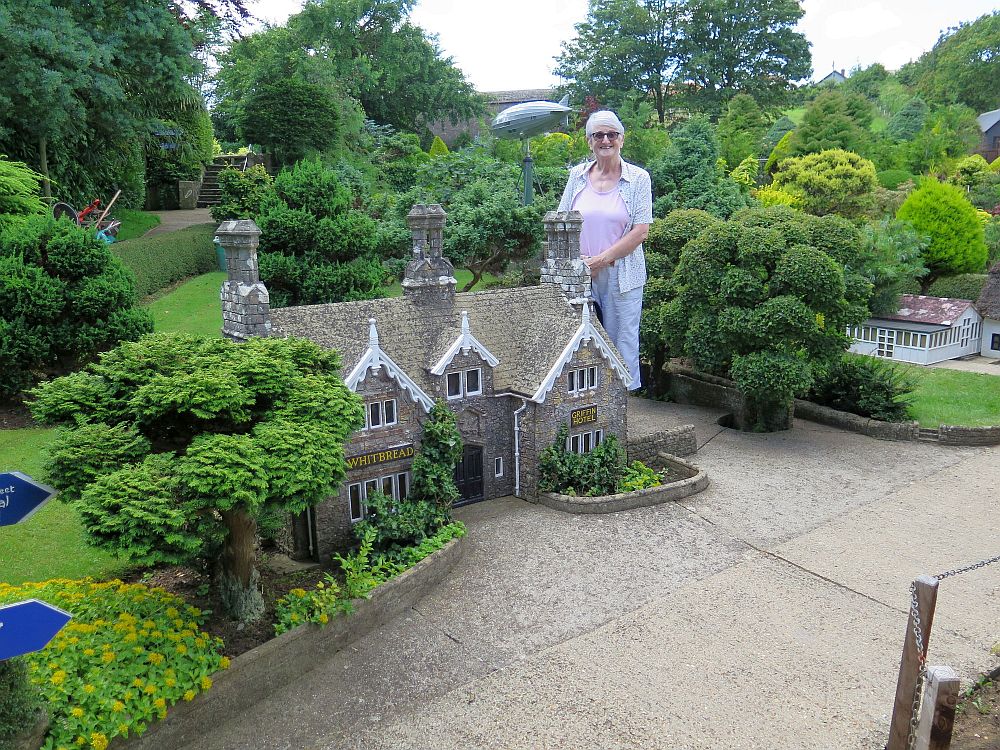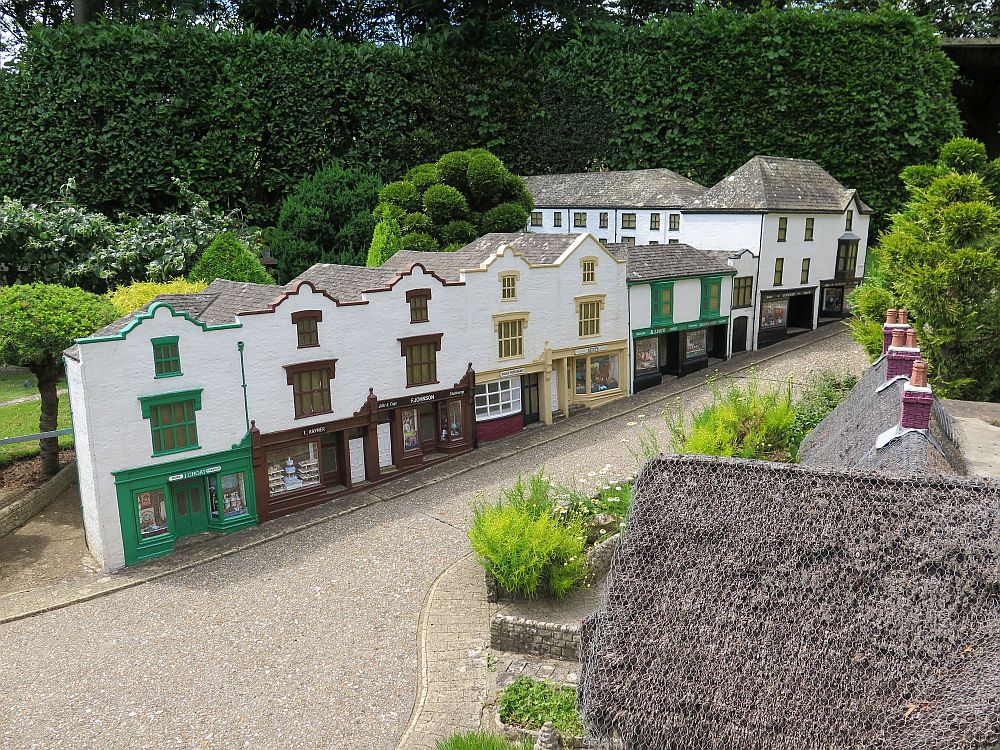 Driving around the Island I noticed that Hydrangeas seem to thrive here. They appear in gardens everywhere. Even on the campsite there are a couple of really good examples. They seem to tend towards the blue/lilac/purple colouring. I don't know if it is an old wives' tale but I have heard that the minerals in the soil can affect the colour. I have a couple at home, in pots, but they tend towards the white/pink spectrum.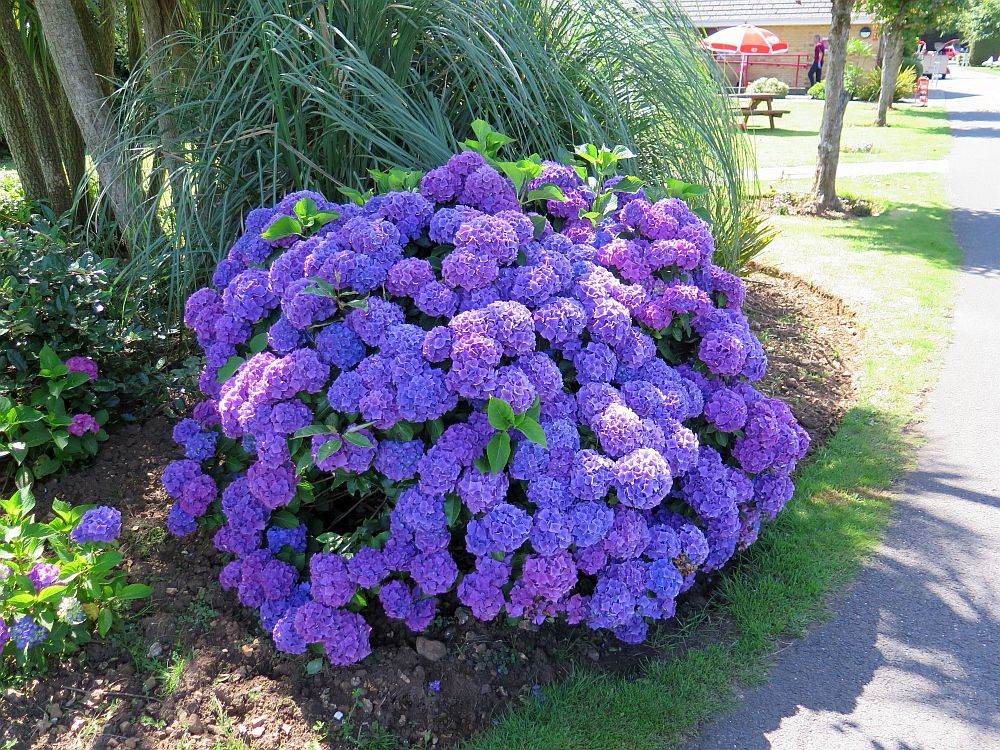 Thursday 15th July. Our last full day with the car so we thought we would drive out to the east of the Island. First, we had to fill up with fuel so we stopped at the Morrisons not far from the site. The condition of hire is that you return the car with the same amount of petrol as you started with, in our case three quarters full. Thus far we have driven about 80 miles so it has not gone down that far but I decided to top it up to full. 22 litres when the tank was more than half full, how big is the tank!!! Full of confidence that we would meet our contractual requirements, we set off for Bembridge. We even managed to find somewhere to park but other than a view of Bembridge Life Boat Station and the beach there did not seem much there. Although the day started nice and bright it was now dull but still warm. Did we want to return to the van or continue to Ryde. As we had already been to the latter on a different holiday, we made our way back but called into the supermarket to stock up for our final few days of our holiday.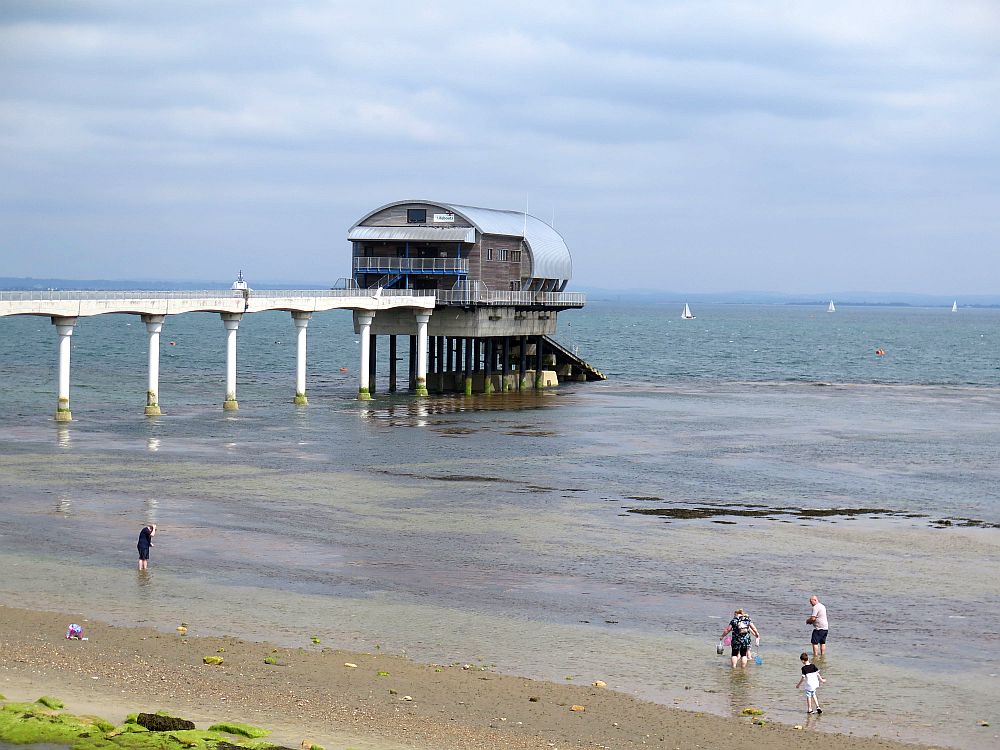 Pros and cons of car hire. As a motorhomer you either take the van off site or you make use of other options like public transport. Others will chime in and say what about bikes but our view is that we are getting too old for that to be a worthwhile option. Having seen the roads and the lack of options, in certain places, to park a motorhome, we decided that the IOW would be the ideal spot to hire a car to get around. Our four days has cost in the region of £200, so not the cheapest option by any means. The hire company pick you up from the campsite and do the opposite when you return the car so all very well organised. The arrangement with the CMC and Enterprise gets you a small discount. The car gives you the freedom to decide your own timetable so there are a lot of pluses. In the past we have been spoilt by using public transport which drops you off in the middle of everything so no need to worry about parking. One thing I regret is not doing more research beforehand on the parking options because I think we have lost out a bit by not knowing where easy and available parking was. Two of the places we visited, Carisbrooke Castle and Godshill both had good parking. Unfortunately, the seaside towns did not. Would we hire a car again? Wouldn't rule it out but would balance the options more carefully. If we found a campsite on the IOW with a good bus service from near its entrance, I think that would have been a better option. Still looking for that site!!!
Friday 16th July. A lovely hot and sunny day today, in such a contrast to the terrible and tragic weather they are having in Germany and surrounding countries. We returned the hire car to Enterprise in Newport today. The old TomTom helped us find the location but not without going around the houses a few times!!! Perhaps time to invest in a new sat nav? We were a bit early so had to hang around a bit before our lift was ready. Interesting young lad who drove us back. He had finished his degree but decided to stay on the Island, at least in the short term. We explained how busy we were finding everywhere and he said that the Island is a lot busier than normal for obvious reason. They even have difficulties getting additional cars across from the mainland because of how busy the ferries are. We covered a lot on the eight miles journey back to the campsite! He mentioned that during COVID the Islanders were very opposed to visitors but it seems this position persists whether there is a medical emergency or not. It seems that many Islanders want to keep things as they are and the thought that I suggested of a bridge he felt would go down like a lead balloon!!! Currently the Island only has one Member of Parliament but because of the population it really should have a second seat which depending on who got elected could liven things up a bit!!!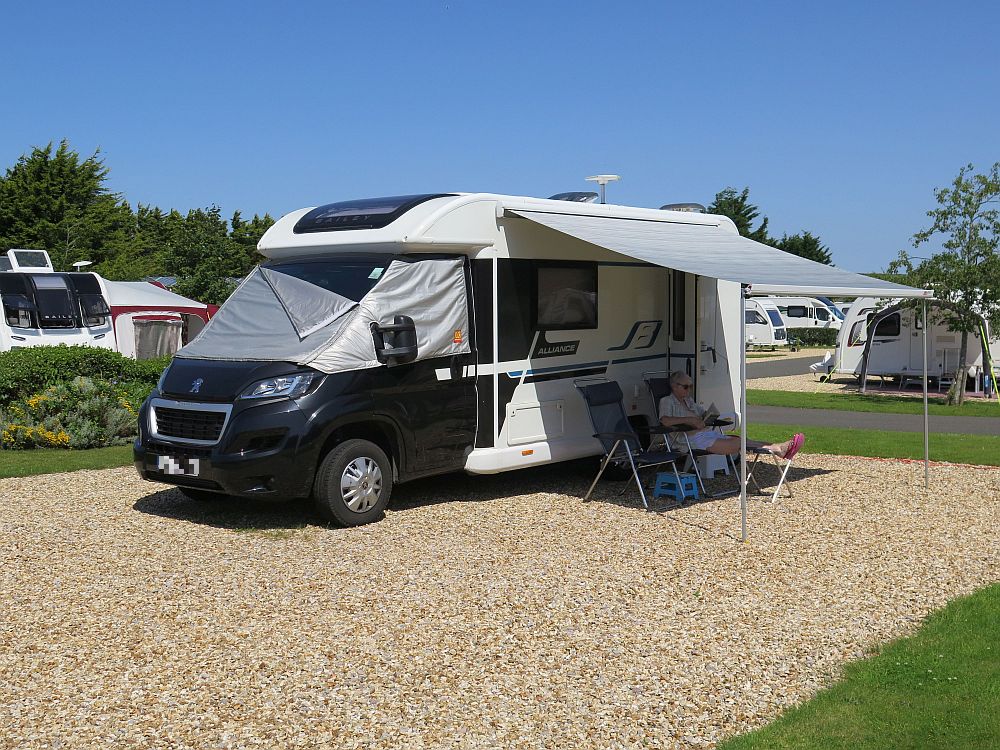 Saturday 17th July. Our last full day on the IOW and a pretty lazy one at that. It has been very hot and sunny. Two of our neighbours departed today. They were soon replaced. Unfortunately, the motorhome that parked next to us decided to pitch nose in which meant (being a UK side door) that when they sat right opposite us so we had no privacy. I appreciate that they may have wanted to face the sun but surprised they were selfish enough to do that without due regard? In the afternoon we watched the new qualifying system for the Sunday Silverstone GP. To liven things up they have decided that qualifying is on the Friday and then teams have a second bite of the cherry by taking part in a sprint race on the Saturday which decides the final positions for the GP proper on Sunday. There are a few more points available but only for the top three places. As it happens Lewis was on poll after the Friday qualifying and Max, second. For the Sprint race Max out dragged Lewis to the first corner and won the three points and is now on poll for the race. All a bit off but no doubt something we will have to get used to?
Sunday 18th July. A day of many journey segments! It was also very hot today. We left Southlands at around 10.20am, our ferry was at 12.05pm so we didn't want to arrive too early. We arrived just before midday to find the previous ferry had already left so we got in the queue of motorhomes and caravans. Even on deck there was little rest bite from the heat even with a pleasant Solent breeze. Once ashore we had to find our way out of Lymington as we were going by a different route from our journey here. We found the road to Brockenhurst and Lyndhurst and onward to the M27. Edging through Brockenhurst my nearside wing mirror clipped something, probably a parked car, but it was impossible to stop. Looking at the mirror a while later there seemed no massive damage so hopefully the same can be said of the vehicle I hit?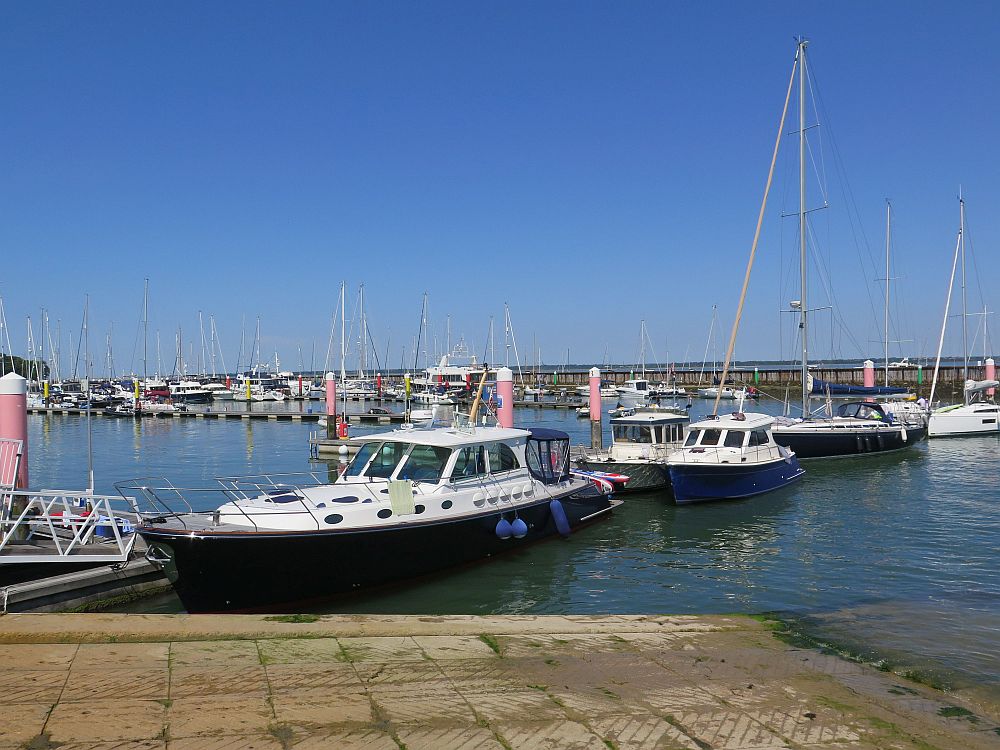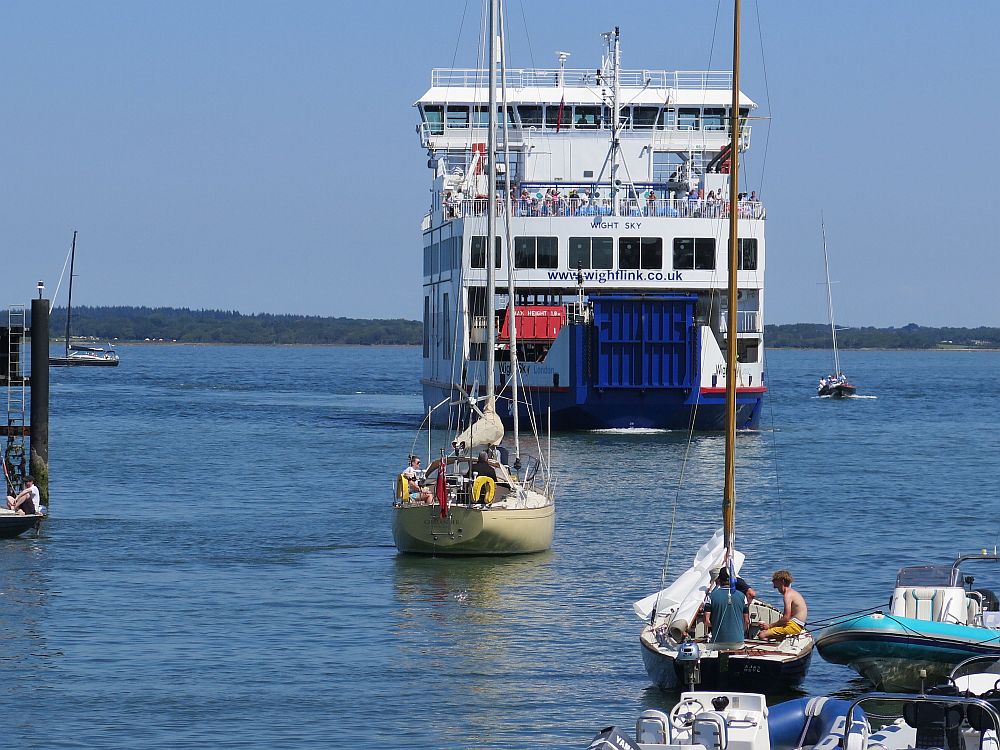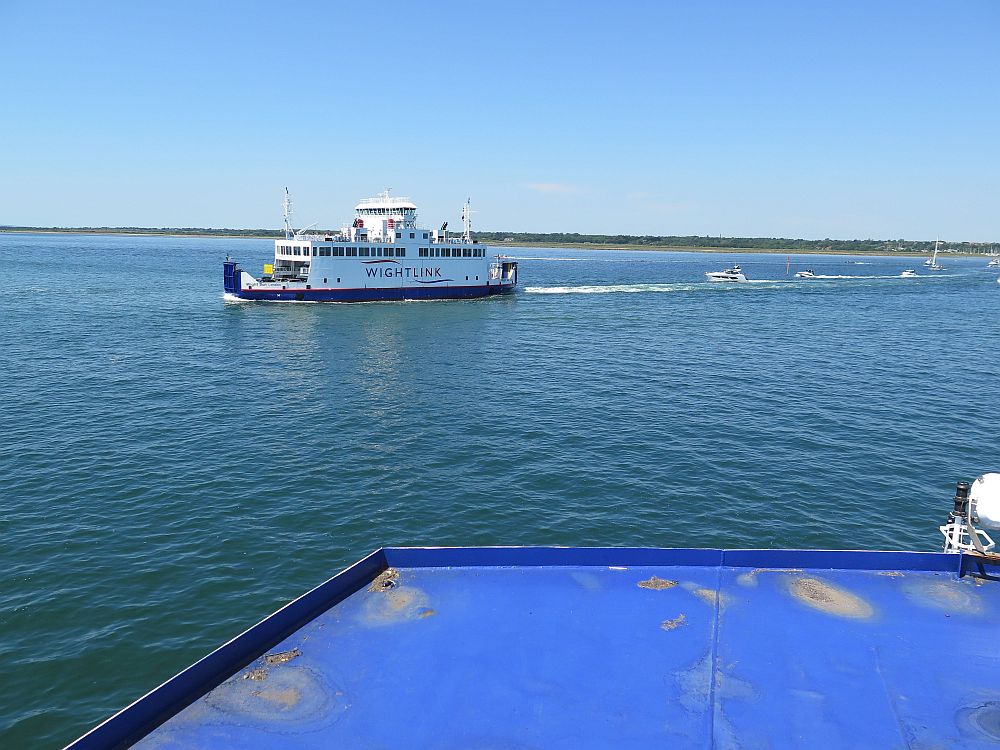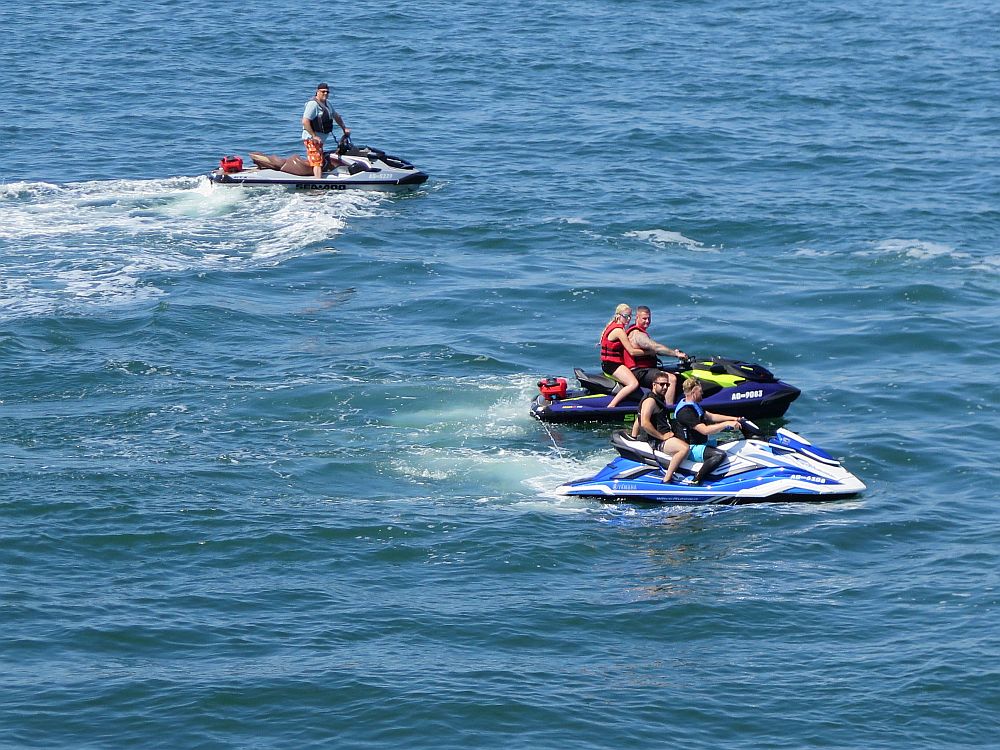 The queue coming into Lyndhurst from the motorway was massive, so glad we were going the other way! A short stop at Rownhams Services which was absolutely crowded. The final part of the journey was to a site near Stockbridge. This site is not open to the public but is part of a large farming estate owned by our former employer. There are holiday lodges and ready erected tents plus a camping site. The access road was a bit hairy, nearly two miles of one-way road although there did seem to be a few passing places, we were lucky in that we didn't have to put it to the test!
Monday 19th July. Still very hot and difficult to sleep with daytime temperatures of around 30 degrees which does not offer much chance of cooling down overnight. Most of the time we have been managing with the MaxxAir which has been very good but even that has its limitations as the only two options are to extract air or draw air in and if both sets of air are hot you get my drift!!! We do have an additional small tower fan which we also bring into operation on really hot days. Pretty lazy day here today, mainly watching other campers dismantle their tents and new ones set up! The trouble with nice weather is that everyone wants to BBQ and with very little wind the stench of smoke gets everywhere. The site does have a restaurant which last night we used for a takeaway and tonight as a sit in restaurant.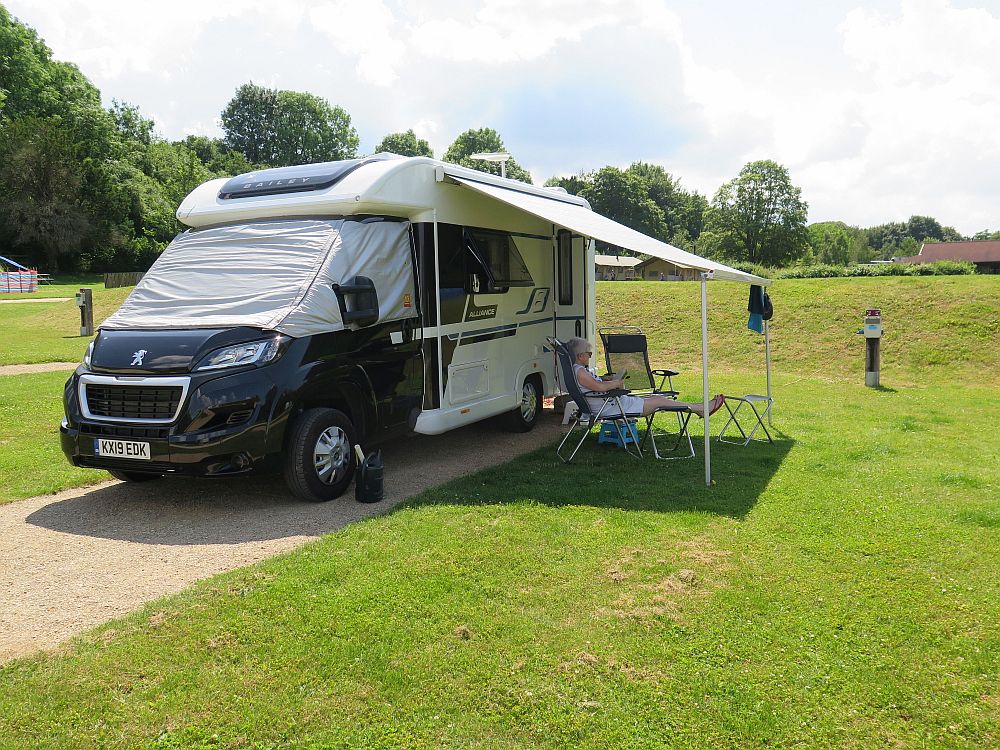 Tuesday 20th July. Time to make our way home. Escape from Leckford was fine until we got to the village where we found a large lorry delivering something, fortunately there was just room for us to squeeze by. We re-joined the A34 a junction further north than where we left. The rest of the journey was uneventful and there wasn't even a queue south of Bicester to get onto the M40! The last few times we have come this way the sat nav wants to take us to the west of Bicester but we have always stuck to the bypass to the east. This time we turned left just as we were entering the built-up area which took us on a good road all the way around the outside of Bicester so we will certainly try that again. The original Bicester bypass is a bit awkward in my view as you can get tangled up with traffic for Bicester Village and the large new Tesco supermarket. Our final task was to fill up with fuel at Wolverton before the final two miles to home.