Lady's Mile Campsite, Dawlish Warren. EX7 0LX, Tel 01626863411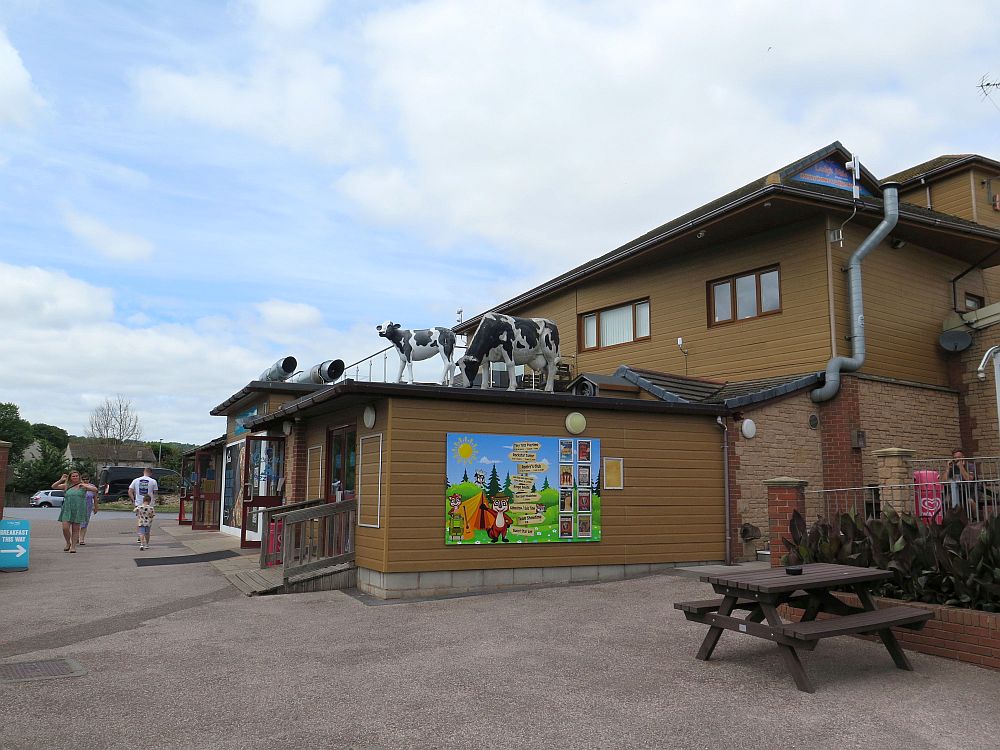 To Find Site:- Probably the easiest route to this site is to exit the A 380 onto the A381 towards Teignmouth and take the Dawlish and Dawlish road towards Exeter. The site is clearly visible in Dawlish Warren. Be careful about sat navs taking you across some very narrow unsuitable roads. If coming from the north from Exeter the road is quite narrow in a couple of places, particularly Starcross.
On arrival there is a car park on the right where you park before going to reception.
Lady's Mile is a massive campsite of about 450 pitches, although it seems more! With a mix of touring camping, seasonal pitches and fixed accommodation all in their individual areas, not mixed. Some of the touring pitches are near the entrance and all the main facilities but at the top of the site there is a new area of serviced hardstanding pitches of generous size (as are most pitches on site). Opposite these pitches are more grass pitches overlooking another entertainment and sports area. The road from reception up to the top of the site is quite steep. We did find that pitches needed levelling in both directions. Electric points are convenient to all pitches and are rated at 10 amps and use CEE17 blue connectors. All camping areas have their own toilet blocks some newer than others. Some have family bathrooms. For camping areas without serviced pitches there are water taps dotted around. Chemical disposal is situated at the toilet blocks. The site is exceptionally well equipped as a holiday location. There is both indoor and outdoor swimming pools. A large restaurant/bar where entertainment is provided at certain times. There is a well-stocked shop and next door a laundrette. Clearly the site is aimed at family holidays which might not suit all but out of the peak holiday season it is reasonable quiet and not bad value given the facilities available. There is site wide WiFi which is chargeable. On the surface it seems expensive but it does allow up to five devices to be used per token. 4G is available on site but speed is a bit slow. For those with mobility issues and who might wish to use the buses to get around it might be better to book a pitch nearer to the site entrance than higher up the site as this will prevent the need for steep climb up the site road.
The campsite is situated fairly close to the beach at Dawlish Warren. There is a handy exit from the top of the site down to the village, about half a miles away. It is an uphill trek on the way back but you could always get the bus! That bus will also take you to Dawlish and Teignmouth. At both Dawlish and Dawlish Warren there are train stations with Exeter in one direction and Paignton in the other. From the front of the site there are buses to Exeter and back to Dawlish. For food shopping there is a nice Sainsburys supermarket about a half mile walk from the site entrance.