Littlehampton Caravan Club Site, Mill Lane, Wick, Littlehampton, BN17 7PH, Tel 01903716176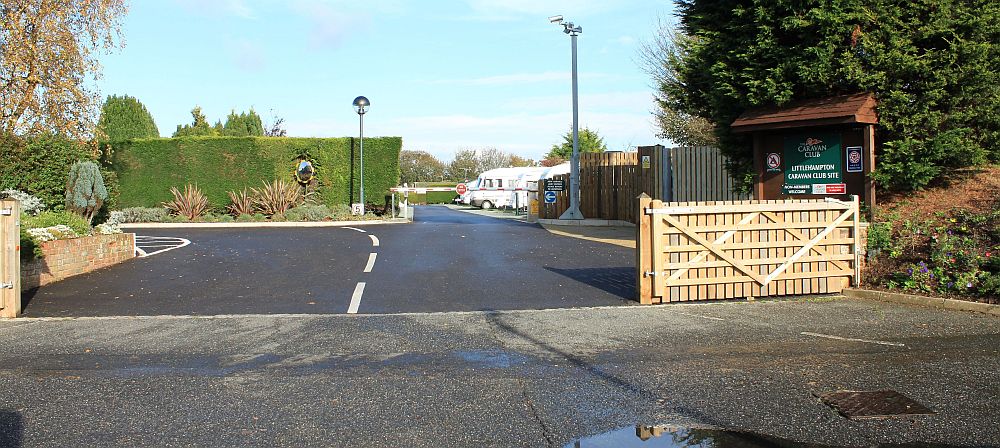 To Find Site:- Leave A27 just east of Arundel and take A284 towards Littlehampton. Just past the village of Lyminster watch out for left turn into Mill Lane. (signed for Household Waste and Recycling) Proceed with care as although entrance is near to junction at certain times of days vans can be parked opposite site entrance.

The Caravan Club has recently purchased this former commercial campsite and upgraded it to modern Club standards. In total there are 115 pitches which consist of a mixture of grass and hard standings. Most of the grass pitches are situated beyond the toilet block. 20 of the hard standings have waste and water connections for which there is a small daily extra fee. The site has an open aspect with little in the way of shade the converse being that setting up a satellite dish should not present any problems. There is one central, heated, facility block which is to a very nice modern standard. Included is a laundry room and an enclosed dish wash area. Service points are dotted around the site. The electric bollards have a TV connection for both analogue and digital programmes, you need your own co-ax cable. Next to the toilet block is an enclosed play area for younger children but no kick about area for older children. The site as a dog walk. Littlehampton has the second generation WiFi and there are aerials all round the site, this was untested by me as I had a good 3G signal. From some pitches, mainly those running from reception round to the toilet block do suffer from some traffic noise.

This site is handy for exploring this part of the south coast and surrounding countryside. You can walk from the site into Littlehampton, or park the car on the seafront car park and walk into town along the riverside walk. Arundel is only a few miles away and is worth a visit although the castle is not open all year. A little further a field are Portsmouth and Chichester and in the other direction Worthing and Brighton. For shopping there is a minimart type shop about 10 minute walk from the site and a Tesco on the outskirts in the direction of Bognor Regis.