Llanberis Touring Park, Glyn Rhonwy, Llanberis, LL55 4EL, Tel 01286870700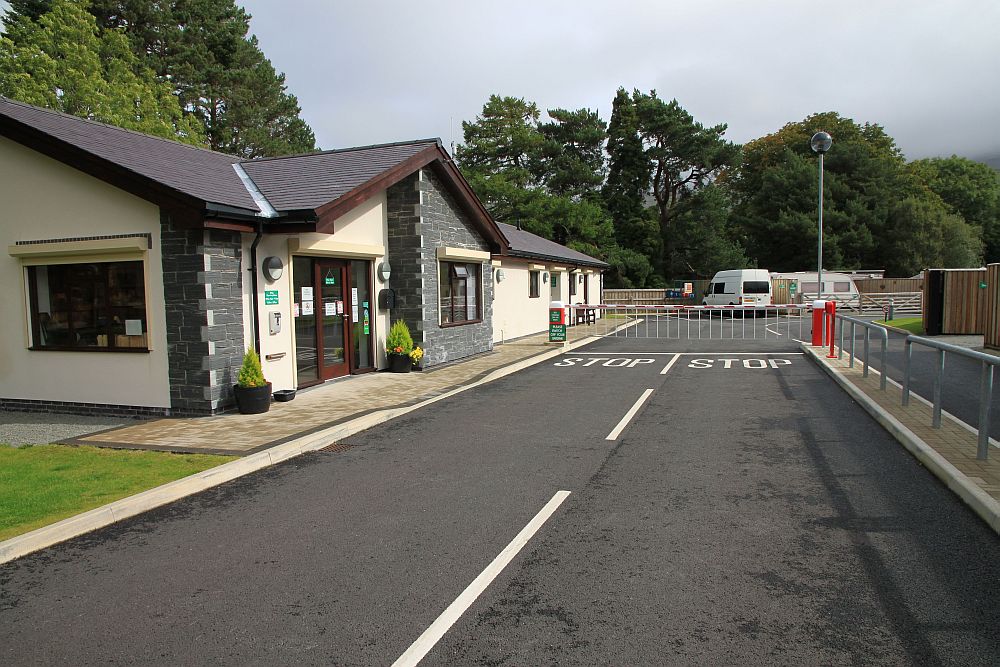 To Find Site:- On the A4086 from direction of Llanberis Pass drive through Llanberis on the lakeside road. Where the road turns away from the lake watch out for a left turning signed for Llanberis Touring Park. From Caernarfon on A4086 turn right into Glyn Rhonwy signed for campsite.
Llanberis Touring Park is situated within walking distance of the town of Llanberis and close to Llyn Padarn. It is a virtually new campsite having only been open for about eighteen months at the time of this review, September 2017, and is part of the Morris Leisure Group of campsites. It is not a large site with some 54 generously sized all-weather pitches, 19 of which are classified as Super Pitches so they have their own water and waste on the pitch. For the non-serviced pitches there are two service points within easy distance of the pitches they serve. Electric points are convenient to all pitches and are rated at 16amps and use CEE17 connectors. The electric bollards also have a TV cable connection. The toilet block, which is attached to site reception, is really excellent and includes an inside dishwash area and a laundry. Reception has a quite decent shop which includes a good selection of camping accessories. There is site wide WiFi available at a charge, vouchers can be purchase at reception or online. The signal was reasonable but could be a bit slow at times. There are no onsite facilities for children. This is a superb all year campsite. If you are a CMC member you will get a modest discount off both the pitch and per person site fee. If I were to be critical of the site that would be levelled at the design of the motorhome waste which requires heavy drain covers to be lifted in order to empty waste water rather than having an open grid. If you have any special requirements, for example, requiring an open aspect pitch in order to use a satellite dish best to mention this when booking as the site allocates pitches.
Llanberis is not a particularly large place but it has a surprising amount of things to visit within walking distance of the site. There are two narrow gauge railways, the Llanberis Lakeside Railway and almost opposite the more famous Snowden Mountain Railway. Other attractions are the Electric Mountain where you can have a tour of the Dinorwig hydroelectric power station. There is also the National Slate Museum which sets out the history of slate and there are also demonstrations of slate splitting. Most of these attractions have their own catering facilities. You also have the whole of the Snowdonia National Park within easy reach and the Llanberis Pass is very impressive. There are also buses from Llanberis to some of the larger nearby towns. Perhaps pointing out that in this part of Wales that weather conditions can change quickly so best go prepared on any excursion. For shopping there is a small SPAR in the high street however if you require a larger supermarket then Caernarfon would be your best bet where there are several. There are also various eating places in the town.