Maragowan CMC Site, Killin, Perthshire. FK21 8TN, Tel 01567820245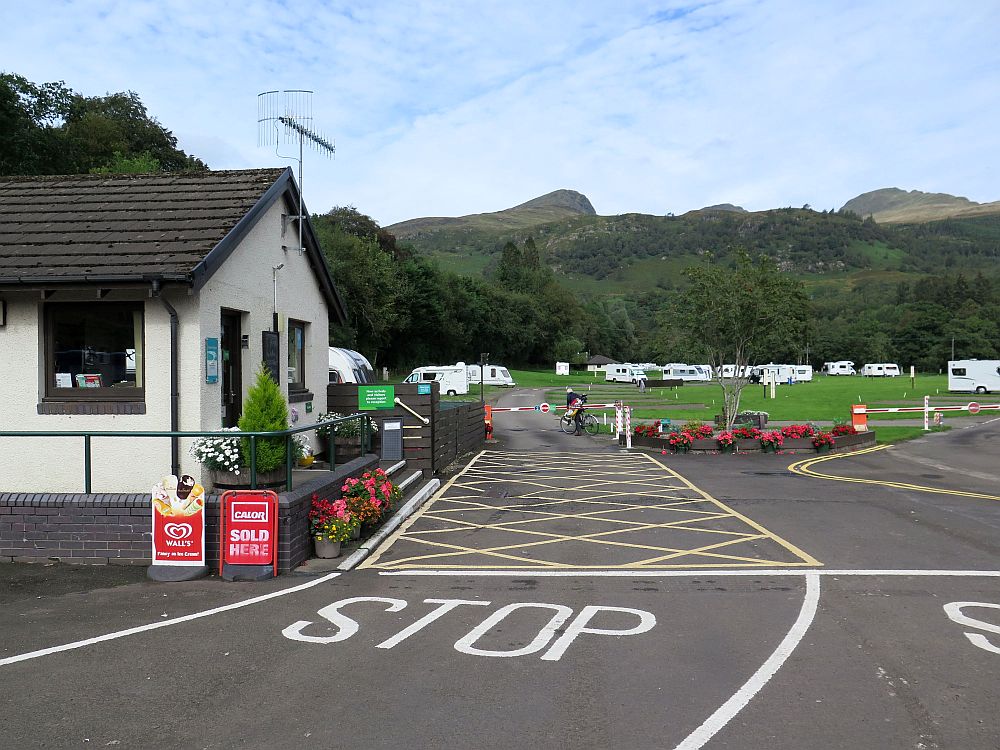 To Find Site:- From A85 turn right onto A827 towards Killin. At the Falls of Dochart on the entrance to the village there is a long narrow bridge which is one way at a time. Proceed through the village. The site is about a hundred metres of the right past the 40 miles per hour speed limit sign.
The Maragowan site is on the banks of the River Lochay and is just on the edge of the village of Killin. There are just under a 100 pitches on this site, all but two of them on hardstandings. The only two grass pitches seem to be next to the late arrivals area. Electric points are convenient to all pitches, they are rated at 16 amps and use CEE17 blue sockets, some of which have a twist lock on them. Some of the bollards are raised higher off the ground because of possible flooding. Pitches at the far end of the site, where TV reception is poor, have access to a TV booster system. On other parts of the site TV reception is fine. There is one central toilet block, which whilst kept perfectly clean and serviceable is of the older variety. It contains an enclosed washing up area and a laundry. Service points are dotted at convenient places around the site and the motorhome service point has an open grate waste water point. There is site wide WiFi, it did work for me but it would drop the connection from time to time. The 4G signal was quite good and provides a good data alternative to the site WiFi. For children there is a small playground. Reception sells a few essentials and next door there is an information room.
The village of Killin is a short walk from the site with several places to eat either meals or tea/coffee. For food shopping there is a handy Co-Operative food store. At the far end of the Village are the Falls of Dochart which are a popular tourist attraction. After the Falls the rivers Dochart and Lochay join forces before they enter Loch Tay. There are many opportunities for excursions from the site. Unfortunately there is only a limited bus service from Killen to Callander.