Norfolk Broads Caravan Club Site, Johnson Street, Ludham, NR29 5NY, Tel 01692630357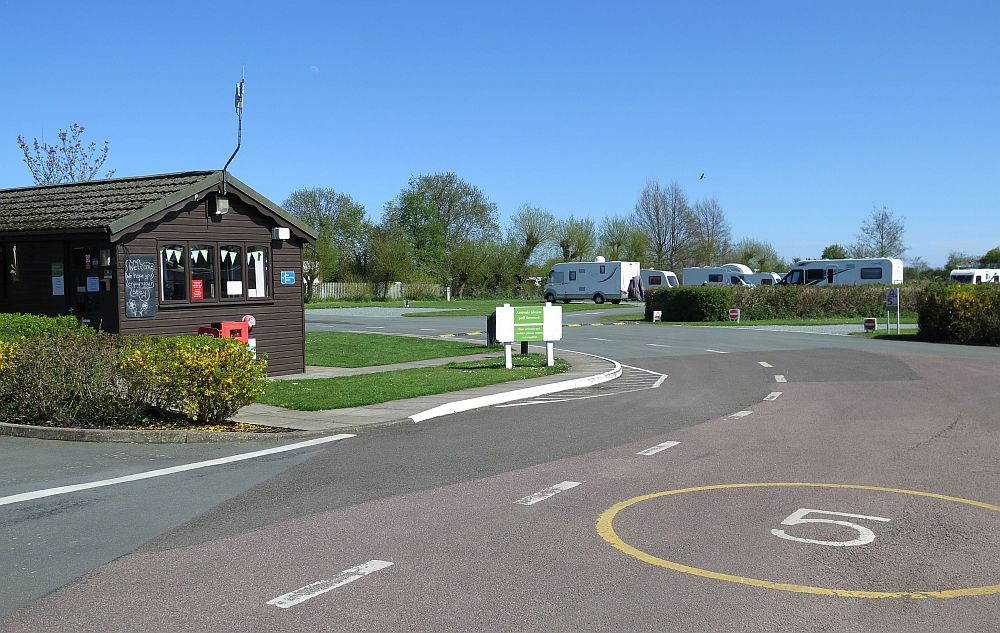 To Find Site:- This site is directly off the A1062 between Wroxham and Potter Heigham. If coming from Wroxham cross Ludham Bridge and the site is a few hundred metres on the right. From the other direction once through Ludham village watch out for the Dog Inn and the site is about 100 metres on the left.
This members only campsite is situated a short walk from Ludham Bridge on the River Ant which is part of the Norfolk Broads network of rivers. Although the rows of pitches are divided by trees and shrubs the general appearance is a little bit featureless but this is not out of place with the surrounding countryside. There are 111 pitches, the majority being on gravel hardstandings but there are a few on grass. Some of the hardstanding pitches are serviced with their own water and grey waste. Electric points, rated at 16 amps and accepting CEE17 blue sockets are conveniently placed to the pitches and the electric bollards have a co-ax TV booster system, free to use but you have to provide your own cable. Water, grey waste and chemical toilet disposal points are well distributed around the site. The motorhome service point is not far from the site entrance. Unfortunately it still requires the lifting of a heavy drain cover to allow draining of waste water tanks and access is a bit short for longer motorhomes. There is one centrally situated toilet block which is of a high standard. However I would question who thought it appropriate to position the toilet paper dispenser at shoulder height alongside the toilet bowl!!! For children there is a very nice playground. There is also a boules court next door. There is site wide WiFi which I found of reasonable speed, time can be purchased online. There is a small information hut giving details of local attractions and transport options from the site. Reception sells a few essentials as well as some camping bits.
The site is well situated for exploring the northern rivers and Broads. Horning, Wroxham, and Potter Heigham are all within easy reach offering many opportunities for excursions and perhaps the hire of a day boat on the Broads. Norwich and Great Yarmouth are also within easy striking distance. Within easy walking distance is Ludham Bridge for some boat watching and a bit further in the other direction is Ludham village which might be better for an eating out experience. Within a 100 metres of the campsite is the Dog Inn which does food but when we looked it did not seem that impressive. For those wanting to use public transport there is a bus service which runs on about an hourly basis during the week taking you to Wroxham and Norwich. For shopping there is the Bridge Stores at Ludham Bridge but would suggest this is better suited to the emergency purchase. The better option is Roys of Wroxham which has a really good supermarket.