Oxon Hall Touring Park, Welshpool Road, Shrewsbury, SY3 5FB, Tel 01743340868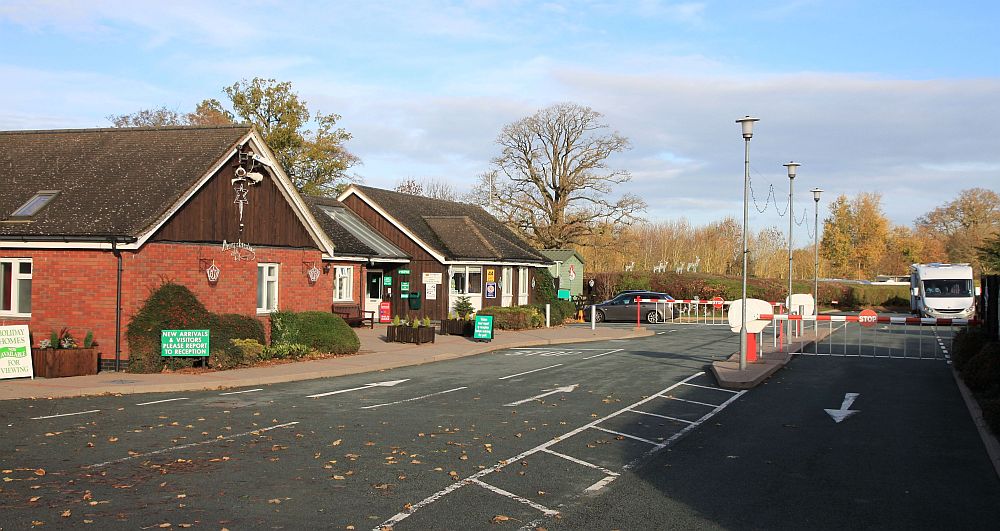 To Find Site:- From Telford on M54 continue onto A5 to Shrewsbury and continue round bypass to A458 and take road towards Shrewsbury following Oxon Park and Ride signs. Turn left immediately after Co-Op. Follow road past Park and Ride and round to site entrance.
Oxon Touring Park is a nice quality campsite situated on the outskirts of Shrewsbury and is open all year. It is some way from the main road so traffic noise does not seem to be an issue. It is one of the Morris Leisure Group of campsites. Our stay was in the middle of November and the site was no more than 20% full so difficult to visualise what the site would feel like when it's busy. There are about 112 touring pitches on a mixture of grass and hardstandings. There is also a totally separate area for mobile homes which are interestingly all painted green! The hardstanding pitches consist of standard and serviced the latter demand an additional nightly fee but you have the advantage of your own water and waste water point and a connection to a co-ax TV signal. Pitches vary in size, some being able to take caravan/awning/car whilst others are perhaps more suitable for motorhomes or just caravan and car. There are a few pitches capable of taking large RV's. Some of the pitches are in a designated adult's only area which is clearly marked. Pitches are allocated on arrival depending on the type of pitch you have booked. Electric points are convenient to all pitches and are rated at 16 amps and use CEE17 blue connectors. All the main services like reception and toilets are at the entrance of the site so some way from the furthest pitches. Access to the toilets is by a key provided on booking in. They are of a good quality with, with toilets, showers and privacy cubicles but the later only have curtains rather than doors. There is an enclosed washing up area with two sinks. The laundry room has two washing machines and two dryers plus an iron and ironing board. Water/waste/ chemical disposal points are dotted around the site. Both water and waste have raised edges of one brick height so containers have to be manoeuvred over. The motorhome service point is opposite reception and requires a heavy metal drain cover to be lifted despite the fact the waste point is profiled to allow water to run downwards towards the drain. For children there is a small play area at the furthest corner of the site. Site wide WiFi is available but is quite expensive at £5 for 48 hours, access can be purchased at reception or online. I found that using my phone as a WiFi point provided a faster speed so perhaps best to try this first? The entrance is controlled by an electronic tag for in and out, we were not charged a deposit but my Caravan Club membership card was retained for the length of our stay. Outside of the barriers there is a late arrivals lay-by with four electric points. Best to check with the site re the use of this facility. Inside the reception building is the site shop which does sell a few essentials but mainly it is caravan related items that are for sale and is quite comprehensive. Next door is an information room with details of attractions in both local and wider areas plus a book swap. The site make a particular request that, I assume only in the low season that vehicles are not driven across the grass on pain of a £25 charge if damage is caused! Oxon Park is quite expensive, even in the low season, given that it lacks some facilities that might justify the higher price like a swimming pool or restaurant. However Caravan Club members do get a discount off both pitch and per person fees which is worth slightly more in the low season and less in the high season.
The major advantage of this campsite is that it is quite near the centre of Shrewsbury which is a delight to visit. Not only that but the Oxon Park and Ride is an easy walk from the campsite and they have thoughtfully provided a short cut via a gate into the parking area. Unfortunately no free travel with bus passes on this service but you will get a 50% discount off the regular fare. The bus takes about 10 minutes and runs about every 20 minutes. For food shopping there is a Co-Op supermarket next to the Park and Ride which should meet most needs. Next door there is a Fish and Chip Shop, Chinese Takeaway. The campsite could also be used as a base for exploring the wider area. For eating out there is plenty of choice in Shrewsbury but nearer the site there is a Toby Carvery a few minutes' walk away and further along the same road is a Hungry Horse Restaurant.