Round Plantation CC Site, Brandon Road, Mildenhall, Suffolk, IP28 7JE, Tel 01638 713089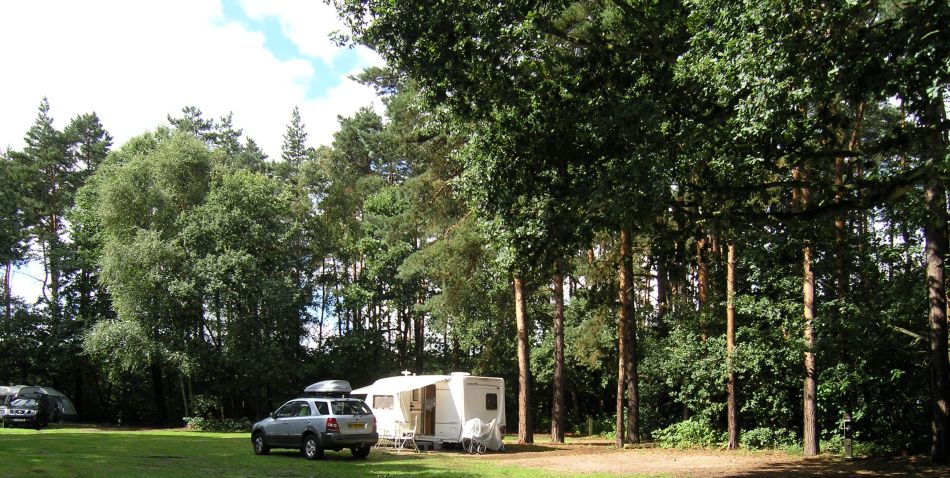 Please note that the Club will not be opening this site in 2017, and it looks likely that 2016 was it's last season under Club Management.
To find site:- At roundabout on A11 at Brandon Mills take A1101 towards Mildenhall. As you approach the town watch out for mini roundabout by the Half Moon public house and turn right into Brandon Road. Site is on right in about three quarters of a mile. Access to the site can also be made from the A1065 northbound into Brandon Road and the site is on the left in a couple of hundred yards.
Round Plantation is one of the Caravan Club's minimum facility sites without toilets or showers. It is also run by volunteer wardens as the site does not generate sufficient revenue to warrant paid staff. So in the future it could be a case of use it or lose it! Non Members accepted but no tents. The site often has space so unless you require a pitch with electrics, limited in number, I suspect booking in advance is rarely necessary. As the name suggests the 95 pitches are set out amongst tall pine trees and the site has a forest feel about it. In a past life I wonder if this site was once part of a military facility as there are some pitches on large concrete bases, ideal for big motorhomes! Whilst most pitches are on grass there are a few with a pea shingle base. During heavy rain some areas of the site take time for the surface water to soak away. Television reception is pretty poor with the normal caravan aerial and likewise satellite reception is difficult because there are few parts of the site where you have a clear view of the sky because of the tall trees. Water and waste points are dotted around the site. Because of the way the site is run by volunteers the only thing available from reception is Calor Gas (although during our visit not Calor Lite) Seasonal pitches are available on this site. Our latest visit to Round Plantation was in mid August 2008 and the site is part of what the Club call their 'super seven' group of sites which means that site fees are just £7 per night all in. So really good value and less than many CL's. In my view it would still be good value if it was a couple of pounds a night more and the extra money invested in making small improvements to the site like better site roads, more electric points and a TV booster system.
Whilst the site is generally very peaceful it should be pointed out that it is under the flight path into Mildenhall RAF base which is home to the American transport planes. Lakenheath is also a few miles away. It can be fascinating watching the giant transport planes coming into land, there is even a viewing area not far from the site. However if sudden noise is likely to upset you then it may be a site to avoid, particularly as some of the planes arrive in the middle of the night. There is a newsagents and general store next to the Half Moon Pub (which includes a Hungry Horse Restaurant) and more shops including a Sainsburys Supermarket in the centre of Mildenhall. Motorhomes might have difficulty parking near the supermarket because of height barriers. Also near the centre is a caravan dealer with a good accessory shop, they also sell BP Gaslight. Click on thumbnails for a larger picture.