Salisbury Camping and Caravan Club Site
,
Hudson's Field, Castle Road, Salisbury
,
SP1 3SA
Tel 01722320713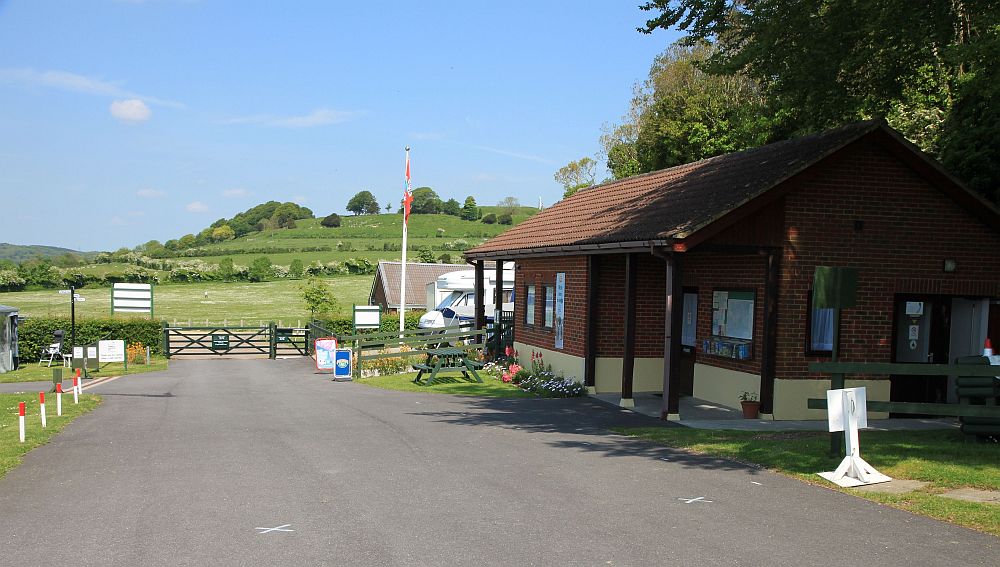 To Find Site:- From Salisbury Ring Road take A345 towards Amesbury. Crossing two mini roundabouts grouped together watch out for sign to left to campsite in about a couple of hundred yards. Continue on site access road, with playing fields on right to campsite. The site gate is kept closed (but not locked) probably to deter non campers accessing the site. At busy times there is usually a member of staff on hand to open the gate otherwise it's a DIY job! Pull forward to sign before going to reception.
Salisbury C&CC site is set in a semi urban environment but also has lovely views out over the surrounding countryside including the Old Sarum Hill Fort. It is open to members and non-members. We received a friendly welcome from the site staff. You are escorted to your pitch once your own preferences have been taken into account. The site has a two way slope from the reception down to the far end of the site although individual pitches are not too bad but will require a degree of levelling. Most of the 150 pitches are on grass although there are some which have an embedded plastic lattice set into grass to provide a more all-weather surface. There are limited tarmac site roads and pitches are arranged in rows across the grass and whilst the reality is there is plenty of room between pitches you can feel there is a lack of privacy with people walking through the units quite close to where you are sitting. Being a C&CC site not all pitches will have electricity but most do and they are rated at 16 amps and uses CEE17 blue connectors. Several fresh water and grey water points are placed at convenient places across the site. The well designed motorhome drain point is near to reception, fresh water can be replenished from the adjacent service point. Chemical waste emptying points are at the main toilet block and behind reception. The site has two toilet blocks, the main one being situated about half way down the site. It is of an excellent quality. At the end of the block is a laundry room which also houses local information. The smaller block nearer to reception is only open at very busy periods although the dish wash area is open all the time. Reception sells a range of essentials like milk. Site wide WiFi is available and time can be purchased at reception or online. Its good value but you have to be aware that download limits apply. There are no children's play facilities on site although older children have plenty of room in the adjacent park for ball games. There is a little light aircraft noise at certain times of day.
The main advantage of this site is the close vicinity to the City of Salisbury and as a result is quite popular with our Continental chums. The site will provide instructions for a pleasant walk into the city along the river. Alternatively there is a good bus service from the main road at the site entrance. Old Sarum, is within easy walking of the site and is under the control of English Heritage. For eating out there is a Harvester just up the road from the site. In Salisbury there is a multitude of eating places, we used the Market Inn which was very nice. For shopping there is a large Waitrose Food and Home which you pass on the walk mentioned above. In the centre there is a Sainsburys and a Tesco Metro.

.
.