Seacroft CMC Club Site
, Runton Road, Cromer NR27 9NH, Tel 01263514938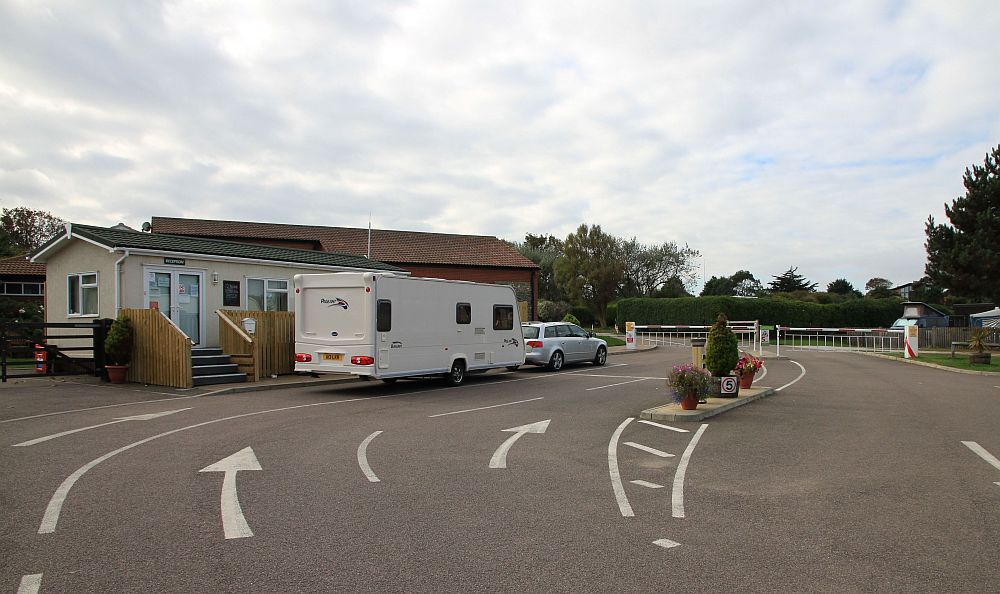 To Find Site:- The campsite has direct access off the A149 between East Runton and Cromer.
Picture of site entrance from road. Earliest arrival time at this site is 1.00pm.
This campsite is situated just back from the sea about a mile out of Cromer on the North Norfolk coast. This site is open for ten months of the year closing towards the end of January and reopening in mid-March. It is a very popular site and accepts non-members and tents are welcome. Since our last visit the site has been extended into a new area of 25 hardstanding pitches all of which are serviced with their own fresh water taps and waste water disposal. My 7.5 metre hose just about reached as the water points are between two pitches, so a slightly longer length might be recommended. The site now has 33 hardstanding serviced pitches, 34 non serviced hardstandings, some of which don't accept awnings and 43 grass pitches 4 of which won't accept awnings. In addition there are 25 tent pitches which don't have electric hook-up. The original part of the site has two oblong pitching areas which have hardstanding pitches around the perimeter and grass pitches on the inside of the site roads. This part of the site slopes so some levelling will be required on most pitches. Near to the entrance is a quite large tent field which is nearer the road. Electrical connections are handy to all pitches and are rated at 16amps using blue CEE17 connectors. Each electrical bollard also has TV connectors but you have to provide your own cable or buy one from reception. We found we had quite good reception with our direction aerial although this might vary from pitch to pitch. Water and waste points are dotted around the site and at the entrance is a motorhome water refill and grey waste disposal point. Both motorhome service points now have excellent open grill grey waste water disposal facilities. The one in the new section is a drive over one which will suit all motorhomes. The one near the reception is a reverse in type which should suit most motorhomes. There is a single toilet block which is of an excellent standard and should cope under pressure of a full site. Rather unusually for a Caravan and Motorhome Club site, Seacroft has a seasonal outdoor swimming pool, check with site for opening periods. It also has rather nice bar/restaurant with both indoor and outside seating. We used the restaurant several times now and found the food reasonable in both quality and price, also good to see a bottle of wine at a reasonable price. On some nights entertainment is arrange. At quieter times of the year the bar/restaurant only opens on certain days. Additionally for children is an adventure style playground. There is site wide WiFi and access can be purchased online. For those preferring to use their own data I found there was a good 4G signal on the site. Near the entrance is an information hut with details of attractions in the area. Reception sells a few essentials and papers can be ordered.
Cromer is within walking distance or a short bus ride away from directly outside the site entrance. The famous Pier is worth a visit as is the RNLI Life Boat Station. On the theme of the RNLI a short distance from the Pier is the Henry Blogg Museum which is fascinating, also has an excellent Café about it. Sheringham, in the other direction, is also worth a visit and has a twice weekly market. The North Norfolk Railway starts from the car park in Sheringham. There are lots of places to visit within easy reach of the campsite and if you prefer not to use the car there are good bus links and the rail link from Cromer will take you to Wroxham and Norwich. For shopping there is a Morrisons in Cromer and a Tesco in Sheringham. A short distance from the campsite is the National Trust Property Felbrigg Hall, access and parking is suitable for motorhomes.
If you are in need of any caravan accessories during your stay there is an excellent camping shop in West Runton, a short distance from the site.