Slingsby C&CC Site, Railway Street, Slingsby, YO62 4AN, Tel 01653628335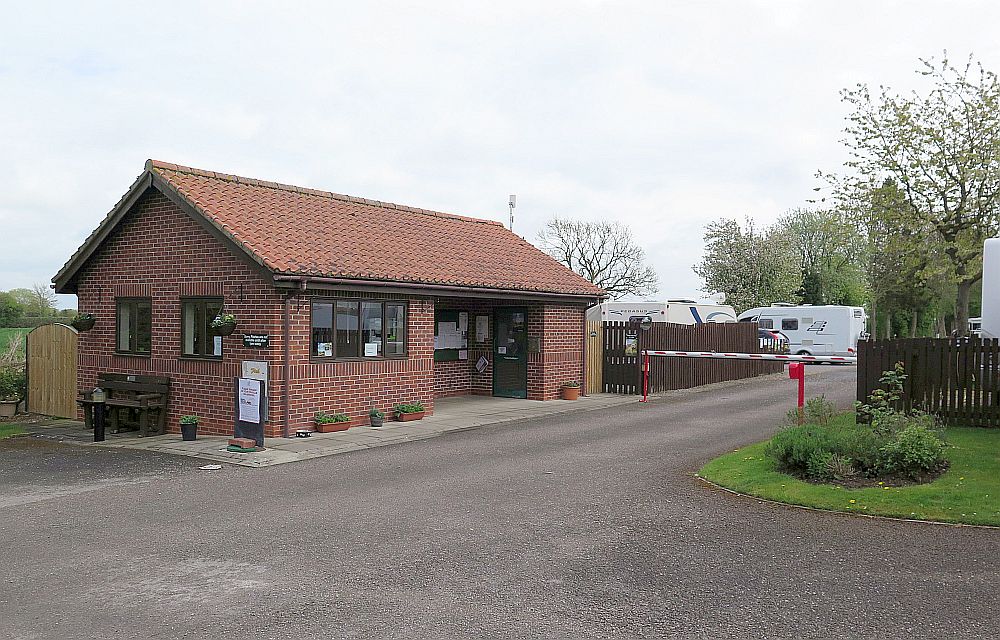 To Find Site:- From York on the A64 head towards Malton. About 7 miles from York take left turn signed for Castle Howard. This seems to be an unclassified road but it is reasonably wide although up and down dale! You have to negotiate two archways on this route, one wider than the other but we managed fine with our motorhome. When you arrive at the B1257 you go straight across and follow camping signs to the site. From the Scarborough direction leave A64 at Malton and turn right onto B1257 to Slingsby, turn right into village at crossroads and follow the camping signs.
The C&CC site at Slingsby is situated on the old Slingsby Railway Station, which was on the now defunct Thirsk to Malton line. This is a fairly small site with just 55 pitches 22 of them are hardstandings. The site layout is a long single site road with a wider section near the entrance to the site. There is a single facility block of a nice standard with toilets and showers plus a washing up area. There is also a small laundry room with a washer and a dryer and a couple of sinks. The only toilet emptying point is also in this block. There are a couple of fresh water taps and grey waste water disposal points towards each end of the site. The motorhome drive over service point is near the exit from the site. The electrical connections, are close to each pitch and use CEE17 blue connectors and are rated at 16 amps. Site WiFi is available which is free to use, check with reception for password. 4G signal varies a bit as does voice calls from in the van. We found the TV reception a bit hit and miss but we were near trees which may have impacted on the signal strength. A fish and chip van calls once a week, details from Reception.
Probably a major reason for staying at this site is the reasonable access to Castle Howard which is about 5 miles away. There is plenty of parking (free) for motorhomes although it gets very busy at weekends and holidays. There is not a lot in the village of Slingsby except for the Grapes pub which does not open on Monday or Tuesdays. There is a bus service in the village operating on a roughly two- and half-hour frequency serving stops between Malton and Hovingham. The site appears not to sell any provisions so Malton, about 6 miles away would probably be the nearest shopping opportunity.