St Neots Camping and Caravan Club Site, Hardwick Road, St Neots.PE192PR. Tel 01489474404
To Find Site:- From both north and south on A1 exit onto A428 signed for Cambridge. At second roundabout (Tesco on left) take first left towards St Neots. Continue across several mini roundabouts . Look out for campsite sign and turn left into Hardwick Road. This leads you through a housing estate so care is required because of parked cars. At end of road, at T junction, turn left. Pass playground on right and once past car park the road narrows to campsite but it's only a short distance.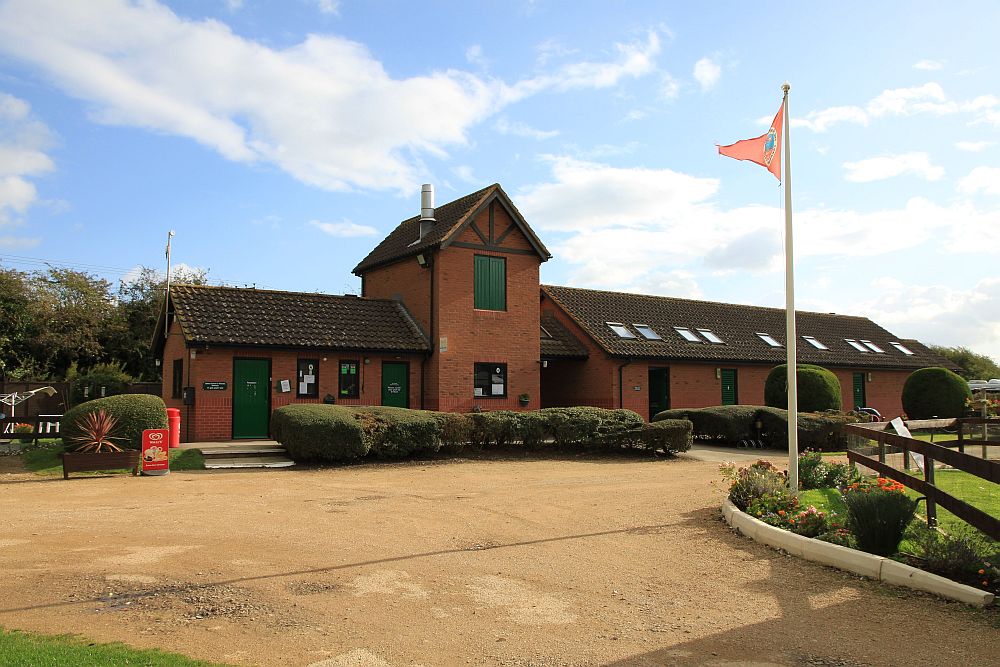 St Neots C&CC campsite is situated on the banks of the River Great Ouse a short distance from the town of St Neots. There are around 170 pitches on a mixture of grass and hardstandings. The hardstandings are not particularly wide so they will not accept unit, car, awning side by side. All are reasonably flat. Some of the site roads are a bit rough and some parts of the site are quite dark at night so a torch is recommended. There are two toilet blocks, one next to reception and another towards the river. Only the one next to reception was open during our stay but as they are of the same design I imagine internally they will be the same. They are functional rather than luxurious, the men's could certainly do with a more modern hand drier! This block also houses a covered washing up area, which also doubles as an information room. In the same block there is a laundry room. There are three water and waste water points dotted around the site but the only chemical disposal points are at the toilet blocks. There is a motorhome service area but the waste point is raised which could prove difficult depending on the ability to get motorhome drain into position, a hose might prove useful. Electric points are available to most pitches and these are raised off the ground because of the risk of river flooding. Reception sell a few essentials, they also provide a useful local map of the St Neots area. There is site wide WiFi and time may be purchased online or at reception. Mobile reception seemed to be quite good. For those that like to fish day tickets can be purchased from reception. As a public footpath runs along the riverbank through the site it might be worth considering the security of cycles and other personal belongings if they are left unattended.
There are no children's play facilities on site but the adjacent park play facilities to suit all ages.
The town centre of St Neots is about a fifteen minute walk from the site with route options on both sides of the river. There is quite a good selection of shops including a couple of small department stores. There are numerous pub/restaurants and well as a good selection of coffee shops. For food shopping there is a Waitrose and an M&S Simply Food in the town centre. St Neots is on the main Oxford to Cambridge bus route for those wishing to explore further afield using public transport. There is also rail connections from the town to Kings Cross. Direct from the site you can walk along the River Great Ouse both up and down stream although good walking shoes/boots would be recommended if going upstream as the path can be muddy. The path toward St Neots is tarmac.