Swiss Farm Touring and Camping, Marlow Road, Henley on Thames, RG9 2HY. Tel 01491 573 419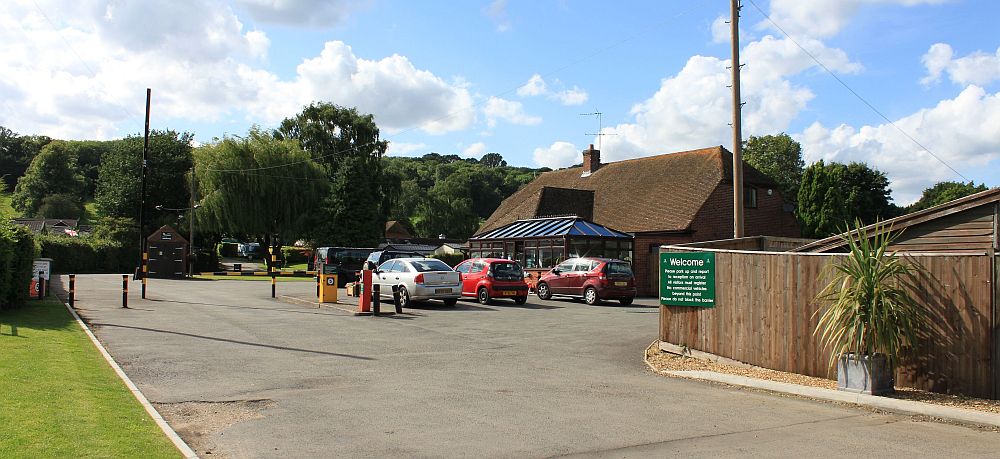 To find site:- Exit Henley on the Marlow Road. Pass Henley Rugby Club on the left and Swiss Farm is about 100 metres further on the left.
Swiss Farm International is a large site on the outskirts of the delightful town of Henley on Thames. We had a very warm welcome at reception. Fortunately Swiss farm is set some way back from the Marlow Road so road noise is not an issue. The site is terraced with a flatter area nearer to reception. Of the 142 marked pitches 61 are gravel hardstanding and the rest on grass, although both need at least some fore and aft levelling. Hardstandings are also serviced with water, waste and TV hook-up. We had a grass pitch which after a lot of rain was a bit soft. Size was quite generous but we found that the depth was not really sufficient to position our 7.3 mts caravan hitch to road. We then had to use quite a few blocks to get the caravan level across the pitch but succeeded in the end! There are two large tent fields although with limited access to electrics and any tenters wanting to be sure of an electric supply would have to use the numbered pitches. Electric points are convenient to each pitch and are rated at 10 amps. Each row of pitches has at least one water point and a waste water disposal point. There are a couple of toilet disposal points within reasonably easy reach of all pitches. The two toilet blocks are at either end of the site. They are of a good quality although under pressure at certain times of day when the site is busy. The reception building contains a small shop selling some essentials as well has some camping bits and toys. There is a nice bar opening onto a terrace in front of the swimming pool (EC). The site does have site wide WiFi which is currently chargeable but they are hoping to make it a free service in the future. We found the speed of the WiFi quite slow but apparently they are soon to upgrade to fibre broadband which should improve things by a large margin. Dogs are not accepted during the peak season. For Children there is a large adventure playground. There is also an onsite fishing lake. Bookings can be made online and a 20% deposit is required and the balance paid 2 weeks before arrival. Date of visit early August 2012.
Being situated in the Thames Valley there are endless opportunities for day trips. Also London is a possible day trip with several stations within easy reach of the site. Henley is only a ten minute walk from the campsite with numerous options for eating out and for food shopping there is an excellent Waitrose in the town centre.