Terrassencamping Herbolzheim, Laue-Dietweg 1, 79336 Herbolzheim, Tel 076431460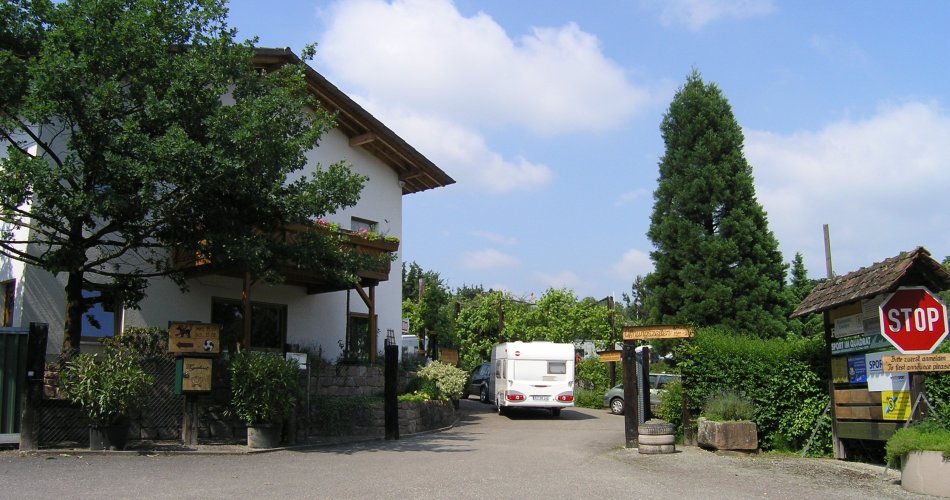 To find site:- Leave A5 motorway at junction 58 and head towards Herbolzheim. At entrance to town at roundabout turn right following campsite signs. At next roundabout turn left. At T junction turn left towards Herbolzheim and on re-entering town turn right at Edeka supermarket still following campsite signs. In about 1km watch out for signs to swimming pool and turn left. Follow road past swimming pool to campsite.
This is a pleasant Black Forest campsite with a friendly and helpful owner. As the name suggests this campsite is terraced with an attractive ambience especially the shrubs and trees that form a colourful backdrop to the pitches. The higher sections of the site are taken up with permanent vans but the lower section, near reception is where all the touring pitches are. The pitches are of reasonable size but tend to the longer than they are wide which, if you have an awning, requires the car to be parked across the pitch. They are marked out by trees and usually allocated when you book in. Larger pitches are available at a small surcharge. Eurocamp has a presence at this site but most of their units are in a separate area. The site is closed between 13.00 and 15.00pm but there is plenty of parking near the entrance. The main reception building also houses the toilet block, which is to a good standard, although it has seatless toilets. Above the toilet block is a restaurant. Water points are situated at the ends of each row. Electric supply is 16 amp. The site accepts the ACSI Card in the low season which provides a useful discount on standard fees. Payment can be made by credit card. The site offers a very reasonably priced WiFi service. Being near to the main Rhine motorway it can be quite busy so it might be best to time you arrive by mid afternoon to be sure of a place.
The town of Herbolzheim is a reasonably short walk/cycle away from the campsite. There are several supermarkets to chose from including a Rewe if you require one that accepts credit cards. Europa Park, a well known children's theme park, is about 5kms away. The site is situated in the Black Forest approximately half way between Freiburg in the south and Baden Baden in the north so there are many opportunities for exploring the surrounding countryside. Just down from the campsite is a large outdoor swimming pool/lido.