Thetford Forest Caravan Club Site, Hilborough, Thetford, IP26 5BZ, Tel 01842878356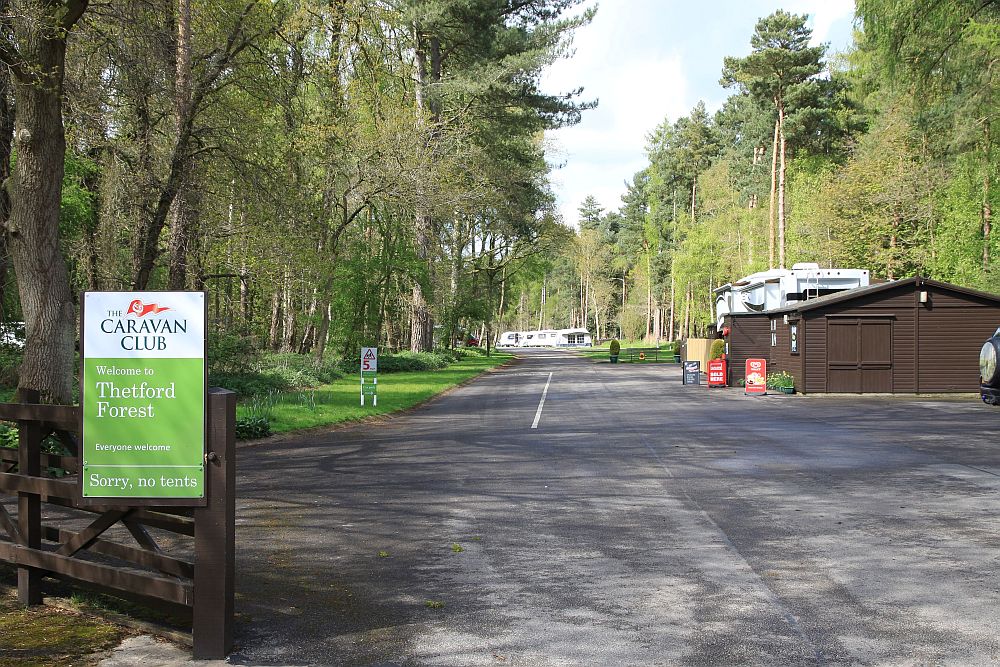 To Find Site:- Site just off the A1065 Swaffham to Brandon road between Hilborough and Mundford. Watch out for a WW2 tank on a plinth, site is situated down the road behind this memorial.
This site is in a forest setting as the name implies with many tall pine trees. Non-members are accepted but not tents. On this site you have to have your own facilities as the site does not have a toilet block. There are 83 pitches in total, 37 of them being on hardstandings the rest on glass. The hardstandings are in an arc from reception along one side of the site. Some of the grass pitches are in natural glades amongst the trees. Electric points, rated at 16 amps and using CEE17 blue connectors, are conveniently placed to pitches. Fresh and waste water points, as well as chemical disposal are placed at regular intervals around the site. The motorhome service point requires you to reverse in with emptying drains on both sides, however they still require heavy drain covers to be removed to access the drain points. The site also has a storage facility. There appear to be some seasonal pitches on this site. According to the handbook TV reception is poor although we were able to use our satellite dish but this will require choosing your pitch carefully to allow a clear view of the sky. There is site wide WiFi which works reasonably well given the remoteness of the site, time can be purchased online. At the front of the site there is an information hut and at reception some essentials can be purchased. There are no specific play area for children although with immediate access to the forest areas older ones will no doubt enjoy that. This site is quite remote from habitation so without your own transport the only other options are walking and cycling, there is no public transport within easy reach. The site is very restful if you want some R&R or perhaps would be a good stopping off point when going to the coast. If you can make use of the mid-week discount sites fees are very reasonable, in fact cheaper than many CL's.
There are many options for walks from the site. For the less active the Desert Rats Memorial and circuit of the old training ground might be ideal. For shopping Swaffham is probably the best bet with both Waitrose and Tesco supermarkets.
The site is within the area known as Breckland and more information can be found in this link