Thirsk Racecourse Site, Thirsk, Y07 1QL, Tel 01845525266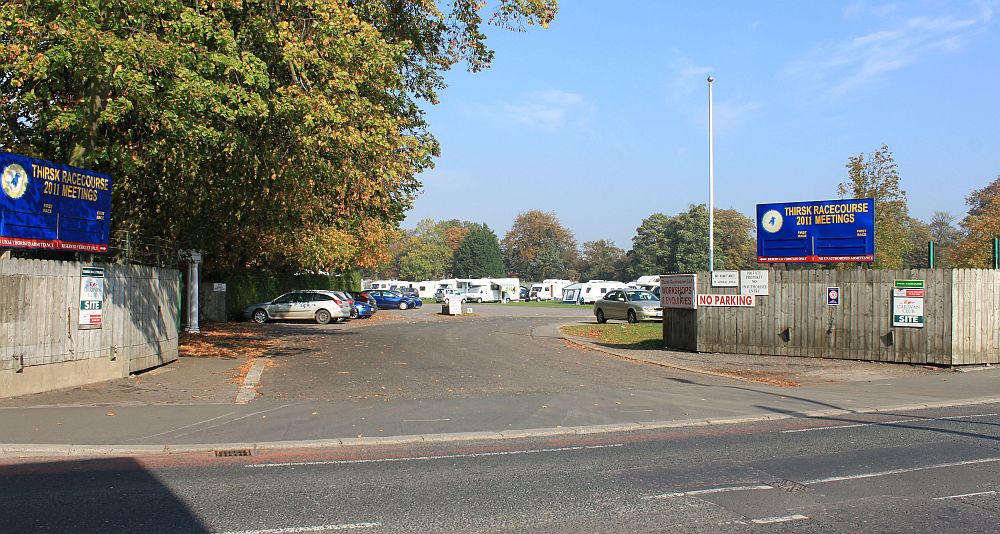 To find site:- Leave A1(M) onto A61 in direction of Thirsk. On entering town the Racecourse is on the left and keep an eye out for camping signs. Entrance is well marked with Caravan Club signs on left about 100 metres before Lidl store.
This site is well situated on the edge of the Market Town of Thirsk and is in one corner of the Racecourse. The site is open from the end of March to the end of September and non-members and tent campers are accepted. There are 60 pitches all of which are in grass. The surface of the ground is a bit up and down so some side to side levelling maybe required. Whilst individual pitch size is quite generous the site can seem crowded because the pitches are in long rows. As with many racecourse sites the Club do not own them or the facilities so toilets blocks whilst perfectly clean and functional can seem somewhat old fashioned and are not to the same standard as usually found on mainstream Club sites. Water and toilet waste disposal is situated in one corner of the site so some distance from many pitches. There are a few water points dotted around the site. Electricity connections are only rated at 10 amps. All units have to be moved to a different section of the racecourse during race meetings and that area has no toilets or electricity. Check with Club for dates of meetings. The site does have a late arrivals area immediately inside the gates. Reception has limited opening hours so watch out for instruction posted near to Reception. Usually, if you have booked, you find a pitch and return later to pay.
The delightful town of Thirsk is only a short walk from the site. It is of course famous for its connection with the ĎAll Creatures Great and Smallí James Herriot books and there is a Museum in the town. There are plenty of places to eat in the town. Next door and opposite are a Lidl and Tesco supermarket.
Click on thumbnails below for a larger picture.