Travels in the UK 2018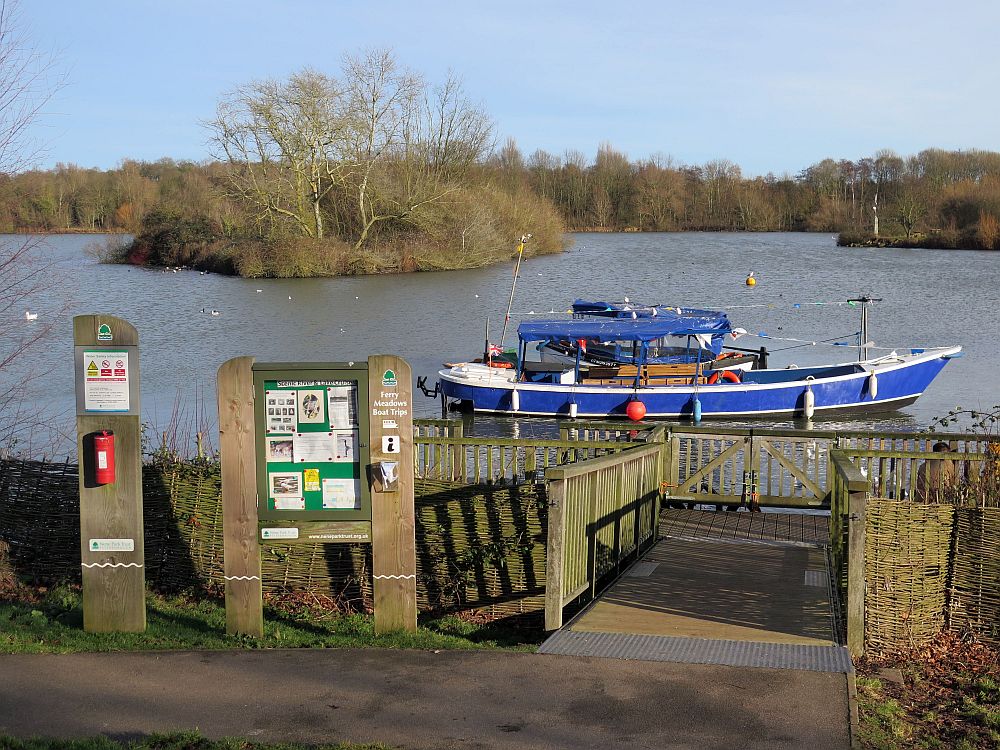 Peterborough
Sunday 28th January. Our first trip of 2018. We are heading over to Peterborough for a few days at the CMC Ferry Meadows site. We have stayed there many times over the years and I seem to recall it was the first site we ever stayed at, about 37 years ago!
The day dawned pretty dull and damp. I decided that we would try the old route we used to take to Peterborough via Olney and Wellingborough on the A509, A45 and A605 rather than across to Bedford and north on the A1. For most of the way it was pretty quiet so that was another plus. The sun decided to make an appearance and it developed into a lovely sunny day and unseasonably warm with temperatures up to 14 degrees.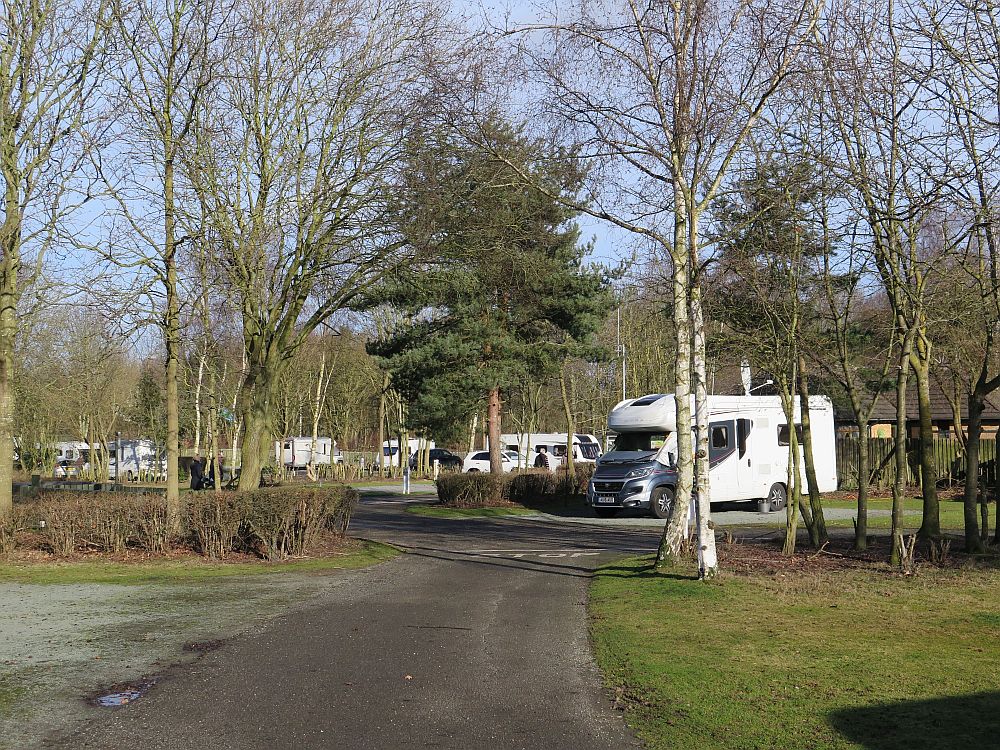 They have changed the entrance to the site with an additional barrier near the entrance. You now have to use the intercom for the site staff to raise the barrier. I think they may have had some problems with travellers. As a result of this work the site no longer has a late night arrivals area. Once booked we found a pitch around the back of reception where we have stayed before as it's near a service point.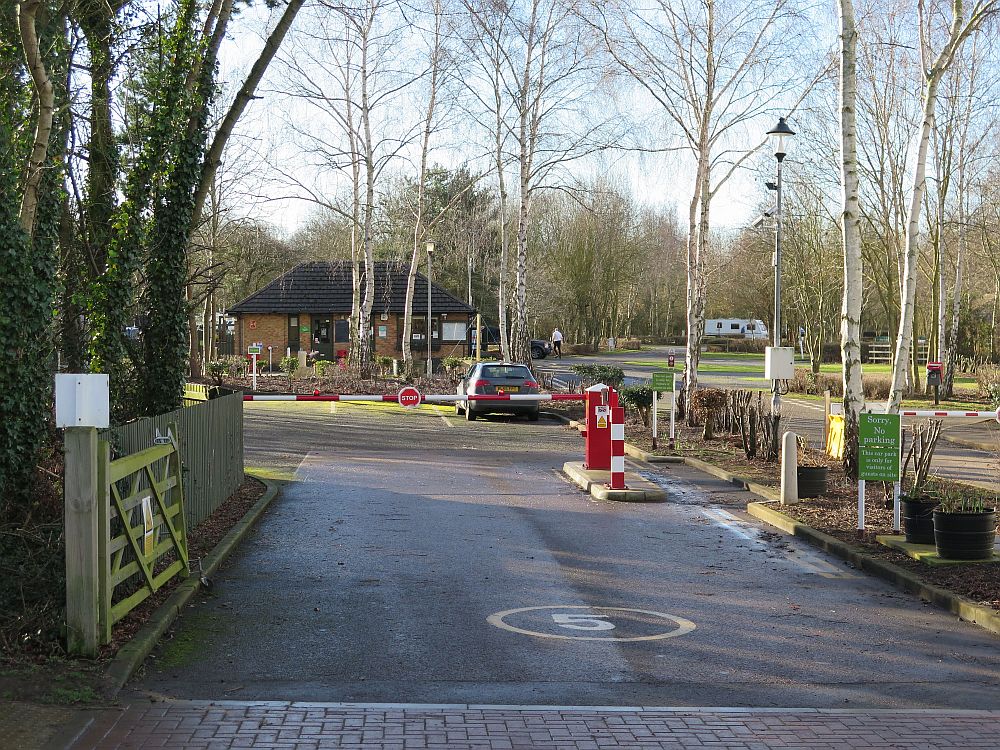 Rather strangely it was getting rather warm in the van because of the sun streaming in. Going away at the end of January I had imagined the first thing I would have done was to put the heating on! After some lunch we thought we should get some benefit from this lovely day by walking up to the Information Centre in Nene Park. We weren't the only ones who thought we should get out in the sunshine as the Park was very busy with locals enjoying their walks. We had picked up a map of Nene Park at the campsite and it showed various marked walks through the Park. I am never confident that my knees will allow a longer walk but they seemed reasonably well today so we completed one of the walks which was about 2.5 kms and I was pleased with myself for managing quite well. We will see how they are tomorrow!!!
Monday 29th January. Unlike the beautiful day yesterday today dawned grey and dull. However by the time we decide to go out which was about 1.00pm the sun was starting to show through. Up to then we had had a pretty lazy day. Although we were entertained by a fifth wheeler getting ready to leave the campsite. I have never quite understood fifth wheelers. I can see that with their slide outs they give a lot of internal room and I am sure that is one of the main reason people chose them. The odd thing is that when they are hitched to the vehicle, always a pick-up truck, they make what is a pretty big vehicle look tiny!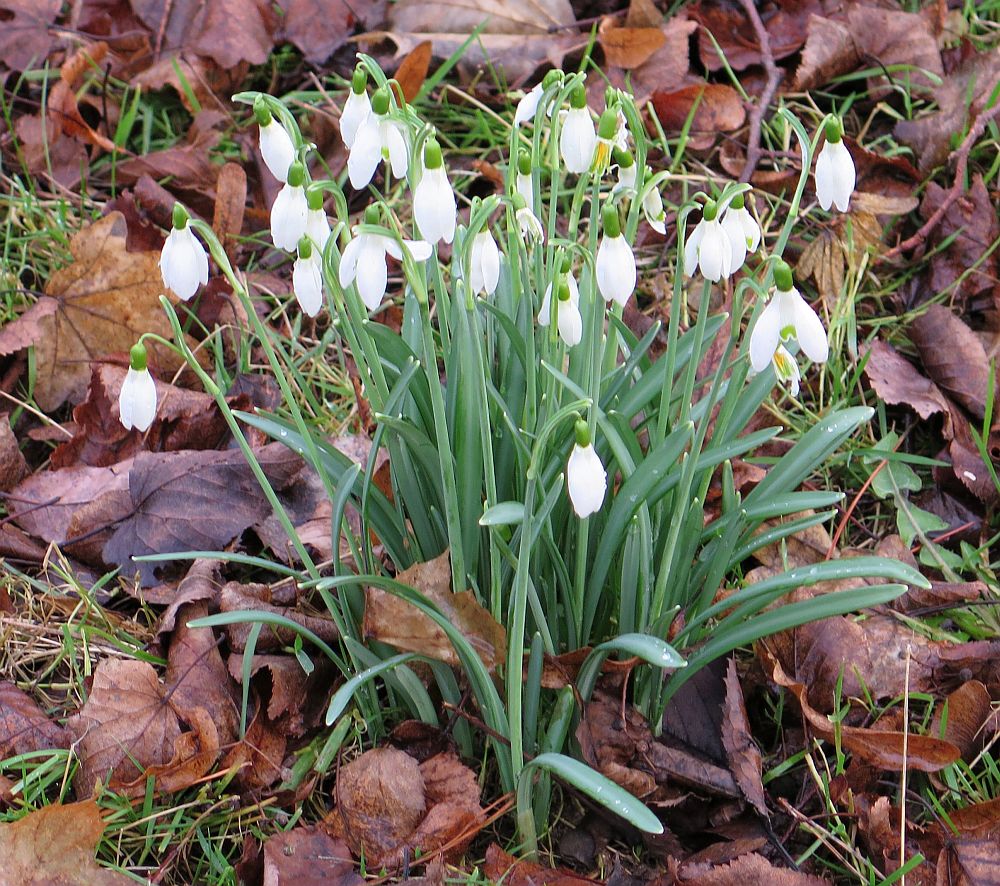 When the rain stopped we walked down to the Notcutts Garden Centre. I was tempted to buy some pot grown Snowdrops as my attempts to grow them from bulbs but have failed miserably. The trouble with Garden Centres is that if you walk to them you have to carry everything back! Talking about snowdrops there were some lovely clumps of them in the verges on the way down the road. This visit had a part two and that was the Granary Pub next door where we had a meal. Hardly haute cuisine but not bad for £33 including a bottle of wine!!! The walk back to the site was in bright sunshine which was nice but it looks as if it's going to be a cold night!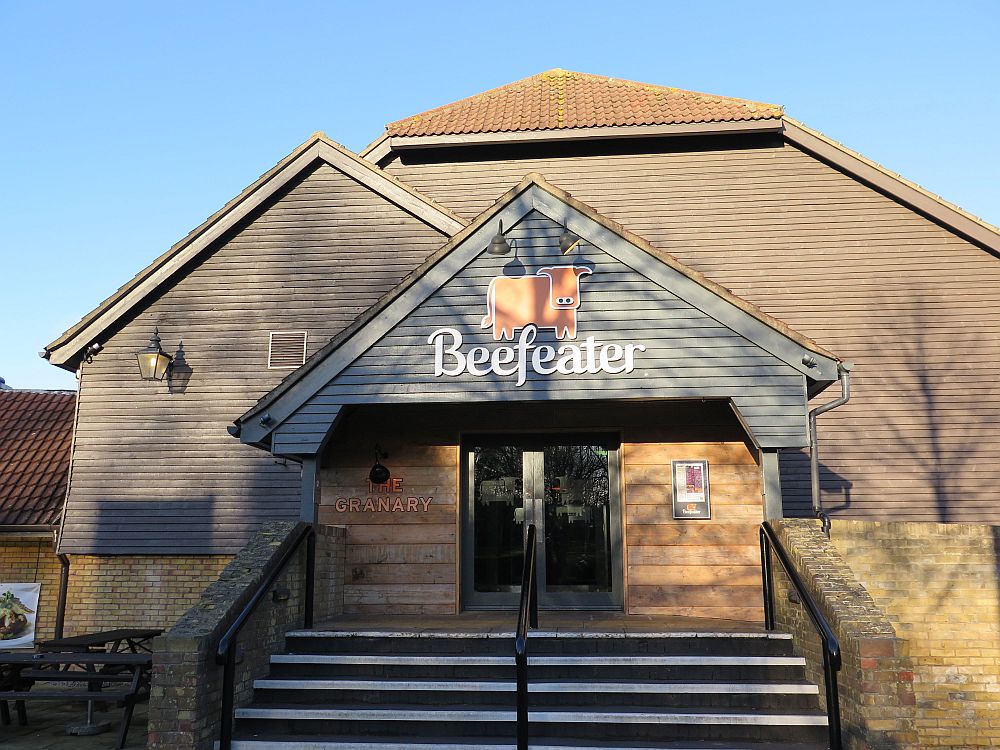 Tuesday 30th January. I was right about it being it being a cold night! One positive from that was that it dawned a lovely sunny day even if there was a grass frost. The choice today was either to catch the bus into Peterborough or to have a nice walk around Nene Valley Park. I think the walk won because it was easier. The best start, we thought, was to stop for a coffee en route at the café by the lake. Fortified we set off round Overton Lake. Still lots of people out and about, some with their dogs, some mums with their prams and some office workers taking a lunch time constitutional. Whilst the sun was lovely there was also a stiff cold breeze depending on direction of travel. Ferry Meadows is a good place for a few days if you don't have any form of transport as everything is on your door step.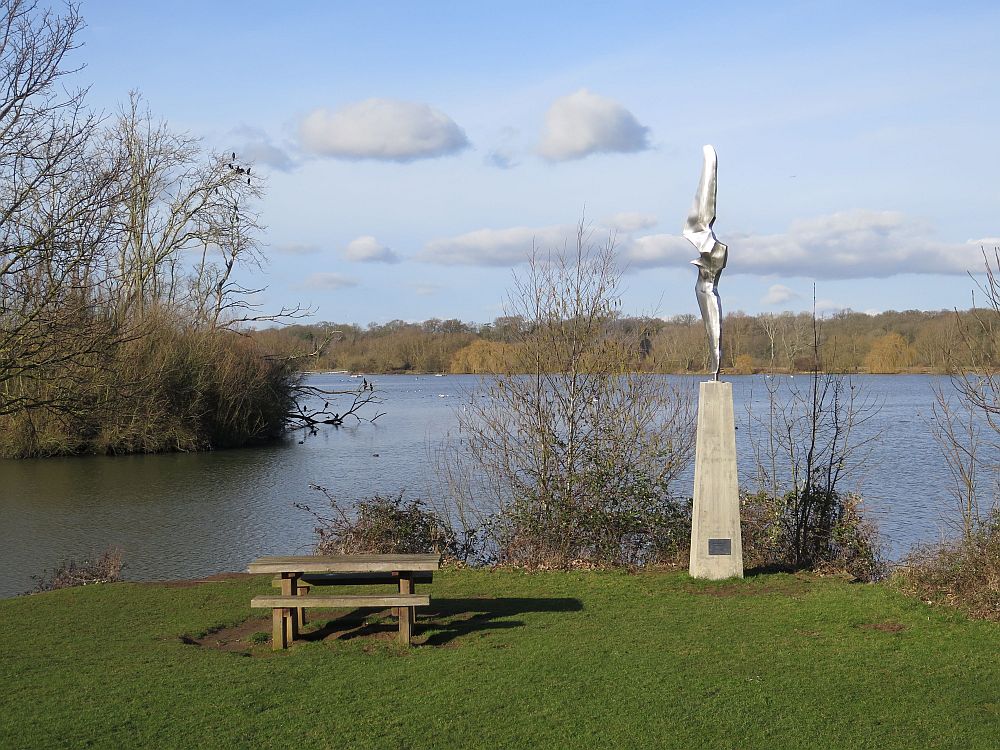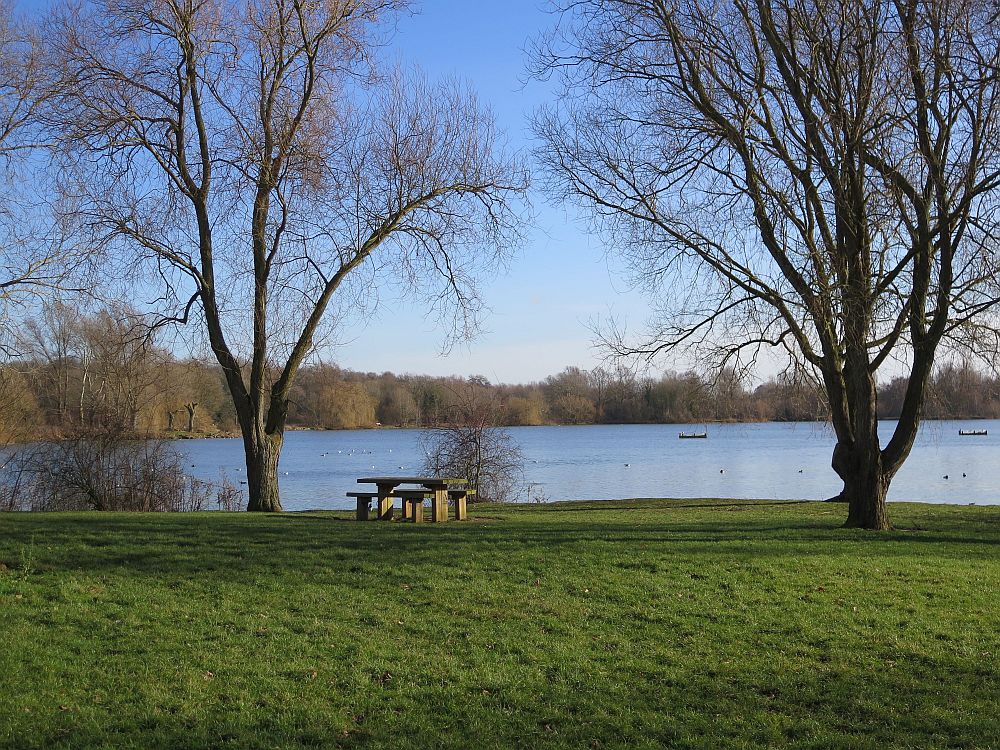 Wednesday 31st January. Our short stay at Ferry Meadows was over and it was time to return to Milton Keynes. We first had to negotiate the rather awkward motorhome waste point. CMC motorhome waste points are not the best but the Club have started to provide drive over gridded drains which are a lot easier. Unfortunately these improvements have not yet reached Peterborough! It is bad enough having to lift a heavy drain cover but when that cover is not in the right place it starts to make thing difficult. We had to basically block the site road in order to get our drain tap over the drain in the road.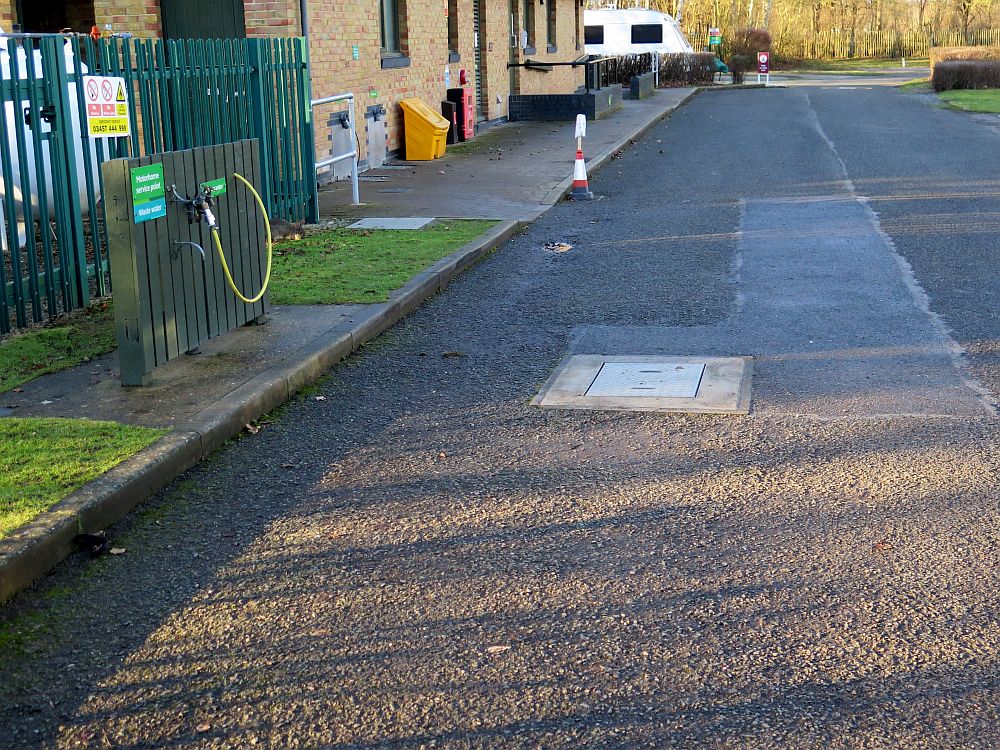 Mission accomplished we head for the open road. We decided to use the same route as the outward journey which was fine but obviously a bit more traffic. The weather was reasonably bright but it seemed much colder and we were glad to get into the house and get the heating on!!!
Henley on Thames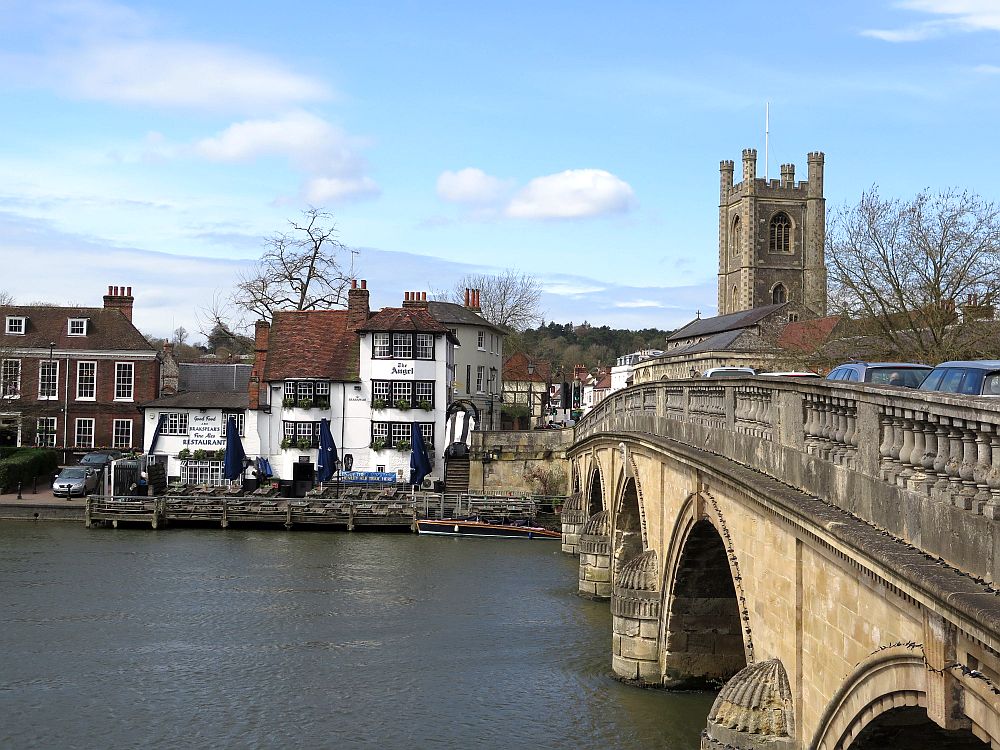 Monday 16th April. When we were last away, at the end of January, it was difficult to imagine that when we got home we were going to experience one of the worst winters for some years. Not only exceptionally cold but also very wet. So two months later we are getting ready for our second trip of the year to Henley on Thames to the CMC site there. It remains to be seen but the weather forecast seems set fair for the next week so fingers crossed.
TomTom always seems to want to take you via the M1 when you head south but that didn't seem the most natural route to me so I opted to go across country towards Bicester and use the M40 instead. It was certainly less busy than the M1 would have been. There is a handy service's just south of Oxford. However typical of many motorway service's the signing for caravan/motorhome parking was not always clear. The signs disappeared or were transferred to the road which is a bit confusing! There may be a bit of "method in the madness" here as it seems to keep the HGV's away from that area because it's signed to the coach park. Coaches take up on side of the parking area and the other side is for caravans and motorhomes. It is nose in parking or reverse in depending how you feel about it into marked bays.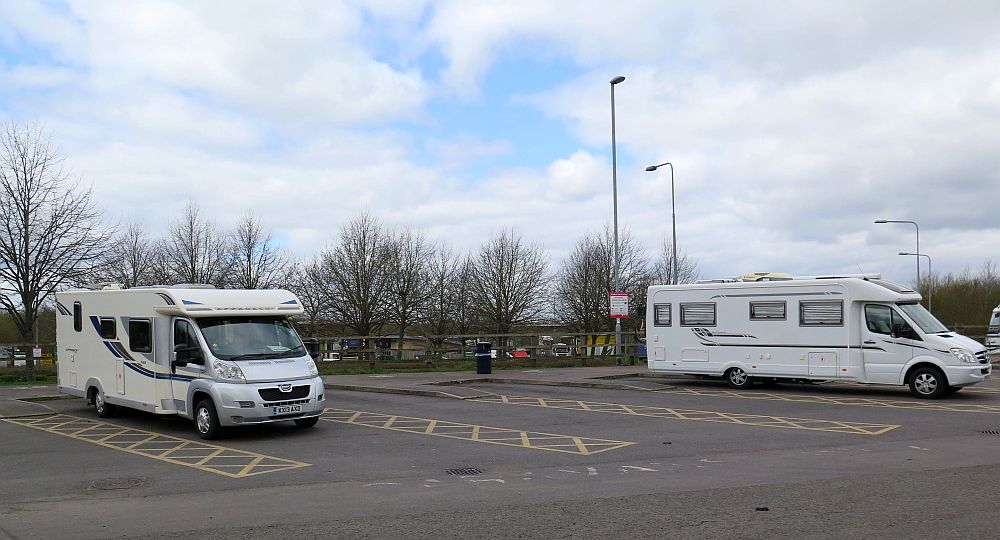 Rested and refreshed by a coffee we made our way back out onto the motorway. Being the M40 you pass under the Vicar of Dibley Bridge. No it'd not called that but it may as well be. We, of course, are going the wrong way compared to the view used in the opening title sequence of the well-known comedy series. We pull off the motorway at High Wycombe and take the Marlow bypass and leave at the first junction for the last eight miles to the site. This involves navigating (well the Thames is nearby!) through Marlow which is both busy and fairly narrow but we manage. The rest of the road is two way but narrow in places and we hear the Fiamma awning brushing against some branches as we hug the side of the road to give the maximum space for ongoing traffic. The campsite is just on the edge of Henley so no need to get involved with town traffic fortunately.
The site is pretty busy and the choice of pitches is limited. For those that don't know the site it runs parallel to the A4155 which is a pretty busy road so people tend to avoid using those pitches that back onto the road. If we want to avoid that it is Hobsons Choice because there is one pitch left on the other side of the site roadway. We are still fairly near but further away than we would be and at least the bedroom of the motorhome is at the rear. We had thought of using Swiss Farm which is next door but set much further back from the road but at £6 a night extra for a similar pitch we stuck with the CMC site!
Tuesday 17th April. It dawned fairly dull today although not cold. We walked into Henley today. Probably with the passing of the years the distance into the town seems to be getting longer! The last time we were here we stayed at Swiss Farm which has the advantage over the Club site of a bit neared to Henley. When we got into the town we walked down to the river rather than head for the shops! It didn't stop Margaret looking in the Estate Agents windows as she does every place we visit. I think the conclusion was that we don't have enough money to live in Henley on Thames!! Our own house is far from modest but I don't think its value would be enough for a deposit on some of the houses for sale! The guide book on Henley we picked up from the site information room lists many of the celebrities that live in and around Henley, including the late Paul Daniels and of course the lovely Debbie McGee!!!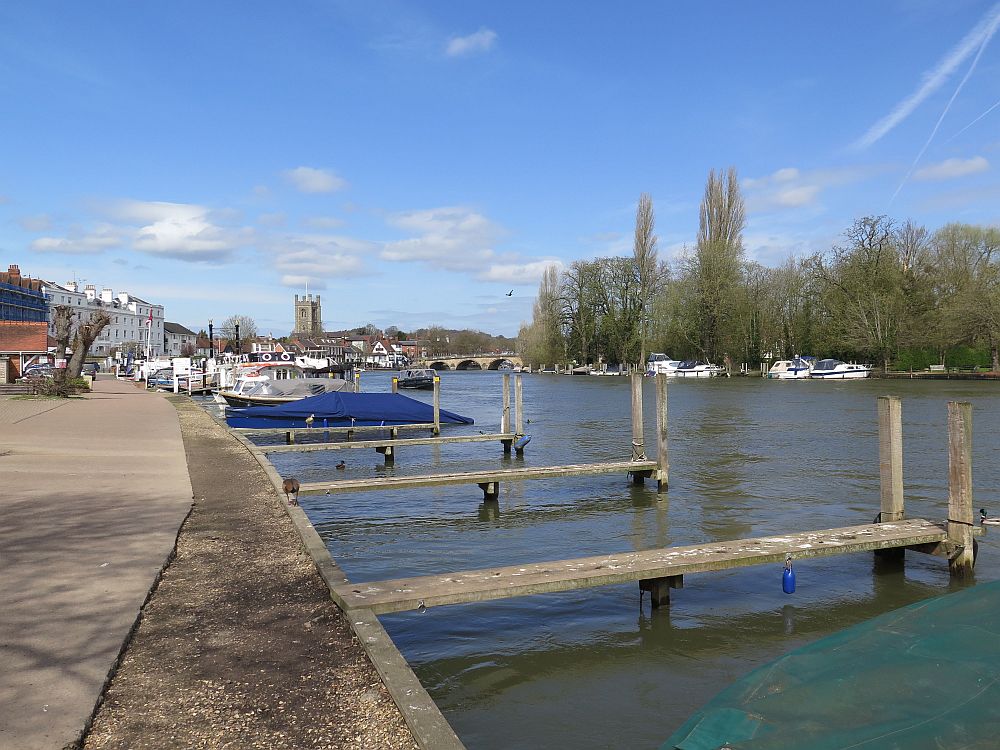 When we got down to the water's edge the sun made an appearance which immediately made everything look so much better. We continued to the bridge over the Thames and I left Margaret outside the Angel whilst I walked across the bridge to try and get that iconic shot of the Bridge, the Angel and Henley Church. If only I could magic away the vehicles crossing the bridge it would be easy! On the other side of the bridge we found a seat overlooking the river and cast our minds back over 40 years when we used to use our boat on the Thames. Lots of launches for hire as we walked along the towpath. We doubled back into town for a coffee before making our way back to the campsite.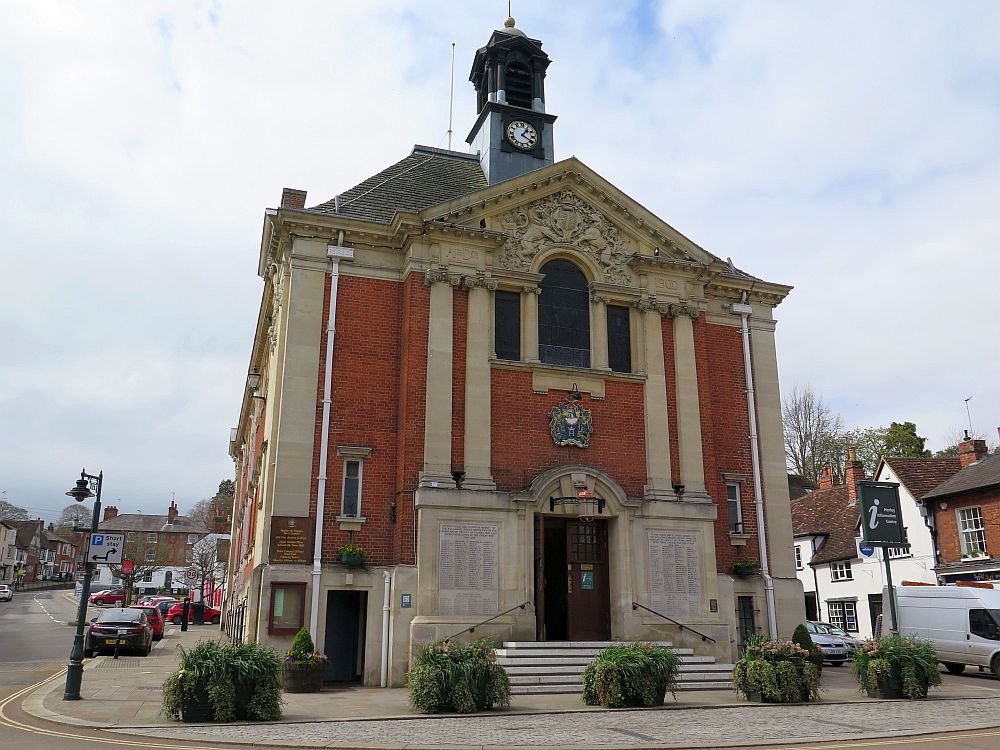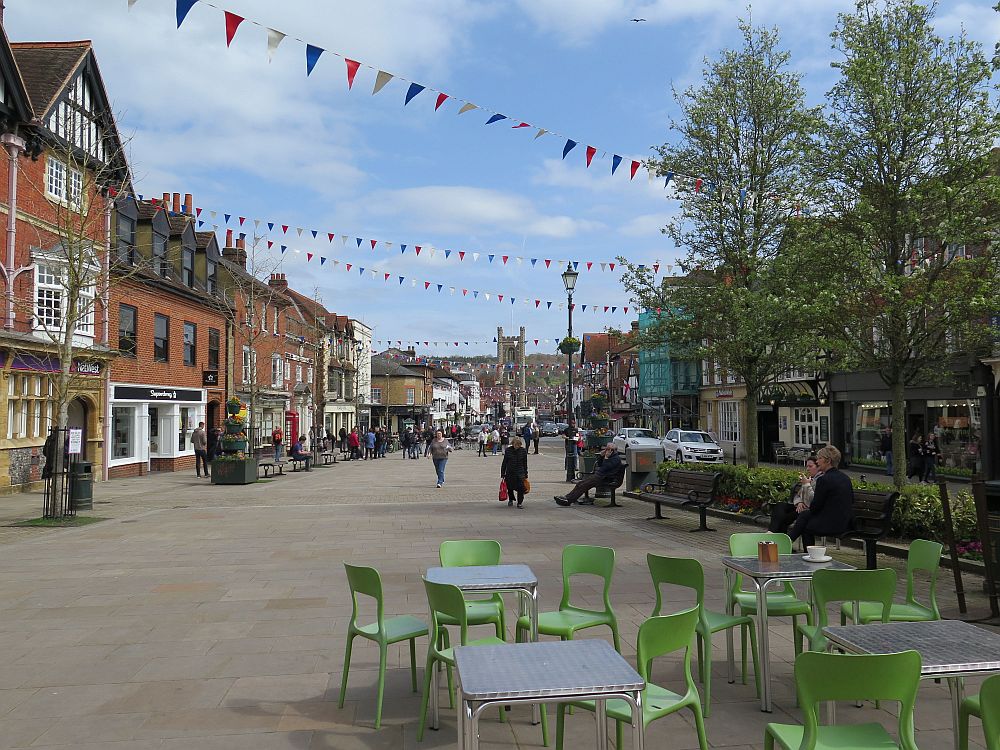 Wednesday 18th April. It dawned a beautiful day today, everything the forecasters had promised for a change. The trouble is I think my body thermostat is still set to winter and I struggled to adjust to the heat but I am happy to get used to it. Today we took the bus into Marlow. I think the weather has brought everyone out for the day as the riverside park was very busy, especially the ice cream man, although at Marlow prices! We went to have a look at the famous Marlow suspension bridge with its wonderful views of the Thames and Marlow weir with the Complete Angler on one side of the river and Marlow Church on the opposite bank. We wandered along the river bank and into the park and found a shady seat. Red Kites are a feature of this area of the Thames Valley and people love to see them gliding around in the sky. This was probably not true of the chap sitting on a park bench eating his lunch when one of them swooped down and tried to steal it!! Thinking it might be safer to eat under cover we made our way across to Burgers Artisan Bakery for a coffee and something to eat before making our way to the bus back to the site.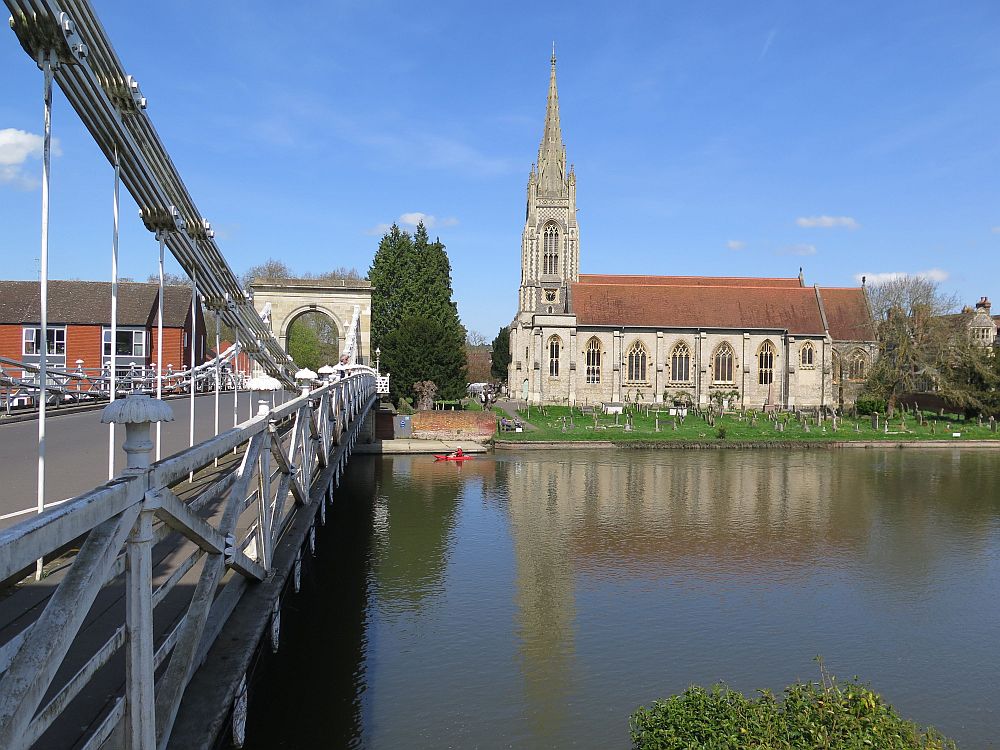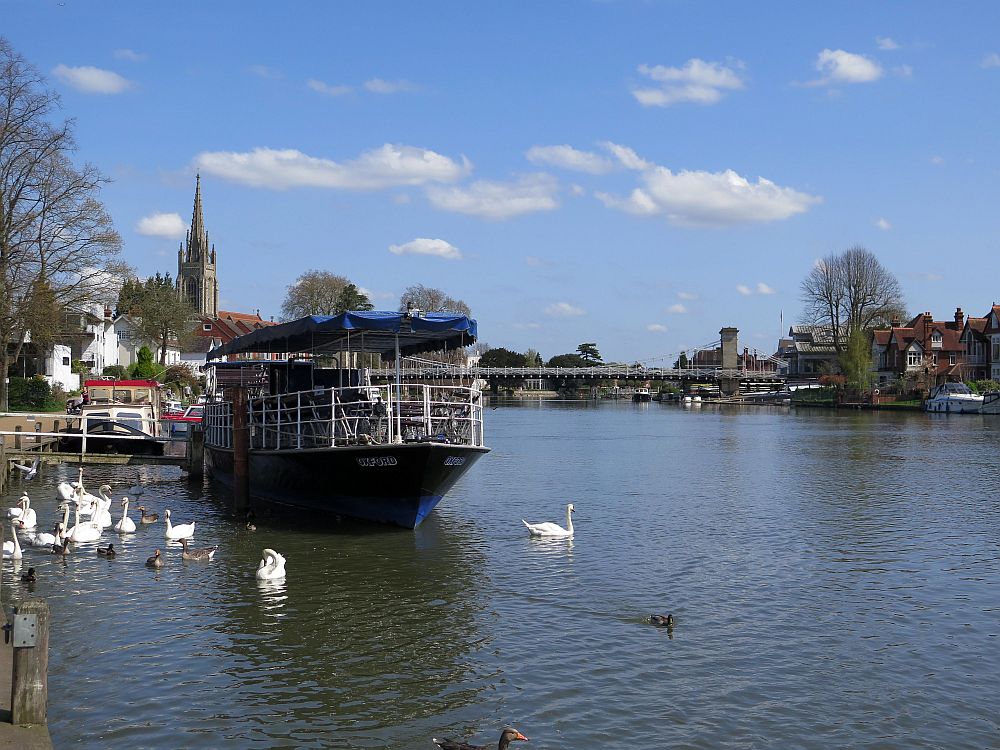 When we were back we got the chairs out and enjoyed a cool beer in the shade of the van. The warden was passing by and he came over for a chat. I mentioned the traffic noise to him and he said the Club had investigated a special type of fencing that would reduce the road noise but not eliminate it. However it was so costly that they had second thoughts. There was no better news on the motorhome service point which is still the old fashioned lift up drain cover. He reckons a new style open grill is not in the plans for at least two years. Currently the site is about two thirds hardstandings and a third grass pitches. The latter only open from May onwards and they are looking at ways to extend the number of hardstanding because the site is often full and they could get more units on with more hardstandings. I know some people are not keen on more hardstandings but it seems to be a choice between allowing more people to use the site for longer against a fairly limited season with grass.
Thursday 18th April. Another beautiful day, the only difference was that we decided to stay put today and just relaxed on site. I often struggle with the concept of sitting around and doing nothing but at least with the sun and temperatures in the mid-twenties I was able to reconcile it it!!! We are ideally situated to watch the comings and goings as our pitch looks directly out onto reception and the site entrance. I was amused by one car that had the registration number P45 YES!!! From the arrivals today I reckon the site is all but full, although none of the grass pitches are being used at the moment. When I say relaxed one does have to take into account the noise from the road which is about 25 metres from our pitch. It is fairly constant during the day but now and then it goes completely quiet and you do wonder if you are suffering from a loss of hearing!! Unfortunately sanity is soon restored as the next batch of vehicles traverse the road. This is our last day here and back home tomorrow.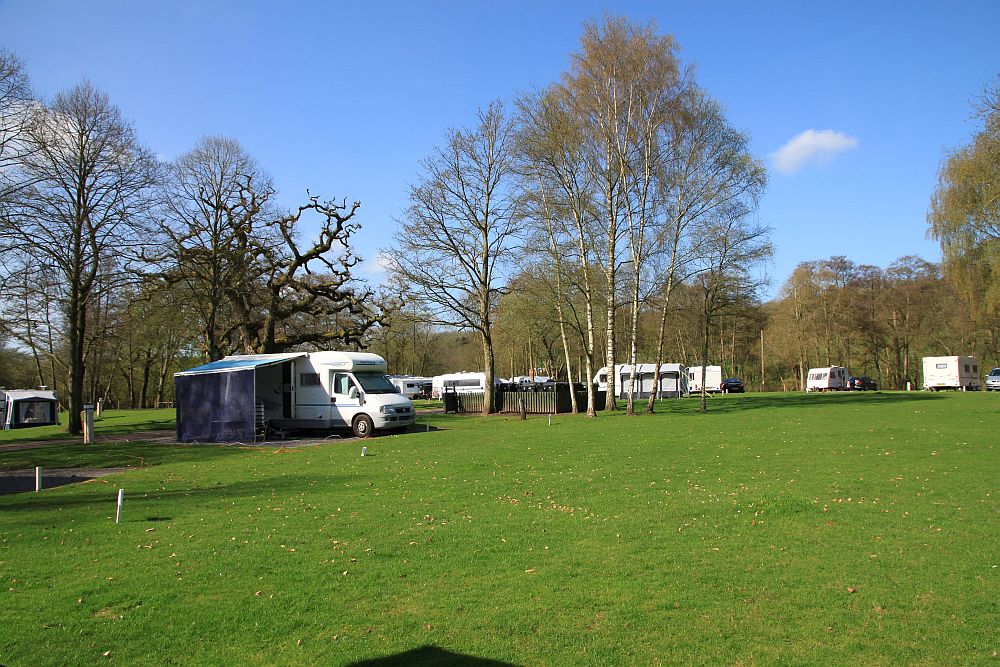 Friday 19th April. Another lovely day for the journey home. First job was to empty the waste. As mentioned earlier they are often not the most user friendly and Henley was no exception as they still had heavy drain covers to remove and the positioning meant that you blocked the road!!! I was not looking forward to travelling along the road between Henley and Marlow as whilst its fine for most of the way there are narrow points where you have to pull right over to allow oncoming vehicles to pass. I shudder as I hear the (hopefully) Fiamma awning brushing against the bushes. After that the rest of the journey was quite straight forward calling in at the Oxford Services for a coffee and Tesco in MK to refuel.
Oxford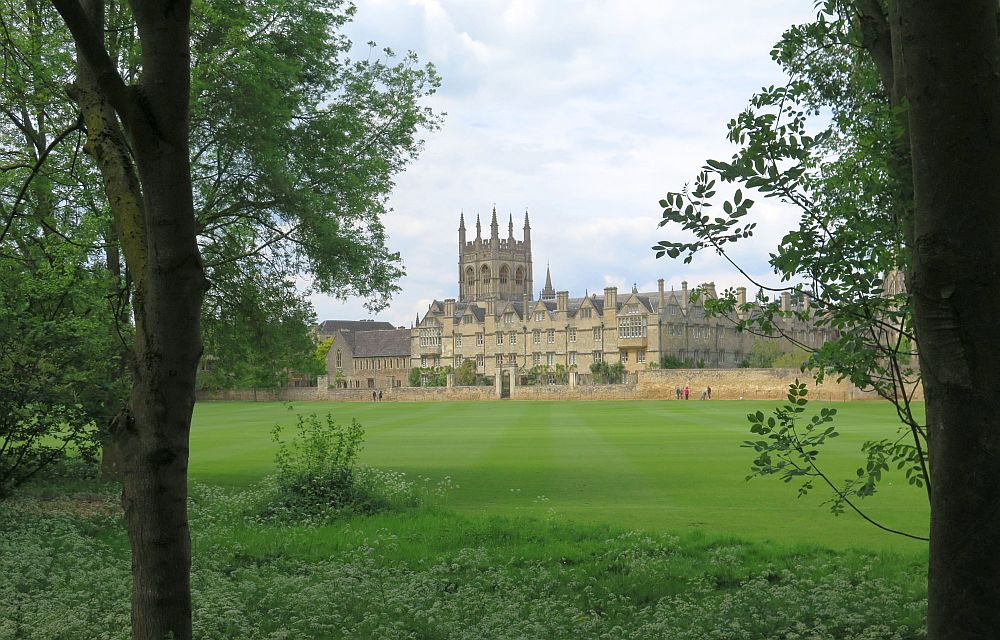 Friday 11th May. A short weekend trip away to the C&CC site at Oxford. Being so close at hand, 43 miles, we couldn't leave too early which meant a bit of hanging around. I suppose it's one of the disadvantages of C&CC sites and their policy of not allowing you to arrive before 1.00pm. Its fine if you have a reasonable distance to travel but more inconvenient if it's only a few miles. Traffic was fairly heavy on the A34 northbound with queues seemingly the norm these days between Oxford and the M40. We arrived at the site not long after the 1.00pm curfew and were escorted to our pitch as is the norm of C&CC sites. One interesting aspect of this site is the number of European visitors. We have only ever stayed on a handful of UK sites where this happens. I suppose rather like when we go abroad we tend to gravitate towards the major centres of interest.
Once we had settled in and had some lunch we set off to explore. First to the Park and Ride, which is quite near to the campsite, to check out the frequencies? However there is a service from immediately outside the campsite which would suit us better. Further along the road there is small Tesco where we were able to buy a few things. Before going back to the site we called into the Go Outdoors which is in front of the campsite. It is something of an Aladdin's Cave compared to the large modern store we have in MK.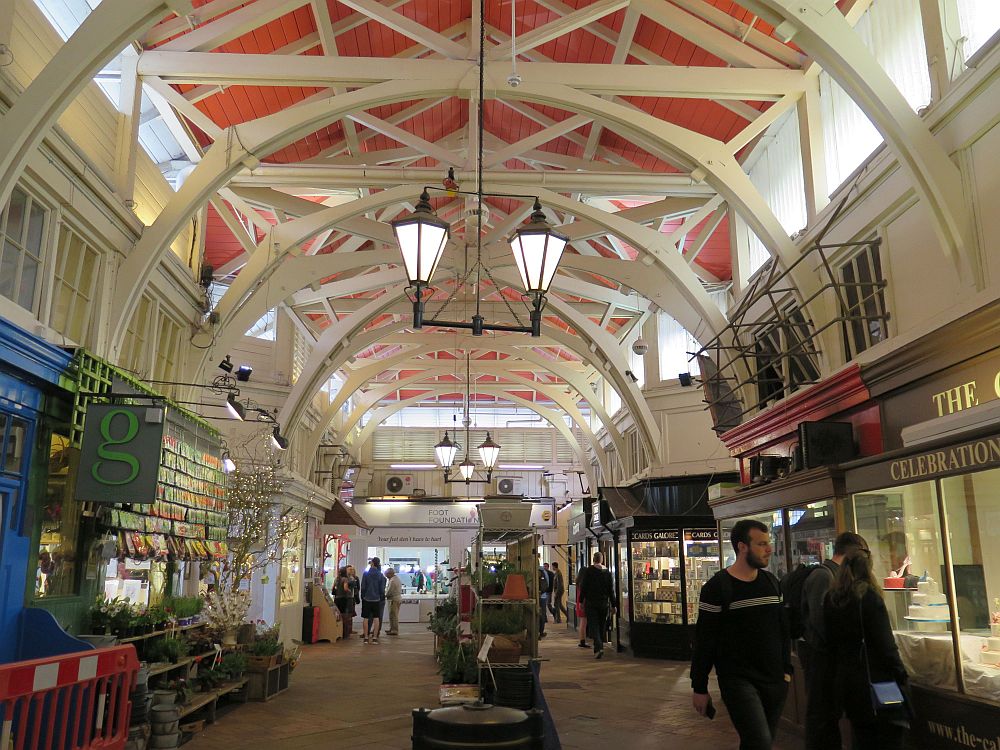 Saturday 12th May. It dawned a bit dull today but at least it was dry and the sun was making an attempt to break through. We took the bus into Oxford today from the nearest bus stop rather than the Park and Ride, it's nice to have choice. It dropped us off outside the new Westgate Shopping Centre which was built on the site of the medieval West Gate entrance into the City. The centre has been remodelled in recent years and now incorporates a large John Lewis where we headed for a coffee. From our seat overlooking the Shopping Centre we notice some escalators seemingly heading up to the roof so when we had finished we set off to check it out. It turned out to be a public view point overlooking Oxford's "Dreaming Spires", there are even restaurants up there where you can eat with a view of the City, it's worth a look if you are in Oxford. The whole City seems to be bustling with shoppers and tourists which is good to see.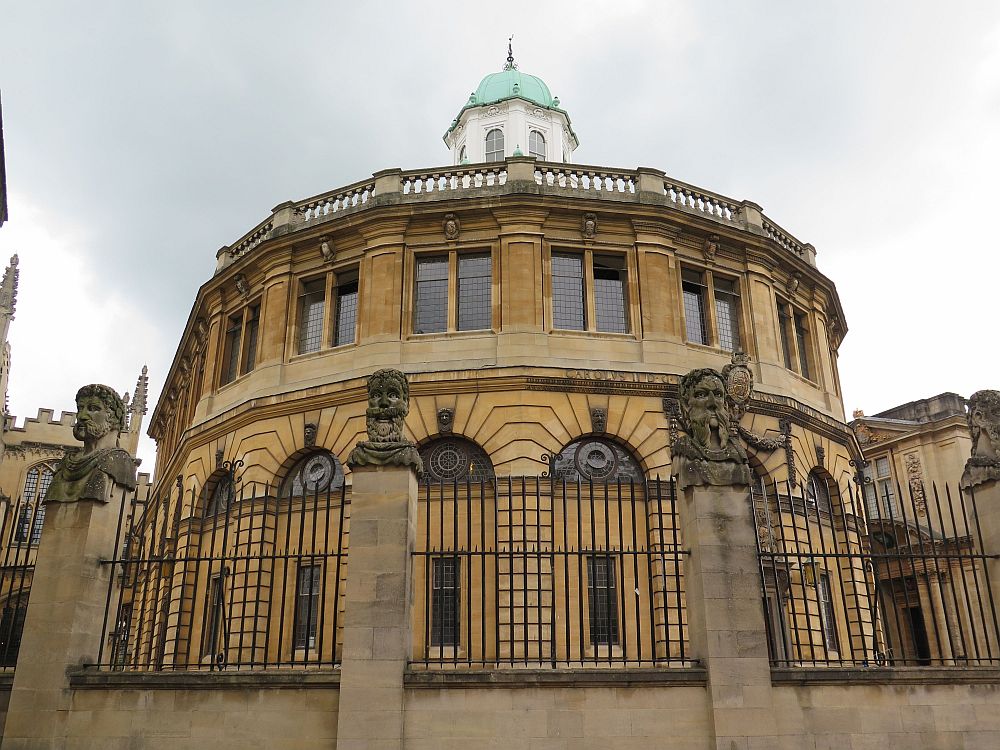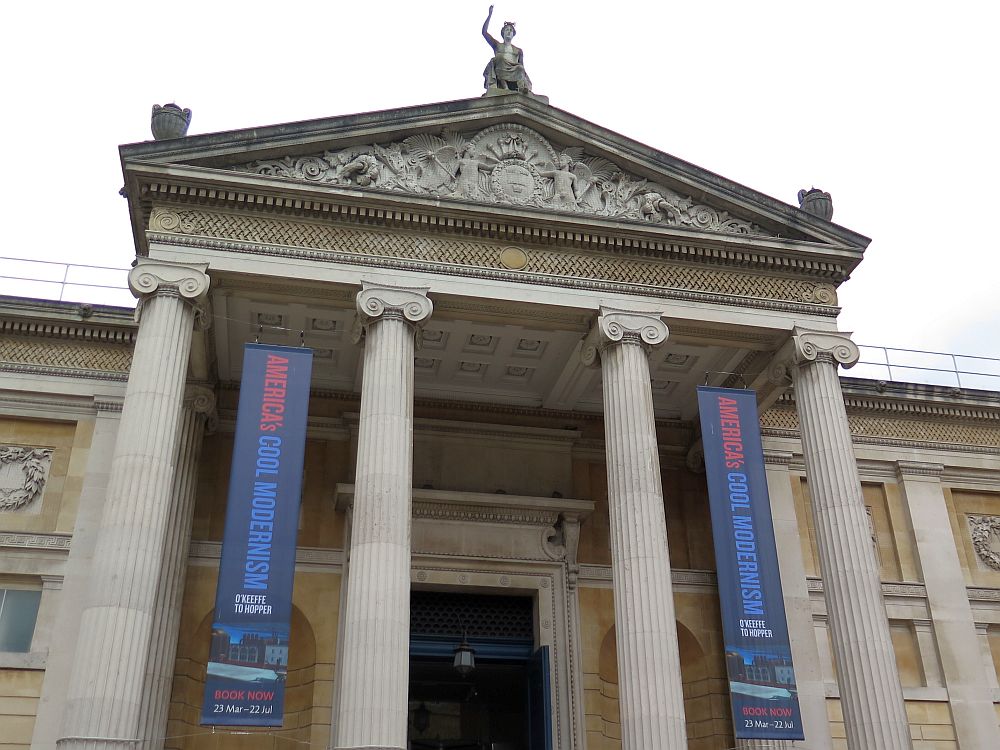 We wanted to check out where the Ashmolean Museum was so we made our way through the shopping area where we first found the Randolph Hotel, often used in the Morse TV series. The Ashmolean was just round the corner. As the museum deserved more time that we could give it today it was just a look to see where it actually was. In Broad Street we saw the Tourist Information Centre so we went in for a map. Unlike many European towns that have those tear off give away maps ours cost us 50p! At least the young lady suggested a route back towards Folly Bridge. Outside a tour guide was explaining that one of the Colleges was closed because of a Graduation Ceremony. We noticed the bowler hatted officials as we passed by. The Bodleian Library and the Radcliff Camera are really magnificent buildings and you almost feel history oozing out of the mellow yellow Cotswold stone. We cut down Magpie Lane which took us down to the meadows behind the colleges and back to where we needed to catch the bus. Other than London I don't think I have seen so many buses! We decided to take the one back to the Park and Ride to see what the alternative was like. It's a choice of more frequent services and a slightly longer walk. Whenever we stay anywhere new I try and see if the local bus provider has an app which I can download to my phone. In this case Oxford Bus did and it proved very useful in providing real time information.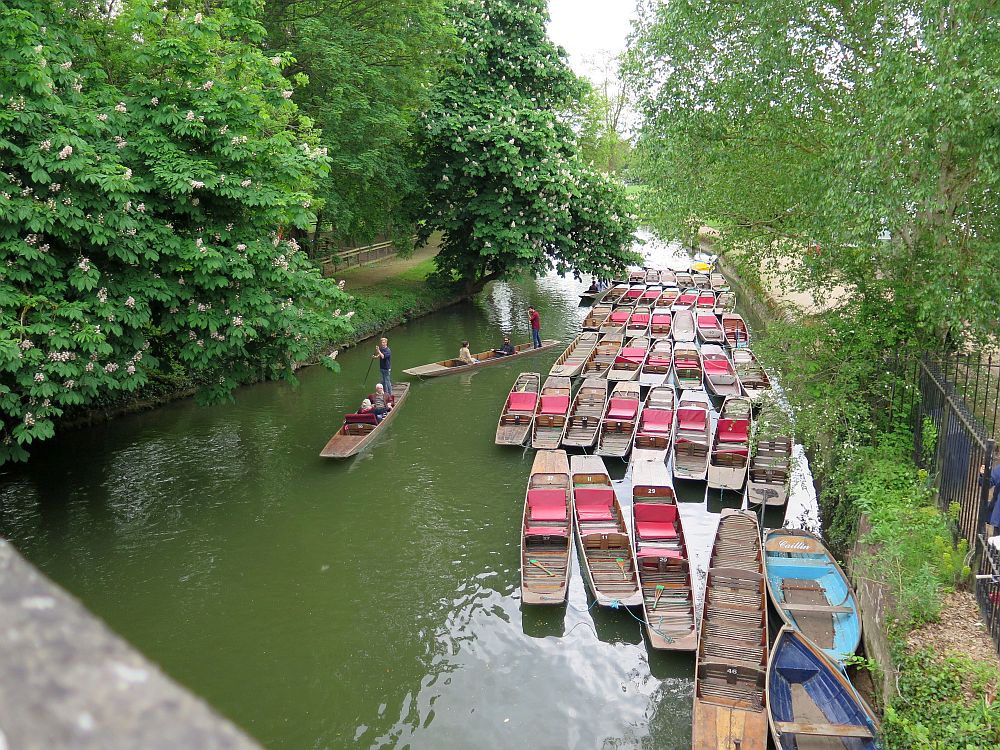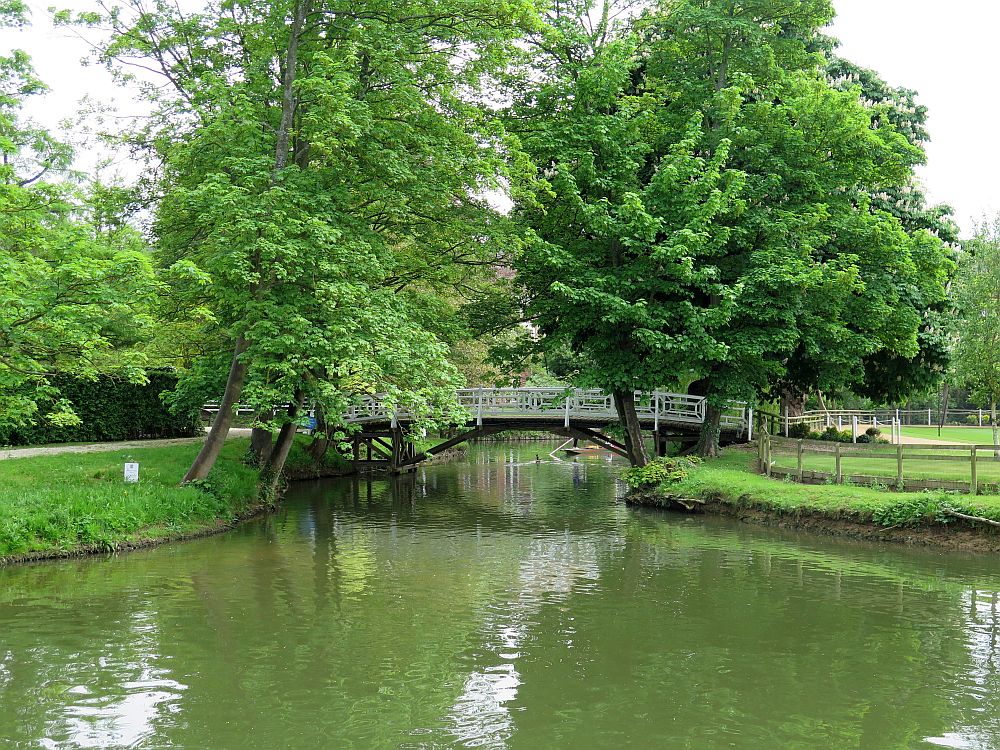 Sunday 13th May. The forecast suggested rain today but we awoke to beautiful blue skies and it stayed dry and mainly sunny all day. We returned to the City Centre on the bus but rather than be stuck in a museum for a couple of hours we opted for the Botanic Gardens which are near to Magdalen Bridge. Before entering the gardens we went to have a look at the action on the River Cherwell with people trying their hand at punting. From my point of view something that is better to watch than have a go at!!! The Botanic Gardens were founded in 1621 and they are lovely to wander around. For those of us that don't always remember the names of plants they are all neatly labelled. There are several glass houses with different temperatures, I avoided going in the hottest as I always find it steams up the lens of my camera! Around the garden information signs telling you about certain plants and the contribution they have made in history. Apparently the builders of the Pyramids ate onions and garlic. It is rumoured that they didn't have many friends!!
Having finished with the gardens we made our way down to the River Thames. There was very little river traffic which surprised me given that it was a Sunday. We walked round to the Head of the River pub with the idea we might have something to eat. It seems they only do full meals so we didn't bother and made our way back to the bus.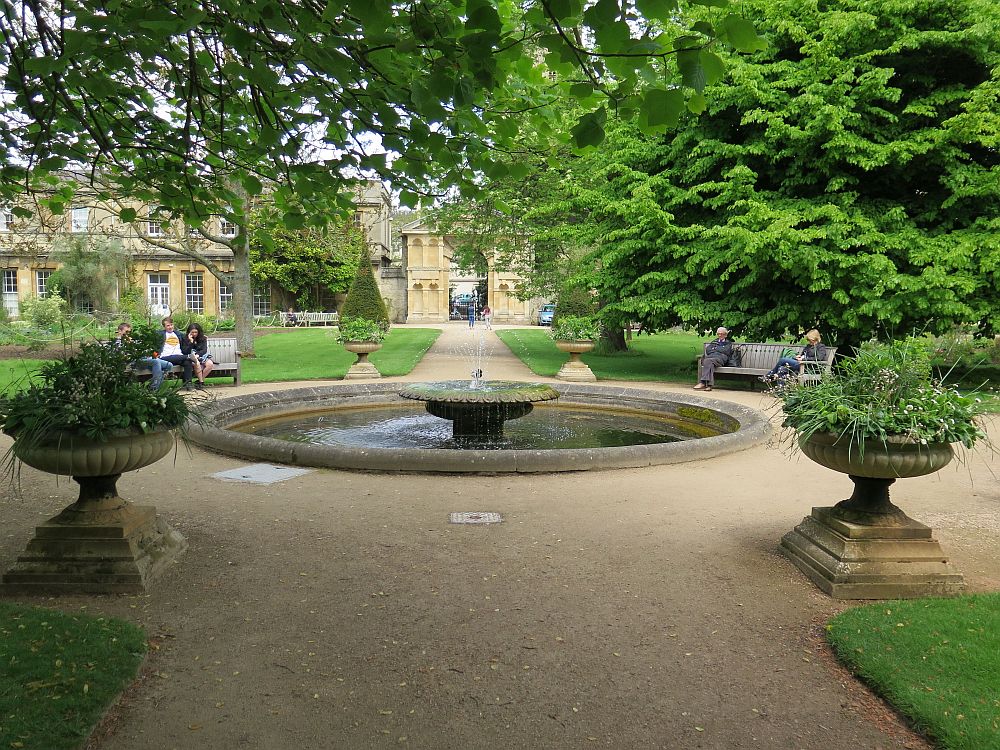 Monday 14th May. A trouble free journey back to MK. A Dutch caravan left immediately before us and turned right out of the site. I am not sure which general direction he was heading in but he passed us on the opposite carriageway as we headed for the A34. When we booked the Oxford C&CC site I was not really sure what to expect having read quite a few reviews. OK we had pretty good day time weather during our stay but I thought it quite a nice site. Certainly if you want to explore Oxford it is ideal with its excellent transport links. The City is almost within walking distance if you prefer to make your own way. It's doubtful whether it's worth taking a car into the City Centre.
Chichester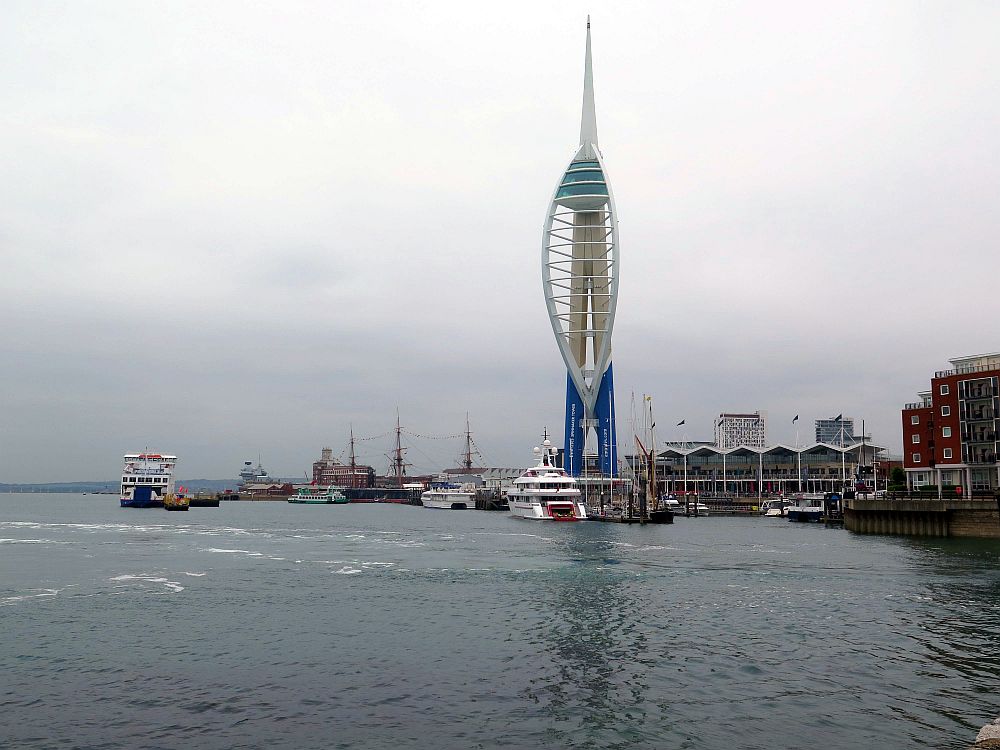 Sunday 3rd June. We set off today on our first longer trip of the year, albeit only 17 nights long. Our first of three sites is the C&CC site at Chichester. As we got the motorhome out of the back garden it had the makings of a fine and warm day. Within ten minutes of leaving home we were in a queue of traffic on the A5 D as we call it. Or the A5 diversion as it was originally called. We have a habit in MK of referring to the design names of things when the City was being built some forty years ago! In all that time we have never been held up on that road but resurfacing work at Old Stratford meant we were reduced to one lane. About half an hour after leaving home we were on the move and heading towards Buckingham and beyond. It was only a couple of weeks ago we were heading down the A34 to Oxford but this time we kept going. The traffic was very heavy today but not sure if this was because it's the end of the half term holiday or the fact that it was just a nice day.
We arrived at the site about 2.30pm to a very warm welcome by the site team. Unfortunately our choice of pitch was pretty limited due to our length and the fact that we had booked a hardstanding. The site only has 58 pitches and apparently is one of the best performing sites in the C&CC network. The site managers were celebrating a recent three year extension to the lease which was good but looking across the site you can see a new housing development and you have to wonder how long the site will survive?
Monday 4th June. Today we took the bus to visit the Fishbourne Roman Palace. Fortunately there is quite a regular bus service that passes the site but it was more of a problem deciding where to get off. Depending on the bus company you can often download apps to your phone and in this case it was Stagecoach which I already had. The advantage of these apps is that they often show the progress of the journey so you can identify the stop you need to alight at. Mind you it does also depend on a good mobile and GPS signal! If all this fails you just ask a local on the bus who you have just happened to have struck up a conversation with. Once off the bus it was about a half mile walk to the Palace.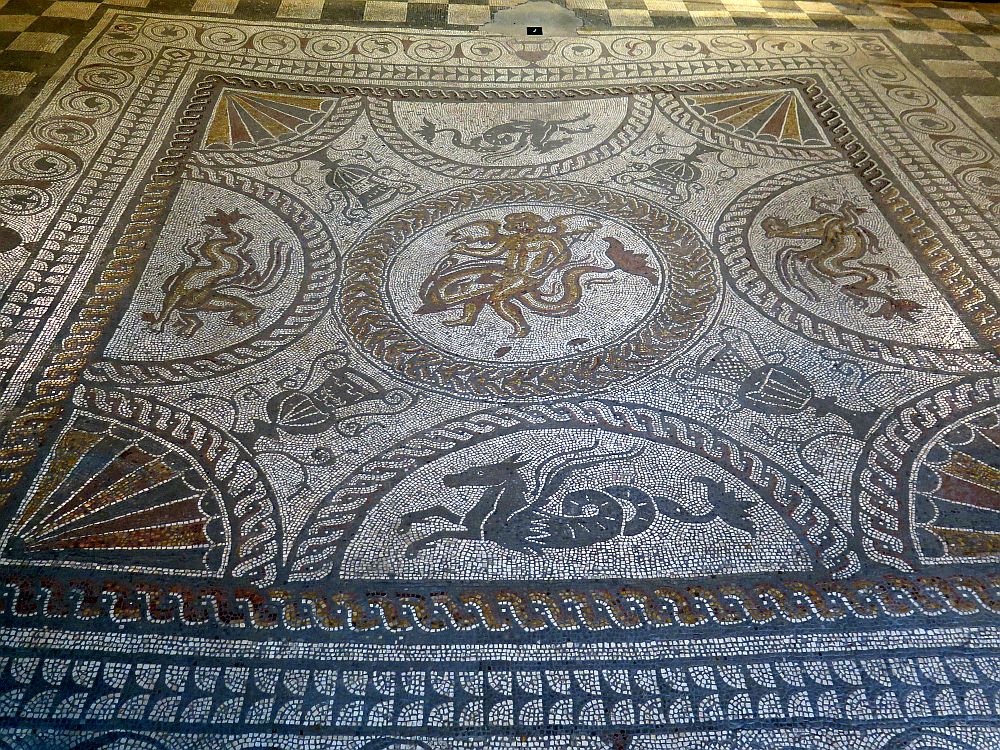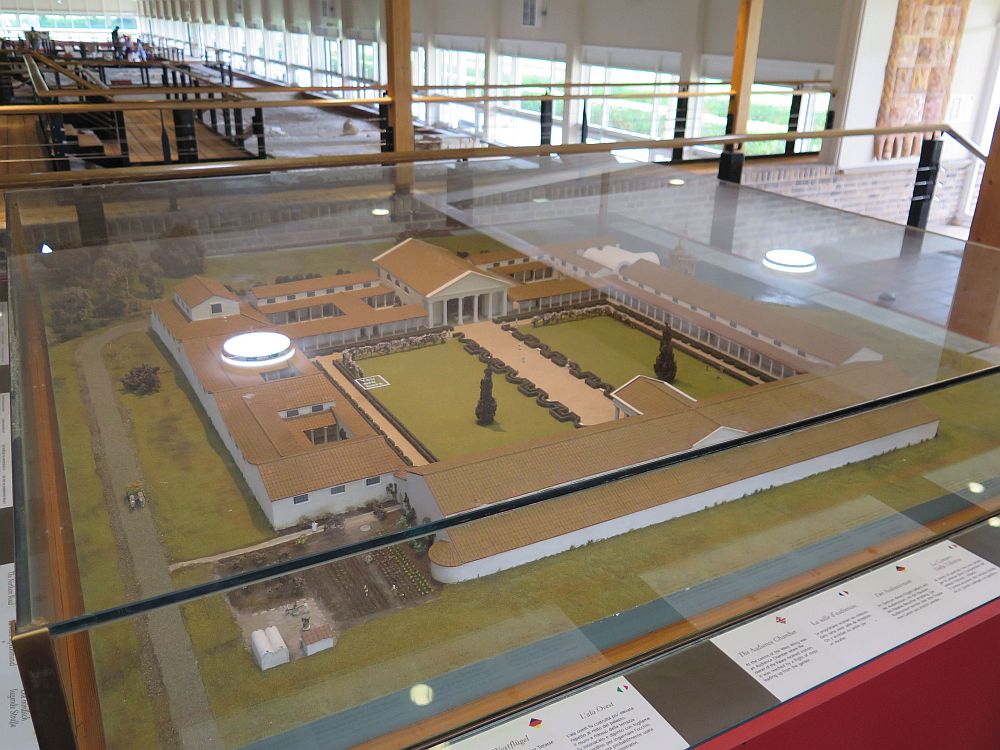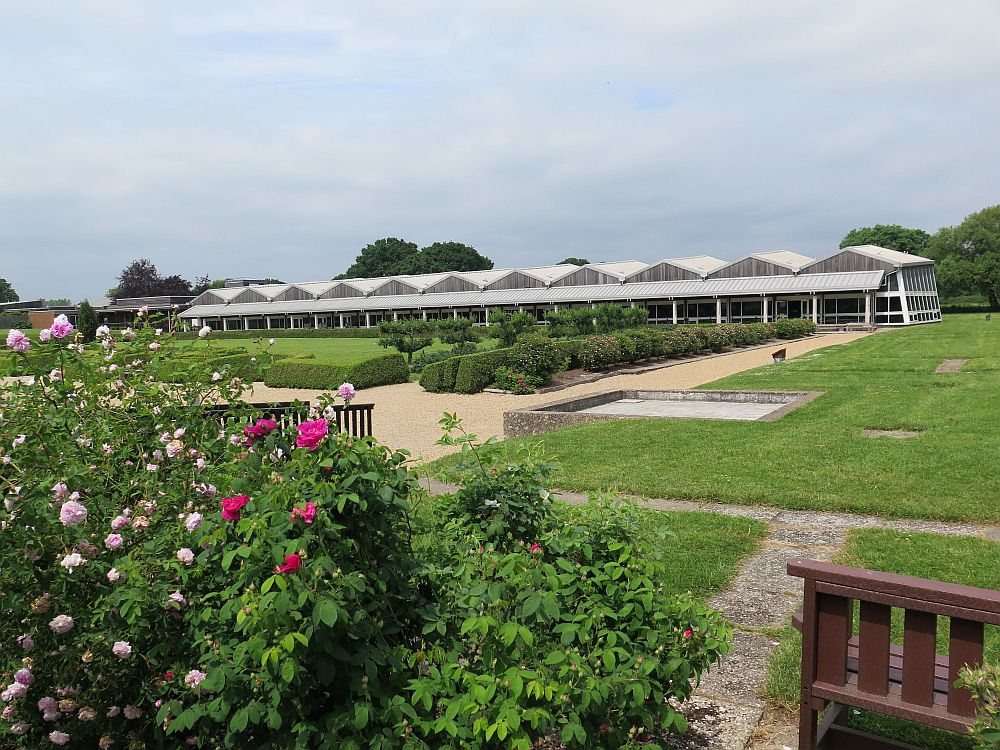 We decided to have a coffee before setting off on our exploration. The Roman Palace at Fishbourne is reputed to be the largest palace ever discovered in the UK. It is, of course, famous for its mosaic floors. These are now all covered by the building that now protects them. On entry to the Museum you are invited to look through the exhibition that traces the history of the Roman invasion and occupation of parts of what is now the UK. Quite a bit of the exhibition is about the nitty gritty of roman life which is interesting in itself. The area covered by the mosaics is very impressive and some of them are in remarkably good condition. You can also get quite close to them. Guests are invited to view the gardens where they have tried to recreate them as close to the original as they can. I am sure that is on a best guess basis but also backed up with some evidence. It seemed that during construction most of the top soil was removed. So when they wanted to plant a tree they had to dig a pit which obviously contained a different soil than all around so they were able to work out where the original trees were planted. It is quite instructive to go to the furthest point in the garden to get an impression of the scale of the original palace as the museum only covers half of the original size. The rest is still under housing and a road adjacent to the Museum!
Tuesday 5th May. It has been a bit of a dull day today so we had quite a lazy day. We did walk up to Southbourne Station just to check where it was and the train times. We are thinking about a trip into Portsmouth and the train is quicker compared to the bus but by the time we walk to the station it's about even-stevens. Looking at a lot of the houses in Southbourne it seems as though most were built in the inter war years. However new houses are now being built and according to a notice on a lamppost the local council want to build about 500 more new ones. The same thing is happening all over the South of England. We took a different route back to the main road as we wanted to visit the local Farm Shop. We tend to find most farm shops overpriced and I don't think this one was any different, however the produce did all look good. We did purchase a small pork pie for lunch and some strawberries for later!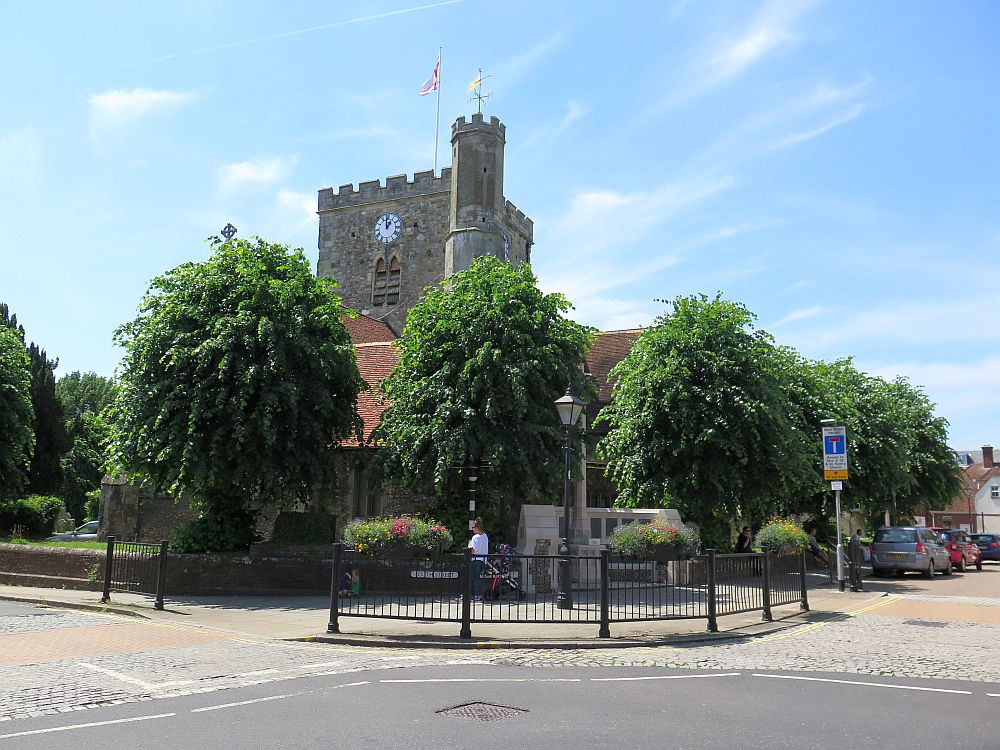 Wednesday 6th June. Lovely sunny day today but with a fairly stiff breeze. Well, it was the intention to go all the way to Portsmouth on the bus today but we encountered quite a few delays en route and decided that we would abort the journey at Havant as not only was it going to take so much longer than the usual 50 minutes I was not sure my bladder would stay the course!!! I don't wish to be discourteous to Havant but the centre does not seem to have much about it beyond a rather nice looking church. I could be wrong but I wonder if it suffered war damage because of its proximity to the Naval Dockyards at Portsmouth? There is an eighties style shopping centre but that would hardly be considered a destination! We did grab a coffee before having a look round.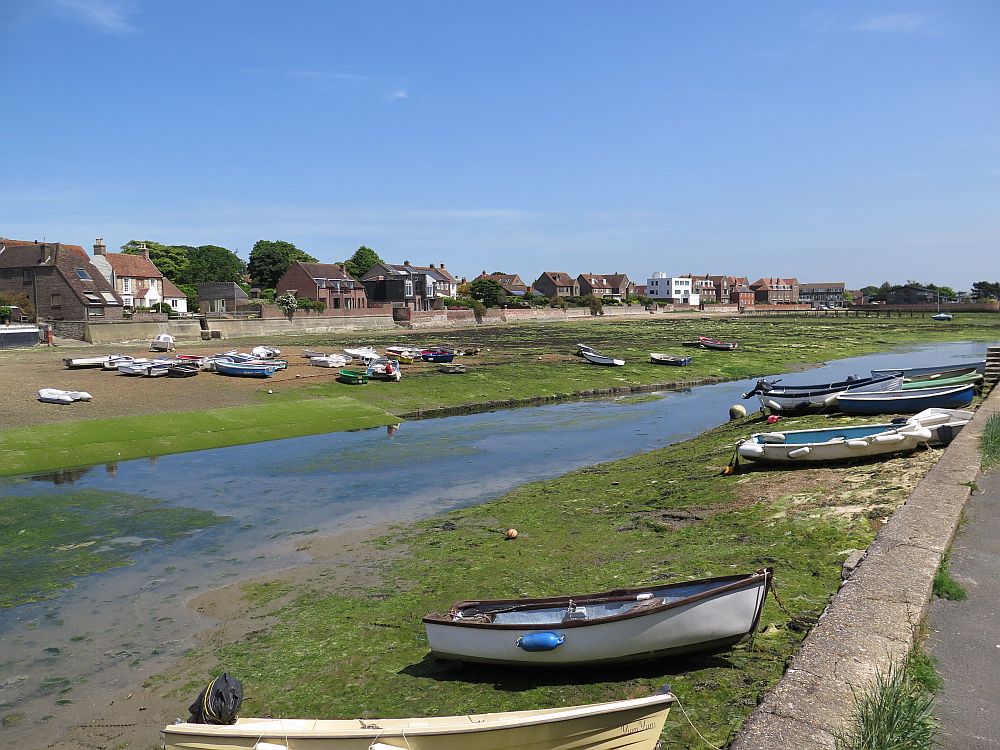 We decided that we would backtrack to Emsworth, a place the bus had gone through en route. It is a much more picturesque place and we wandered alongside one of the water inlets that abound in these parts. Obviously a popular place for sailing. Emsworth has an old world charm that Havant lacked. Thinking that we should find somewhere to have a bite to eat. We first found the Blue Bell Inn which looked rather nice but all the outside seating was taken. A Bit further along was the Coal Exchange which we discovered had a nice little beer garden at the rear to enjoy a beer and a sandwich. A walk through the old town we came across another part of the harbour. The reason for the Roman Palace being at Fishbourne was the access offered by this multitude of water channels that all connected to the Solent.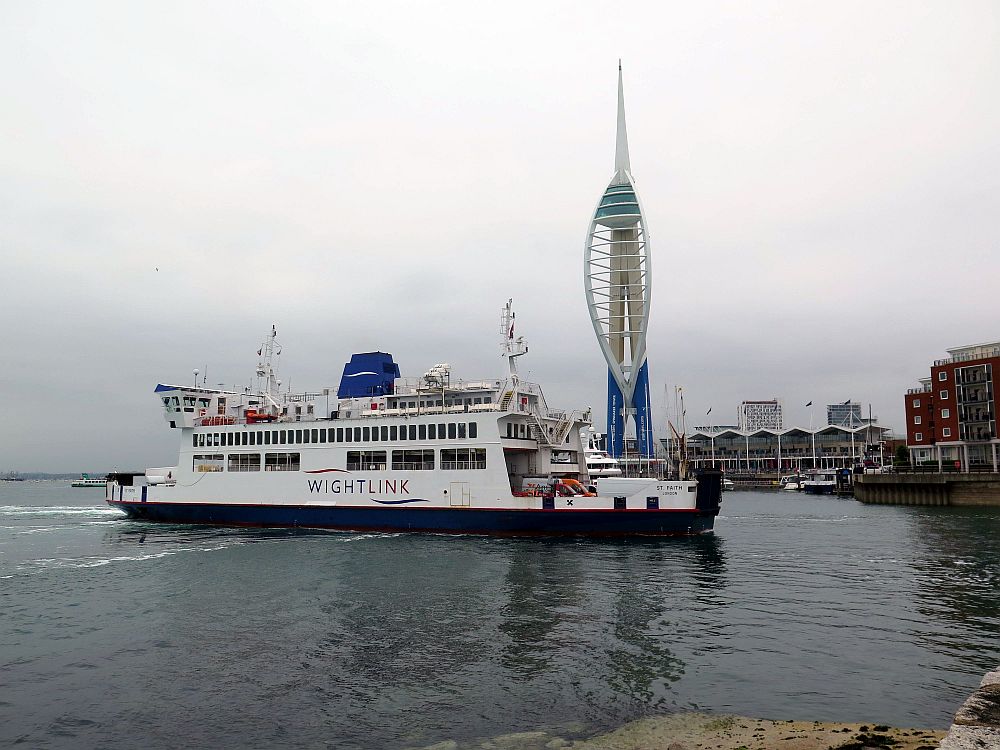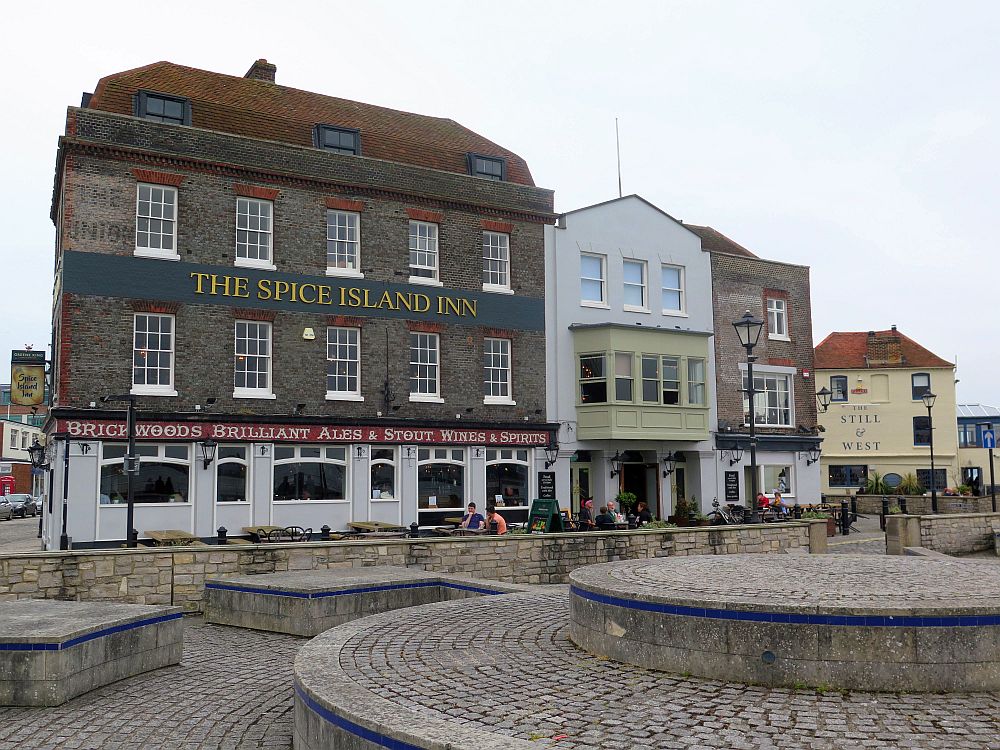 Thursday 7th May. We eventually made it to Portsmouth today! Weather wise it was a bit dull but humid. We decided to take the train so we walked up to the station in Southbourne. I suppose we shouldn't have been surprised but the train was ten minutes late, well it is Southern Rail! We had to change at Havant for the Portsmouth train that takes you right down to the Harbour. The odd thing about arriving at this station is that you are surrounded by the Gunwharf Quays Shopping Centre and the wonderfully redeveloped waterside but the station looks a right dump!!! You would think there would be a bit more joined up planning on this score. To add insult to injury there is even a brand new bus interchange in front of the station.
I suppose I had to bow to the inevitable in that we would have to look around a few shops, at least I got a coffee out of it!! The waterside has a way marked millennium walking route which we followed round to Spice Island. Passing en route the Camber where apparently they say that it was here that potatoes where first landed in the UK. Sailors, who had also brought back tobacco caused a stir in the town when they were seen smoking it! Something that surprised me was to find a fair number of fishing boats in one of the docks as it's something I had not associated with Portsmouth. The Harbour is a bustling place with the various IOW ferries coming and going. We even watched one of the large Brittany Ferries ships come into port. There is a nice viewpoint just in front of the Spice Island Inn. It's one of the places on the waterfront that you can get a landscape photo of the iconic Spinnaker Tower which at a height of 170 metres towers above the waterfront. You can, of course go to the top of the Tower but we thought we would save the £10 each price tag! The problem with this walk is that it is not circular so you have to retrace your steps. By the time we got back to the station we were pretty exhausted. At least the train was on time and direct. There is so much more to do in the area of the waterfront which will have to wait for another time.
East Cowes, IOW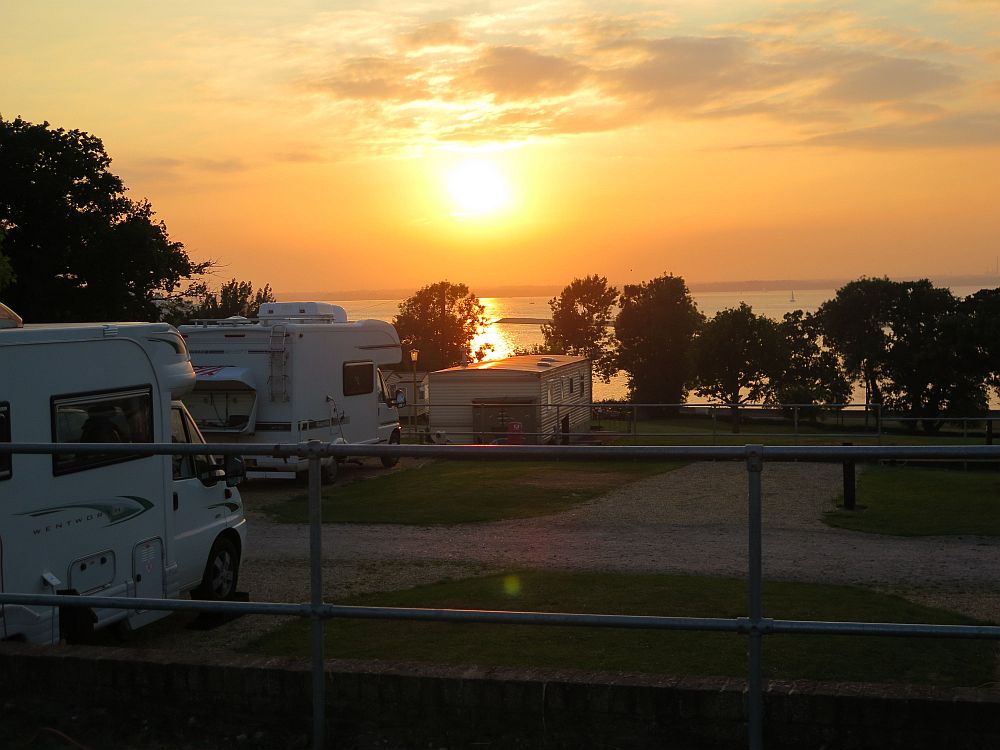 Friday 8th June. We left the Chichester C&CC site this morning and headed towards Southampton to catch the ferry over to the Isle of Wight. I had intended to fill up with fuel en route but somehow seemed to completely miss a turning to the fuel station we were aiming for and instead found ourselves heading for the centre of Southampton so we had to do an about turn and gave up on the fuel! All this was a bit embarrassing as I was born in Southampton and should know the area better!!! We managed to get back to the M27 and made for the Rownhams Service Station in order to wait a bit before heading for the ferry, it also proved to be a useful coffee stop. Our ferry was due to depart at 1.00 pm so we timed our arrival just after the previous ferry should have left. It was still there but loaded so no risk of being turned away like the last time we were here. I purchased some sandwiches in the shop as it's always a bit of a bun fight on the actual ferry. Given the constraints of unloading and loading it was surprising that we managed to get away from Southampton so near to the planned departure time.
The journey across to East Cowes was nice and smooth and we sat at the stern of the ferry watching first Southampton and then Southampton Water gradually disappear as we crossed the Solent. We are heading for Waverley Park which is a commercial campsite in East Cowes and our journey from the ferry to the campsite was probably the shortest on record. The site is terraced on quite a steep slope down to the Promenade. The site has a lot of statics but a rather nice terrace of touring pitches with views out over the Solent. A bit of a treat for us is the fact that it is serviced with its own water and waste point. There was a lovely sunset this evening and we even saw the Cunard Queen Victory depart the Solent.
Saturday 9th June. First task today was to do some shopping. There is a handy Waitrose supermarket almost next to the Ferry Terminal and only perhaps about half a mile from the campsite so within reasonably easy walking distance. So it was out with the granny trolley and off we went. The road down to East Cowes is pretty steep so we had that prospect to look forward to in the opposite direction on the way back! Shopping done we face the hill akin to the north face of the Eiger, we did struggle a bit! The stupid thing was is that we could have probably found somewhere to park the motorhome had we taken that!!! The rest of the day was spent recovering from our labours!!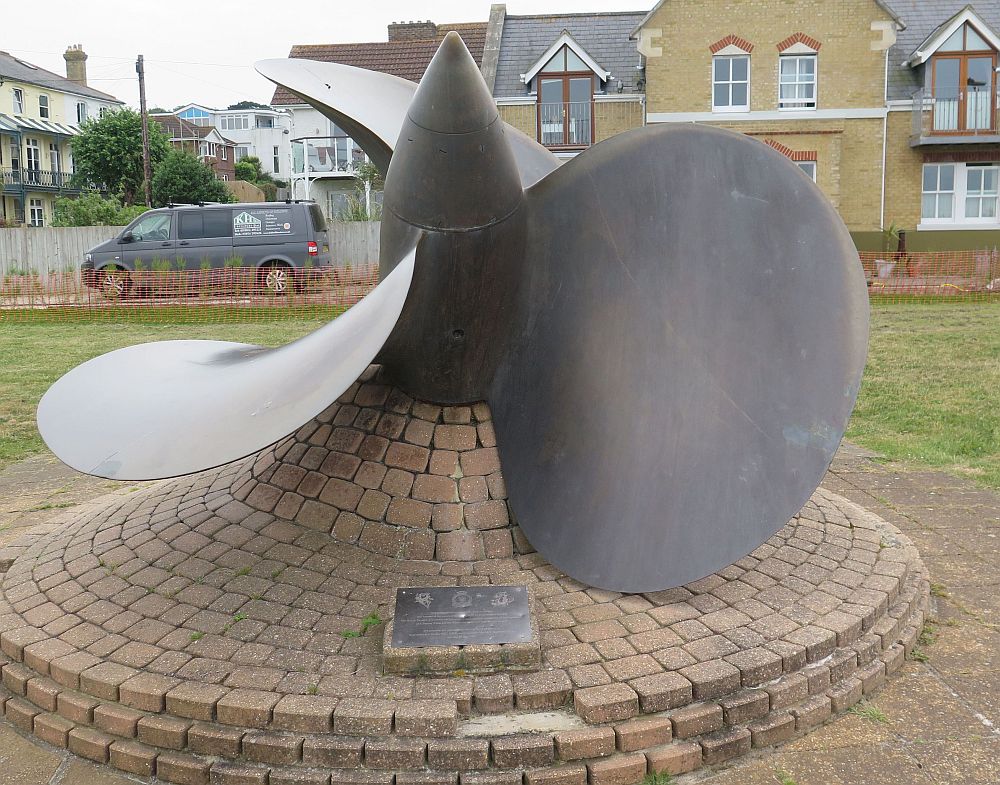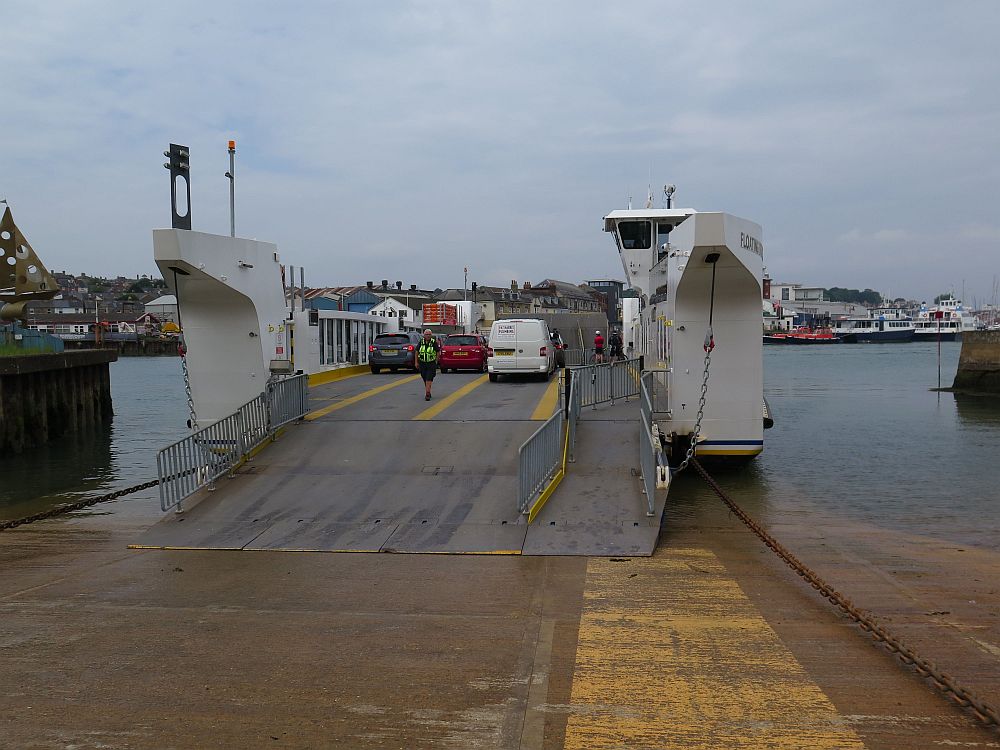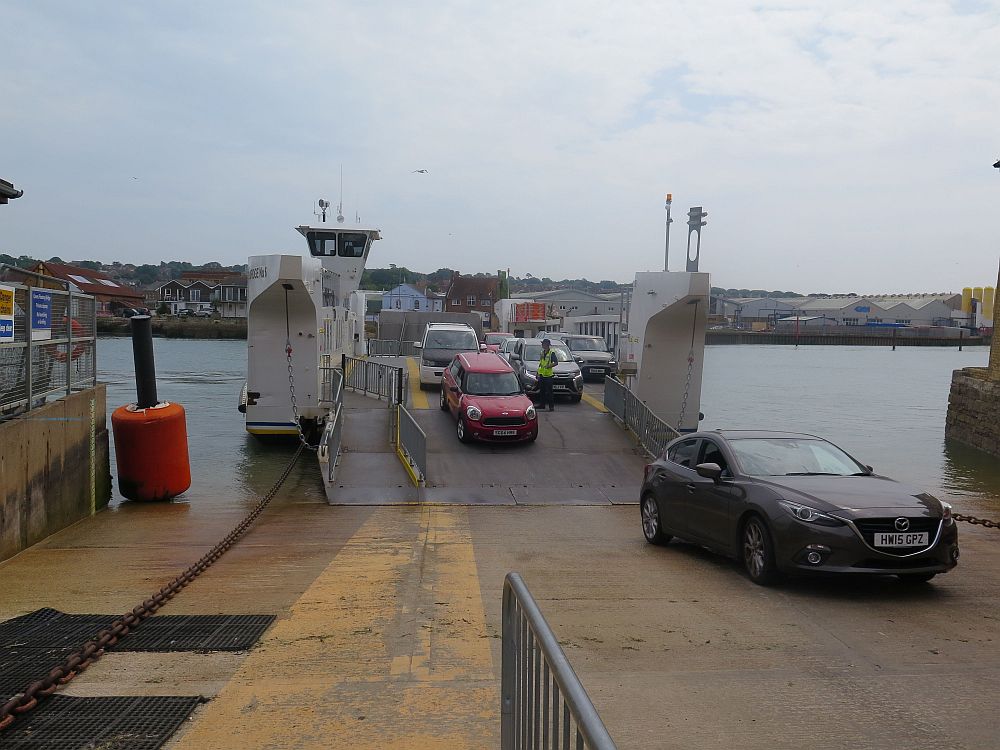 Sunday 10th June. We decided to explore West Cowes today. When we left the weather was a bit dull but fairly warm, but as that comedian used to say "it turned out nice again" eventually. We walked along the promenade into East Cowes along the way was an old propeller from HMS Cavalier the last Destroyer to be built on the IOW and launched in 1944 at the Whites shipyard. Apparently they built 23 destroyers during the second world war. H.M.S. Cavalier is now berthed at the Historic Dockyard, at Chatham in Kent, minus one of its propellers! We had to wait whilst the Red Funnel ferry disembarked, including a lot of caravans and motorhomes. We were heading for the Chain Ferry over to West Cowes. Strangely they only have return fares but at £1.50 each hardly a King's Ransom! This ferry saves around trip via Newport of about 12/15 miles. West Cowes is obviously the destination with a nice pedestrianised centre with lots of coffee shops and restaurants and of course yachting stores. Once through the shopping area you rejoin the promenade which we follow up to the Royal Yacht Squadron HQ. It is from here they start a lot of the sailing races. They use a canon to signal the start and people are warned they could go off at any time. The sun was now out and it was getting quite hot and we were flagging a bit so we started on our way back.
Once back into East Cowes we wondered if we could find a way back to the site without using the exceptional steep road up to the site. It didn't seem to work because whilst not as steep the route was longer! Back at the site it seems to have filled up a bit.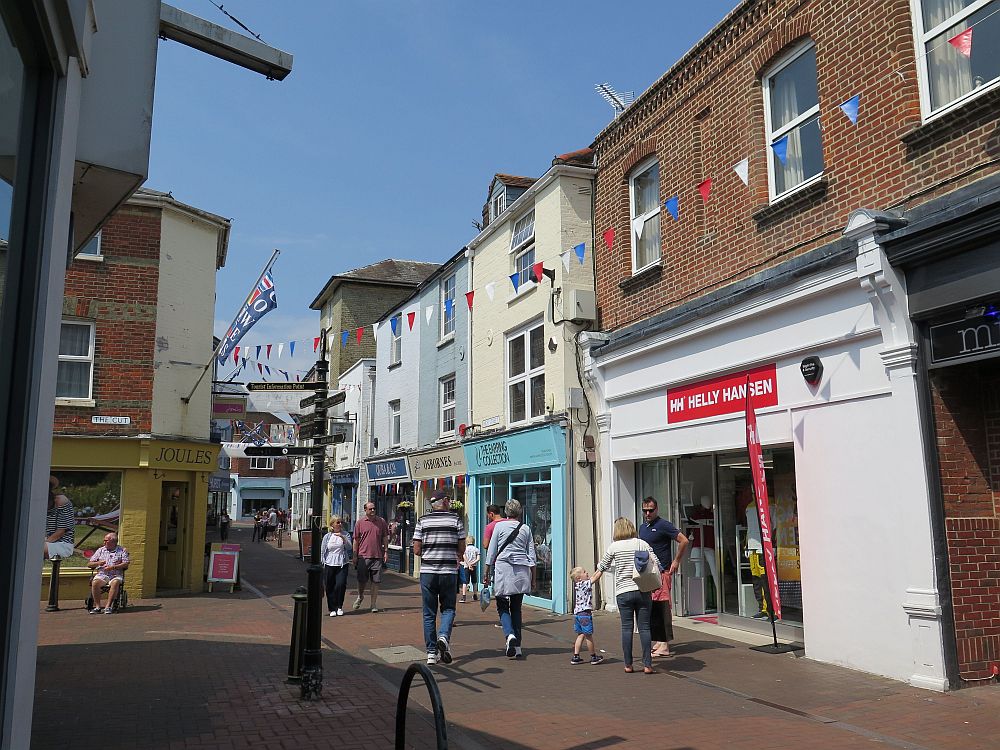 Monday 11th June. We had a bit of a bus marathon today. Margaret has for a long time, wanted to return to Alum Bay famous for its coloured sand. To achieve this goal we first had to get to Newport and then to change buses. It takes about an hour from Newport to Alum Bay so we decided to take a break about halfway at Yarmouth. This turned out to be a delightful spot. We found a café, interestingly called Gossips Café! Yarmouth is perhaps better known for its ferry to the mainland at Lymington. We had time to look around before heading back to the bus. Roads on the IOW are not renown for being wide or straight and I am sure the bus drivers earn their pay having to negotiate around some impossible roads. From what we saw today I am not even sure that towing a caravan or driving a larger motorhome is recommended without some planning! The arrival at Alum Bay is something of a disappointment as you appear to have arrived at some theme park. Margaret went to bottle a container of coloured sand, another nic nac to find space for at home! We did walk down to the view point overlooking the Needles, that collection of sharp looking rocks that form the western tip of the Island. Back to the bus and we have decided to do the complete journey in one go. The number 7 bus service is half hourly but is basically two services. Although the start and finish is the same alternate buses take a different route. This had more than a passing interest as our return journey would take us through Newbridge where a campsite called the Orchards is situated. We stayed there many years ago when the boys were young and it had been an option for this trip.
We eventually got back to the campsite after 6.00pm, quite late for us! We had been blessed with a beautiful day. We decided to pop into the site bar for a cooling drink and I was surprised at what good value it was. Although we did have an idea for a meal when we got back to the van we decided to eat at the pub which saved on the cooking and washing up!!!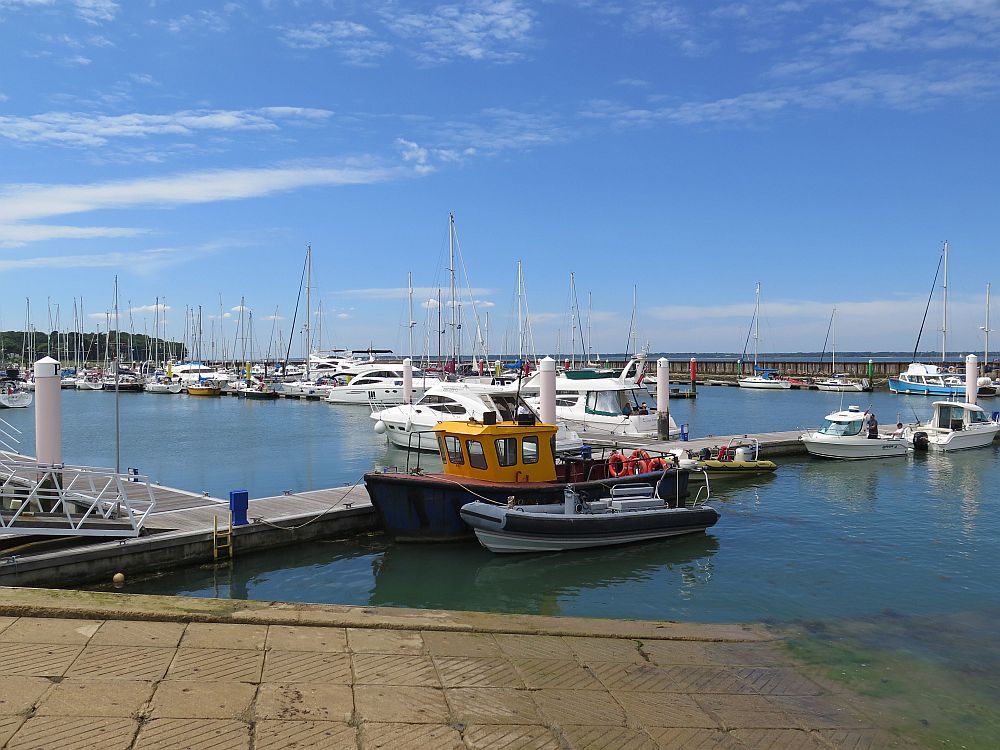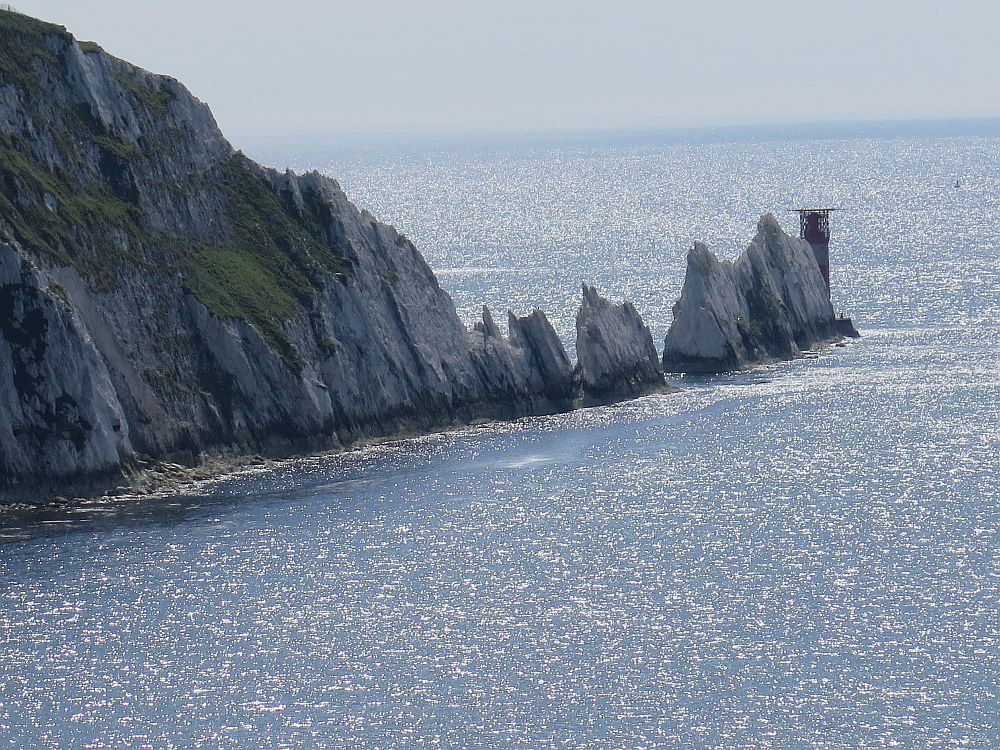 Tuesday 12th June. We felt that so far this trip we had been on the go almost nonstop so we decided to have a rest day on site. It dawned quite sunny but most of the day has been dull. It seems that quite a few of our fellow guests spend more time on site than we do. You can hardly blame them as there is always something going on out at sea. A few units have left today but there has been a trickle of replacements through the day. We have cottoned on the fact that once we see the ferry come past the breakwater, within half an hour we are likely to get a new arrival with the site being so close to the ferry terminal!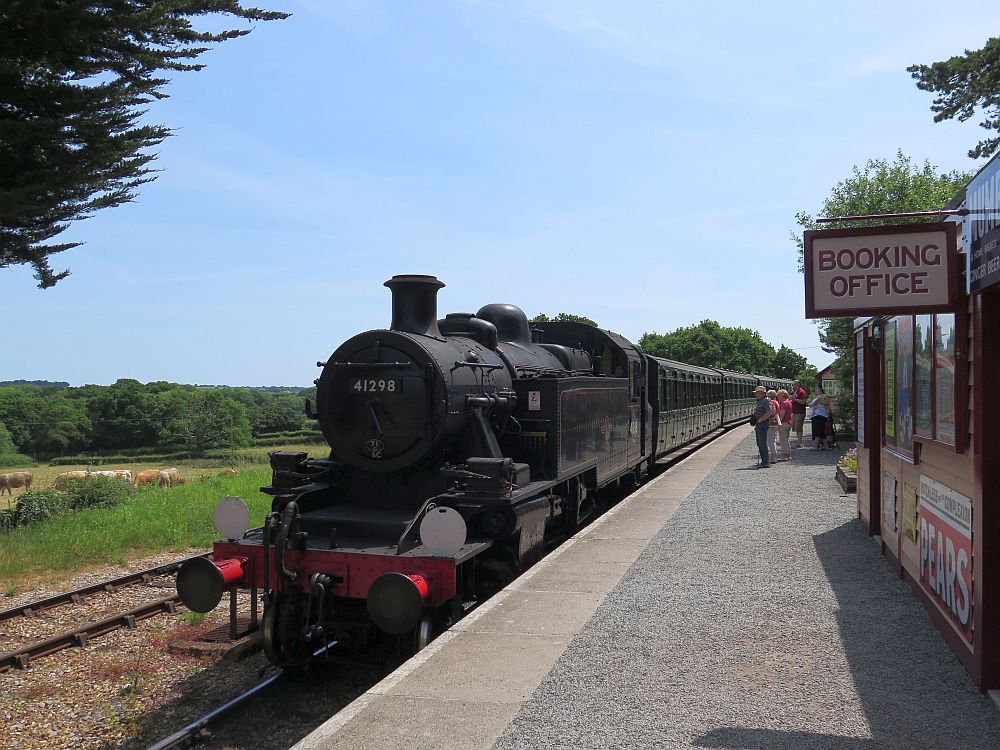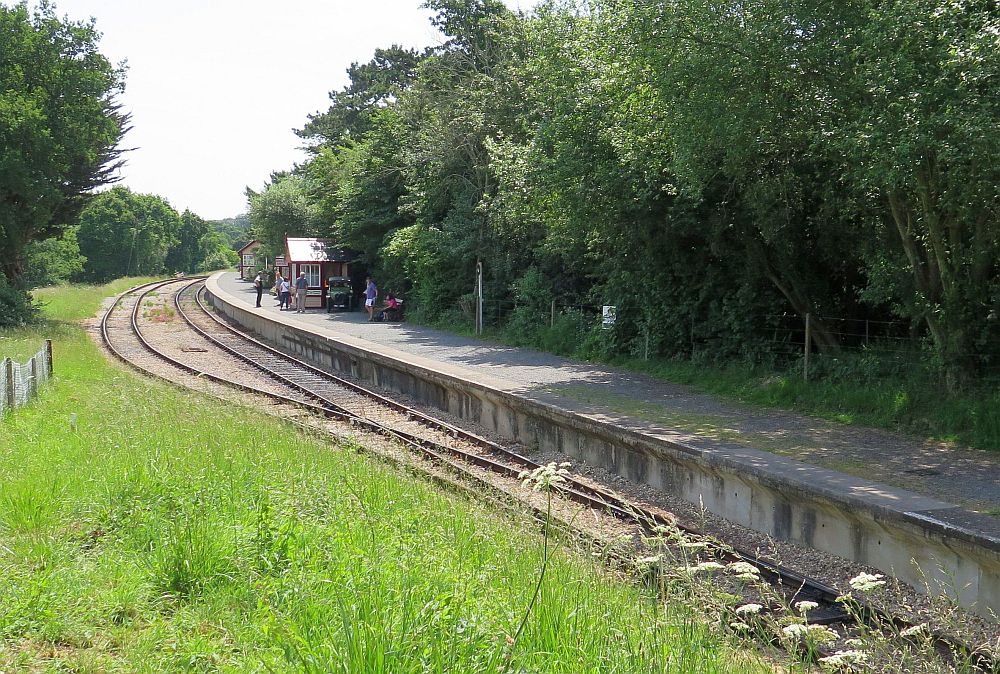 Wednesday 13th June. It dawn bright and sunny today. We were off to the Isle of Wight Steam Railway today at Wootton. This entailed us taking a bus to Newport and then taking the Ryde bus out of Newport. You have to be a bit careful with buses on the IOW as the same service number may use two different routes to get to their destination. The number 9 service was no different so we checked to make sure we were on the right bus! Fortunately we found the railway station but when we got to the platform we were told we had another hour to wait for the next train. The Station Master suggested we walk back up to the road and cross over to the Methodist Church where they did tea and coffee. We had a drink and a piece of cake each but there was no set menu of prices as they just asked for contributions so we put a fiver in but they wanted to give us change!!! It's all for a good cause as once a week they do a lunch for the local pensioners. Joining us was an Australian couple who were doing a month long tour of the UK.
Refreshed we made our way back to the station and the train. The Isle of Wight Steam Railway is only about five miles long but still accounts for about ten percent of the original Island rail network. They can't extend the track towards Newport as the original cutting was unstable and was filled in years before the restoration. At the other end of the line there is talk of extending the line a bit further towards Ryde but that is still under discussion. We travelled from one end to the other and then back to Haven Street where the HQ is and the Museum. The place was very busy in part due to a school dance competition underway on the field next to the station. We thought we should have some lunch which we did at the Station buffet along with everyone else it seemed! Much of the exhibition area has been funded by the National Lottery. What would we do without it? The whole place is a train buffs paradise. Having seen all that we wanted to we had the choice of either waiting for the train to go back to Wootton or getting on the train to Smallbrook and doing another complete loop of the line which we did.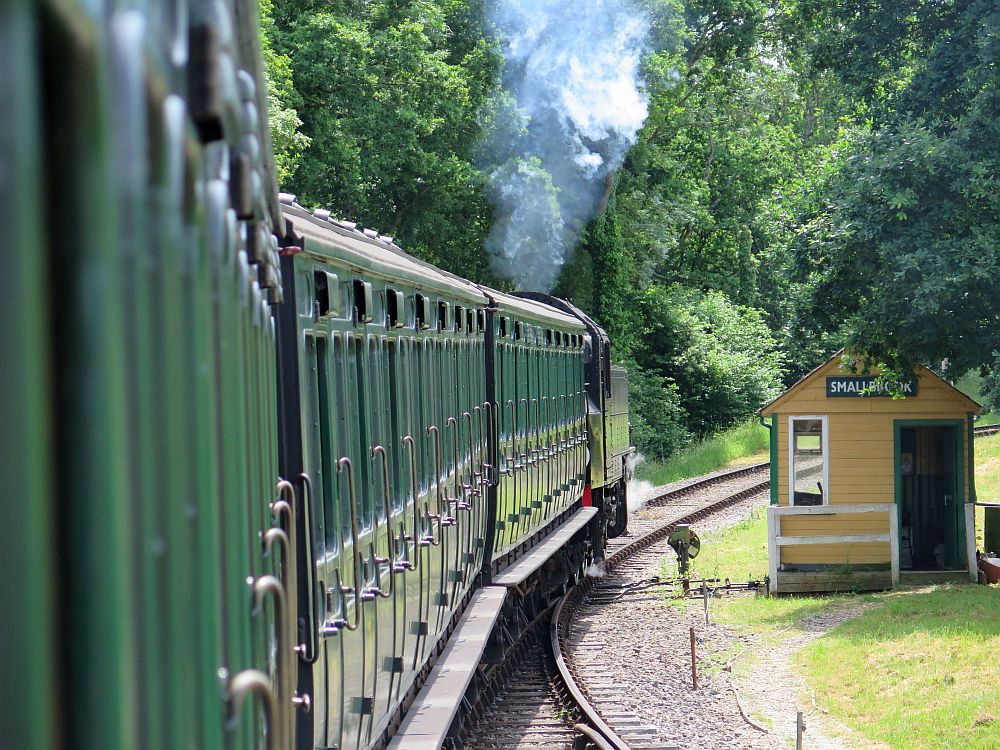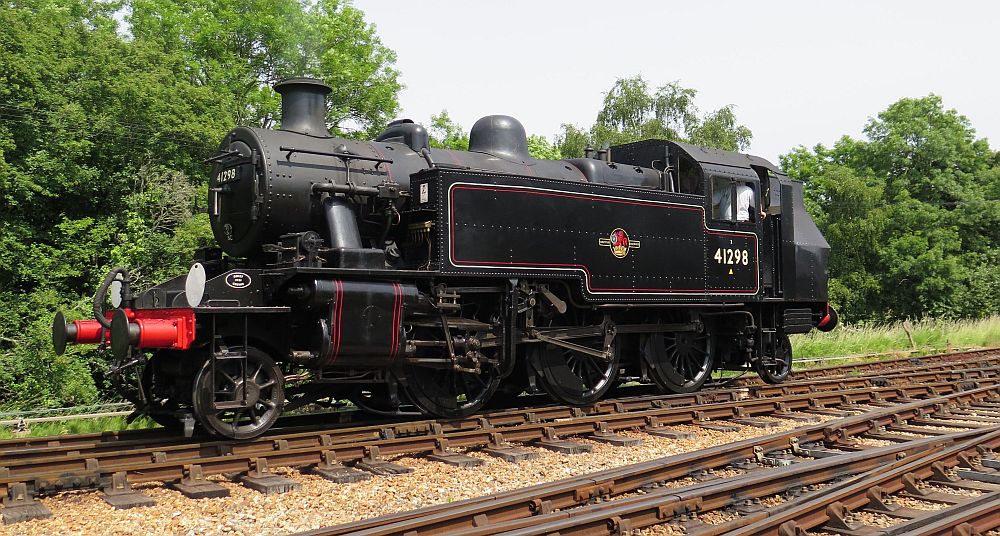 Thursday 14th June. A bit of a surprise today as we awoke to rain and a pretty stiff breeze. It was all part of storm Hector sweeping across the UK. We had nothing particularly planned for today except to go back to Waitrose for more shopping which should see us provisioned until the end of the holiday. Well the best laid plans of mice and men, as John Steinbeck would have us believe don't always go as planned!!! We got to Waitrose and started our shopping using one of their Quick Check terminals. Half way round the system went down which meant a manual shop using the checkout, something we rarely do these days! During the course of our shopping we recognised someone we had worked with in Milton Keynes but now works in Waitrose East Cowes. It took a second or two to recognise us in the different surroundings. It turned out her parents were also in the shop and we worked with them as well in MK. The plan was to get a taxi back to the campsite and I had taken the precaution of getting some numbers from reception. We had the granny trolley full and two other bags but thank goodness we decided against a second pack of mineral water! Why you ask? Well when I tried the phone numbers for the taxi both were unavailable! The Customer Service Desk in Waitrose even tried but no success. We were really left with no option but to carry and pull the shopping back up to the site! Margaret wasn't keen but there was nothing else we could do. The good news was that we made it up the hill in one piece if not exhausted. It's often surprising what you can do if you put your mind to it!
This is our last full day on the Isle of Wight. We feel that we have done quite a lot and certainly made a lot of use of the bus services. It would have been nice to have hired a car but that would have added quite a bit to the holiday cost. We have enjoyed it here at Waverley Park, except for that hill!!! However a car would give us more freedom.
Poole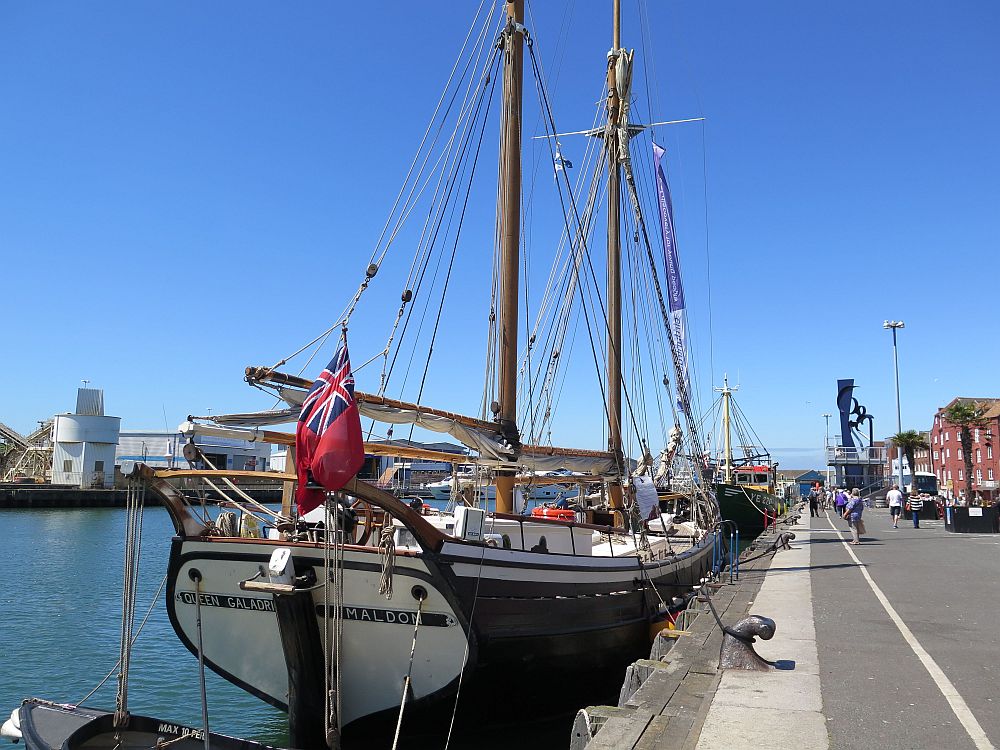 Friday 15th June. We were up and ready today before we really needed to. It was a nice day with plenty of sunshine. Our ferry was at 11.30am so the earliest we could sensibly get to the ferry port was just after 10.30am. Even by then there were vehicles in the queue. One thing that annoys me about Red Funnel on either side of the route is the narrowness of the queuing lanes. We literally took up the entire width of the lane so if we had a similar vehicle next to us we wouldn't be able to open our doors. Anyway we managed to get on board unscathed and we were on our way back to the mainland. The crossing was quite calm which was fortunate and we spent some time out on deck .At one end it was too hot and the other very breezy! It didn't take too long to disembark in Southampton and we were on our way. I had put in the sat nav a waypoint to stop at a Tesco fuel station near Poole, fortunately this time we found it OK. For some reason we were queuing in the road trying to get into the pumps. When I managed to get in I skirted around all the cars to find the Pay at Pump almost empty! Why don't people like pay at the pump! Full of fuel we were on our way and we soon arrived at our next campsite, South Lytchett Manor Caravan and Camping Park. We had a very pleasant greeting on arrival and we were shown to our pitch. It is without doubt a very popular campsite and seems pretty full. Unfortunately where we are pitched we can't use the satellite because of the trees but they do have a TV hook-up on the electric bollards.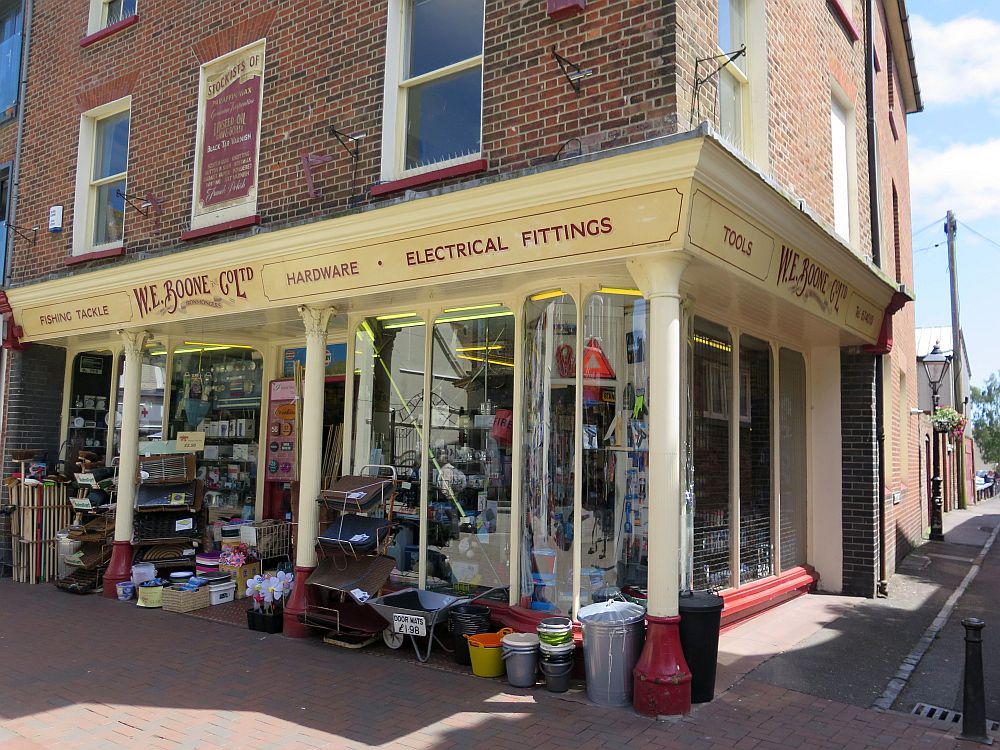 Saturday 16th June. Weather a bit dull today and not as warm. We took the bus into Poole today, there were quite a few people from the campsite also using the bus. Given the number of people on the bus you do wonder how they can only justify an hourly service, I would have though they should have been more frequent. Traffic going into Poole seemed quite chaotic but we eventually got to the bus station. Next to the bus station is a shopping centre where we found an M&S for a coffee. We then tried to find "old Poole" which I imagine is the High Street. Some effort has been made to smarten it up but I wonder if the preponderance of charity shops tells its own story? We were heading for the Quay but it started to rain so we thought better of it and made our way back to the bus. We were concerned about getting on because of the long queue but we managed in the end.
Sunday 17th June. We had visitors today. Joyce, Margaret's sister, and her husband Rob drove over from Southampton to meet up for a chat and to go out to lunch. We had not booked anywhere so it was going to have to be pot luck with it being Father's Day. We actually got no further than the pub half a mile away from the campsite called the St Peters Finger. Fortunately they had room. We also had a voucher from the campsite for a free bottle of wine which was a bonus. We had a very nice meal there. I am not usually keen on carvery type roast meals but I have to say this was really nice and more than ample sized meals.
Monday 18th June. The weather forecast was better than they suggested and it turned out to be quite a sunny day. We took the bus back into Poole today and rather than walk down to the Quay we took a local circular bus service which gave us a tour of the town before dropping us off on the waterfront. The Quayside in Poole has changed a bit since we were last here. For one thing no more Poole Pottery, where the factory was seems to be flats and restaurants overlooking the marina. We took advantage of a rather nice café overlooking Poole Harbour, one could just imagine one was in the South of France! Perhaps I was getting confused by all the Toutes Direction notices on the roads coming out of the Port. Having wandered along the Quay we moved into the old town which I have to say it looked a lot better in the sunshine. We actually managed to find the Tourist Office which we failed to do on our last visit on Saturday and obtained a free map, Oxford please take note! In the high street there was a lovely old fashioned hardware shop, good to see that a few still exist. Whether they sell four candles I don't know. Having had a late lunch we made our way back to the bus station. There were still lots of people waiting for the bus although perhaps not as many as Saturday. It was a bit surprising how many got off at the campsite, there must have been a dozen people. Today is the start of England's World Cup campaign so time for our every four years of torture! At least the team did well to win their first game. On the other hand Margaret is not so pleased the football is messing up all her soaps!!!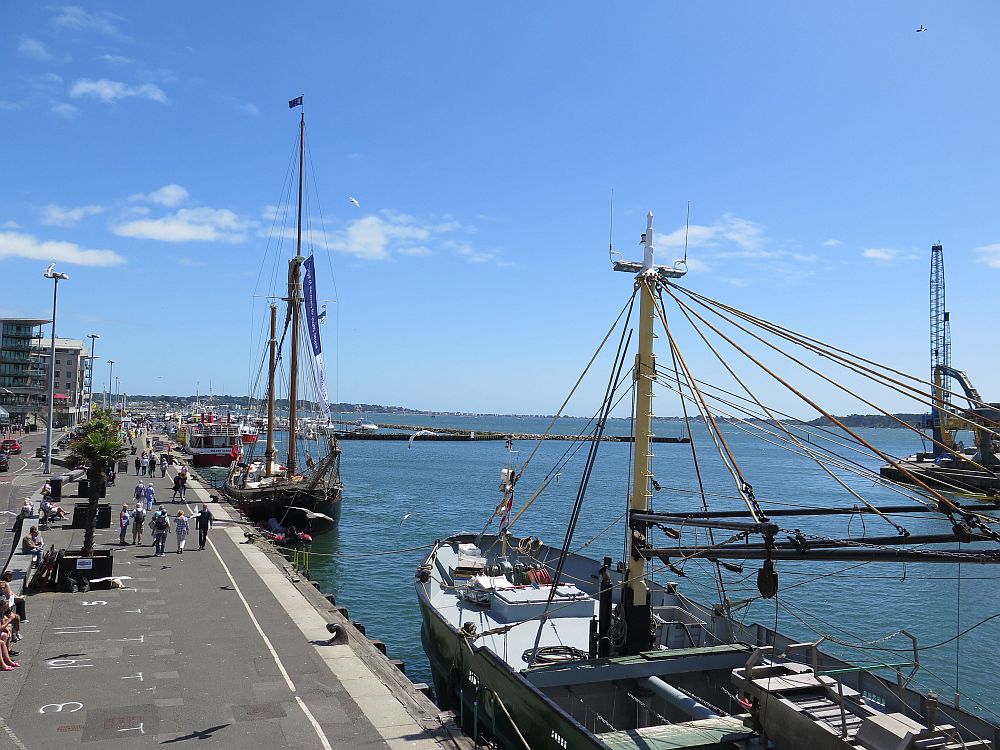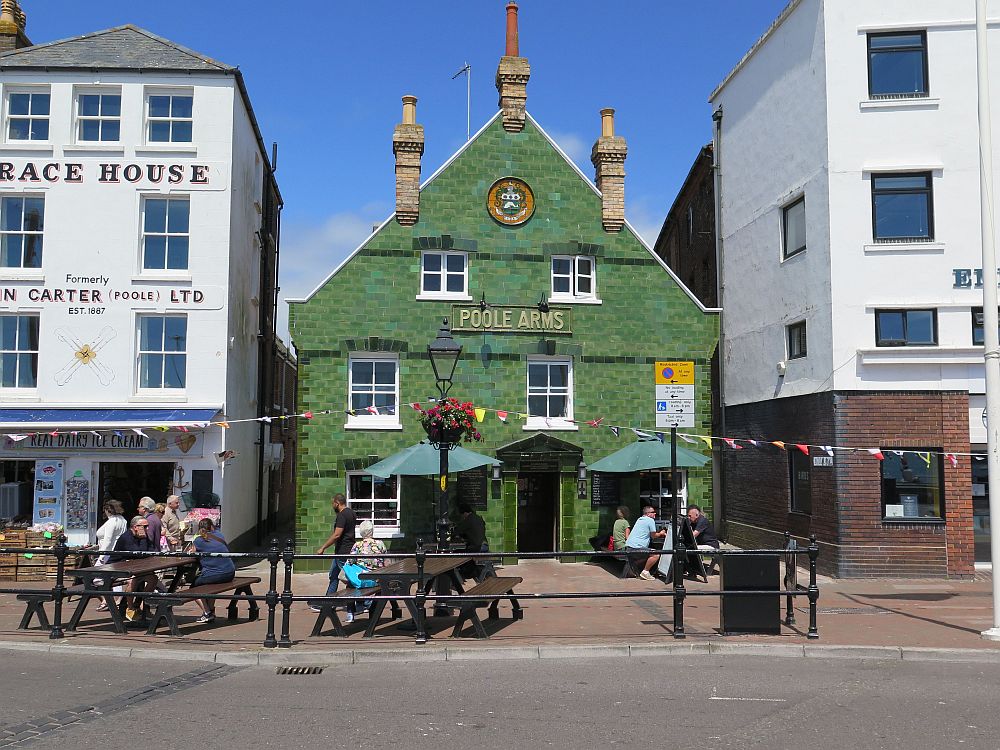 Tuesday 19th June. Our last day here at South Lytchett, we go home tomorrow. We have had a pretty lazy day today. It's been another day when the forecast has suggested it would be dull but it has turned out to be sunny and quite warm. In the afternoon we walked out of the back of the site to The Courtyard Craft Centre which also has a tearoom. This is another establishment where the site offer a discount voucher, this time for a free tea or coffee when you buy something to eat. Now Margaret and I had a slight communication breakdown as we were going to treat ourselves to a proper cream tea. There was my thinking she was suggesting we share a scone – as we sometimes do when we have a coffee out. But I said we should have our own. What Margaret was meaning was do we want one scone or two each. Well two each turn up, they were very nice but we had to do a tour of the site to work some of them off!!!
I am trying to make up my mind about this campsite. It is of a very good quality, it is well organised and busy. But it seems frantic compared to a CMC site. Perhaps its lack of membership affinity?
Wednesday 20th June. Time to return home having been away for 17 nights. TomTom didn't quite take us the way I expected which I thought would be up the A350 to join up with the A31. Instead it took us back past the Tesco at Poole we previously filled up with fuel, at least the route was familiar!!! Traffic wasn't too bad either, even round Oxford. We topped up with fuel in Wolverton a mile or two from home.
Hebden Bridge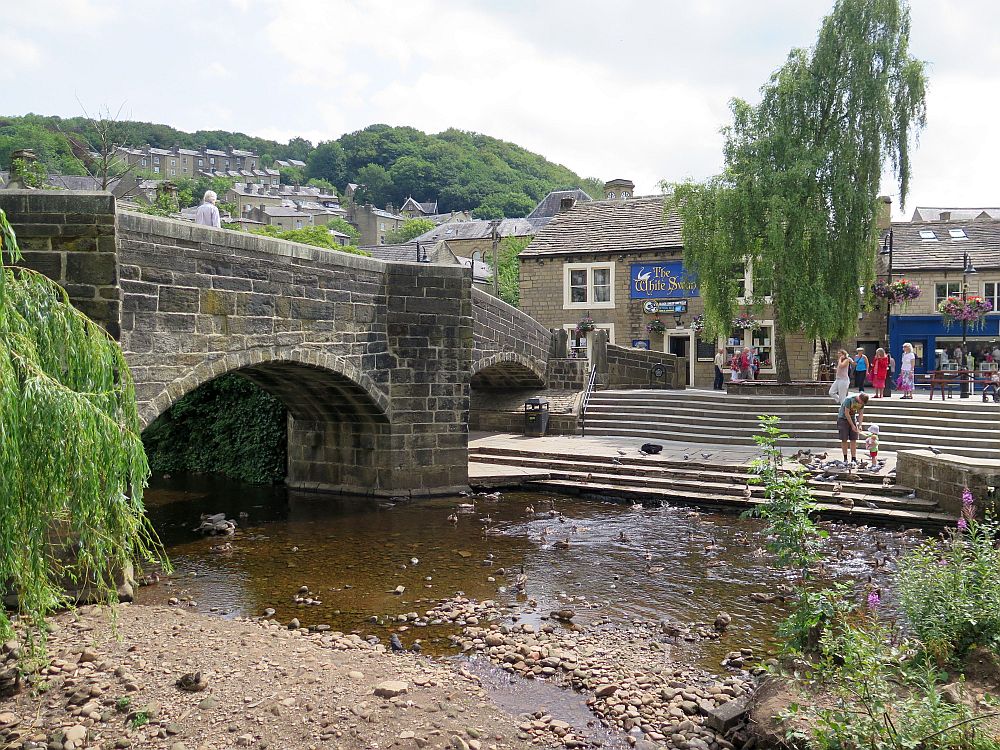 Sunday 15th June. We are heading up to Yorkshire today to the CMC site at Hebden Bridge although more correctly just outside of Mytholmroyd. It meant an early start with the alarm set for 7.00am, a hard call after all the hot humid weather made sleeping difficult and Saturday night was no exception! Despite that it was not until 9.40am that we were on the way. We quite like to travel on a Sunday as there are fewer wagons on the road but no shortage of cars! I do sometimes wonder why some people use motorways as they saunter along at about 50 miles an hour causing the whole world and their wife to overtake them. This might be fine for solo cars and even motorhomes but I feel for caravans who are forced to overtake.
At junction 42 we left the M1 having been on it since junction 14 and headed on the M62 which we followed to junction 26 where we left the motorway and headed towards Halifax. The road through the town is on an elevated section so you get a good view of what is below. Heading out of Halifax we passed through a place called Friendly which I though was a lovely name for a village! As we progressed out into more impressive countryside we reached Mytholmroyd where there are currently ongoing roadworks. You have to do a sharp left turn over the river bridge which is fairly narrow and they advise caution. In the end I didn't think it was too bad but then traffic was reasonably light. Less than a mile out of the town is the site.

The Hebden Bridge site, formally known as Lower Clough Foot, it is quite small with only about 42 pitches and has recently been refurbished. This included the addition of some service pitches which we have treated ourselves to. Although by the time we got to the site it was Hobson 's choice as there was only one serviced pitch left. The site does not have a toilet block so at £20 a night it seemed a reasonable price to pay! It has been a lovely day with lots of hot sunshine. Our pitch is under trees so we thought no hope of getting a satellite signal but strangely we get a picture, no way that should have happened!!!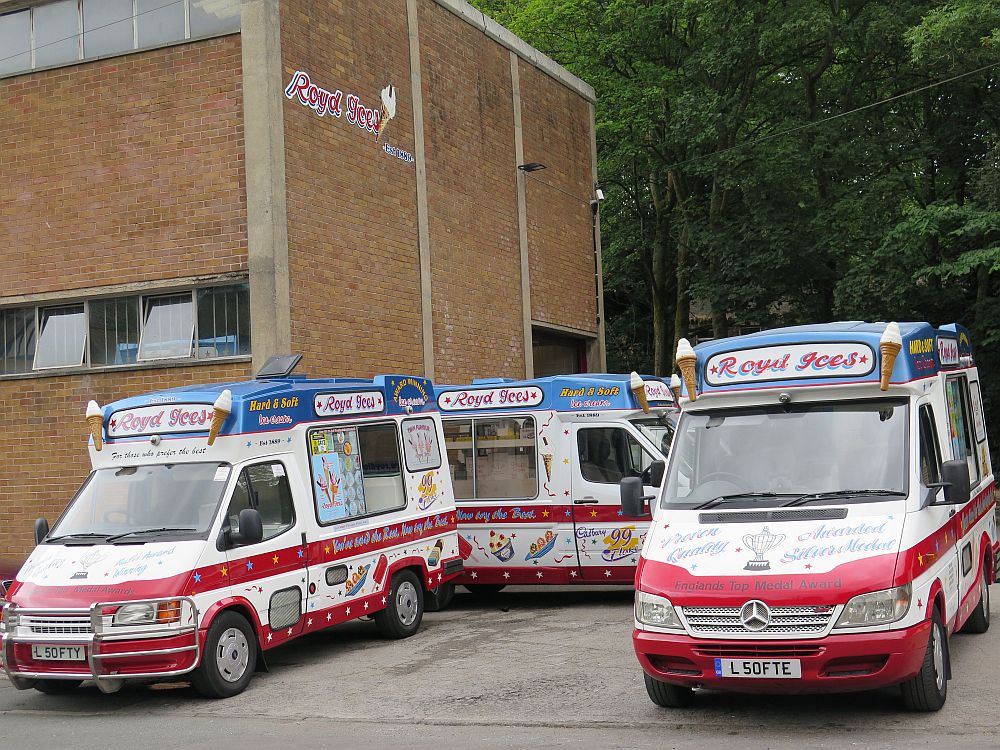 Monday 16th July. Rain was forecast for today. It was a bit grey but dry as we walked down to Mytholmroyd which was fortunately downhill. On the way down we passed an ice cream factory with dozens of ice cream vans. I had always thought that such vans were owner operated but clearly not. You can imagine them on a hot Sunday scurrying off in different directions a bit like a Carry On film! En route there were some pretty solid stone houses reminiscent of Last of the Summer Wine although we didn't see Nora Batty!!! Clearly this is cycling country with many houses displaying a model of a yellow bicycle both large and small.
The village didn't seem to have much about it except for lots of roadworks. They seem to be building flood defences. We wondered around looking for a half decent café but no luck but we did end up having a short walk along the Rochdale Canal. Thinking that we would get the bus back to the campsite we asked someone at the bus stop who said she thought it had already left.
Margaret suggested that we take the bus the other way to Hebden Bridge as there was bound to be a proper café there. We didn't have to wait too long for the relatively short journey. Hebden Bridge is a delightful, bustling place. You could easily see one of those costume dramas being filmed here. We wandered through the streets, many of them pedestrianised, until we found a café that we liked the look of. It was next to a beautiful three arched bridge which I assumed is the "Hebden Bridge". Refreshed we carried on our walk around the town where we found the Canal Wharf with the Tourist Office next door. The lady in the Tourist Office was very helpful with not only bus times but where the bus stop was for our return journey. There were several people waiting for the bus when we arrived and we got talking to one lady who despite her Yorkshire accent told us she was born in Hampshire. She tried to coach us in saying Mytholmroyd but after several attempts I don't think we got it right! The locals on the bus seem to call it Royd!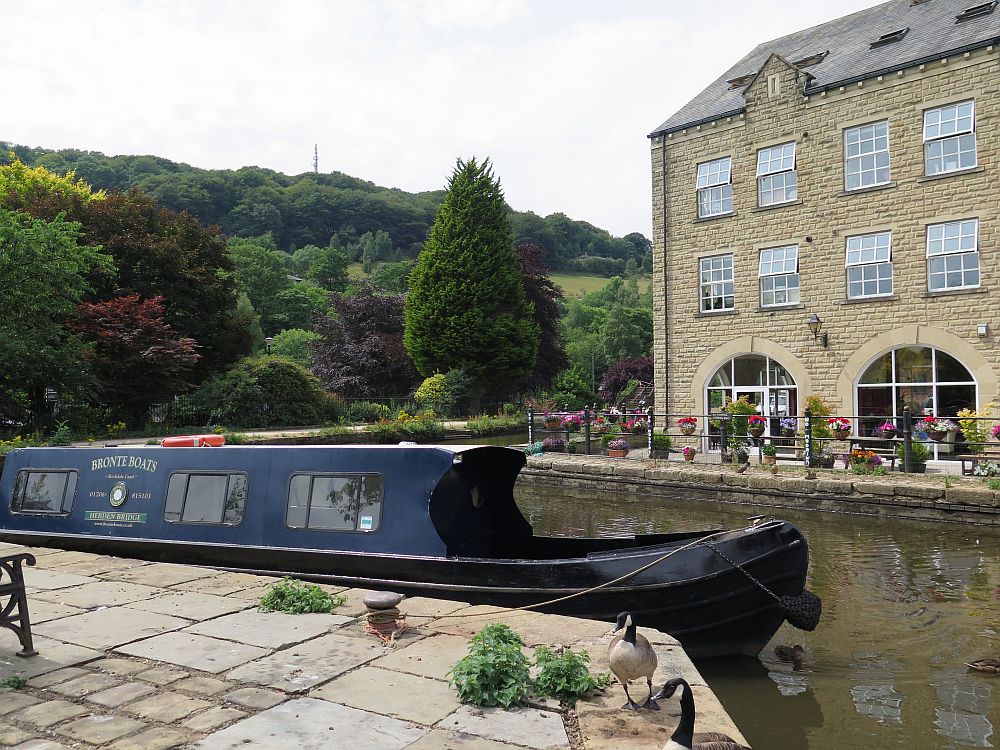 The bus took us right to the entrance of the campsite. The site is reasonably busy but there are empty pitches, including rather surprisingly one of the serviced ones. The sun was out and another hot day. I sometimes wonder if my body thermostat is up the creek as I seem to suffer unduly in this weather as much as I love it. Rain looked increasing likely by early evening so I took the precaution of hooking up the TV cable which turned out to be a good move as we had heavy rain from about 7.30pm and of course the first thing to go was the satellite picture!!!
Tuesday 17th July. We had heavy overnight rain which had an effect on today's weather especially in terms of temperatures which were much more comfortable. We caught the bus from outside the site into Hebden Bridge today and then an onward bus to Haworth the home of the Bronte's. Whilst all these bus services are in place there are often timing gaps of half an hour or more so you have to decide what to do in terms of filling that time! One good old standby is to look for a toilet. Not so easy in that part of the world! The ones at Mytholmroyd have been closed by the Council. One block in Hebden Bridge had several out of order, and of course you are required to pay!!! Probably the best cause of action is to find a café and use their facilities. Or in Hebden Bridge use the ones in the Town Hall, they also have a café as well.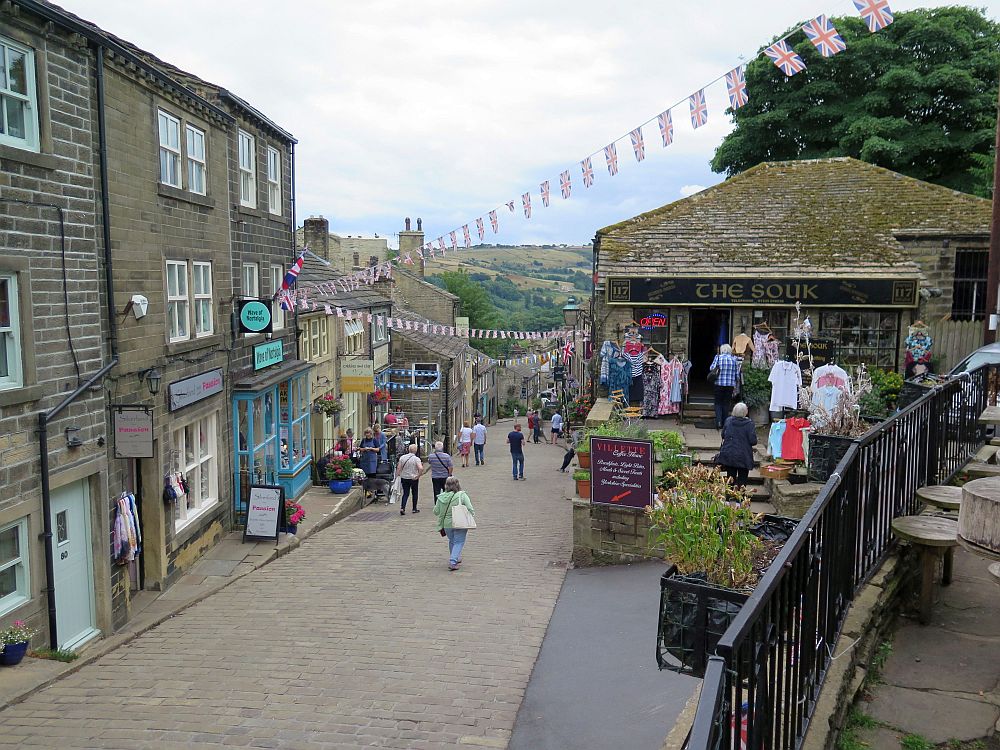 Time for the bus to Haworth. I was not sure what I was expecting from this journey but it was certainly something of switchback long narrow and steep roads over the Moors. Previous readers will be aware of my admiration of the drivers of these country buses but this route must be one of the most spectacular. I wasn't quite sure what to expect of Haworth particularly the long and steep hill up to the church and parsonage. The bus dropped us at the bottom of the hill so we had no option but to climb the mountain. About two thirds of the way up we stopped for a coffee and a sandwich to sustain us on our visit. Being mid-week it was fortunately not too busy so it was quite comfortable touring the Parsonage. The story of the Bronte's is well known. They were responsible for some of the finest literature which has more than stood the test of time. Such was the prejudice at the time that they felt the only way to get their books published was to use names that sounded as if they were men! It is amazing that despite their desperately short lives, they all died under the age of 40, they achieved such a lasting legacy.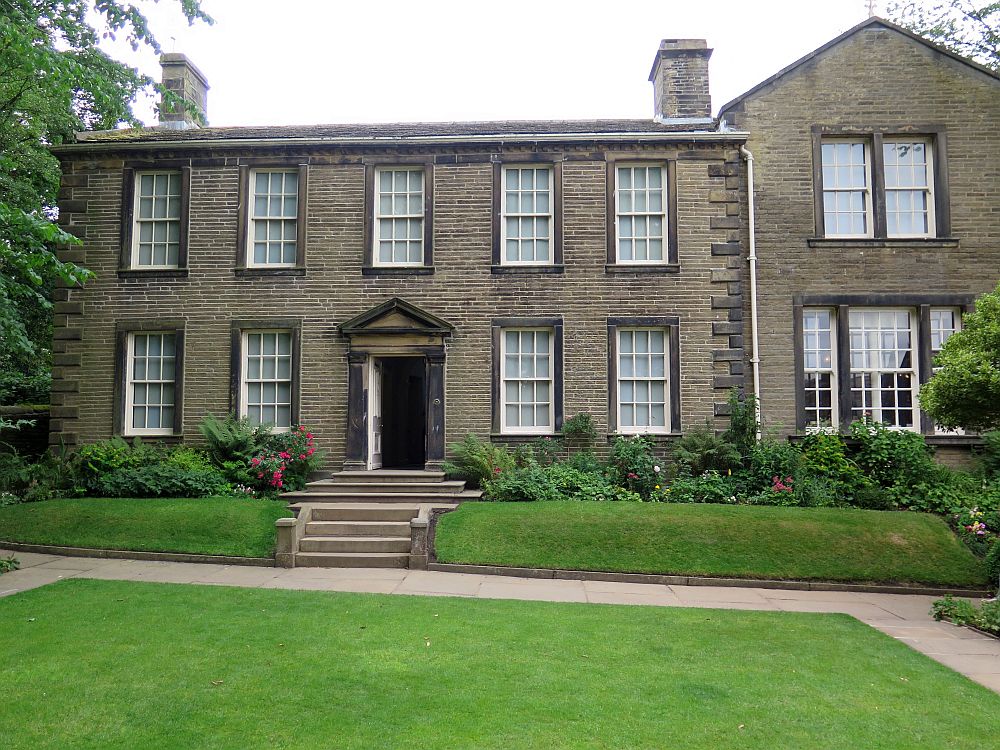 Back to the bus and yet another wait, but this time it was put to good use by having a cup of tea at one of the many café's in Hebden Bridge!
Wednesday 18th July. Very cold night last night, temperature well below 10 degrees! It did seem sunny first thing so we thought we would have a lazy day today sitting around a bit on the site. Unfortunately the sun did not last. Where did our summer go! At least it's given me the time to experiment a bit using my phone as a WiFi point as this site does not have WiFi. When I have tried it previously it used all my data in double quick time, probably doing updates. I discovered that I can set this connection as a "metered" connection which not only has a limit on how much data can be used before an alert it also stops major downloads like updates. We shall see!!!
Thursday 19th July. It was generally much nicer today weather wise. We went back into Hebden Bridge today as we wanted to explore along the Rochdale Canal. We meant to get off at the railway station but we missed the sign so we continued into the town and walked through the Park to the canal. The canals in this part of the country seem more substantially built than those down south which are mainly brick but solid stone here. There also seem to be a lot of redundant tall chimneys dotted here and there. We came across three locks on our walk. They are double locks rather than the narrow locks often found on canals. Perhaps sadder is that there were a number of semi abandoned narrow boats moored along the canal and you can't help but wonder how they got to that state, there are unknown stories there.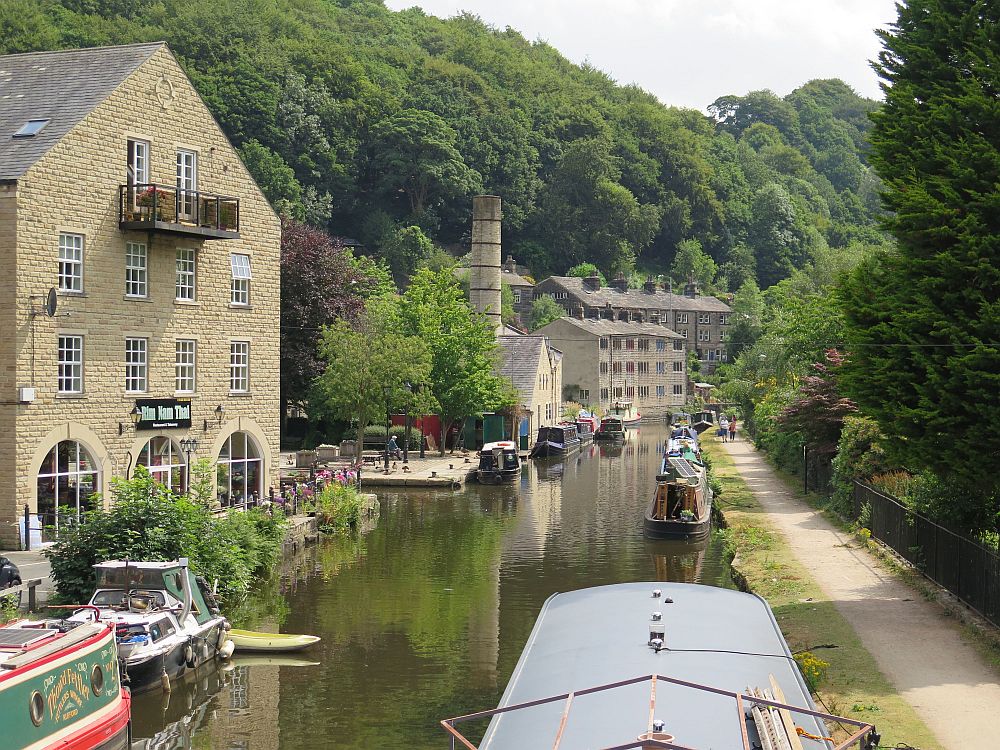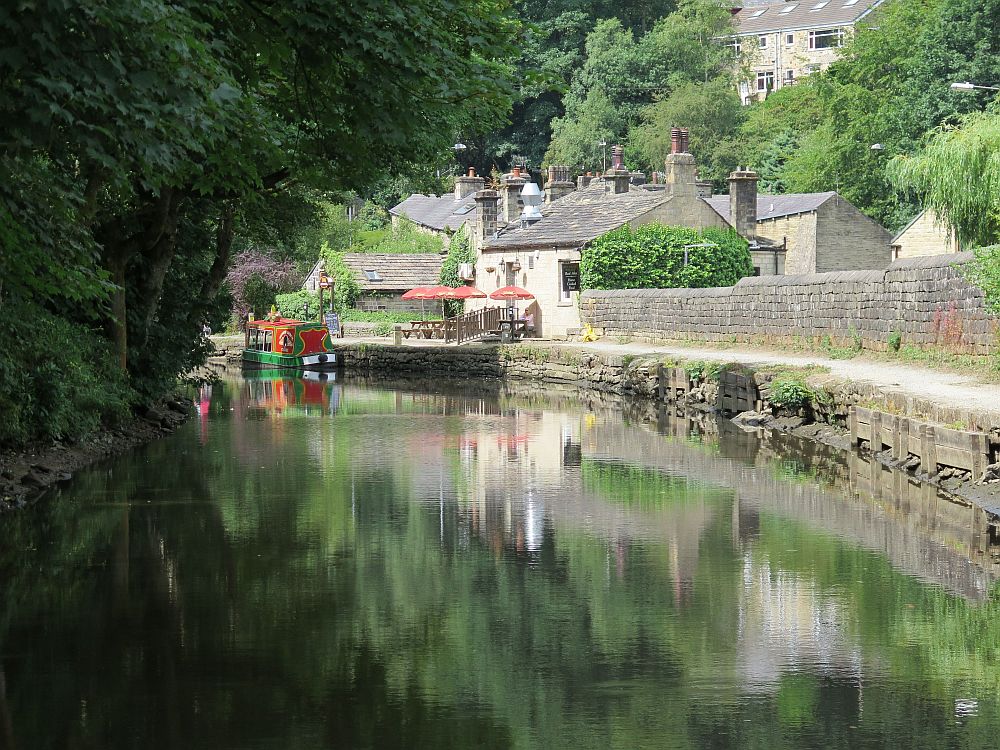 We made our way back into the town, it was Market Day. Not a particularly big market but one stall was selling some nice plants. I would have been tempted on a few of the perennials had it not been for the bus. Interestingly one of the stalls was selling vegetables in pounds and ounces; obviously metrication has not got to parts of Yorkshire! Lunch time so we decided to try the café in the Town Hall, open to the public by the way! It was good value and they have nice toilets!!! Refreshed it was off to do some shopping. Hebden Bridge is not overly well endowed with food shops or supermarkets. Fortunately there was quite a nice Co-Op where we were able to get everything we wanted including a few things we should have left on the shelf especially the doughnuts! The bus timetable was giving us some spare time so we went off for a cup of tea, we have drunk a lot of Yorkshire Tea in the last week!!!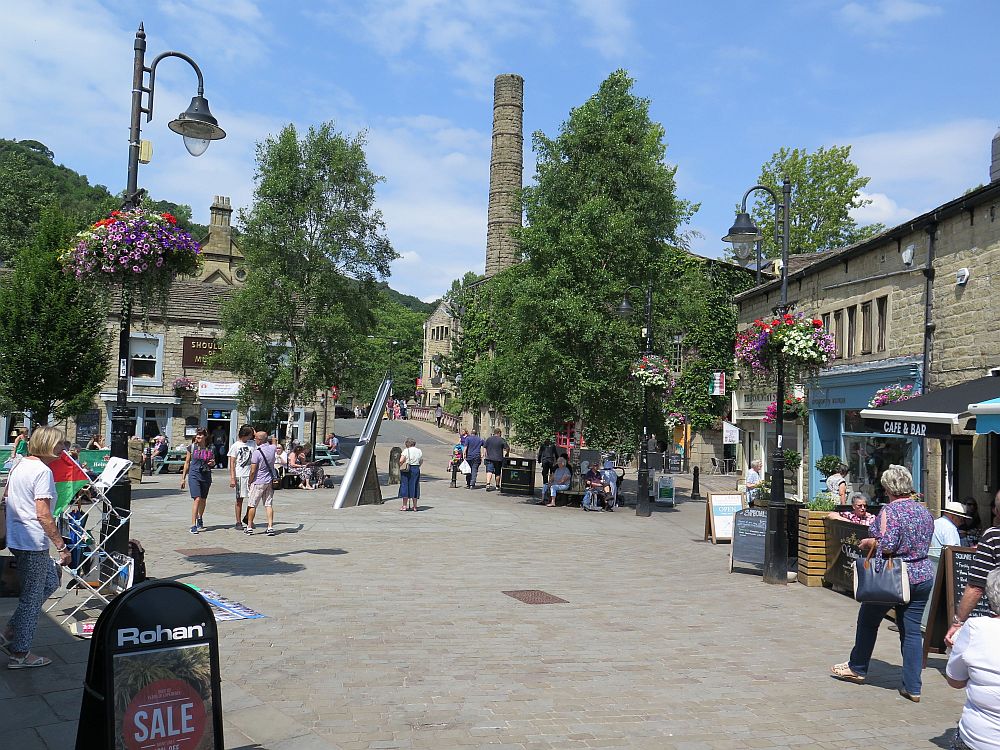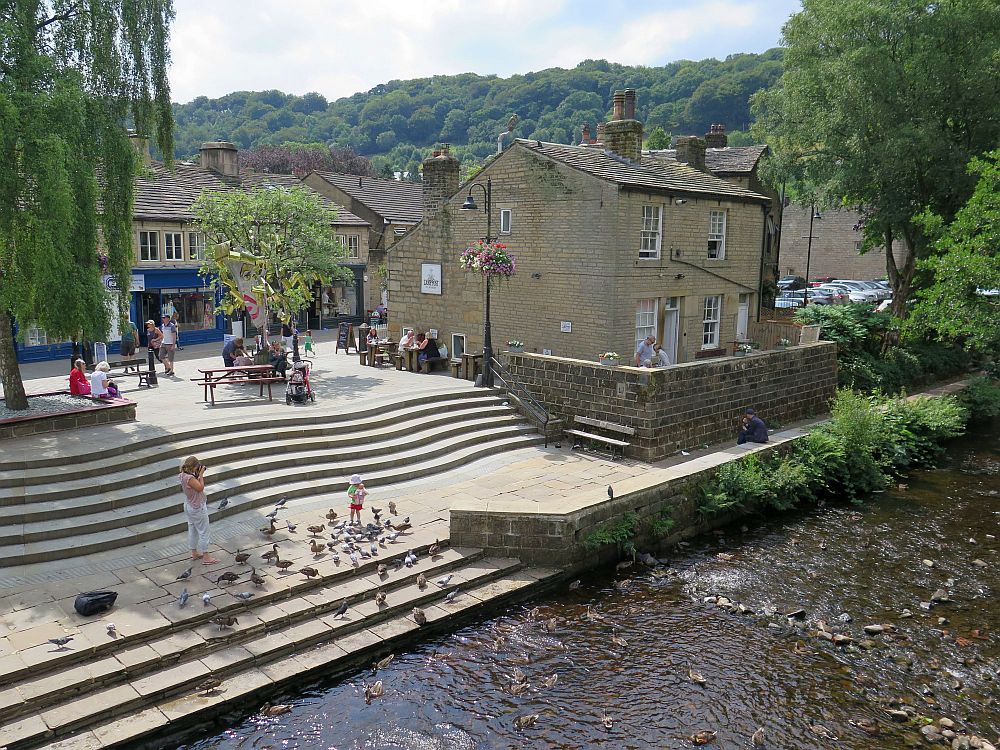 This is our last day here before moving onto North Wales tomorrow. We have been looking at possible routes out of the site avoiding the roadworks at Mytholmroyd. The sat nav will take us through the roadworks! According to the site warden and a neighbour I was chatting to the B 6138, the road the site is on is fine all the way to the A58 so it looks as if we will take that route and hope that TomTom catches up as we go along!!!
Chirk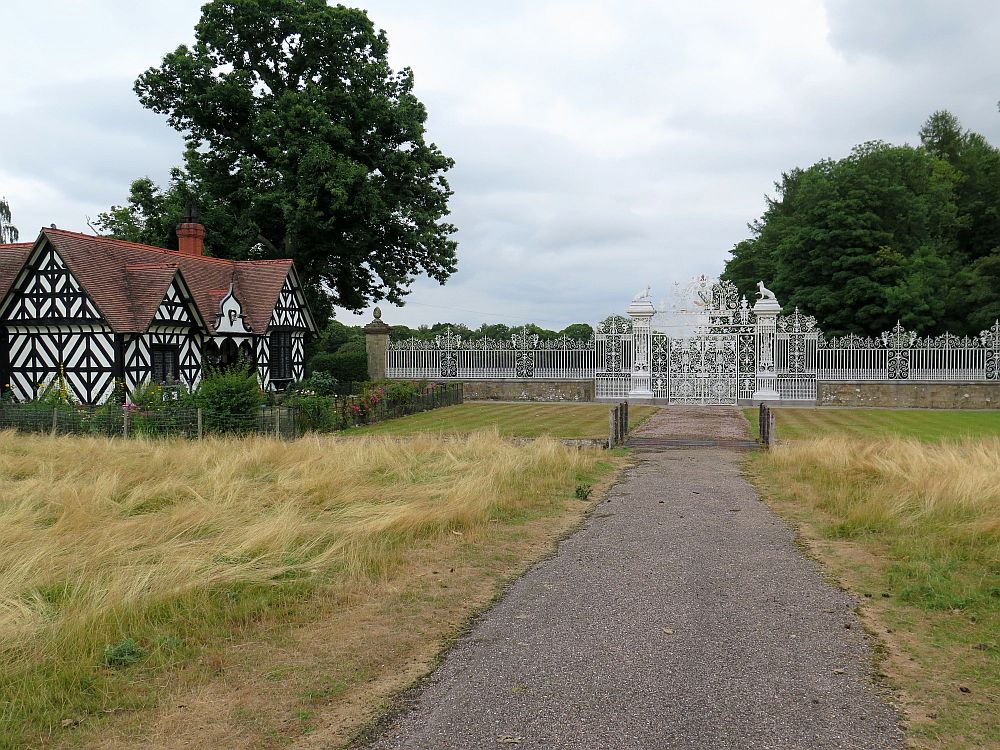 Friday 20th July. The neighbour we were talking to about a different route gave us his print out of his route that he had used. So we set off up the B6138 towards the A58. The road was certainly wide enough although parked cars can be a bit of an issue in places but traffic was light so didn't cause a problem. I had set TomTom to avoid the main road in Mytholmoyd and it worked out the route exactly as our neighbour suggested. At Littleborough we took the B6225 which again was a good road although as you approach the motorway the route gets a bit confused but TomTom was our saviour. We crossed some lovely countryside before getting onto the motorway.
People often complain about the M25 but I would certainly put the motorways around Manchester in the same category. Stop start for some of the way so we were glad to be heading out on the M56 which was generally quieter. Rain was a feature of today's journey on and off. On the Chester bypass we did a slight detour so that I could fill up with fuel at a local Tesco. I have generally found that the way Tesco design their filling stations suit those of us with larger motorhomes as usually the far right pumps have easy exit out of the station. It didn't take long from here for us to get to our site for the next three nights, Lady Margaret's Park at Chirk. Its thirteen years since we were last at this site and I am not sure much has changed. A problem for us was finding a pitch where we could get a satellite picture; the first attempt didn't work so we found another pitch opposite the toilet block where we could get a signal although in doing so we have sacrificed any privacy with people cutting down from other pitches to get to the toilet! Unfortunately we have had some rain today, it's been a bit on and off and got heavier through the evening. Around 10.00pm we could hear fireworks that went on for some time so I assume it was an organised display.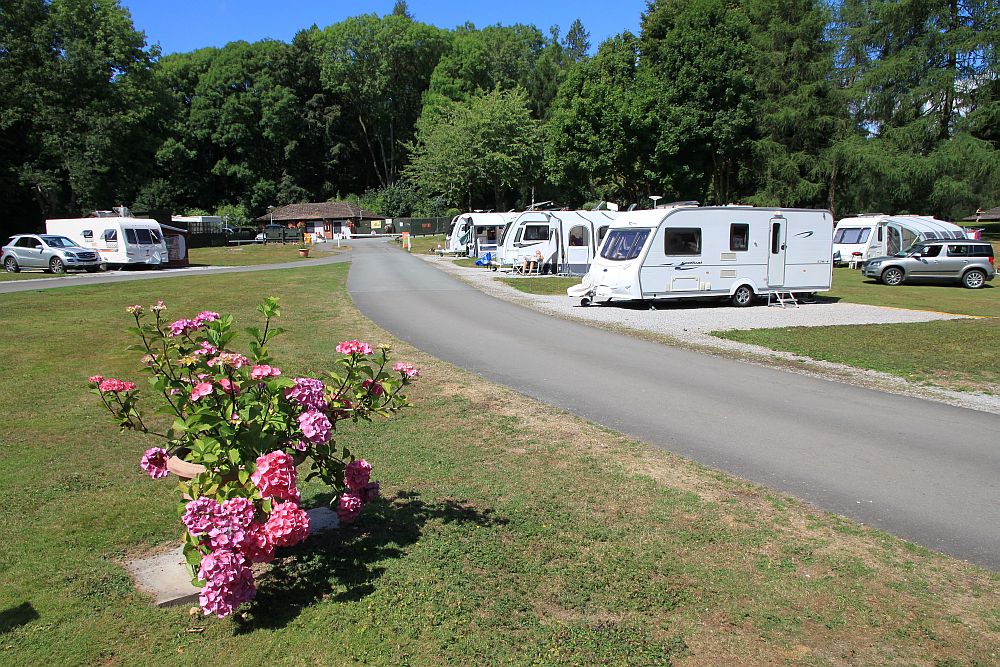 Saturday 21st July. It's been a generally dull day, if muggy, today but the rain seems to have stayed away. It's been a lazy day for us mainly spent at the van. We did venture out this afternoon when we walked down to the Castle Gates near the entrance to the site. We then wandered down as far as the railway station and I was rather intrigued to see a sign advertising the Glyn Valley Tramway which a Trust is hoping to restore starting at Chirk Station. If that comes to fruition then it will be an added tourist attraction for Chirk.
The trouble with spending time on site is that you tend to notice things that either you wouldn't normally see if off site for most of the day. We are pitched opposite the toilet block and we have a steady stream of people from the pitching areas behind us taking a short cut, some across our pitch. I wonder how they would feel? The other thing is the number of dogs! I can possibly understand people having a single dog or perhaps two dogs but some on here have five/four/three! I do sometimes wonder if the CMC is being taken advantage of because they don't charge for dogs like many commercial sites? Dogs seem to outnumber children by a factor of ten to one. Given the Club's aim of appealing to younger members I am not sure the plan is working!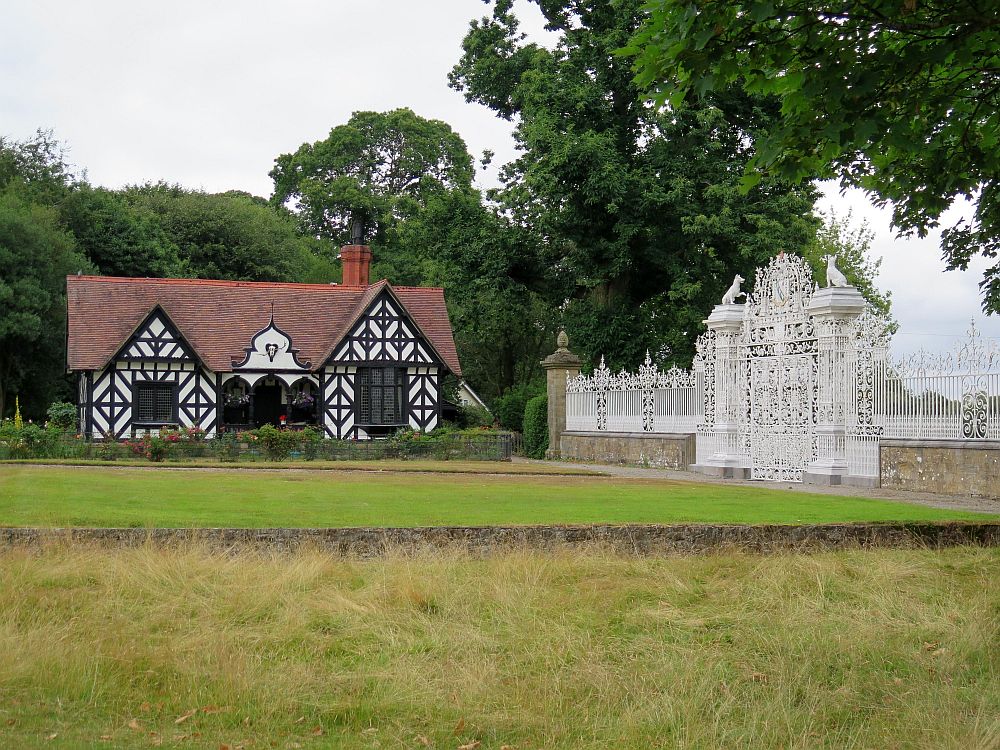 Sunday 22nd July. It has been a better day today with more sunshine although still muggy. We had a walk down to the canal today along the path down the side of the campsite. This brings you out not far from the tunnel entrance by the Chirk Aqueduct. There is a nice little view point with a seat and lots of lovely flowers just before you turn down the path to canal level. We could see that a boat was coming through the tunnel as we could see the headlight although it took some time for it to emerge into the daylight. What was surprising was that a group of canoes followed the narrowboat out of the tunnel. Strategically moored near to the Aqueduct was a narrowboat selling coffee, sweets and ice cream. Who can resist a 99!!! Apparently they stay in one place for a few days and then move on to a new location.
The towpath was busy with people, some cyclist, some canoeists, and even babies in push chairs! After our ice cream we carried on across the Aqueduct and wandered up to the first bridge before turning round and heading back. Strangely as we started our return crossing of the Aqueduct there was a notice saying we were in England but we did not enter Wales until the other side so it seems the Aqueduct is in No Man's Land or is because it's in mid-air? This is our last day at Lady Margaret's Park. It is a nice enough campsite but a few too many dogs for me, yet another van arrived with five dogs. It wouldn't be so bad if the owners obeyed the Club rules on length of lead and not exercising on the campsite but our experience this weekend is that many dog owners disregard such rules.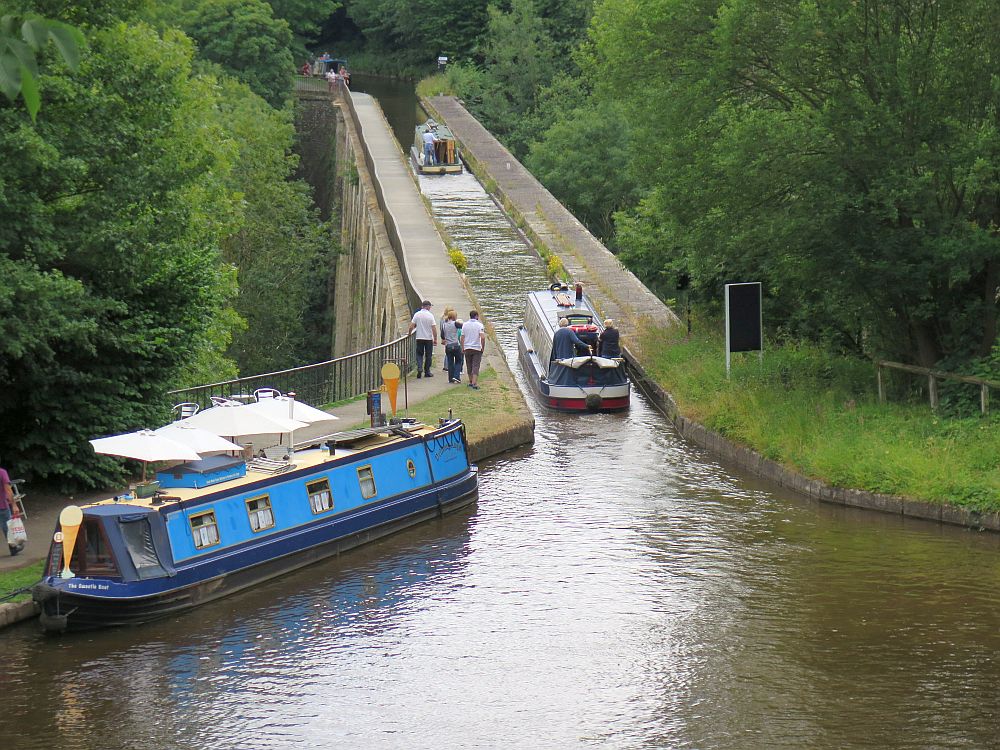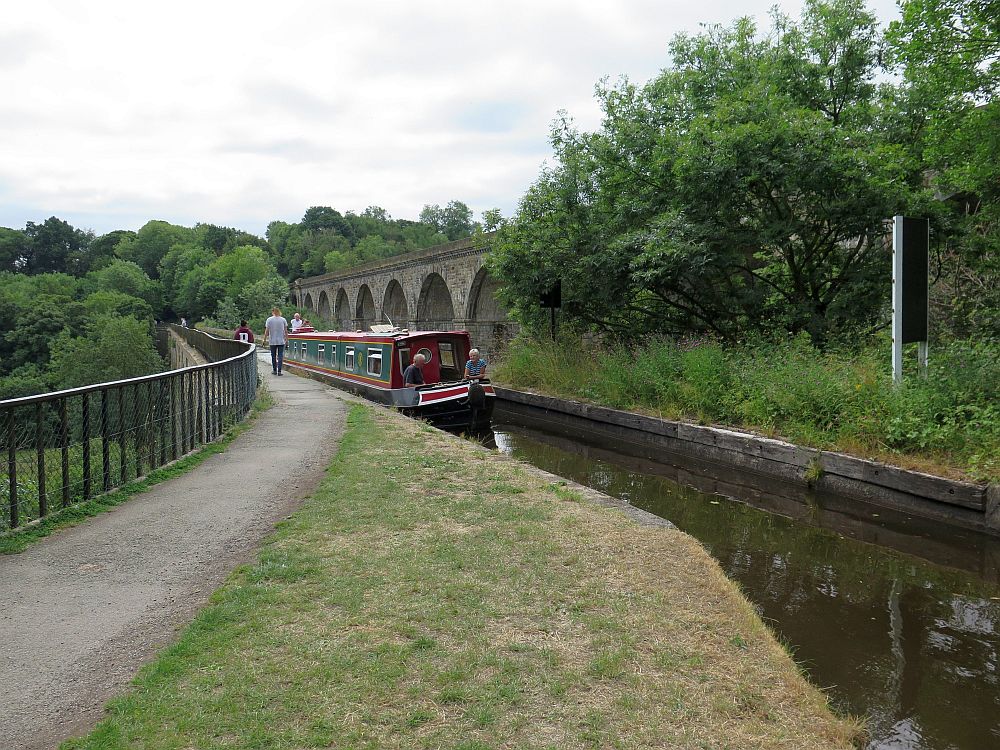 Later on in the evening I was doing my usual checks outside when I noticed the silver screen cover on the front of the van was covered with flying ants. Up to that point we had not noticed any flying ants. However earlier in the evening we saw one of our neighbours peering at the ground and then poking it with a stick so I wonder if they had discovered an ants nest? If they had we got the benefit of their interference!!! I used several buckets of water to wash them off but only partially successful.
Monday 23rd July. It dawned a lovely sunny day, typical on the day we leave!!! Fortunately the flying ants had all but disappeared. Even by 8.00am it was very hot and on the way home the onboard temperature readout was saying 32 degrees!!! Thank goodness for air conditioning. We encountered quite a few stretches of "Smart Motorway" on the way home. There seems to be two sorts. Those where you can use the hard shoulder if the motorway is congested, when are they not! Or the other sort where they have basically created a fourth lane out of the hard shoulder which can be used as a normal lane. Every so often they have refuge's should you need to stop. Not frequently enough in some people's eyes. If we have to have them I think I prefer the latter as you can be fairly confident that you won't come across an overhead sign saying lane closed?
Tour of the North East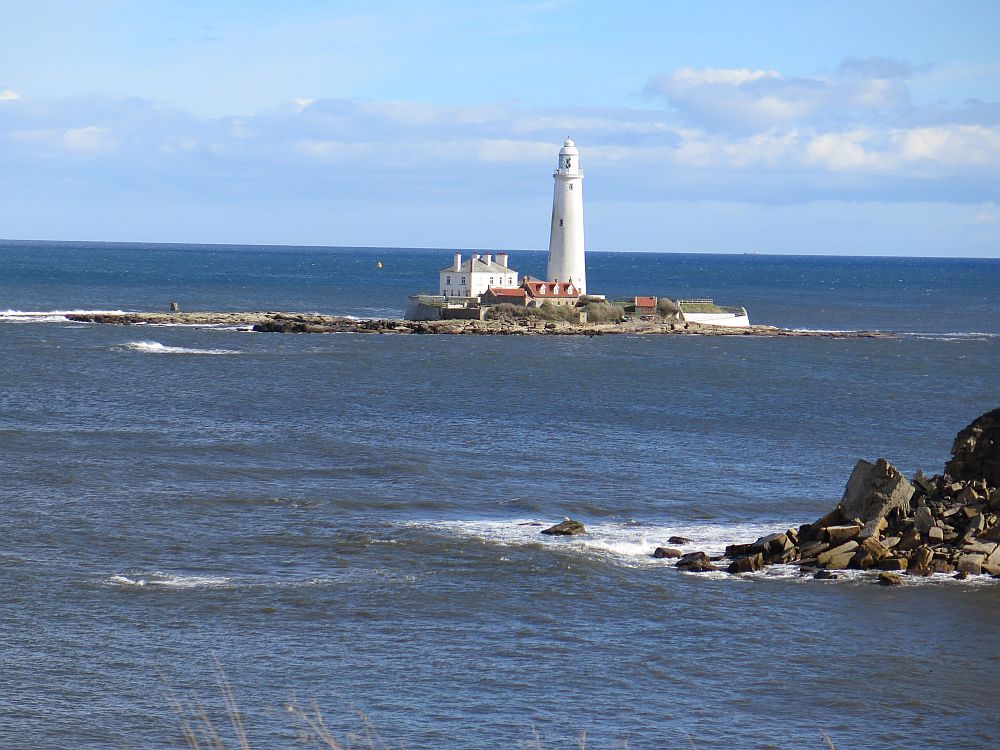 Stockton on Tees
Sunday 9th September. Today we are heading north again, this time to the CMC site at Stockton on Tees. It's a longer journey than we normally attempt these days of just over 200 miles but it is part of a two week tour so we thought we would get rid of the longest stretch on the first day. We are also getting into the habit of starting out on journeys north on a Sunday to avoid the worse of the traffic. This is fine as far as it goes but it would be wrong to imagine the roads are traffic free!!! At least there are far less wagons on the road. Heading past Nottingham we were rather surprised to notice the southbound carriageway seemed devoid of vehicles. The penny soon dropped that the road must be closed. We soon came to the point where the traffic was stopped. No obvious signs of carnage which was good but this made if even more difficult to work out why the traffic was stopped. Before we got to the stoppage point I did notice a maintenance vehicle working on the middle barrier which might have been the cause, perhaps from an earlier accident.
We made two stops en route, the first at Trowel Services. This seems to be our regular first stop heading north. Not that there is much room but we managed to find a spot. These service areas are just not big enough to cope with the lorry drivers that need to stop for a break. Our second stop was on the A1M at Wetherby. We followed the signs for caravans as is usual but we were intercepted by a man whose job was to marshal us into the right place. This was unusual in itself but at least welcome from the normal free for all with wrong vehicles parking in the wrong places. Be good to see a few other service areas being so proactive. We arrived at the site just before 2.00pm which I thought was pretty good. Rather indulgently we had booked a service pitch so we don't have to cart fresh and waste water around although rather ironically we are pitched right opposite the motorhome service point!!!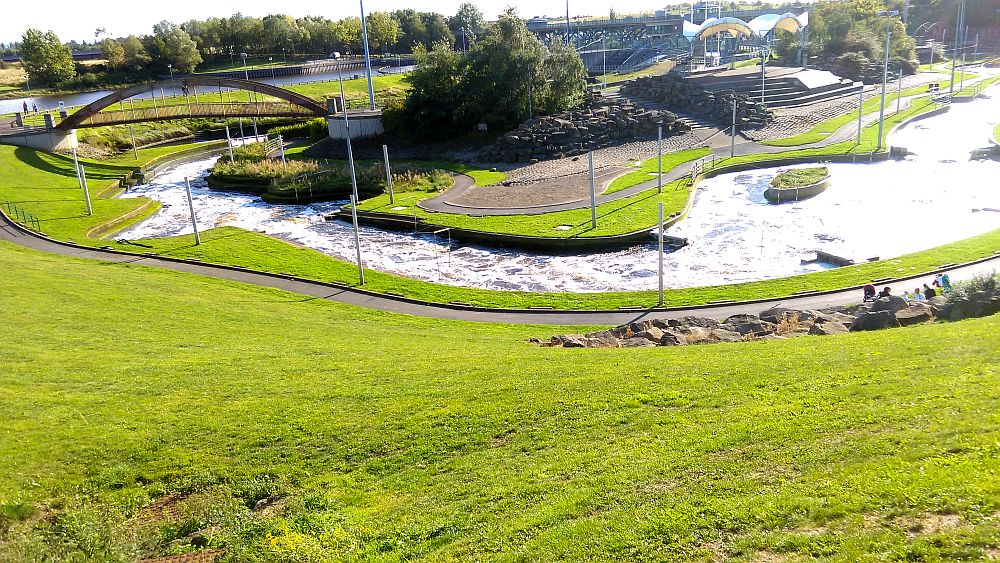 After settling into our pitch and after some lunch we had a wander outside the site. We found a handy Beefeater Restaurant just across from the site entrance which may come in handy later in the stay. Beyond the pub is the White Water course alongside the River Tees. So there seems lots to explore in the locality.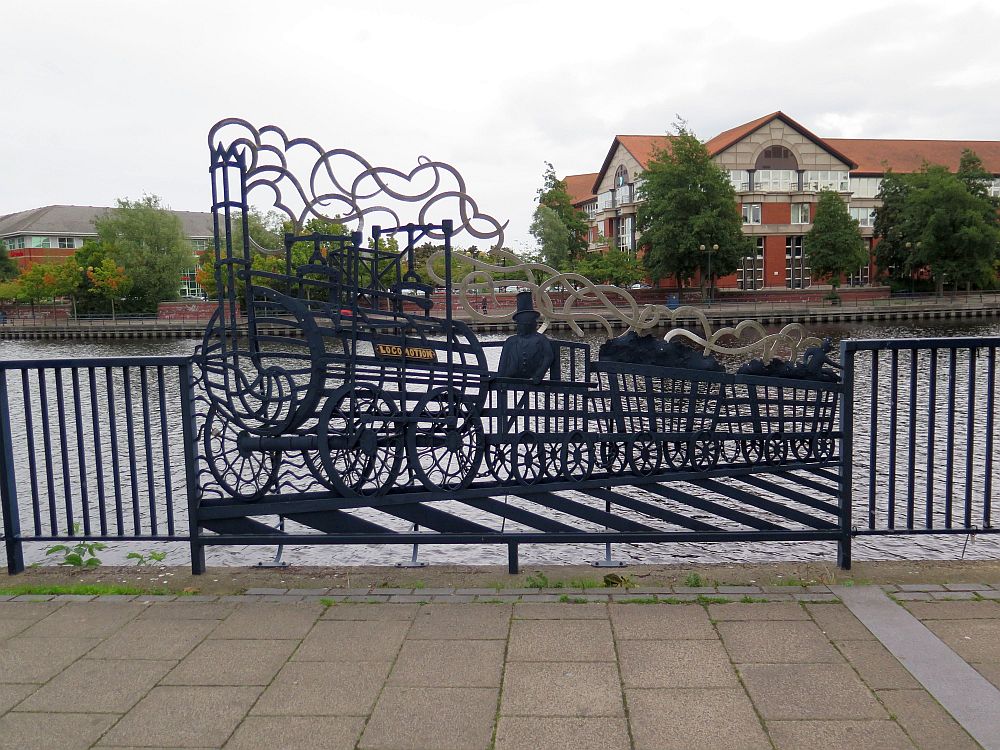 Monday 10th September. Our first full day at White Water Park. Despite indications to the contrary the day dawned grey with a cold wind as despite not even being the middle of the month and still officially summer, fleeces were the order of the day. Had it been a nicer day we had intended to use the bikes but put that option on hold. Instead we decided to explore towards the large ASDA which is behind the site and according to the site information is a mile away. It actually turned out to be less than half a mile! According to Google Earth there was a bus stop actually in the supermarket car park. When we arrive at the shelter there were no time tables so we asked a lady with some shopping bags, we thought she was waiting for a bus, when the next bus was. It turns out that buses no longer use this stop and she directed us up to the main road where there is a half hour service between Stockton and Middlesbrough. We decided to take a look at Stockton on Tees.
Waiting for the bus to arrive we got chatting to another lady about the buses and she explained a bit more to us. Once on the bus it only took a few minutes before we arrived in the town centre. The High Street is quite wide and in the middle is the (old) Town Hall. A blue plaque on the side of the building proudly proclaims that in 1810 the plans were put forward for the building of the Stockton and Darlington railway and as they say the rest is history!!! Stockton on Tees seems to have suffered mixed fortunes in post-industrial times. Lots of shops have closed, even M&S has deserted the town. However the larger covered shopping centre seemed busy and in particular the market stalls seemed popular. We walked down to the river which in contrast to the High Street has been smartened up mainly it seems with a satellite campus of Durham University. Rather ironically some of the money spent in the area has come from EU funds!!!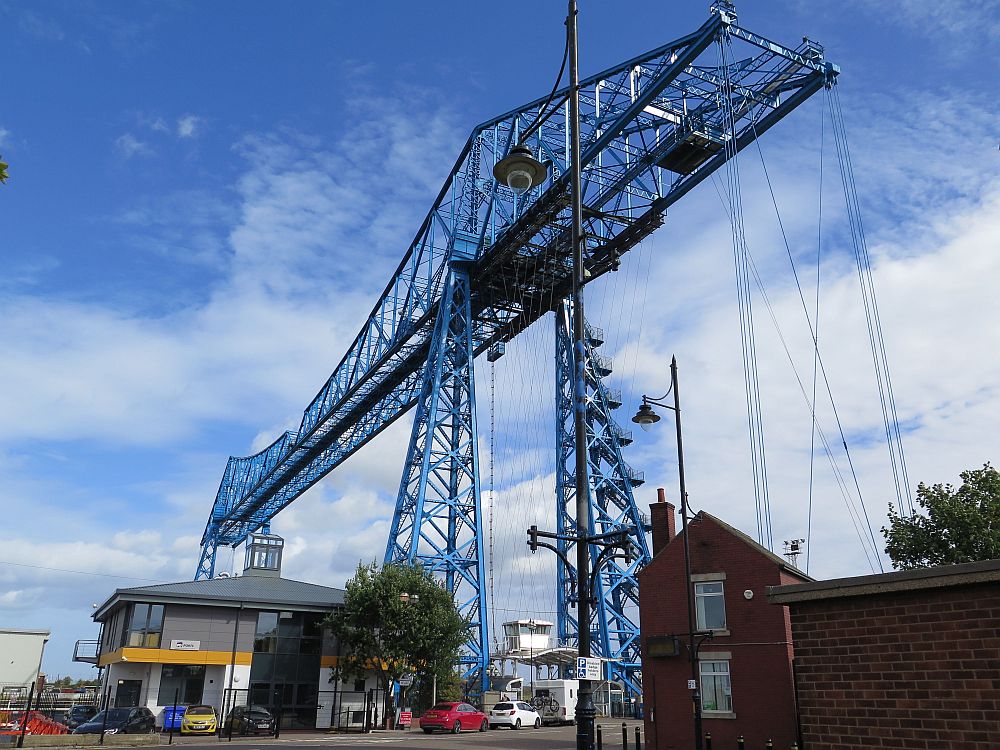 Tuesday 11th September. The weather was a bit better today but still breezy. We took the bus the other way today to Middlesbrough. We arrived at the bus station which in itself was a place of interest. It is built in an oval with stands around the inside as well as the out. Once you work it out it all makes sense. The main purpose of our visit was to go and see the Transporter Bridge which involved getting another bus. The bridge was built in 1911 and is the longest working transporter bridge in the world. It was originally conceived to transport thousands of workers across the Tees and to replace the overcrowded ferries. It is a pretty big structure which dominates the skyline of Middlesbrough, we can even see it from the campsite, which is hardly surprising at 49 metres high and with a span of 174 metres. On the town side there is a small exhibition detailing the building and history of the bridge. For those interested in industrial heritage it is well worth a visit. Unfortunately we couldn't take a ride as there was some maintenance going on. We didn't get a chance to have a good look around much of the rest of Middlesbrough but the shopping area seems quite busy although we did managed to get a seat at the M&S's café for a coffee. Back at the site we decided to treat ourselves to a meal out at the Beefeater just across from the campsite.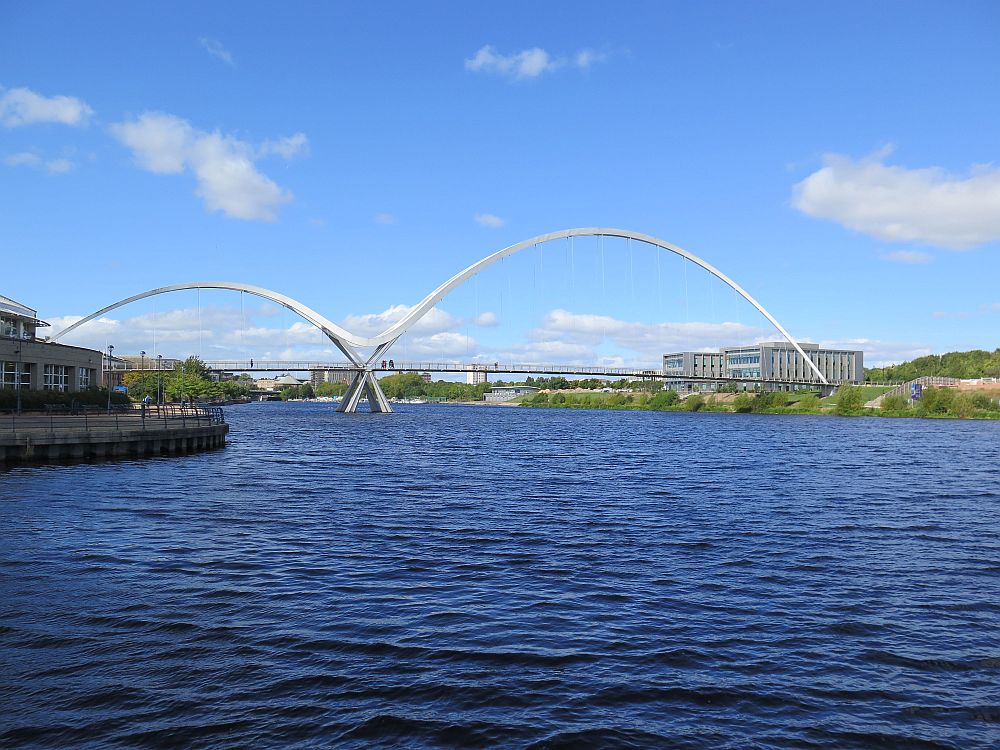 Wednesday 12th September. It's been a pretty nice day today with lots of sunshine although the chilly wind persists. We decided to get the bikes off the rack and go for a ride today. There are quite a few off road options direct from the site. We rode down to the Tees Barrage which separates the river from tidal to non-tidal. There is also a lock to allow boats to navigate upstream. We rode along the south side of the river and where the large University Campus is we crossed the river over the Infinity Bridge and before long we were in the centre of Stockton on Tees. On the way back we stayed on the north side of the river until we got back to the Tees Barrage before making our way back to the site. After lunch we had another ride out. This time we rode towards Middlesbrough as far as the Newport Bridge. This bridge is a vertical lift bridge completed in 1934 to provide high air draft access upstream.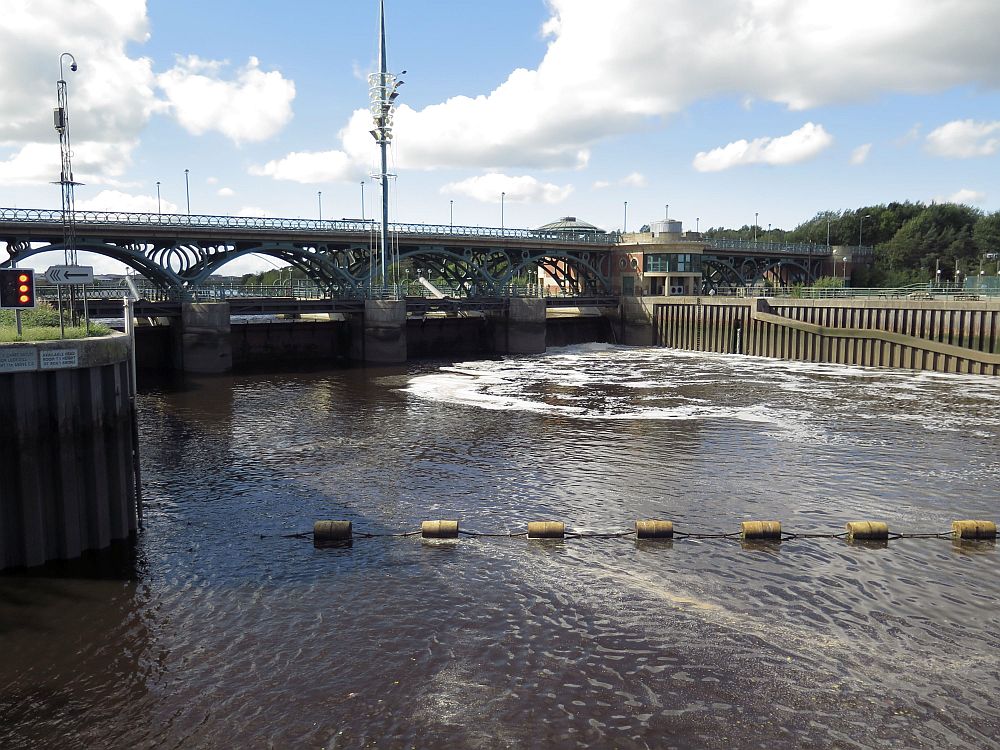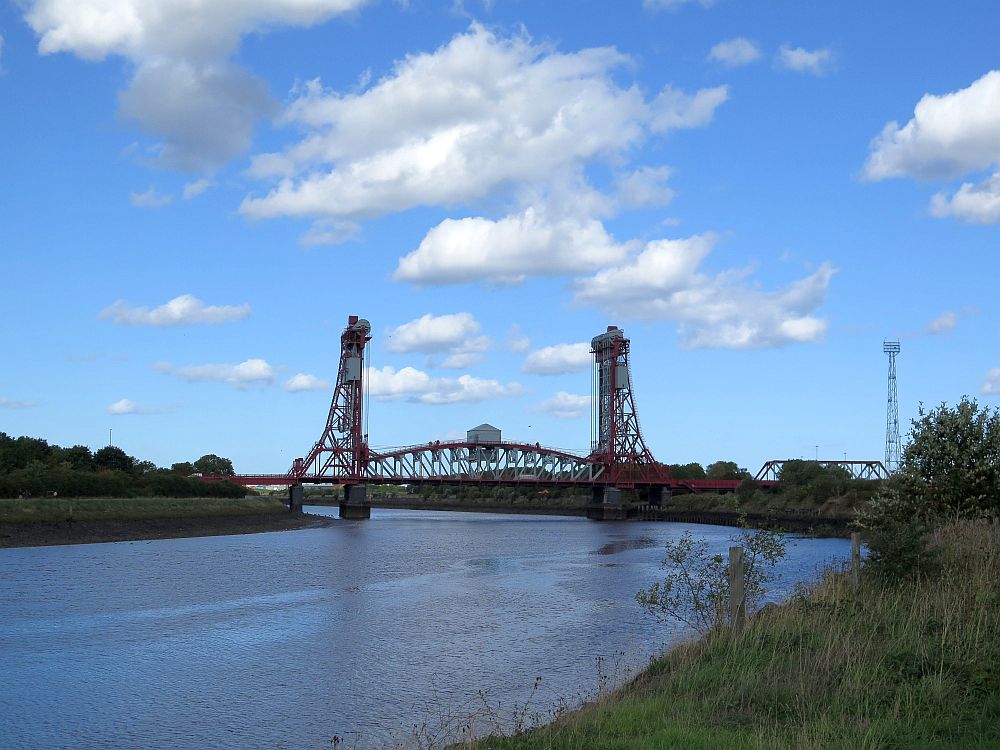 This is our last day here at White Water Park. It really is a nice site and well designed. For those that don't want to take a car or motorhome off site there is a fair bit to do within the walking distance of the site.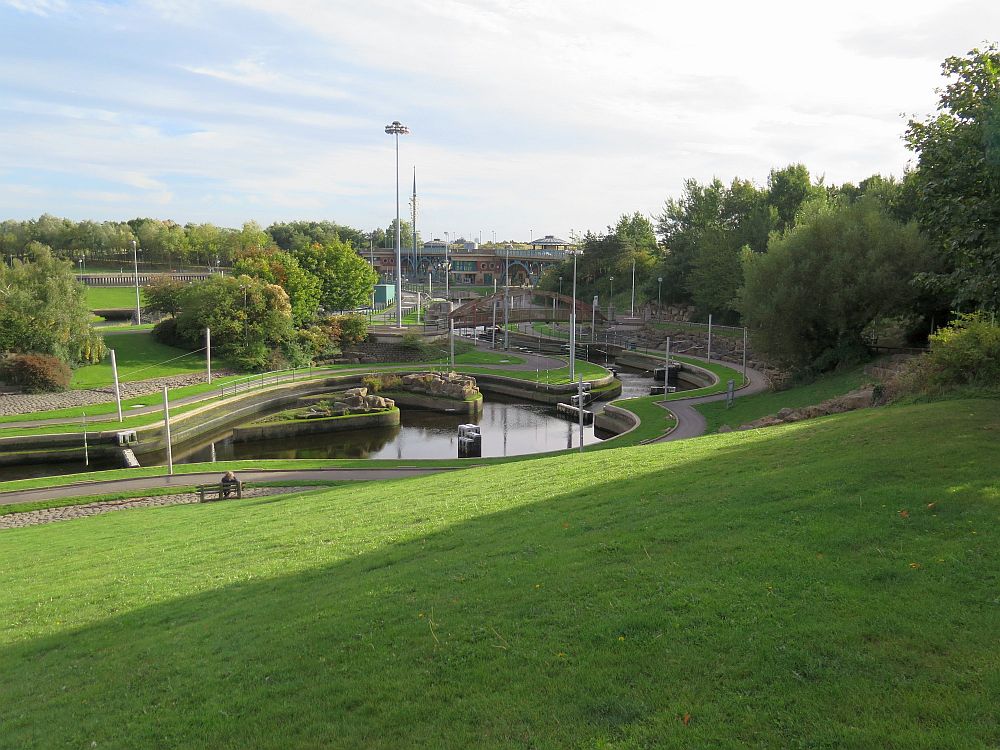 Barnard Castle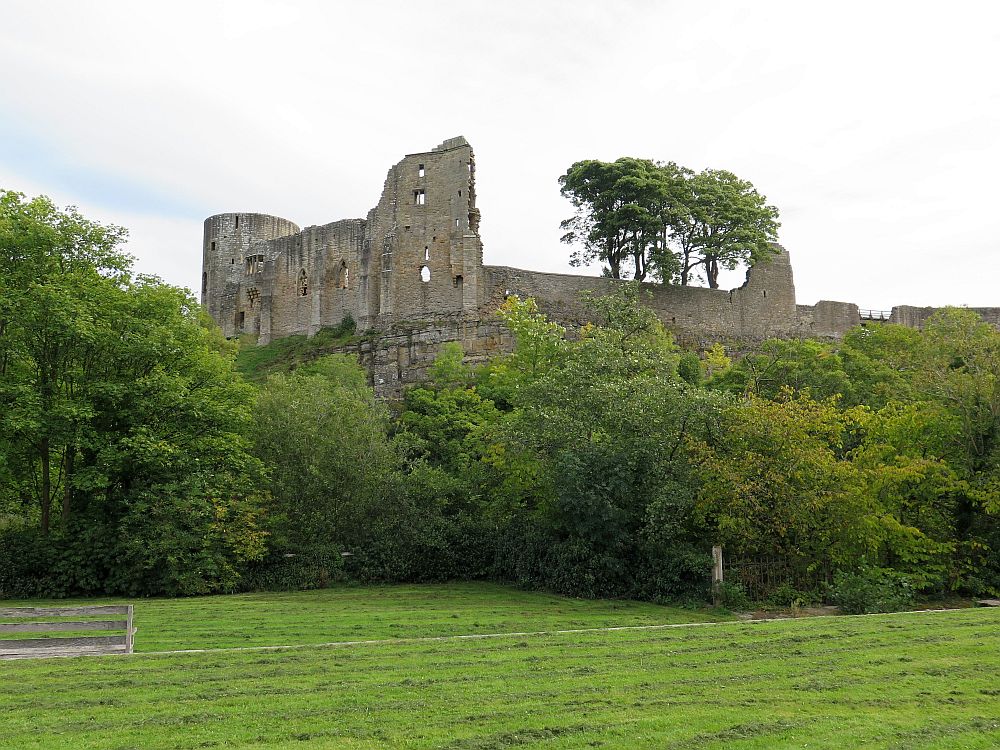 Thursday 13th September. Today we made the relatively short journey from Stockton to Barnard Castle a distance of 32 miles. It was not the route the CMC recommend but that required us to head south on the A1. As it turned out the route via the A67 was fine except for the road works actually in Barnard Castle but even they did not delay progress that much. Other than looking around the campsite, which is pretty full, it was an otherwise a lazy day.
Friday 14th September. Busy day today! Weather looked at bit unpredictable as we set off for Barnard Castle so we donned our waterproofs. As you approach the town on foot you get a good view of the Castle ruins as you enter the town and cross the bridge. Rather than use the road we decided to take the path up the side of the Castle as a short cut into the town. We had not appreciated how steep the path was, it reminded me of the approach to Carcassonne La Cite!!! At least we were able to get an appreciation of the size of the fortifications. We eventually emerged into the town and had a wander around. It seems to be a busy Market Town with lots of interesting shops. After a coffee we made our way to the Bowes Museum.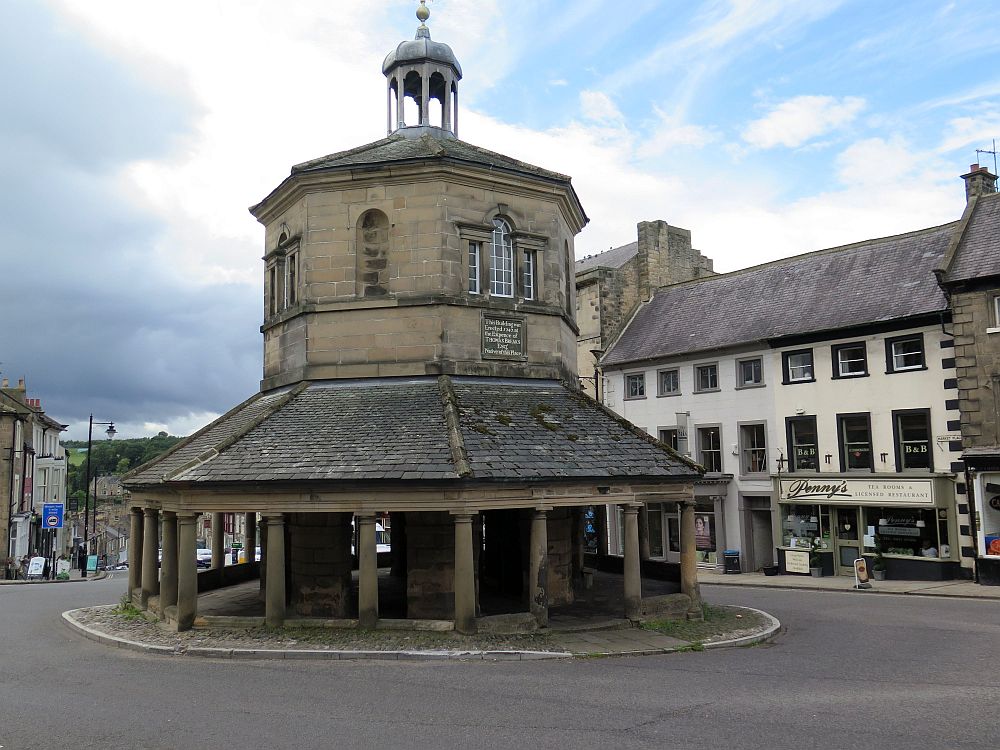 When you enter the grounds of the Museum you are faced with what looks like a large French Chateau or perhaps a Hotel d'Ville. There is a reason for this which has its roots in the originators of the Museum. John Bowes was the illegitimate son of landed gentry and an estate worker. The father only married the mother virtually on his death bed. The result of this was that John Bowes, whilst inheriting much of his father's fortune did not inherit the title. Despite his money and favoured education he was not readily accepted in society. He decided to move to France where he met and married his wife Josephine. They purchased a Chateau there and started to collect things. Eventually they both moved to England and employed a French architect to design the new Museum.
Back to the present. The Museum is currently hosting a fashion through the last hundred years or so but concentrating mainly from the 1930's onwards. All the famous fashion designers were represented. There were some wonderful clothes on display although not many of them practical for everyday wear! In one of the galleries were displayed the original drawings for the Big Friendly Giant books. Another centre piece of the Museum is the Silver Swan automation which performs daily at 2.00pm. The performance is very short, infact the introduction by a member of staff is much longer. Perhaps not so much use if you live miles away from the Museum but your one off entrance fee entitles you to a whole years' worth validity.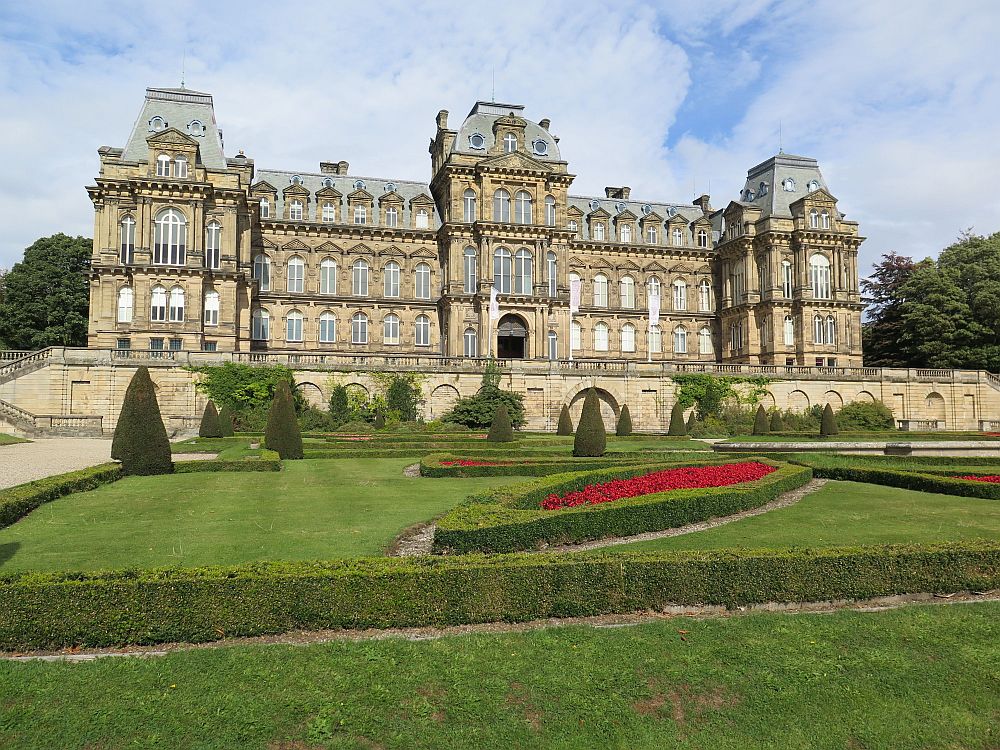 Museumed out we made our way back into town for some shopping at the Morrisons in the centre. When we had finished we checked the bus times but we had missed one bus and the next was not for another two hours. OK, so what about a taxi? It seems that virtually all taxis are tied up with the school run so an hour's wait was in prospect. So we had the choice of either waiting around or trudging back to the campsite under our own steam. This is the second time this year we have been badly let down by unavailability of taxis whilst shopping. We made it back to the van aching and exhausted, but at least we made it back!!!
Old Hartley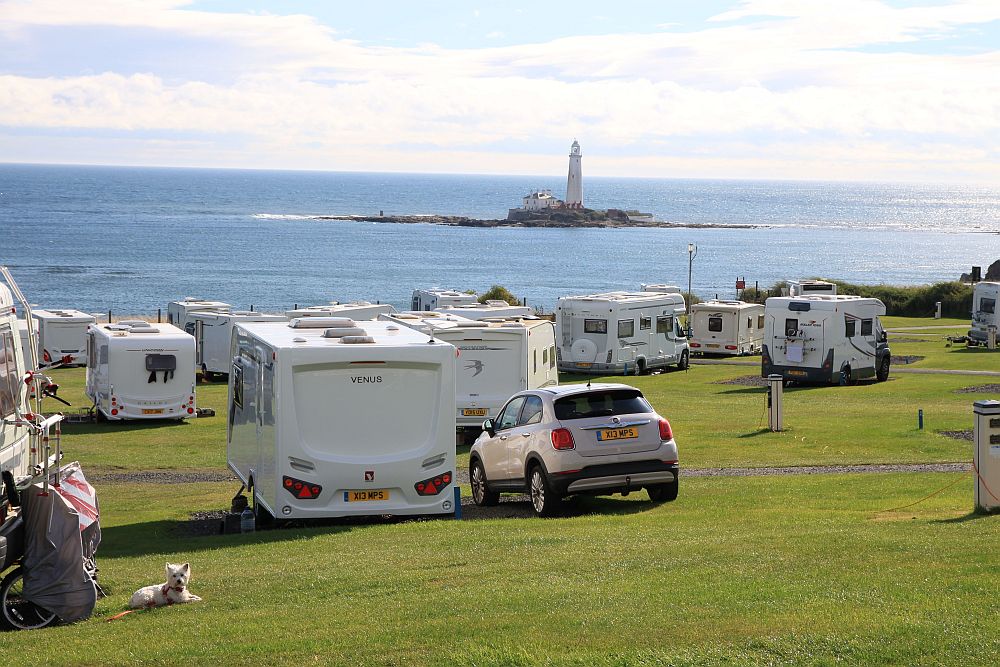 Saturday 15th September. After the trials and tribulations of yesterday's outing we had a lazy day today. This is our last day here as we move onto Old Hartley tomorrow. On the plus side we actually had the pleasure of meeting, in the flesh, someone I had been corresponding with about campsites, both home and abroad, for some while. The Fish and Chip van was on site tonight so we treated ourselves, although we did only share one portion! Margaret was convinced that they were cooked in lard. There was certainly a different taste from our usually excellent local chippy who uses sunflower oil!!! I know which one I shall be sticking to in future!!!
Sunday 16th September. Time to move on and we are heading for the CMC site at Old Hartley near Whitley Bay North of Newcastle upon Tyne. Interestingly TomTom took us back to Scotch Corner to join the A1 north. Although this was a longer distance it was certainly an easier route and of course you miss Barnard Castle almost altogether. En Route we stopped at Newton Aycliffe to fill up with fuel. Fortunately it was only a short detour of the A1. We used the Tyne Tunnel which has a modest charge of £1.70 for motorhomes. I know I don't have to use it and pay for it on a regular basis but I am happy to pay if it means the proper infrastructure is in place. Beyond the Tunnel we were beginning to think that Newcastle was trying to rival MK for the number of roundabouts! Whilst by now it was a fairly sunny day it was surprising to see the number of people out and about along the sea shore. We arrived at Old Hartley almost on midday. The site is very busy and by nightfall it was full.
I went to use the chemical toilet in the van and there was something about it that did not seem right. I discovered that part of the mechanism had broken and was in the bottom of the tank. We tend to use our own facilities so that won't be possible until we get a new tank.
Monday 17th September. I spent most of yesterday evening researching where I could buy a new tank for the chemical toilet. This morning I phoned a couple of local dealers but no joy. One online page showed as stocking them but they were out of stock. As a matter of courtesy I spoke to the site wardens before ordering it to be sent direct to the site but thankfully they were more than happy to help. I found one on e-bay which hopefully will arrive tomorrow, fingers crossed. Clearly I must have forced the cassette into place which then caused the interior of the tank mechanism to snap rendering the sealing system inoperable. Whilst a subject of a sensitive nature we have had to restrict the use of the toilet to water only with more frequent emptying!!! Enough said I think! I suppose we have been using cassette type toilets for about twenty years in all and this is the first catastrophic failure.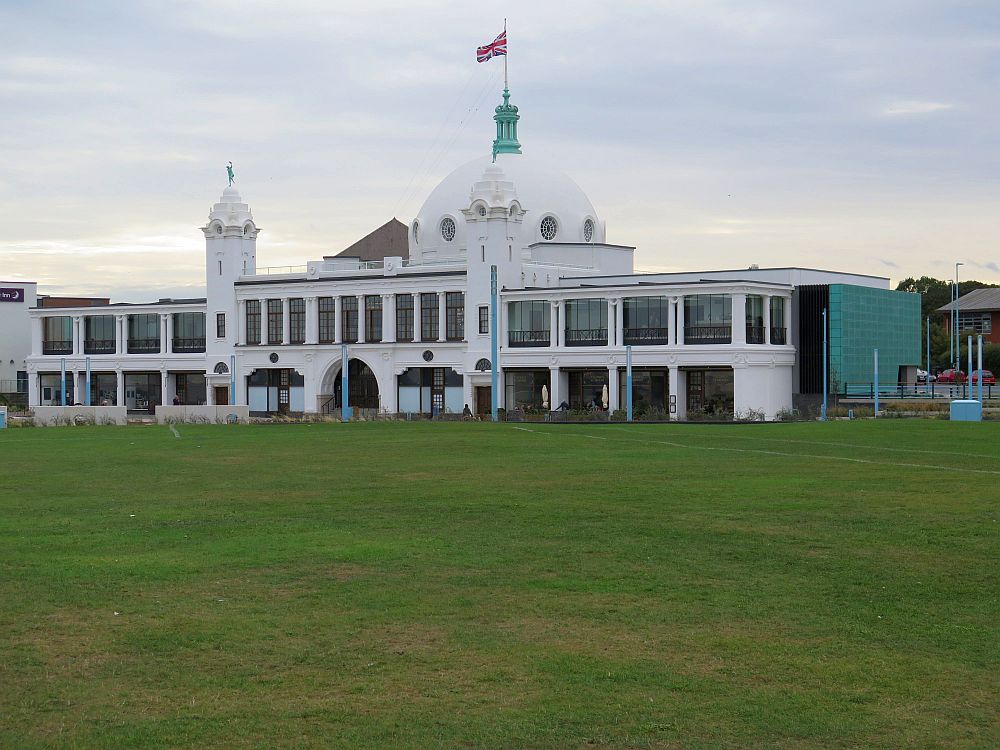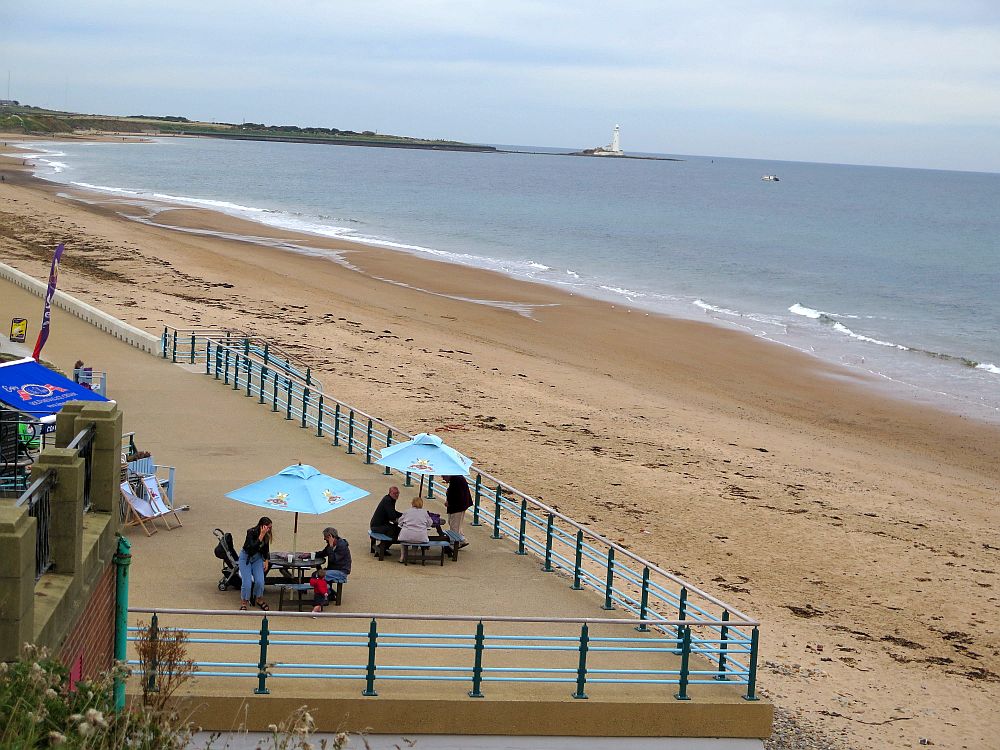 Having set everything in motion so to speak we are now in the hands of the delivery gods so the day was there to be used. Margaret hails from Newcastle so this is something of a nostalgic rediscovery trip for her as she has rarely been back to the north east since moving south over 50 years ago. One place she often mentions is the Spanish City at Whitley Bay, this can actually be seen from this site. All those years ago it was considered a somewhat risqué place to frequent with fun fares etc, such is the innocence of youth! It is often a subject of common interest when you get a gaggle of Geordies in one place. I had read or seen on the news that the Spanish City had been restored to its former glory but that glory turned out to be slightly different to the Spanish City of half a century ago. Without doubt it has been beautifully restored but the fairground rides have been reduced to just names on the seats outside and replaced by up market café's and a Champagne Bar, a Champagne Bar in Whitley Bay, whatever next!!! On the ground floor is Valerie's Teashop which fortunately also did rather nice coffee. Not the cheapest place and the service a bit on the slow side but popular with the pensioners and Bourgeoisie of Whitley Bay.
After our extended coffee break we set off along the promenade which is part of the smartening up of Whitley Bay. All credit to the local council for taking the initiative. The gap of fifty years has either dulled the memory or things have really changed as Margaret did not see much of the Whitley Bay of her youth. Some of the grander hotels have fallen into disrepair and are now boarded up. The next block on is a smart new block of flats, obviously the way forward. We moved inland on a street that in past times was probably full of B&B's until we reached the main parade of shops. We diverted for a short way to inspect the Metro Station which was a rather grand building perhaps again illustrating the importance of Whitley Bay as a holiday destination in decades gone by. Back through the shops to our bus stop for the return journey. Buses every 15 minutes which is pretty good.
Tuesday 18th September. It has been a rather lovely day today albeit very windy but in some ways wasted because we had to wait in for the delivery of the new toilet cassette tank. This duly arrived at the time promised and I was able to exchange the remains of one with the new complete one. I won't dispose of the old one as I may be able to get the parts to repair it. In the afternoon we took the bus back to Whitley Bay to do some shopping. I mentioned that it has been windy, well this is just a small foretaste of what is to come according to the weather forecast as Storm Ali progresses across the north of England and Scotland tomorrow. Where we are right on the coast it always is windy so we are not looking forward to it being even worse.
Wednesday 19th September. We had hoped to visit Newcastle today but it has been so windy we felt that we should stay put in the van. Talk about being buffeted I think we have taken it to new levels today. At times it was quite scary. Whether it would have been any better inland I somehow doubt. At least we are not under trees so safer than some? The wind did eventually calm down from the frenzied speed it was around mid-afternoon.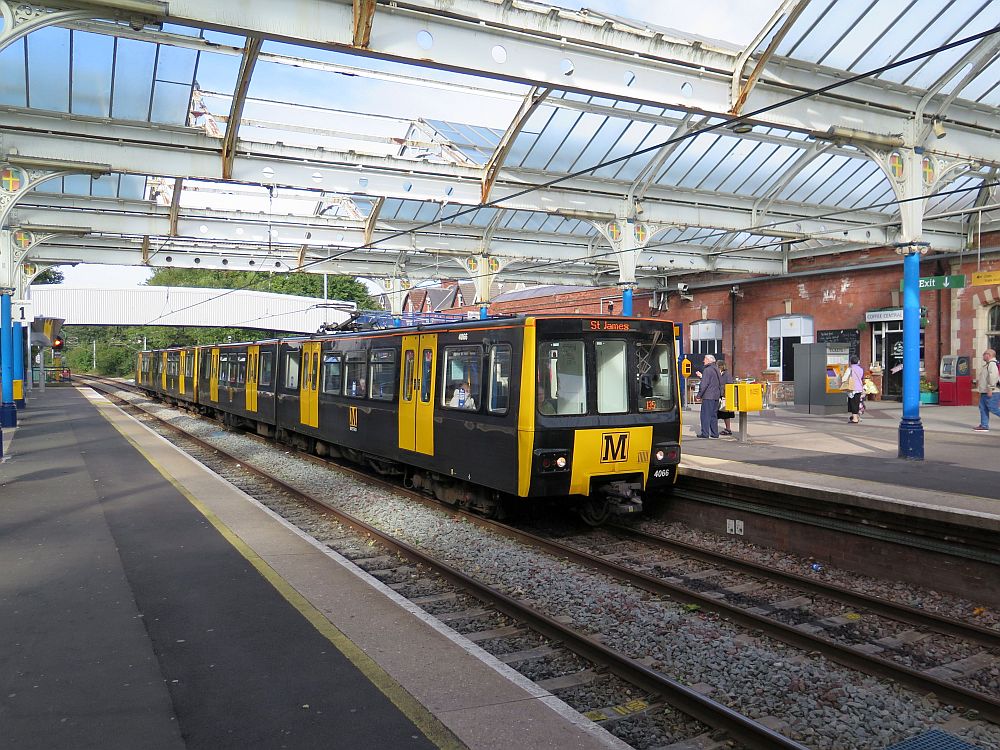 Thursday 20th September. The day dawned sunny and calm but quite a bit colder. Unfortunately the sun did not last long but at least the rain stayed away until mid-afternoon. Today we went into the City of Newcastle. This is very much a continuation of Margaret's nostalgia fest in the North East!!! We took the bus back into Whitley Bay and could have easily continued into Newcastle but I wanted to have a go on the Metro system. I was first aware of the Metro some years ago when we were visiting a relation of Margaret and the trains ran along the bottom of their garden. The construction of the system started in 1974 and was completed in 1980 and was said to be the largest urban transport system built in the UK in the 20th century which rather suggests that London is not the only place to get major transport infrastructure projects. We went the wrong way round so that Margaret could see many of the places she knew when she was young.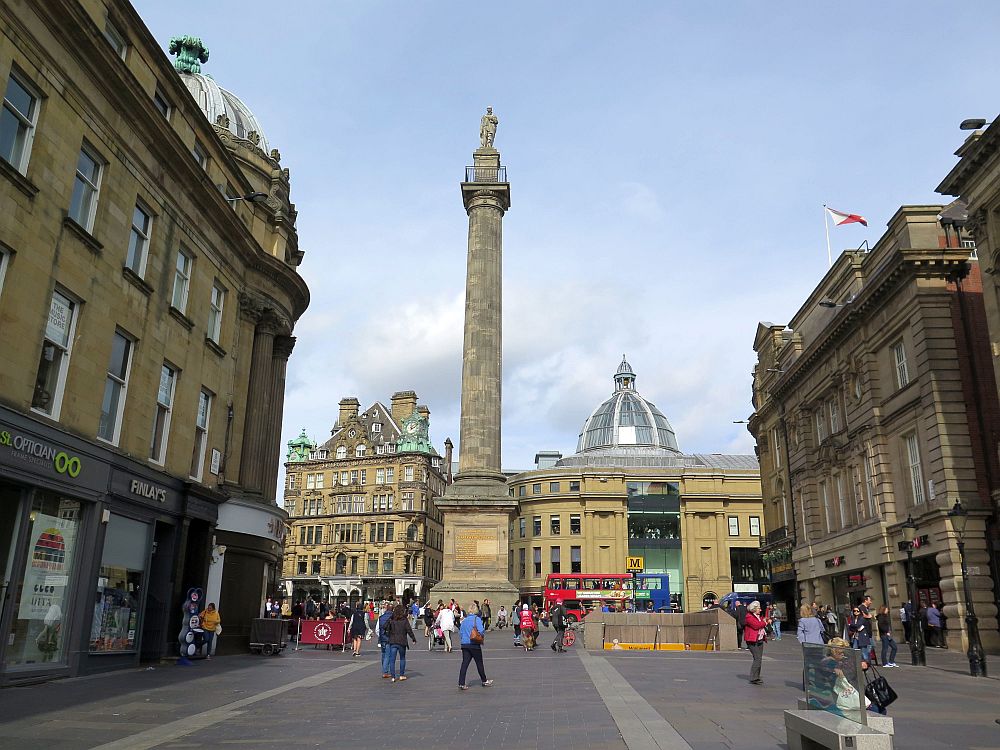 We got off at Haymarket and walked down Northumberland Street. We called into the Eldon Shopping Centre for a coffee at JL. Having made our way through the main shopping area we cut through to Greys Monument named after the British Prime Minister Charles Grey. It is reckoned that Earl Grey tea was named after him but I don't think the monument was built to commemorate the tea!!! We then made our way to the Grainger Market which is famous here abouts. We were heading for the Quayside but first had a look at the main station in Newcastle. I thought the Quayside would be an easy place to find but we ended up heading for the Tyne Bridge. We walked partly onto the Bridge so I could take some photographs but had to double back in order to use an underpass to get to the riverside. It was a much longer walk than anticipated and we were both getting a bit exhausted, well the old legs and knees were! Well eventually we made it and it was worth the effort. We could see the Sage building across the river in Gateshead. We could now see the Tyne Bridge in all its glory. At the time of its construction it was the longest single span bridge in the world. The builders of the bridge, Dorman Long and Company, went onto build the Sydney Harbour Bridge three years later. Of course Newcastle has more than one bridge as we shouldn't forget the Swing Bridge and the High Level bridge which all form part of Newcastle's famous landscape. Perhaps we should also mention the Gateshead Millennium Bridge which is a more recent addition.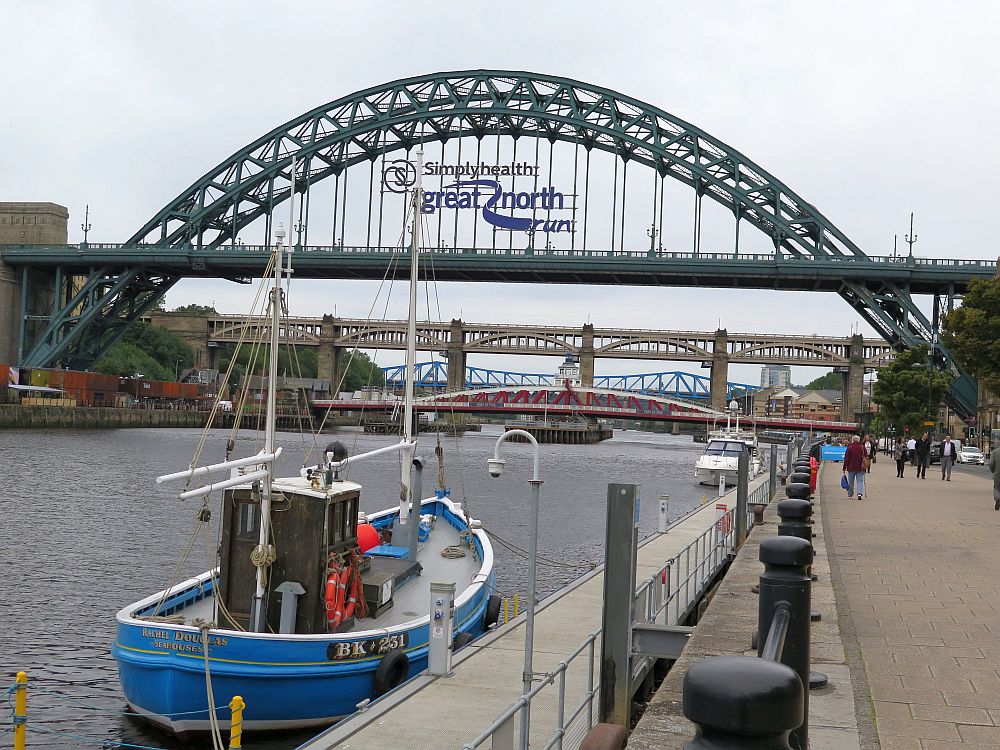 By now we were not only even more exhausted we were also getting hungry. There is a Wetherspoons pub on the Quayside so we made for there. I don't like the Wetherspoons owner's stance on Brexit but can't fault the value offered by his restaurants. Less than £15 for perfectly acceptable curry's and a pint is hard to beat. Hunger restored but knees showing their age we decided to take the bus back to the City Centre and got back on the Metro at Monument. This time we took the more conventional route via Byker (and we went by the Byker Wall) and Tynemouth with its magnificent station which reminds you how these places were important holiday destinations in the past. Finally back to Whitley Bay and the bus back to Old Hartley. An exhausting but very worthwhile day. As an aside a few weeks ago I found an old step counter in a drawer at home so since then I have been wearing it. If the pundits are to be believed you should aim for ten thousand steps a day. This is very difficult to achieve as normal everyday life only seems to achieve 2/3000 steps as day. During our days away in the van this has increased on outing days to around 7500 so still not the magical figure. Today I achieved nearly 12000 steps which has taken a great deal of effort and no doubt will suffer in the morning. I suppose I should be glad I have actually achieved the daily goal, albeit only the once!!!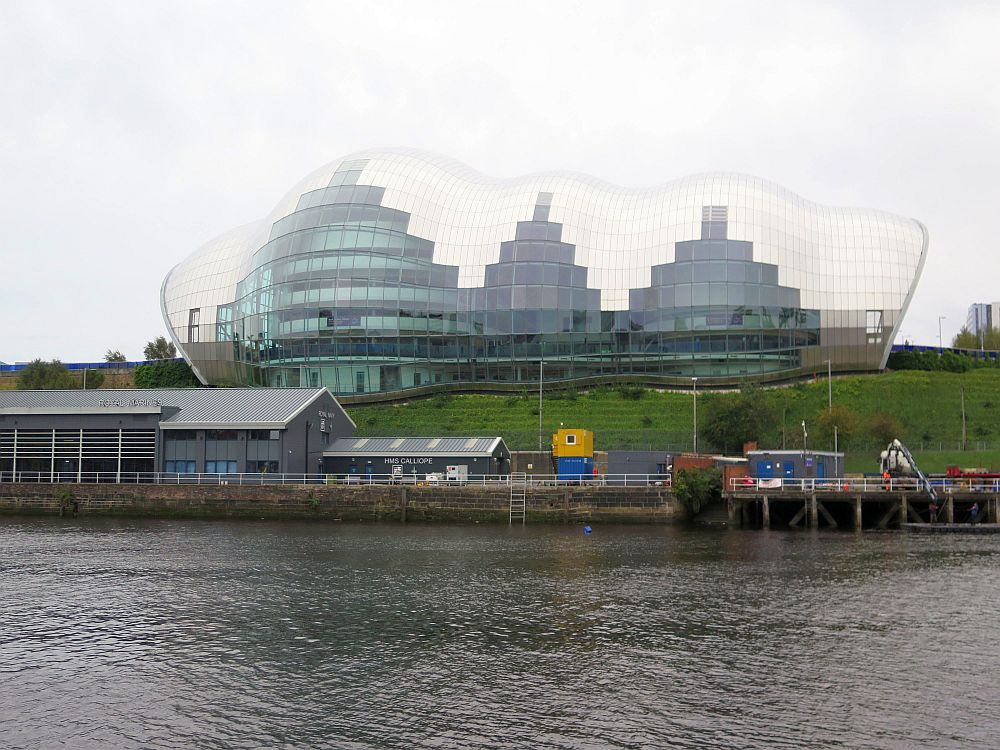 Friday 21st September. It was another windy night and the worse part about it was the slight change of direction meant that the cover on the bikes was flappy all night which kept us awake a bit. It has been a bright day with lots of sunshine but still pretty chilly. After our busy day yesterday we took it fairly easy but we did have a walk out this afternoon to St Mary's Lighthouse. It wasn't possible to get to the actual lighthouse because of the condition of the tide and the causeway was under water. We continued round the promenade a bit further before turning round and heading back to the campsite.
This is our last day at Old Hartley. It has been good to rediscover this part of the North East. It was a shame about the storms that we encounter as that restricted us a bit as did the problem with the cassette toilet. Having said that we have done quite a lot and Margaret has revisited many places from her childhood.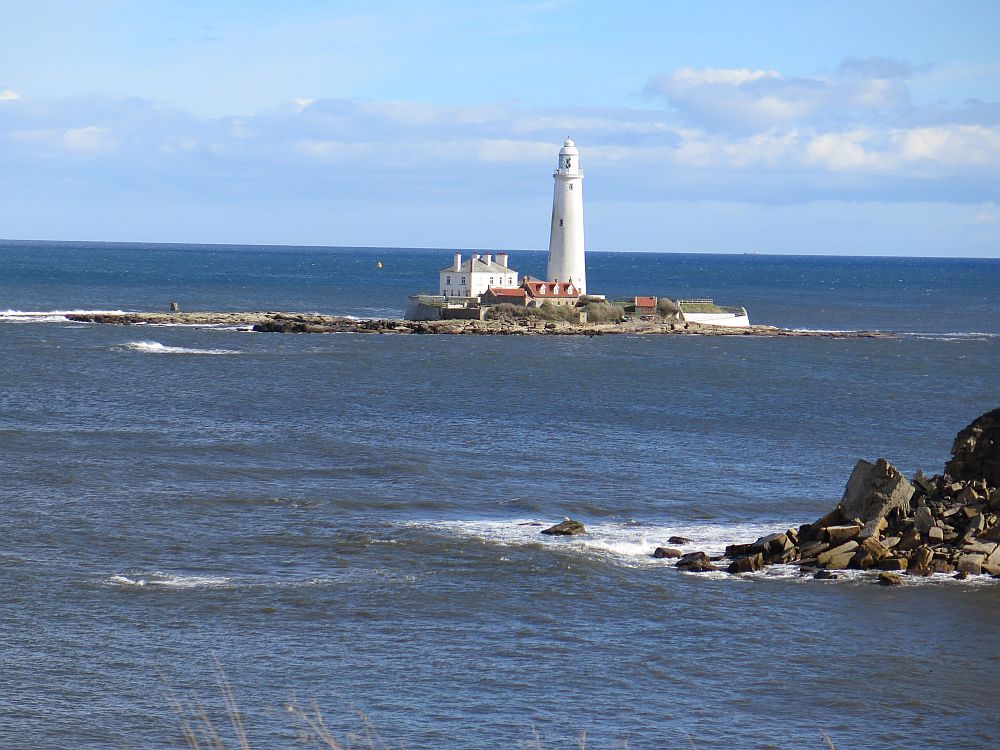 Saturday 22nd September. We start our journey south today. We were keen to have a look at the Angel of the North but had to persuade TomTom not to take us through the Tyne Tunnel. In the end it was easy as we refused to accept the toll! Mind you we were not really sure where he was taking us but once we crossed the Tyne into Gateshead we knew we were on the right track. Fortunately it was signed off the A1 and we managed to park, albeit in the coach area!! Unfortunately the weather was quite dull so the photographs might not be as good if there had been sunshine. Antony Gormley's wonderful sculpture is quite magnificent and clearly popular by the number of people stopping to have a look at it.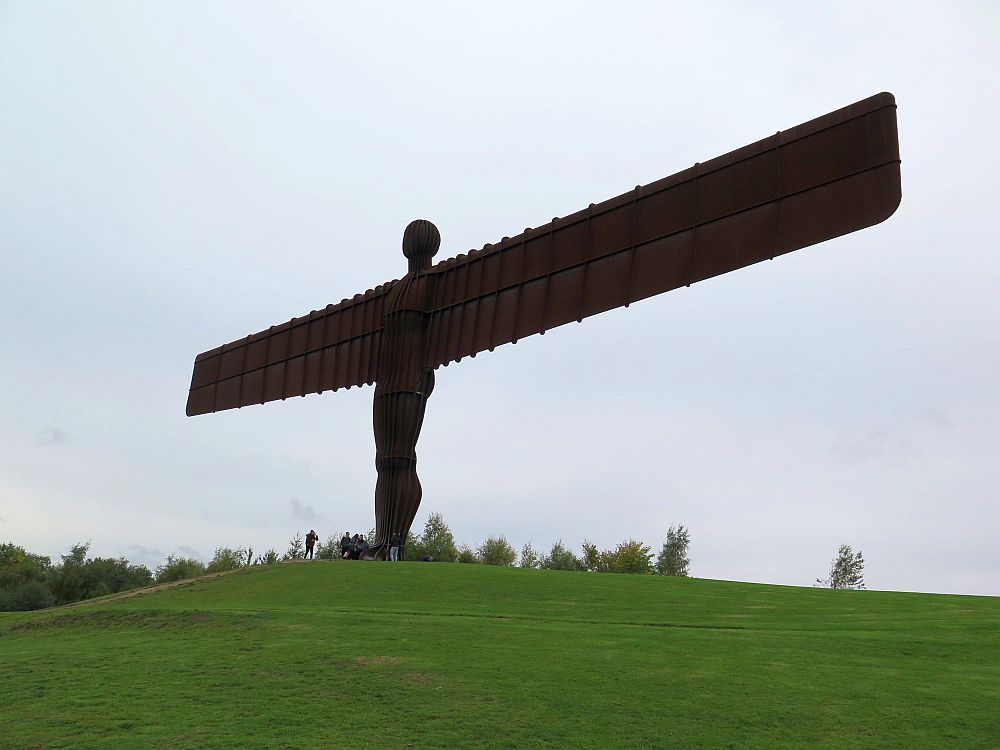 Fortunately it was only a short detour to get back on the A1. It was surprising how busy it was on the roads, we don't travel a lot on Saturdays but then again it beats hoovering! I suppose lots of people are going to sporting events and shopping. We stopped at Wetherby Services and again were directed to park in with the wagons although there were not that many of them. In a strange way it was to our advantage as there was a small Costa just behind us. Had we gone to the main service building it would have taken ages to get a coffee. The last bit of the A1 before joining the M18 was very slow for some reason. Once on the M1 it was not far to Poolsbrook Park at Staveley where we are staying for a couple of nights.
Sunday 23rd September. It's been a surprisingly nice day today weather wise with lots of sunshine although it is still quite cold with temperatures less than mid-teens. Wandering around the site today I noticed they had installed an open grid waste water point for motorhomes since our last visit here only a year ago. That makes it two out of four from the sites we have visited on this trip. Given how nice the day was we felt we couldn't sit around all day so we decided to have a walk in the adjacent Country Park. Perhaps we were being a bit ambitious in deciding to walk round the lake which was longer than we anticipated but we made it. We have been having some issues with our satellite dish not locking onto the signal. When this first happened at Old Hartley (having worked fine at the two previous sites) I put it down to interference from the high radio masts next to the site. However when we got here it did lock on once but then refused to do so. I have managed to get it to eventually lock on but normally there is no question or hesitation. I might have to contact Road Pro to see if they have any ideas. Last year when we had problems it was because it needed a software update and it's been fine since.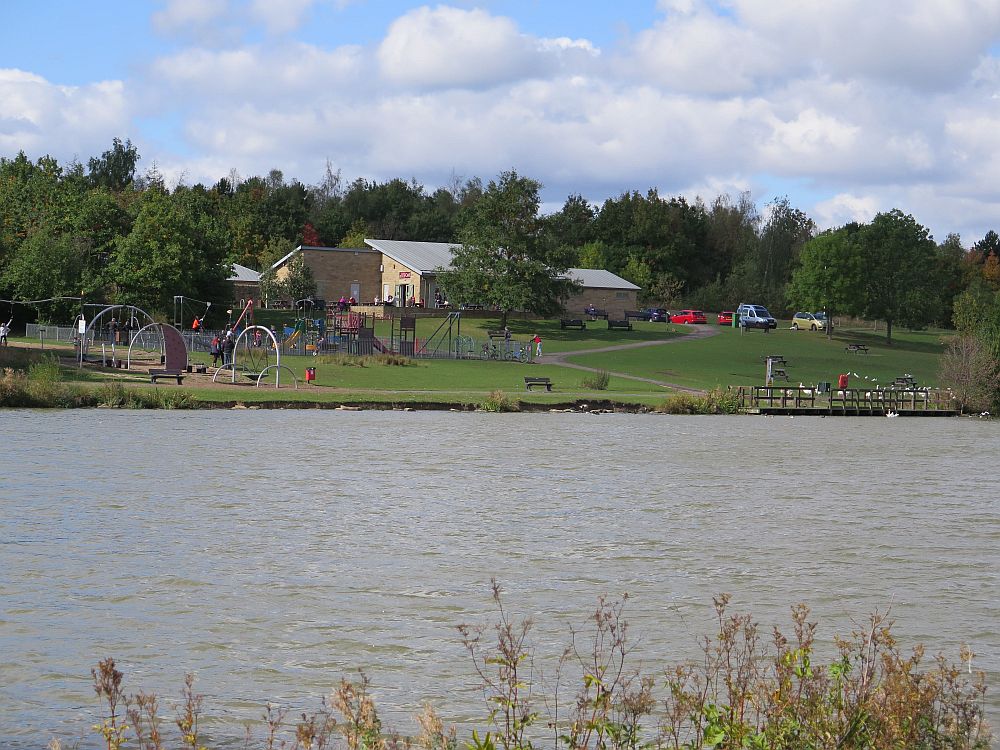 Monday 24th September. We got up to a nice sunny but crisp morning today. We were on the road just before ten and on the M1 heading south about five minutes later. The journey home was about a 100 miles but it seemed liked 500 with not only the volume of traffic but the slowness in parts. We were home by early afternoon and set about emptying the van. Home day is always one of the most exhausting!
Blackpool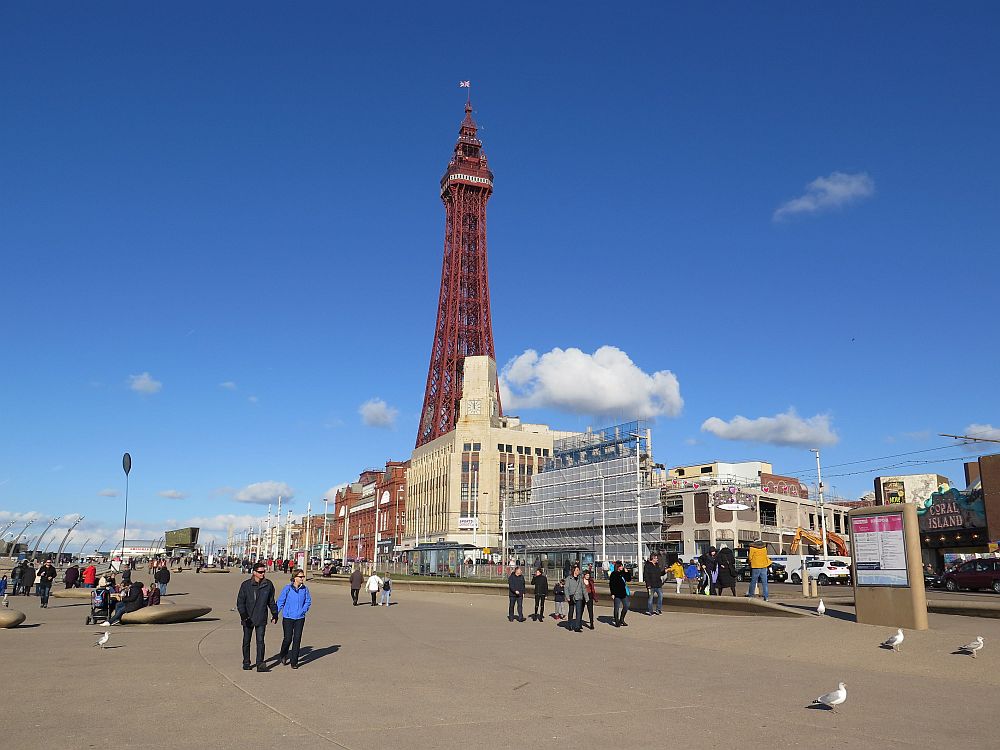 Sunday 28th October. A couple of weeks ago we were basking in 20 degree temperatures. The moment we decide to depart on a new trip the weather changes! Recently much of our weather has been coming from the south drawing up warm air. All of a sudden the wind has changed and the weather is coming down from the north. So when we got up this morning it was pretty cold and we had a long journey ahead of us as we were heading for the CMC site at Blackpool. I do sometimes wonder whether the motorway speed limit is 50 mph in the UK? It seems that every few miles they are upgrading motorways to so called "Smart Motorways". No doubt they will improve traffic flow eventually but they are certainly slowing it down at the moment!
We left home before 10.00am but didn't arrive at the site until nearly 3.00pm. Despite the lowering of temperatures it has in the main been a really beautifully sunny day. We didn't have much choice of pitch on arrival but given that for some areas it is still half term I suppose that shouldn't be a surprise. With it being half term I was rather surprised what good value the site was! Noticed lots of units dressed overall in Halloween decorations!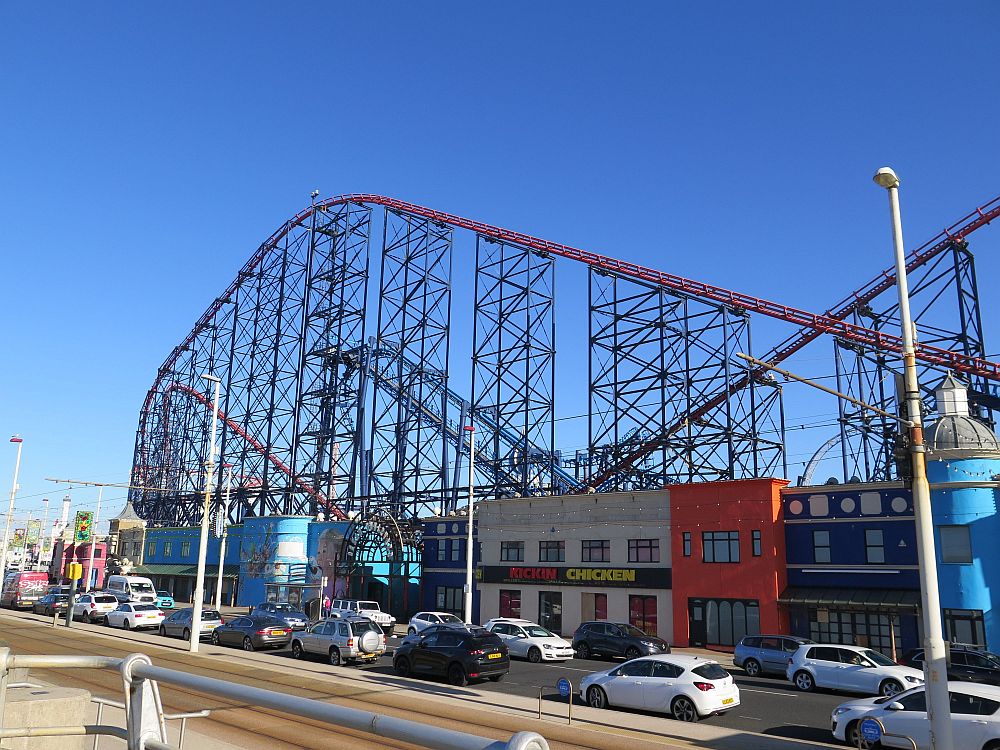 Monday 29th October. Very cold overnight but it dawned bright and sunny. The site here in Blackpool does not have very good transport links, in fact the nearest bus is over a mile away. However the site does have an agreement with a local taxi company for fixed price fares into Blackpool. So this is how we got into the town. The taxi dropped us off at the Pleasure Beach, the idea was that we walk from there into the centre. There seemed to be lots of people enjoying, if that is the right word, the high level rides in the Pleasure Beach complex. It was a much longer walk than we envisaged. Having said that Blackpool has a lovely long promenade which is wide enough for both pedestrians and cyclists called the Golden Mile. I think that Blackpool could only exist in England. What seems mile after mile of amusement arcades punctuated at regular intervals with fish and chip shops and other eateries. It is more than possible that the town was not very busy during our visit, but it takes a lot of people to support all these establishments.
One unique thing about Blackpool that I am rather in favour of is the Tram system which runs along the coast from Lytham in the south to Fleetwood in the north. Most of the trams seem very modern but there are still a few vintage ones in evidence. I imagine the latter are reserved for special trips rather than being used for the regular services.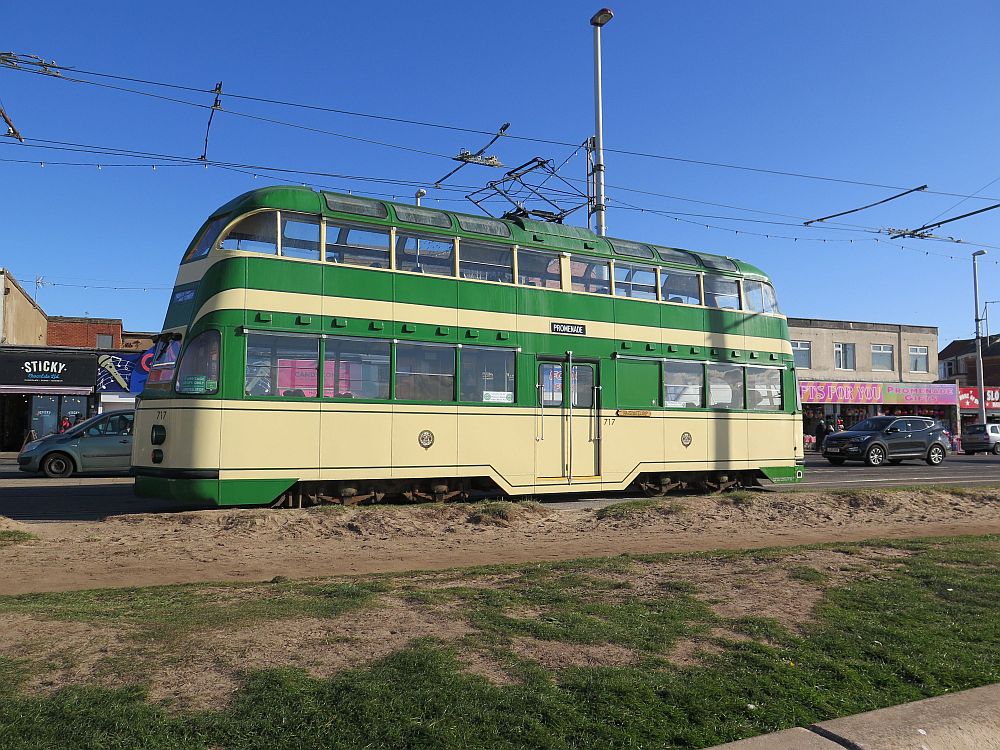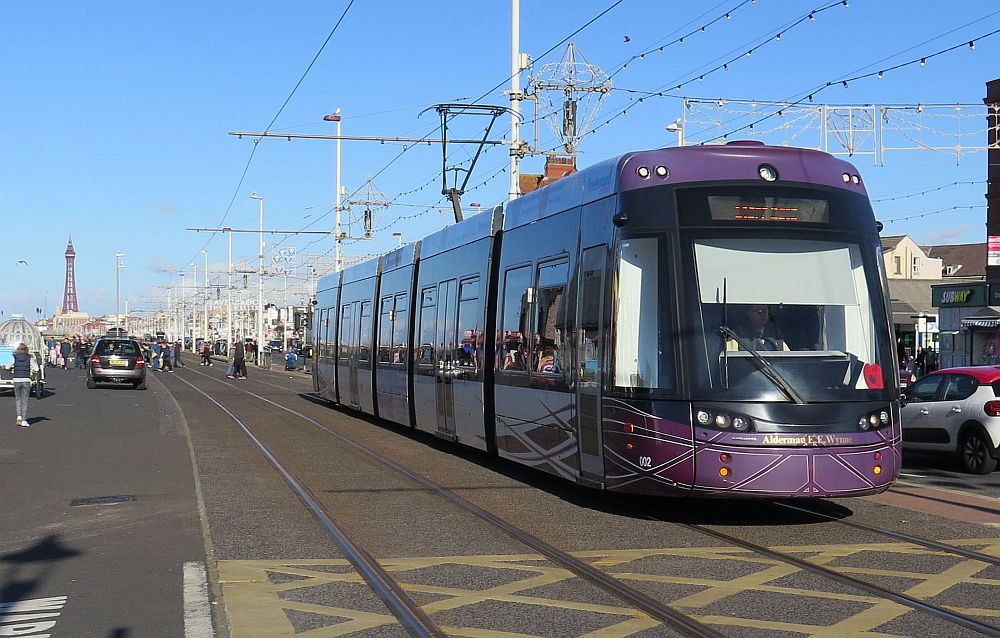 We could see the Blackpool Tower, initially in the distance, but getting nearer with every step we took. Mind you at 518 feet tall I am sure it can be seen over a far greater distance than our stroll today. It was originally conceived by a former Mayor of Blackpool, John Bickerstaff who had seen the Eiffel Tower in Paris. It was opened in 1894. It clearly does not have the same cache as it's Paris rival but is none the less an impressive structure. We went inside for a coffee and something to eat and it was packed with people. It is famous for its Circus, but perhaps more so for its Ballroom which in recent years has been used in the latter stages of the popular Strictly Come Dancing television program. From where we were having coffee we could look down on the square in front of the tower where they have incorporated quotes from the various comedy acts that have performed in Blackpool over the years. Refreshed we wandered a bit in the town centre and had a look at the Winter Gardens which was opened about five years after the Tower. Inside was a statue of Morecambe and Wise which commemorates their 75th anniversary of appearing on stage together starting in 1941. Apparently they performed in Blackpool more than a 1000 times during their career. After looking around some of the shops our thoughts turned to getting back to the site. We were a little nervous as we had not always been lucky with taxis in the past. I rang the people we had originally booked with but no reply which set alarm bells ringing! Fortunately we had just passed a taxi rank with loads of taxis and the price was about the same as the fixed price plus no waiting. Just need to get there in the dark now to see the illuminations!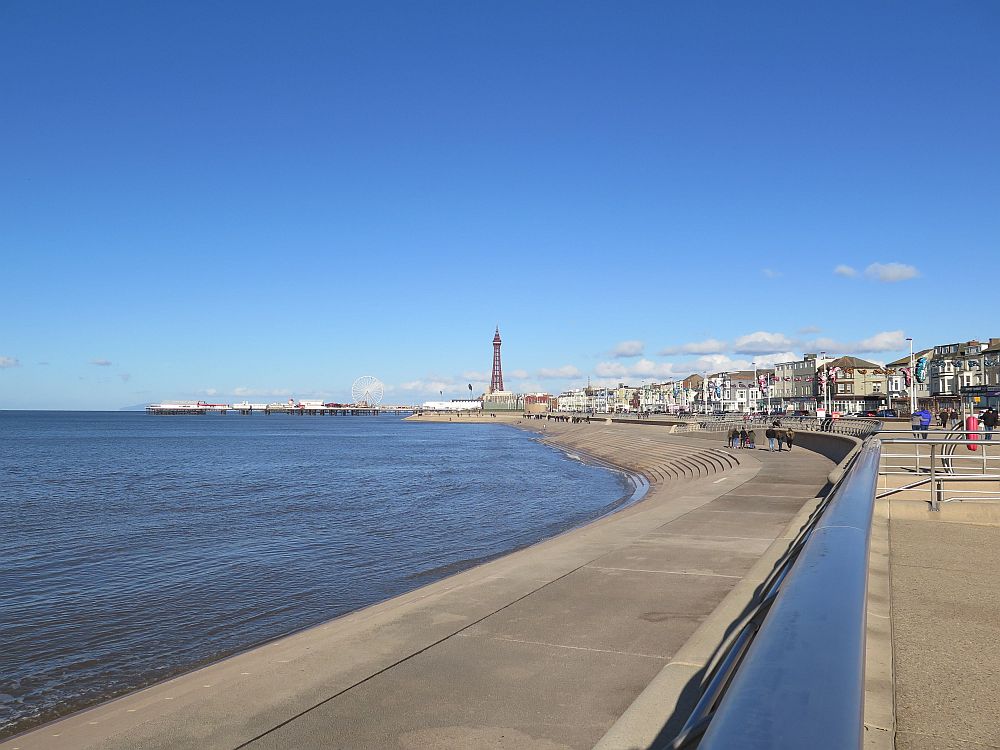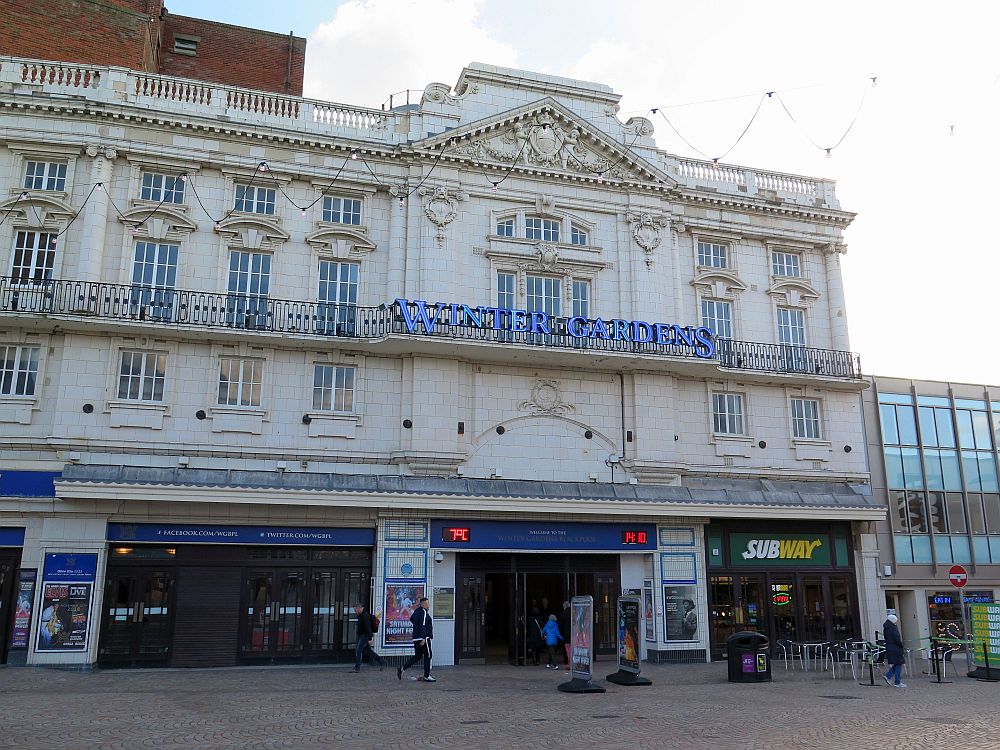 Tuesday 30th October. Not quite as sunny today but a fraction, just a fraction, warmer. We went back into Blackpool today but not until the afternoon. This time we took the taxi to the Blackpool Tower to have another explore. This time we managed to get into the Ballroom which Margaret wanted to see. This was another 50 year revisit for her! There were quite a few people having the "Ballroom Afternoon Tea" as well as a handful of couples on the dance floor. One oddity of the Ballroom was a large moon hanging from the roof. I wondered if it was the same one that had been on display at Peterborough Cathedral? As we were leaving the ballroom I noticed the rather nice tiled walls and tiled reliefs going down the stair wells.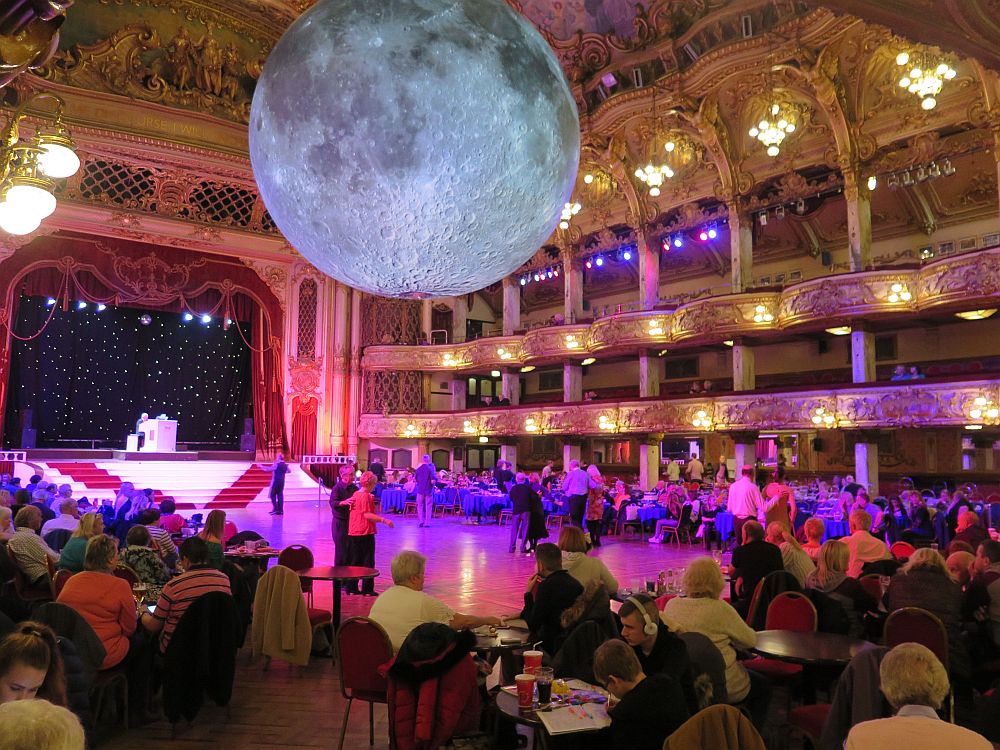 Back in the throng of Blackpool we made our way across to the North Pier, one of three piers in Blackpool. You get a rather nice view across to the Tower from the pier. After that we made our way back into the town centre as our plan was to have a meal whilst waiting for it to get dark. We marched into a half empty Bella Italia only to be told it was fully booked!!! Fortunately we had passed a Pizza Express just down the road so we retraced our steps. At least they were not fully booked but the service was very slow so it was well and truly dark by the time we had finished!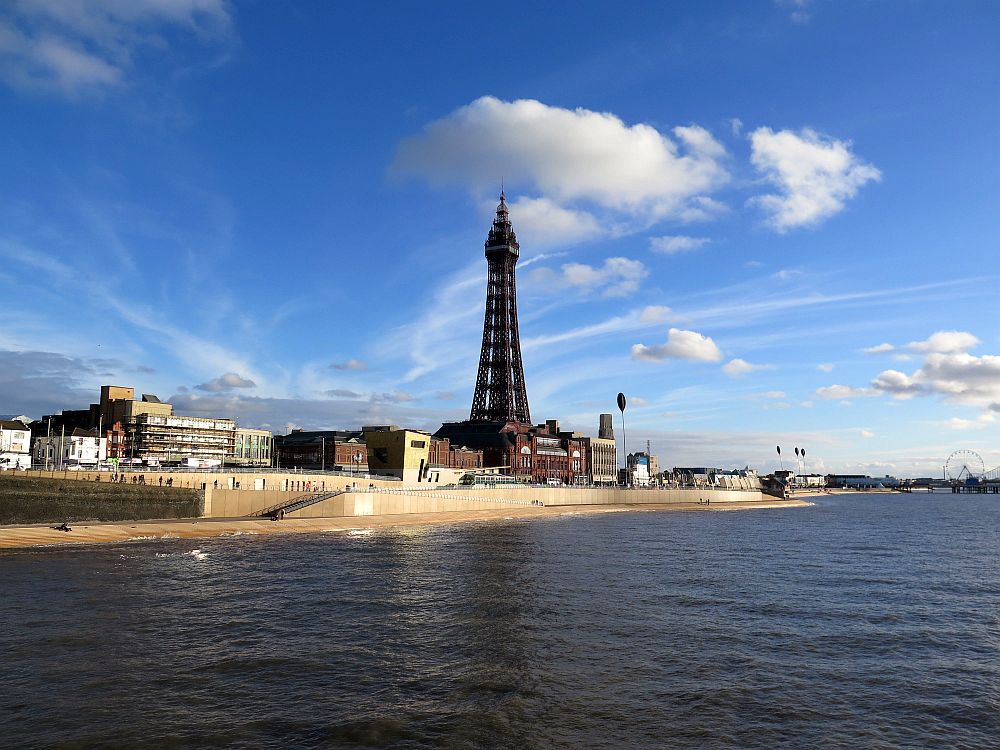 This was my first experience of the Blackpool Illuminations. Was I gobsmacked, overawed, well not exactly. The cumulative effect of all the shops and amusement arcades coupled with the street illuminations created a good effect but somehow I was expecting a lot more. I expect the Christmas lights in Regent Street are more impressive. Perhaps the Council can't justify spending the money and perhaps the very seasonal nature of many of the businesses find it difficult to add to the pot. Clearly I might be being a bit picky and the number of people milling about suggests they are popular with the general public. Our knees were suffering from the long walk yesterday and we were getting a bit weary so we made our way back to the taxi rank. Yesterday in the early afternoon the taxis had been queuing around the block but my heart sunk when we got there and not a taxi in sight! Fortunately one arrived just as we got to where the front of the queue would normally be.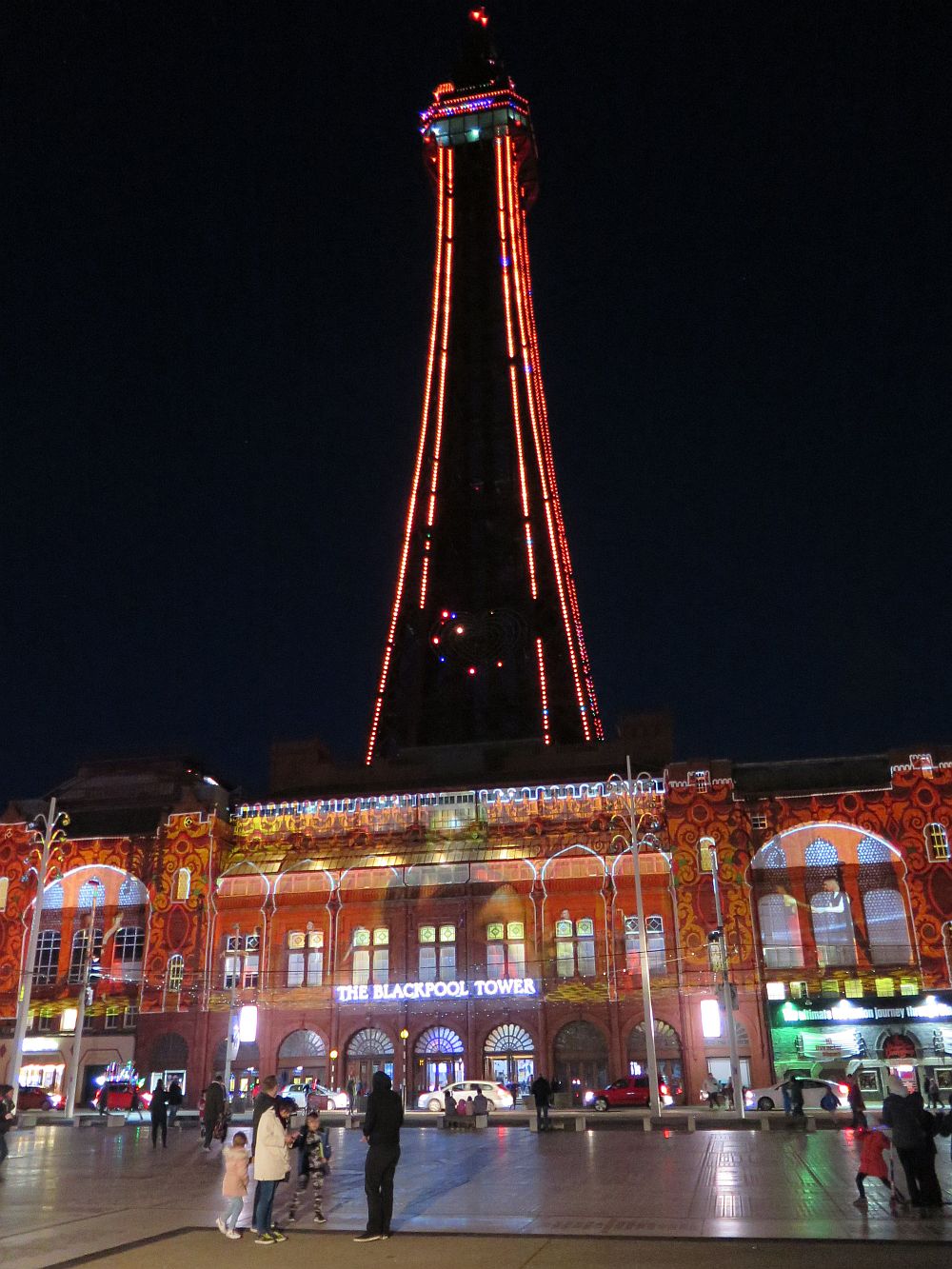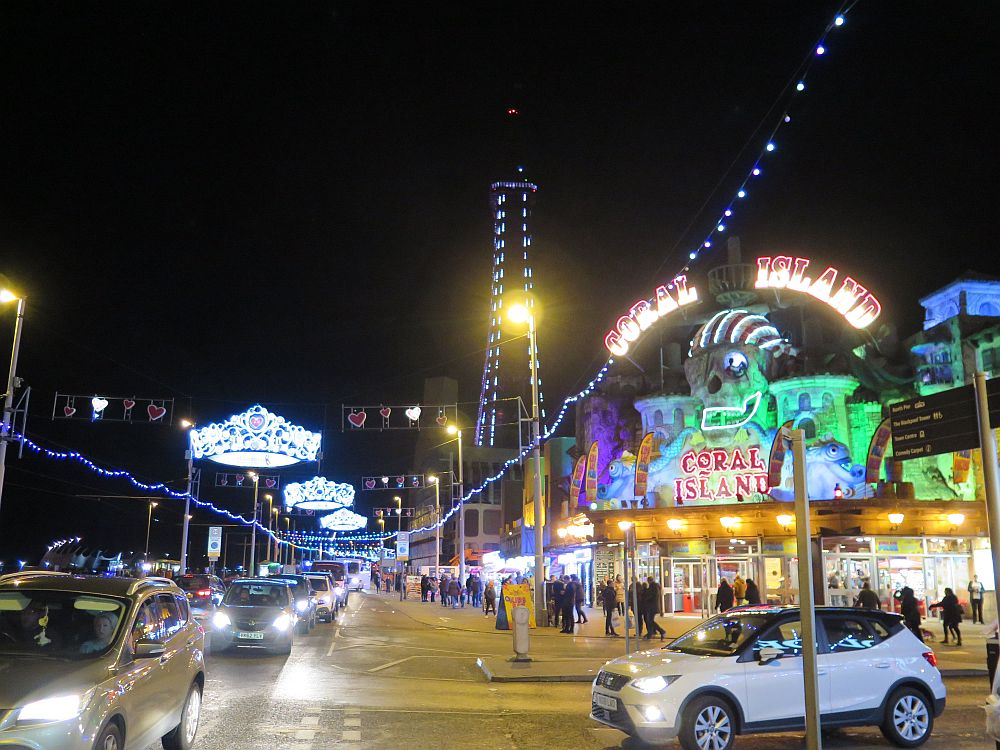 Wednesday 31st October. We are having a lazy day on site today as this our last day here before moving on. There have been a few jobs to attend to but nothing particularly time consuming. The Blackpool South site closes after this weekend but it looks as if it will be pretty full up to that deadline. In part this is due to some schools have a much later half term than normal.
It's been a different site in as much as without a car you have limited options to get off site. There is very little close by to the site and no convenient bus services. This has meant we have had to use taxis to get about and have spent about £40 over two days. A taxi does have the advantage of getting you door to door. All the cabbies have been very friendly and you pick up a lot of local news! We can't blame the site as we were perfectly well aware of the situation before booking the site.
Today is of course Halloween and for some days now we have seen a few caravans around the site decorated with this in mind. We had wondered if we may have got the knock for trick or treat but nothing transpired. A lot of the children were quite small so I suppose they were never going to be up late and they probably confined their visits to caravans of likeminded people.
Chester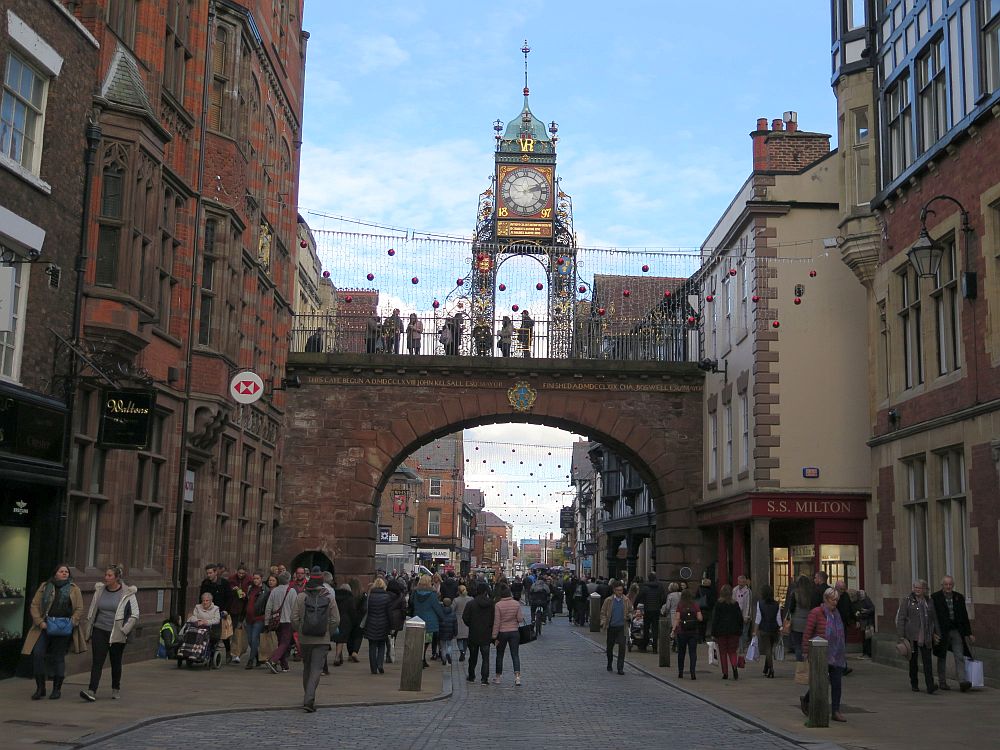 Thursday 1st November. Quite a sunny day today, and perhaps a little warmer, as we made our way a little further south. First task after leaving the site was to fill up with fuel at the local Tesco about a mile from the site. It was only 71 miles between sites so we had to force ourselves to stop for a coffee to prevent us arriving too early! Roads were busy but everything kept moving with no holdups. We arrived at the site just after midday but we were in a small queue. Having tried several pitches we could not find a pitch where we could get satellite reception. The dish has been playing up a bit of late so when we get home I will have to investigate more fully. At least we had the small Avtex aerial which usually gets us out of trouble in such circumstances.
After setting up and some lunch we had a walk around the site and chatted to the lady warden in the information room where she was clearing up after Halloween. She was saying how they had, had two charity cans stolen from the information room. One hopes that it was done by someone coming into the site rather than someone on site!!! We set off in search of a post box as we had a birthday card to post. Fortunately we only had to walk to the other side of the main road before finding a post box. On the way we passed the Rake Inn which is the nearest pub/restaurant to the site and decided to return latter for our evening meal. It's nothing fancy but it was wholesome food and good value.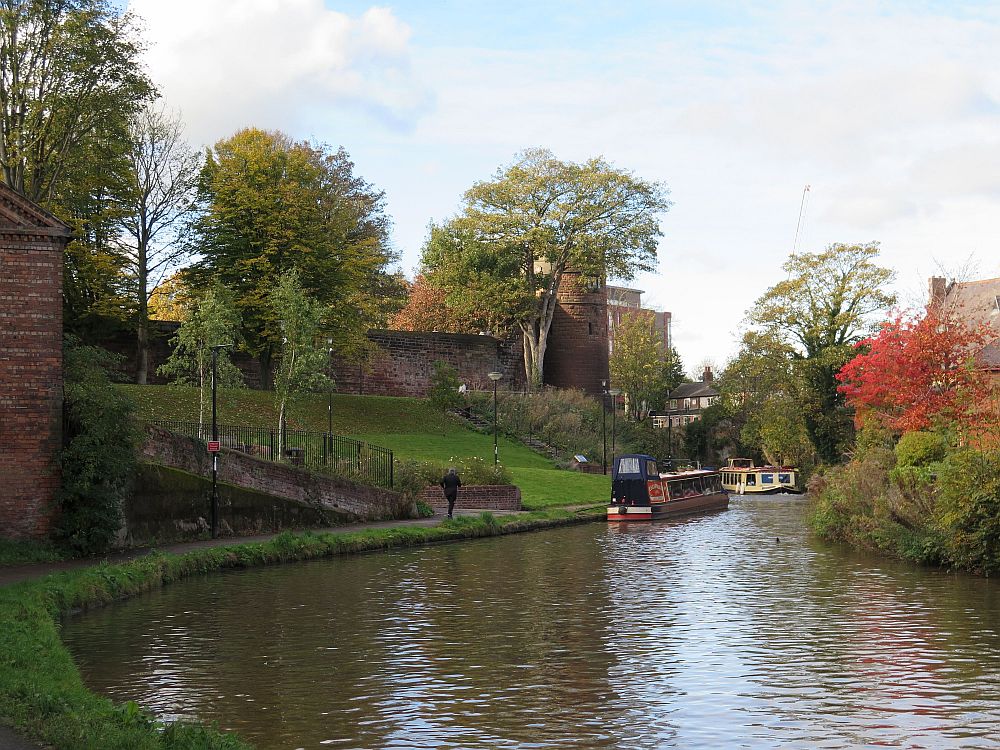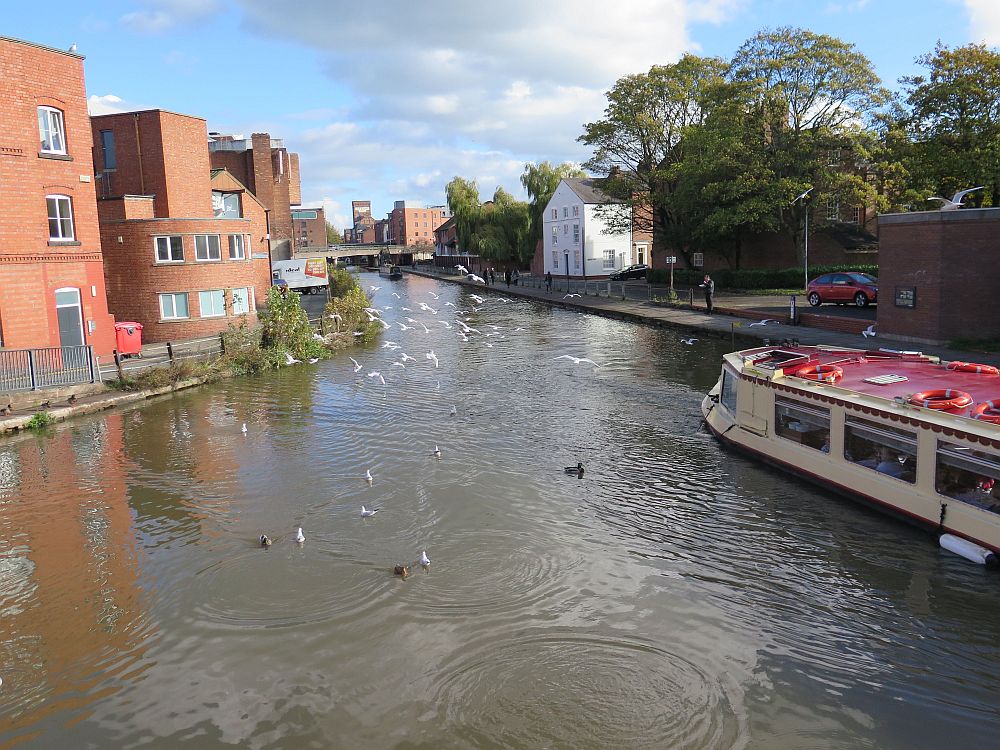 Friday 2nd November. Lovely sunny day first thing and a bit warmer. We took the bus into Chester today. It was quite a hike to the bus stop which was in the Cheshire Oaks Shopping Centre. Since our last visit in 2014 Chester has acquired a rather smart Bus Interchange. We wanted to explore the canal which goes literally through the centre of the City and the Interchange was a good place to start as the canal was just across the road. The canal runs alongside the City Walls but we had not got far before discovering that the towpath was closed so had to head up onto the City Walls to bypass the obstruction. As it runs along the Walls the canal is in a deep cutting. At Northgate we were able to get back down to street level and found a road running adjacent to the canal and eventually found a gap in the Walls to enable us the rejoin the towpath almost at the top of the Northgate Locks. These locks are interesting as they are a staircase of three locks which means there are no gaps between locks, the top gate of one lock is the bottom gate of the next. We had a chat to the volunteer lock keeper who said that he was still waiting for his first boat of the day and by now it was about 1.00pm. At the bottom lock the canal curves round and opens up into a wide basin, passing the Thomas Telford warehouse on the right. At the end of the basin is a dry dock and across from that a boatyard. Boats could do a sharp left here and negotiate a lock the takes them into the lower canal basin and should they wish go through a couple more locks to give them access to the River Dee. Along one side of the canal basin had been developed with rather nice looking apartments. We have come a long way from the times when people wanted to turn their backs on canals.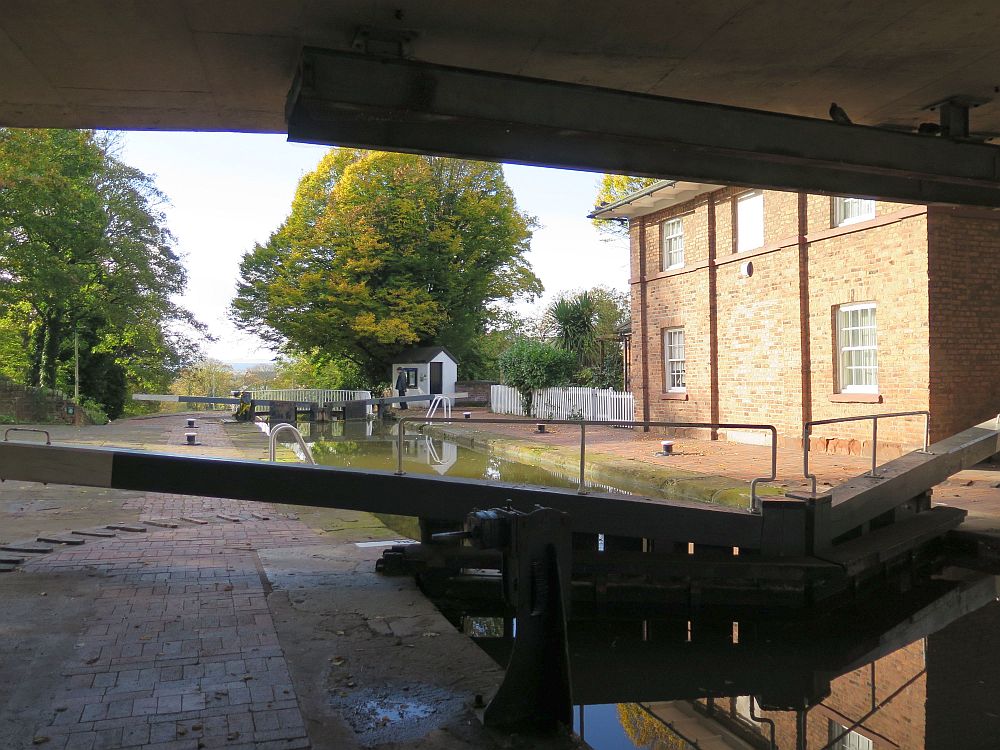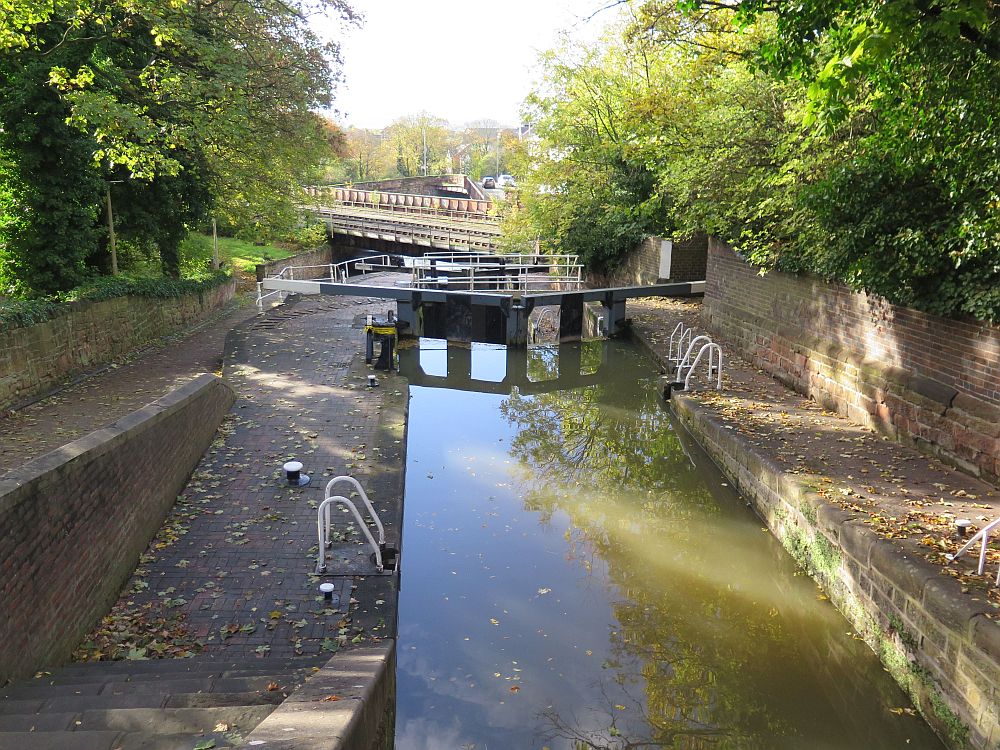 We made our way back across the Northgate Locks and back to within the City Walls and into the centre. It was surprising busy and we discovered a bit more than on our last visit. There is an imposing City Hall and next to that an interesting Library building. We decided to have a bite to eat and made use of the local Debenhams Department Store. This was originally Browns of Chester and the origins of the shop dates back into the 1700's. The history is detailed by the lifts outside the restaurant. Refreshed we thought we should make our way back to the bus.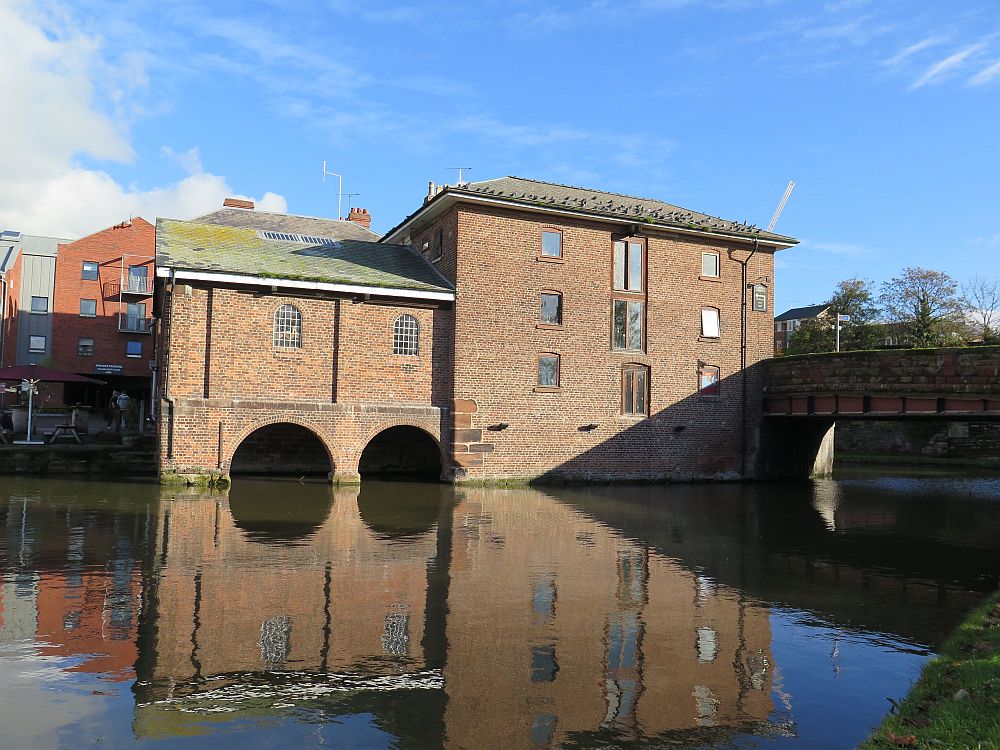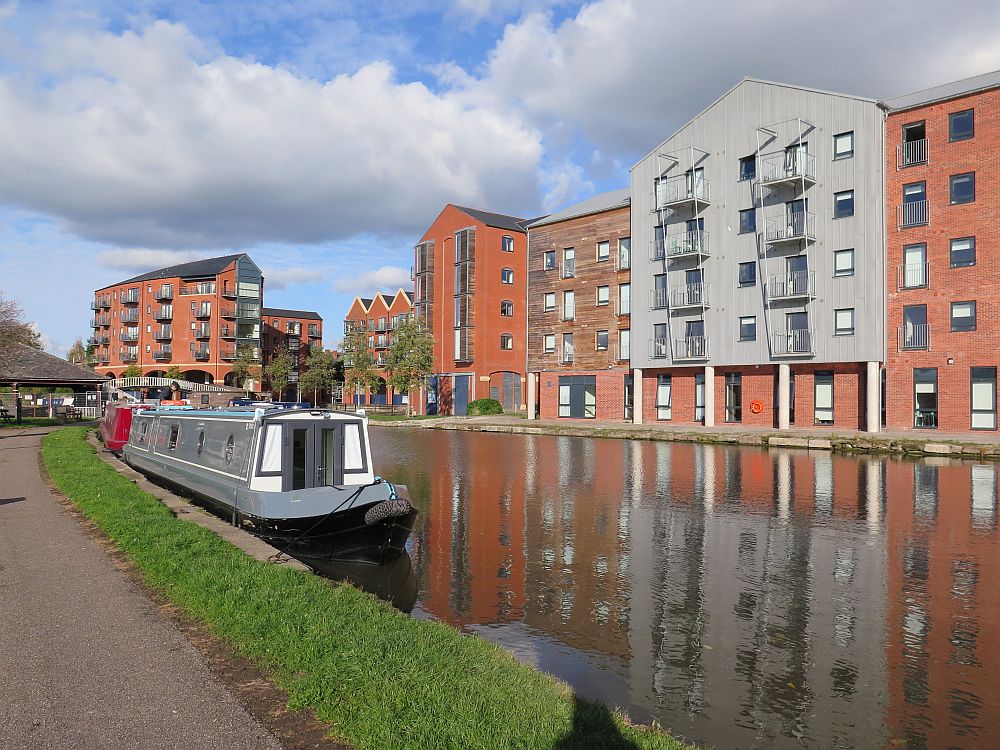 Saturday 3rd November. Duller today but mainly dry and a bit warmer. We needed a bit of shopping so we thought we would kill two birds with one stone so to speak. We decided to head back to the Cheshire Oaks Outlet Shopping Centre where there is a Sainsburys but first we thought we would have a look around the shops. Access to the shopping centre is not particularly pedestrian friendly. Firstly from the site to the main road has no footpath. Secondly the light controlled crossing is more in favour of those in cars rather than those on foot. Thirdly once you have managed to cross the exceptionally busy roads the pavements run out!!! It seems you need to skirt round the inside of the fuel station and go down the steps into the Sainsburys car park to access the shopping centre safely. The Centre was very busy and it was quite crowded. It puzzled me the number of people with dogs as I am sure the dogs would find it quite intimidating with so many people around. Cheshire Oaks is not like other major shopping centres in that it is a series of outdoor malls rather than enclosed. We were in need of a coffee but everywhere seemed full with queues. Eventually we found a coffee shop where we at least had half a chance of getting a seat indoors!
Refreshed we made our way across to the Sainsburys and picked up a few items we needed. Fortunately not quite the amount of shopping we had to lug back from Barnard Castle on a previous trip! Back at the site I decided to order a Sunday newspaper and I happened to mention that Sainsburys had sold out of my favourite newspaper. The lady warden mentioned she was just about to go to Ellesmere Port and would I like here to try and find one. It was a lovely gesture which I politely refused as I explained it usually takes me more than a day to read. As she was setting off we had a long chat to her about being a warden which was very illuminating.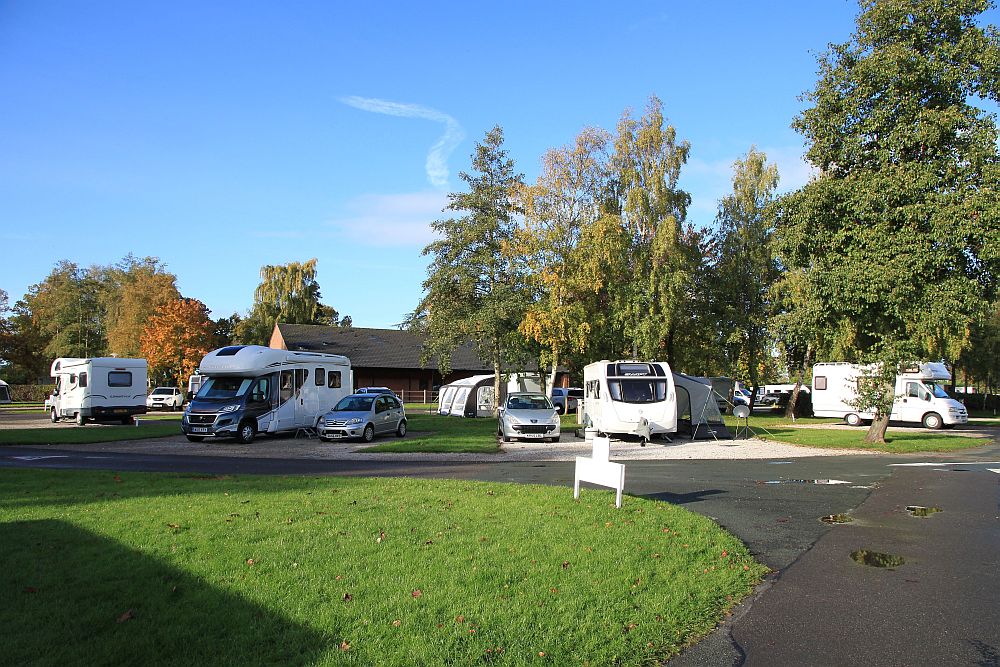 Sunday 4th November. A very lazy day today after a couple of very busy days. The site has emptied out a bit today but new units have arrived. I saw a couple of the large Beluga Airbus airplanes fly overhead today. These planes transport the wings of the Airbus from the UK to France.
Monday 5th November. We managed to get away from Chester Fair Oaks by just before 10.00am. The journey was a bit of a slog, especially on the M6 with all the roadworks with 50mph limits. It was a pleasure to pull off onto the M6 Toll, despite having to pay for the privilege!!! At least it enabled us to stop at Norton Canes, one of the better Service Stations on the network. When we paid for the toll the lovely young lady on in the booth reminded us that our CMC toll discount was ending soon. I imagine they are starting to spread the word so they don't have too manage arguments once the change has taken place. We left the M1 at junction 15 as usual to fill up with fuel at Wolverton before heading the remaining three miles to home. I parked the motorhome on the side of the house so that I could wash the rear and off side which are not so easy to do when parked in the garden. Temperature wise our return home was in complete contrast to when we left in sub 10 degrees to 17 degrees today!!!
Warwick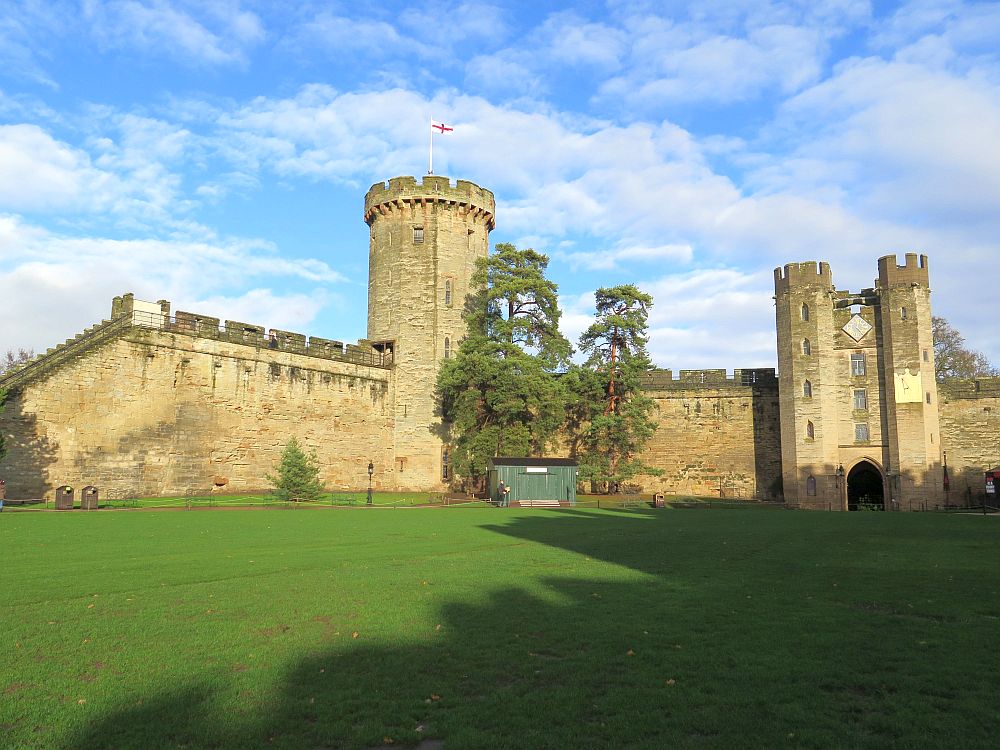 Sunday 2nd December. Ironically a month further into the year and the temperature is double what it was when we set on our previous trip. A relatively short journey today as we are heading for the CMC Warwick Racecourse site. Weather has been a bit changeable but we have had a fair bit of sunshine. We made a stop at Warwick Services for a coffee despite it only being a short distance from the campsite. For a change we found a parking spot quite near to the shops. This was more by accident than design as the signing was very confusing! The sign for coaches seemed to be in two separate places and the sign for caravans seemed to be pointing towards the HGV parking which was full of, yes you've guessed it, HGVs, even on a Sunday!!!
We were quickly booked into the site and found a pitch on the tarmac overlooking the racecourse. I am not sure what happens on Race Day but this would have been an excellent vantage point. Not much to do in setting up except for the satellite dish which we have been having a few problems with lately. It seems to take a couple of attempts to lock on to the signal. It did manage it at the second go but because the wind was shaking the dish the picture was going in and out of tune. The wind was not particularly strong but enough to break up the picture. This meant falling back on our portable Avtex aerial but this seemed, at first, as difficult. Mind you when I went out to check I notice the cable was hanging out of the aerial! Strange thing was that some programmes we were getting a perfect picture just with the cable!!!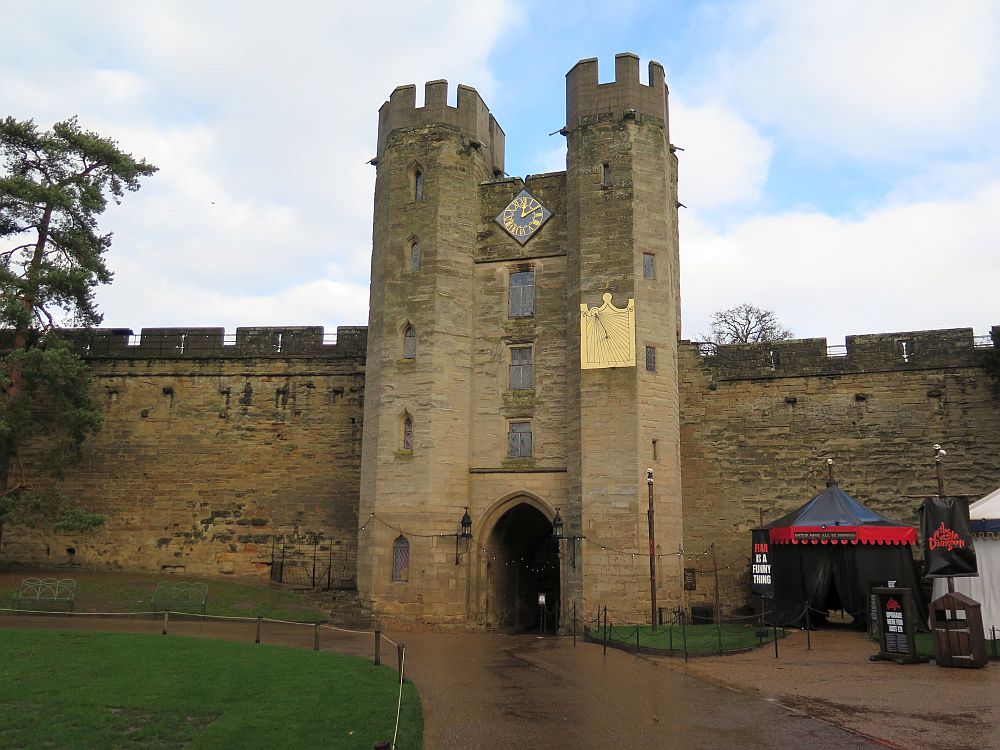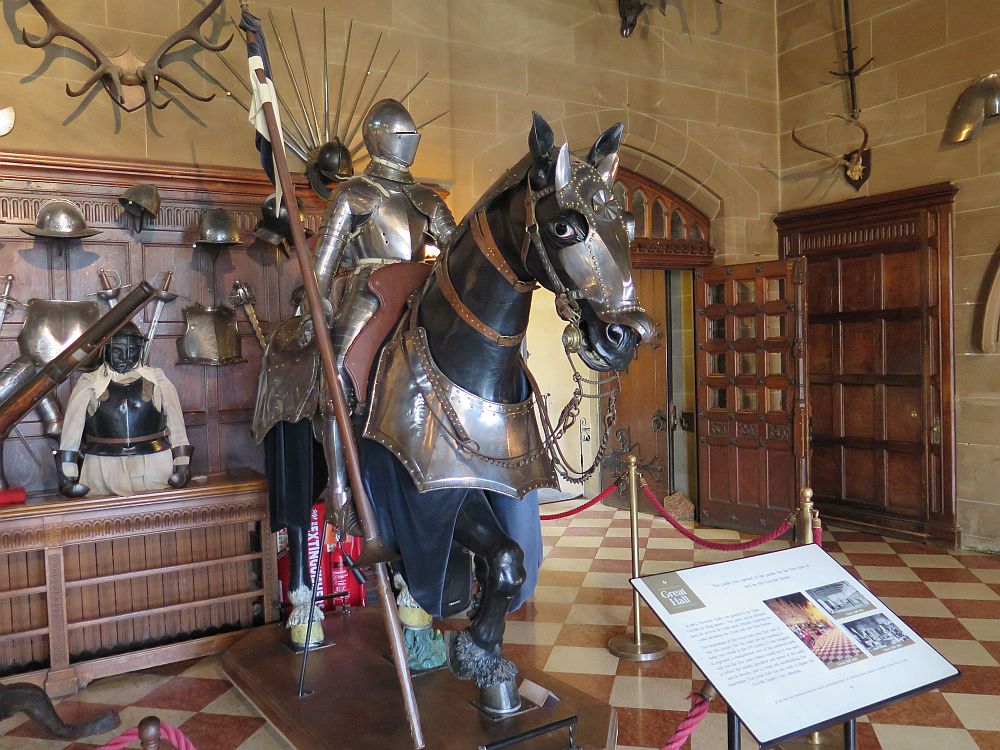 Monday 3rd December. Our plan was to visit Warwick Castle today. For a few days before setting off on this trip we had been keeping an eye on the weather forecast as it's cheaper, by some margin, to order entrance tickets in advance. The problem is, of course, that weather is weather and never very reliable. So according to the weather forecast before we left home Monday was going to be the best day. As we left the campsite it started to rain and the wisdom of the decision seemed in doubt! Why when you are older does every walk you undertake seem to be uphill? There seems to be a secret entrance to the Castle down one of the back streets in the town which we eventually found.
There was a handy coffee shop at the entrance which we made use of before setting off into the Castle grounds. It poured down when we were drinking our coffee but improved a bit by the time we had finished. You can climb up onto the battlements but you have to negotiate some quite steep and slippy circular stairs so we only tried one small part. Fortunately the rain was holding off as we made our way towards the Great Hall and Staterooms. The Castle was built by William the Conqueror in 1068. He was a busy fellow, shame we can't get infrastructure built as quickly these days, mind you I don't suppose he had to put up with planning regulations! The Greville family (Earls of Warwick) owned the castle for 374 years until they sold it to the Tussauds Group who since that point have run it as a tourist attraction. In that respect the Castle is more a museum than a place where someone lives. Doesn't make it any less interesting of course!
As we stepped out of the Castle the heavens opened but it was short lived as we made our way into the town. Warwick has some attractive buildings, including half-timbered ones, although these are not always complimented by their modern equivalents! Our circular walk took us back to the campsite by a different route. We discovered that the bus to Leamington Spa stops fairly near to the Race Course. The site seems to have filled up a bit today, predominately motorhomes although there are a handful of caravans.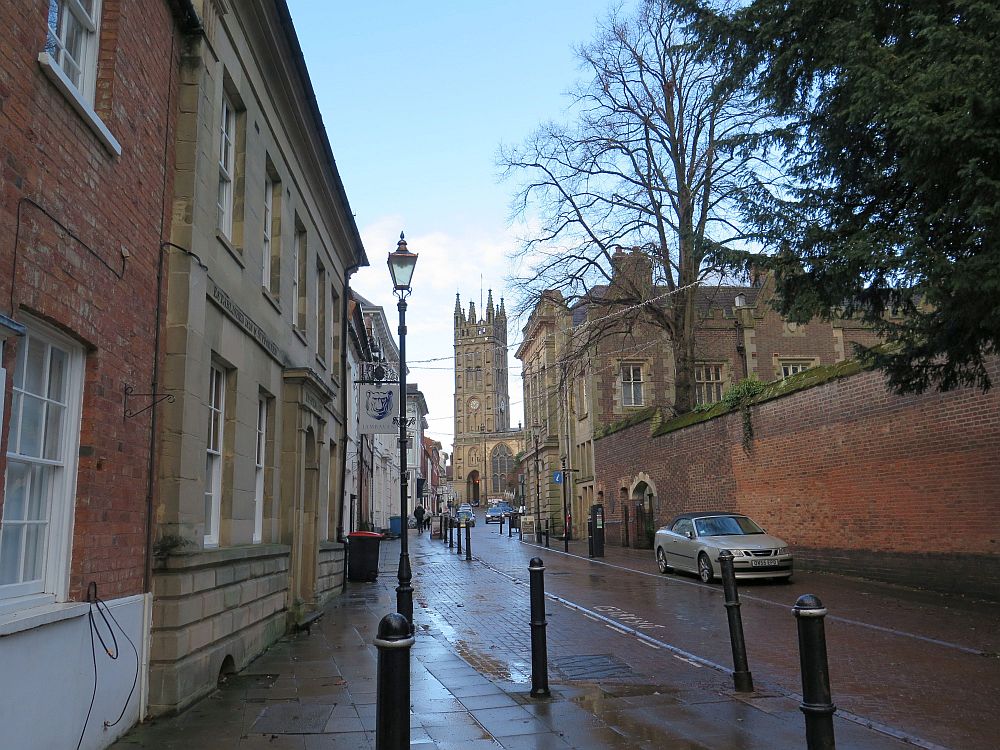 Tuesday 4th December. Very cold overnight. A positive consequence was that it dawned bright and sunny. Unfortunately this was short lived as by the time we were ready to go out the cloud had set in and the rest of the day was dull. We took the bus to Royal Leamington Spa today. There are very regular services from Warwick. We got on the X17 because it happened to be waiting in the bus station. We could have waited for the X18 which takes a more direct route but better to be on a warm bus! Leamington, as the name implies, is a Spa town. The Springs were known to the Romans but it was not until the late 1700's that they were developed for commercial reasons. The town has a wonderful array of grand Regency buildings. We got off the bus near to Jepson Gardens which are formal gardens on the banks of the River Leam and where the gentry would take the air when not in the Spa. The Pump Rooms are on the opposite side of the road. The main road up through the town is called the Parade and is lined with buildings in the Regency style and is quite a comprehensive shopping street. The impressive Town Hall is of a Victorian confection and sort of looks a bit out of place. It is the second town hall Leamington has had and it seems the original more modest one was more in keeping with the town style. I think the town deserved more of an explore than we gave it but perhaps an opportunity for another day, maybe in summer?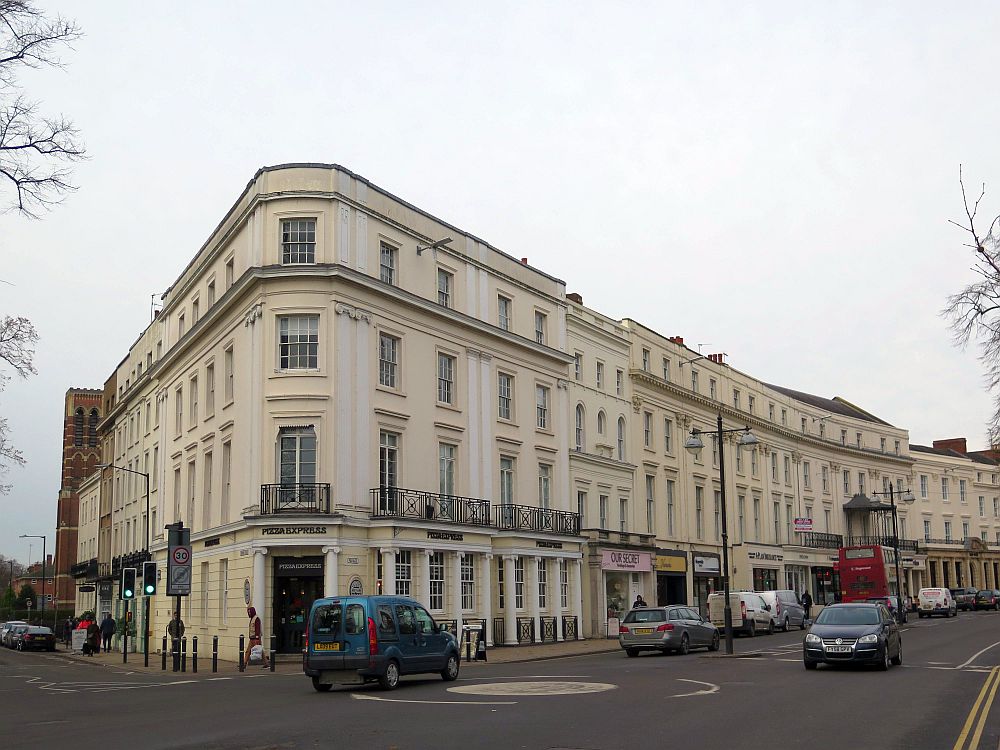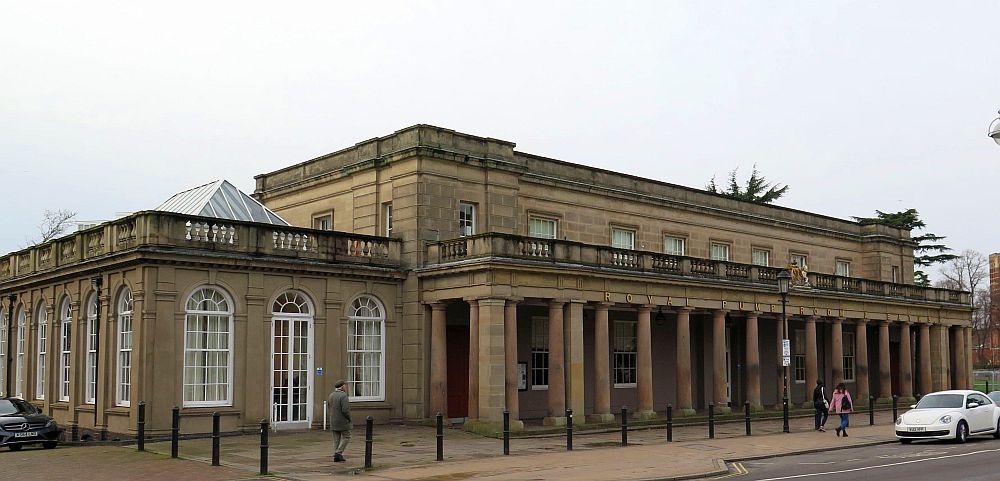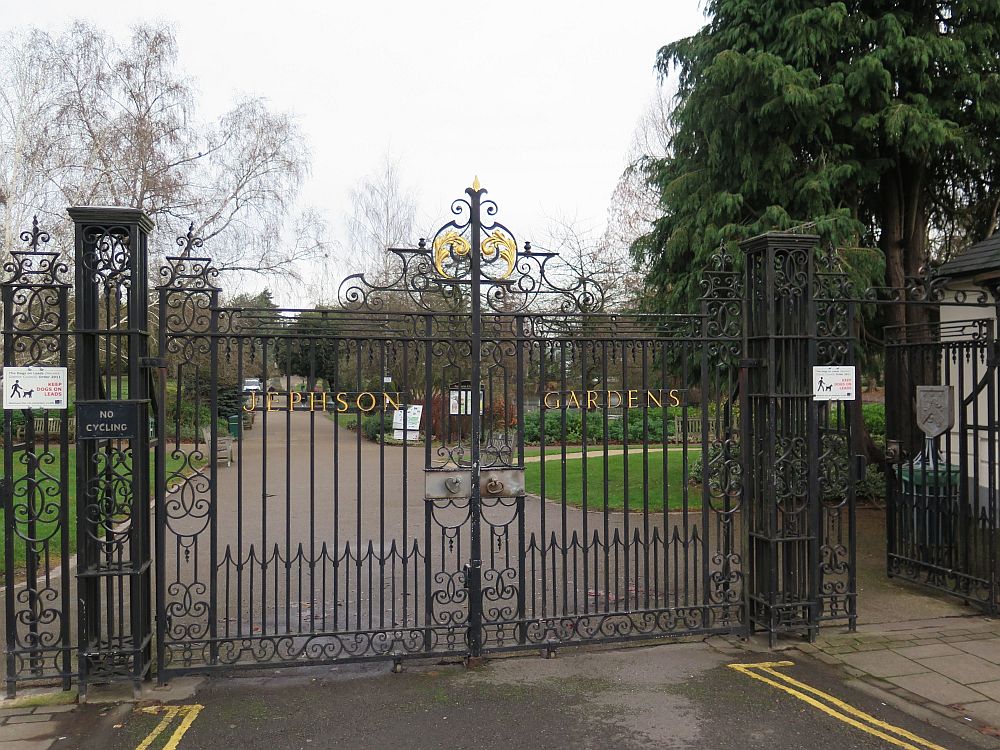 Wednesday 5th December. After another cold night we awoke to a very wet and dreary day. It was really too wet to go anywhere so we just had a lazy day at the van. Given that some pitches on the site are closed most of the others seem to be pretty full. However I was surprised that there are three or four caravans who have put up awnings, is that really necessary?
Thursday 6th December. Not much improvement in the weather except that it is a bit warmer but being dull with showers is not that noticeable! A fairly uneventful journey home with a stop at Warwick Services although only six miles from the site but Margaret wanted to see if the Waitrose store had anything for this evening.
A couple of weeks ago we ordered a new motorhome so it's possible this might be our last outing in our current one. If it is it will be somewhat ironic that Warwick Racecourse was both the first and last campsite we stayed on in the Bailey Approach 740!