Tudor Caravan Park, Slimbridge, Gloucestershire, GL2 7BP, Tel 01453890483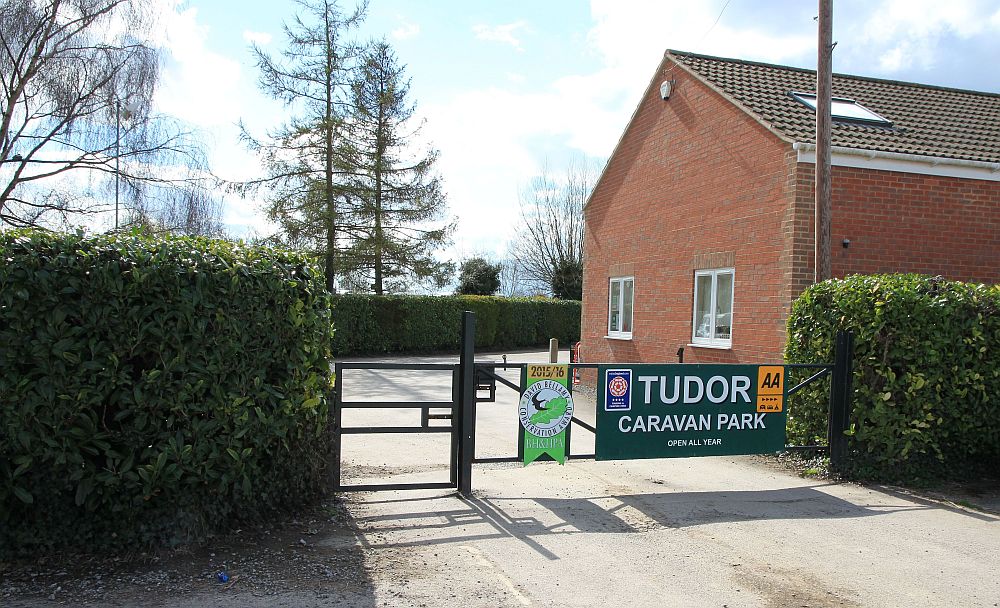 To Find Site:- Leave M5 at junction 13 and take A38 south. Follow signs for Slimbridge Wetland Centre and at roundabout on A38 turn right through Slimbridge village, the site is about 2 miles along this road. Continue along road with care as the road is twisty and narrow in places. When you get to the Tudor Arms pub, just before the canal, the entrance to the campsite is immediately past the pub on the left through the carpark.
Tudor Caravan Park is situated alongside the Gloucester and Sharpness Canal at Slimbridge near to the famous Slimbridge Wetland Centre. The campsite is open all year, part of it is adults only. It could be a useful stopover site between the north and southwest on the M5. The approach to the site is through the Tudor Arms carpark. The gate to the site is kept closed but not locked, so you can let yourself in. According to the site plan given by reception there are 73 pitches although there seems to be an additional overflow areas beyond the marked pitches. Site roads are compacted gravel rather than tarmac. Most pitches are on hardstandings although they are relatively narrow with not really enough room for caravan/awning or caravan/car without making use of the adjacent grass strip between pitches. Some of the pitches are quite long so a car might fit in front of a caravan. The site asks you to position your unit to the lefthandside of the pitch. There is a large grassed area which might be used as a play area or as a tent area? Electric points, rated at 16 amps, are conveniently placed to each pitch and use CEE17 blue connectors. The site has two toilet blocks. The one nearest reception looks like the original one and is perhaps past its best. However the second block further into the site is much more modern and to a good standard. This block also contains a laundry room and a covered washing up area. Chemical emptying points are available at both toilet blocks. The motorhome service point is next to the newer toilet block. Water points are dotted around the site, there are also a few grey water waste points as well but they have a one brick high upstand. There is site wide Wifi at a modest charge of £1 a day, cheaper for longer stays. Signal was not brilliant and I got a more consistent signal with my mobile phone. This site charges an inclusive fee for pitch, electrics and two people with additional charges for extra adults/children. Please note payment by credit card is subject to a surcharge. Reception sell ice cream and some limited caravan accessories although, during our stay, no sign of other essentials. Next door to reception is and information room with lots of leaflets on local attractions. We found the site quite peaceful, especially at night. There is very little lighting around the site so a decent torch would be useful to have.
This site is ideal if you want to visit the Wetland Centre at Slimbridge which is a relatively short walk from the site. There are good cycling opportunities direct from the site along the Gloucester and Sharpness Canal in both directions. For eating out the Tudor Arms Pub could not be nearer and the prices are quite reasonable. Without a car shopping could be more problematic. There is a small shop in Slimbridge village but more serious shopping is some miles away.