Having used the caravan right into December the previous year other things conspired to prevent us getting away in the van until the 1st April. Just our luck that January seemed so nice but we were stuck indoors completing some long overdue redecoration and heating work. The first trip of the year is the 19 miles to Nene Court Caravans at Wellingborough to have the van serviced. We could not have chosen a better day as exceptionally high winds were forecast and most sensible people would have stayed at home! They discovered that the fridge was not working on gas so we elected to sort that out ourselves rather than waiting on the Dometic engineer to visit them. Since the van was new in 2004 I think we can count on one hand the number of times the fridge has been used on gas. It was a temptation not to bother but you know what would have happen if we hadn't! Malcolm Rock from Northampton is our local engineer. He arrived bright and breezy. He told me that it would be one of two things, the igniter or the gas valve. The former was the most likely cause and he was right. 10 minutes and £104 later we were fully fixed!
Now that we are both fully retired we have the opportunity to spend longer in Europe. To this end we thought that we should take cycles with us as there always seem a lot of places locally to explore. We also did not want to be in a position where we would miss the Grand Prix's whilst away so that meant satellite TV. When you embark on such things you suddenly become aware of the complications. Take the bicycles, how to carry them? We thought about the roof of the Sorento. Despite buying aluminium framed bikes it was still some way to lift them. The consensus was that carrying them on the roof would also not help with fuel economy. We then started looking at the idea of a carrier attached to the towbar. Fortunately the Sorento has a generous tow ball weight allowance so we should not contravene any allowances. We settled on the Witter cycle carrier which seemed well made and a fairly simple solution to what we wanted to achieve. However it is not an all plain sailing solution as once loaded you can't open the rear door! Another thing you soon discover is that when reversing on site its better to remove the cycles first. I don't suppose any solution is perfect. At least setting up a cycle carrier is easy compared to the dark art of setting up a satellite system. I don't think I had researched anything quite as much as I had the idea of having satellite television. The first thing we established was that if we wanted to use it in Europe then we would need a bigger dish so this really excluded the suitcase designs. We looked at the Maxview range which whilst they looked an excellent quality they were quite pricey. I lost count of number of different websites I visited when I came across Wizard Satellite. I could not work out exactly what I needed so I decided to make a telephone call. I explained that I wanted it for use with a caravan and the guy immediately said he had a motorhome and clearly he understood my concerns. By the end of the conversation I had ordered the complete kit which cost in the region of about £130. Whether we would get it to work, we had to wait! With all this extra equipment the back of the car would soon become full so we decided to bite the bullet and purchase a Roof Box so that we could keep everything tidy.
Our first real outing of the year was to Ferry Meadows at Peterborough. We were last here in November but it has the advantage of being relatively flat so that we could test out the bikes. We also wanted to test the setting up of the satellite equipment. I am sure it was nothing to do with the fact that our arrival day was 1st April, but! It was quite windy when we arrived and without pegging down the satellite dish kept falling over! I somehow managed to break one of the F connections so abandoned the setting up to the following day. They have a TV hook-up at Ferry Meadows so all was not lost. We did manage to get out on a short cycle ride but the wind was very strong which did not help.
The following day we went off in search of B&Q. Armed with the bits we needed I anchored down the dish and tripod to avoid a repeat of the problems of the day before. Using the well known technical method of setting up the dish but looking to see where everyone else had theirs pointing I started to get a strong reading on the meter and hey presto a decent picture so quite pleased, if not a bit surprised, with myself! So, flushed with success it was time for another ride on the bikes and this time we managed a bit further. Now bear in mind that it has been at least 10 years if not longer since I last rode a bike of my own and in those 10 years I have not exactly got fitter or lost weight, the opposite is nearer the truth! Anyway we managed and regardless of how much it is ravaging your body there is always an initial period of elation, usually followed a couple of hours later by pain killers! As a reward we decided to walk down to the Beefeater for a meal. I should at this point tell you that our eldest son ,Paul, is merciless about taking the mickey out of us for taking advantage of the early bird specials. So in order to reek some kind of revenge we now text him every time we do!
Our final day at the site and time for a real test. We were going to do a circular cycle ride which looked quite daunting on the map. We also discovered that some marked paths were completely unsuitable for two wheeled transport unless they happen to be a motocross bike! Off we went round the lake and over the suspension bridge across the Nene and up trough Bluebell Wood. We were now quite high above the river with some good view across the Nene Valley Park. We had got to Thorp Bridge and it was here we encountered an unforeseen problem. The path seemed move away from the village. So rather than getting lost we decided to cross the bridge and make our way around the lake that way. It was not long before we arrived at the Sailing Centre. It was very busy here with lots of people with picnics or using the cafe, it was good to see.
Last time we were at Ferry Meadows I tried to use the WiFi service but did not have much luck, at least inside the van. Our pitch this time was about 50 metres further away from the antenna and it was fine in the van.
It had been a useful trip away in terms of getting to know our new toys! One thing I had done, in order to accommodate the cycle rack, was to lower the towball to its lowest setting. On reflection this cause the van to be a bit too nose down so I have since restored it to the higher setting. The tow bar is made by Witter and the problem with using the higher setting is that one of the main frame members is near to where the bolt nuts are which restricts the length of bolt that can be used otherwise the bolt will start to cut into the cross member with perhaps the danger that it won't be fully tightened. I do not come from an engineering background so I tend to have a very belt and braces approach to such things. Until I started to investigate I had no idea how much thread should protrude beyond the nut. The consensus is that one or two full threads are enough. Armed with that information it makes decisions easier.
On our return home we were armed with a shopping list of things we needed for the bikes. We had not initially purchased cycling helmets but after our first trip out we thought they would be a good idea. We also thought a cover would also be useful. I am not a very frequent customer of Argos but they did seem to be doing some good value items. So for a little over £20 we had all the items we needed, including a pump! The system for making a purchase at Argos is to use the pre-printed forms to list the items you want before going to the cashier to pay. I was interested to not that at the bottom of the list was an option to add 20p to your bill as a donation to Leukaemia Research. What a good idea I thought and duly ticked the box. Out of interest I asked the cashier whether many people did the same. She gave the impression that not many do but the company had raised about £500000 so far for the charity so well worth while.
Sandringham Caravan Club Site - April
Our second trip of the year was to the CC site on the Sandringham Estate. The day we left home was also the birthday of our youngest son Simon. There was no need to feel guilty as he was away in Spain at the Circuit de Catalonia with his job. During the journey we had very mixed weather from bright sunshine one moment to times of using the windscreen wipers on their fastest setting. Well, it is England and it is mid April! I felt the towball in the higher position was much better. Satellite set-up went reasonably well although, as a novice, I have realised that the elevation of the dish is as important as the direction. Sandringham is one of the second groups of CC sites to have WiFi installed. I managed to get a good signal and signed on, online, for 15 minutes, expensive but a good way to check the connection. I am rapidly coming to the conclusion that those of us who want regular internet access whilst we are away would be better off looking at the mobile broadband offers from the likes of Vodafone, 3, or T-Mobile. For either £10 0r £15 a month you would get more than enough download allowance and a regular users would probably be better off at the end of the day.
Tuesday dawned bright and sunny, so an opportunity to use the bikes. Margaret had done a sketch copy of the map in the information hut. Unfortunately we did not follow it with any accuracy and ended up going the long way round. Don't let anyone tell you that Norfolk is flat, it might not be mountainous, but itís not flat! If I needed any confirmation that I was unfit then I certainly got it within ten minutes of leaving the campsite. Perhaps I am unused to the gears but more likely it was just a shortness of breath that forces me to dismount and walk for a while. Given that there is no life insurance at risk why is Margaret doing this to me. Perhaps she just wants back that slim, agile young man she married all those years ago. Pigs might fly! We eventually got the Visitors Centre at Sandringham. Even if you don't visit the house this is a good place to stop as there are refreshments available and good public loos. Most of the route back was down hill so it was a considerably quicker journey! We took a short cut past the CC&C site and back through the woods to the CC site.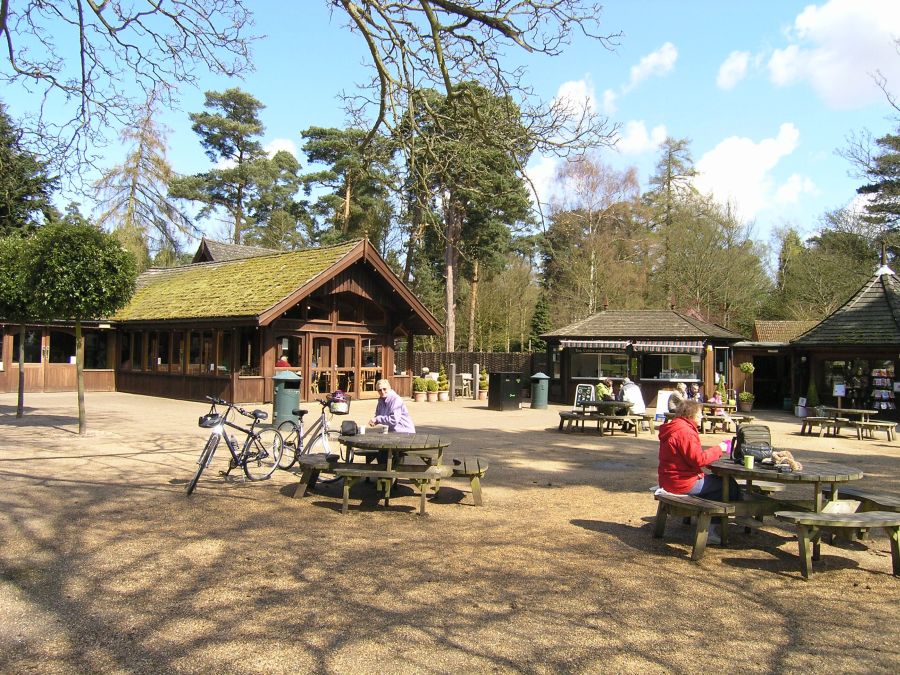 By contrast the next day was no where near as nice but we had decided to drive over the Hunstanton for a look round as we often do whilst staying at Sandringham. Lots of people strolling along but that was about it. Sunny Hunny is a typical small English seaside resort. Where as a similar sized resort in France would have endless restaurants selling Fruit de Mer we have Fish and Chips! But chips eaten on a park bench over looking the sea are to be savoured!
Thursday was our last full day and whilst it was sunny it was also quite breezy which gave quite a chill to the air, a reminder it was still mid April. Spent most of the day relaxing and watching our fellow caravanners. One guy had attached a bird feeder to a tree nearby. He got a bit of a shock when a squirrel chewed through the rope causing the holder to fall to the ground so he could consume the contents. Don't think Alan Sugar would sack him! The site has been surprisingly busy over the days of our visit with sometimes only a handful of pitches free by the evening. Despite not being traditional school holidays there are lots of kids around.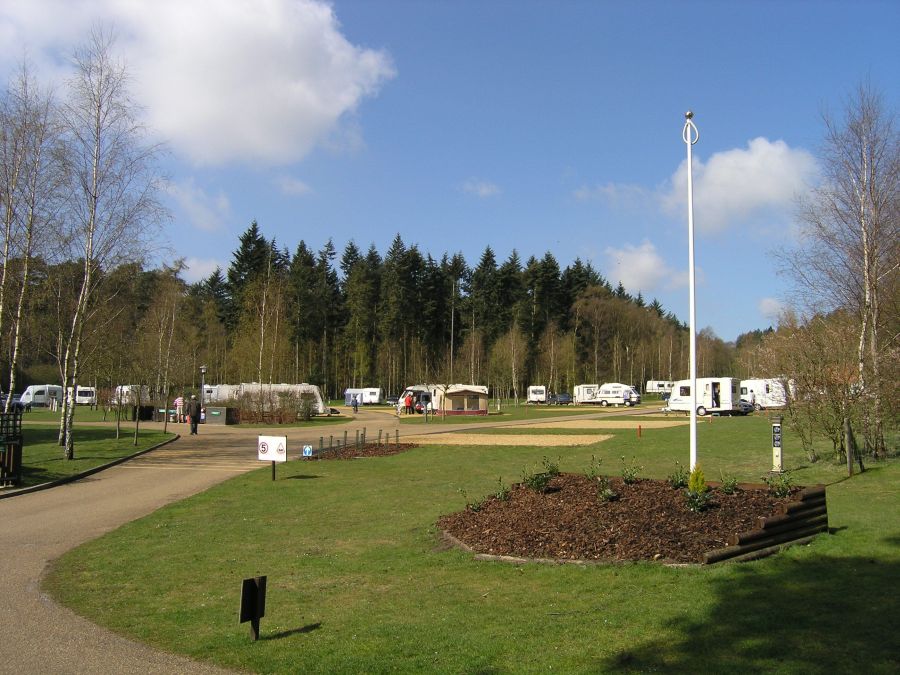 Bromyard Down Caravan Club Site - July
We have been back from our two month trip to German just over two weeks but its time to get back on the road again. We are heading for a place call Bromyard which is between Worcester and Leominster where the Caravan Club have a no facilities site called Bromyard Downs. Itís always a bit of a risk leaving home on a Monday morning as the bin man comes, and he does not arrive at the same time every week! As I was winding up the corner steadies I could hear him in the next road so we waited until he had been before getting the van out on the road. For this journey we were going to do without the services of Tom TomTom. When I tried a route, and even an alternative, he wanted to take us miles out of the way so we planned our own route via the road atlas. Itís strange how you become so reliant on Satellite Navigations because of using the map we hesitated at every junction or roundabout! Some parts of the route were fine but others torturous so despite only being a journey of 94 miles it seemed to take am age. We were greeted by very pleasant wardens who even suggested a good pitch for getting a picture with the satellite dish. We followed the wardenís advice and headed for pitch 27 which had a hardstanding. Having had the problem with our Caravanstor we thought it would be a good idea to check the awning out that had been stored in the garage for the past four years so we had brought it with us. We were surprised that we remembered how to put it up! Anyway up it went and it was in excellent condition. However we had decided to leave the front of the awning out to replicate what it would be like as just a sun canopy which are very popular with Our Dutch chums. We then had to put the wardenís suggestion of a pitch to get satellite pictures to the test. Unlike the frustrations of our last site in France we had a picture within minutes. The final thing to do was to test my new toy, a mobile broadband dongle. First efforts were reasonably successful but I need to learn more!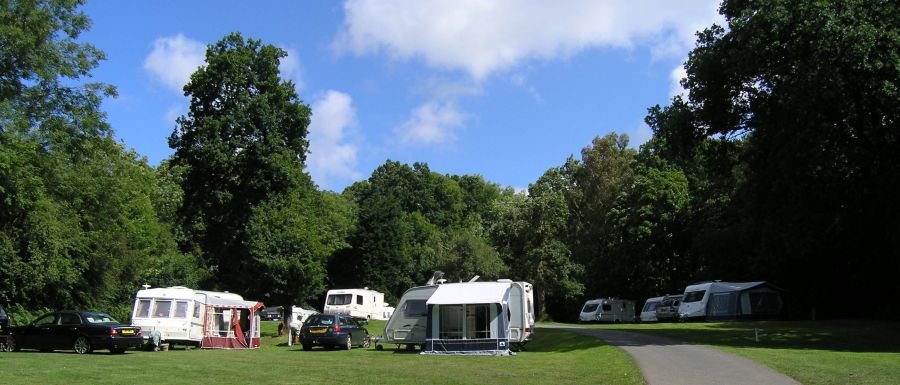 Tuesday dawned a nice day so we thought that we would visit some of the local towns. In order to conserve fuel we decided on a round trip to incorporate Tenbury Wells, Ludlow and finally Leominster. En route we also transversed nearby Bromyard which seemed a larger town than we first appreciated. The countryside here abouts is very attractive which some really spectacular views. I am not quite sure why but everywhere we go they seem to be digging it up. Certainly true of Tenbury Wells. We had a short look round the town and purchased some food for lunch. Whilst Tenbury is a pleasant enough place there seems nothing spectacular about it.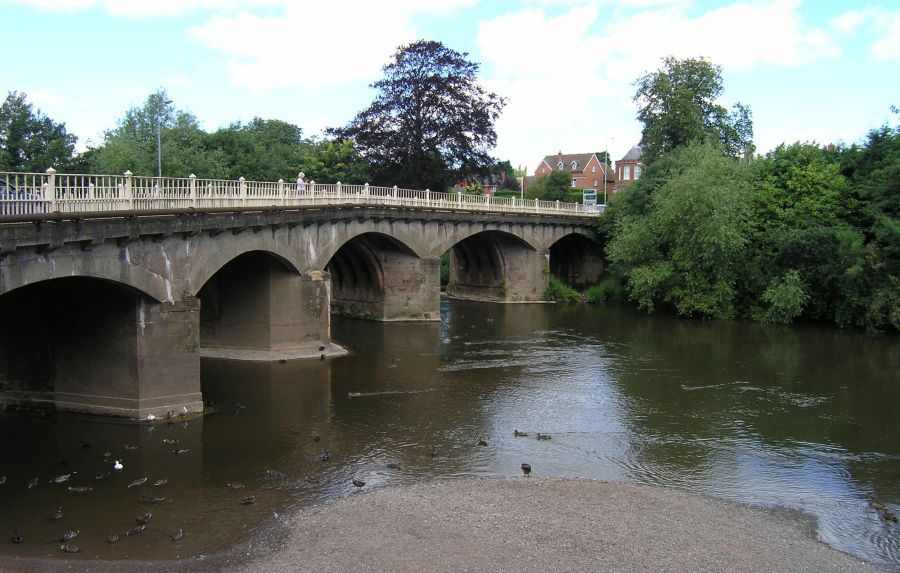 From here we moved on to Ludlow which was a much more impressive place and a looked steeped in history. The Castle is at one end of the town just beyond the Market. After a pleasant wander around we continued our journey to Leominster which is similar in nature to Tenbury.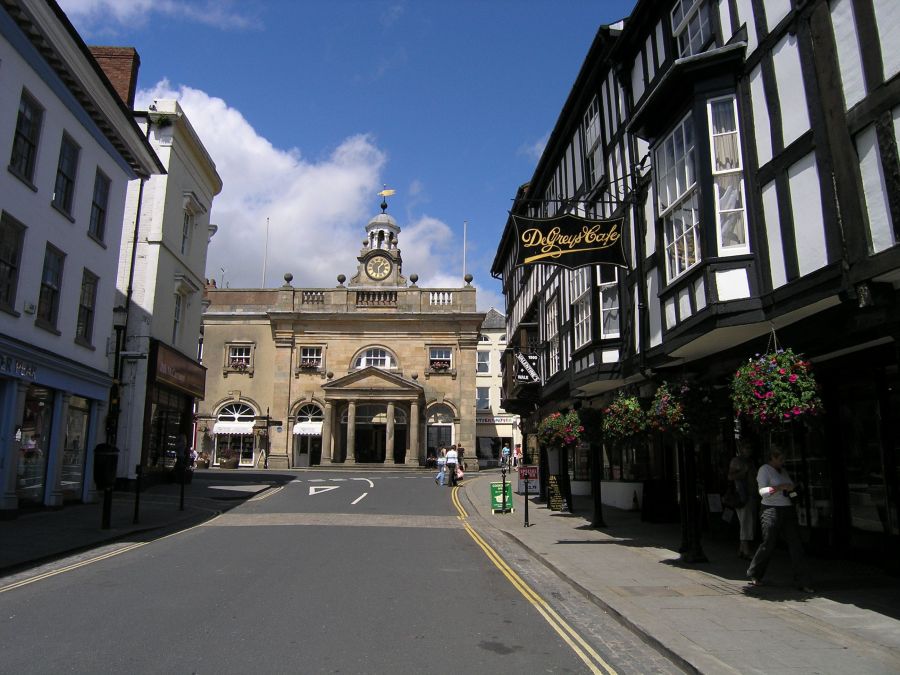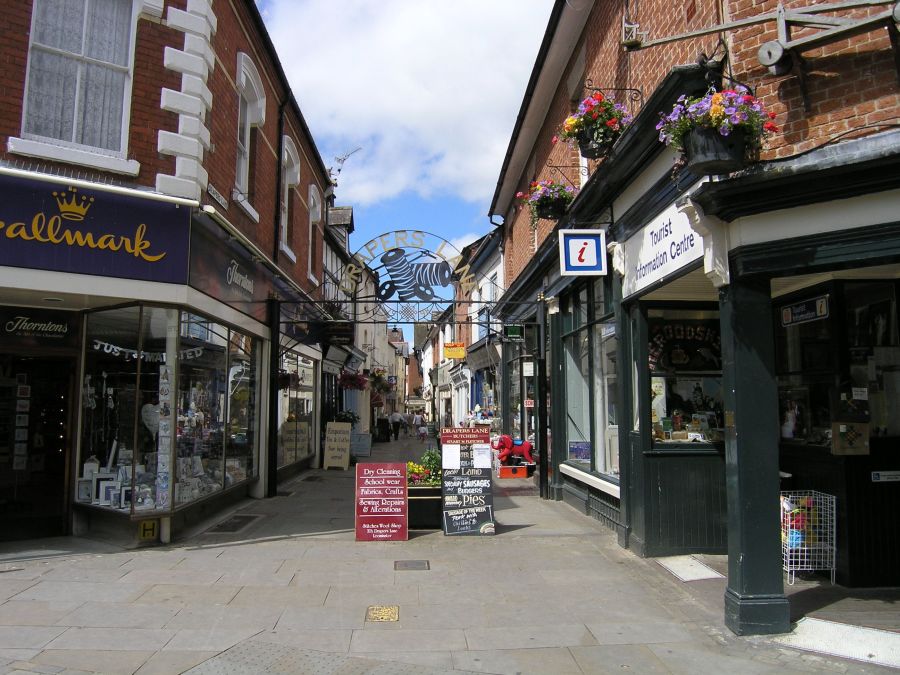 When we woke on Wednesday the blue sky promised a warm day so we thought, wrongly as it turned out, that it would be a suitable day for shorts. After a lot of walking yesterday we decided that we should have a lazy day in order for me to rest my foot (which I injured in Germany) which is still causing me some grief. I did get to use my new broadband again today and during the afternoon did get some reasonable speeds but still not like what you get at home. Although the signal appears reasonable it can be intermittent. One problem I suppose of using wireless rather than cable to connect.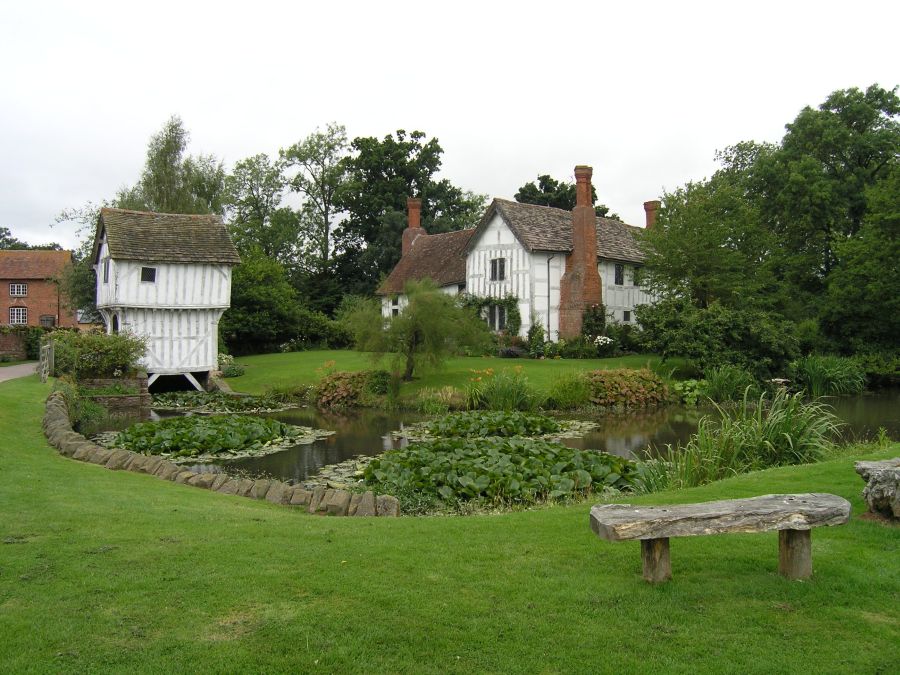 Thursday dawned quite dull but fortunately it did not turn to rain. We nipped across the road to the National Trust property the Brockhampton Estate and in particular Lower Brockhampton where there is an interesting moated timber framed manor house. We waited at the ticket office for a small group to form before Mandy took us on a tour of that part of the Estate. She explained all the restoration work that has gone on and the traditional methods used. She also gave us an insight into other aspects of the Brockhampton Estate. After our short tour we went to have a look at the Manor House. The actual manor house dated back to the 1400ís but the gate house was added over 100 years later, apparently as a wedding gift. I am not sure what the term ĎManor Houseí conjures up in the minds eye but I suspect something a bit bigger than Brockhampton. Itís about the size of a modern 4 bedroom house! After our tour we made our way back to the entrance where there is a nice tea room.
On the Friday the journey home seemed a bit more straightforward as we decided a slight change of route. As on the outward journey we stopped on the Warwick services only to be directed into the car park but with no special parking area. So it was a case of taking up a dozen parking spaces. I suppose itís a forlorn hope that one day we would have as good services as the French!
Round Plantation Caravan Club Site - August
On Monday 11th August we set off for Round Plantation the CC site at Mildenhall in Suffolk. The journey was uneventful and we found the site with no difficulties. It has been about 8 years since we were last here. Round Plantation is one of a small group of CC sites which is run by volunteer wardens because the sites donít make sufficient money to have paid wardens and I assume would mean that sites would otherwise be closed. Given that the site has no toilet facilities there were a surprising number of families with children at the campsite. We found a spot where we thought we might get a clear view for the satellite which turned out to be over optimistic! We also discovered that we were on the same pitch as we were 8 years ago spooky!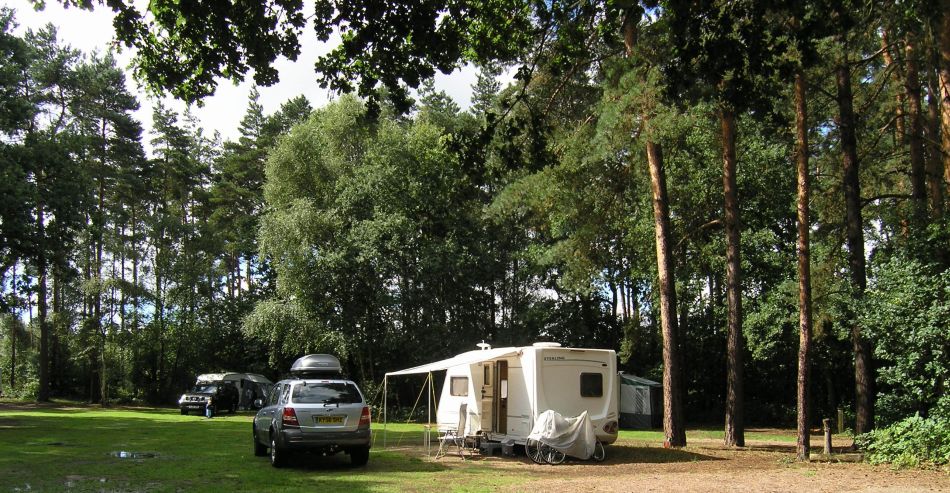 On Tuesday we awoke to rain although by the time we were having breakfast the sun was out. We went into Mildenhall today and the first stop was a caravan dealer, mainly to get a new Calor Lite gas bottle as the site donít sell them but the dealers donít now sell Calor but do BP Light instead. We wanted to stop at a supermarket but we encountered a problem with height barriers so in the end stopped at a corner shop on the way back to the site.
Wednesday was spent at the van as my leg was causing quite a lot of discomfort. I did try and fiddle with the satellite again but to no avail. Fortunately my Mobile Broadband was working OK, although only on GPRS. It has been quite interesting watching the USAF planes coming into land, they seem to arrive in batches. None of them seem to have taken off over the campsite which I suppose was a blessings as that would have been much more noisy!
Thursday was our final day at Round Plantation as we decided to leave a day early. Funnily enough the leg was a bit better but we thought it was not worth the risk. I went down to reception to explain the situation. The wardens were very understanding and said I was to have a refund on one nightís fee. Because they donít use the system that often there was a little confusion on how it should be done but we managed in the end. The journey back home was OK until we got to the A14 round Cambridge where there was quite a hold up. As usual they was not sign of the reason although we did learn on the news later that day that several lorries had been involved in an accident.
NB Round Plantation has now closed.
Black Knowl Caravan Club Site - November
The story continues with a three month gap of no caravanning. Just prior to going to Mildenhall I was told I had an infection in my wound. Whilst the antibiotics cleared up the infection it seemed also to stop the wound healing. The nurse and doctor at my surgery were so concerned I was sent to hospital for a biopsy. The first thing the doctor at the hospital was that there was a possibility of skin cancer. It is difficult to quantify your feelings when something like this is said, you just think the worst. I had the biopsy a week after the initial consultation but had a nearly three week wait for the results. When they came they were negative and the relief was hard to describe. Their view was that it had turned into a leg ulcer and I am now seeing the specialist nurse. Her first action was to truss me up to the point where my leg has a passing resemblance to Nora Batty!
Our trip to Black Knowl the Caravan Club site at Brockenhurst was originally booked for a week earlier. Unfortunately Margaret's mum, who had been very ill, passed away. This meant that we would use the site from which to attend the funeral and we were fortunate that we were able to book for a week later. It seemed strange getting the caravan ready after such a gap. It shouldn't seem like that as it happens over winter! However when you have missed so much of the main season and had to cancel a trip to France, it seems a bit strange. Monday 10th November arrived and it was raining, not too hard at this stage. By 10.00am we were ready to leave. Still raining but not so bad until we got to around Oxford when it started to intensify and to the point when I thought I should stay where I was on the inside lane! We stopped at Sutton Scotney and it was only then that I realised how windy it was. After a coffee we were on our way. By the time we got to the road works on the M27 you could hardly see 50 yards in front of us. We were relieved to exit the motorway. At least the spray subsided but we then had a different problem with standing water which got worse as we approached the site. We have been to Black Knowl before but it was some time ago. We turned off TomTom and followed the CC instructions through the final torturous bit of the route. The site were only using the hardstandings and even some of these had standing water! It did not take long to set up as we were right next to a service point. We had originally thought of putting the awning up but not in pouring rain! However I did set up the satellite system and it worked within minutes, wonders will never cease!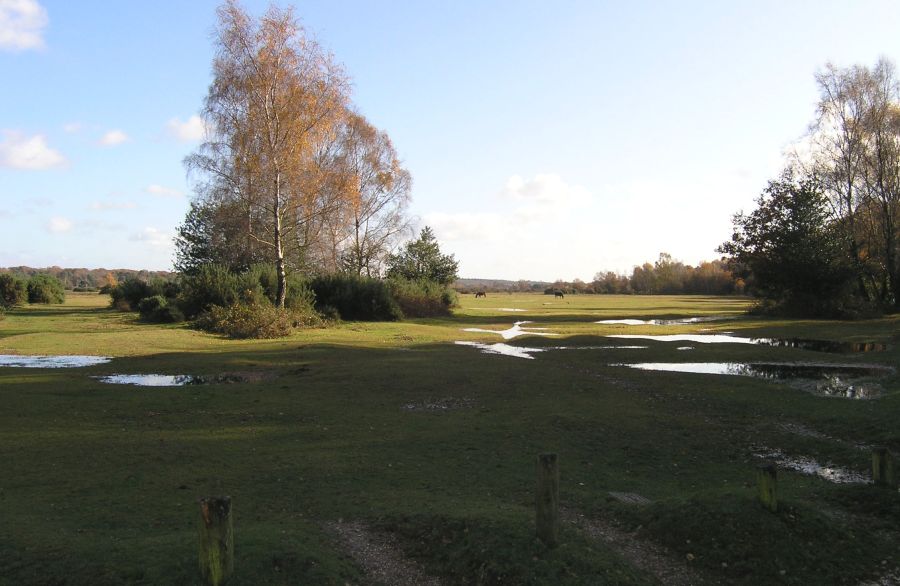 By a complete contrast we awoke Tuesday to bright sunshine. We decided to drive into Brockenhurst to have a look round. Its not a particularly large centre and for a major shop you might have to go to Lymington. In the afternoon we went for a walk through the Forest to the river which had been swollen by the rain. Simon, one of our sons had decided to come down to the area to stay overnight rather than driving down on the day of the funeral. We joined him in the evening for a nice meal at the Crown Hotel in Lyndhurst.
Wednesday was the day of the funeral and the weather was playing ball. We called for Simon at Lyndhurst and made our way to Margaret's sister in Totton where the family were to congregate, with the family going in the funeral car and the rest of us making our own way to the Crematorium in Southampton. Simon and I were amongst the first to leave and despite the roadworks we decided to use the M27 and came off at Southampton Airport, I suppose it took no more than 15 minutes, so we were early. Not long after us my sister and sister in law arrived. So far so good. After what seemed an age there was no sign of the funeral cortŤge. I had a desperate call from my other son, Paul, who was coming down from London. He was in Southampton in a taxi but stuck in traffic, the same traffic no doubt that the funeral cars were stuck in! Paul arrived well before the funeral cars. In the meantime I had a call from Margaret explaining where they were and they were trying to find an alternative route. This conjured up some interesting pictures in the mind with the hearse and funeral car dodging parked cars as they desperately battle through the residential roads of Southampton trying to get the funeral on time! They did get there eventually, Margaret's mum clearly in hurry to depart! I suppose the service was a bit quicker than planned but nothing was missed out except a verse of All Creatures Great and Small. Mike, Margaret's brother gave a little speech which summed up his mum very well and we all left to the strains of Bring Me Sunshine by Morecambe and Wise, a favourite of Margaret's mum!
Thursday was dull and a bit wet although not as wet as the day we arrived. A return visit was made to the Tesco Extra in Brockenhurst to exchange an incorrect battery for the caravan clock. What a palaver, clearly cashiers have no authority to agree an exchange even when you have the bill for the original bill and will have to pay more. I wonder if these companies ever reflect on how terrible this looks from a customer service point of view. Getting to and from the campsite you are instructed to avoid going through the centre of Brockenhurst as you have to negotiate a Ford before getting back on the main road. The day we arrived it was very deep but now it was back to normal levels I just had to have a go!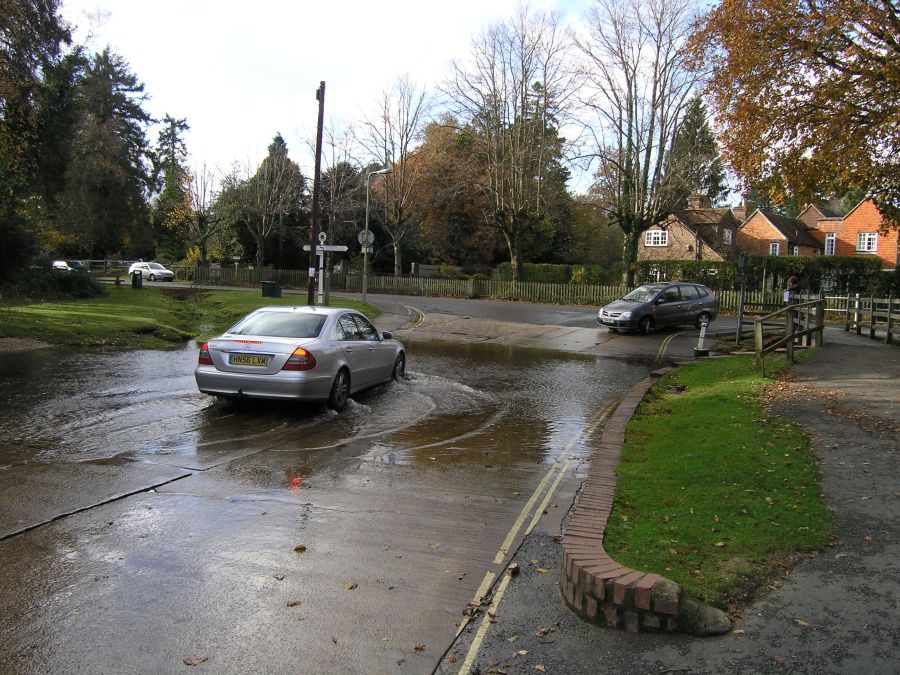 Back at the van we have a call from Joyce, Margaret's sister who we are meant to be meeting later for a meal. They appear to have had a disaster with water coming through the ceiling into the kitchen. Anyway a while later she phoned again to say things are not as bad as originally thought and the meal was still on. We arrange to meet at the Snake Catcher pub around 7.00pm. We arrive first so I stroll up to the bar to order a couple of drinks. I could see no signs warning that the price of drinks could seriously damage not only your health but also your wallet. I clearly lead a sheltered existence as nearly £9 for a pint and a glass of wine seems somewhat excessive! It got worse when the others arrived! At least the food was OK.
Friday was also dull and we packed up pretty quickly as I had an appointment with the nurse in MK in the afternoon. Traffic was not too bad and we got back home just after 1.00pm. I felt that I had crossed a Rubicon having not been away in the van for so long. However it was nice to be away in the van and I had no problems with my leg, in fact it had been quite comfortable considering the way it was trussed up! We got to the clinic at Stoney Stratford at around 3.00pm. The specialist nurse was not there so I was seen by a couple of district nurses who were very nice. The difference in the wound was quite amazing it had seemed to have healed within the week. I still had a small dressing on it but progress was at long last being made. I was also fitted with my compression socks which I will now have to wear all the time, they will look very chic on a beach in the South of France!
Chatsworth Park Caravan Club Site - December
I am not sure Margaret was too keen but given that we had hardly been away in the van during the second half of the year I did manage to persuade her that we should have a few days away before Christmas. I think it was the suggestion of a revisit to Chatsworth that clinched it! In a way I was surprised that it was so easy to get in but then we did want midweek, weekends no chance!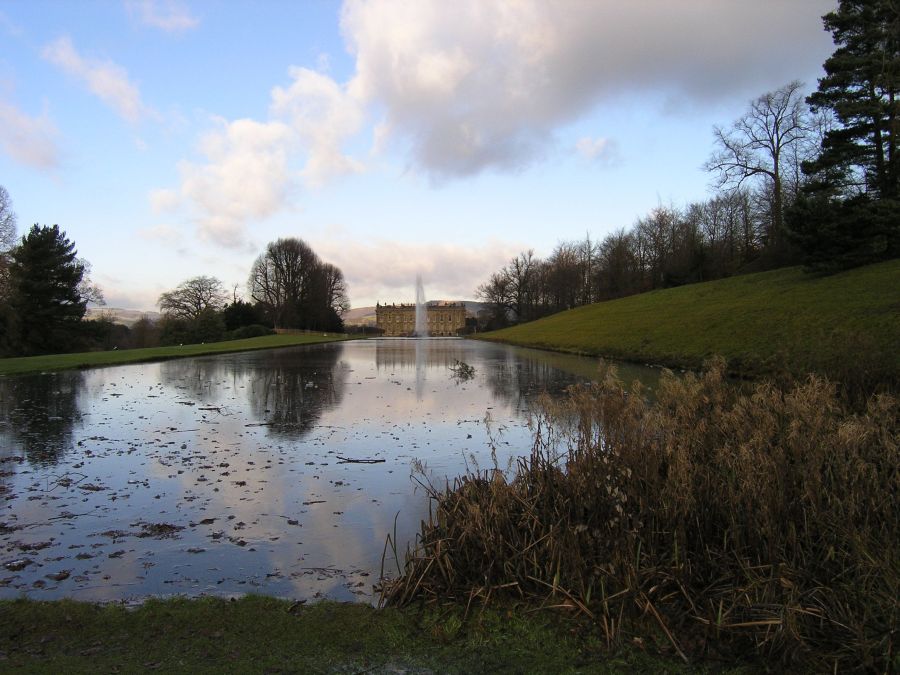 The forecast for Monday 6th December was rain. But as we set out from MK it was dry which was a bonus. Managed to get away before the Bin Man came although we were in no rush as the earliest arrival time for Chatsworth is 1.00pm. The M1 was surprising quiet, at least until we got to the road works at Nottingham. By the time we got to Chatsworth it had started to drizzle with rain which did not help my temperament as I unsuccessfully tried to set up the satellite! Fortunately the site has a TV hook-up facility but only analogue and 4 channels. I was a bit surprised that considering the Caravan Club have recently upgraded the site that they had not done the same to the TV system. The site is surprisingly full and interestingly there seems as many motorhomes as caravans.
After a cold night Tuesday dawned bright and sunny but there were reminders outside of the cold night with frozen puddles and the car covered in thick ice. After breakfast we made our way to Tíbig house! As you exit the secret garden of what is the Caravan Club Chatsworth site it does make you appreciate what a delight this campsite is. You walk across the fields towards Chatsworth House and you feel a bit more than a just a guest. Mind you these feelings of serenity disappear a little when you have to pay the entrance fee! Mind you not so bad at pensioner rates plus a bit more for a Gift Aid donation but money off voucher in exchange. Not all the usual rooms are open but the bonus is that those rooms that are open are all decorated for Christmas which is quite spectacular. It was obviously appreciated by the public as they were out in force and the car parks seemed as full as any summer weekend. After our tour of the house we set off around the gardens which, as always, are magnificent particularly if that winter sunlight. After a bit to eat we set off for what was the stables and now a shopping/eating area. After Margaret had exhausted her need for shopping we made our way back to the van. I had decided, with some trepidation, to wear my walking boots. I was not sure how wearing them would affect my foot as I was not so sure of the strength of the healed skin. As it happened it was fine.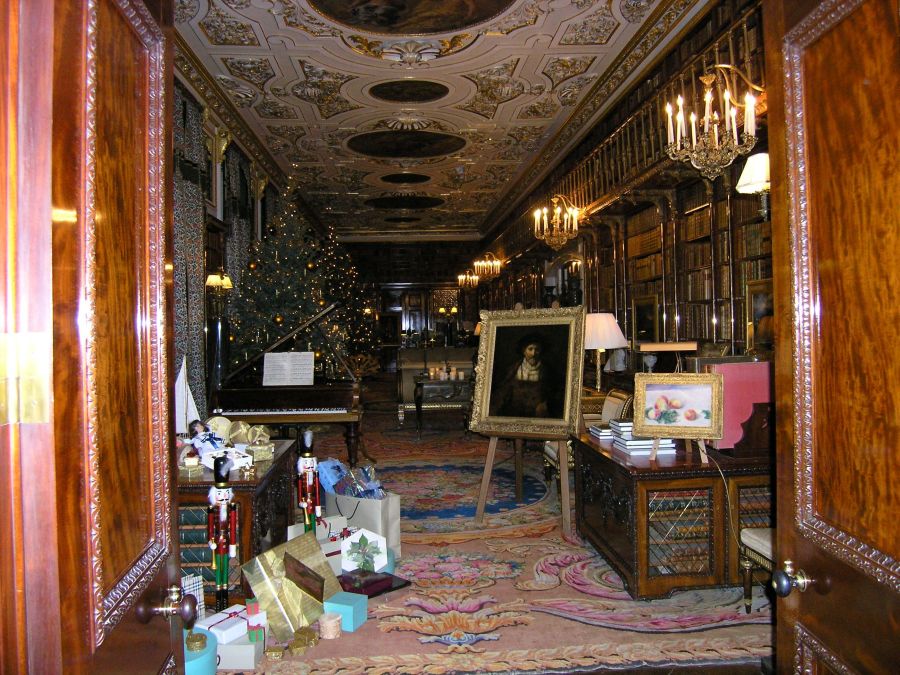 There was a very heavy frost overnight. Itís always difficult to know what to do with the heating overnight. Our heater is right next to the bed so it concerns me to leave it on all night even if on a low setting. We do have a small oil filled radiator which I do sometimes put on in the middle of the night but again donít like the idea of it being on all night.
Despite the frost the water was fine in the morning so at least that had not frozen. Same canít be said for the car which was covered in thick ice. A pretty lazy day today but we did need to go to Chesterfield for some shopping and to fill up with diesel. Interestingly the price of diesel has fallen to under £1 a litre for the first time for over a year. Before going to the supermarket we called into Robinsons Caravans in Chesterfield. They have a pretty good accessory shop.
There was some rain overnight but, of course, as soon as it stopped it became very icy. Thursday looked quite promising with the early sun. We decided to pay the Chatsworth Garden Centre a return visit. By the time we had finished there was some cloud around which just made the day feel damp and very cold. I suppose this is one of the penalties of winter camping is that you only have a limited number of quality daylight hours. Not helped of course by the fact that we are not good at getting up and out early in the day!
This is the 4th campsite I have been able to use my Vodafone Mobile Broadband at. I have been quite pleased although I have yet to get 3G speed simply because all the campsites have been in the middle of the countryside. I could have used the site WiFi which I am sure would have been faster but the Vodafone service is reasonably good value if you use it enough.
The journey home on Friday was uneventful but both the car and van were filthy and needed washing before I could put the van away.