West Country 2022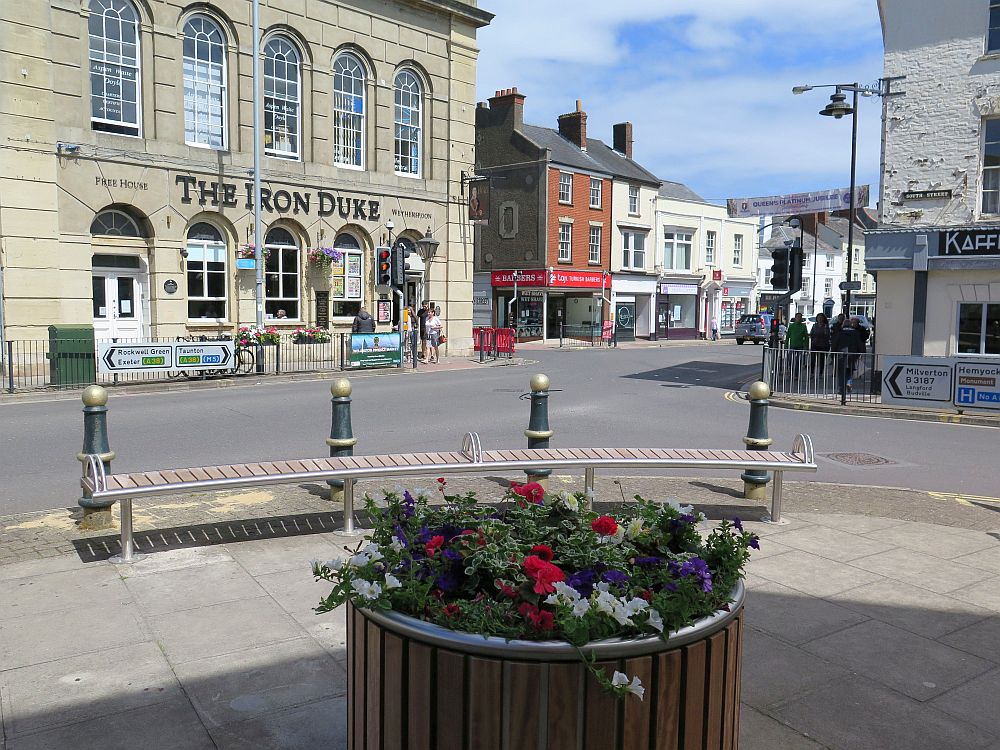 Wellington
Sunday 26th June. The longest planned journey of the trip today, 165 miles from MK to Wellington in Somerset. From MK its across country via Oxford and Swindon on a mix of roads. It was slow on the A34 as we approached Oxford. We joined the M4 at Swindon and made a pit stop at Leigh Delaware Services, even that was crowded. At Bristol we headed down the M5 to Wellington and to our base for the next three days at the CMC Cadeside campsite. It is a tiny site with just sixteen pitches. There is also a very large storage compound on site.
Monday 27th June. Weather was a bit changeable this morning but we decided to walk into Wellington anyway. It was about a mile of a gradual uphill walk from the campsite although the Council seem a bit indecisive on what side of the road the footpath should be. For future reference keep on the same side as the campsite! We did get caught in a shower as we got into town which was a good excuse to go for a coffee in the local Waitrose. Refreshed we wandered into the town proper. The centre piece of the High Street seems to be the Iron Duke pub, named after the Duke of Wellington according to the plaque on the outside wall of the pub. I don't think I have seen a High Street with so many charity shops. That is not meant to be a criticism but it did get me thinking how they all survive when regular shops seem not able to? I appreciate they are run by volunteers and the shops are probable on short, cheap leases. However, there is still a good selection of independent shops including a shoe shop called Wellington Boot which appealed to my sense of humour. Back to Waitrose for a bit of shopping and an argument with the Quick Check till. We are used to these working seamlessly but we seemed to need the attendance of several staff members to get us through the process. We did contemplate catching the bus back but it was all downhill so we walked.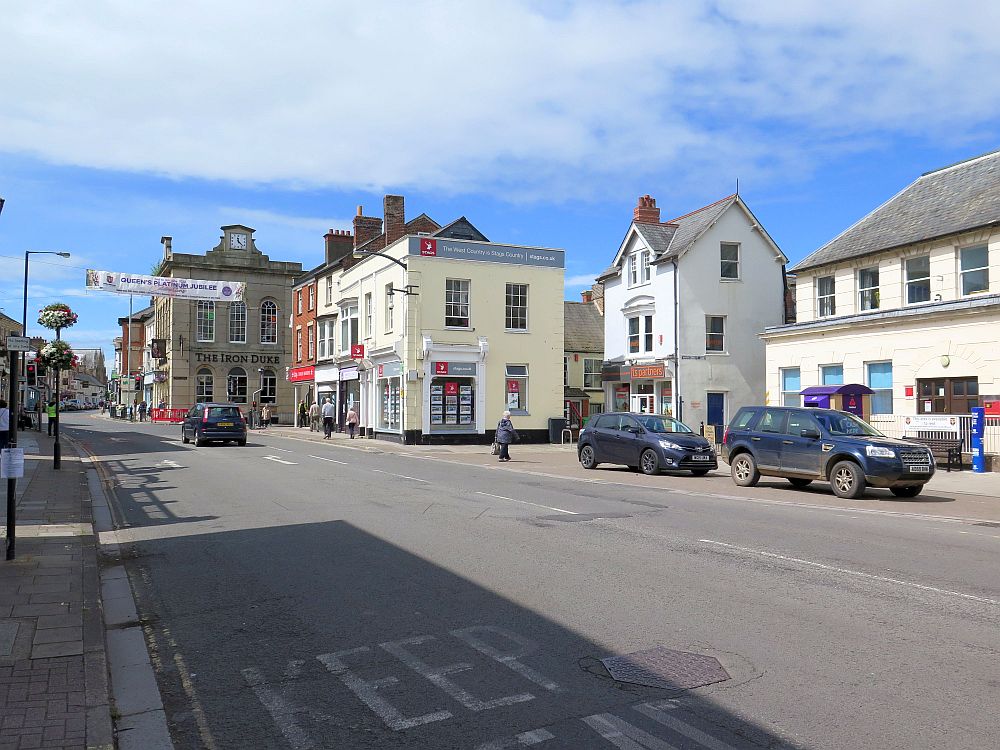 Tuesday 28th June. Not long before we came away, we purchased a new, low wattage, electric kettle. We did boil a few lots of water through it before leaving, hoping that would be enough to set it up for the holiday. However, what we have discovered that after several days use it is still tainting the water so we thought that if we had the opportunity we would buy, yet another kettle. It was a long shot but we thought we would try the supermarkets in Wellington. We thought we would try the bus which conveniently stops not far from the campsite, this saved us the walk uphill to the town! Also, the weather was not so kind to us and rain threatened. The Waitrose in Wellington is quite small so no luck there. The ASDA did have good value electric kettles but they were all 3Kw which means they would be near to the edge of the power available on site, especially if you forget to turn other high wattage items off! Also unbeknown to us at the time our next two sites only had 10 amp electricity so we would have been scuppered! It looks as if we will have to hope the other kettle improves. As we have been going in and out of the site, we have noticed a building site opposite. It seems they are building a Lidl which will be very convenient for anyone staying at Cadeside. This is our last day here and we move on in the morning.
Plymouth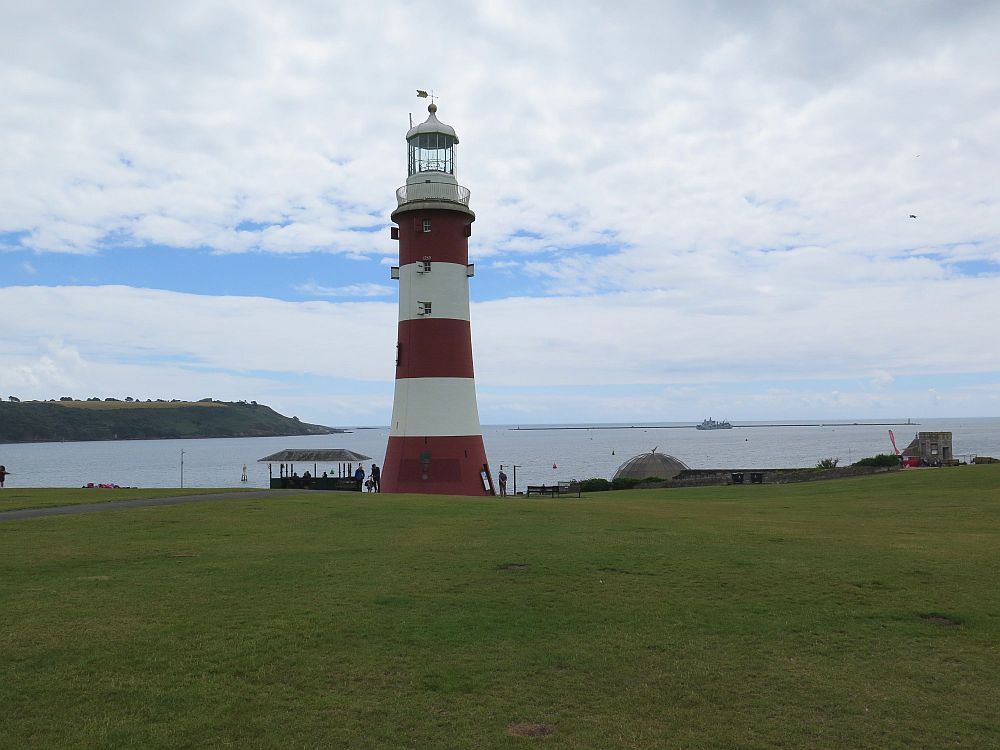 Wednesday 29th June. We left the Cadeside site at Wellington today and we are heading for Plymouth. We had quite a lot of rain overnight but it was sunny this morning if not particularly warm. Fortunately, the M5 and A38 were relatively quiet and we made good progress. Strange that you make good progress when it's not necessary! We stopped off at a Tesco at Ivybridge to fill up with fuel and do some shopping. It made a change not to hit the maximum limit when filling up. A bit surprised that supermarkets are no longer discounting fuel prices as the Tesco seem to be selling fuel at the same price as all other fuel stations? Another puzzlement is why is there such a large Tesco seemingly in the middle of nowhere. By the time we were ready to leave it seemed that we would still arrive a bit early at our next campsite, Riverside Caravan Park in Plymouth! The slightly early arrival didn't seem to faze the lady on reception who rather uncannily was a dead ringer for my sister-in-law! Strict instructions on which way we should pitch. If the door is on the UK side you reverse in but if it's on continental side you must drive in. Out of interest I asked why and the reason given was that the emergency services can always go to the same side of a van if they have to evacuate!!! Strange there are several examples around the site where this rule is not being applied.
Thursday 30th June. Last night I was under the bunk where the water tank is situated, we store things like toilet rolls under there, and I notice water on the floor. So, this morning I investigated further. It seems that water is collecting under the tank and a piece of folder kitchen towel was wet. I have checked all the connections and they seem secure. At lunch time I had another look and the new piece of paper towel was not wet so we appear to have soaked up the excess? I wondered if it was happening whilst I was filling the tank but when Margaret filled as I watched I could see nothing. I am wondering if water is escaping whilst we are on the move. It's not coming out of the inspection hatch as I have a towel over that which was perfectly dry! When we next move on I will make sure we don't have a full tank to see if that makes a difference?
Given my exploits with the water tank we abandoned our trip into Plymouth for today but instead went on a recce to see where the bus stop was. When we got to the stop there was a lady waiting for the bus who kindly provided us with lots of information on the bus number to get. We passed a large Next Store on the corner of the road to the campsite so we decided to have a coffee in their Costa concession before walking back to the site. It's about three quarters of a mile from our pitch to the bus stop and hopefully it will seem short the next time we walk!!!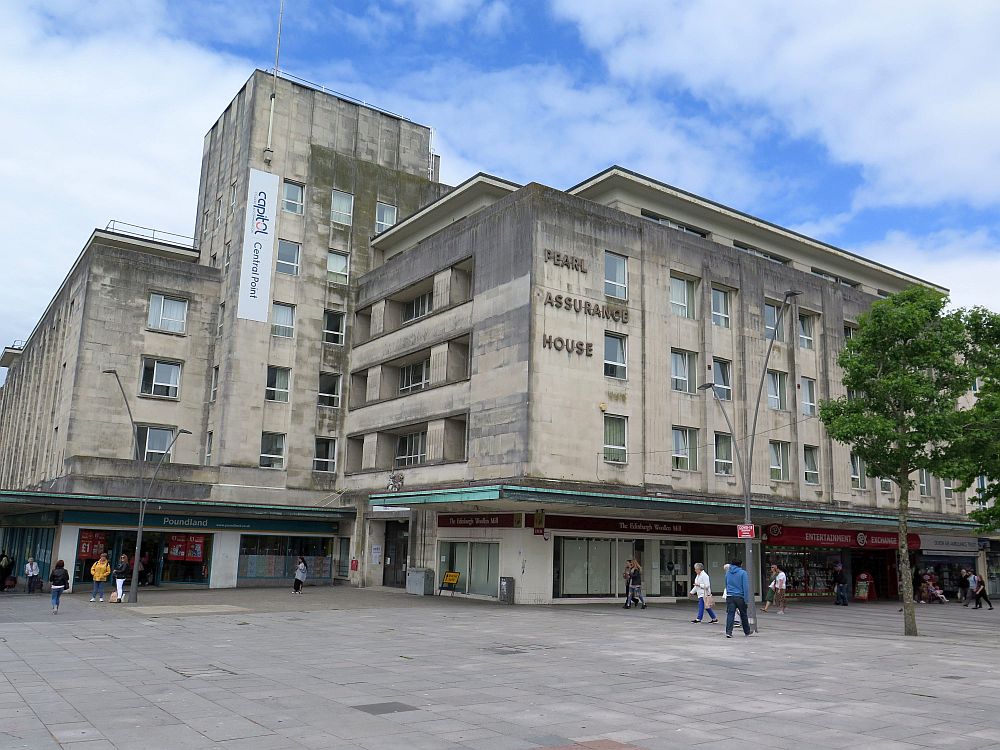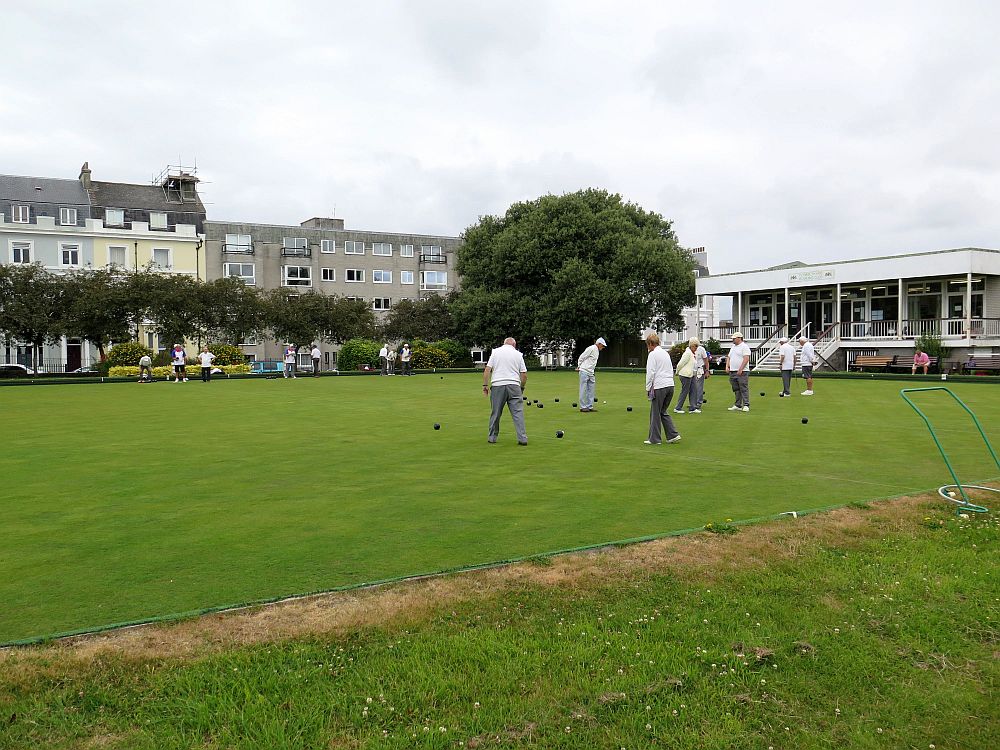 Friday 1st July. Finally made it into Plymouth today. For us it's a fairly long walk just to get to the bus stop! As suggested by the lady yesterday we caught the number 50 bus which took us right into the centre of Plymouth. I seem to recall a previous visit to the City but it was many years ago. I think like my home town of Southampton, Plymouth suffered a lot of destruction in WW2 and had to be rebuilt so I remember the shopping centre being about the same vintage of Southampton and of similar design. Not sure Plymouth is as vibrant as it once was. We decided to go into the House of Fraser store (almost surprised it was still there!) to use the toilet. That all went well but we got trapped in the lift on the way down! I think I pressed the wrong button and then the right one in quick succession which probably confused the circuit board! At least we were not between floors and the doors did eventually open much to Margaret's visible relief!!! Needed a black coffee after that!!!
The bus lady yesterday suggested we find the number 25 bus to have a ride around Plymouth Hoe. We were directed to the wrong bus stop by a driver so decided to have a closer look at the City Map on one of the bus stops. It seems that where we wanted to be was not too far from where we were. It turns out that the number 25 is a tourist bus that does the circuit around the Hoe and probably doesn't accept bus passes! It even dawned on me that Plymouth had been designed for the Centre to open up to the sea at the Hoe? Off we set, strangely uphill? On the right we passed the Plymouth Bowling Club and wonder if that was where Drake was playing when the Spanish Armada was approaching? I was tempted to call out to the assembled players to see if there was a Francis playing today but Margaret gave me one of her looks! Onwards and still upwards we reached the big Royal Navy Memorial and beyond that the Smeaton Tower or should that be lighthouse? There was a Junior School group by the tower playing on the grass whilst smaller groups were taken up the tower. When the groups had succeeded in their quest, they all had a piled out of the door with a look of joy and success on their faces. We have not been blessed with the best of weather since we have been away and I am sure that had it been warmer we would have lingered longer. We did treat ourselves to a fish and chips takeaway from the site facility which were not only freshly cooked for us they were piping hot and very nice.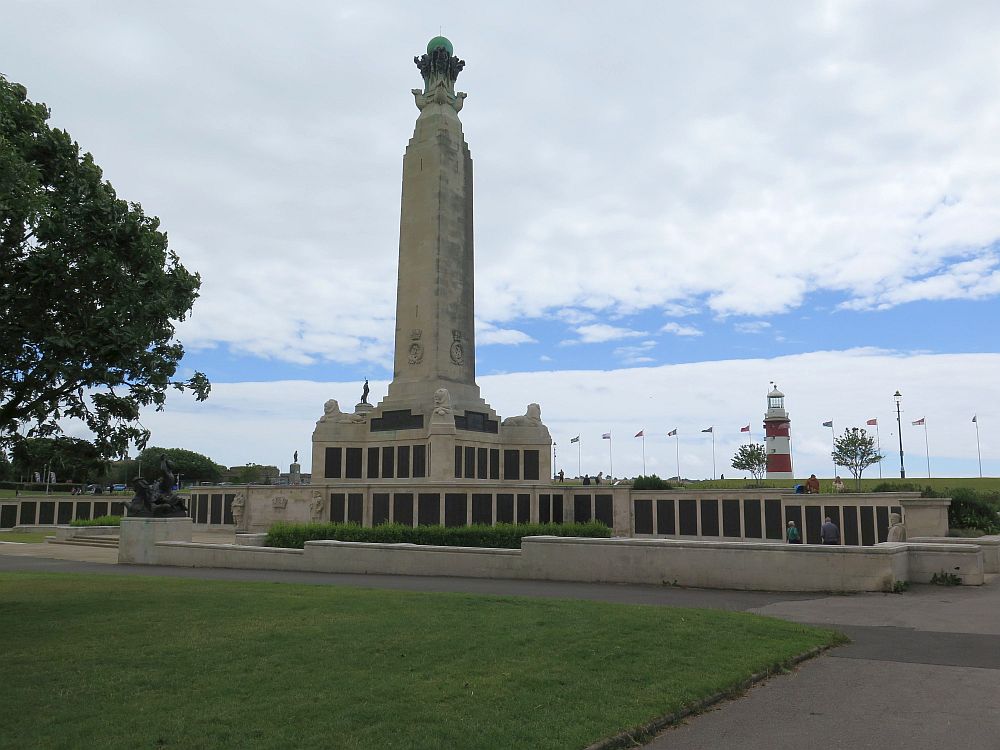 Saturday 2nd July. Today marks the end of our first week away. Unfortunately, we have not had the best of weather. Not always wet but often dull and not too warm. I wonder how the Norwegians are coping with temperatures in the mid-thirties, especially in the Artic Circle? All due to the Gulf Stream plummeting below the UK giving us poor weather and them a heat wave! I half expected the campsite to fill up for the weekend. Whilst there has been an influx of units it is far from full which is what you usually expect on a Club site.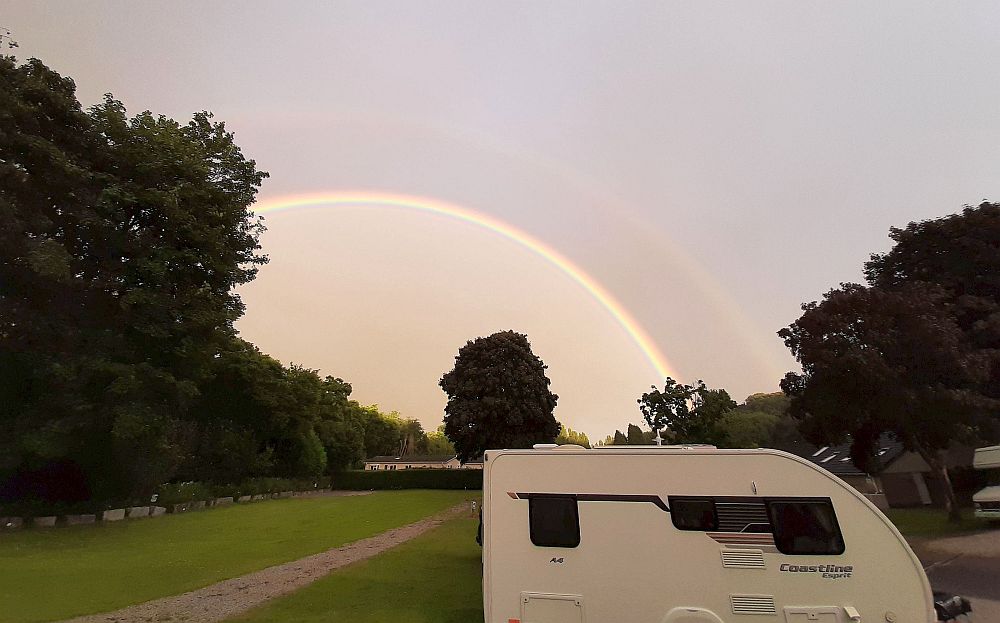 Sunday 3rd July. A pretty lazy day today because it was the Silverstone GP, and what a race it proved to be. Only seconds into the race there was a very serious crash. Fortunately, both drivers were fine but very scary. The British Grand Prix is always live so takes up all of the afternoon. Tomorrow, we move on to our next site.
Dawlish Warren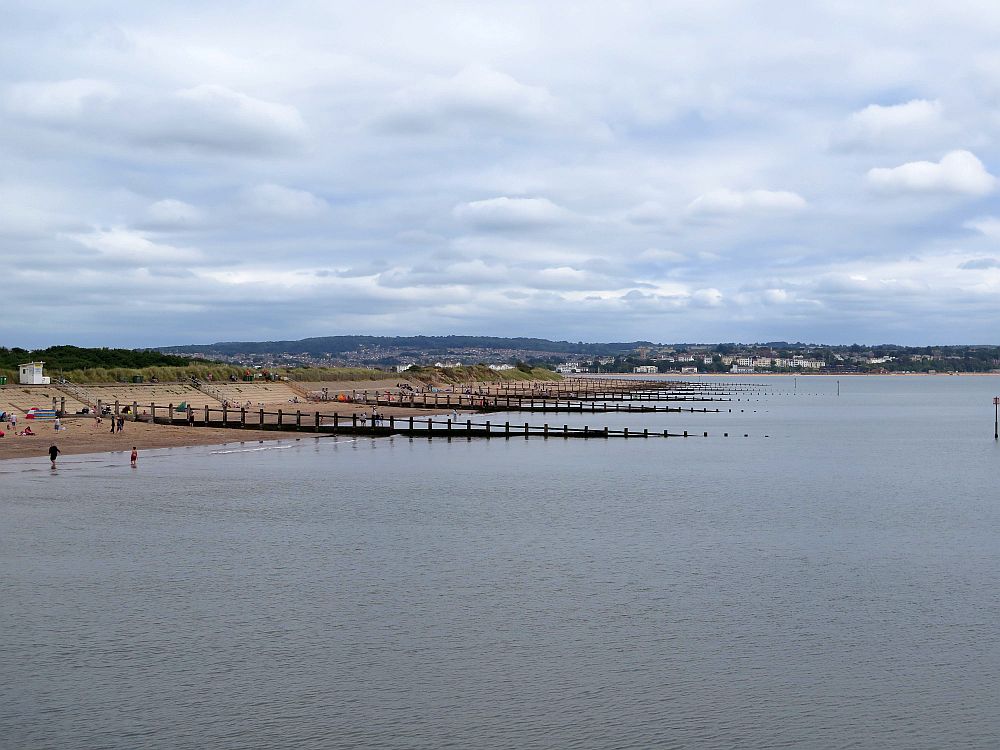 Monday 4th July. Today we moved on to a new site in Dawlish Warren called Lady's Mile. It was only a short journey of just over 40 miles. We stopped at Ivybridge at the same Tesco as on the way down for some shopping. Perhaps not a good decision as there were fuel price go slow protests on the A38. Fortunately, we seem to have avoided the protest! However, that was the end of our good luck! The sat nav decided that it was acceptable to take us down some roads that were barely wide enough for the motorhome. Thank goodness we didn't meet anyone coming the other way! Bit strange the mirrors hitting bushes on both sides at once! We did eventually arrive, safely, at the campsite. Ladysmile, is a massive campsite but it seems well organised. We found a serviced pitch at the top of the site, all serviced and a new toilet block a few metres away.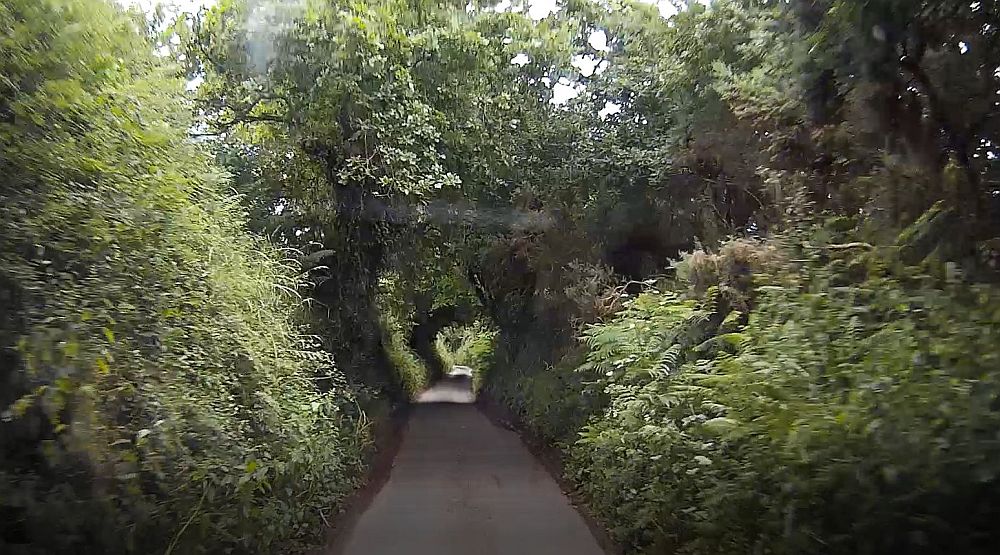 Tuesday 5th July. We walked into Dawlish Warren today. There is a short cut out the back of the site which is handy given the size of the campsite! What we didn't quite appreciate was that it was so downhill from the campsite to the village! This is turning into the story of our lives on this trip. Weather is still a bit strange, one minute sunny and then cloudy but fortunately dry. Quite a lot of visitors on their way to the beach. We walked up to the sea wall and found a seat. Next to us a mother and her son (about four) sat down to enjoy a drink and a doughnut. Suddenly there was a shriek and the lad exploded with mix of fear and anger as a seagull had swooped down and pinched his doughnut. I don't think he was going to be a fan of seagulls going forward? At least he came to no harm. Often the problem with seasonal places is there are rarely "nice" places to get a decent coffee. However, we did give the Boatman a try and the coffee and cookie was more than OK. We took the precaution of sitting under one of the umbrellas just in case the seagulls decided to take our cookie!
Given the steepness of the hill back to the site we decided to wait for the bus to take us up the hill, which dropped us off not far from the short cut into the site. There was another campsite by the bus stop which looked quite nice although it seemed only to have grass pitches. A little further along the road was a neatly mown field with fences and electric points but completely empty, so whether it is used for rallies or overflow pitches I don't know.
Wednesday 6th July. We maybe on holiday but one can't ignore the political storm in progress with the current Government with resignations a plenty, where will it all end? Apart from the day we arrived we have not visited the reception area of the site since we arrived and we have only explored the upper sections of the site thus far. So, we wandered down to the front of the site which by any measure is massive. I appreciate that they very thought of this would put many people off. However, where we are pitched it is away from all that and you could almost be on another campsite. I would struggle to guess how many pitches there are as there is a mix of fixed accommodation, seasonal pitches and touring pitches, all in their own areas. Coupled with this are the facilities to service such a large site like swimming pools and restaurant/bars. We saw all this as we wandered down through the site on our way to the local supermarket just along the main road. On the way back we stopped for a coffee from the bar before the mountaineering task of getting back to our pitch up the very steep site road. Margaret says the only thing missing from the site is a funicular railway up to the top of the site!!!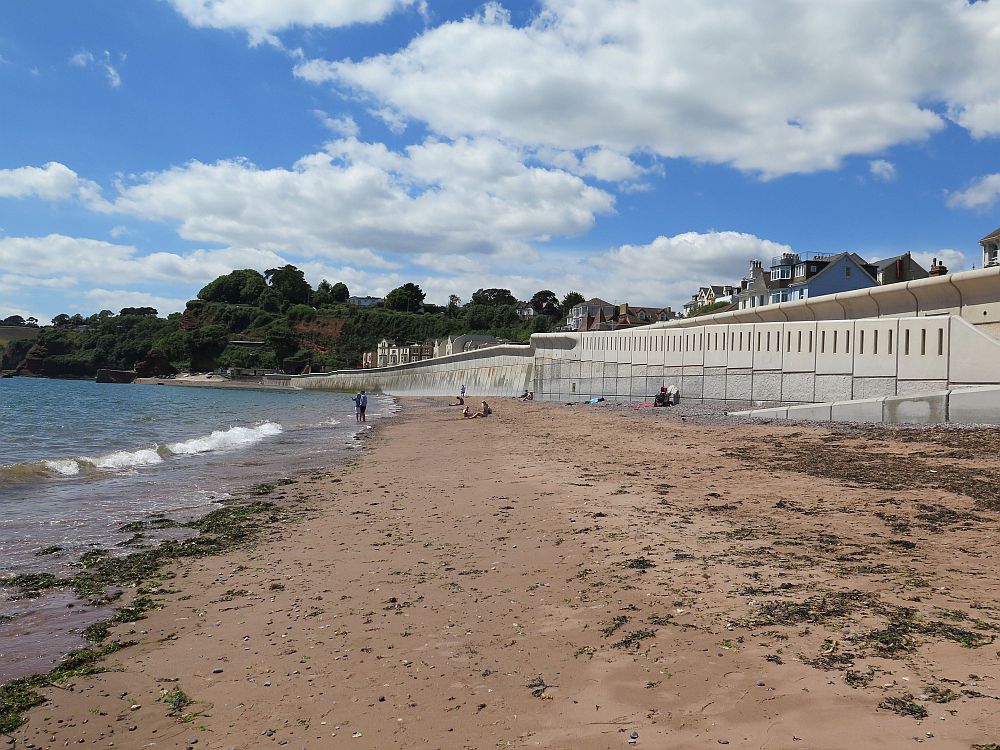 Thursday 7th July. We have had a pretty lazy day today sitting around the van. Weather is better and seems to be getting hotter. We have had the wind out awning out today to provide some shade. Also pleased with our Maxxair fitted fan as it helps to cool down the inside of the van by pumping the hot air out. The day after we arrived another couple in a motorhome pitched next to us despite the whole section being almost empty! The pitches here are quite generous with a large section of hardstanding, enough for the unit plus an awning and an area of grass for sitting out on. Our new neighbours decided they wanted to put their drive away awning on the grass so they are, effectively parked to the wrong side of their pitch. This means the wall of the awning is about two metres from the wall of our motorhome. This might not have been so bad but every day they have had guests chatting away under our windows so not much hope of peace and quiet for us. It does make you appreciate the stricter rules of the Caravan and Motorhome Club!
Friday 8th July. It's strange that every morning we seem to get a bit of cloud but by mid-morning it gives way to lovely sunshine. The weather generally has been better for a few days now, getting hotter as each day passes. It seems the weather pattern has changed with the jet stream Now over the northern end of the UK.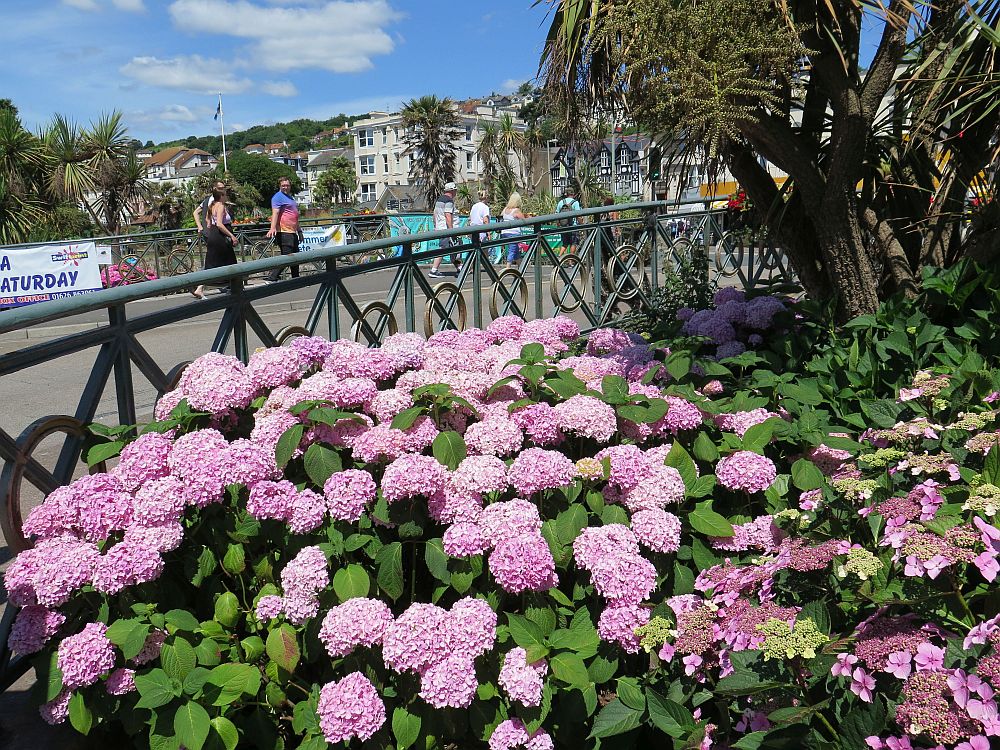 Today we felt we had to do something so we caught the bus to Dawlish. It seemed a very attractive little town with a small river running into the sea through a rather nice municipal Park. There didn't seem much of a beach but the tide was right in. It was here of course a few years ago that the sea wall, and the railway line that run alongside was washed away in a storm. Whilst contractors are still working onsite much of it now seems to be restored or rebuilt. We wandered up into the town which seems to border the aforementioned Park on both sides. We stopped for a nice coffee at a café with a French sounding name. Both ways we caught the bus from near the front of the site as they are more regular but it did mean climbing that hill again!
Saturday 9th July. Over the last couple of days, I had the feeling I was getting a cold. Years ago, we would have just shrugged that off and got on with life! Now unfortunately a cold can mean the dreaded COVID something I have been lucky to avoid since the start of the Pandemic. I decided to test and it proved to be positive so decision had to be made. The next day we were due to move to our next site anyway. Because I sensed it was a bit more than a cold, we decided that we should make a dash for home whilst I at least felt up to driving all that way. We would obviously forfeit the remaining night at Lady's Mile but I wondered if our next site, Wells Touring Park would show some flexibility by perhaps moving the booking or perhaps a discount on a future visit. None of that was part of their business plan and when I informed them, they rather coldly replied that they hoped my insurance will cover the nearly £200 loss!!! Not quite what I expected. In future I will be very weary of paying upfront for campsites.
It was a long journey of over 200 miles. Fortunately, the main roads were not too busy and we made good progress but it was still just after 5.00pm before we eventually got home. I am writing this a week after our departure as it's the first time I have felt enthusiastic enough to do so. I appreciate that illness and other misfortunes can strike at any time but best laid plans etc.etc!