Wolverley C&CC Site, Wolverley, Kidderminster, DY10 3PX, Tel 01562850909.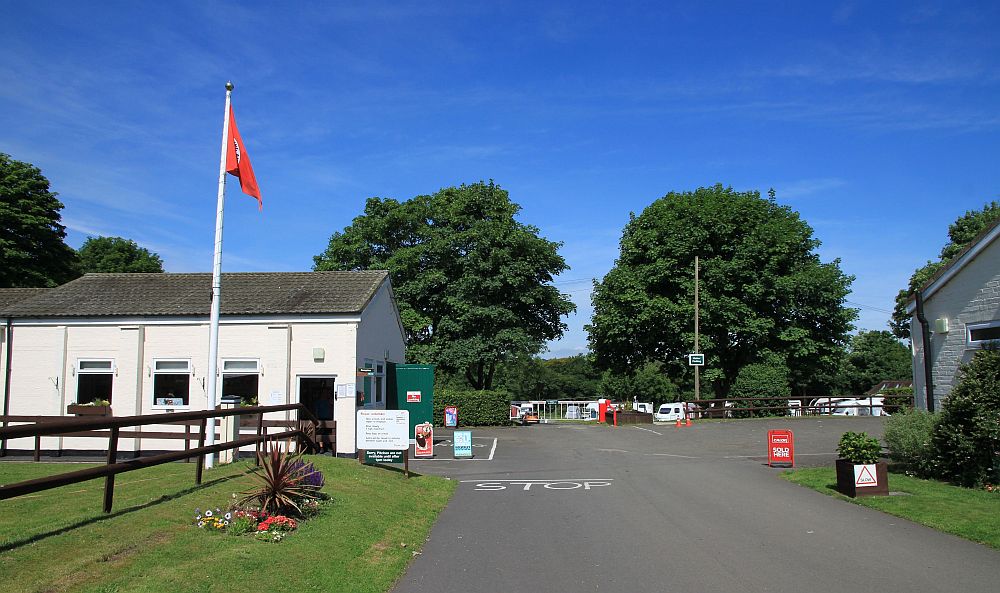 To Find Site:- From the south exit at junction 4 of the M5 onto the A491. At T junction turn left onto A456 towards Kidderminster. (Coming from the north on the M5 exit at junction 3 and take A456 towards Kidderminster) Just before Kidderminster turn right onto A449 signed for Wolverhampton. At traffic lights turn left onto B4189 signed to Wolverley. On entering the 40mph speed limit keep an eye out for sign for site and turn right onto minor road and immediately left into site entrance road and follow road round to reception. Whilst this road is single carriageway there is room to pull over on the verge if you meet another vehicle.
The Wolverley C&CC Campsite is on part of the land which was once occupied by a war time US Military Hospital and is situated a couple of miles north of Kidderminster. It has quite a slope down from the reception area although the 105 pitches are all reasonably level. There is a mix of hardstanding and grass pitches. The site is open from around mid-March to early November and accepts non-members. Electric points are generally handy to most pitches but we had to use an additional cable to reach the bollard near our pitch. They are rated at 16amps and use CEE17 blue connectors. The site has poor terrestrial TV reception but there is no signal booster facilities on site. If you intend to use a satellite dish you may need to select your pitch carefully to avoid some of the mature trees on site. The toilet block is situated in one of the building that originated when it was a wartime hospital but don't be put off by this as the inside of the building has been nicely done with good facilities including a covered dishwash area. The laundry is at the back of reception. Water and waste water points are dotted around the site. The motorhome service point does not have a wide open grill, there is a small drain point to aim for, fortunately it can be approached from both directions to suit but probably a short length of hose would be useful. The only chemical toilet disposal point is next to the motorhome service point. The site does have a WiFi systems but it comes with warnings it might not be site wide. I thought we were pitched fairly centrally but I found the signal pretty poor with numerous disconnections and slow! For children there is an adventure style playground, although older ones might prefer the games room which is on the end of the Reception building, which also contains an information room and some interesting old photographs of its wartime use. Reception sells a few essentials and gas.
Via a gate at the bottom of the site the Lock Inn is only yards away and the Staffordshire and Worcester Canal can be accessed from the bridge. It's a very popular spot as you can have a drink and watch the narrow boats go through Wolverley Lock. From here you can walk, or cycle, into Kidderminster along the canal towpath, it's about two and a half miles. For shopping there is a Sainsbury accessed directly from the canal towpath with handy bike park adjacent to the store. In the town there is also a large Tesco. For those without their own transport there is an hourly bus service into Kidderminster about a 10/15 minute walk from the site, alternatively the local taxis are reasonably priced. Once in town there are onward bus services to Stourport and the Severn Valley Railway also starts in Kidderminster if you fancy a trip to Bridgenorth.