Camping Jägerbude, Jägerbude 3, DE-15537 Erkner OT Jägerbude, Tel 03362888084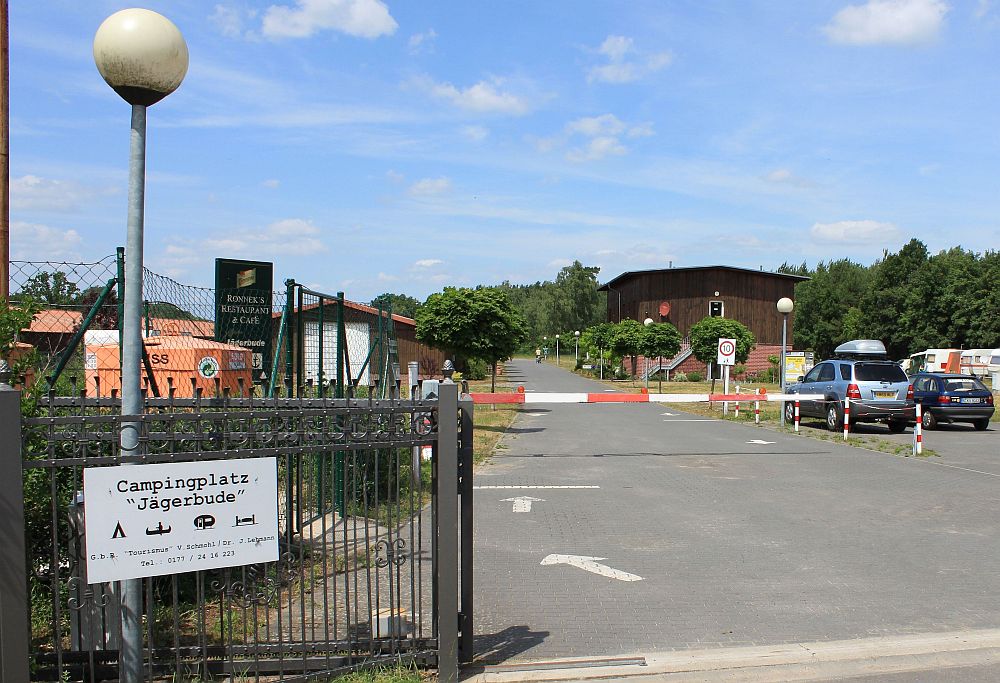 To Find Site:- Leave A10 Berliner Ring motorway at junction 7. Take second road on the right signed for Freienbrink and follow road through an industrial area following signs to campsite. The road eventually takes you over a single track bridge across the motorway and the campsite is a few hundred metres further on. The site closes between 13.00 and 15.00 hours but there is a parking area outside the campsite if you need to wait.
Camping Jagerbude is set of the banks of a river in open countryside close to the A10 Autobahn and is conveniently placed for trips into Berlin by train. It is a gently terraced site. Because of its proximity to the motorway there can be a background noise depending on the wind direction. Pitches vary in size but most are generous. Some pitches have water and waste and a larger pitch size for which there is an additional nightly charge of between two and three euros. You are not allowed to use groundsheets on this campsite. There are some seasonal caravans on site. Electrics are rated a 10 amps and accept CEE17 blue connectors. There is a daily allowance of 5kws after which an extra charge per kilowatt used is made. Cables are locked into the electric bollards so you have no way of monitoring daily usage. The toilet facilities are part of the Reception block and are of a very good standard with seated toilets and paper provided. However showers are coin in the meter as are the dishwashing sinks. The toilet blocks are locked at all times and a key is required for which there is a deposit of €20, the key also operates the site barrier. Reception keeps quite restricted hours but there is a bell that can be used if you need to speak to the wardens. The site has chargeable WiFi but it can only be used in the immediate area of Reception and not site wide as claimed. Also on site is a bar/restaurant, which seems independent of the campsite, where bread can be ordered and you can also buy day tickets for the Berlin transport system. There is a children's play area near the restaurant. Kayaking and canoeing would be a possibility from the campsite. Currently the site accepts both Camping Cheques and the ACSI Card, the latter is slightly cheaper as some extra charges are less with the Card. If you pay by MasterCard there is a 4% admin charge levied. Without doubt this campsite has very good quality facilities but you do feel you are always putting your hand in your pocket to pay for extras especially when using one of the discount schemes an example is that we were charged €2 a night each for Kurtax, the only site we used in Germany with such a tax. Very little English is spoken at Reception. Apart from BBC News 24 and a few obscure English language channels we were unable to get the normal BBC/ITV programmes on our 80cm dish. Date of visit mid June 2011.
The major advantage of this campsite is accessibility to Berlin and it seems less frantic than some of the sites on the western side of the City. There is an hourly train service from Fangschleuse Bahnhof which is about four miles from the site and has excellent free parking. For shopping there is a good choice in Erkner about six miles from the campsite.
Click on thumbnails below for a larger image:-