Wednesday 4th May 2011 and we are about to set off on a tour of the Baltic coast of Germany. Our last trip away in the van was to a site at Woodstock a month ago and I donít recall it having rained substantially since then! Letís hope itís not about to turn pear shaped! I woke up early at around 6.00am and immediately checked the road alongside the house. Fortunately it was free so I went down and moved the car to make sure I could get the van out of the garden without any problems.
I should have perhaps said that we are a week late in starting this trip and had to rearrange our Eurotunnel crossing. All of this because of a potential health problem. I had to have a 24 hour ECG test and had to wait for the results before being able to get health insurance. It turns out I have something called ventricular ectopics which means I have extra heart beats which whilst not particularly dangerous they can be uncomfortable. I did wonder if I should ask the doctor if I was really Dr Who as he has two hearts! The worse part of the recommendation was that I needed to cut down on caffeine and worse of all alcohol, not the sort of advice you want to hear at the start of a holiday! Then to cap it all, or not as the case may be, I broke a filling two days before we are due to leave which meant an emergency trip to the dentist.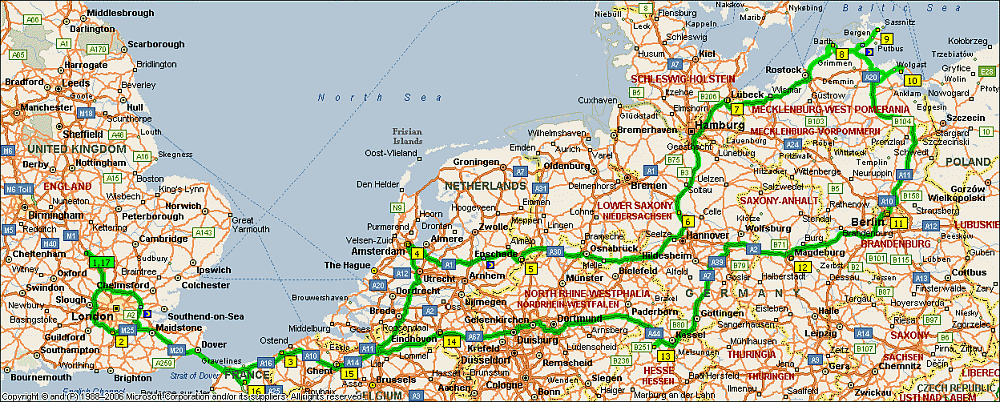 The day was again sunny but the easterly wind, although it had dropped in strength, still had a bit of a sting in it. We were in no rush as we had decided to stay overnight in the UK rather than rush down to the Tunnel and cross to France. Itís a sort of Murphyís Law that if you have plenty of time you always end up being ready to leave earlier than planned. We were on the road by 10.00am. We had heard on the News that the M1, through the road works between junctions 13 and 11, was slow moving. By the time we got there it was moving but not particularly fast. More works on the M25 but moving OK. We arrived at our overnight stop at the Caravan Club site called Alderstead Heath 3 minutes before midday. Having booked in we were told to leave the car and go and find a pitch. The reason is the unusual (for the Caravan Club) barrier at the entrance which comes up from the ground rather like number 10 Downing Street. Whilst it might see a bit too elaborate for a campsite they do have a large storage compound on site which may be the reason. Alderstead Heath is a very large site just south of London near to the M25. It is unusual in having a lot of seasonal caravans. Somehow to me seeing the unused vans set out across the site it makes it look a bit forlorn although I expect itís very different on a weekend.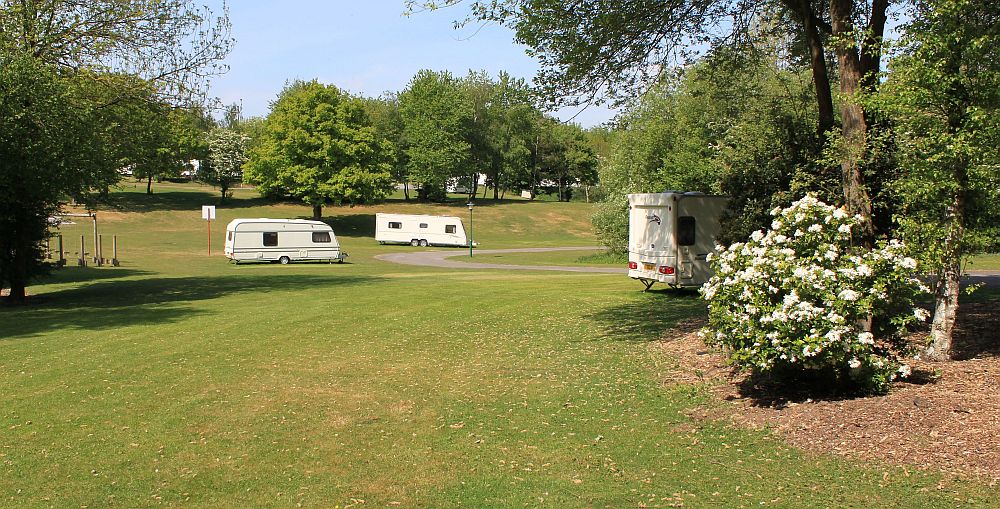 Today we head for the Tunnel and cross into Europe. We were in no rush as our official crossing time was not until 2.50pm so we would be chancing our hand if we arrive too early. Having said that Eurotunnel always put you on an earlier crossing if you do get there early. First we had to work out how to get from the site back to the M25 without retracing out arrival route. I spoke to the wardens about the options and they suggested going north on the A23 and doing a U-Turn by Starbucks coffee shop. We then got into discussions about sat navs and their infallibility. When I looked at Tom Tom he did want to take me down a minor road unsuitable for caravans but when I told him to avoid that road he took me the U-Turn way! By 11.30am we were set to depart and headed for the A23 and did the U-Turn by Starbucks and soon heading for the M25. Traffic was busy until we got to the M26 which was quieter. When we arrive at Eurotunnel we managed to get on a Shuttle which was an hour earlier than our booked time. It still surprises me that the trains have far more capacity than is actually used.
Once in France we headed for Dunkerque and the Belgium border. We had no choice but to follow TomTom and at one point we did not follow, or understand, the instructions but we got to the campsite, Kompas Camping at Westende eventually. I was a bit gobsmacked when I got to reception to be told that they could only accommodate us for one night and that we would have to pay extra on top of the Camping Cheque price because the only pitch available was a serviced one. Plus we had strict instructions on how to place the caravan on the pitch which did not please Margaret as it meant we stepped out onto a bare patch of earth which fortunately was dry! The guy on reception was very nice and spoke perfect English. According to the Camping Cheque book there are 467 pitches at this campsite of which 424 are touring pitches. The trouble is that there is clearly a misunderstanding of what constitutes a touring pitch. It seems to me that the site only has a couple of dozen touring pitches with the rest being what we would consider Ďseasonal pitchesí.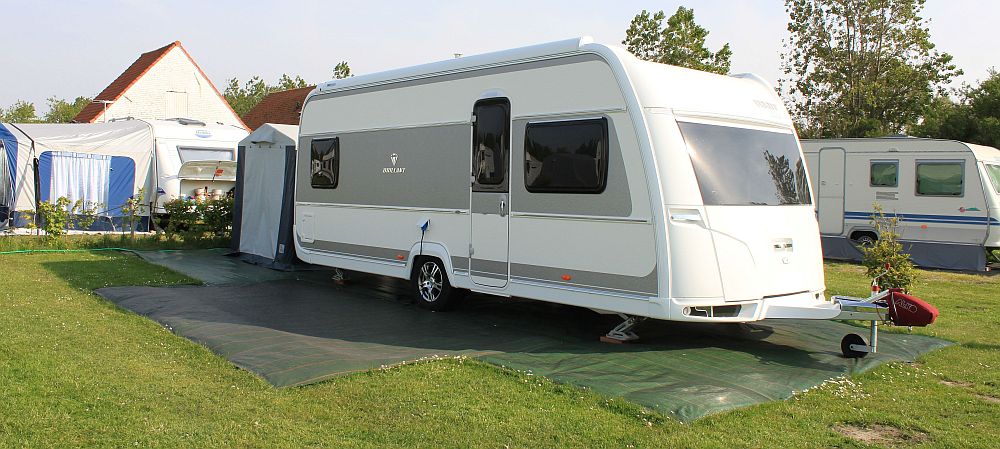 After we had set up we had something to eat and then decided to go for a walk around the campsite. It confirmed our view that the majority of caravans on site were set up for more than a weekend! Went to the reception area but everything from bar to shop seemed closed. We then went in search of the sea which we found from a footpath that runs along the back of the site. We came to a main road with tram tracks running down the middle and crossed over to make our way through the dunes. Interesting to see so many old fortifications, no doubt from the Second World War. You can perhaps understand why the campsite seems so popular given its closeness to the sea.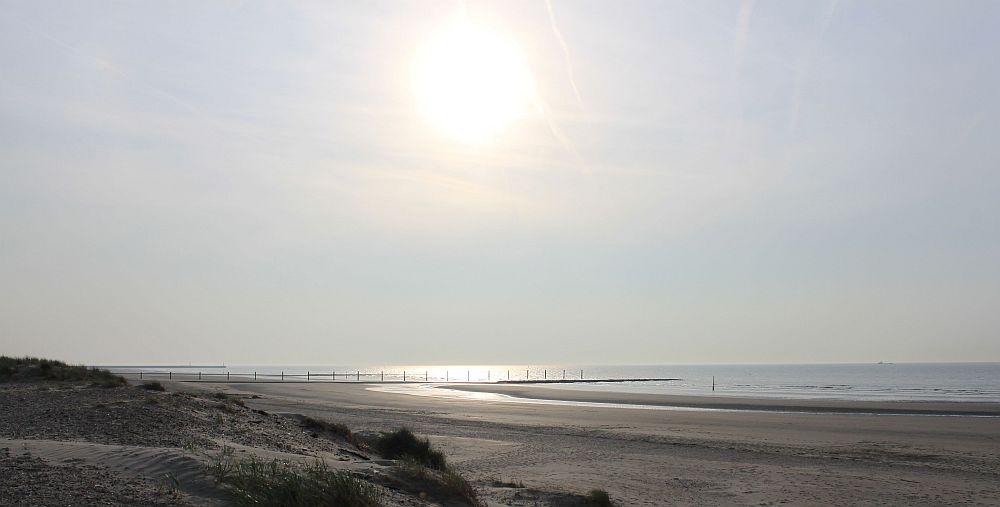 The unavailability of a pitch for a second night rather forced our hand so we decided to move onto Amsterdam a day earlier than planned. We were a bit concerned that the same would apply to our next site but fortunately that was not the case. We were up early and ready by just after 9.00am. We retraced our route to the motorway and realised that it would be difficult to describe! One thing about driving through Belgium and Holland, apart from the high traffic densities is that you rarely go up or down a hill! That coupled with signs that are difficult to understand. However Google translator can be your friend but obviously not whilst driving.
There seemed no rest bite from the traffic and as most of the motorways are only two lane there was little point in overtaking as it was often difficult to pull back into the nearside lane. However as we approached Amsterdam the motorway suddenly widened to five lanes so there was more opportunity to place yourself in the right lane. TomTom did a Stella job in getting us to our destination but even that would not have been possible without Archieís POIís (points of interest) These can be downloaded from his website and I think he is up to about 30000 different European campsites. I wonder if he should offer a prize for any campsites not on his list!
We arrived at Camping Het Amsterdamse Bos by early afternoon. We were soon booked in by the very pleasant lady on reception and sent off to find a pitch. The campsite is part of a large country park to the south of Amsterdam. Although busy it was not full and felt far more spacious than the site we left earlier in the day. Later on we rode around the site on the bikes to see the lay of the land. On the pitch opposite us is a German couple and their tow car is a beautiful Citroen CS. I have seen a few more on the site so assume there must be some sort of gathering nearby.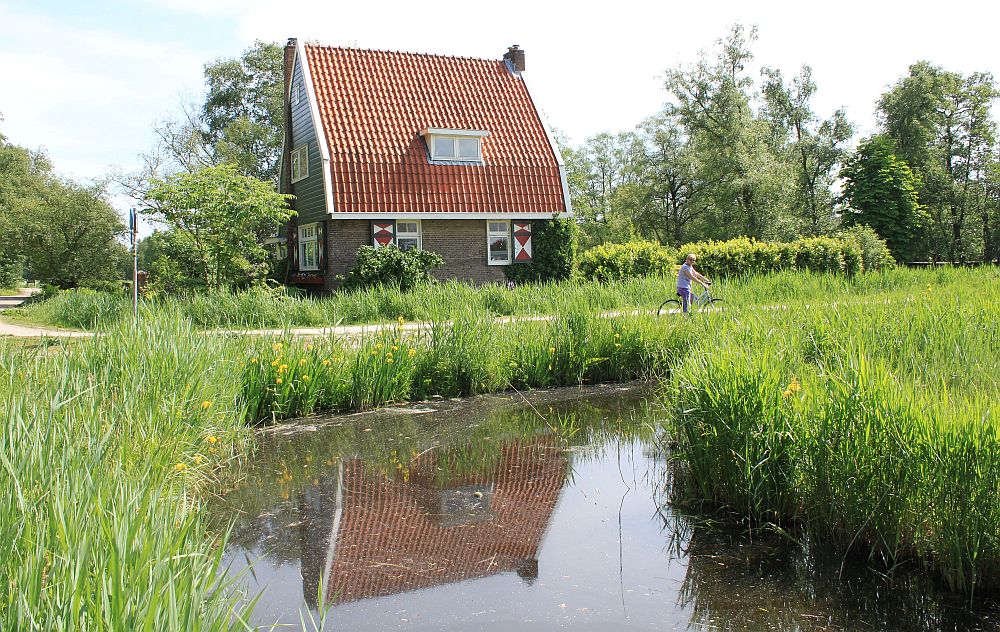 Saturday and the Turkish Grand Prix qualifying but as its European time it gave us plenty of time for a bike ride around the park. The Dutch really do have it sawn up when it comes to providing cycle ways and they even have their own traffic lights. Also interesting to note that motorists are very considerate of cyclists. After qualifying we went to the local supermarket and on the way filled up with diesel. No problems with paying for the diesel by credit card but found no such option at the Albert Heijn even with a bank card. This supermarket chain has a reputation for being one of the better groups in Holland but this does not extend to accepting anything but the Dutch PIN card. Time to get some cash out me thinks! On Sunday we went out for a bike ride before we watched the race and another good result for Red Bull with a 1-2 finish in the GP. Quite a few units departed today including the Citroen fan club.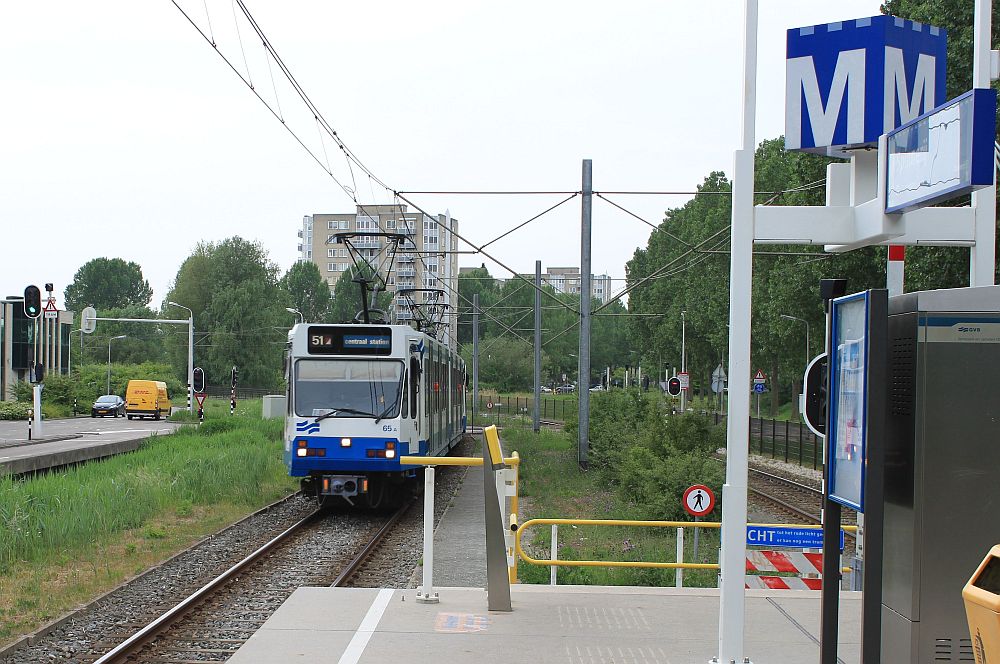 Monday 9th May and the plan is to have a trip into Amsterdam. Although it was fine early on it was getting duller by the minute and we were in two minds whether to delay our trip but in the end we decided to go anyway. So far with our stay we had been really lucky with the weather. The campsite has a fairly comprehensive leaflet on local transport but without the benefit of personal local knowledge itís a bit difficult to visualise. It was possible to take a bus to one Metro station or walk to another. We chose the walking option despite it being a good 15 minutes away. We were able to purchase tickets from the machine at the Metro stop. Ironically the only method of payment was by credit or bank card! The Metro trip takes about half an hour and terminates at Amsterdam Centraal Station. Our only difficulty was that our tickets refused to let us exit the station as I had not correctly validated the tickets before we got on the train. One of the station staff kindly corrected that for us and we were out into the world that is Amsterdam. Why is it that everywhere we go they are trying to improve things? Lots of work going on in front of the Station. Unfortunately it was now raining quite heavily. Our first destination was the Rijks Museum, a place I had wanted to visit for some time. The only problem was that we had under estimated how far away it was and trying to read our small map with the rain pouring down was proving difficult. As we needed some cash we popped into a nearby bank. We asked the guy on duty were we heading in the right direction. He said yes but his view was that we should take a tram. Sound advice and as soon as we found one we got a lift most of the way to the museum. My heart sank when I saw the building as this was also undergoing a major refurbishment but fortunately was still open. As it turned out it was not as impressive as I thought it would be and in my opinion the entrance fee was a bit on the high side at Ä12.50 each. What was there was interesting but there did not seem much of it especially when you compare it to something like the V&A in London. Perhaps the work being done has put a restriction on how much they can show.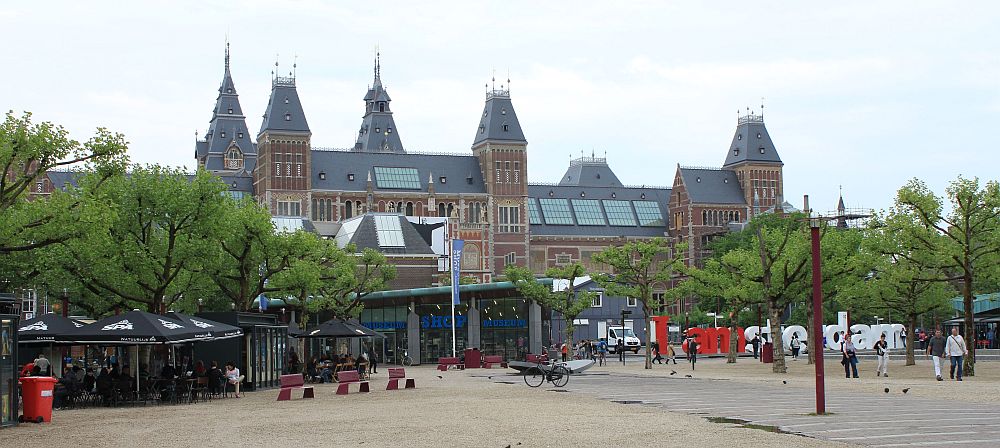 Very near to the Rijks Museum is the Van Gogh Museum which was another must as far as I was concerned. We stopped for a coffee to fortify ourselves. The Van Gogh Museum is quite large with lots of stairs but we could have taken the lift but that seemed like cheating. Although the entrance fee was more expensive than the Rijks I felt it was altogether better value. As a bonus it had an additional exhibition on Pablo Picasso and his works created in Paris between 1900 and 1907. I donít know about anyone else but whenever the name of Picasso is mentioned I tend to think of his surrealist pictures but in his early days the pictures were much more of a traditional nature. It also recounted that his ĎBlue Periodí when his paintings were mainly painted using different hues of blue stemmed from the suicide of a close friend.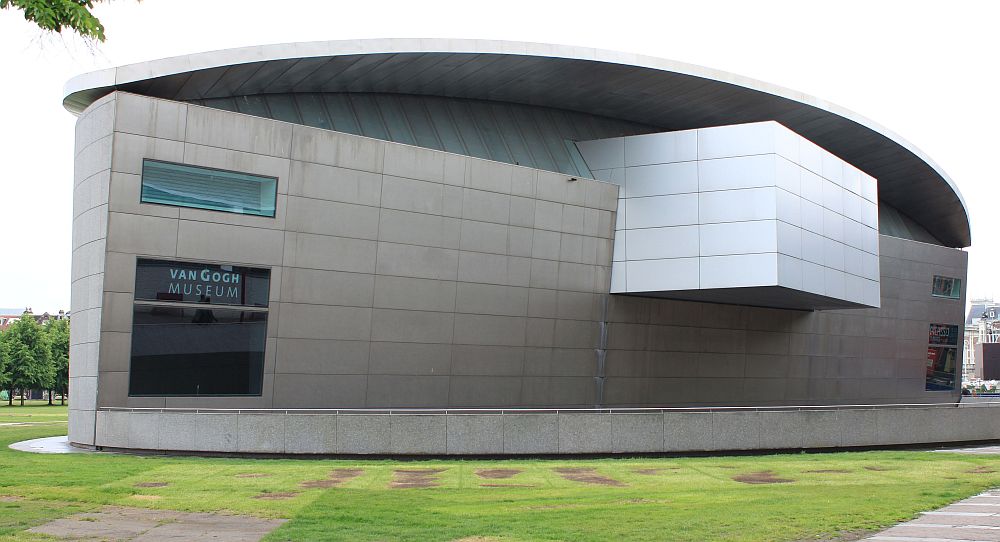 The main part of the Museum is, hardly surprisingly, taken up with the life and works of Vincent Van Gogh, 1853-1890. The one painting of Van Gogh that immediately springs to mind for most people is the famous Sun Flowers. Apparently there were originally five similar paintings although only 3 survive. Interestingly they were painted to decorate the room that Paul Gauguin used when he went to stay with Van Gogh in Arles in the South of France. He painted 27 self-portraits, several of which are on show in the Museum. What I liked about the paintings was being able to see them close up and to be able to see the actual heavy brush strokes with a copious use of the oil paint. He died at the young age of 37 when he shot himself and died two days later. Fortunately many of his works live on and provide pleasure to many.
By the time we had finished we were pretty exhausted and decided to take the tram to the Centraal Station. Before finding our train we had a look around outside the station as the weather had cheered up. Itís difficult to describe the number of bikes, there are thousands of them and they even have their own multi storey parking places. We went off and found our train and counted the stations on the way back. Itís always interesting to see a city from the window of a train and from what I could see Amsterdam looks a pretty pleasant place to live. It was nearly 6.00pm by the time we got back to the van and a refreshing shandy was the order of the day!
All smaller thumbnail pictures, throughout the blog, can be clicked on for a larger image.

Tuesday 10th May and our last full day in Amsterdam. After a few chores we went back to the supermarket to stock up for the next few days. After lunch we again set off on our bikes to explore further the cycle ways in the woods around the campsite. They seem very proud of the Highland cattle they have in the park. We were a bit concerned about riding by them as there were some very young calves, although I suppose they are used to lots of people? On the way back into the site I called into reception to pay but you have to pay on the way out on the day of departure which I always find a bit of a bind. Itís been another nice day weather wise but it cools down quite a bit in the evening unlike a couple of days ago when it was muggy.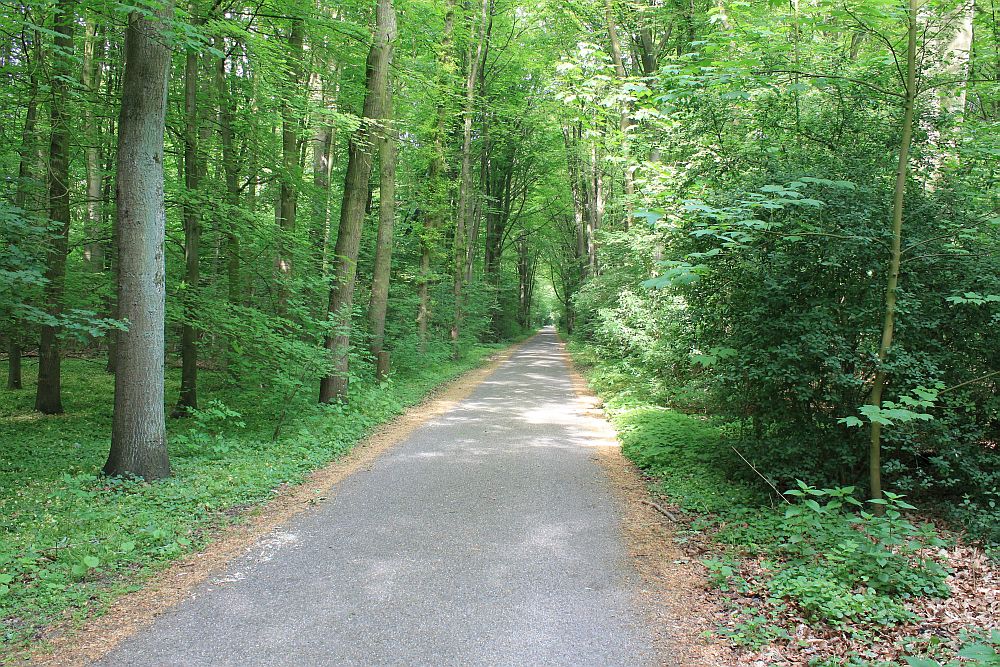 Tuesday and time to say goodbye to Camping Het Amsterdamse Bos. For some reason they would not accept payment until just before you leave so I had to pull outside the gate and park. I decided to pay by credit card despite the 5% surcharge. The jolly lady on reception asked me where we were heading and when I said Enschede I got a quizzical look and she asked why we were going there! Itís the sort of reaction we used to get about Milton Keynes 30 years ago! When I explained that we were heading for the Baltic she understood! Although there had been a few annoying things about the campsite we had enjoyed our stay and also the surroundings with its many cycle paths.
On leaving the campsite we had to head towards the centre of Amsterdam in order to exit eastwards. Some of the place names we recognised from our recent Metro ride. Our journey was only just over a hundred miles and we were hoping to get to the site before they closed for lunch only to miss that deadline by two minutes! We parked the outfit in the car park and went off to look for a pitch. Unlike ourselves who discretely parked away from the barrier control entrance a couple of new comers decided to block everything up. The idea of forming an orderly queue on the Continent is somewhat foreign to them! I appreciate that if there is one thing that us Brits are good at it is queuing and the thought of jumping ahead of someone would have elicited a clip around the ear as a youngster from a parent had we crossed that Rubicon. Camping De Twentse seems a large campsite but with many pitches given over to privately owned statics. However the touring area is nicely done with all pitches having their own water and waste. My waste hose was a metre too short! During the afternoon we set off to explore. There is a lot of new housing near to the campsite, including a new large house which was in the process of being thatched. Our second day at Twentse pretty quiet. We did go out and filled up with diesel, interesting that the price seemed cheaper today. Weather has been a bit changeable today which has really prevented any further bike rides.
After our two days at Enschede we continue the journey into Germany. We were up and away quite early. At least for us! The aim being to try and get to our next campsite before they closed for lunch. We managed to negotiate the school run without too much difficulty but then decide to ignore TomTom and turned left into a residential road and had to execute a quick reverse and turn holding up the local traffic as we did. The German border was not far away and our route took us via Osnabruck and Hannover. Our campsite is quite close to the A7 autobahn. To get to the campsite we had to exit the motorway via a Service area and do a sharp right! When we arrived there was no one in reception but another camper motioned us to the toilet block where the lady of the husband and wife team, Fred and Linda that own the campsite was cleaning. She told us to find a pitch and come back at 3.00pm to check in. Camping Aller-Leine-Tal is what I would call a rustic campsite by which I mean is that the surroundings of the pitches are very natural and have not been gentrified. We were one of only 3 touring units on site although by early evening another four or five had turned up.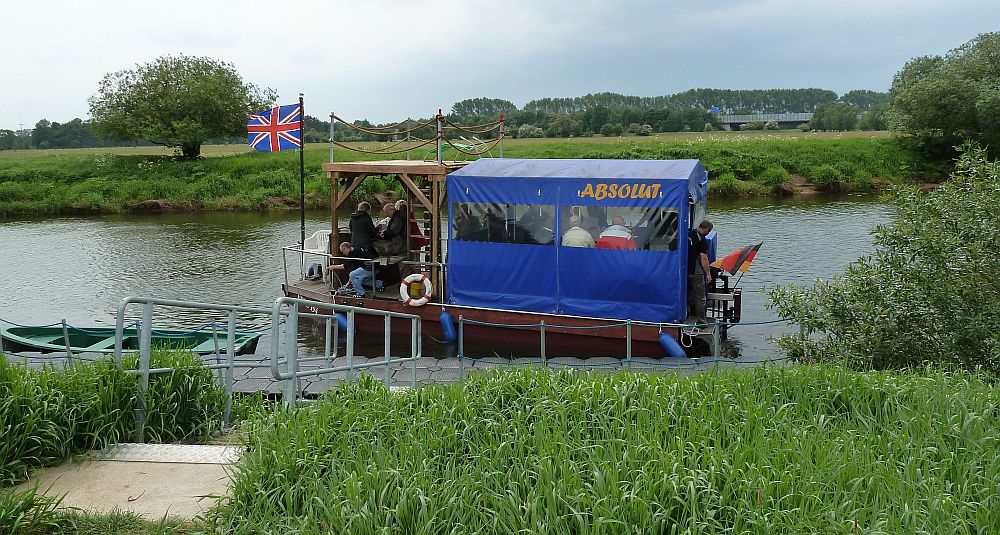 Saturday 14th May and washing day, an unfortunate consequence of longer trips! Linda warned us that it was meant to rain today as she showed Margaret the controls of the machine. Outside the sun was shining nicely but watch this space! Hardly had we put the clothes out to dry when we were moving it under the canopy to prevent another rinse! After lunch we had planned a cycle ride but we were waiting for a gap in the clouds. As we waited I noticed a group of about a dozen people going into the bar. I was puzzle as to where they had come from as there were no cars and they had come from outside the campsite. Anyway we decided to risk our bike ride and rode down to the river and it was there we discover where the group came from. There was a trip boat, well a sort of pontoon. Even stranger was the flag flying proudly from the prow which looked suspiciously like the Union Jack. It does appear that the Hannover region of Germany does use a flag similar to our own. We made our way back to the main road and followed one of the cycle paths up into the forest. Having decided to turn round it started to rain and it came down in bucketfulís! There was no shelter, at least until we were riding by a farm where there was a large overhang on one of the barns but it did not stop us looking like drowned rats!
Sunday and a day of complete contrasts in terms of visits. It looked as if it was going to be mixed day as far as the weather was concerned and its colder now than when we left MK! Our first visit of the day was to the delightful town of Celle which is about 20 miles from the campsite, and dates from the middle ages and in the years since the war there have been various UK bases here. During the Berlin Airlift Celle was used as a staging post for supplies. The Altstadt is well preserved although given the history of the last 70 odd years itís likely to have had a fair amount of restoration. Being a Sunday it was traffic free and being Germany no shops open are other than cafes and restaurants. However there seemed to be lots of other activities going on with local groups having stands and pop band playing in one of the squares. We treated ourselves to a snack of Bratwurst but we were surprised when it only came with a quarter slice of bread rather than a roll. Despite that it was very nice. Later we shared a crepe with chocolate in, so lunch for two for Ä7.50.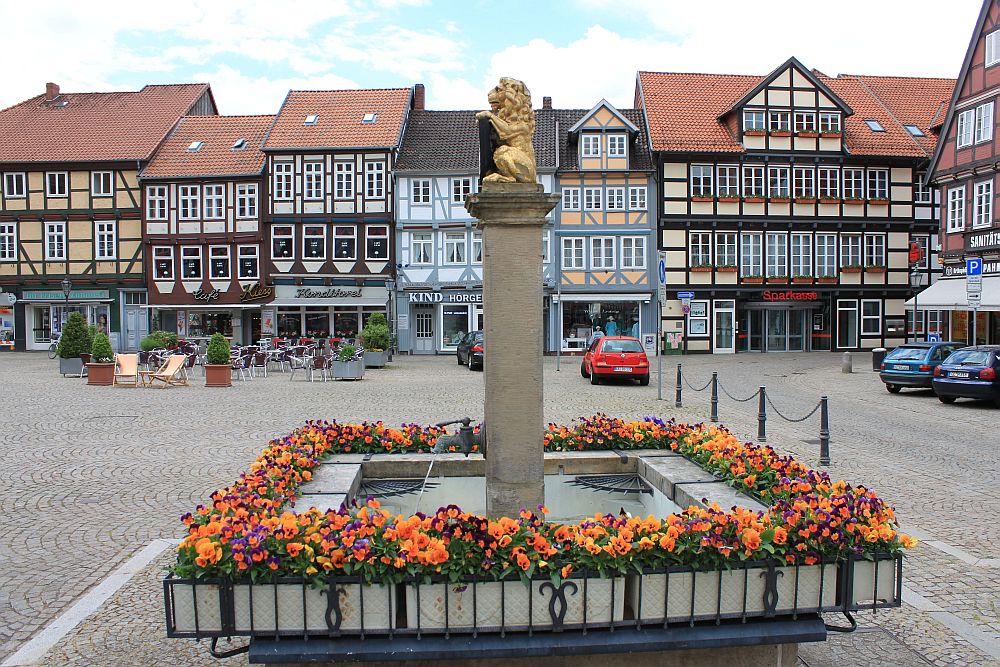 Our next stop was all together more sombre and we were in two minds whether we should go. On the way to the campsite on the day we arrived I had noticed a sign saying Bergen Belsen which sent a bit of a shiver through me. I had not realised it was so near to where we were staying. From a UK perspective it is of interest because it was British troops that liberated the camp on 15th April 1945. They must have witnessed unimaginable horror. The horror was magnified by the fact the so many of those incarcerated in the camp but were still alive when it was liberated died shortly after of disease and malnutrition. It is estimated that between 28 and 38 thousand former inmates who were alive when the camp was liberated subsequently died. This is also the place where the story of Anne Frank came to an end, six weeks before the camp was liberated, as it was here that both she and her sister died.

The place seems to be in the middle of nowhere, no doubt one of the reasons it was converted from originally being a Prisoner of War Camp to a Concentration Camp. It is, as perhaps you can imagine a rather melancholy place with everything being very low key. There are exhibition and information building but we did not feel we needed to go there. Instead we walked directly to the various memorials. The actual buildings of the camp were set on fire by the British troops to stop the spread of Cholera so nothing really remains of the actual camp although you can explore the site if you wish. What strikes you immediately are the mass graves clearly marked with the number of bodies there in. One had 5000 another 2500 another 1000 which illustrates the magnitude of the horrific events that happen here. It is just too much to imagine. In front of the large memorial is an area of individual grave stones although you are warned that they are just representative and do not mark real graves. One is dedicated to the Frank sisters. I know we still have many terrible things happening in the world but the scale of what happened here, and in other places during this time, is almost beyond belief.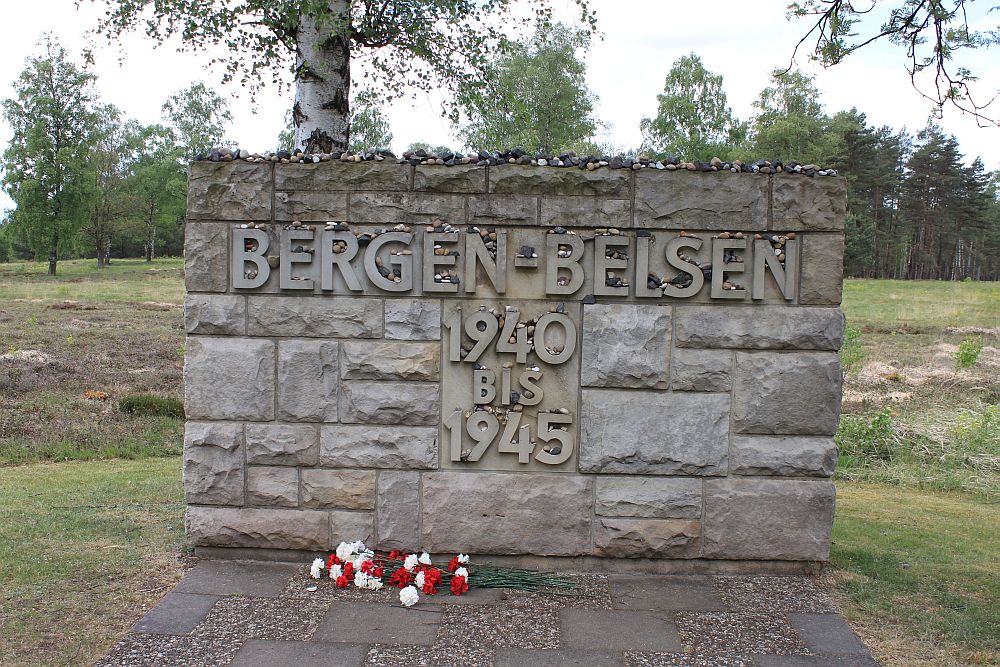 Monday 16th May and we have decided that we will continue our journey north tomorrow. We have enjoyed our stay at Camping Aller-Leine-Tal and have found the site owners a delight. When I went to pay we had an interesting chat about the pros and cons of Camping Cheques viz a viz the ACSI Card and the dilemma it provides to campsites. Earlier we had driven to Schwarmstedt for some shopping and to buy fuel. Fortunately there was a REWE supermarket, which as well as being a decent quality also accepts credit cards which is pretty rare in Germany. Best of all I was able to buy a bottle of Asbach Brandy which I enjoy. Now hereís an interesting thing, fuel prices. On the Practical Caravan web forum there is a contributor called Lutz who lives in Germany. He has mentioned how the price of fuel fluctuates depending of the time in the week. Cheaper at the start of the week but more expensive at the weekends. On Sunday when we drove to Celle diesel was around Ä1.39 a litre, today that price had dropped to Ä1.35 a litre! If that happened in the UK you could imagine that the Office of Fair Trading might have a view on that!
Tuesday and heading further north to Lubeck today. We had rain almost all the way sometimes quite heavy and yet there were places where the road looked dry but not many! Also the roads were pretty naff as they were made of concrete rather than tarmac. It reminded me of the old Winchester Bypass. For quite some distance we were travelling across Luneburg Heide or Luneburg Heath as we would know it. The campsite was well signed from the autobahn and we found it with no difficulties, thanks to TomTom. Fortunately reception at Campingplatz Lubeck-Schonbocken was not closed so we were able to book in immediately. We found a spot where hopefully we will be able to defend a bit of space as many other units seem to be pitched very haphazardly with little regard for safe distances between units. The strange thing is there is plenty of room but some of the units donít want to unhitch. We noticed this at the last site and they are mainly Scandinavians en route. Perhaps itís just the British mind set? At least the sun is trying to force its way through the clouds.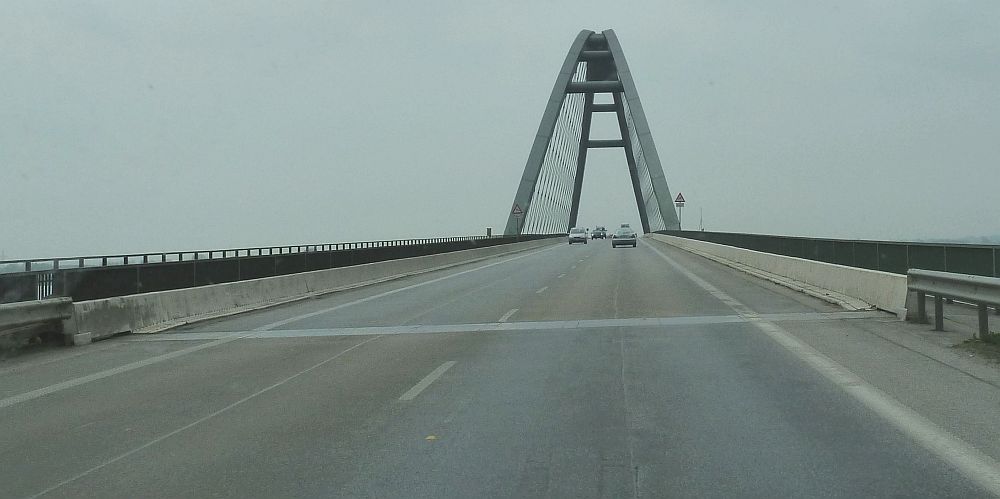 Wednesday dawned dry but still cloudy with a slight risk of the sun making an appearance! We had decided to go out for a drive today to explore north up to and including Fehmarn Island. The plan was to drive directly to the Island and look at the coast of the mainland on the way back. It was motorway almost all the way to the Island although it did peter out as we approached the bridge that links to the Island. We made our way to the Port of Puttgarden and nearly got mixed up with the ferry traffic! Extracting ourselves from the growing stream of vehicles waiting for the ferry we followed the signs to Puttgarden and saw a sign pointing to the beach and camping. There was a small car park next to the shore, difficult to call it a beach as either the tide was right up or there is normally not much in the way of a beach. From here we had a good view of the Port and watched one of the ferries from Denmark dock. It seems that the distance is similar to Dover-Calais. It is a link that I had not appreciated was there and it would be useful for anyone wanting to do a circular tour of Denmark and Germany. We retraced our steps to have a look at Puttgarden but there did not seem a lot there and that in the main seemed to be the story of the Island. There were small hamlets and not particularly wide roads. We clearly did not have time to explore the whole Island so perhaps I should reserve judgement.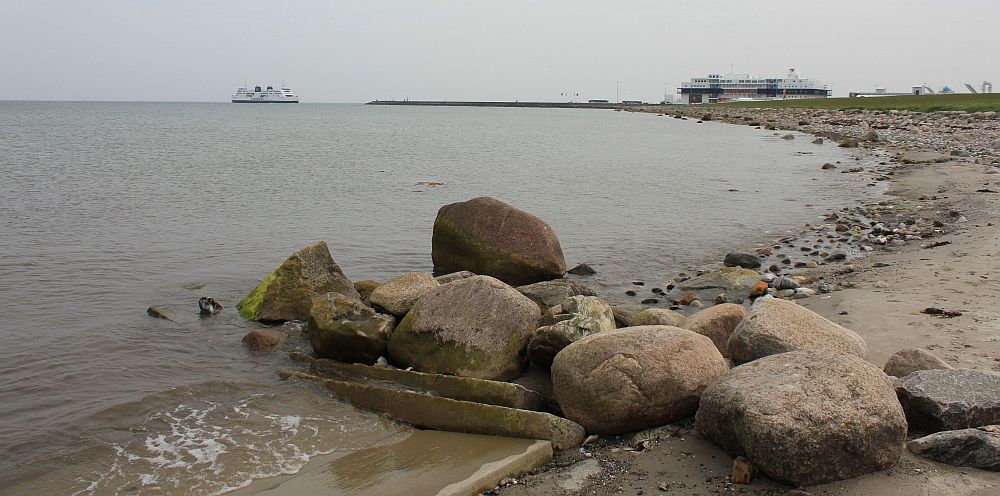 Once back on the mainland it was our intention to exit the main road and explore down to Neustadt via road 501. Unfortunately where we should have turned off was in the middle of some road works so we missed the turning. This forced us to go down to Neustadt and come back on ourselves. In Bliesdorf we followed the sign to the Strand (beach) and discovered a quiet beach which no doubt would be more crowded in the main season but today very peaceful. Retracing our steps to the main road we headed for Gromitz and could not find the sign to Wallitz! More road works so we returned to the motorway and back to the van. We had done a staggering 150 miles! When we left the campsite this morning it had emptied out but by the time we returned its was filling up again and they were still arriving as it was getting dark.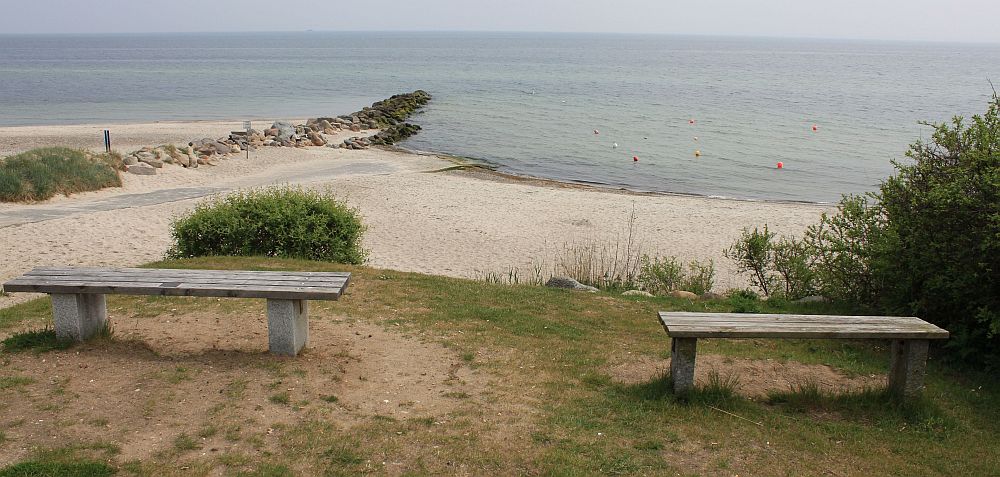 Thursday and a bit brighter early on but the grey cloud rolled in during the afternoon. After such a long day on Wednesday we decided to wait until after lunch before getting the bus into Lubeck. They are pretty regular and the stop is not far from the campsite entrance. The bus took us right into the old city but we soon discovered that our little map on the back of the bus time table was somewhat inadequate. A pleasant couple from Nottingham who had been staying onsite had suggested we got a walking map from the Tourist Information. As an aside people think our trips are long but they will be out for getting on for a year. They left this morning and are on their way to Denmark via the ferry from Puttgarden. I think we got off the bus a stop to late and completely missed the Tourist Office and spent the next half hour looking for it. We did detour into Sankt Marienís Gothic Cathedral which cost us Ä2 each and a reassurance that it was fine to take photos if we wanted. What a contrast to similar churches in the UK! As is the style in this region it is brick built and Sankt Marianís is the tallest brick built church in the world. Unlike Fawlty Towers, mention of the last war in Germany is always much more subtle and the cathedral is a case in point. During an allied air raid in 1942 the bells were damaged and fell to the floor of the chapel below. They have been left in the same position ever since as a reminder of the event! From the photographs the cathedral was quite badly damaged during the raid and required major restoration. A couple of other interesting features is the beautiful Astronomic Clock and I rather liked the door handles which represent a group on people waiting with umbrellas up.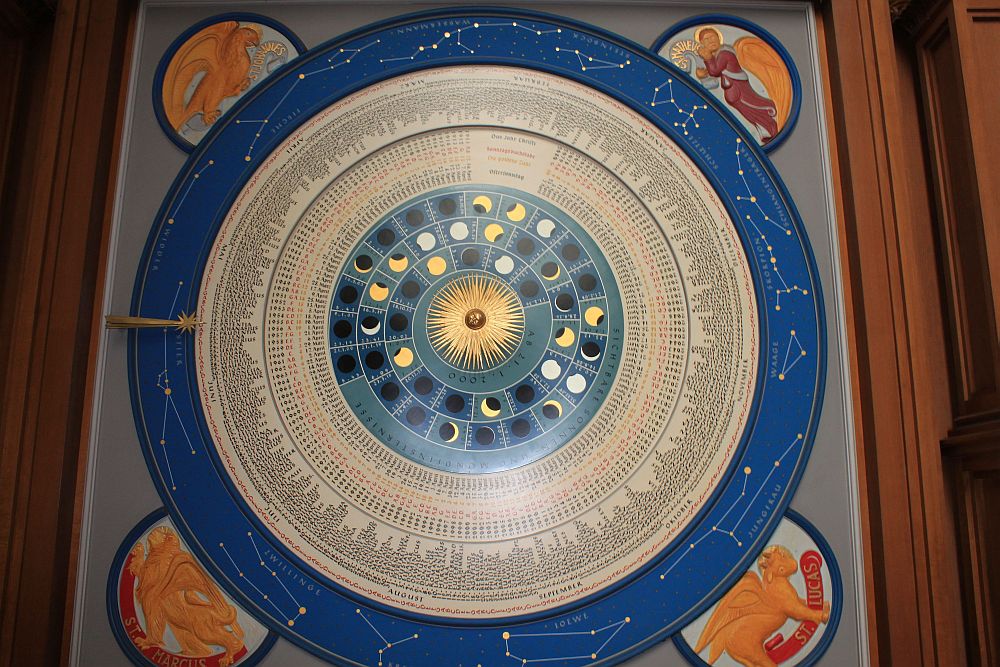 Outside is the market and much needed public toilets although these were the automatic type. They had a long list of instructions in several languages including English with the reassurance that the door can always be opened from the inside! However if you are in there for 20 minutes you risk the embarrassment of your actions being made public as the doors will open automatically! We continued our search for the Tourist Office and seemed to walk round in a big circle to get to it. Had we got off the bus a stop earlier we would have been right outside it. With map in hand off we went along the route as detailed. It started at the Holsten Gate which is the entrance to the old City. The route takes you by famous landmarks and museums. Walking along one street we were suddenly aware of little brass plaques in the pavement. On closer inspection these signified where Jewish residents had lived and rather sadly the fate that became them. We skipped some of the route as I was keen to visit the Willy Brandt Museum. The ladies at this small museum were very attentive and keen to explain. Those of you of a certain age will remember Willy Brandt as being Mayor of West Berlin from 1957 until 1966 a time which included the building of the Berlin Wall and John F Kennedyís Ď Ich bin ein Berlinerí visit to the City. Willy Brandt later went on to become Chancellor of West Germany and spent all his post war life working towards the reunification of Germany. What has this got to do with Lubeck I hear you ask? Well he was born in Lubeck . His dislike and opposition to the rise of Hitlerís National Socialism meant he had to flee the country and he went to live in Denmark and then Sweden as under Nazi rule he would have been lucky to survive with his life. Whilst in exile he campaigned against fascism and was one of the founders of the new democracy in Germany after the war.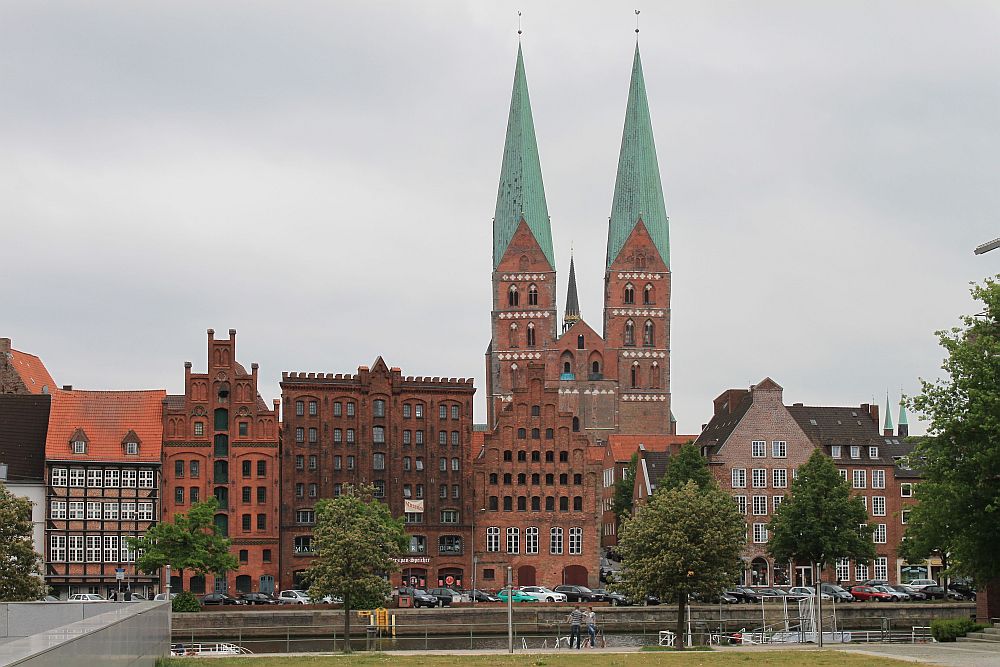 Enough history for one day we started to make our way back through the centre. Margaret spied a C&Aís which have long disappeared from the British High Street but still survive on the continent. Having worked in retailing all my life, albeit never of the fashion side, even I can see why we no longer have them. Perhaps a liking to an overstocked and overpriced Primark would be a good way to describe them. Margaret assured me that C&A have their own special smell although I have to say it alluded me! At least it was free to look and freed up some money for an ice cream. It was soft ice cream in a cone but it was dipped into a chocolate sauce which immediately set around the ice cream, clever I though as well as being very nice.

Friday and another dull start and a few spots of rain so it looked like another afternoon trip out. This time to Wismar which is about half way between Lubeck and Rostock. It is another Hanseatic City, which formed a group of trading cities all along the Baltic coast including those in Poland and Russia and further west on the North Sea. We found somewhere to park, we always have to look for open car parks because of the roof box. It was only a short walk to the beautiful Market Square with the impressive Rasthaus along one side. A mark of these Baltic towns are the massive towers on the various churches, with St Marians being 81 metres high. This is an interesting structure as only the tower remains intact after the rest was destroyed in the war. A placard says that it was not restored for Ďpolitical reasonsí. However they do now seem to the rebuilding to waist height the outline of the original church and columns. They are using bricks made in the original way and it seems that people can sponsor individual bricks. There is an English translation of the process but they mention that loam is used when I suspect they mean clay! There are other churches of varying sizes dotted around the compact City in juxtaposition with modern shops and businesses. Wismar is nowhere near as big as Lubeck but worth a visit none the less. On the way out of Wismar I had to fill up with diesel which was Ä1.409 a litre, was it I wonder more expensive because it was the weekend! We used the old road back to Lubeck rather than returning on the autobahn. We both thought we could be driving through Hampshire! TomTom safely navigated us across Lubeck in the rush hour.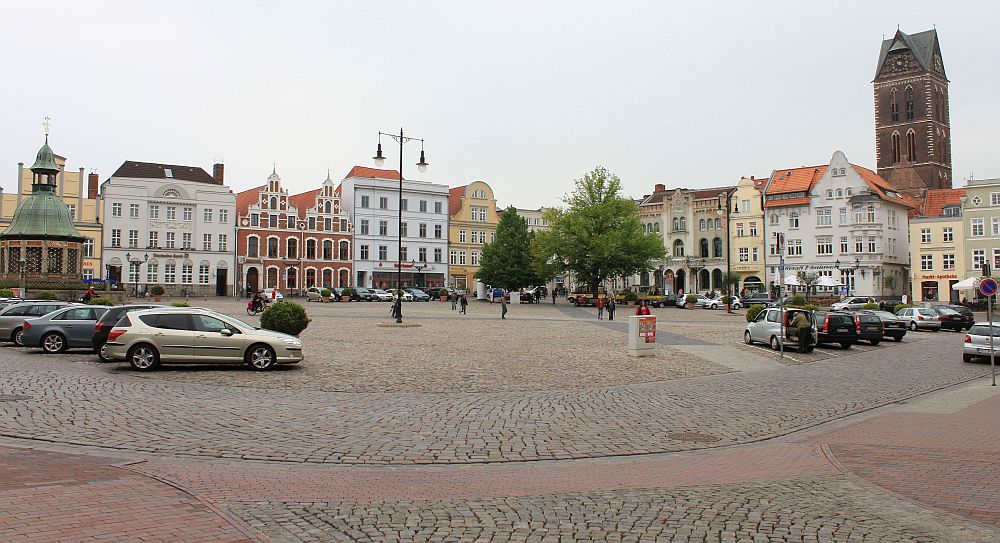 Saturday, busy day ahead, first stop the supermarket to stock up and then back to the van to watch the qualifying for the Spanish Grand Prix. Mark Webber just piped Sebastian Vettal to Pole. After lunch we decided to visit a large shopping centre we had seen on the way to the supermarket. We needed some mineral water as what we had purchased earlier in the day was sparkling which neither of us really like. We have had this problem in Germany before not being able to distinguish between still and fizzy. We went into the Aldi and I plucked up courage to ask a guy in my best (rehearsed )German and we managed to buy the right sort. Although having tasted it I am not sure itís much better ! Should have gone for the Volvic when we had the chance although it is far more expensive than the bog standard stuff. In Germany you also get used to the paying a deposit on every plastic and glass bottle, Itís their way of recycling. I put the water in the car and we continued to look round the shopping centre. There was a massive electrical shop which we did not go into and there was an equally massive supermarket which seemed to sell everything. We got a few non-food bits that we wanted and made our way to the till points. Given some of the large quantity food things they sold I was concerned we had stumbled into some sort of wholesale unit but we were OK. I mentioned to Margaret that some of the till points had Union Jack banners above them and when we got closer they indicated English speaking cashiers. Certainly the young lad that put our things through spoke excellent English. However I was puzzled as to why they would make such an effort as I canít imagine the number of UK visitors to the area would be that large and as far as I know there are no UK garrisons nearby. It did cross my mind that it might be something to do with the large numbers of Scandinavian visitors passing through as they may well speak English rather than German?
The campsite seems even busier today and there continues to be this fascination with the close proximity they like to park leaving little room between units. Whilst we have been on site our immediate neighbour who has been here longer than us has a beautiful twin axle Hymer caravan. There appears to be no obvious forms of immobilising security fitted to the caravan. Had the same van been in the UK it would be festooned with wheel and hitch locks! Unusually the owner smokes a pipe and we often get a whiff of sweet smelling tobacco smoke as he passes by. Although he does not speak English he does make an attempt to speak and I did show him round our van which he seemed to like.
Sunday and our last day in Lubeck and we move further along the Baltic coast tomorrow. The day dawned bright and sunny for a change but it was a little more windy and it seemed to have changed direction. In the morning we went out for a cycle ride thinking we would do a simple circle from the campsite but it turned into a slightly longer ride than we envisaged! All this with no map! I always work on the principal that if you always turn right you will eventually end up where you started from. Having cycled through a residential area for some time we came to a main road although it did not look familiar, however eventually we did end up on the road back to the site. I think we must have been nearer to the centre of Lubeck than we realised! Back for lunch and the Grand Prix and another win for Sebastian Vettal, although it was a close call with Lewis Hamilton only a few tenths behind at the line. Afterwards I went off to pay, Ä111 for our six nights. This site is not part of any of the discount schemes and by the daily turnover it does not need to be! Once I had paid we took the Caravanstore down and packed what we could away. Just in time as it then bucketed it down with thunder and lighting, even lost the TV picture for a while.
Monday 23rd May and we were away from the campsite in Lubeck by 9.00am. I donít think either of us were sad to be leaving this particular campsite, despite it serving its purpose. OK with hindsight we should have chosen a better pitch but the indiscriminate way that people tended to park their caravans and motorhomes made you feel very hemmed in. The autobahn seemed quiet in comparison to the previous Friday when we covered part of the route on our visit to Wismar. At Rostock we left the autobahn for the last 30 miles on local roads. Progress was not swift as they were doing some road works. I also committed the cardinal sin of following TomTom rather than looking at the route on the map. At least it was an interesting last five miles to the campsite and despite going down what seemed like farm tracks the campsite was signed! The booking in process seemed to take an age but we were soon on our chosen pitch. The old part of the site is heavily wooded but a new section across the road is more open and has serviced pitches. We wanted to be in the open as we hoped that we would be able to get UK television but despite having the dish at every angle we could not get the main channels. We are just over a hundred miles further East and almost directly north of Berlin so it was always going to be a challenge for our 80cm dish. Our efforts had not gone unnoticed by several of our fellow guests, both German and Dutch who asked us how we were getting on which was nice. We are the only Brits here and I suspect they donít get that many as nothing is in English and there seems only one person on reception who has a reasonable knowledge of English. I can just about get by in German providing that it is quite straight forward, complications confuse me! After we had set everything up and had some lunch we had a walk round the site. Like most Germany campsites there are a lot of permanent set-ups, some rather strange looking. We then went for a ride on the bikes to check out the environs beyond the campsite and ended up following a path for what seemed miles towards the sea. I am sure it did us good!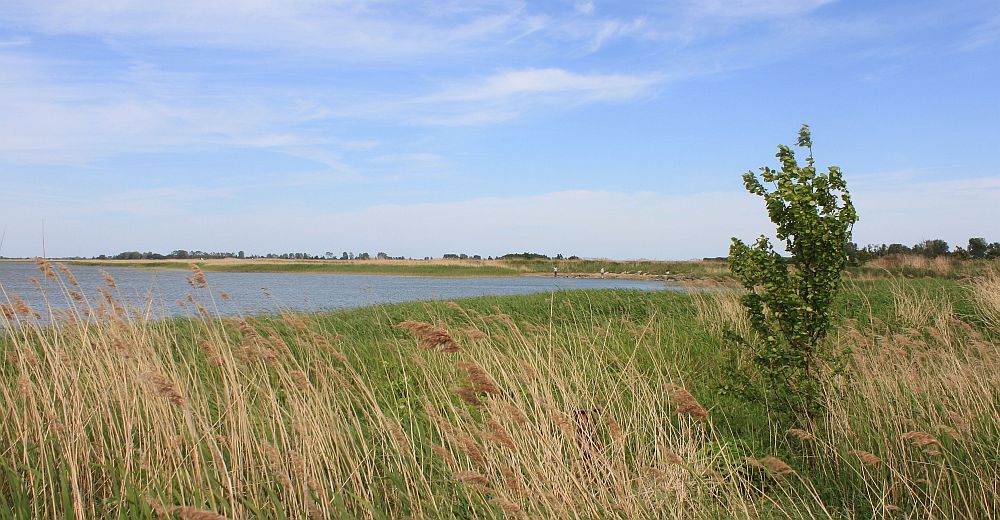 Tuesday started off as a really beautiful day although by mid-morning it had clouded over and started to rain, although fortunately not for long. It was not really a problem as more washing was being done and we had not planned to go out until after lunch by which time it had cleared up. Itís a bit difficult to describe the topography of where we are. We are between Rostock and Rugen Island in the North/East of Germany. The campsite is at Pruchten and between here and the coast is a series of lakes that separate the coastal area whose main town is Zingst, the area is called the Zingst Peninsular. Going away from the coast is the largest town on the Peninsular, Barth and that was where we made for this afternoon. The main entrance to the old town is through an arch in a tall brick built tower and the roads radiate around the market square. It seems as if there are many ruined buildings, whether because of the war or because building where not brought up to standard by the previous administration. At the far end of the town is the Hafen (Harbour) which has been nicely done and trips boats leave at regular intervals. Against the Quay there was even a boat proclaiming to sell ĎFish and Chipsí! One slightly worrying aspect was that all the toilets had been vandalised by having all the coin payment containers jemmied open. Given that they would have only contained a limited number of 50cent coins someone must have been desperate in another way! Going back towards the site we headed for Zingst and continued along the coast to Prerow. There is lots of parking but strangely on the opposite side of the road to the sea. Having had a look around the town and getting completely lost we made our way back to the main road and the site.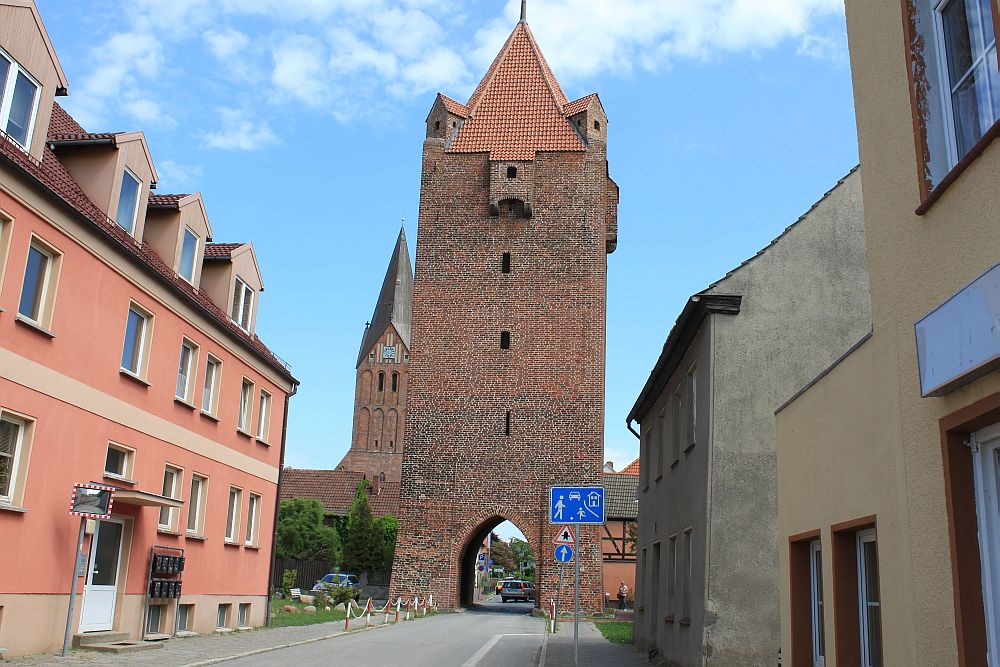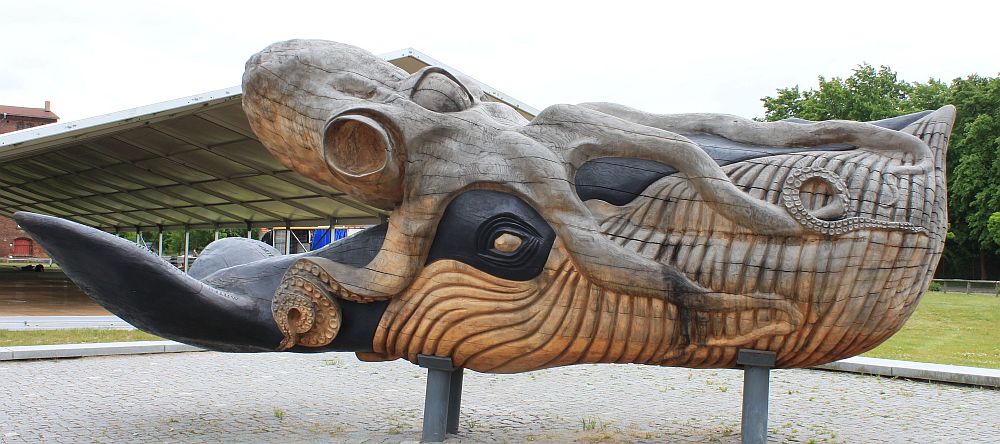 Wednesday, today we decided to visit Rostock which is about a 40 mile drive from the campsite. Rostock is another Hanseatic City set on the Baltic Coast. We had a rough idea of where we needed to be from the Michelin map we had with us. We found the parking area we were looking for but it had a 2 hour maximum waiting time which we thought would be enough time. I was a bit puzzled at first as to whether I could park there as the signs suggested you needed to display some sort of permit. However there were also parking ticket machines so I went and got the maximum time. Firstly we walked over the quays on the river where the trip boats depart from and found ourselves surrounded by English speakers, obviously on some sort of organised trip. We then walked up into the City. Rostock somehow seems more modern than some of the other places we have visited with a vibrant shopping area. There are some old building including two fine churches and a couple of gate houses. With our two hours almost up we set off in search of the car after which we stopped at a large shopping centre just out of the City. I popped into a large electrical store to see what satellite dishes they had, every size you could imagine. I was tempted at a 105cm one for Ä75 but it was a big beast and I was not sure where we could store it as it would have to be dismantled every time we moved, and all for the odd Grand Prix or Coronation Street! There was also a large supermarket where we purchased supplies, not one I had heard of before and they did not take credit cards. Likewise when I filled up with diesel but at least the fuel was five euro cents cheaper than the Shell garage up the road. On the way back we took the pretty route that went along the coast although we are yet to see the sea from a road we have been on as the road is always set back a bit. What we did see were dozens of thatched houses, ancient and modern. You could almost think that you had been transported to the New Forest!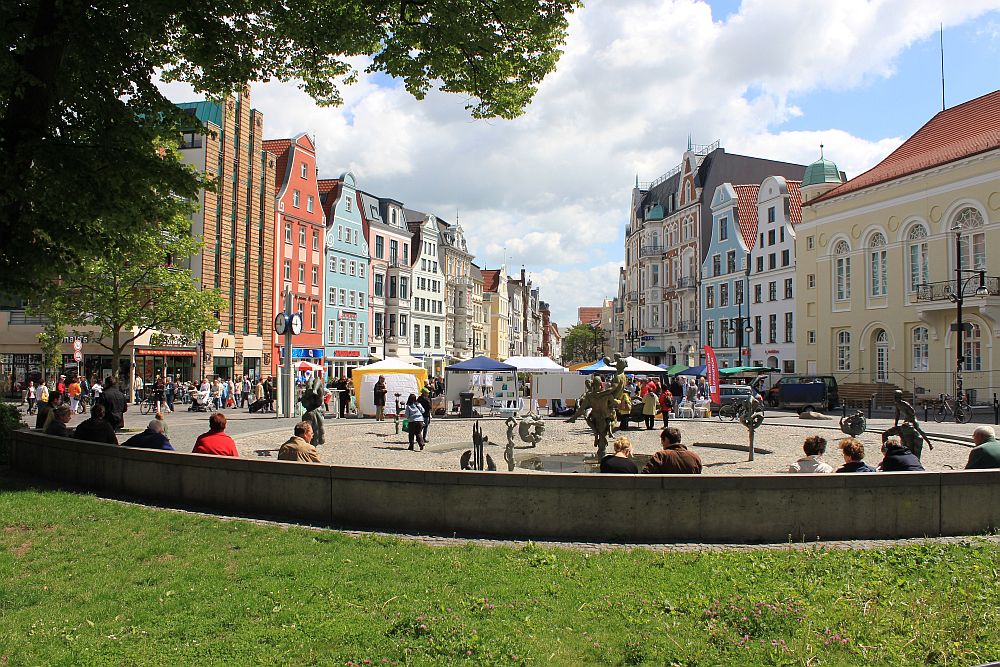 Thursday dawned bright and sunny but very windy and as it was coming from the south it was warm. The morning was spent undertaking a few housekeeping tasks. Because of the strength of the wind we decided to take the Caravanstore down as since the problem we had on a previous trip to Germany we did not want it to damage the van should the wind cause it to collapse on us! After lunch we took the path from the site down to the lake/estuary. You can get right to the waters edge but there is not much of a beach and I was not sure about how clean the water was although I had seen a few sail boarders go back and forth so it must be OK. Not so many people have arrived today although a couple of units had arrived and appeared to turn round and leave. Not sure of the reason as there seems to be plenty of room. In the evening we were having a look at our itinerary as we seem to be in a bit of a dilemma on how to approach the next week or so. It had crossed my mind that we could use our current site as a base to visit all the places we want to see but this does require some quite long drives. In the end we concluded that we should leave here on Monday and spend a few days on Rugen Island and then move further south but still near the Baltic coast before making our way to near Berlin as planned.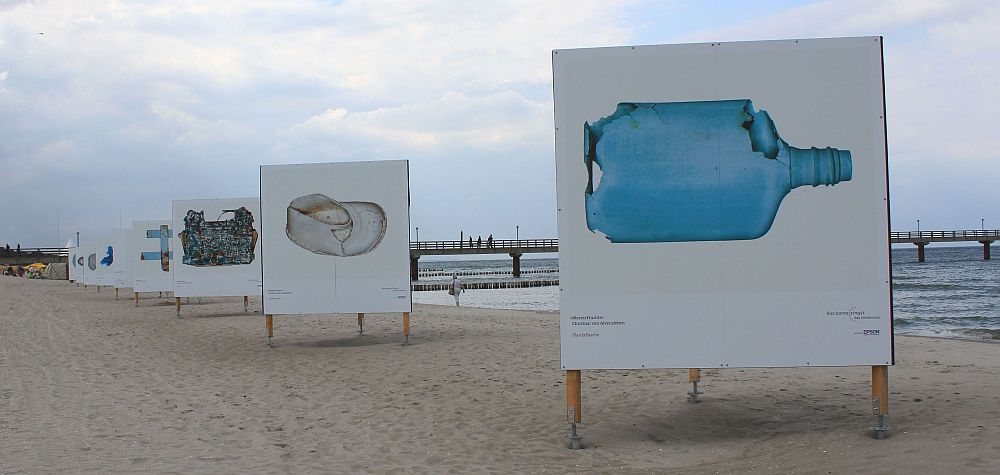 Friday, as it was a bit cloudy we had a run out to a couple of DIY sheds in the morning as it always interesting to see how they differ from home although price wise they seem more expensive on some things. After lunch we drove out to Zingst which is a large (in terms of this area) holiday resort town. There seem to be many large hotels and self-catering accommodation as well as a campsite. And here is the rub about this area, its fine if you are actually in the resort or can get around on a bicycle but to come in from outside in a car it is often difficult to find out where the main car parks are, indeed if they exist where you want to be. We also found, to our cost, that normal parking signs lead to private car parks with no option for turning round! Another strange thing is that none of the seaside resorts have a promenade as we know them, the roads are always set back from the sea. This mainly due to the high embankments that protect the coast but what it does mean that from a car you have no way of knowing how far from the sea you are. Having paid our Ä2 for one hours parking we had a look round. Crossing the road and climbing the embankment we could at long last see the gap that would lead us to the sea. The beach was of lovely soft sand and even on a dull day there were quite a few people about. All the maps have these illustrations of what I call beach baskets or perhaps more properly beach shelters made of wicker. Margaret was getting concerned that after several attempts she had not yet seen one except for those being sold in the DIY stores. Anyway she has achieved that goal as there were dozens on the beach. I suppose the equivalent of our deckchairs but more cosy and of course they can take two people! Nothing of course to do with the sign outside one of the bars which proclaimed ĎFritag, Sex on the Beach, Ä4.20í! Perhaps itís a drink rather than an action! Why was the sex bit in English? Also on the beach were a series of triangular hoardings with photographs of the flotsam and jetsam that is washed up on the tide. Whilst I found it interesting I was puzzled how it might promote this particular seaside resort, canít see it going down well at Blackpool! Zingst also boasts a Pier, as do most Baltic seaside resorts, it's more of a jetty reaching out into the sea. As we walked along new boarding had been laid to about half way, from here was the original boarding which was loose! It started to rain so we headed back to the car well within our allotted time and headed back to the site. The only problem was that with no signing we somehow managed to find ourselves back outside the car park, we had travelled in a circle and got nowhere!
Saturday a pretty lazy day as it was quali for the Monaco Grand Prix. You may recall that I mentioned earlier that we had lost all the normal UK TV stations with the exception of BBC News 24 and the Streams which you get on the Red Button back at home and fortunately the Grand Prix qualifying and race are on the Red Button. I donít fully understand why we should be able to get these when we canít get normal programmes but there you are. During our stay we have been monitoring the comings and goings on the various sites and so far itís been interesting how the weekends are no busier than weekdays, if anything the weekends are slightly less busy. The first site we stayed on in Belgium was the exception. Within the next two weeks there are some holidays in Germany and we are expecting it to get busier and hope that it does not prevent us finding a pitch as we move around. Weather still a bit strange, you can have a beautiful blue sky one moment and then cloud roles in which immediately lowers the temperature. Currently raining and as we had no UK TV we watched the Mama Mia DVD, can you get a caravan to the Greek Islands?

Sunday 29th May and our last full day at Naturcamp Pruchten. It has been dull and wet for most of the early morning. Although it did threaten to brighten up a bit by mid-morning so we decided to go for a drive around the coastal road towards Wustrow. My aim was to find a series of thatched houses which we eventually did and unusually there was space just to pull off road. Moving back to the village we stopped in a proper car park although we did not buy a ticket as we were only intending to be there five minutes. Back at the site more units have arrived today and whilst still not full it is perhaps the fullest itís been since we arrived a week ago. Monaco Grand Prix today and again we were able to watch on the ĎRed Buttoní and Vettal makes five out of six although had there not been a safety car six laps from the end it could well have been a different result with Alonso and Button pressing hard. The next race is in two weeks time in Canada and as we are heading even further east it will be interesting to see if we can get the programme there. After the race I went off to pay, cash or Maestro. It had to be cash as my bank has recently changed from Maestro to Delta which does not seem to be widely accepted in Germany.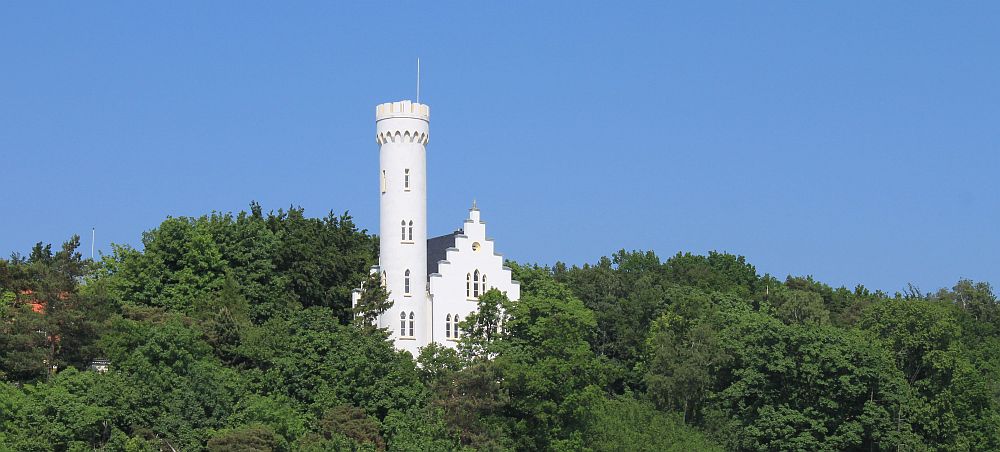 Monday and a relatively short journey in beautiful sunshine onto Rugen Island and our campsite Stortebeker Camp at Lietzow. We arrived at the campsite before 11.00am which was early for us. It was just as well we did as the campsite was almost full and we had a choice of three pitches. None of them particularly large and it was a tight squeeze to get everything on the pitch. After lunch we had a walk into Lietzow, such as it is.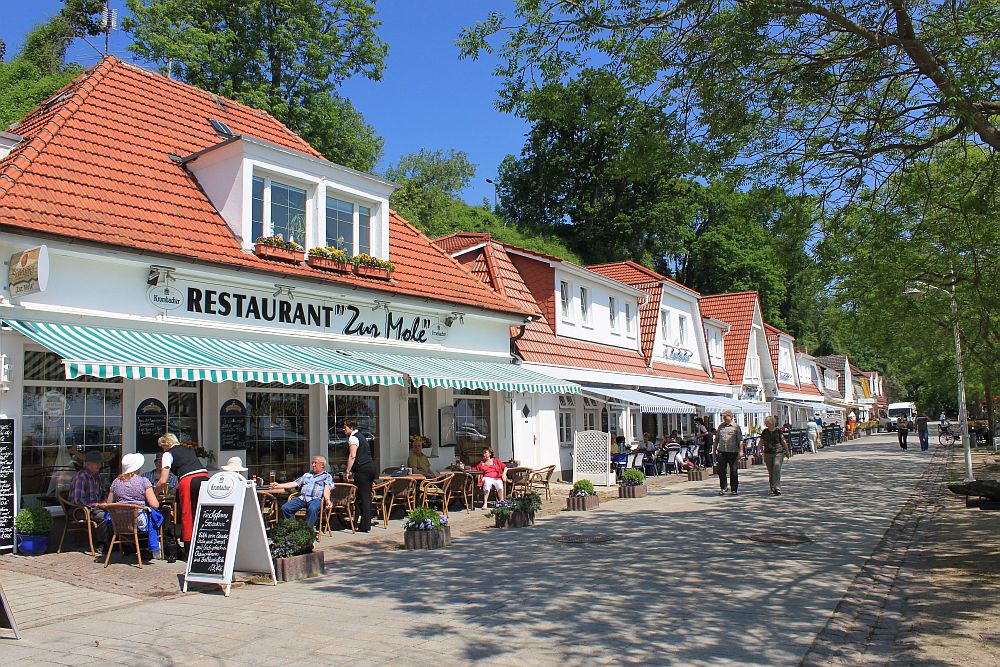 Tuesday and the last day of May. We set out to explore some of the Island today. Our first stop was at Sassnitz which is a busy fishing and ferry Port. Why is it that everywhere we go they are digging everything up? It looks as though they are creating a nice Promenade which I am sure will be lovely when itís finished! We saw a sign to a U-boat museum which sounded quite interesting, but when we got there it was not a U-Boat but a 1963 British submarine HMS Otus! We had a walk round the Harbour and was surprised to see a boat registered in Southampton. Another unusual feature were the boats around the Harbour which were not quite floating restaurants but floating snack bars. We headed out of town to Sagard where the roads were cobbled and rough enough to make your fillings fall out! Fortunately tarmacadam resumed after a short distance as we headed out around the edge of the Jasmund National Park.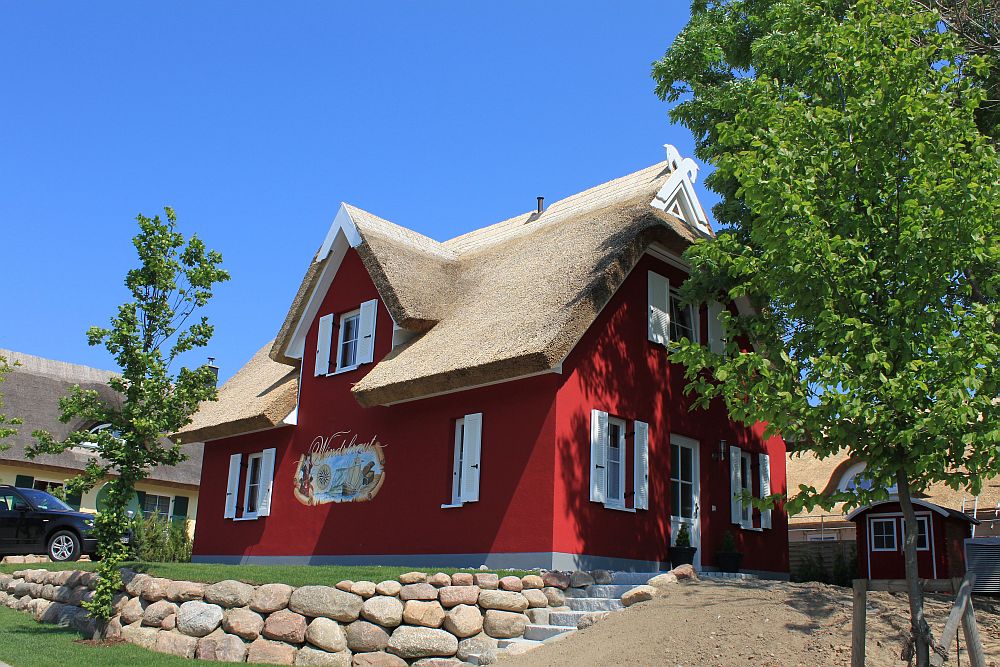 At Glowe I spied a new development of houses, but no ordinary house as they all had thatched roofs so I stopped to take some photos. From Glowe to Juliusruh the road runs along a causeway with the inland Bodden on one side and the sea on the other. Strangely from the road you can see neither as each side of the road is heavily wooded. However there are car parks at regular intervals and we pulled into one to have a look at the beach which was long with beautiful sand. They were even doing work on the beach with diggers etc. However this may have been for a sand sculpture exhibition that we had seen advertised along the road. There were quite a few people on the beach enjoying the beautifully hot day including a couple of people with no clothes on! Now I have no objection to people sunbathing with no clothes on but these people were standing around showing their wares almost as though deliberately flouting their nudity Ė most strange! Just as well itís not Friday!

After that shock we moved on to the western side of the Island through Wiek and Bischofsdorf. We were heading for a ferry, called the Wittower Fahre, to take us across Breetzer Bodden. The only other option was to retrace our route going back the way we came. It cost us Ä5.70 although when we got back to the van it should have been Ä6.90 as we were only charged for one person, they obviously missed me as I was off taking photographs!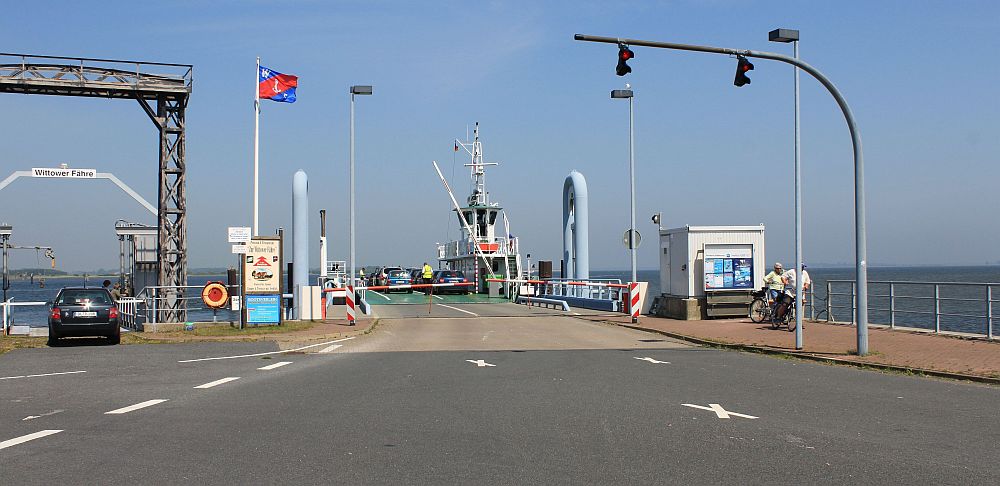 At Trent we headed further west to Schaprode where a foot passenger ferry goes across to Hiddensee Island. It was not our intention to visit but it was interesting to see the number of cars in the car park left by people who had travelled to the Island. There were still people arriving with suitcases. From here we drove onto Bergen which I think is the main town of the Island but somehow we missed the centre and made our way back to the campsite. It seemed no sooner had I downed a nice cold beer than the wind started to come up. This usually means a change in the weather and by early evening it had started to rain coupled with thunder and lightning.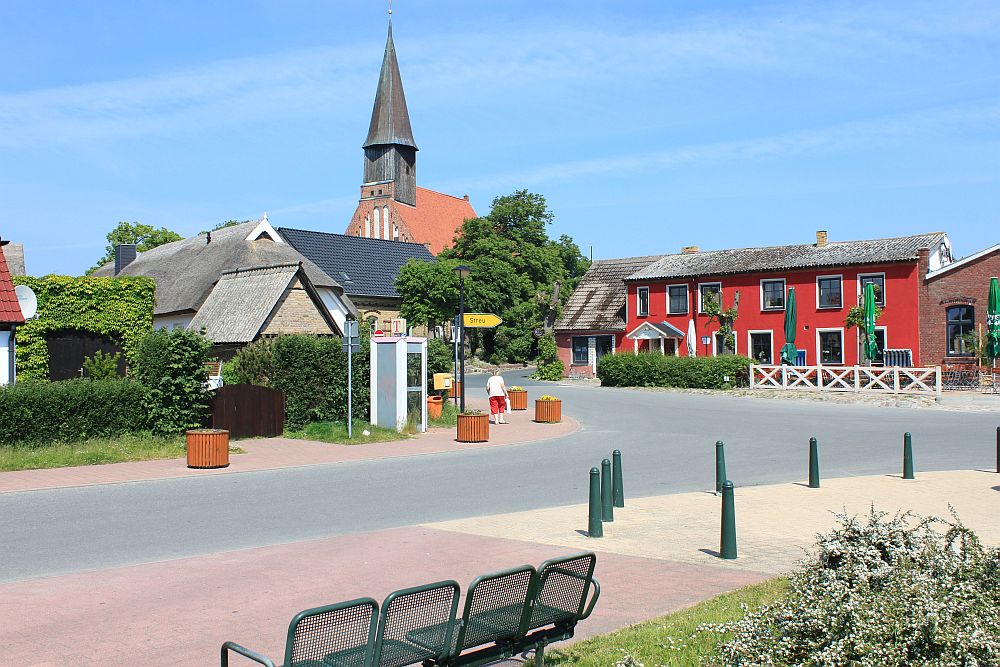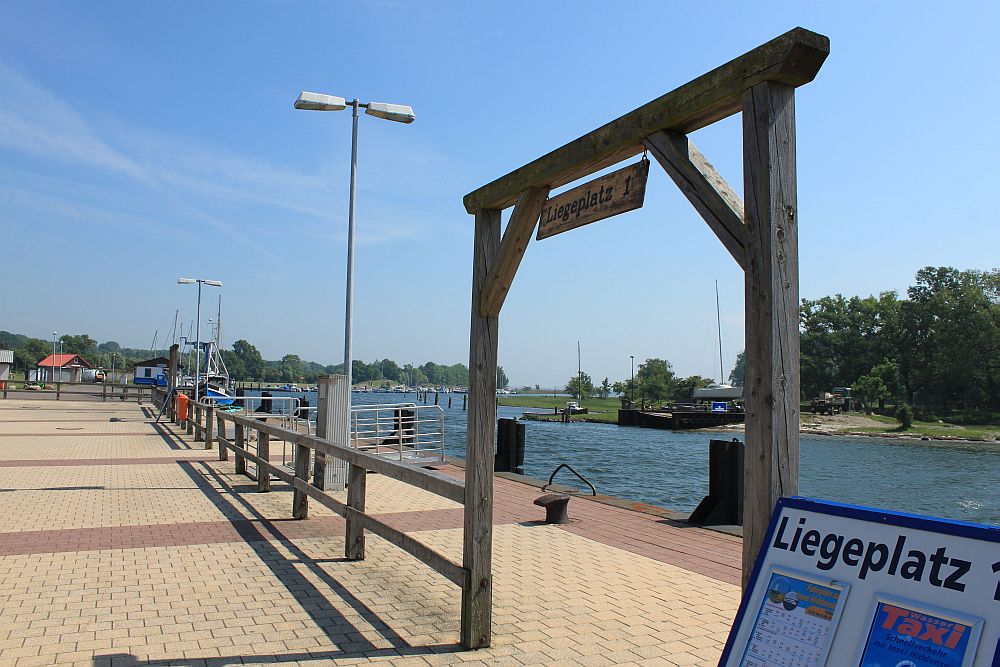 After a very stormy night Wednesday did dawn bright and sunny but the temperature was a lot lower than the day before. Early on I did use my Vodafone dongle to connect to the internet, have no idea what the cost was but it should be no more than £10 but we will see! Afterwards we went shopping. I felt I needed some more cash as we seem to have to pay for more things than we hoped with cash. I saw an ATM and decided to use it but it rejected me, how dare it! It said I was unauthorised to use the machine. You can imagine the notes I was making to go into my letter to NatWest! Fortunately later when I tried again at another ATM I was successful, perhaps initially I had tried to take too much out.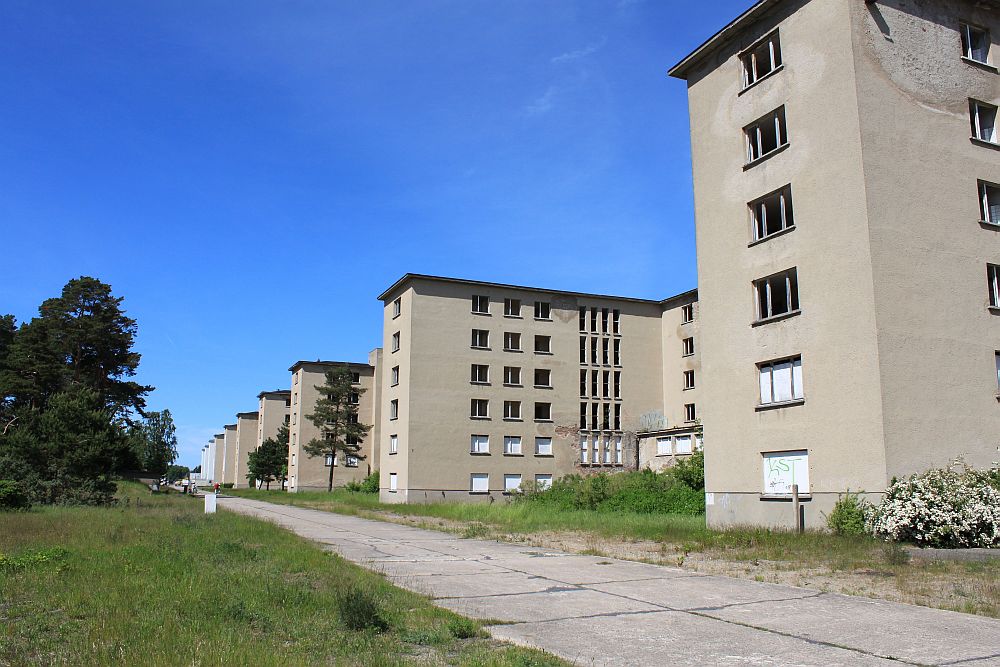 After lunch we resumed our tour of the Island. Our first destination was perhaps a little unusual but fascinating none the less. On the coast at Prora is the location of a pre-war Nazi dream. Nice Mr Hitler decided to build a massive holiday complex. The idea was to provide German workers with the opportunity to have a holiday by the sea. Run by the Nazi organisation Kraft durch Freude, ĎStrength through Joyí or KDF for short. Whether it was to be free or how people were chosen I have no idea but it was part of the programme. I seem to recall my ex employers had training sessions like that! The problem was that it was others deciding what was best for the masses. As Willy Brandt said, what fascism did was to remove the ability of the individual to have freedom of thought. Prora was started in 1936 but work stopped at the outbreak of war and it appears never to have been used for its original purpose. It is without question a massive structure and I suppose it is surprising that it has survived so long. Much of it is vandilised with graffiti and there is not a pane of glass to be seen. However at the northern end a small part of the building is being refurbished and converted into a Youth Hostel. Like many structures or locations associated with the Nazi era the Germans are not helpful in letting visitors know where these places are and so you have to some extent rely of prior knowledge of their existence and location. There is a small information point but it is all in Germany and the guardian looked quite bored as visitors seemed few and far between.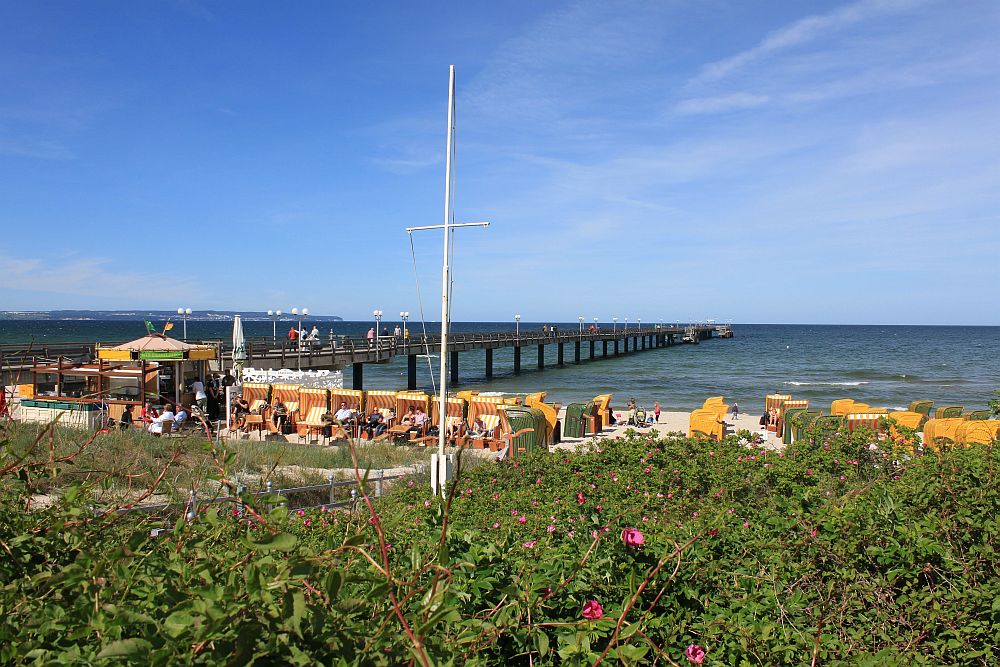 A few kilometres down the road from Prora is he delightful seaside resort of Binz. I am not sure what the residents of this genteel town made of the imposition of Prora on their doorstep but probably a bit like the suggestion that Frinton on Sea should introduce a nudist beach! Given the political environment at the time I doubt they had much input. Anyway back to Binz, it is indeed delightful. It seems to be a high quality holiday resort without being flashy with wall to wall Ferraris. Clearly since the fall of East German much money has been spent on returning the town to its former glory. Back at the campsite on the pitch next to us was a camper van with Isle of Man plates, the first UK plates we had seen since leaving Lubeck. The couple were heading for Sweden via the ferry from Sassnitz.
Thursday and a Bank Holiday in Germany. During the morning it was time for a few chores although Margaret had to wait for the only washing machine to become available. Fortunately a nice sunny day to aid the drying process. Another couple arrived on the pitch vacated by the Isle of Man camper van. The new couple, Bernie and Roland both spoke to us in English despite it being a German camper van. It transpired that they came from Kiel and he was German but she was originally from Northern Ireland. I sensed her accent was not German and thought, until corrected, that she was from the south. It turns out that Roland is a big Beatles fan and has been to both the Liverpool and Hamburg Beatle Museums. He seemed quite impressed that both Margaret and I had seen them live on stage at the beginning of their fame. On the other side of them a young couple arrived with a tent and we soon realised that they had been on the same pitch only a couple of days ago.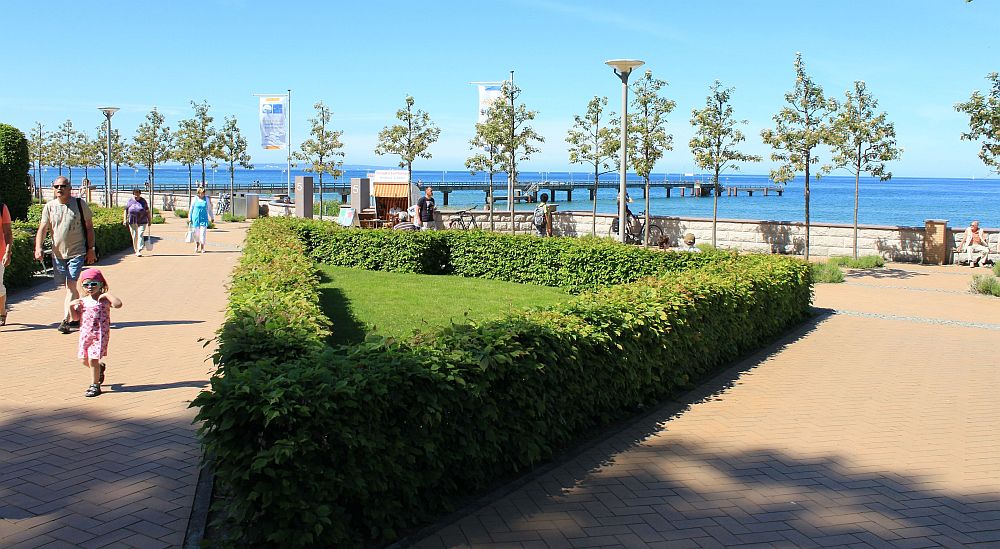 After lunch we drove out to Putbus initially to try and find the narrow gauge railway that goes from here. We did find it but missed the parking but did see a steam train. From here we moved on to GŲhren on the coast. It is a pleasant seaside resort although not as grand as Binz. It is also hillier. Parking again a bit of a difficulty although we did find a spot which only required timing card and was free for one hour. We made our way down to the sea which was of a lovely fine sand. Like other resorts we have been to GŲhren also had a Pier. Not quite in the sense of Brighton but a high jetty going out into the sea where trip boats can disembark. We wandered back through the town to the car park and made our way back to the car and then the campsite. The campsite were holding a BBQ event at the restaurant to celebrate the Bank Holiday. We however intended to eat at the van. In Germany at the moment is a serious outbreak of E-Coli and as yet they have not found the source although the Government here are recommending that people donít eat cucumbers, salads or tomatoes. Originally it was thought that it originated from Spanish cucumbers but this has now been over ruled but not before most stocks were destroyed and possibly the Spanish growers as well! It is quite a scary time and itís difficult to know quite what to do. There has been some sound advice on the BBC News.
Friday and our last day at this campsite and on the Island of Rugen. We have enjoyed our visit to Rugen and its proved a worthwhile journey despite the distance. I doubt it will be on everyoneís itinerary but for the more adventurous its worth considering. We have had a fairly lazy day today although we did go for a bike ride down to the Bodden although we discovered that unless you wanted ride for miles alongside the main roads there was not many places to explore. Itís been a lovely day today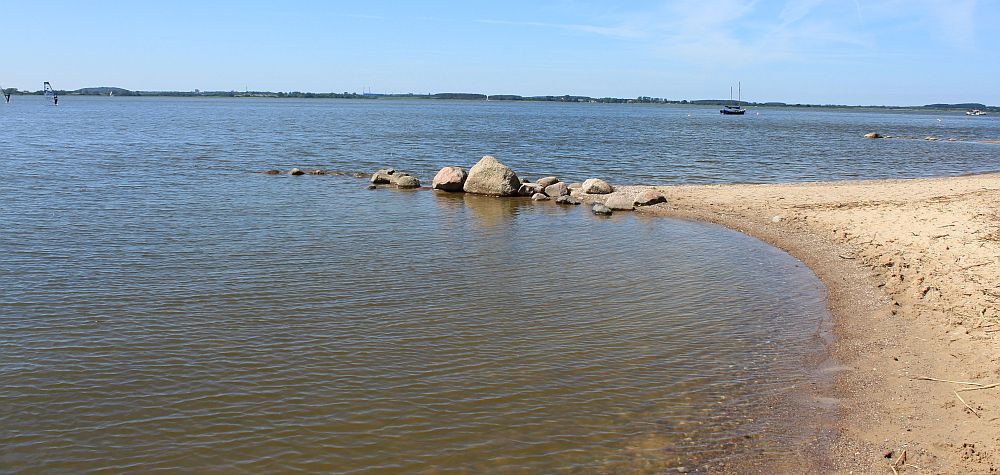 Saturday, we left Lietzow today and headed a bit further south to LŁtow which is near Wolgast in an area called Usedom but still near the Baltic Sea. The journey was a bit slow in places but it was only 77 miles. The last few miles to the campsite was very narrow. The site we are staying on, Natur Camping Usedom, is a bit of a Marmite site, you are either going to love it or hate it! It is located in a forested area and its layout is very higglety piggoty. Despite all the room the pitches are quite cramped and I donít think a lawn mower has been out since last year! After setting up and lunch we had a wander around the site. It slopes down to the edge of Achtenwasser where there is a narrow sandy beach which I am sure is very popular. Going back to our arrival, as we pulled through the barrier and I was waiting for Margaret a chap approached the car and he turns out to be English. He explained that he looks after all the hire bikes on site. He stayed in Germany after leaving the British Forces. He spends about three months a year on site to sub his trips to Turkey.

Sunday 5th June dawned bright and sunny. We were off to visit Peenemunde today which I suspect the Germans think of as the birthplace of space travel rather than a place where the V1 and V2 rockets were developed and wrought so much misery on London and elsewhere. First we had to get there and we thought that via Zinnowitz and up the coast would be the best option but this proved to be a lost cause so we came out of town towards Wolgast and followed a sign post to our destination. Perhaps itís the nature of the subject but we have found trying to find any sites associated with the second world war and particularly associated with National Socialism to have very poor sign posting despite always appearing to be busy when we actually get there. In this sense Peenemunde Historical Technical Museum was no exception. It was not until we could actually see the site of the museum that it became obvious where it was. Perhaps this omission is understandable from a German point of view but frustrating for us auslanders. It seems strange that such a facility was created in such a beautiful part of the country but a glance at a map will illustrate why as it is right on the edge of the Baltic Sea which was a perfect area in which to make test firings out to sea. Once inside the museum there are various exhibits in the grounds which unfortunately were in German only but inside the exhibition halls it is in both German and English which is useful. The building is quite eerie in parts. Clearly when you start out on what was a new technology it takes many years to get it right and it was only in 1943 that the full force of support of the Third Reich came into being as things were not going to plan elsewhere. Up to that point Hitler did not have much faith in rockets which of course could have been a blessing in disguise as otherwise this form of weaponry would have been available earlier in the war and could have changed the course of history. The Museum not only focuses on the development of the V1 and V2 but also highlights what happened after the war in other countries particularly in the USA and USSR and all this a continuation of the development work carried out at Peenemunde. The building of the actual rockets was later moved into central Germany as the allies got wind of what was going on in Peenemunde and started bombing raids to interrupt the work being carried on. Perhaps one should not leave this subject without paying homage to the many thousands of slave labourers and the like who gave their lives in the course of construction and continuing work of the centre.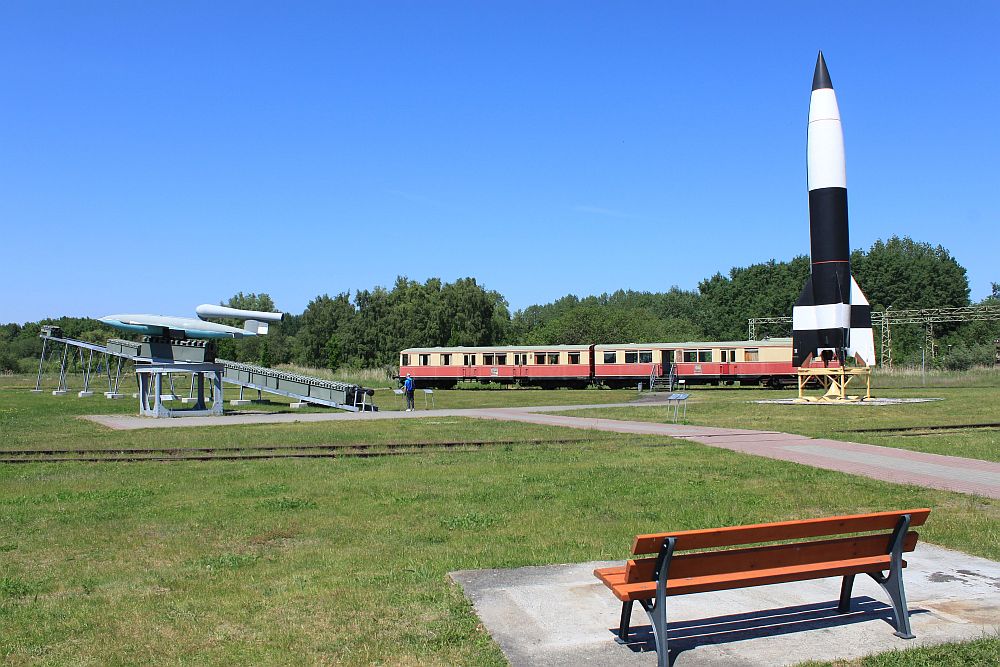 Had Peenemunde, the facility, not been there you could imagine that this would have developed into a holiday destination of it's own accord. Along the quay there is another U Boat, Museum, this time a Russian one.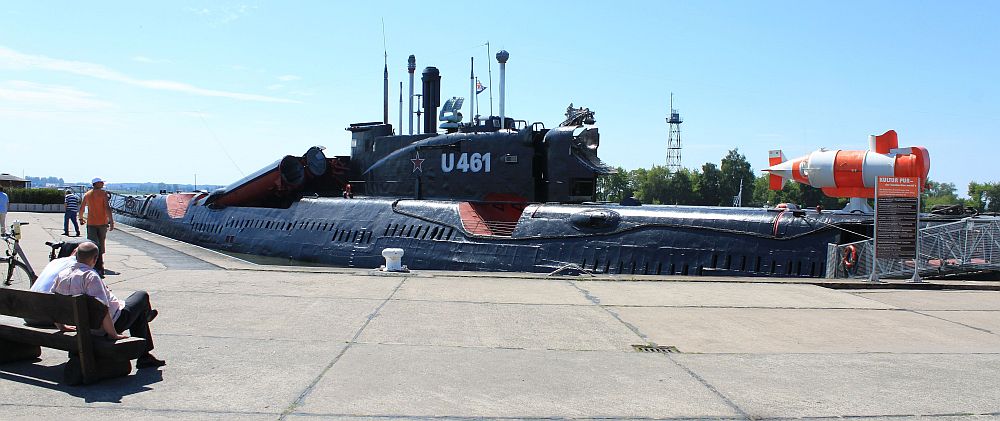 Monday 6th June, it was a very rough night with rain and thunder and lightning which seemed to remain overhead for hours. Fortunately when we got up it was sunny and hot and remained that way for most of the day until about 5.00 pm when the rain and thunder returned. Today we drove into Wolgast to have a look round and to do some shopping. We found a parking spot near the riverside and had a look round the quays. On the other side of the road were the commercial docks. On the way into Wolgast is a large bascule bridge which gives the larger ships access to the harbour. We then walked up into the old town which forms only a tiny part of modern day Wolgast. It is dominated by St Petri Kirche which has a very high tower which for a small fee you can climb to get wide views over the town and surrounding countryside. We were foolish enough to climb the tower, I was a bit surprised they did not have an oxygen supply half way up! Having survived the climb we were rewarded with superb views. Having got up the 184 steps we then had to get down and it was very tight in places, fortunately we did not meet anyone coming up as we were going down. Back to the car and off in search of some shopping and on the way back to fill up with cheap Monday diesel! Back at the site time for a cold beer, it was too hot to do much else.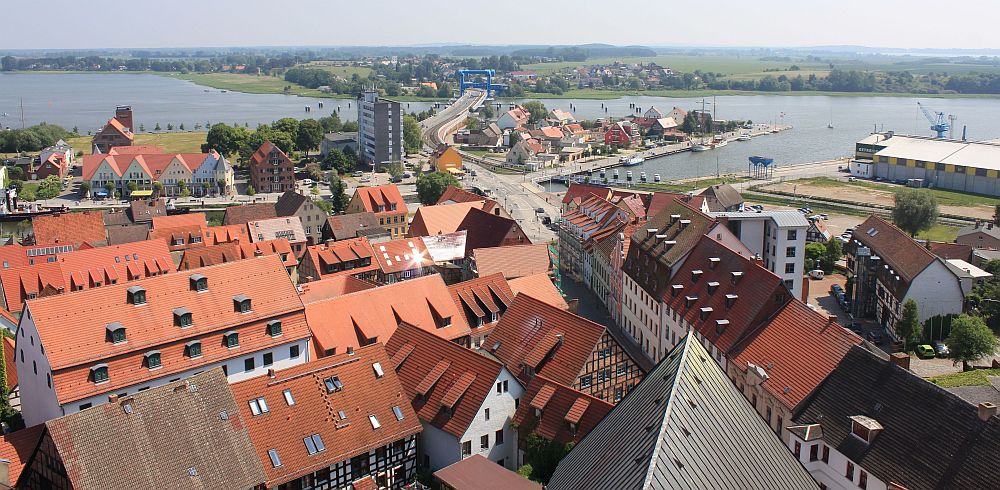 Tuesday and we have decided that we will leave this campsite tomorrow. There have been a few things that have annoyed us like the tiny pitches and to illustrate what I mean we have taken the canopy down and with the car on the pitch there is hardly any room. Also the free WiFi seems only to be available when reception is open. At least for the last two nights it has not been available although it was earlier in the day. Having said that I have not seen any one else using it! Today they have started grass cutting in one of the wooded areas, I somehow doubt whether any attention has been given to the rest of the site since it re-opened after the winter close down, we had grass on our pitch nearly a foot high! I was talking to the English guy who does the bike hire and I was airing my views to him. He tended to agree with what I was saying but loyally tried to protect the owners saying that it is very difficult to get the Authorities to agree to any changes. That seemed to be a bit odd because if they have agreed to the campsite in the first place you would have thought it was in everyoneís interest to keep it to the highest standards. He then went onto say that the owners were looking to develop part of the site with bigger pitches and a new toilet block. Nor sure I will be returning for the grand opening!
As Anne Robertson would say, in a complete reversal of fortune the weather decided to be changeable before lunch which left us with a lovely evening. After lunch we drove out along the coast a bit and returned via Zinnowitz where we parked and had a look around. Another lovely sandy beach and another Pier. At the end of this pier there was a strange structure that you could pay to go on and what it did was to lower a capsule under the sea given customers the chance to see what goes on below sea level. We then walked back through the town. On the way out we had no idea where we were going but with a little serendipity we manage to find our way back to the main road and almost opposite the road the LŁtow.

Wednesday and departure day. We had to show our receipt at reception so that they could let us out of the site. I find this a bit strange as when the site managers go home they leave the barriers open so that all and sundry could come into the campsite but whilst the reception is open the barriers are down. If there is a logic then itís lost on me! There is a large group of school kids on site at the StŲrtebeker Camp, of, I suppose of middle school age. They seem to go out on trips most days and you can imagine my concern as they made their way towards reception just as we were about to depart. It was not the kids I was concerned with but the likely hood of meeting a bloody great coach on the narrow single track road which forms the access to the campsite for the last mile! Fearing every corner we made our way out of the campsite and made it to LŁtow without meeting anything coming the other way. We did pass the coach a little later but fortunately on a wider bit of road.
It is a longer journey today of around 170 miles. The first 25 miles was cross country and then mainly motorway until the last couple of miles to the campsite. As we arrived at Camping Jagerbude the sky was getting darker and it was hot and humid which usually only means one thing. On a lot of German campsites they still maintain this strange custom of closing between 13.00 and 15.00 hours as a lunch break. If itís a shorter journey we can usually managed to arrive before they close but today that was not possible so we had to park outside the campsite. We did cycle round the site to get an idea of the layout but then it started to rain and rain followed shortly by thunder and lightning at very close quarters. After an hour of this you can appreciate how we felt. The site manager knew we were there as earlier that had sat eating their lunch as we arrived but at no point were we invited into the campsite, no doubt because of their stupid rules! At 15.00 I set off to book in. I was told that there would be a supplement for a serviced pitch of Ä3 a night for Camping Cheques but only Ä2 for using the ACSI Card. I do wonder if Camping Cheques are on the way out? Then there was the Ä20 deposit for the key to the barrier and the toilet blocks. I assume there must be a reason why the toilet blocks need to be locked, although it did seem that the public can access the site from the river. Deepening my misery I then asked about the internet and was told it was down because of the weather! Things seem to be getting better by the minute. The trouble is that the lady in charge has as much English as I have German, we managed to get by but only just. She later on came along to the pitch to lock us into the electric cabinet. What is this fetish for locking everything up! I suspect itís all to do with metering the usage, we have 5kw included but we pay for any more above that. Being locked in you have no idea how much you are using or what the starting point was! So far not overly impressed but pitch size and facilities are very good. I got the impression from our Danish neighbours the manager does the least she needs to in order to run the site. We were also given a long list of rules that even the Caravan Club would not dare to distribute!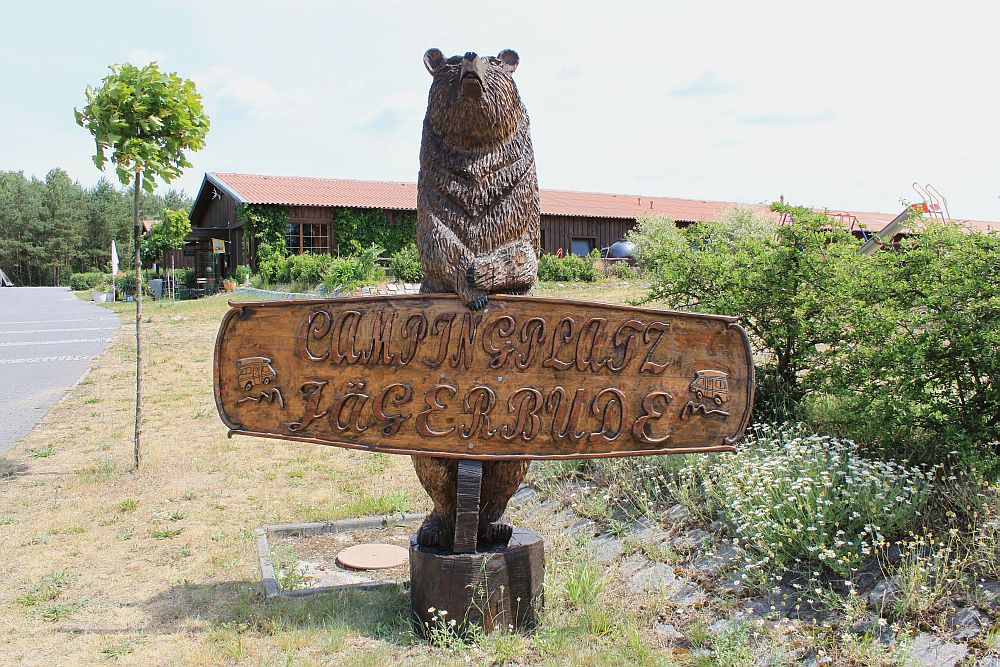 Thursday and a bit of a rest after the trying day yesterday. We did a few household chores in the morning including putting up the Caravanstore although we were concerned as it was quite windy. I attempted to use the campsite WiFi having struggled a bit to get the required log in from Reception where very little English is spoken. It seems that any use is put on a tab and paid when you leave although when I asked about buying longer than an hour Passports were mentioned! According to the Camping Cheque book the site has total WiFi coverage which is stretching the truth somewhat! It really only operates successfully around the Reception block. We are about half way along the site and even with my WiFi booster I canít get a reliable signal. We have a pleasant Danish couple next to us who speak pretty good English. They were telling us about the trains to Berlin and where to catch the train. So after lunch we drove out to the station to check out the parking, having first made sure we had parked the car beyond the campsite barrier to avoid being trapped by the lunchtime curfew. Afterwards we had a look at another campsite nearby which seemed to be mainly permanent caravans with a small touring area. Then onto Erkner for a some shopping before returning to the campsite. I also purchased our train tickets from the restaurant which has an interesting interior with lots of nic nacs, a bit like Margaretís sisters house!
Fritag and no time for the aforementioned cocktail but a day to visit Berlin. It was three years ago that we were last there. Armed with our Tagskarten we drove to the Bahnhof at Fangschleuse which is only about four miles from the campsite and has a good free parking area. Once parked we made our way to the platform and our hearts sunk when we saw lots of school children thinking that we might not get a seat which proved unfounded. The trains, whilst not particularly long, are double decker so there is lots of capacity. Before you get on the train you have to validate your ticket by date stamping in a little machine. The journey to Berlinís Hauptbahnhof takes about forty minutes. When we got off we got totally confused where we should be going to get the S-Bahn as our first port of call was to be the 1936 Olympic Stadium which was in the direction of Spandau. Once on the train it was easy to see where you need to go. The station at the stadium is quite large as would be expected and for the few people that got off it seemed a bit oversized! We did not have far to walk to find the imposing building that is the Olympic Stadium. Apparently it is now used as a base for one of the Cityís football teams, Hertha BSC, but on non match days you can visit at a very reasonable cost. Funnily enough this is the first time in Germany that we have been asked if we were ĎSeniorsí as that reduced the price by a quarter. The Stadium now has a semi roof which was not part of the original building but was part of the refurbishment of the Stadium for the 2005 World Cup. The whole site including the swimming pool and other non stadium events is quite compact when compared to what is being built for London 2012. Despite the past associations I do think it is a very nice design, simple but elegant.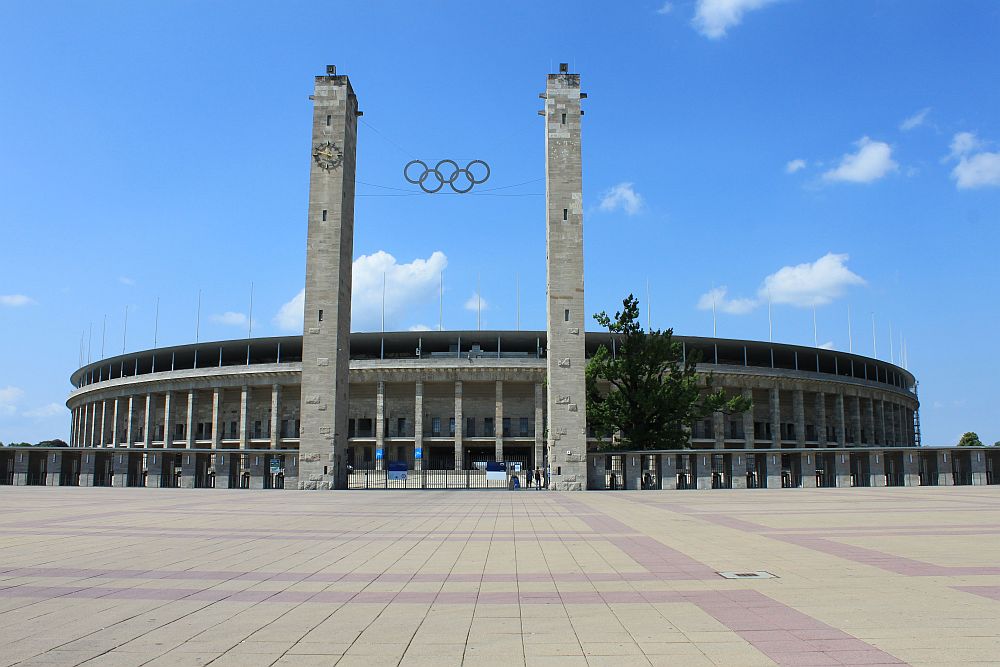 From the Olympic Stadium we walked to the U-Bahn which is on the other side of the stadium to the S-Bahn and took a train to Sophie Charlotte Platz so that we could visit the Schloss Charlottenburg. Whilst we did not go inside we did walk through the gardens at the back of the house. All very beautiful and only a stones throw from the centre of Berlin. It was a fair walk from the U-Bahn to the Schloss and the return seemed to be longer! We took the train to the Zoological Gardens where we changed to take us to the Tiergarten, the green lung of Berlin. We were disappointed to find that most of the park up to the Siegessaule Monument was fenced off with no access as they seem to be undertaking some work on the area. If you have enough energy, which by now we were lacking, you can climb up to the viewing platform on the monument. We were heading back to the Hauptbahnhof passing en route the Reichstag which we visited on our last visit. They seemed to have improved the look of the area immediately in front of the building since we were last here. From here it is only a relative short distance to the station and we could see from the clock at the entrance that we had four minutes before our train left or we would be stranded for another hour. By some miracle we made it with about a minute to spare and made our way back to the campsite. It had, for us, been a long and busy day!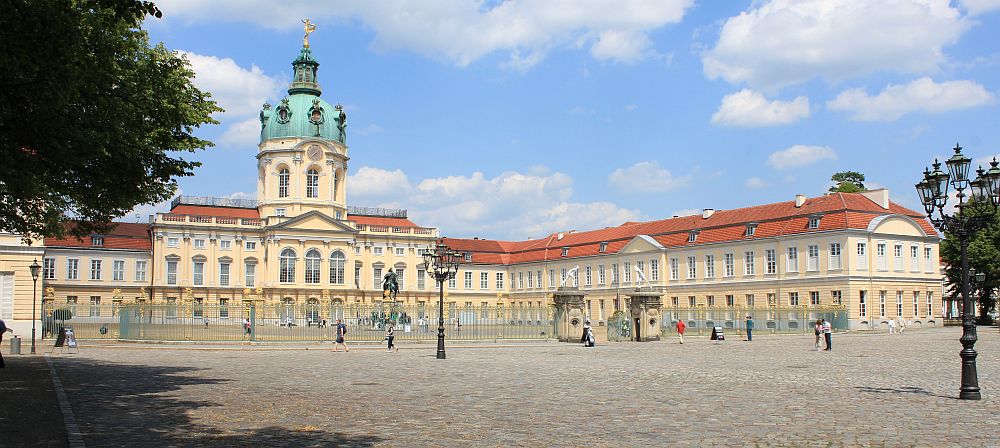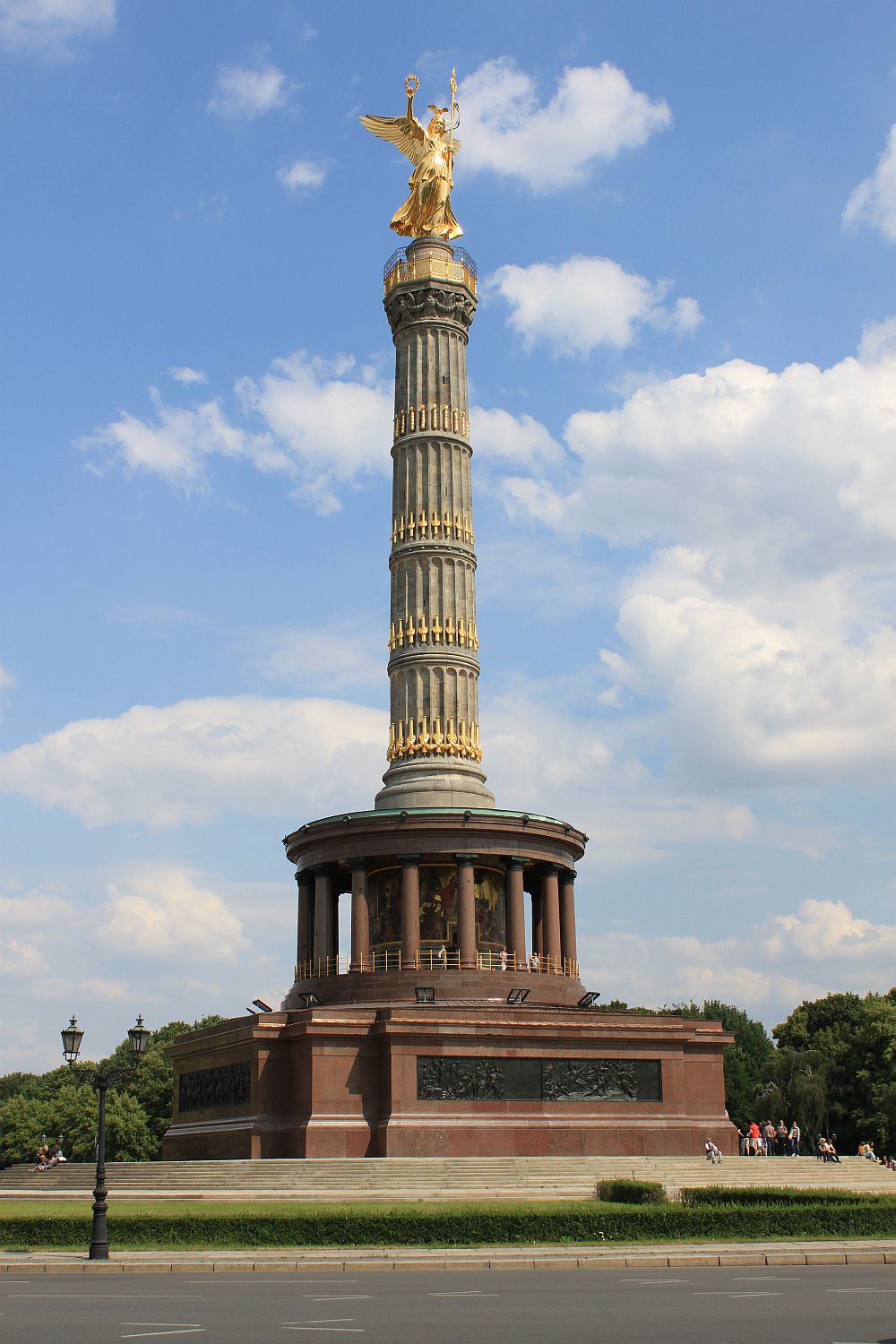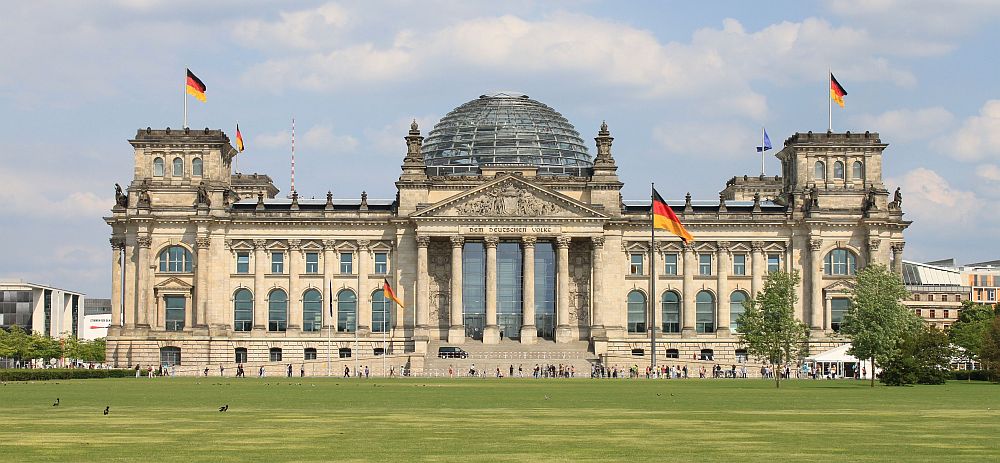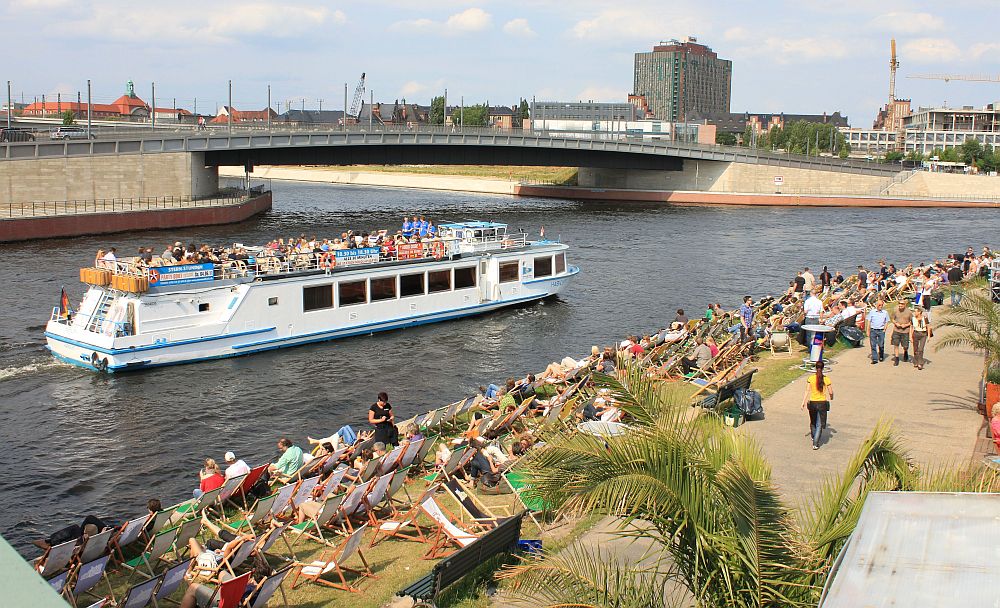 Saturday and a bit of a rest after the exhausting day yesterday. Managed a bit of internet time when I could find a spot where I could get a reasonable signal. Chatted again to the Danish guy next door, he seemed intrigued with the fact that we were using security devices on the caravan which seems as though they are unheard of in Denmark. I explain that in the UK that there seem to be a fair number of caravan thefts and it is a condition of our insurance that we use some form of security. Apparently itís another Bank Holiday weekend but the holiday is on Monday rather than Thursday. I was concerned that the site would have been full with all these holidays but the reality is that itís got a little busier over the last two days but the site is not even half full. We have also noticed more of the long stay caravans have become occupied over the last two day. One even turned up with some paving slabs, so much for no ground sheets! After lunch we rode out to a couple of villages nearby. Later we watched the Canadian GP Qauli with another pole for Vettel.
Sunday and pretty lazy morning. After lunch we went out to Erkner to fill up with fuel. Went past two service stations looking for cheaper prices but they are still expensive so chose the one which was a euro cent per litre cheaper. Having filled up and decided to have a drive around the area we discover somewhere selling diesel 6 euro cents cheaper! All around Berlin there are many lakes formed from the many rivers that converge on the City and the south east is no exception. Trouble is that unless you know exactly where you can stop its difficult get a proper look. Clearly the Berliners know where they need to be as all the places were thronging with people. We did come across the Oder-Spree Kanal where we did find a convenient parking place and we watched a pleasure boat going through a lock. Reminded us of our boating days. A little further on we came across another canal which we think was the Notte Kanal and much smaller. We had to wait whilst a lift bridge was opened to allow pleasure boats into a lock. We continued our round trip through very pleasant countryside and eventually found our way back to the campsite. At its nearest point the Polish border was less than 35 miles away. In the evening we watched a rain soaked and much delayed Canadian Grand Prix which ended with a brilliant win by Jenson Button who overtook Sebastian Vettel on the last lap.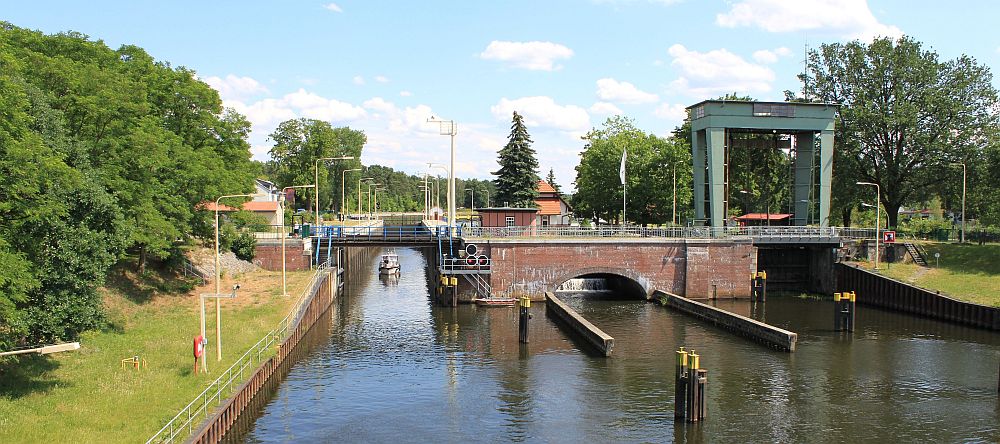 Monday and apparently another Bank Holiday in Germany. Nothing open of course and we needed fresh milk. We did manage to get some UHT in a Garage but we donít really like it. As an aside, just before we came away I was told that I should cut down on caffeine. Something that I was not looking forward to as I like real taste to my tea and coffee. However itís been about 4 weeks since we have been caffeine free and itís not been as bad as I feared. Whether itís done any good health wise I am not sure. At first I felt very tired but fortunately that seems to have passed. Otherwise a pretty relaxing day. Our Danish neighbours left today and are making their way back home. We have packed everything away in preparation for going on tomorrow to a site near Magdeburg. We have found this a strange site. The facilities are top notch and being so close to Berlin you would think that it would have a more international clientele but apart from a few Scandinavians and the Dutch, and one Brit of course, it has mainly German campers. I think that lack of languages other than German might be a contributory factor and the fact that the site does not sell itself as an International campsite will also have an effect.
Tuesday 14th June. I suppose this is the day that we start to head home in so far as we are travelling west. We seem to spend most of the journey on the A10 Berliner Ring skirting round the City. The Ring is a sort of M25 but it never seems as busy. Having said that Berlin has a much smaller population than London so it stands to reason that there will be fewer journeys! Before we got going we had to pay the bill. Although the bulk of the cost was by Camping Cheques we still had to pay an additional Ä45 for the service pitch supplement, Kurtax and additional electricity used although the latter only amounted to about Ä3. So in effect we paid in the region of £22 a night. Contrast that to our new site with all the same facilities which is costing a little over £14 a night. You will have to draw your own conclusions! We got to our next site, called Ferien Park Plotzky, at around midday. Again not a lot of English spoken at Reception but we got by! We seemed to have arrived at the same time as quite a few caravans were leaving so it was a bit difficult to get through the site and I had to negotiate across a couple of pitches and between trees. In fairness it was me booking in that cause a queue at reception to get refunds of the tabs that open the barrier. The Germanís are not renowned for their patience, he,he! We had been directed to a section of pitches which were reserved for shorter stays of up to three days. Plenty large enough and with their own water, waste and electrical connections. After lunch we drove into Schonebeck for some shopping.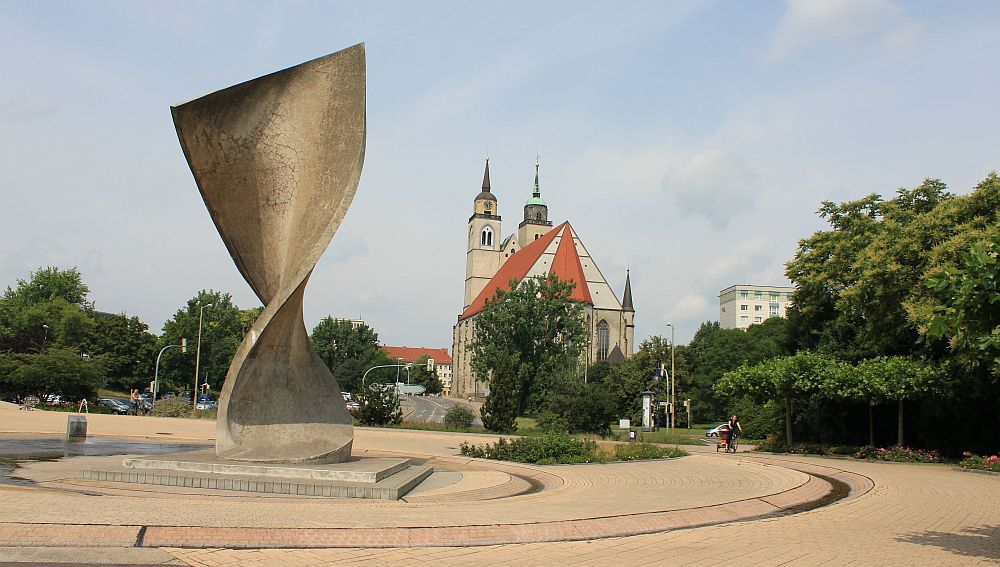 Wednesday, we drove into Magdeburg for a short visit. We parked near the mighty Elbe which we have seen before on other chapters of our journeys through Germany. Before going into the town we walked along the riverside. There was a large passenger trip boat holding station in midstream. The reason soon became obvious as a massive barge made its way downstream at quite a lick. As we wandered we noticed another guy taking photos and he must have heard us speaking English. He said hello and it turns out that he originally came from Luton, just down the road from MK. He was here visiting his Daughter that lives in Germany. We explained that he was the first English person we had spoken to for about three weeks! We bade our farewell and made our way up into the town. We visited the Johanneskirche which is a major landmark as you approach Magdeburg. It was started around 941 and had various additions and changes over the years. In 1944/45 it was destroyed by Allied bombing. The fabric of the building has been restore but it is now used as a concert hall rather than a church. You can climb the south tower but be warned it is 277 steps! Our 184 steps in Wolgast was bad enough so we gave this one a miss! We then visited the Market Place and there was actually a market in progress, we must have been out early today! We also needed some cash so we found a bank with the machines inside which Margaret much prefers. We waited for another man to finish his transaction before Margaret used the machine. For some reason it would not allow the withdrawal of Ä200 euros but being a helpful machine it suggested Ä150 instead. Then it was my turn and the machine was very slow but we succeeded in the end but it was too much for the women behind us who stormed out of the bank no doubt muttering whatever the German equivalent of ĎJohnny Foreignerí is ! After filling up with fuel we made our way back to the campsite with a minute to spare before lunch time close. When we arrived here there were not many Dutch here as they only accept the ACSI Card from today. Margaret has a theory that they will start arriving today and she was not wrong!
Thursday 16th June. A long journey today of nearly 200 miles. We have moved even further west to a place called Naumburg which is the other side of Kassel. The trip was not without its tribulations. On the A7 near Helmstedt we encountered a massive holdup with hundreds of lorries nose to tail so we decided to come off the motorway and use ordinary roads. Todayís landscape was more varied than we had been used to for the previous few weeks. We cut across the Harz Mountain region which is very scenic. Our new site, Camping Naumburg, whilst not far from Kassel is right out in the countryside in the small town of Naumburg. We, of course, arrived during the regulation two hour close down but at least we only had to wait half an hour and it gave us a chance to have a look round the site before booking in and it was dry! We found a place that we thought would be suitable but had a problem getting the van level so we tried somewhere else which was better. Whilst we were in reception an English couple arrived with their motorhome. They were the first English people we had seen on a campsite for a couple of weeks, if not longer. When we spoke to the lady of the couple she seemed a bit fed up as they seemed to have a problem with their electrics and they had also had a problem with their gear box. She gave us the impression that they were ready to jack the whole thing in. The motorhome was only three years old so no doubt they will lose a lot of money if they do. I sometimes wonder if people buy motorhomes on a whim when they retire and get overtaken by the romance of the idea. Perhaps it was just Germany? She obviously liked France but she had found 8 weeks touring in Germany not so much to her liking.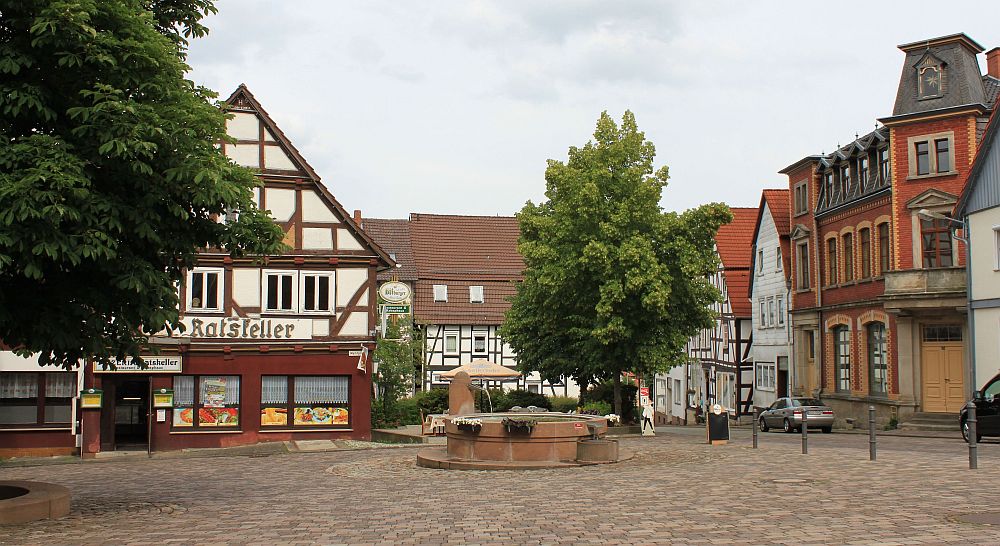 Friday, a pretty lazy morning. Had another chat to the British couple who had decided to stay another day before moving on. They have two dogs, one of which is quite old and I suspect this is also an influence of their decision to give up their motorhome. After lunch we walked into the pretty town of Naumburg which is on the doorstep of the campsite. At one stage it must have been a walled town as you can see some sections as you walk round. The church and market square are in the higher part of town. On the main street there is a wonderful Aladdinís Cave of a shop which sells an amazing assortment of items. A bit like an old fashion hardware shop in the UK with a bit of food thrown in for good measure! On the edge of town is the old Bahnhof which is now a museum but it appeared to be close when we were there. It seems that once a month they run a steam train from the station but July is a long time to wait!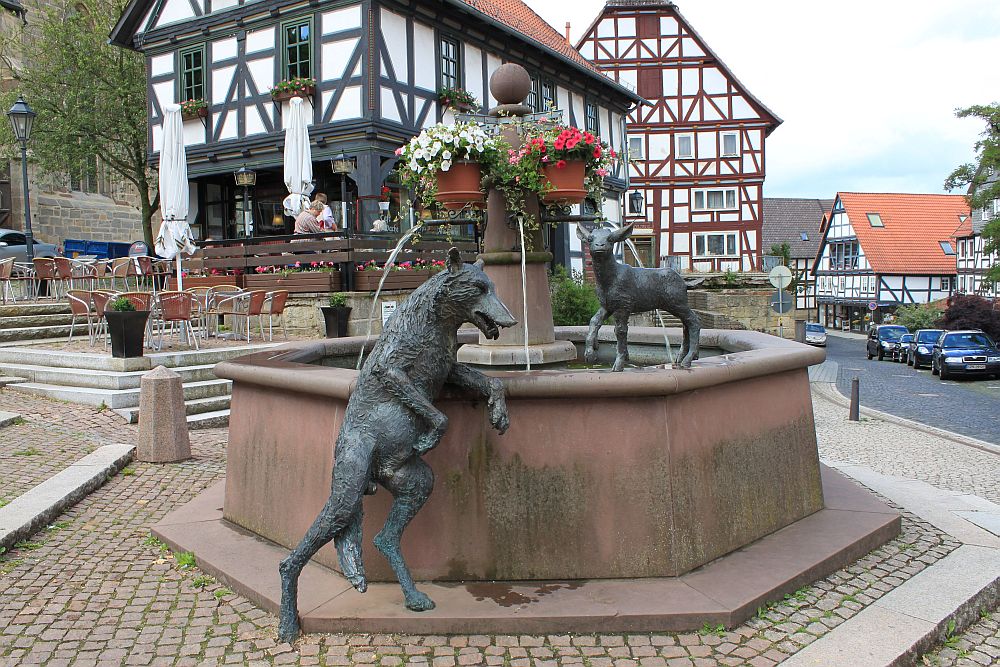 Saturday. The wind was quite strong this morning, and throughout the day. We had not bothered with the Caravanstore at this site as the terraces seem to be more exposed to the wind particularly. After breakfast we drove out to Wolfhagen which is about six miles from the site and is somewhat larger than Naumburg. Itís an attractive town but the one thing we noticed was how quiet it was. A similar sized UK town would have been buzzing with shoppers. It seems that Germans take a more pragmatic view of shopping and use their leisure time for more important purposes. On the way back to the site I managed to fill up with diesel. Obviously out of touch with the price in the UK but we are paying around £1.30 a litre here. Just before returning to the site we stopped off to get some shopping at the Edeka. This is one of the nicer supermarket groups in Germany but unfortunately they donít accept credit cards. The campsite is far from full and I suppose we have had about half a dozen arrivals today. It is such a contrast to what we get at home where sites are full to bursting most weekends but here, apart from Bank Holidays weekend camping seems not to happen in a big way.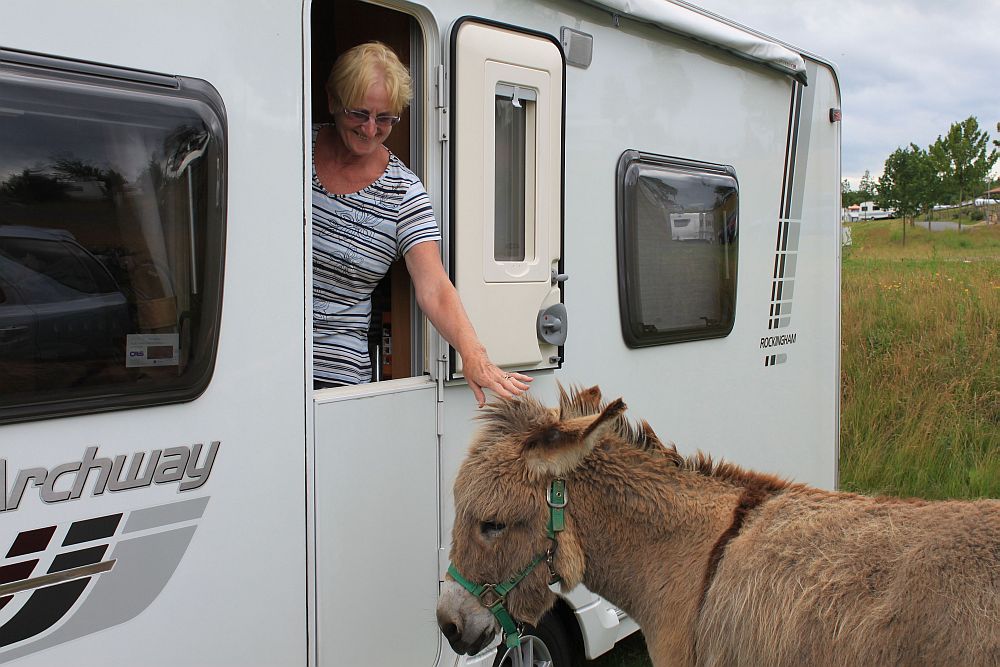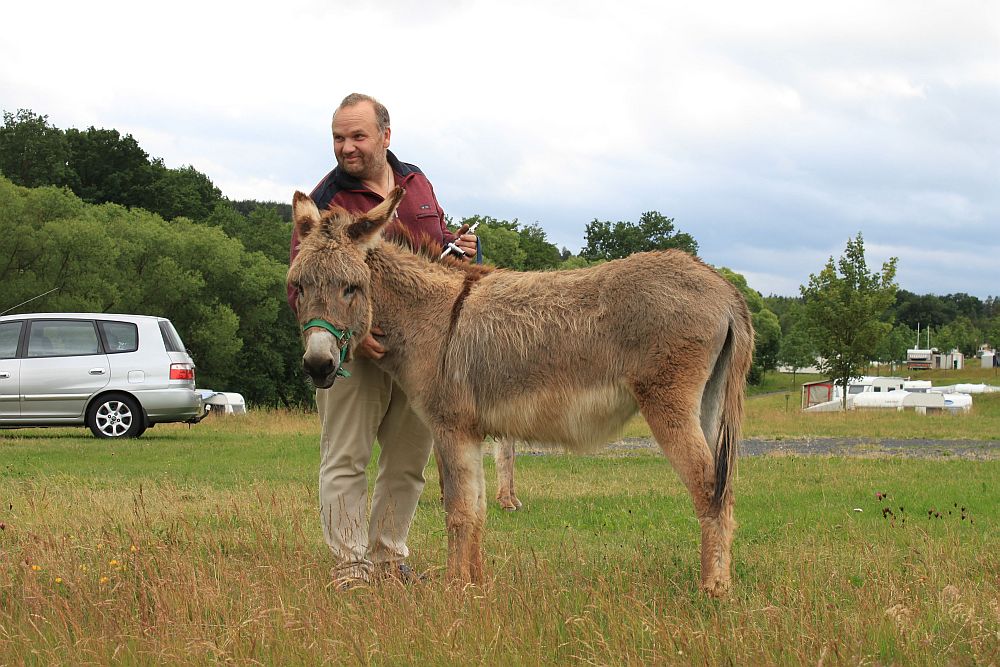 Sunday 19th June. The weather has not been great today with high winds and frequent showers so there did not seem any point in exploring further. It did brighten a bit in the afternoon and the highlight of the day was a visit from the campsite donkeys who, from time to time are allowed to roam the site. I asked the owner why donkeys and he said they were more placid than horses and I get the impression that in the school holidays he encourages the children to engage with them like leading them round the campsite and even brushing them down which I am sure both parties enjoy! I also chatted to him about how full the site gets and he said that next Thursday is another Bank Holiday and he will have 60 or so units onsite. He have the impression that the site, which is relatively new, is still building its reputation and even in the peak time there is normally an opportunity to find a pitch. It was also interesting to hear his views on the relative merits of Camping Cheques and the ACSI Card. From what he was saying the ACSI Card would be the first choice of discount scheme and he is not sure that Camping Cheques will survive too far into the future unless they change their business plan! We are moving on in the morning so we, as usual, packed everything away in readiness. Our plan is to move across to Holland to a site near Eindhoven.
Monday. A long and trying journey today. Within an hour of leaving the site we came across a massive jam on the motorway. Fortunately we were near a junction so we left the motorway and made our way across country to the next junction. We should have gone on for yet another junction as it was still slow when we rejoined. We then had to contend with Germanyís Industrial Belt between Dortmund and Duisburg, not dissimilar to driving on the M6 through England but much longer! Eventually we got to the Dutch border at Venlo and continued onto Eindhoven and our campsite,
Camping De Graspol,
near the village of Sint Oedenode. The site has quite a narrow entrance so I pulled through so other vehicles could get by. I think I startled the owners wife as she met me half way. I apologise and explained which she was fine with indeed she was very friendly and invited us both for a coffee whilst we sorted the formalities. Most impressed. We had to report back what pitch we wanted as they monitor electricity use. You have three choices, 6amp included in the price up to a daily usage of four kws, or 10amp for Ä2 a day extra but all usage included and finally 16 amp for Ä3 a day all included. As we were well used to coping with 6amp we decided on that. But as we prepared dinner we started experiencing problems, especially when using the microwave. The first time the electrics went we realised that we had not turned the water heater off before we left the previous site! Having thought that was the reason we were surprised the whole thing happened again when we used the microwave again. Normally we have not experienced any problems with 6 amp. I should add that it came back on automatically. By now I was doubting our decision to go with 6amp. I went back to reception and Mr owner explained the site has a state of the art electrical control system which monitors and records usage. As such there is no leeway, if you ask for 6amps that is what you get. On most 6amp systems there is a margin of advantage meaning that generally the system is rated slightly higher. I opted to have a 10 amp supply as I doubt the difference will be that much greater, fingers crossed!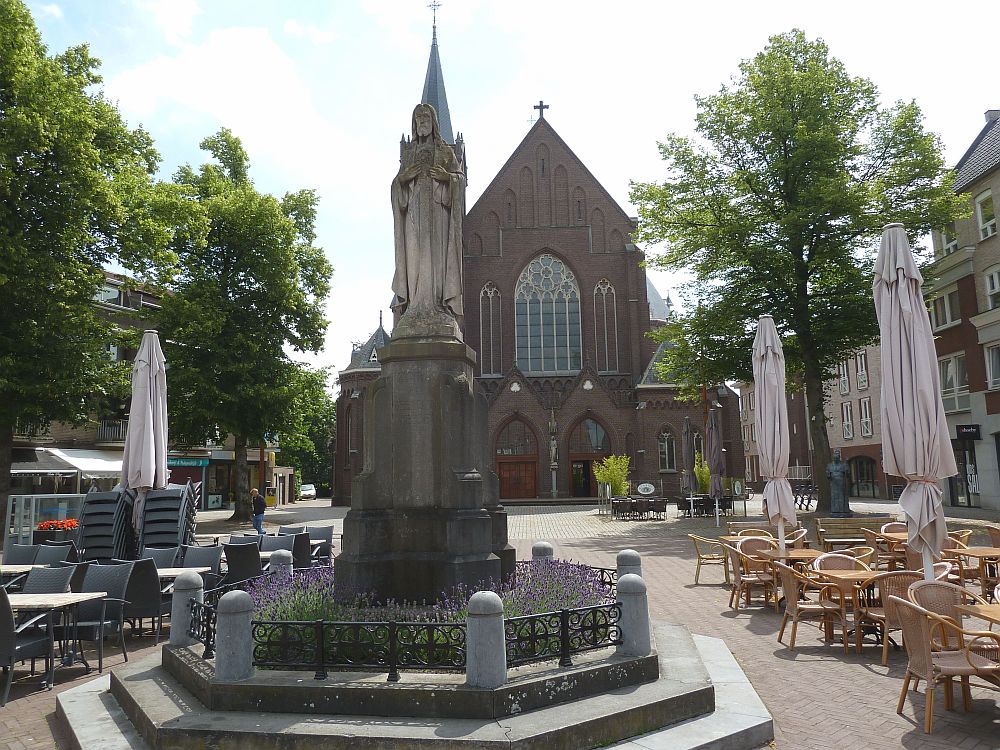 Tuesday and the longest day. After breakfast we decided that we should activate the bikes as we had not used them for a while so we rode into Sint Oedenrode. Most of the way was on the usual high standard cycleways that the Dutch can be justly proud of. However when we got into town these disappeared and we had to use the roads which Margaret is a bit nervous of. Itís a nice little town with lots of shops but guess what, they were digging the high street up! On the way back we rode into the village of Nijnsel and came across an American style dinner complete with a turquoise coloured ( or should that be Color!) American car, apparently the owner is an Elvis fan. We stopped to buy some bread rolls for lunch and went back to the campsite. We spent a lazy afternoon around the van.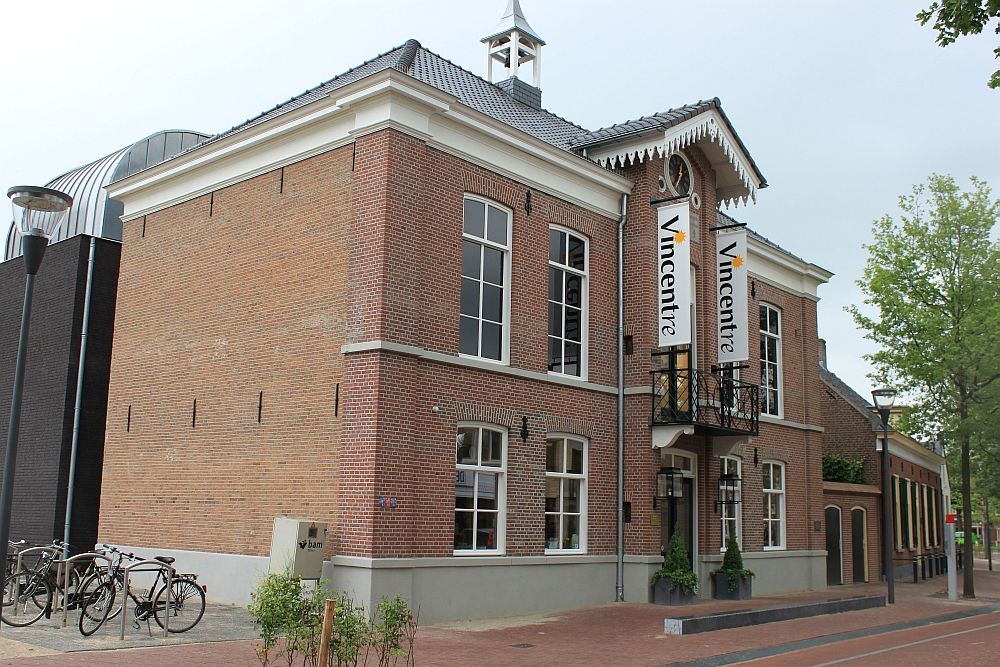 Wednesday and our last day at De Graspol. The weather is still very changeable so we decided to drive into Nuenen which is about seven miles away to visit the Van Gogh Museum in the town. It seemed a simple mission but guess what-they were digging up the roads. Also, as we have found on this trip, not so well signed. We did manage to find the small church associated with Van Gogh but the Museum alluded us. We found a filling station where I filled up with diesel, 10 cents a litre cheaper than in Germany, and the guy on the pumps explained where the Museum was. Another detour through the town and we found it. The Museum covers the story of Van Gogh during his early years as a painter in Nuenen. He was obviously a torture soul as he studied to become pastor but did not achieve that and it seems that painting and drawing were his only true vocation. All the staff in the museum were very friendly and we wondered if they might have been volunteers. After the museum we return to Sint Oedenrode for some shopping. When I went to pay I asked if it would be OK to leave the car next to the van overnight and I was told it would be OK. The car is not parked that far away but it is surprisingly inconvenient not having the car nearby. Tomorrow we are moving into Belgium for a couple of days but not as long a drive as the two previous moves.
Thursday 23rd June. We left De Graspol by 9.00am and it was not long before we were negotiating the roads around Eindhoven and worse was to come going around the Antwerp ring road. Why people complain about the M25 I have no idea! When we left the motorway TomTom decided to take us all round the houses but somehow he managed to get us almost to the campsite. I say almost as the entrance to the site was a bit obscure and we missed it, fortunately there was a roundabout just up the road. Itís just as well we arrived early as the site, Camping Groenpark, was already pretty full. The pleasant lady on reception suggested we walk round to look for a pitch but gave us a couple of numbers that we could not use. The site is quite heavily wooded so getting a satellite picture was going to be a challenge so we were looking for somewhere that we could perhaps get a picture. As we were looking for a pitch a small Dutch camper van seemed to be following us around and every pitch we showed an interest in they seemed to drive onto. We found a pitch which we thought would do when the lady from reception turned up with another man which turned out to be her husband. Although it was not completely clear what was being said between them it was some sort of argument! She did apologise to us but we were still uncertain whether we should use the pitch we had chosen so in the end we went elsewhere onto a larger pitch but it was difficult to get a picture.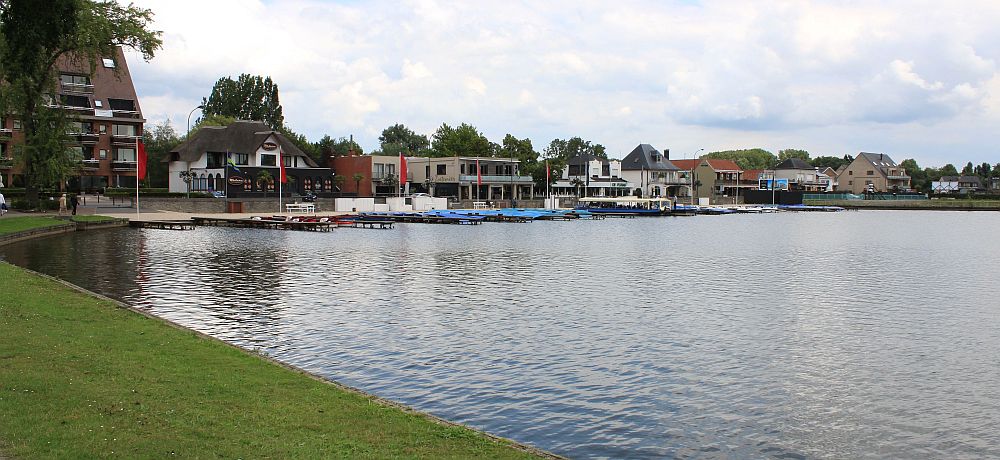 Friday. Weather is still a bit changeable and our efforts to get out on a bike ride were thwarted. I did go off and use the site WiFi but was totally unsuccessful in connecting. There were a couple of Spanish guys using the internet and one of them showed me what the problem was. It seems an odd system, when you first use the system you input a password but on subsequent uses you have to change the connection properties. This is the second campsite where the WiFi has not been straightforward, especially for us amateurs! However the lesson did come in useful later in the day as I helped a fellow Brit get connected with my new found knowledge. Like us and another British couple in a camper van they leave tomorrow as well. Just to add more coincidences we have all been to Germany. After lunch it did clear up after a fashion and we decided to risk the bike ride. A short distance from the Campsite is a large lake called the Donkmeer. Around our end of the lake were quite a few restaurants, I particularly liked the Chinese one with is quasi traditional look and there also seemed to be a trip boat. We thought we could cycle around the lake but some parts of it seem to require an admittance fee. We decided to take the cycleways but we did not really know where we were going and it was threatening rain again. We seem to have cycled some way so we retraced our steps to the head of the lake and returned to the site via the main road.
Saturday. We left Belgium today and headed for France. The site we had stayed on for a couple of nights was very busy with overnighters and sites like that always feel crowded as often people are happy just to find space to put the legs down as they will be off the following day. The people running the site were pleasant but perhaps they have to learn to turn people away. We left the site around 9.00am in the rain and it did not really stop until we got to Chateau de Gandspette. It always seems to be a gamble these days whether you will be able to get into this campsite and as I arrived in reception the owners were struggling with their booking plans. Fortunately they had space for us and for the first time in 16 visits we were offered a pitch in the centre of the site just down from the Chateau. After watching the qauli for the European GP we went to the local Carrefour Market supermarket for a few bits but we were unable to buy fresh milk. During the late afternoon/evening the site was gradually filling up but there were still a few spaces left.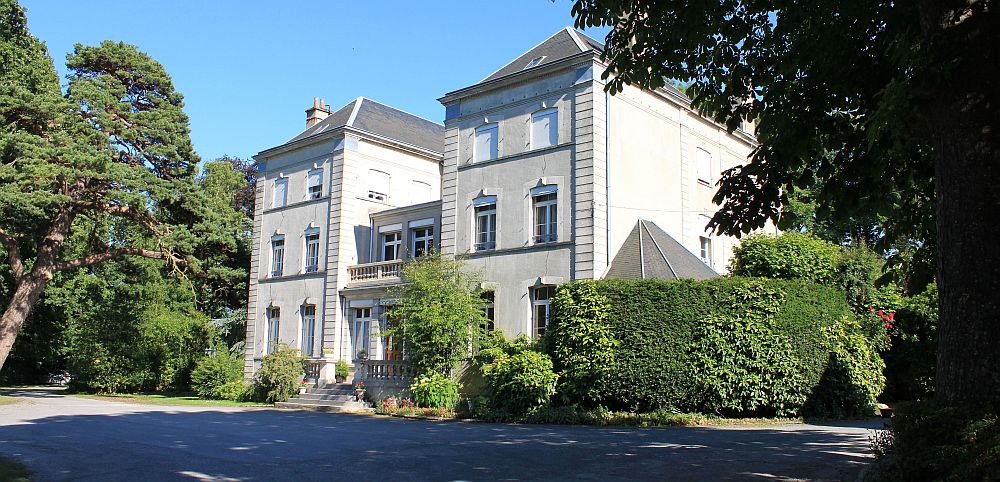 Sunday. Because of the hours difference we decided we had time before the Grand Prix to drive out to look at another campsite situated nearby that might be useful for future use. The campsite in question is La Chaumiere at Buysscheure. La Chaumiere is only about eight miles from Gandspette but the route was quite tortuous. Our route took us through Watten which I would not recommend but there is a better route from the A16 via the D300 and D11. It seemed to be a nice little site but it is quite out of the way but many might prefer itís more intermit nature. Back in time for the Grand Prix and another excellent win for Sebastian Vettel of Red Bull with Mark Webber third. After the race I walked up to reception to use the WiFi but called into the bar to reserve a table for the restaurant. They could only give us a table for 8/8.30pm which is a bit late for Margaret to eat. Unfortunately the takeaway only has a limited selection and when we used it once before the portions were quite small! A large number of Dutch have arrived today and you can tell by the stickers on their cars that they are part of a large organised group and they had clearly booked the restaurant in advance. When I walked by at 8.30 the place was still full so itís likely that we would have eaten even later. The Dutch do seem to take over when they arrive en masse. I am still trying to get my mind round why this site seems so popular with the Dutch, apart from it accepting Camping Cheques. I can see why so many Brits come as its convenient for the ferries. The only French that appear to use the campsite is the ever decreasing numbers in the remaining permanent vans and mobiles.
Monday 27th June and our last full day in France. As has been the tradition for many years now we headed for the Cite de Europe Shopping Centre and this year was no exception. Itís been about 18 months since our last visit and in that time I donít think there has been a massive downward shift in the value of Sterling but it feels as if there has been. Even the toll from junction 2 on the A26 was Ä3.40 and that was just for the car. Even in Carrefour where you could often find a bargain things seemed to be expensive. In the wine aisle you could move freely about with only the odd English voice as you move up and down. Cite de Europe seems to have been rebranded to reflect its more French cliental as its British customer numbers dwindle. Even the Carrefour fuel station was unmanned with user operated pumps, canít really complain as it was the lowest price we had paid for diesel since the start of our trip. We returned to the campsite via the D943 rather than paying even more tolls, perhaps having all but a few days of the trip in non toll countries influenced our decision! When I went to pay I dropped a few hints about the ACSI Card but no one took the bait. Perhaps the Kawan Group are tied in too far with Champing Cheques to change? The site is nearly full today but there are more free pitches tonight than there has been over the weekend when it has been virtually full.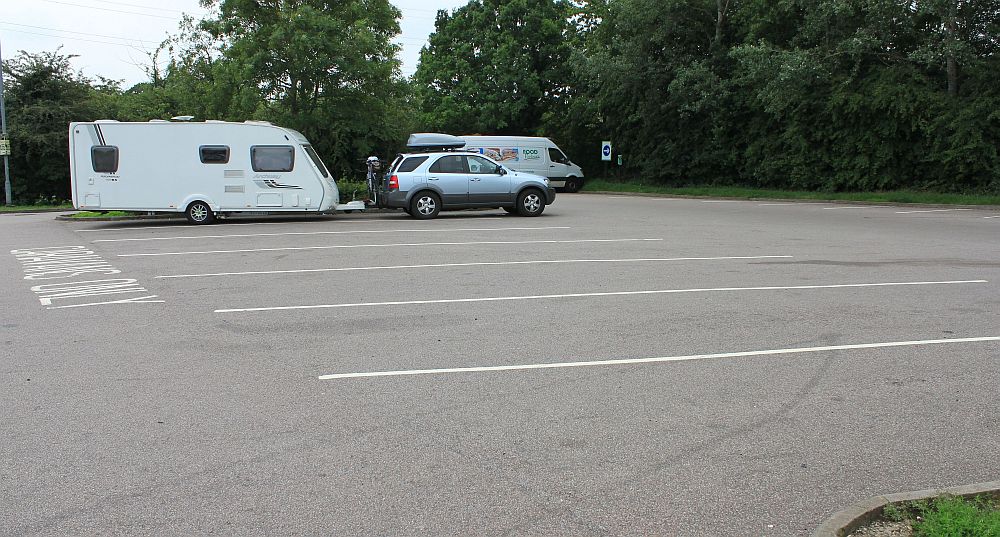 Tuesday and we leave France today. We seem to have the packing up down to a fine art now and we left the campsite by 8.30am and managed to get on a shuttle an hour earlier. Interestingly we were charged the same amount of toll today with the caravan as we were yesterday solo. Does that mean a 4x4 with a roofbox is Class 2? Difficult to say any journey from Folkestone to MK is good but today perhaps came a close! We stopped at South Mimms and were surprised to find the caravan parking completely empty! Fortunately no problems in getting the van in the back garden but the unpacking took longer.
Retrospective
This was a very different trip from those we have done before. The Baltic Coast does not seem to attract that many UK visitors, at least that was the impression we got from not seeing many UK registration plates. We strayed further into what was formally the old DDR than we had before. Whilst much money has been spent on unification there are still remnants of the old east if you look. We were pleased with the standard of campsites we stayed at although there was the odd exception. We did not stick to our initial schedule, and as we had not booked any sites in advance this gave us the freedom to change our minds. We managed to get into all of the sites we wanted to, although one site was unable to accommodate for a second night. This sort of trip is not really suited to those that enjoy a holiday in one place. However if you enjoy discovering new and interesting places, go for it. Life in Germany is a very civilised and a good place to tour. Food shopping does not have the same choice as we have in the UK, although many Germans might still prefer the smaller private shops. Supermarkets are dominated by the likes of Aldi, Netto and Lidl although REWE and Edeka represent the better end and REWE do take credit cards which is unusual in Germany.
For those that like facts and figures:-
On this trip in total we drove about 3000 miles of which towing accounted for just over 1800 miles. We used 527 litres of fuel which cost in the region of £660 which gave an average economy of 27.16 mpg which I was pretty impressed with. Towing in Germany is restricted to 80kph unless you submit your caravan for a TUV test (a sort of MOT) and if you pass that you can tow at 100kph. I think having the roofbox on also helped economy whilst towing.
We were away for 55 nights and stayed at 15 campsites, including one in the UK on the way to the Channel Tunnel. Campsites cost in total £844 and average nightly cost was £15.35. Where possible we tried to use campsites in the ACSI Card scheme or Camping Cheques, although the latter are not so well represented in Germany.