Campingplatz Lübeck-Schönböcken, Steinrader Damm 12, 23556 Lübeck, Tel: 045189 30 90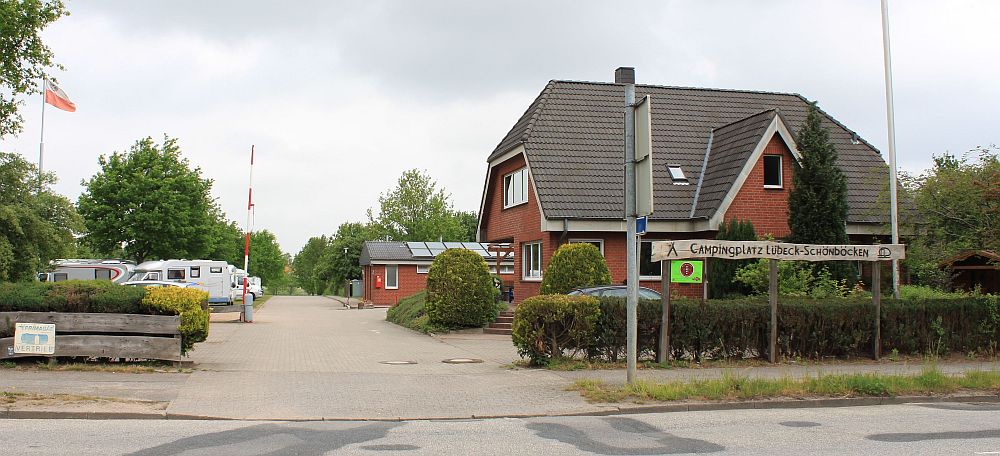 To find site:-From the direction of Hamburg leave A1 Autobahn at junction 23 and turn left at end of slip road at traffic lights. The campsite is signed from here.
Campingplatz Lubeck-Schonbocken is a busy campsite in an urban setting on the outskirts of Lubeck with easy access from the motorway. It seems to have two main uses, firstly as a place from which to visit the City of Lubeck and secondly as an overnight staging post for Scandinavian visitors to and from their own countries. There is usually a high daily turnover of pitches so you should find space particularly if you arrive by mid-afternoon. The site has a slight slope down from the entrance until it reaches the tent field at the bottom which is reasonably level. Some pitches are marked but most not which tends to lead to a bit of a free for all in the larger pitching area near to reception and electric connections in that area can be difficult to find when very busy. This is due mainly to overnighters wanting to remain hitched up or motorhomes parking at close quarters which can give the impression of being overcrowded. Caravans/motorhomes are not allowed to park across a pitch only nose or rear in. My suggestion would be to look at other areas first, using that area as a last result. Electric points are rated at 6amp and use CEE17 blue connectors. There are only a couple of places to get water, either the toilet block or a tap near the tent field. The toilet block is of a good standard with seated toilets and paper provided, showers require a token although the block could be under pressure when the site is busy. At reception there is a kiosk where bread can be ordered and it also sells a few essentials. WiFi is available near the reception at a reasonable cost. Near the entrance is a children's playground . We were able to get all UK FTA TV stations with our 80cm dish. Site fees during our stay were €18.50 a night including electricity and payment by credit card is possible. Date of visit mid May 2011.
Lubeck City Centre (well worth a visit) is only a short bus ride away from just outside the site, you can also cycle. There are many other opportunities for excursions from the campsite. This site could also be a useful stop over for anyone heading for the ferries at Puttgarden for Denmark. About a mile from the campsite is a large shopping centre with one of the largest supermarkets I have seen in Germany and interestingly they have Union Jack flags on tills with English speakers! (I think for the benefit of Scandinavians rather than the British)
Click on thumbnails below for a larger image:-