Kompas Camping, Basservillestaat 141, B-8434 Westende, Tel 003258223025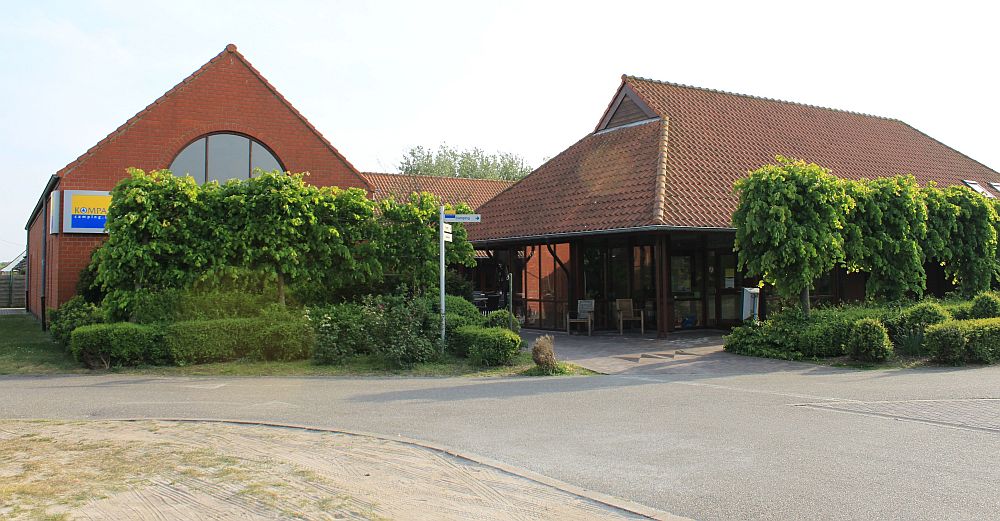 Leave motorway at junction 4 on the A18 and follow signs for Middelkerke. Turn left on to N318 towards Westende.
Kompas Camping is a large campsite with over 450 pitches. Itís difficult to establish how many of these would be classed as touring pitches in the sense that we understand the meaning but I would put the figure at only a few dozen with 90% of the site given over to seasonal campers. Although they may well be semi-permanent they all seem well turned out. Apart from a small motorhome area near reception all pitches are on grass and of a good size. We arrived late afternoon on a Thursday and were told we could only stay one night as the site was full for the weekend, we also had to pay for a serviced pitch as that was all that was left. You get precise instructions on how to position your unit on the pitch which often means that you are stepping out on bare earth. Most of the pitches we saw had water and waste connection for which there is a Ä2.60 surcharge per night. Electric connections are rated at 10amps and use CEE 17 blue plugs, however it might be worth checking for reverse polarity. There are four toilet blocks of a very good standard with seated toilets but toilet paper is in dispensers outside the cubicles. The site has a bar/restaurant, takeaway and a small shop. Children are well catered for several play areas to suit all ages. The site has a WiFi service which appears to be site wide, details from reception. Camping Cheques accepted, extra charges might apply for serviced pitches. Date of visit early May 2011.
We used this site as an overnight stop so did not have much opportunity to explore but you can walk to the beach from the site. Westende is only a short walk from the campsite.
Click on thumbnails for larger image.