Ferien Park Plotzky, Kleiner Waldsee 1, 39217 Schonebeck OT Plotzky, Tel 03920050155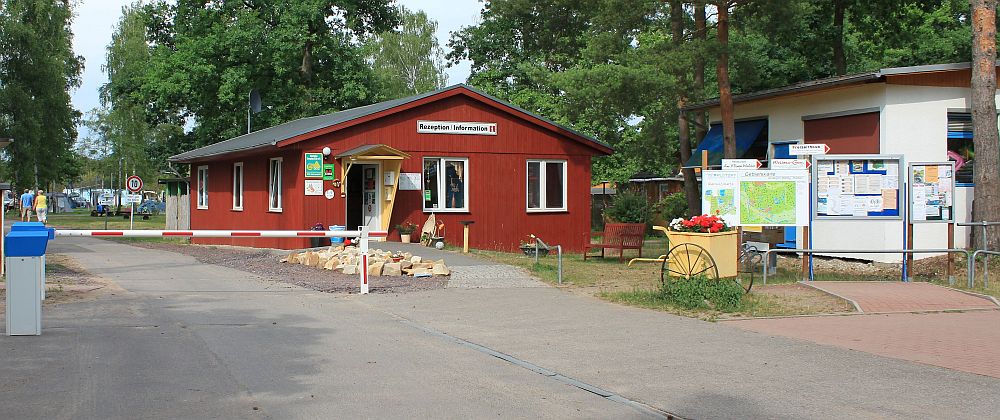 To find site:- From Gommern take road towards Plotzky/Schonebeck. A little way out of Gommern watch out for a bus stop on the right and the campsite is a sharp right immediately after, the campsite is signed. The final approach to the site is a little narrow with passing places. The site closes between 13.00 and 15.00 but there is quite a large car park opposite the entrance.
This campsite is popular with German families with children, particularly during school holidays. The touring section is separate from the permanent caravans. There are around 170 grass touring pitches. They are all of a good size and anyone with a larger caravan should not experience and space problems. Many of the pitches have electrical/water/waste shared between 2/4 pitches. One idea I liked about this site is that they have a small section of pitches reserved for stays of up to 3 days, the idea is to prevent daily disturbance to those staying longer. Electric points are rated at 16 amps and accept CEE17 blue connectors. The toilet blocks are of a good standard with seated toilets and paper provided, however showers are coin operated. There are also some family bathrooms available. Access to the blocks and the site barrier is via an electronic tab for which there is a €10 deposit. The site is really geared up for children and the centre piece of the campsite is the swimming lake. There are many other facilities for children, including an animal corner, so boredom is unlikely to be a problem! Near to reception is a small shop but it has limited opening hours. Also on site is a nice restaurant/bar and it is here you can buy time to use the site WiFi which operates only in that area. We were able to get all UK FTA TV stations with our 80cm dish. This campsite accepts the ACSI Card in the low season. Date of visit mid June 2011.
For visits from the site Magdeburg, on the River Elbe is not far away. For shopping there are supermarkets in both Gommern and Schonebeck.
Click on thumbnails below for a larger image:-