Camping Het Amsterdamse Bos, Kleine Noorddijk 1, 1187 NZ Amsterdam, Tel 0206416868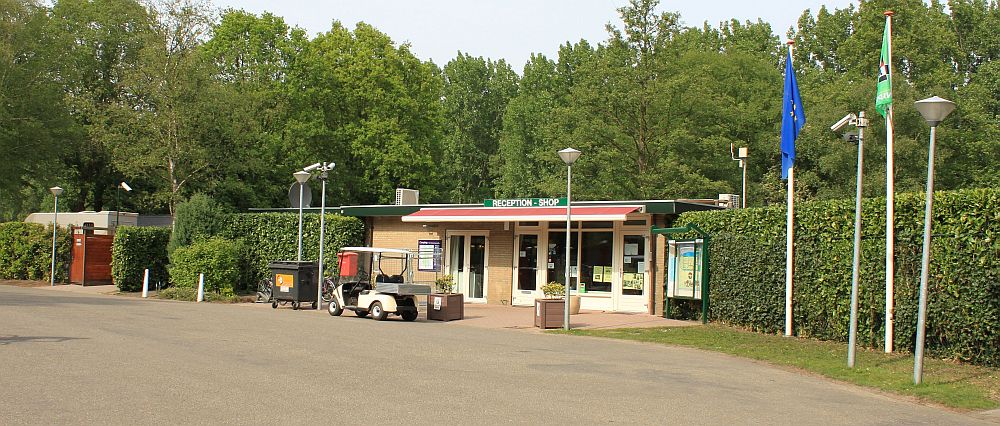 To Find Site:- Leave A9 motorway at the Aalsmeer junction and turn left onto N232, at roundabout take first exit onto Schipholdijk. At traffic lights turn left crossing river onto N231, cross roundabout and at second traffic lights turn left into campsite road.
This campsite is just south of Amsterdam in a Country Park of the same name. It had a more peaceful ambiance than many City sites we have used. There are several pitching areas but the main touring part is at the far end of the site. Pitch size varies but most are of a good size. Motorhomes have their own area consisting of paved hardstandings. This site can accommodate the large American style motorhomes. Electric supply is rated at 10amps using CEE 17 blue connectors. There are three toilet blocks, all of a good standard with seated toilets but no paper provided. Showers use tokens from reception which cost 80cents each although those using the ACSI Card get one per day per person provided in the price. As well as touring pitches there is a variety of other accommodation on site. There appeared to be no water taps around the site which means water has to be collected from the toilet blocks. There is a small shop in the reception area but be warned that prices are very high compared to nearby supermarkets. There is no bar or restaurant on site although there is a covered kitchen/mess area for tenters. Free site wide WiFi is provided although I found it problematic in terms of consistent signal strength. The site is generally peaceful but its proximity to Schiphol Airport does mean there is some aircraft noise although there donít seem to be any night flights. Your Camping Carnet or Passport is required to be held at reception during your stay. The site will accept payment by credit card but add a 5% fee. Date of visit May 2011.
This campsite is convenient for visiting Amsterdam with the nearest Metro station being about a 15 minute walk away to the Metro but there are also buses from near the campsite which will take you to the Metro. There are many cycle ways and walks in the immediate vicinity of the campsite. Bicycles can be hire from the campsite. A supermarket is a short drive away, reception will provide details.
Click on thumbnails below for a larger image.