Natur Camping Usedom, Zeltplatzstrasse 20, 17440 Lütow, Tel 03837740581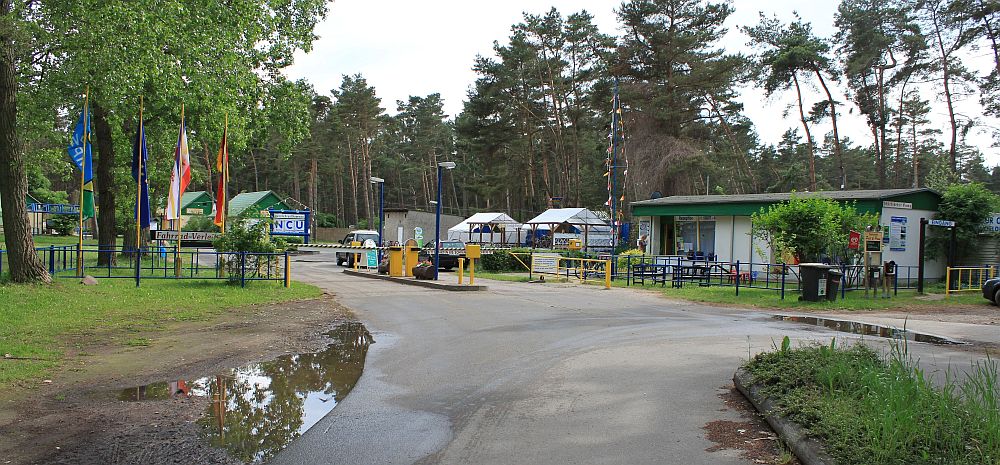 To Find site:- From Wolgast on B111 continue to Zinnowitz, just after town sign watch out for a right turn signed to Lütow (also signed for campsite) Take care at the turn as its quite sharp into a narrower road. Continue to Lütow and just past large Hotel turn right following the campsite signs. From here to the campsite is about 1 mile along a single track road with some passing places so proceed with care.
Natur Camping is a large campsite with around 450 pitches although the number of real touring pitches is much smaller with many of the other pitches being taken up with permanent caravans and structures. As suggested by the name the site is situated in a pine forest and slopes down to the shores of the Achterwasser and the Baltic Coast is not far away. Some pitches are amongst the trees and some with a more open aspect. The size of pitches varies but most are quite tight for space. We could not get our 7.3 metre overall length caravan across our pitch and even lengthwise it was just about room to allow access around the van, with our canopy up there was not enough room for the car which had to be parked on ground across from the pitch. Most pitches seem to be no more than 80 sq. metres and some less. No doubt in the more random pitching areas you could have more room around the caravan. Our pitching area did have an individual water tap and shared waste point. Electrics are rated at 16 amps and accept CEE17 blue connectors. The toilet block has seated toilets and paper provided however we did find the blocks a bit gloomy and in need of a makeover. The second toilet block is nearer the beach and whilst the toilets and showers seemed OK the individual washing cubicles did not seem to be in use. The arrangements for chemical toilet disposal are quite frankly unhygienic as the disposal point is right next door to the motorhome drinking water supply and quite frequently I saw people putting the nozzle of the drinking water hose into their cassette toilets! As part of the camp is what is called a 'Störtebeker Camp' which is an educational unit where groups of school children holiday and use the beach. Near to Reception there is a small bar/restaurant however the advertised shop seemed to be closed during our stay despite the ACSI book showing it would be open. Bread could be ordered from Reception. Also in the reception area free WiFi is available although it seems only when reception is open. Apart from BBC News 24 and a few obscure English language channels we were unable to get the normal BBC/ITV programmes on our 80cm dish. The site accepts the ACSI Card in the low season. Date of visit early June 2011.The site barrier requires a control tab for which there is a €25 deposit. Bicycles of all sizes can be hired on site and there is also a watersports centre. Whilst this campsite met our needs in terms of location we did find it rather unkempt almost as though no pre-opening work had been completed like grass cutting so not somewhere we would rush back to.
The location of the site makes it easy to visit many of the attractions of the Insel Usedom region. Peenemunde, famous for the development of rockets is only about 15 miles away. Nearer is the seaside of Zinnowitz and the old town of Wolgast which has several supermarkets.
Click on thumbnails below for a larger image:-