Camping de la Cite, 11000 Carcassonne, Tel 0468100100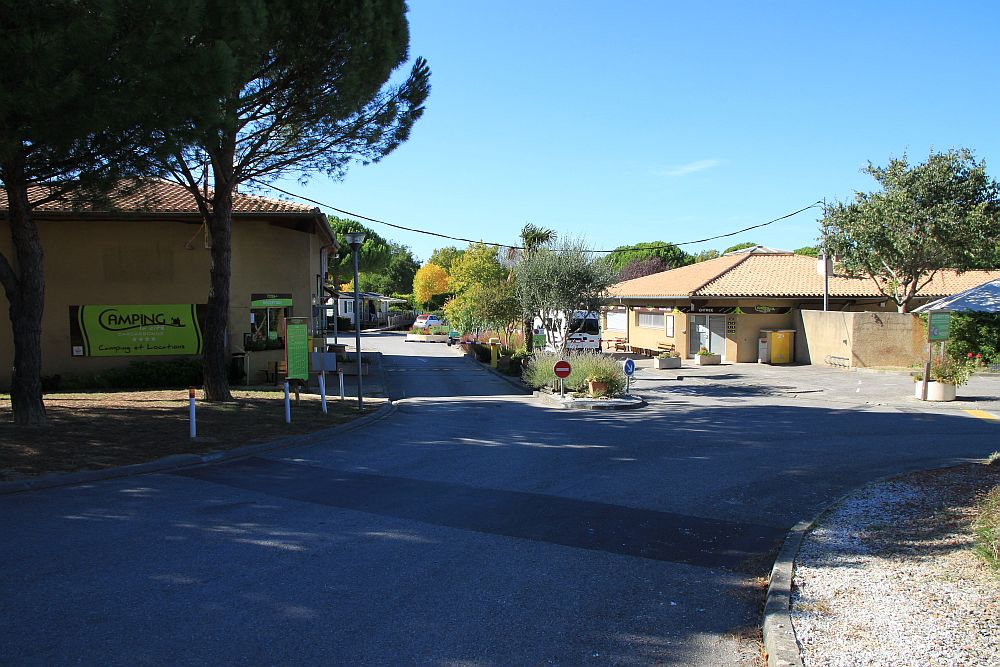 To Find Site:- Exit A61 at junction 24. After Toll booth turn left onto D6113. Leave this road at junction signed for Toulouse/Foix/Castres and at roundabout take third exit. Continue on this road for about 3 kilometres and at roundabout take first right. Continue for about 400 metres (ignore low bridge sign) and turn very sharp left at junction onto D104 signed for campsite
Camping de la Cite is a large nice quality campsite situated in a semi urban environment on the outskirts of Carcassonne. The site roads are wide and offer good access to all pitches. As well as tourist pitches there are a fair few mobile homes but these are in their own areas. There are around 120 touring pitches for caravans and motorhomes with access to electricity plus about 48 with no electricity. The majority of pitches are enclosed by hedges although on one part of the site the pitches are more open. They are arranged around the site access road and behind are some more pitches in some cul de sacs. Whilst access is a little more difficult to these pitches they are large enough to allow you to get your outfit into place. The general size of pitches is quite generous to large. Although they started out as grass pitches by the end of the summer they end up being baked earth which is firm but can be dusty. There is also a fairly large informal tent area in addition with picnic tables. Electric points are rated at a useful 10amps. You will find a mix of continental 2 pin plugs as well as some CEE17 blue connectors. There are a few water points dotted around the site but the only dedicated grey water waste disposal is at the motorhome service point. Likewise the only chemical emptying point is in the same place, so a long way from some pitches. The motorhome service point is one of the best I have ever seen with room for two vehicles at a time. There are three toilet blocks around the site all of a very good standard. They contain English style seat less pedestal toilets. Toilet paper is provided but outside the cubicles!!! All toilet blocks are unisex. Reception, where good English is spoken, has a variety of local information plus maps and local products for sale. The booking in process is different to many sites I have encountered in France. Payment on arrival is required although you can always add extra days. They also require your passport which they scan for the entry/exit card. They seemed happy to use my Driver's Licence, it seems it's the photograph they need. CCI or ACSI ID cards are not accepted. Across from Reception is a shop/bar/restaurant with covered terrace which serves a basic menu to about the end of September. Alongside the terrace is a nice swimming pool and lounging area. For children there is a playground and also a fenced ball game area. The site offers free WiFi although it works better the nearer to reception you are. We were about half way into the site and we found it a bit on the slow side, just as well it was free!! Camping de la Cite is a busy campsite with customers arriving every day even out of the main season. However we found it reasonably peaceful here, certainly during the week. At weekend many of the locals use the footpaths that border the campsite so inevitably there is a little noise from this but it is not excessive. Ryan Air fly into Carcassonne so you do get the occasional roar of an airplane at take- off time but there are only a few services every day.
The beauty of this campsite is that it is within walking distance, along a traffic free path along the river, of the old Medieval City as well as the modern equivalent. We timed our walk back from the old City at 30 minutes, the fitter amongst you will manage it in less. The not so fit need to be aware that it is quite a steep climb up to the old City including steps and ramps and for easier access you might want to walk further around.
The path can also be used by cyclists but just watch out for the tree roots! The Canal du Midi is on the northern side of the modern town which itself is quite grand with nice gardens in the Centre.