Haycraft Caravan Club Site, Haycrafts Lane, Swanage, BH19 3EB, Tel 01929 480572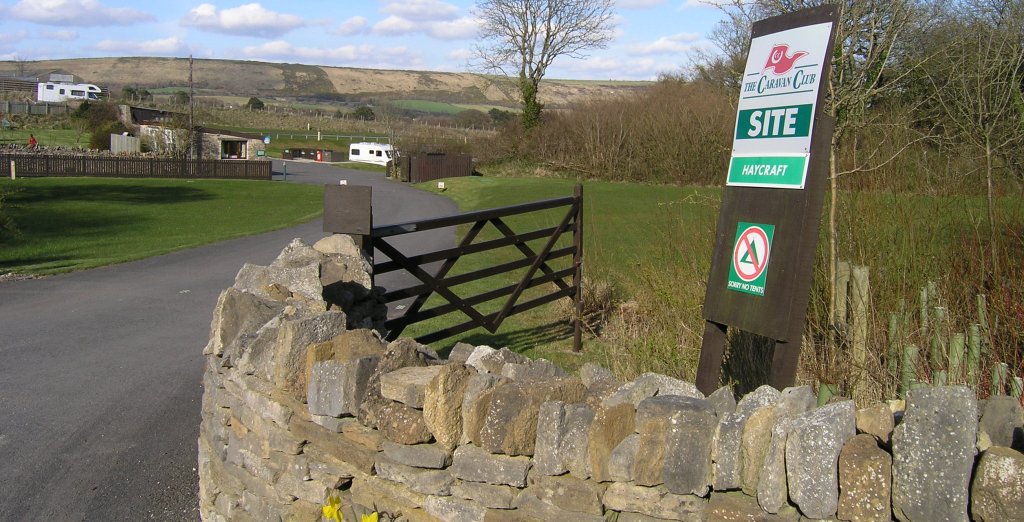 How to find site:- From Wareham take A351 signed for Corfe Castle and Swanage. Once through Corfe continue on A351 to Harmen's Cross. Turn right into Haycraft Lane immediately before filling station on the left. The entrance to Haycraft Lane is also signed to the Swanage Railway. Proceed along Haycraft Lane with care as it is narrow, with passing places, particularly after the railway bridge. You pass Downshay Farm of the right and the CC site is about 100 metres further ahead on the left. A printable map is available on the Caravan Club website..
Haycraft is a delightful campsite tucked away in the Dorset countryside with the ridge of the Purbeck Hills running along one side in the distance. Other than any noise created on site it is quiet and peaceful except for the occasional hoot from the steam train as it passes nearby. There is a distant view of the coast from the higher section of the site.
Pitches on the site are a mixture of hardstanding and grass. When we arrived on site only the hardstandings were being used. After a few days into our visit some of the grass pitches were starting to be used as they dried out sufficiently. You actually drive past one section of pitches, all grass, as you enter the site and before you get to the site Reception. The rest of the pitches are on two levels, about 75% of these are hardstanding. Some hardstandings will accept a caravan and awning within the width but this means the car has to be parked across the front of the pitch. Some of the newer hardstandings are wider so that car, caravan and awning can be put alongside each other. The Caravan Club have recently obtained planning permission to convert a further ten grass pitches to hardstandings, although this may not happen this season. There is one toilet block which is of the usual high standards associated with the Caravan Club. Reception sells some essentials but not newspapers which apparently can be obtained from a garage on the main Swanage road. Television reception via the on site free connection proved to be excellent but you do need your own cable. I also found mobile reception to be fine but this may vary depending on Network.
One of the advantages of this site is, that despite its apparent remoteness, there is not much need to use the car. Keen walkers will appreciate the many way marked walks in the area. The Swanage Railway is only a short distance from the campsite and the train will take you to either Corfe Castle or to Swanage. For food shopping your best bet locally is either the Co-Op or Somerfield, both in the town centre at Swanage.
Click on thumbnails below for a larger picture
Date of visit, early April 2006.
Link to Caravan Diary with more info on this trip.
Extra Information of sites in the immediate area:-
Whilst out and about we noticed two CL's nearby, both listed under Swanage in the CC Site Directory. One is called Sunny Glade. There is an Elsan emptying point and a couple of water points. The pitches are reasonably level although access is over quite rough ground. I am not very familiar with CL's so its difficult for me you judge but I would be disappointed if I arrived at this CL! The second one is at Primrose Hill Farm, just a little further up the hill from the main CC Campsite. This CL is set out on a reasonably large field which seems quite level and to me looks a bit more like what I would expect a CL to be! It is reported to have WC and shower facilities but these were not inspected.
Also nearby is a small farm campsite for 12 units called Downshay Farm. It is attractively set out next to farm buildings. The site is terraced but each pitch looks reasonably level. The are electric points available to each pitch. There looks to be a small utility block.