Oxford C&CC Site, 426 Abingdon Road, Oxford, OX1 4XG, Tel 01865244088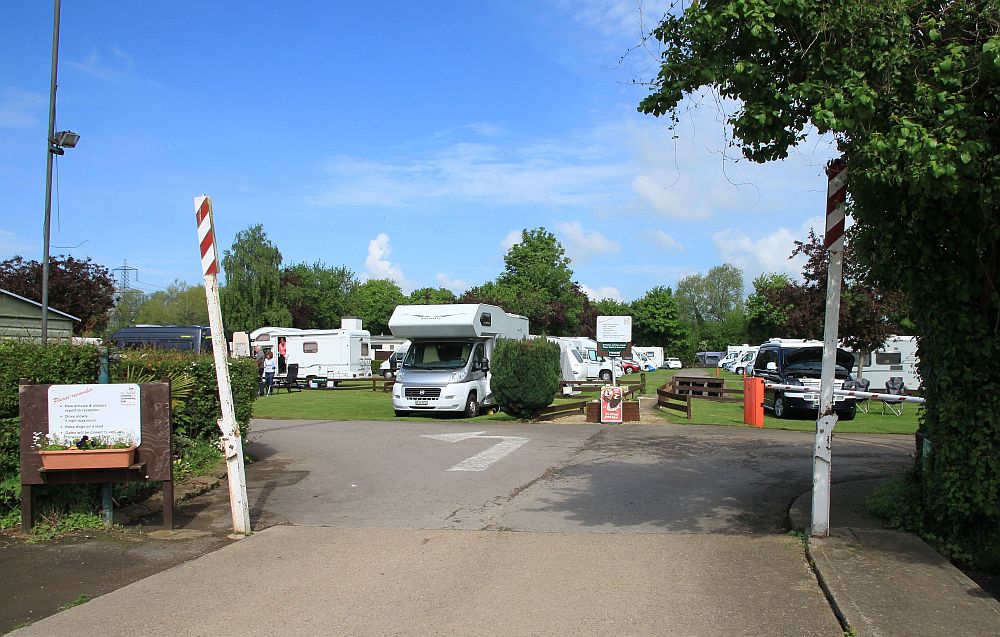 To Find Site:- Leave A34 (Oxford Southern/Western Bypass) onto the A4142 signed for London. At the top of the slip road take turning to left following campsite and Park and Ride signs into Abingdon Road. Once over railway bridge look out for a blue building which is Go Outdoors. Turn down the side of the shop at the C&CC sign. Continue to the campsite at the end of the car park.
This campsite is set in an urban environment less than two miles from Oxford City Centre with easy access from the Oxford bypass. The site is open all year and accepts non-members. There are 90 grass pitches which do undulate a little so some levelling may be required. Over winter when weather conditions are bad the wardens may decide to position units on the tarmac site roads to avoid problems with getting stuck on the grass. Not all pitches have electrics so this must be specified when booking. Electric points are rated at 10 amps and use CEE 17 blue connectors. Water points are dotted around the campsite but grey waste can only be disposed of at the toilet block. The same is the case with chemical toilet emptying. Rather surprisingly, given the number of motorhomes that use the site there is no dedicated grey waste emptying point for motorhomes. You are required to decant waste water into a container to dispose of it. There is one central toilet block which is utilitarian rather than luxurious. In the same block is a laundry and a small information room. At the other end of the block are four washing up sinks which have overhead weather protection but are not fully enclosed. Rather strangely the four washing up sinks are separated by the (enclosed) chemical emptying point! Reception sells a few essentials. There is site wide WiFi and time can be purchased online. Not the fastest but it seem reasonably reliable. I managed to get good 4G coverage on my phone. There are no onsite facilities for children but there is a public playground nearby. During our weekend visit we found the site quite peaceful but given its location there will be some rail and road noise.
The beauty of this site is its proximity the City of Oxford. The site also has excellent bus links into the City either from outside of the site or the Park and Ride which is a few minutes' walk away. The site is right next door to a branch of Go Outdoors so very handy if you need any camping essentials. About five minutes' walk along Abingdon Road is a Tesco Express for any basic food shopping. As to be expected there are many choices of restaurants for all tastes in the centre of Oxford. The refurbished Westgate shopping centre now contains a John Lewis store. The centre also has a roof terrace with lovely views over the city. The Tourist Information Centre is in Broad Street where you can find lots of information about Oxford and guides and maps are on sale. If you are a fan of Colin Dexter's Morse books reception will sell you a 50P guide to the locations used in the TV series.