Caravan Diary 2012
Broadway
After a monthís delay we eventually set off for the Caravan Club site at Broadway. This is our first trip away this year. Things seem to have conspired against getting away earlier. Because we spend a fair amount of the year away we concentrate on the house during the winter. Since we retired we have gradually been working our way through the house and the end game had almost been reached so we thought an earlier trip would not have been helpful.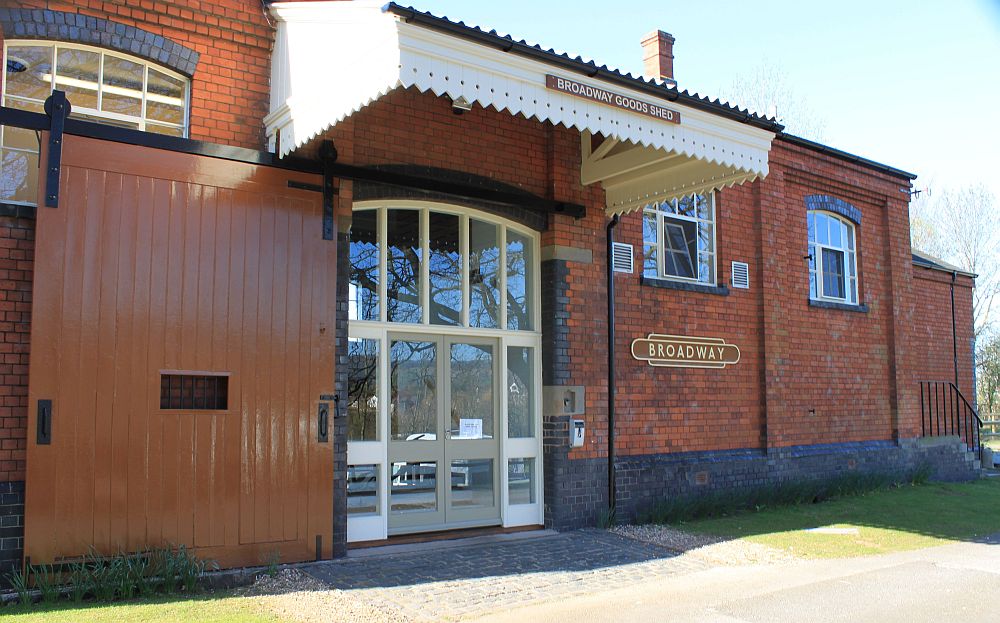 26th March arrived and in the past week the weather had been very good which we hoped would continue, letís hope the forecasters are right! Although we could not leave much before 11.00am I was up before 6.00am to take our son Paul to the station. There was ice on the windscreen so despite warmer temperatures during the day the nights are still pretty cold. We were ready to go just after 11.00am so we set off in the direction of Oxford. We could have gone across country and saved about 10 miles but we find with this larger van we prefer to stick to main routes where we can. At Oxford we headed in the direction of Evesham. We did not experience any holdups. When we arrived at the Broadway Caravan Club site I was asked to hand in my membership card and go and pitch up before paying which seemed a bit unusual, although given the limited room for booking in I suppose it was sensible. The site was pretty full by the time we arrived but we were able to find a pitch at the back of the site. When I went back to pay I asked for a Wi-Fi card but they could only sell me the £5 card as apparently there was a problem with the more expensive ones.
We had brought with us an awning that we had, had for years and hardly used. It fitted our previous caravan but this one is 3 feet longer. According to NR Awnings it is possible to convert a full size awning into what they call a combi. So the idea was to put it up and try and work out where to cut the beading so that it would fit the longer van. In the end we gave up as it was difficult to determine the best place to make that cut. Newer vans seem much taller so it was doubtful that the side of the awning would have reached the ground which would have made it look a bit odd. The guy opposite came over to see if we needed any help which was nice but when he realised what we were doing he understood the problem. It seemed a better idea to sell this awning and either get a larger porch or a specialist porch that would fit any van.
Having packed it all away we went for a walk around the site. When we first came to this site you used to drive through the old goods shed as the old part of the site is on the former Goods Yard. The lower and bigger part of the site is all new. From the display in the Goods Shed, which also doubles as a toilet block, it is hoped to restore the old railway to Broadway. The old railway line runs along the back of the site so one hopes that in years to come visitors to the campsite will hear the toot of a steam engine. On my usual evening walk round the site there was not one empty pitch of those that were available.
Tuesday 27th March, although it was cold overnight we awoke to a beautifully sunny morning and it felt much warmer than the previous day. We walked into Broadway this morning and it is as delightful as ever with its mellow Cotswold stone positively glowing in the bright sunshine. The residents of Broadway must have been delighted when they built the bypass around the town as it lessens the traffic by quite a volume. We needed a bit of shopping but first of all treated ourselves to a cup of tea and a scone to fortify us! Since our last visit to Broadway there has been quite a bit of development and this includes a small Budgens supermarket which packed a surprising amount into its small dimensions. We noted on our walk back to the caravan the Continental habit of not automatically giving way on footpaths. We always go into single file mode when we see people coming in the opposite direction towards us. Buts it's often not respected by many who insist on walking side by side until forced to move over. Had I done that as a child I would have got a clip round the ear! Even this does not explain it as many of those concerned are the same age as us.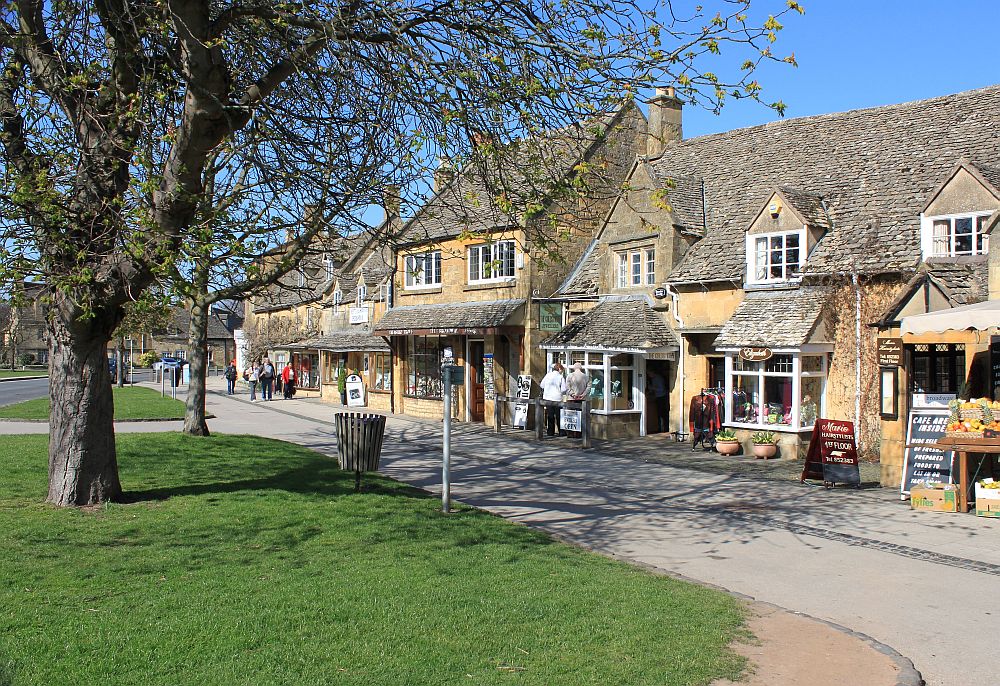 Back at the van we enjoyed our sandwiches washed down by the cool cider we had purchased at the supermarket. Ideal on such a day which was deceptively hot for the time of year. Although the slight breeze still had a hint of ice in it just to remind us we were not yet out of March.
While Margaret watches her soaps I tend to do a few turns round the site. Particularly important at the moment because I have not been able to walk far recently because of a minor op on both feet. Fortunately they are now healing and so after 3 months of no serious walking I am making an attempt to get moving. This evening I went out of the site to have a look at the Broadway Station site which is being restored as part of the Gloucestershire Warwickshire Railway. The original station has been raised to the ground, although the foundations still seem to be in place. I was amused how they have pegs in the ground where the toilets and waiting room used to be. At least now such projects get very positive encouragement compare to the sixties and seventies when I was actively involved with canal restoration. Interestingly the campsite is still full.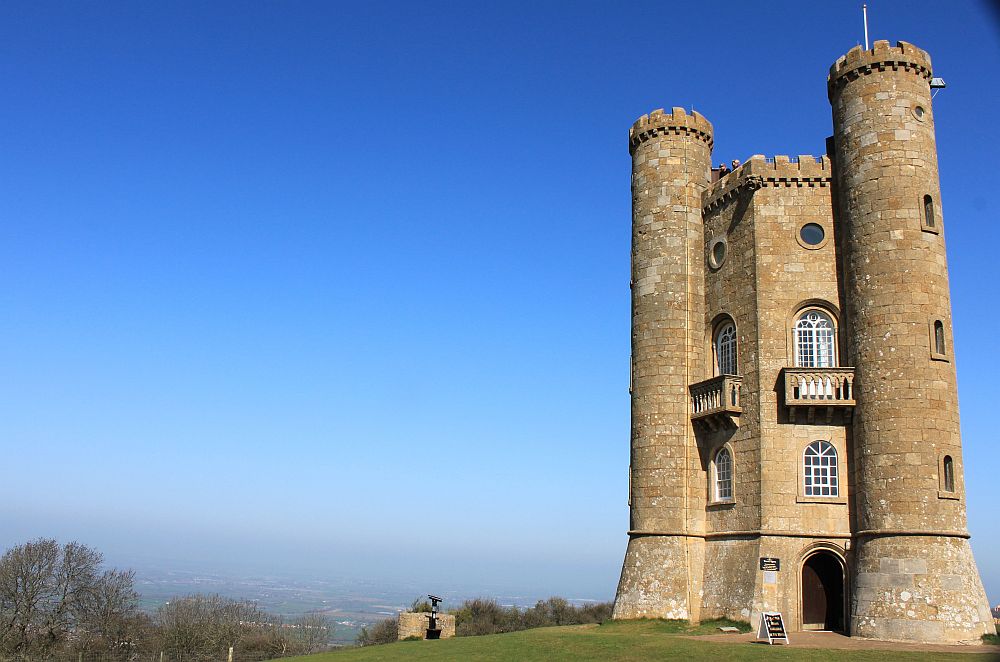 Wednesday, and another even warmer day in prospect, despite the forecasters warning us it will get much cooler towards the weekend. Our first visit today was the Broadway Tower which is a folly not far from the top of Fish Hill. There is a charge to view the inside and climb the tower but it seems free to wonder around outside although there may well be a parking charge at busy times. There are some amazing views from the hill on which the Tower is built on and you can see for miles.
We then cut across country to Hidcote Manor which is a National Trust property. It is the Gardens which are of interest rather than the Manor. They were designed by the American Lawrence Johnson and he later bequeathed the gardens to the National Trust in 1948. This is not Capability Brown but a much more intimate garden with small sized features leading one into another so ideal for those that don't want to trek for miles. There were many people enjoying the gardens and the sunshine. The Manor has a small garden centre attached selling plants that you see in the gardens and a rather nice refreshment area.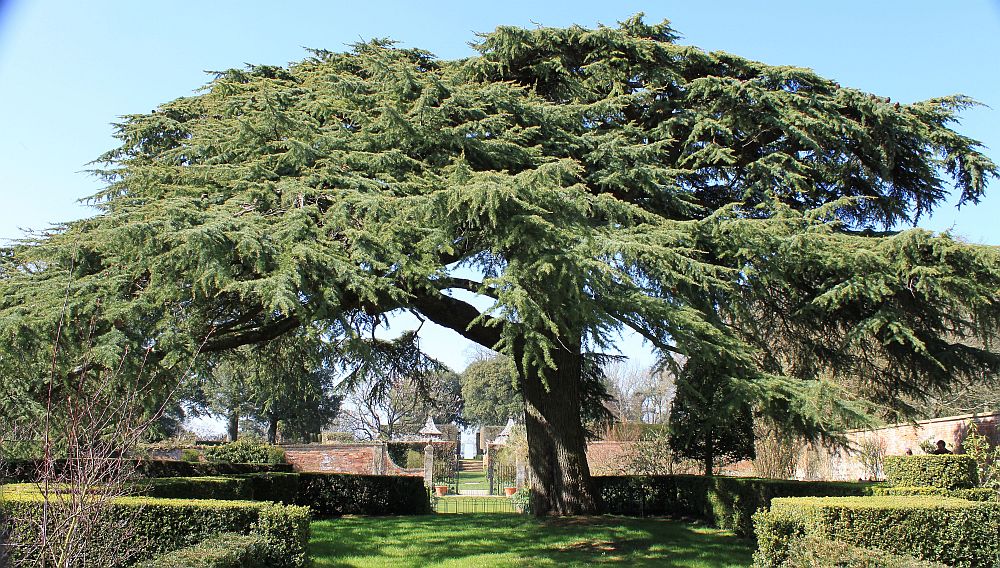 Back at the van we had a lazy afternoon in the sunshine. Of course doing nothing gives you time to think about any number of things like dogs and their owners. We donít have pets or even much inclination to have any. We do have family with dogs which seem to play an important part in their lives. On site you often see the dog some second before the owners as they all seem to have those extending leads. Strange thing is the dogs always seem to know where they are going, rarely deviating from their set course! I thought I had a nervous bladder but some of these dogs seem to go to the dog walk rather a lot! On my evening walk around the site, without an extending lead, the site was still full with one empty pitch which seems to be reserved for a disabled member.
Thursday and our last full day here in Broadway. We decided to have a run out to the market town of Evesham which is only about 6 miles from the site. It has a nice situation on the River Avon. Unfortunately the town centre has suffered the same way as many towns of a similar size with many empty shops which canít be sustained by the local economy. Even the Riverside Shopping Centre had lots of empty units. The area around the old Abbey, of which only the tower remains, and the old Market Square is quite nice.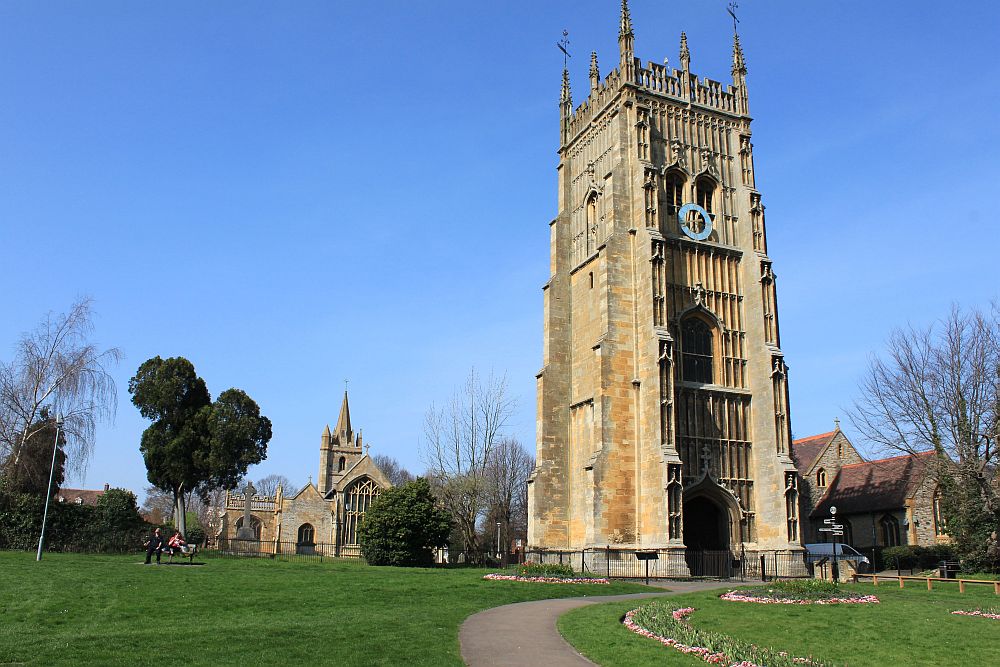 On the way back we thought we should join in with the general panic about buying fuel. It beggars belief that supposedly sensible people like Government Ministers (!) would be stupid enough to suggest that it might be prudent to top up fuel tanks and shock horror even to further suggest people also stash away fuel in jerry cans! If something was likely to start a panic that was. The real message, of course, was to have a go at those nasty tanker drivers who were threatening to go on strike. Now that strike may never happen but as they all earn around £45000 a year they seem to be fair game. Interesting that their annual earning seem to match the sum by which millionaires had their tax bills cut in the budget! Anyway, enough of politics, I had to buy my diesel. The garage opposite the campsite was doing a roaring trade, in a sort of calm way. It took a while to get served but that was more to do with the speed that the customers filled their tanks rather than the number of cars waiting. Looking at the customer profile I think most of them had been regular customers for many years!
About mid-afternoon we walked back into Broadway to pick up a few bits. It had been another quite superb day weather wise. On my evening walk I noticed there were more spaces empty tonight. Perhaps because of the upcoming Easter holidays that will start this weekend.
Friday 30th March. Well what a contrast as we woke to grey skies and much lower temperatures. The journey home was not without incident as I managed to take a wrong exit of a roundabout in Chipping Norton and so had to pull into a housing estate in order to turn round. Not the most elegant of manoeuvres and we did hold a few people up but we were soon back on the road to Oxford. Margaret is not very impressed with my reversing skills and thinks I should go on a course! She seems to forget that I reversed perfectly on to our pitch four days earlier. Itís always more difficult in confined spaces. We passed several small rural filling stations en route and all were busy but there were no long queues. As we headed passed the Bladon Chains CC site we saw a sign for Bicester at the roundabout and decide to go that way rather than right into the outskirts of Oxford. Itís a more dog leg of a road but quieter and it did save us three miles. We got the van back into the garden with no problems and just wondered whether we will have a chance to get away again before are next big Trip in early May.
Henley on Thames
3rd August and almost a month after we returned from our European trip we are off to Henley on Thames. We are meeting our son Paul and we all have tickets for the Olympic Rowing at Eton Dorney on the Saturday. Anyway before we get there we have to get to Henley, hopefully with the aid of my new TomTom. I am not sure I got my route planning right as I had to ignore a lot of the instructions. I think a lot of it was to do with the fact that it does things slightly different to the old TomTom. Despite our disagreements we managed to get to our campsite.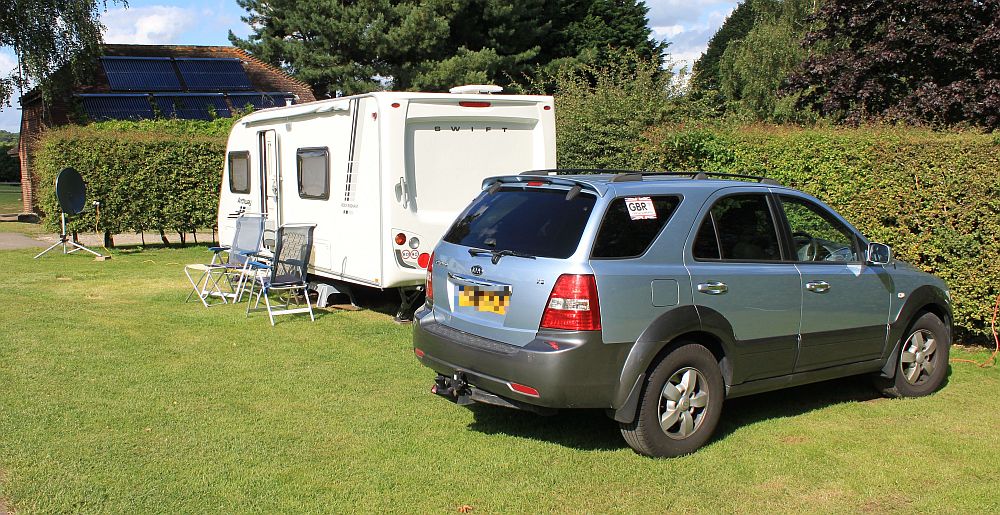 We would have normally tried to book the Caravan Club site at Henley but it was full. We only knew we had Olympic tickets towards the end of May so I started to look for alternatives. Henley is quite conveniently placed for the Olympic Park and Rides and I remembered there was a campsite not far from the Club site called Swiss Farm. I was able to book online from Italy. They wanted a 20% deposit on booking but also full payment two weeks before arrival so any option to change our mind would have been expensive. As it turns out it seems a very nice site with a warm welcome at reception. The difficulty was our allocated pitch whilst quite long did not have much depth further complicated by it sloping downwards towards the hedge. We tried the van in at a right angle from the road but the hitch was almost on the ground and also nearly on the road. There was plenty of room lengthwise along the pitch but side to side levelling was a problem. On top of this the wheels were starting to slip on the mover because the pitch was wet and slippy. Margaret went off to see if there were any alternatives. We were getting concerned that whether the battery would last! She came back with a couple of options one of which was to go on the next door pitch which we eventually did and managed to get the van sort of level! At about three pm I went off to pick Paul up from the station. He is using one of those pop-up tents for the weekend, the sort you need a degree in mechanical engineering to work out how it folds down. They are also known as festival tents and I suspect the difficulties of folding them up results in them being left in the field!

Saturday 4th August and a date with the Olympic Rowing Finals at Eton Dorney. We were up at 5.00am as we had to be at the Park and Ride by 7.00 am. We were impressed with the organisation of getting us from the P&R to the Olympic venue. I donít think I had ever seen so many double decker buses in one place. What they did not tell us was that we had to be as fit as the athletes as it was quite a walk from the P&R to the venue. It snaked round Windsor Race Course before getting to Dorney Lake. Once through the security, manned by our cheerful armed forces who all seemed to be enjoying themselves and often finding time to chat, especially to the youngsters. Although thorough the security did not seem overly intrusive, in fact it was similar to what we experienced when we went on our Cruise last year. Once inside the security we could fill our bottles of water from the free fountains.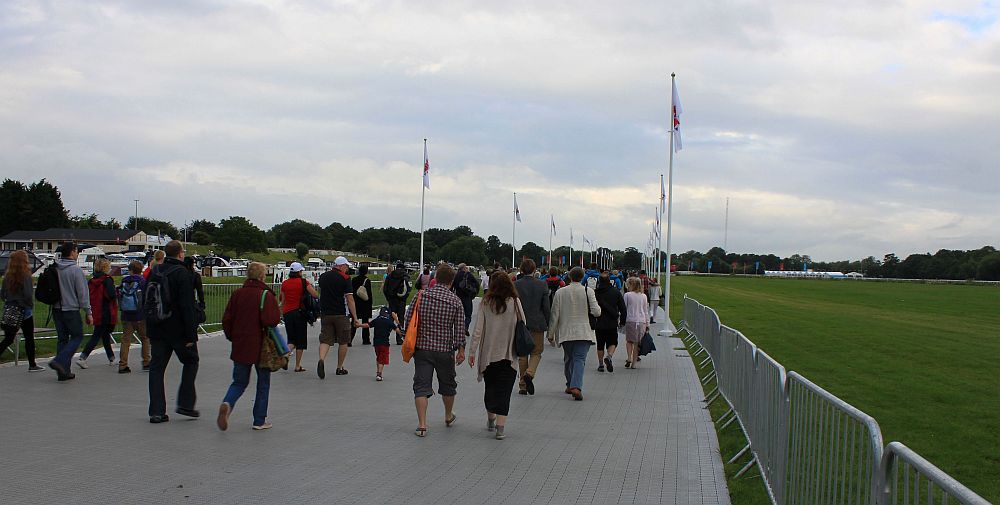 We were very early but none the less we set out to find our seats which were quite high up in Stand One (nearest the finish line). We had a long time to wait as the first event started at 9.30am. Prior to the start of the programme announcers were encouraging everyone to get in the mood by doing Mexican Waves. We have now been to a few big events like F1, Wembley and now the Olympics and it never ceases to amaze me how late some people turn up. Thinking another Mexican Wave was about to start I realised that it was only people standing up to allow people to their seats! Likewise events such as this seem to attract people who seem to want to impress people they are with either by often not accurate knowledge or just by being loud mouthed. I sometimes wonder what these people do for a living! For us lesser mortals we were only there to enjoy the day and some good sport.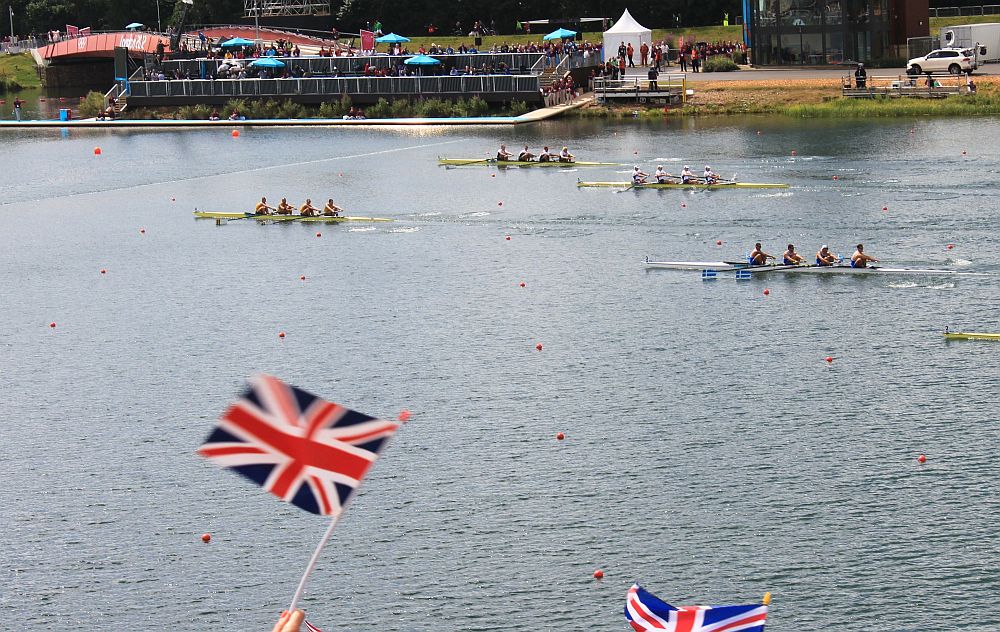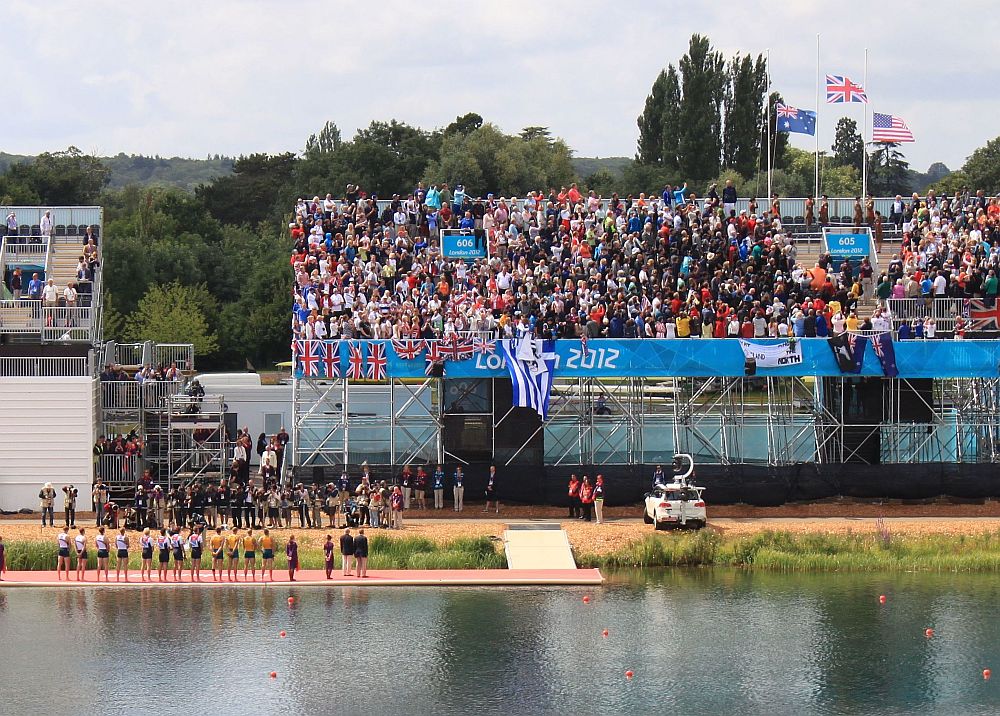 The first half dozen events, whilst classed as finals, were in fact just a means of giving the lesser teams a placing. The last four events were those with medals to be won. Team GB had a pretty excellent day on that score with 2 golds and one silver. The final race had no Team GB involvement. First up was the menís fours following in the tradition of Steve Redgrave and Matthew Pinsent. They won their event for gold to the delight of the crowd, especially when Andy Triggs Hodge, Tom James, Pete Reed and Alex Gregory rowed by close to the stands by way of salute. This was the same event we saw twenty years ago at the Barcelona Games of 1992. Second up was another gold won by the lady lightweight double sculls, with Kat Copeland and Sophie Hosking and they won by over a length and had not been predicted to do so well! The final race for Team GB was Zac Purchase and Mark Hunter's in the menís lightweight pairs. However disaster struck seconds after the starting signal when one of the seats broke making it impossible to row. Because it happened within 100 metres of the start they were allowed to return for a repair and the race restarted. They lead for most of the race but were overcome by the Danes almost on the line, they were clearly upset by this. I suppose if you were a betting person trying to predict that we would win three out of three gold medals would have been something of a longshot, it very nearly came off. I should perhaps, being British, mention the weather! I donít think I have ever experienced getting soaking wet and sunburnt on the same outing. We had made provision for this but it was surprising how many didnít! With the races over time for the long trek back to the buses. Margaret remarked what an orderly queue there was, more of a giant snake than a queue but orderly and good natured all the same.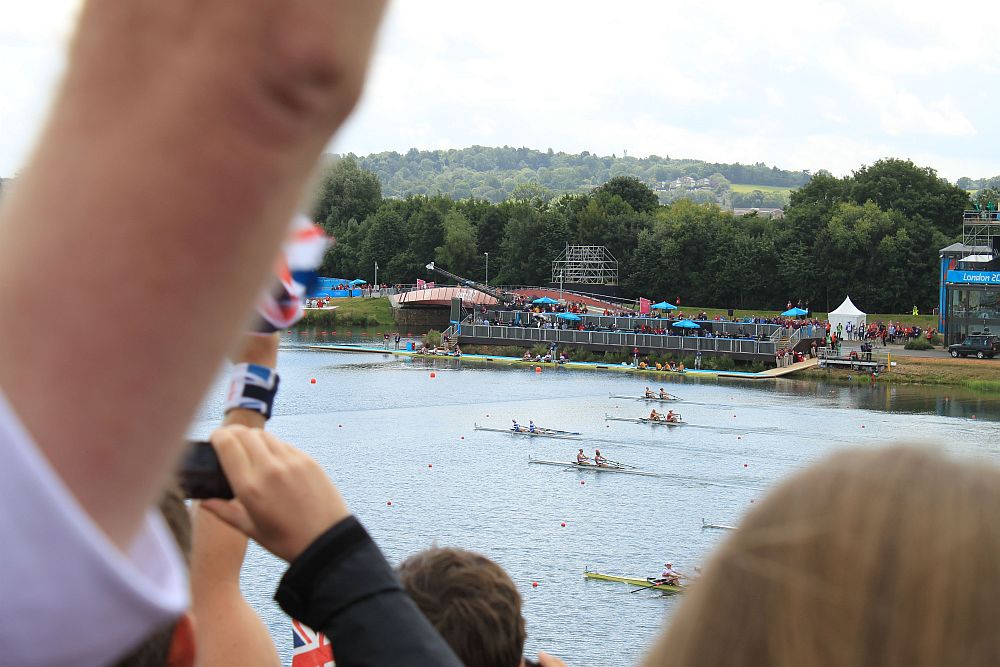 Back at the buses we just followed the lane for our P&R and there was a bus waiting for us that left immediately. There was no difficulty getting out of the car park and back to the caravan. I have to say that the whole event was really well organised with no delays what so ever. Everyone involved in the event was friendly and helpful. A real credit to the Olympic organisers and a credit to the country.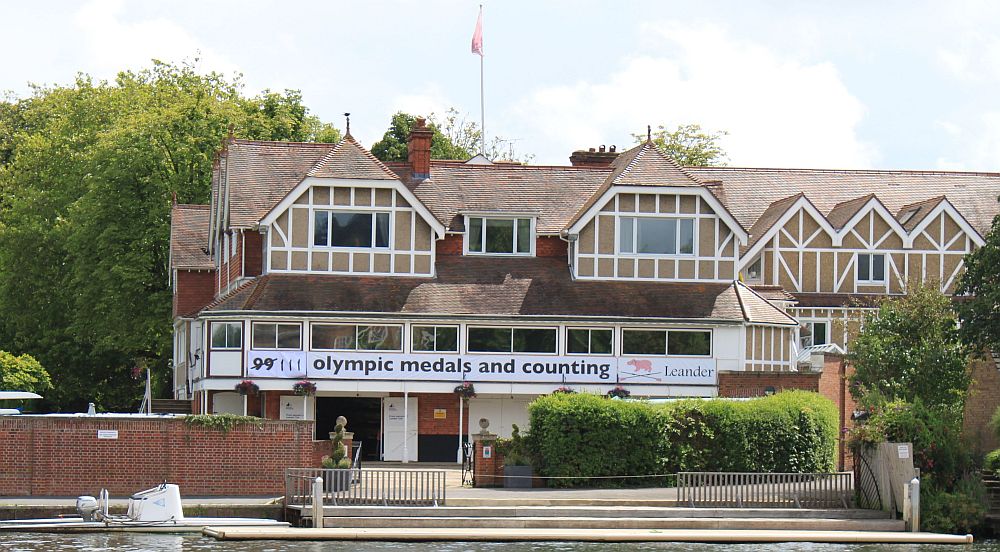 Sunday. Initially it started quite grey and wet and although from about ten in the morning, except for the odd shower, a pleasant sunny day. We left Paul in the van watching the Olympics and catching up with some work as we walked into Henley on Thames. We decided to detour down to the river before heading into the town. The towpath is always popular with people out for walks. I noticed that one of the big trip boats was a replica Mississippi river steamer which to me looked complete out of character on the graceful and sedate River Thames. Given the Thames has such a history of fine river steamers itís a shame they need to introduce such a monstrosity. We completed our circuit of the town, including a coffee to shelter from a sudden shower and a bit of shopping in Waitrose including newspapers that were celebrating Team GBís six gold medals won on the Saturday. After lunch we had a walk along to the CC Four Oaks site about half a mile down the road towards Marlow. I have to say that the major advantage of Swiss Farm is its relative peacefulness compared to Four Oaks from traffic noise. Apparently they are upgrading Four Oaks over winter but this does not include and sound reduction along the side of the site next to the Marlow Road.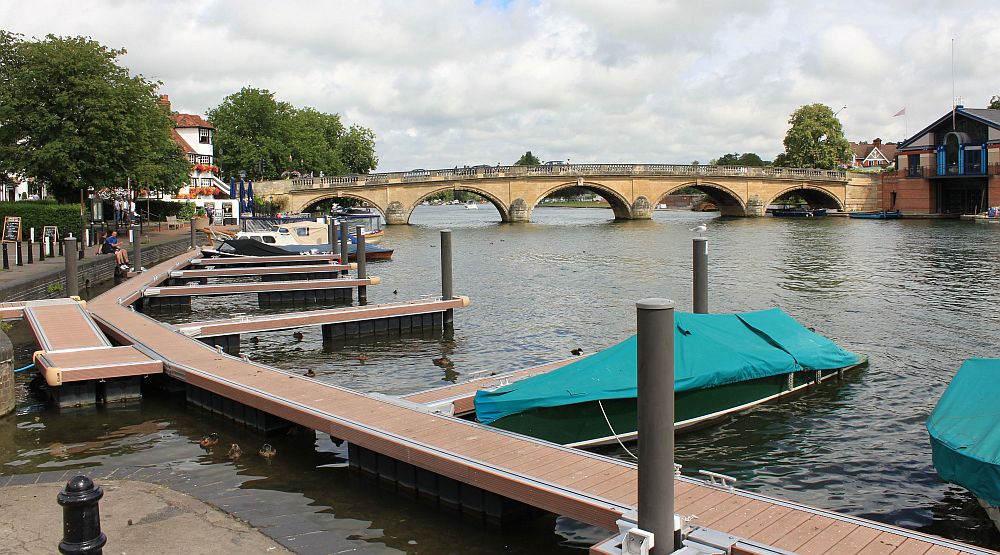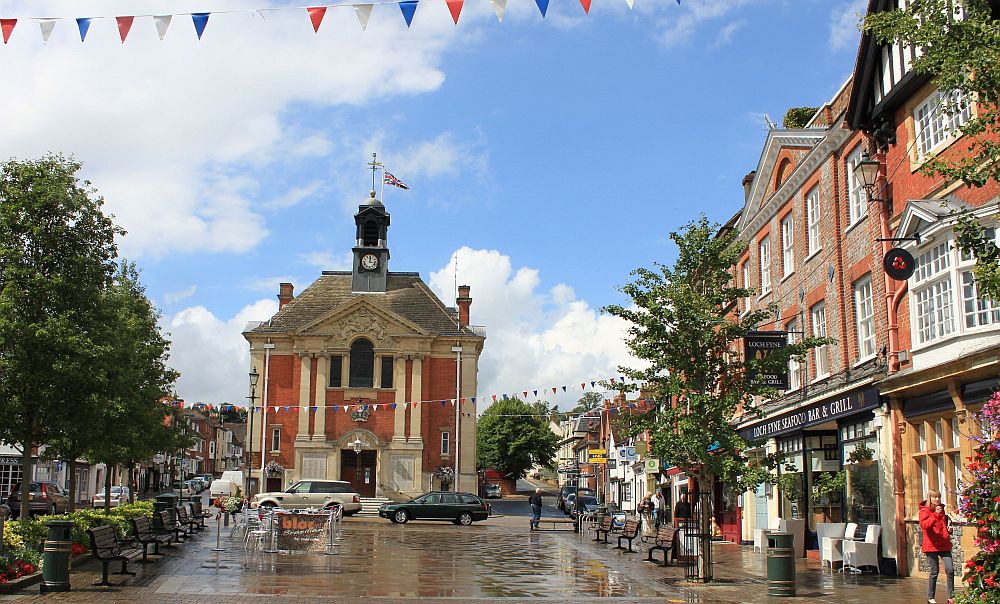 Monday and first job of the day was to take Paul off to the station at Tywford for his train back to London. When I got back we had the dreaded task of taking the tent down. You twist it that way and then that way and it still seems to spring back to where it was in the first place. I eventually tamed the beast and got it back in its cover. Talking of tents, there are a lot of tents on this site and it is amazing how large they are. Many seem to have a much larger footprint than most caravans.
After lunch we drove into Marlow to have a look round. Obviously a lot of well-heeled people here judging by the shops. It is a lovely place and you can wander down by the river. The bridge is interesting as itís a chain suspension bridge which was built in 1832. From the bridge is a lovely view of the weir near Marlow Lock. Takes us back to our boating days.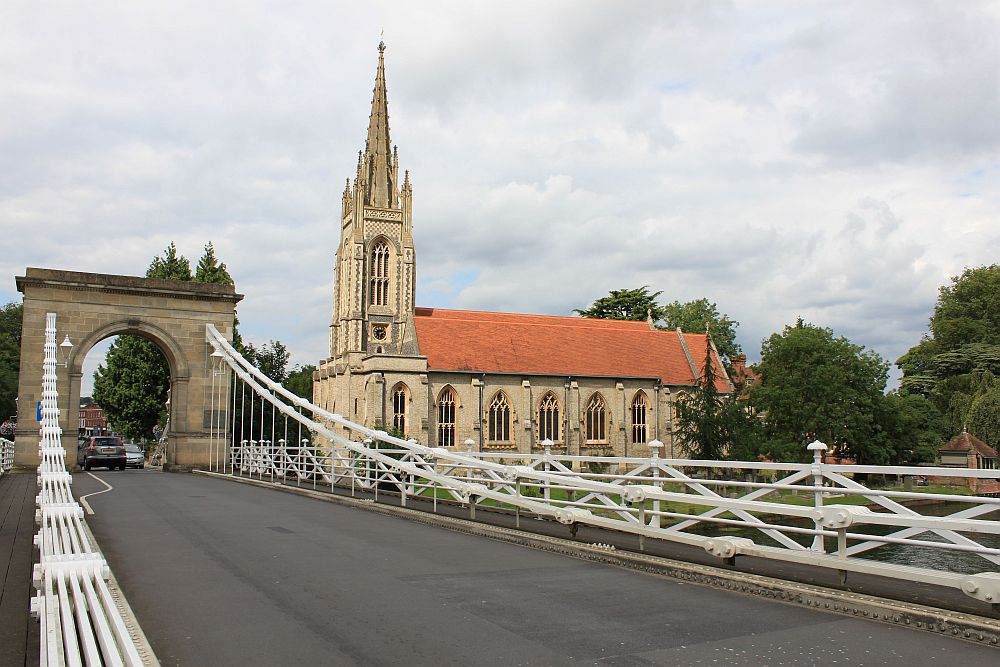 Tuesday and time to go home. It was damp without proper rain if you see what I mean! We managed to get the van off the pitch without too much trouble and we were soon on our way. TomTom was doing alright until we got to the Oxford bypass where it took us towards Abingdon rather than towards MK. I had set a waymark in the wrong place! When we get to Bicester TomTom wanted to take us on the M40 and then the A43 but knowing the route quite well I decided to go via Bicester which is our normal route. From here to home the sat nav made no attempt to recalculate the route and according to TomTom as we turned into our little estate we still had 84 miles to go!!! It seems that if you want it to recalculate you have to tell it! When we go to France in two weeks time I may well take my old TomTom as backup.
It is now ten days before Christmas and we have been unable to get away in the UK since our visit to Henley on Thames, apart from an overnight stop at Black Horse Farm near Dover en route to the Tunnel. We did manage seven weeks in France from late August to early October, details here. When we returned to the UK we had several bits done to the house including new windows and doors. We have also had to take the caravan back to White Arches for some minor warranty work but it won't be ready until the week before Christmas. Plenty of time to start planning for next year!!!