French Leave
The story of our trip to the South of France via the Clermont Ferrand route and back via the Dordogne and Loire. Please click on small pictures for larger image.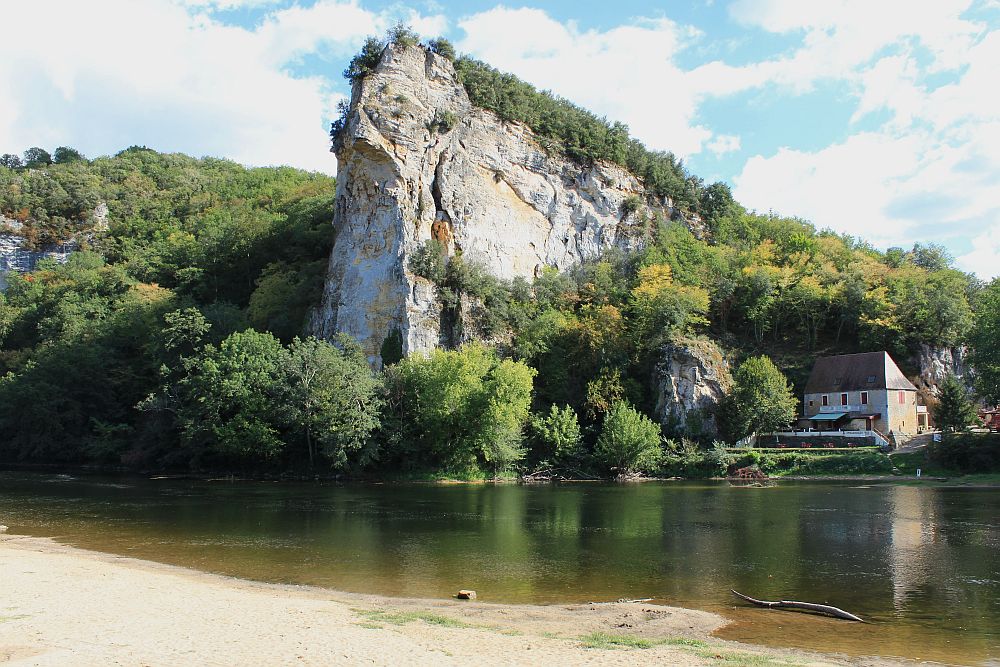 Tuesday 21st August. Here we are again sitting on a campsite a few miles from the Channel Tunnel ready for our crossing tomorrow to France. Seven weeks since our return from our trip to Italy, itís a hard life! This time we have chosen to stay at Black Horse Farm at Folkestone as itís a bit nearer to the Tunnel. Apparently if you only stay one night you should always book a ferry pitch, and pay in advance. I am sure I am not alone in thinking that the ferry pitches only occupied the area around reception but the reality is that it also includes quite a few pitches inside the barrier. Regardless of whether you leave at a civilised hour the site is keen for you not to disturb the long term holiday makers, no wonder we never get a hard standing!
The journey was pretty mundane with only the smallest of holdups and we got to Black Horse Farm before 2.00pm. Clearly lots of people of a Ďcertain ageí here, off on their autumn jaunts. The site was quite busy and had 'site full' notices up although when I walked round in the evening there were a few empty pitches but also half a dozen envelops outside the site office for outfits still to arrive.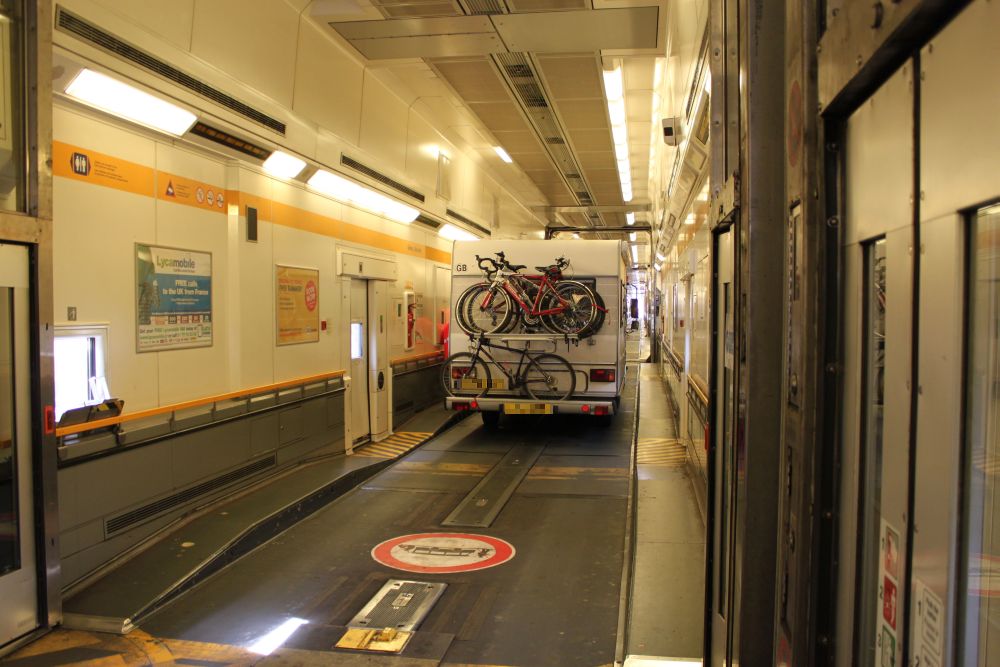 Wednesday 22nd. Up early and ready to leave before 8.30am. Black Horse Farm is about 7 miles from the Tunnel. For once it was not too bad getting out of the site onto the usually busy Canterbury Road. Arrived at the Tunnel in plenty of time to get an earlier crossing but found that was not an option. Apparently an earlier Shuttle had been cancelled and they were trying to catch up with the backlog. Eventually our barrier went up and we had cars in front of us which is a bit unusual. I think they were trying to shoe horn as many onto the Shuttle as possible. I proceeded carefully down the ramp as loading was very slow. When it was our turn we were called forward of the loading point so that they could get someone in the carriage in front of ours. I did point out that they would have to allow room for me to reverse back which they did not seem to fully appreciate. When I pulled forward an older Hymer motorhome went on the Shuttle before us. Anyway we were able to reverse backwards and pull into the carriage. At one point I was concerned that we would not get on our booked crossing but I am writing this as we traverse the tunnel sous le manche! The fun and games of our crossing had not ended! When they open all the fire doors on the Shuttle I usually wait until I can see brake lights ahead before switching on. I saw the lights and started up but for some reason the Hymer was not moving, he had broken down! It took another 20 minutes for him to be towed off the Shuttle with us in hot pursuit. Having filled up with diesel in the Tunnel complex the open road beckoned. We had set ourselves the ambitious target of getting south of Dreux but began to doubt whether this was realistic. We pulled into the Baie de Somme service area only to find all the caravan parking filled with cars, both French and English. Over lunch we decided that we would not travel as far as planned and decided to stay this side of Rouen for a couple of days and decided to give the campsite called Camping Sainte Claire, at Neufchatel en Bray a try. It was pretty busy when we arrived and got even fuller by the evening.
We had heard many good reports about this campsite and we were not disappointed.
Thursday 23rd August. Needed to stock up with a few essentials so fortunately there was an E Leclerc within half a mile of the site. Diesel was the equivalent of £1.17 a litre against £1.39 a litre we last paid in the UK on Monday. It was a nice day so later we decided to explore the cycle track that runs from near the site entrance. It was originally a railway which seems to have had the Dr Beeching treatment. The old rails and sleepers have been removed and replaced by tarmac. Being an old railway it has the advantage of no steep inclines or declines which make cycling easier. We first rode into Neufchatel to have a look at the town. Itís a typical French town dominated by a large church. I decided to withdraw some cash on my new Halifax Clarity card as I want to see what the savings are over my Natwest debit card. Having looked round the town we cycled back towards the campsite and then beyond to the first village. We could have gone onto Dieppe 33 kms away but as we are more used to 3kms we gave that a miss!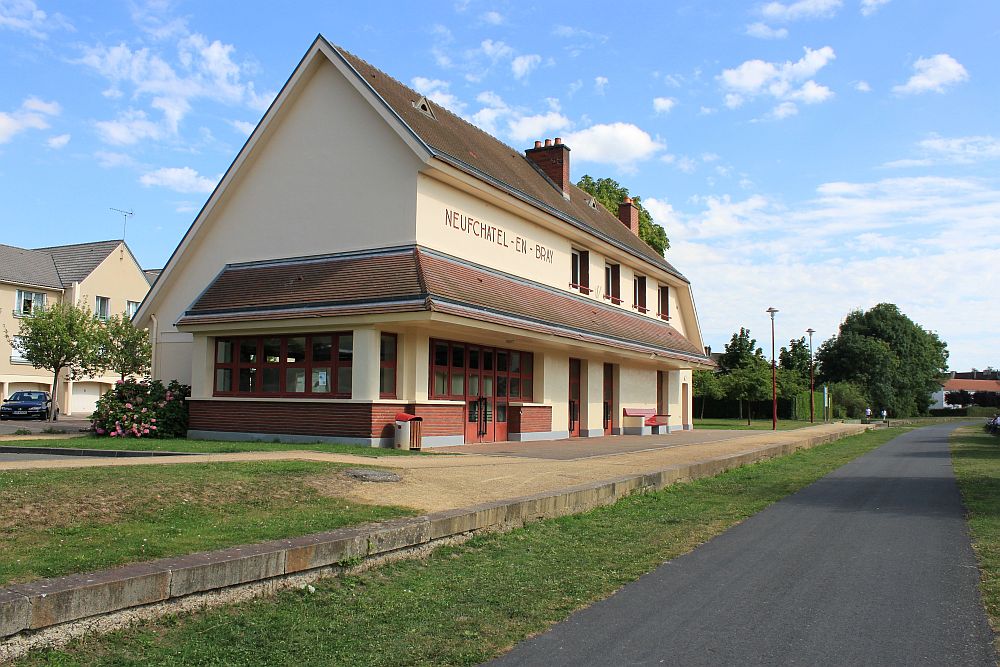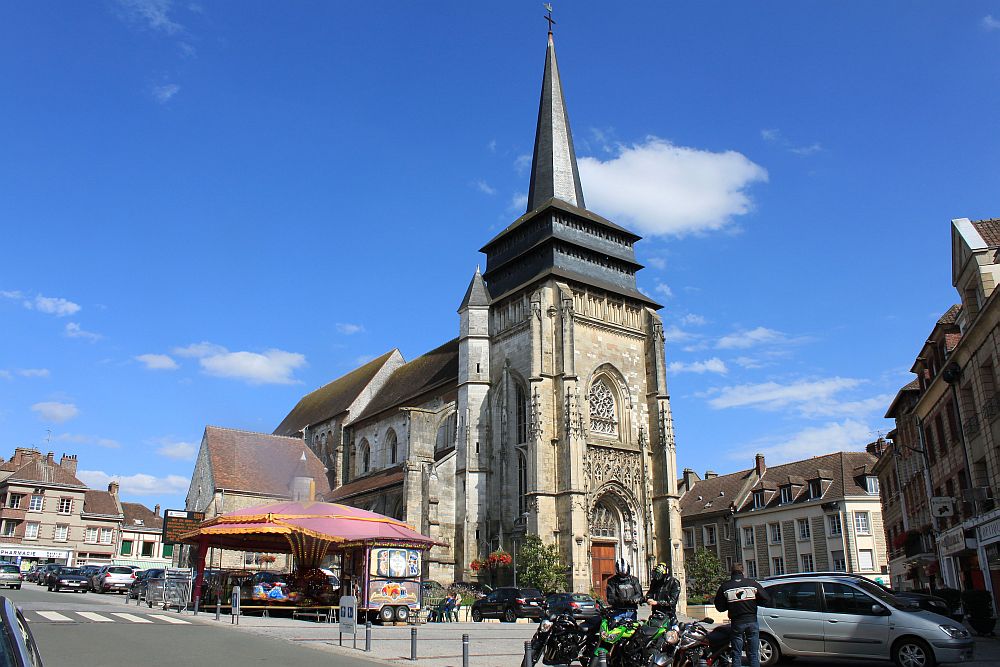 The campsite is again pretty full by the evening. Some people seem to stay for a few days and for others its just overnight. Itís a pretty little campsite and the owner seems to put a lot of effort in keeping it nice, that is when he is not directing people to their pitches which seems to take up quite a slice of his time. We are moving further south tomorrow.
Friday 24th August. We left Camping Sainte Claire just after 10.00am. It was a lovely campsite but not sure we would stay longer than a couple of days simply because of the constant turnover of units which regrettably gives it a feel of a transit camp. Having said that if anyone wants a good stop over site I would certainly recommend it for that purpose.
In order to navigate we are using my new TomTom. Yesterday it did OK, mind you difficult to go wrong in just a 100 miles! In planning todayís journey I had to work out a way to avoid being taken via Paris. I have it set on the fastest route, if you set it on shortest it will take you down any road suitable or not. I therefore had to set it to go via Dreux town centre which was a bit of a worry but at least it was well away from Paris and I knew that it would not be difficult to navigate around the bypass. The first test was Rouen, gold star for that. A short section of the A13 which cost Ä3 so not too bad. When we got to Dreux it did actually take us around the bypass which surprised me. At Chartres it did want us to go through the middle so we ignored that and again took the bypass. For most of the way from Rouen the N154 is now dual carriageway with a few exceptions and of course toll free. However from Chartres to Orleans it is mainly single carriageway although there are signs that work maybe in progress to improve the road. Towards Orleans we had to join the A10/A71 to avoid going through the centre of the City. We were surprised how busy this road was, especially northbound. We exited at junction 3 towards Lamotte-Beuvron, or so we thought. Instead TomTom indicated that we should turn left and wanted to take us to the campsite via some narrow looking roads so we overruled and turned round towards where we thought we were going in the first place! Once on the old N20 it was very easy to find our campsite for the next couple of days Camping La Grande Solonge. As a campsite it is what I call ĎRusticí in the sense that it does not have the manicured look of our previous campsite. The campsite is set around a lake which is use for fishing. It seems perfectly acceptable and we only plan to be here for a couple of nights.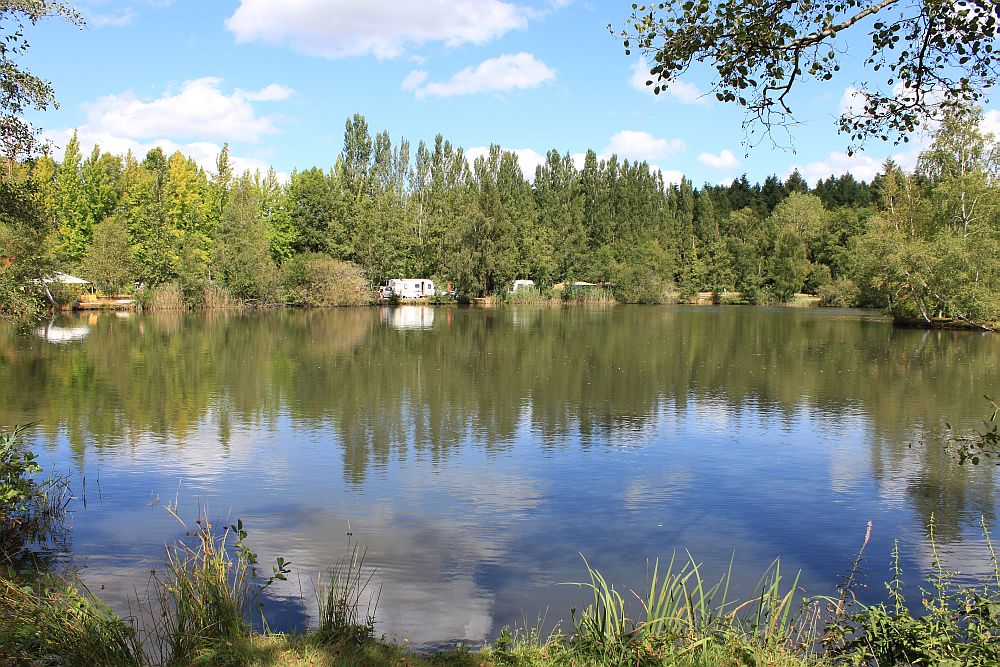 Saturday 25th August. No particular rush today as we did not have much planned except to go and get some fuel. We decided to go south to Salbris which is about 8 miles away. We took the opportunity to go via the campsite in the town which looked quite nice and is situated on a lake and within easy walking distance of the town centre.
Last evening a Bailey caravan and a Range Rover arrived and pitched two along from us. Initially we took no notice but this morning Margaret said to me that she thought it was Margaret Becket, the former Foreign Secretary. I spoke to her husband but there was no sign of his wife. When I saw her I was also convinced it was who we thought it was. They were having some issue with their car so they were pretty late leaving. I would have loved the opportunity to get into a proper conversation with her but it was not to be. Mind you I suppose she didnít realise that she was next door to David Klyne either!!!!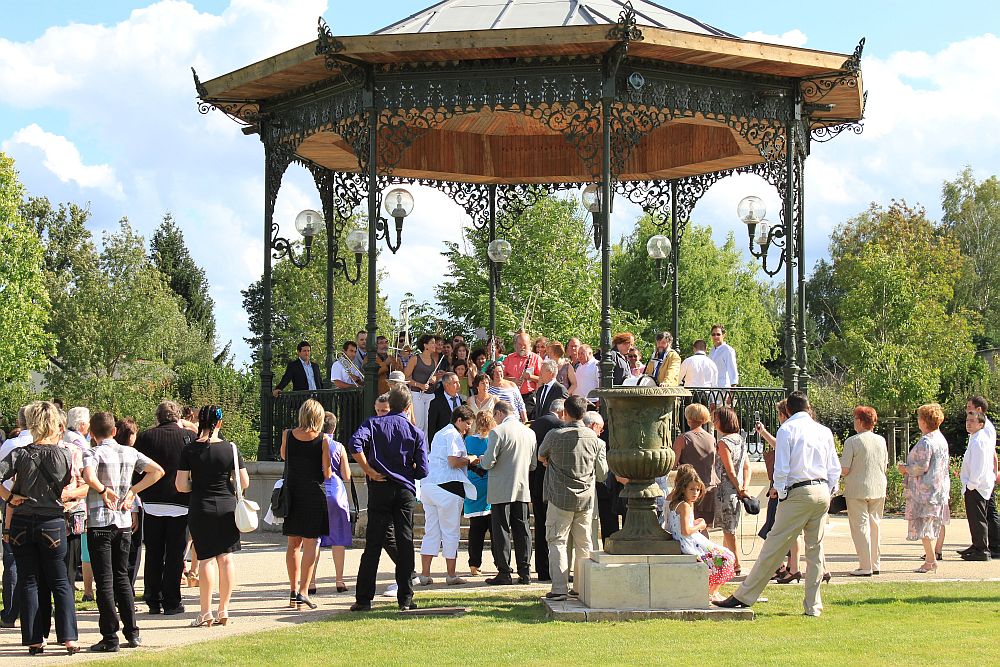 Later I rode into the town to have a look round but there is not a lot there but I did manage to take a few photographs. Later on, when I was back at the van, I could hear a brass band playing so we went off to investigate. As it turned out it was a wedding possession headed up by the band. The group was quite large and a good number of the townís residents must have attended. They all assembled at the bandstand in the Municipal Park to take photos. We wondered if the bride or groom might have been something to do with the band. Perhaps I have said enough in the past about how people dress at French weddings but nothing seems to have changed but it was nice to see so many people there plus the oddity which is France, of a possession around the town!
Sunday 26th August. It was quite dull when we left today but the day did brighten up as we got further south. We are now at a place called Ebreuil which is not far north of Clermont Ferrand. Camping de la Filature, where we are staying for the next few nights is just outside of Ebreuil. It is yet again another Ďrusticí campsite set out along the River Sioule. The lady on reception was clearly English, who else could think up a password for the WiFi of Ďfishandchipsí? It does not have a massive amount of pitches and I would say not even half full, even with the overnighters.
Monday 27th August. After breakfast we drove out to Gammat and took the opportunity to fill up with fuel. It was an unmanned pump so I had to use my credit card. It all seemed to work in a straightforward way and most of the instructions came up in English.
On the campsite we seem to have a mixture of overnighters and longer stayers. We have even decided to stay another day. This has required a rejigging of our next campsite so I went off to use the internet to get a few more details. I regret not bringing my small printer with me as it would have been useful. There are a fair number of Brits on the site but they donít seem to want to chat or even say hello!
After lunch we rode our bikes into Ebreuil to have a look round. Rather than use the main road we diverted down the road past the Municipal Campsite which like our site is right on the river. From here we continued to take the back streets through the village occasionally going down a blind alley! We went as far as the river bridge before turning for home.
Where I use the internet is also the serving area for the takeaway food and I noticed they were doing duck fillet in red wine sauce and chips tonight so decision made for tonightís meal and very nice it was too and not a bad price at Ä9 each.
Tuesday and we awoke to the patter of rain drops on the caravan roof but by the time we got up it had stopped and there were signs of the sky brightening up. We had a fairly lazy morning although I did have a chat with a guy who first came to this campsite 37 years ago and has been coming back over the years. He did say the only change was when they modernised the toilet block which I thought was a bit comical given they would hardly win the best kept looís of the year award!!!
After lunch we had a ride out in the car to explore the River Sioule Gorge. The road was a bit narrow in places so care had to be taken, especially with oncoming vehicles. We followed a sign to a Roman Bridge which even after 2000 years still looked pretty substantial. We then followed the road to a view point which was fine except the view was obscured by trees. Back on the main road it was surprising how far across country you could see. Back at the van we started to pack a few things away and it seemed that we were not alone as several units around us were also packing up.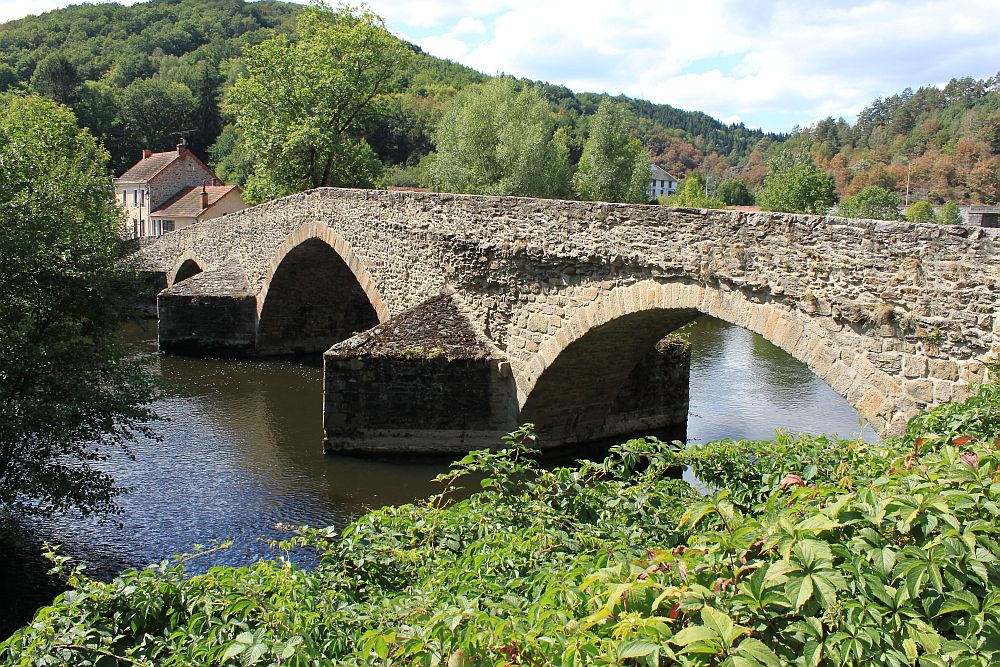 Wednesday 29th August. We were woken up quite early when the old VW camper opposite decided to leave early this morning. I hope itís not as noisy inside as it is out! We were away from the site just before 10.00am and it was not long before we were heading down the A71. On the A75 we stopped at a service station which had a rather spectacular view of the Viaduc de Garabit which was constructed by Gustave Eiffel between 1882 and 1884. We had originally thought about stopping a few days at Millau but instead decided to stay at Severac le Chateau at a campsite called Les Calquieres. There were dire warnings about not using a sat nav to find the site, just to follow the signs. We managed without too much trouble. The weather has not been as nice today although we have not had a lot of rain but it did suddenly become very windy. Fortunately it calmed down by the evening.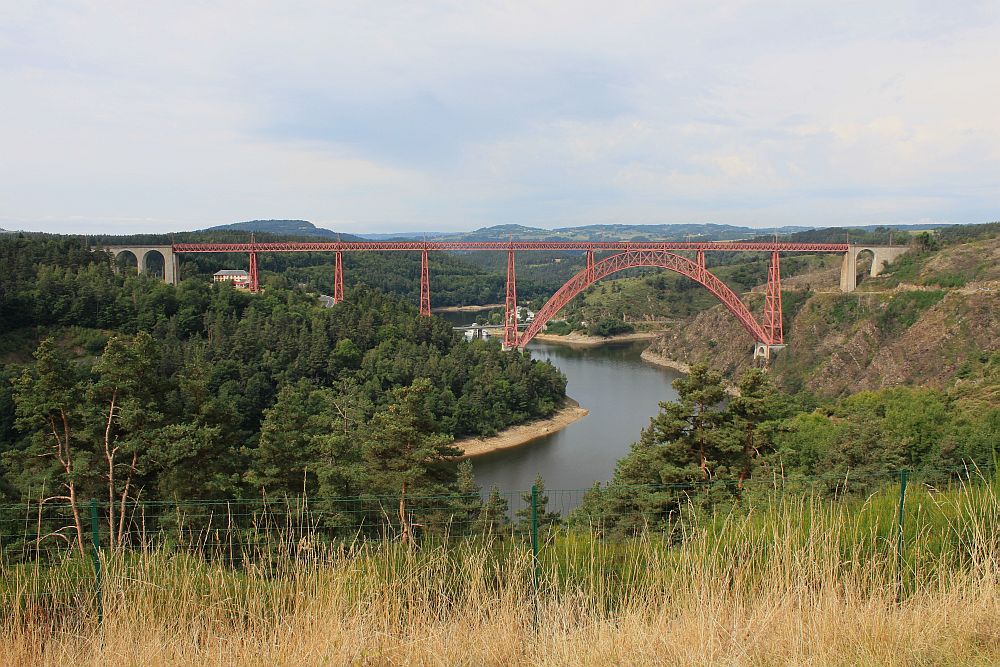 Margaret wanted to watch the opening ceremony of the Paralympics which over ran so we got to bed quite late. No sooner had we got into bed when a thunder storm started with heavy rain so it took a while to get off to sleep only to be woken at 7.30 am by the motorhome next door departing!
Thursday did not dawn very bright although it had stopped raining. I had, had a bit of a disaster with my new TomTom which I unplugged as it was updating and since then I have not been able to get it to reload or repair it via the internet. It might not be terminal but I am not sure I will be able to fix it before we get back home. We went out to a local Intermarche for fuel and I thought I would see it they had any cheap sat navs. They had a few which did not seem too bad a price and with full European mapping. Before buying I decided to see if I could get the TomTom working but to no avail so we went back in the afternoon to buy a new Garmin which cost about £67 so not exactly a Kingís Ransom. As these things are all locked away so I was a bit nervous about how I would get on buying one. As it turned out it was reasonably easy. I realised I was not going to get any buying advice and I probably knew more about them than the lady serving me but it was all unpacked for me to examine. We tried it in the car park before leaving just to make sure it was working. It seems such a tiny screen compared to the TomTom but I am sure it will be fine as a temporary measure.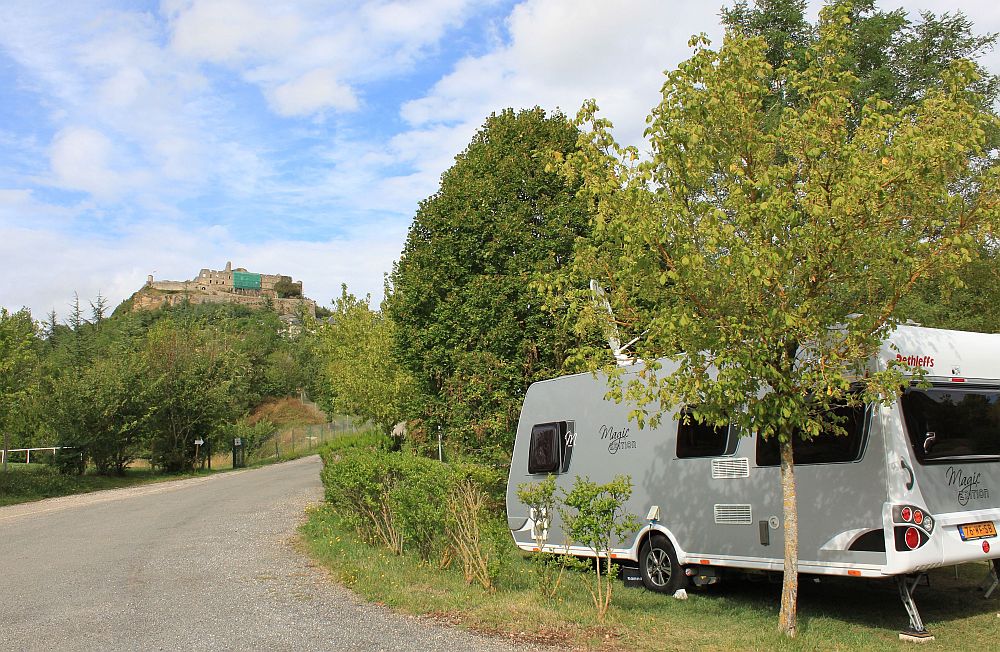 Friday 31st August. We left Severac Le Chateau today heading for the Mediterranean. There were still some steep inclines before we got to the Millau Viaduc and it was pretty windy today. When we got to the Toll Booth people seemed to be having some difficulties with paying by credit card, usually a ten second operation. When we got there it rejected Margaretís card so we had to pay by cash. At Ä12.80 it seems as steep as some of the hills! Judging by the queue the other side of the Toll Booths I think all lanes were having problems and likely a computer problem with their payment system.
Once past the massive plateau on the other side of Millau the road starts to go downhill with some seriously steep declines and very low speed limits for lorries and caravans. The road eventually opens out onto the flat plain as you get nearer the sea. The Garmin tried to take us down a very narrow road, just proves itís not just TomTom! When we got to Camping Les Sablons, our next site, a street market was in full swing and until we were right at the gate of the campsite we could not see where it was. We blocked the entrance and were asked to go to out pre-allocated pitch and come back later to finish the booking in process. The site is packed. Our pitch is OK but there is a tree in the middle of it which reduces flexibility. We got the van in OK and the car across the front of the pitch and when the wind goes down there will be room for the Caravanstore. When I went back to Reception I was surprised that they wanted payment for our stay. As we are not sure how long we will stay I have paid for 7 nights to start with. Later we went for a bike ride around the site and into nearby Portiragnes Plage.
Saturday dawned bright and sunny but not massively hot as there is still a strong breeze blowing. Pleasant enough for me though as itís a comfortable temperature. We had a wander around the site this morning to find out where everything is. There was some evidence of people packing up and leaving, especially the permanent accommodation. A few touring units and tents have left but there are new arrivals as well. After watching the Quali for the Belgium GP at Spa we went for a walk through the site and along the beach towards what passes as the town of Portiragnes Plage. As we walked along the beach my legs were getting sandblasted as the wind whipped up the sand from the beach. I suppose itís a settlement rather than a town and you can imagine it being totally deserted in the winter. The family on the pitch behind us are Italian and they have a small dog. It is never on a lead but it does not seem to wander far and I have never heard it bark even when other dogs have gone by. Imagine my surprise when putting something in the side locker when I suddenly found him licking my toes!!! Not something I would recommend, even for a dog!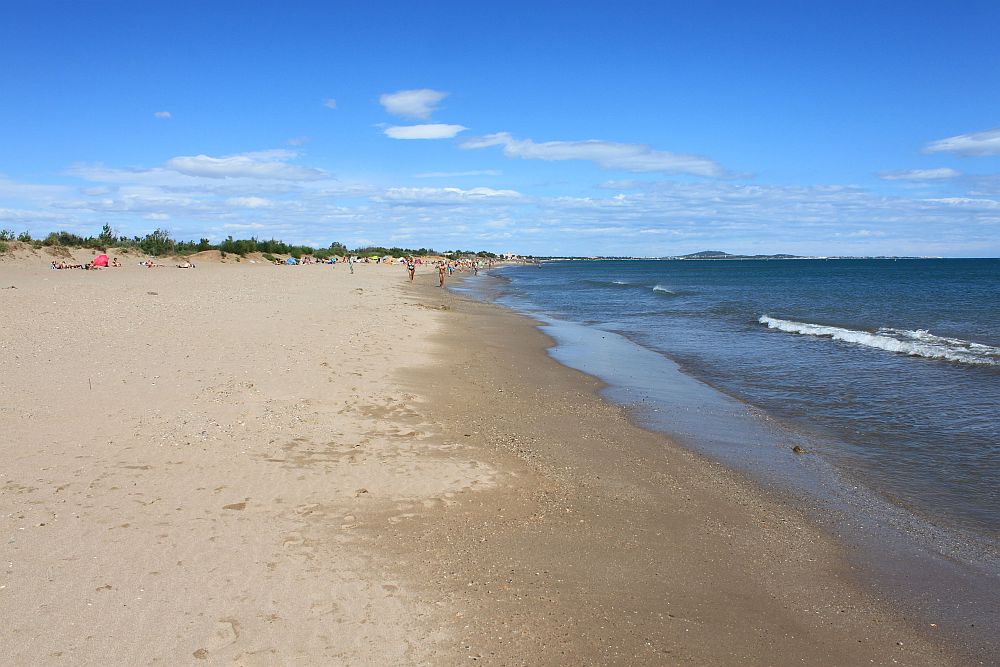 Sunday 2nd September. Pretty lazy day today except for some household chores and, of course, the Belgium Grand Prix won by Jenson Button. There was a big crash at the start which put both Alonso and Hamilton out of the race before it really started. Weather has been a bit strange today. There has been quite a bit of cloud with sunny intervals in between. More people have left today. Amazing to watch some of them pack up and get all of their equipment, children and dogs into small cars! However they seem to have been replaced by more newcomers, when do German kids go back to school? Our neighbours on one side are French. They seem to be a family of three, husband, wife and daughter of Uni age. For some unexplained reason this morning they had the car radio on with the car door open and as they were in their van or awning I doubt they could adequately hear it anyway but the rest of their neighbours could. Why do they do such things?
Monday 3rd of September. We have not altogether been enamoured with this campsite and are perhaps rueing the day that we paid in advance for our stay. We find we have little privacy which makes it awkward whichever way you site on the pitch. For many, especially those with young children, it would be ideal. However for us itís a bit like being on a Butlins holiday park. There is not much of substance to Portiragnes Plage and out and about the roads are very busy, especially towards Agde. This afternoon we drove to Agde to look at a campsite called Les Champs Blancs. The guy on reception was very friendly and offered us a plan of the site. We quite liked it but it was a bit out on a limb and having visited the nearby supermarket we just felt the whole area was just too busy. So it looks as if we will leave here on Friday and head inland. That perfect site on the south coast of France is still eluding us!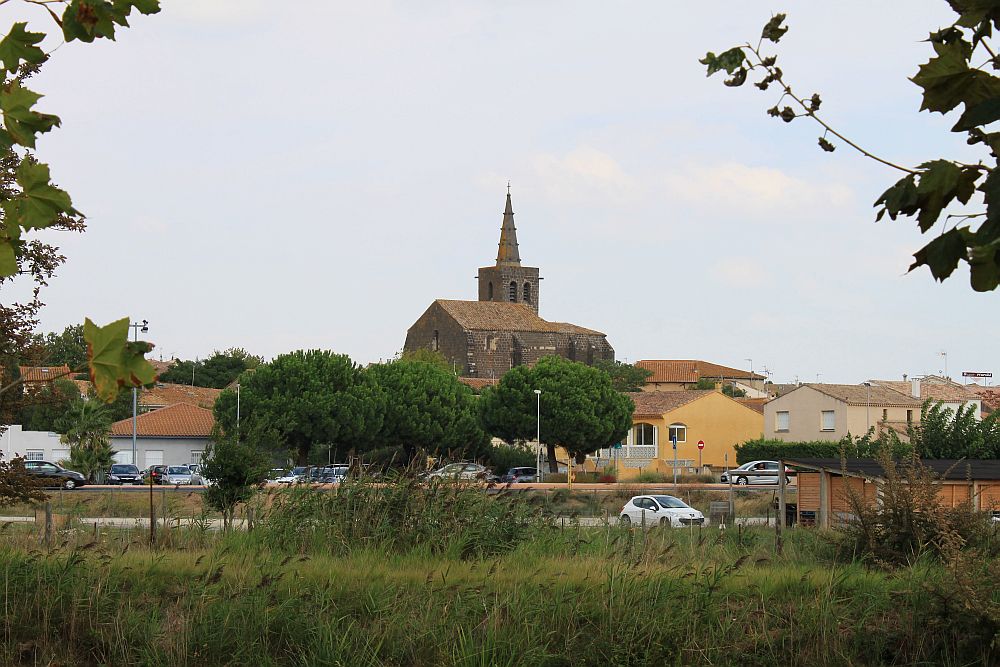 The weather has been a lot better today than yesterday. Still trying to get my TomTom to work, without much luck so far. The Garmin I purchased, albeit a basic model, struggles to find a sensible route and would put me off investing in a better model. After lunch we went for a bike ride along the Canal du Midi to Portiragnes where there is a lock. The old towpath has been tarmaced which makes for an easier surface, except for where the tree routes are trying to find a way through. The locks on this canal are a funny shape. The one we saw today was sort of keyhole in shape. Whilst it might aid pleasure traffic I doubt it would have enabled two barges to ascend side by side. I have been trying to find an easy way out of the campsite as it has a one way system which in parts is a bit scary because of people parking vehicles right on the edge of the road.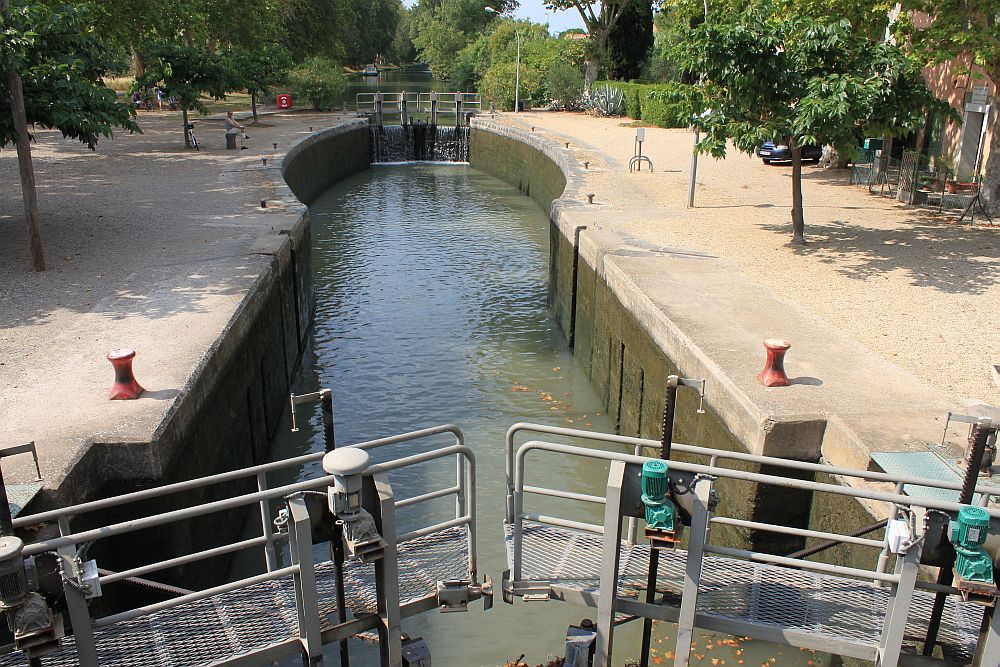 Wednesday 5th September. It has been very much hotter today. The high wind we experienced when we first arrived has subsided. First thing we visited the market that is held a couple of times a week outside the campsite. It was surprisingly comprehensive given that Portiragnes is such a small place! Otherwise we had a pretty lazy day and plenty of time to observe our fellow campers. Our French neighbours next door donít seem to be very friendly, they only respond if we say something first. They are still putting the radio on now and then which seems a bit pointless as the car is 4 yards away and they are either in the awning or the caravan! Very odd behaviour! Our Italian neighbours in front of us, owners of the toe licking Lola, do all their cooking about 3 feet from our front window when the have space on their pitch to do it away from our van with little, if any , inconvenience to themselves! I am increasingly of the view that people, of all nationalities, are thinking less and less of how they impact on others. Perhaps I am just turning into and old grouch! Also being fickle we are how thinking of staying until after the weekend as we originally planned. We have been wondering how we should get to our next site. Should we head north back up the A75 or head out towards Toulouse an up the A20? This will be a more direct route but will involve more in the way of tolls. It looks as if Margaret will have to be map meister as I am not sure I trust the Garmin I purchased recently. The TomTom has still not yet woken from its slumbers, hence the need for good map reading!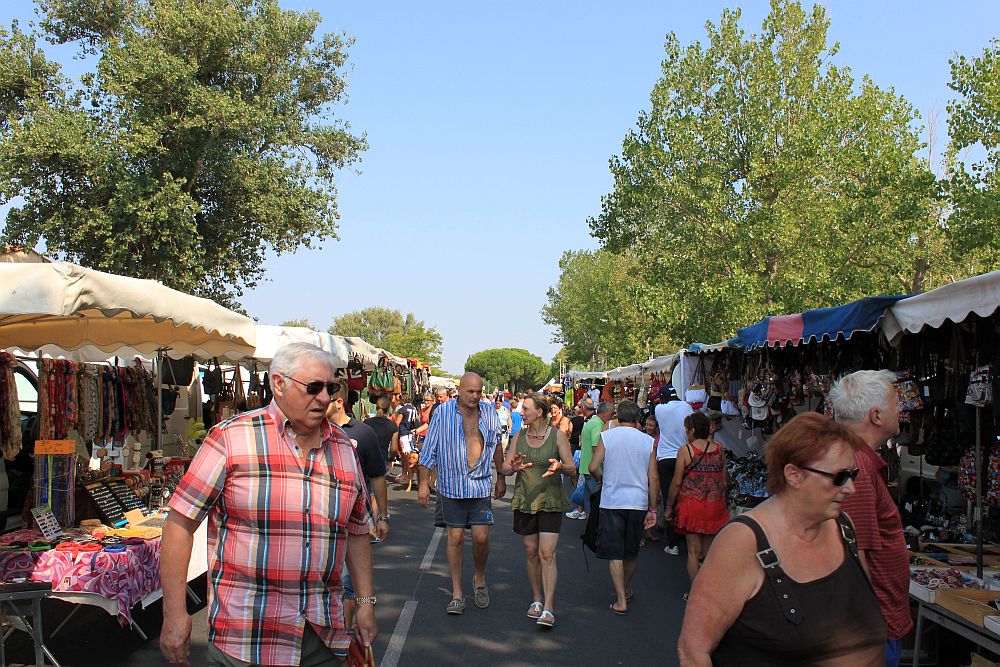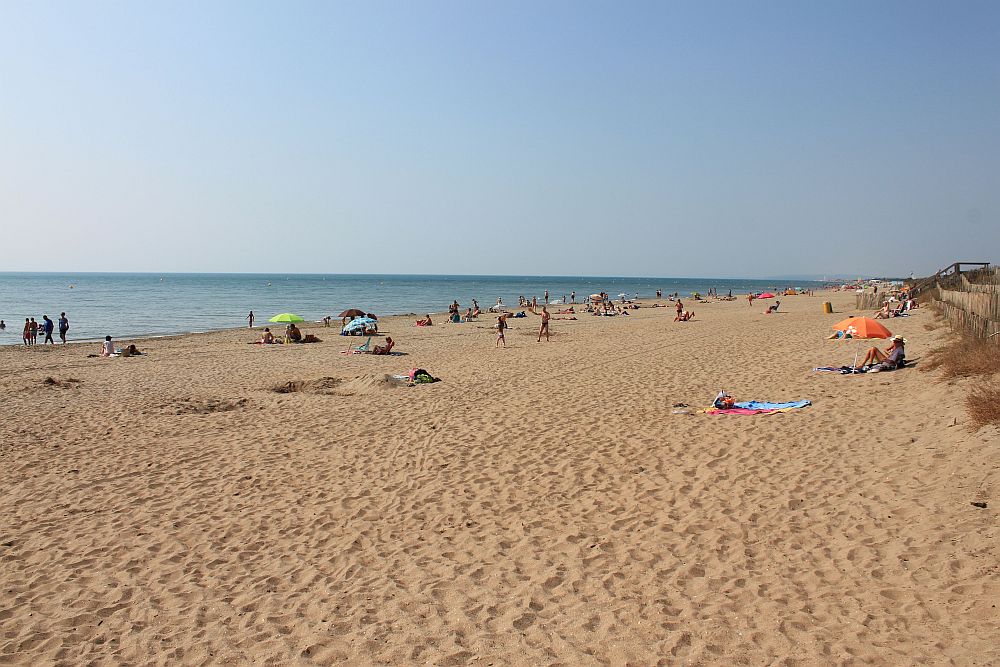 Thursday 6th September. Well we are still dithering as to what to do. We even put the Caravanstore out and the front sun blocker but in the end we decided that we still did not have any privacy and matey next door is still playing his car radio, if anything on a more regular basis. So over lunch we decided that it was just not worth carrying on in the hope that things will improve and so a final decision was made to leave in the morning. This meant that we had to go out and fill up with fuel and do a bit of shopping. We only plan to go about 100 miles as a stepping stone towards the Dordogne. Over the past 24 hours the News has been full of the dreadful news about members of a British family killed by a shooting in the area near Lake Annecy in the Alps. Fortunately two young daughters survived although one was badly injured. It seems a very strange incident with many theories but no doubt we may eventually get to the truth.
Friday 7th September. With little regret we left Les Sablons this morning. It seems that we were not alone as several vans were packing up and leaving including our German neighbours. A lot of people in the permanent accommodation were also packing their cars. Perhaps we were just a week too early!!! I suppose todayís journey was the turning point for us returning home although in effect we were still heading south when we joined the A9 autoroute. After Narbonne we took the A61 towards Toulouse but left the motorway at Carcassonne. We headed for the toll booth just behind a white van that was clearly having difficulty getting the barrier to open. He pressed some button and was on his way. Margaret put the toll ticket in the machine but it rejected it. Tried again, same thing. From the message it was having difficulty deciding what class we were. So we pressed the help button which resulted in us paying our toll successfully and going on our way. Interestingly the toll was less that it would have cost to use the A75 and the Millau Viaduc? We were heading for Revel which is on the road towards Castres. At Revel we took the road to Soreze where our campsite was. We had a bit of a problem accessing the site as the road narrowed on the approach to the site and cars were not keen to hold back whilst we came through the narrows. Eventually we got through and found our new campsite called Camping St Martin. It is not a particularly large campsite, perhaps 40/50 touring spaces. There was no one in reception but we eventually found the owner cleaning one of the chalets they have for hire. We found a quite large pitch near reception and set ourselves up. Nice to have a feeling of space around us and unless I have gone completely deaf, quietness!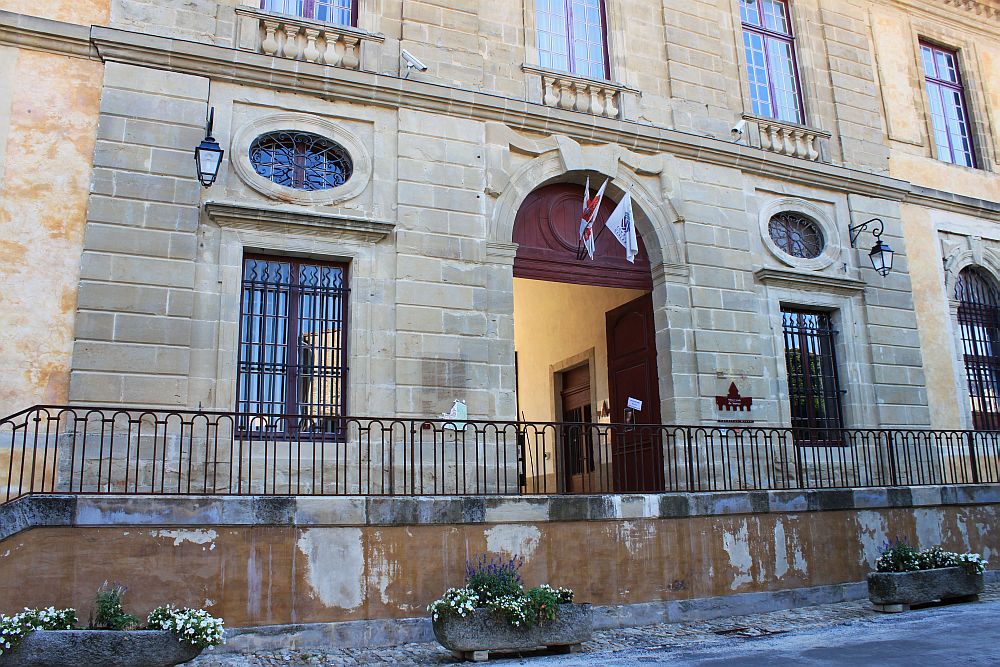 Saturday 8th September. First thing we walked into Soreze, the idea was to buy a baguette. Anyway we decided to have a look round this rather interesting little town. It has clearly been far more important than perhaps it is now. Behind the main road that runs through the town is a maze of streets of this previously fortified town. On the way back to the van we stopped for a while in the Municipal Park behind the town hall. Not so much activity on site today a couple of units left and a couple of units arrived. We did notice that one of the seasonal caravans was packing away. It took three cars to remove everything and that didnít include the caravan which is now sitting in secluded isolation of its pitch with the corner steadies wound up.
Sunday 9th September. Another beautiful day. After breakfast we drove out to Revel to have a look round. Somewhat more substantial than Soreze, perhaps because it sits astride the road from Castelnaudary and Castres. It has a large covered, but open sided, square building at its centre which I imagine must have been, or still is, a market space. The building on the four sides of the square are colonnaded provided a cool environment for the many shops facing onto the Square. We had a wander through the narrow roads leading into the Square including having a look inside a large Church which, unusually, was situated away from the centre of the town. On the way back from Revel we stopped at the Municipal Campsite which looked very nice but was closed, although some campsites in France do have a very short season. Whilst we were having lunch a French couple arrived and pitched their caravan on the pitch next to ours. The last few days have been very hot so Margaret decided to have a dip in the swimming pool. I went along to see how she was doing but left some of the windows open so thought it prudent to put the caravan alarm on, which is just a fairly quiet single blip. When I got to the pool Margaret suggested I might like to dip my toes in which did seem appealing so I returned to the van and unalarmed it, two blips on the alarm. Closed everything up and reset the alarm one blip. We returned together and unalarmed the van two blips. Unfortunately I must have sat on the alarm control as when Margaret entered the van the alarm went off but quickly stopped. At that point there was a tremendous commotion coming from our new neighbours. He was really angry and shouting, I thought at his wife, almost to the point that he was so angry I thought someone was about to be murdered! We discovered the reason for this anger when the lady from reception arrived at our pitch with our neighbour hovering on the road in front of the van. It transpires that his anger was directed towards our alarm. Now it has nowhere near the powerful noise of a car or house alarm and given that at most it was running only for a few seconds I thought his reaction was completely OTT and its just one of those things that have taken the edge off our stay on what we considered an excellent little site. The poor girl from reception did not speak much English and I felt a little sorry for her so I tried my best to explain that it was only on when we are away from the van that the alarm was activated. I think she understood but not sure about matey! Earlier I was talking to another English couple who are in a motorhome about 200 metres across the campsite from us and he was so concerned when he heard the noise the guy next to us was making that he came across to see if I was OK.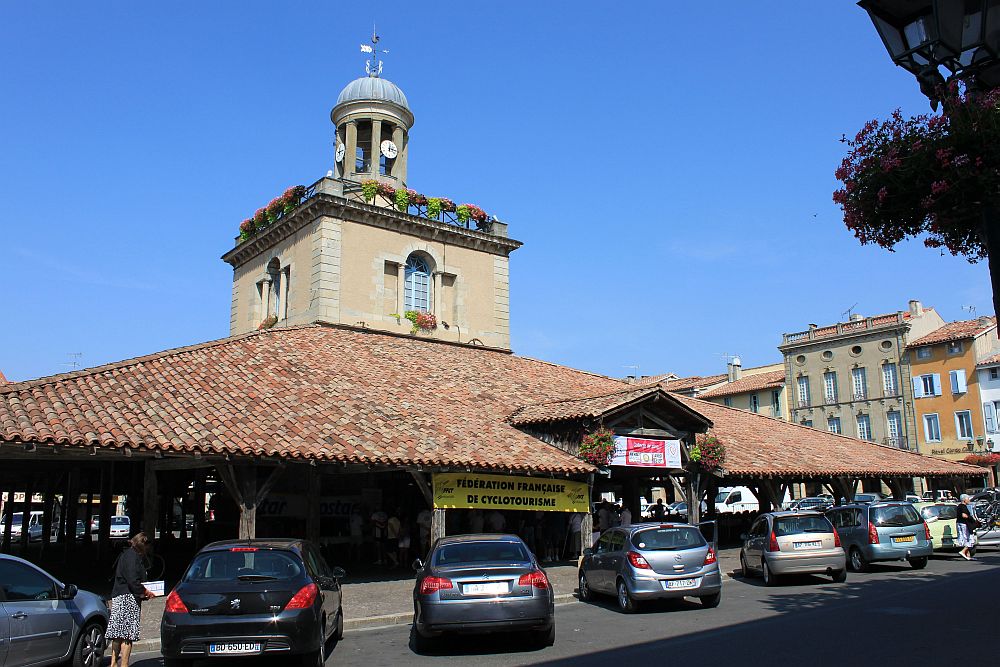 Monday 10th September. We were up quite late last night as we watched the Closing Ceremony of the Paralympic Games which brings to an end a fabulous few months of the Olympics from Torch Bearers to this ceremony. I think even those who expressed severe disinterest in the subject months ago must have had their hearts touched. We have been away for the entire Paralympic Games and when possible I have been trying to find reference to it in the French newspapers. Certainly not on the front or back pages. Perhaps it was there somewhere but otherwise a non-event!
Wasnít quite as hot and sunny this morning although this changed as we went through the day. After breakfast we went back to Revel for fuel and a bit of shopping. The Intermarche filling station was quite busy, especially the lanes with the cashier. I gave the auto pumps another go, first time through choice, and it was fine and again I had the option of English instructions.
Back at the van Mr Angry and his wife seem to have gone out so perhaps a quieter day today! I did notice they had a tee shirt on their line with quite an offensive phrase across the front in English. As I am pretty sure he does not speak English I wonder if he realises what it means!
Ever since we have been here our neighbours on the other side have been an English couple, I imagine a bit older than us, who seem to be camping in the back of a Renault Kangoo, so not a lot of room. The lady has always responded to a good morning or a smile from us but they have never put themselves in a position where we could have a conversation. I am not pushing that as clearly they donít want to engage.
In all the excitement of yesterday I forgot to mention a rather intriguing arrival at the site. It was a horse drawn caravan rather like the one illustrated in Wind in the Willows! It only stayed overnight and left this morning. I walked over to take some photos. One problem was that as it left the pitch it hit a branch which snapped off and in the process startled the horse! I had vision of being mown down but fortunately it was calmed down in time. It must be a relaxing and leisurely way to travel as it clip clopped off down the road.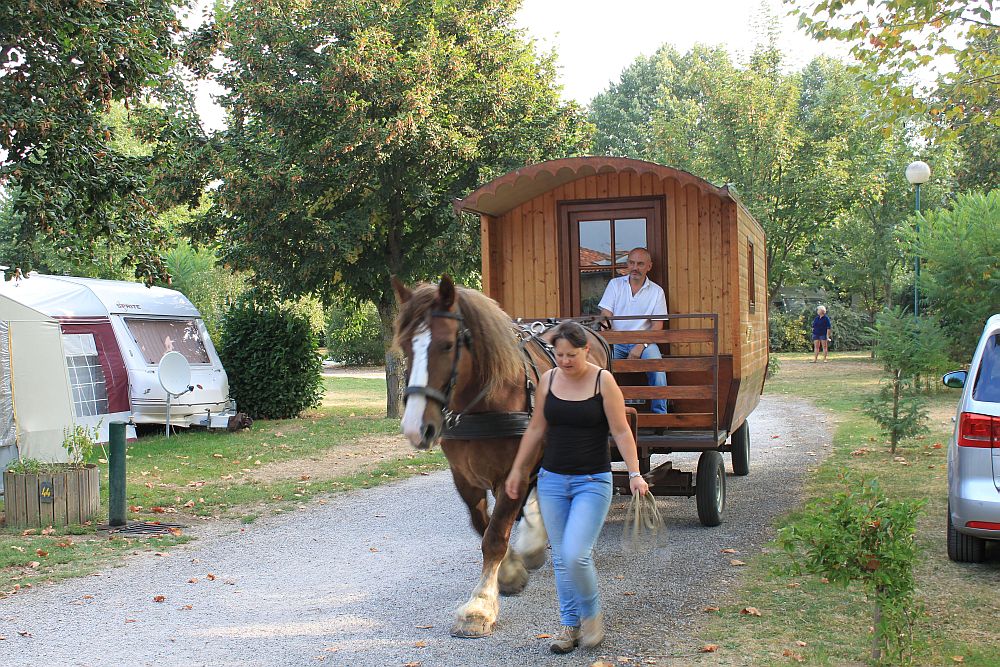 We have decided this will be our last day at this site. Apart from the rather strange outburst from Mr Angry next door it has been a very pleasant campsite and far more peaceful than we thought it would be. A good place to chill and I would certainly recommend it for anyone in the area and is probably worth a small detour.
Tuesday 11th September. We have moved a bit further north today into the Dordogne just south of Sarlat at a campsite called Domaine de Soleil Plage. A longer journey for us of 149 miles. This involved a bit of peage but mostly across country on the old N roads. It seems that more and more autoroute toll booths have changed over to automatic payment. I have always argued against the idea of the Sanef motorway tag which enables you to pay tolls via your bank account but I think I might be changing my mind. Having left the A20 and heading for Sarlat the journey became a lot more interesting! The roads were generally not too bad until we got to the other side of Gourdon when they started to get a bit tighter. We knew access to the campsite would be difficult because we had read the reviews. There were dire warnings about approaching the site on the D703 from the D704. It was narrow but you could pull over if someone was coming in the other direction and to quote one report of overhanging rocks I think was a bit OTT. We passed the sign for the campsite so had to reverse and turn to go down an even narrower road to the campsite. As soon as we entered the campsite it had a large area for parking and booking in which gave a totally different impression from the previous few hundred metres! Having parked and walked up to Reception we found it closed for another half hour. At least we had time to look round at the pitches. There was one on the riverside but had already been pre-booked our other choice of pitch was so large there was enough room for two units. As we struggled to get everything set up our neighbours opposite offered us some cold beer but unfortunately at the very point Margaret had opened some in the van. However it was a very nice and welcome gesture. Unfortunately the site WiFi was down so I have not yet purchased any time. The pricing is very much geared towards encouraging guests to purchase a weekís worth of access with shorter periods being excessively expensive.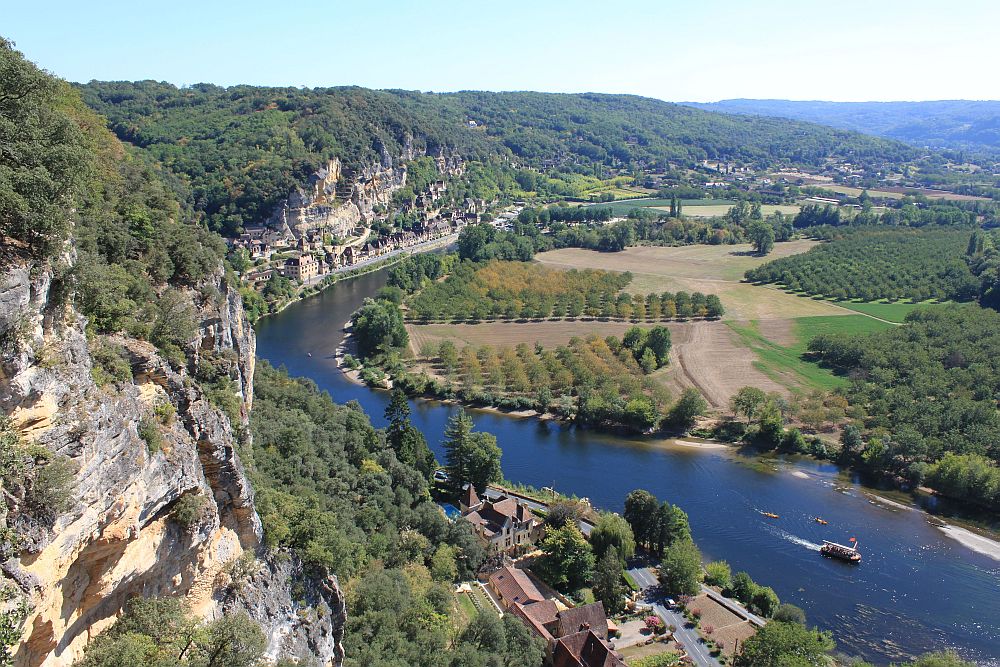 Wednesday 12th September. It was quite dull when we got up and nowhere near as warm as it has been over the last few weeks. I had a wander down to the river and got chatting to a couple and I think I may have upset them. They said they had paid Ä33 a night to be here and I said I was paying Ä15 a night with Camping Cheques! They said they had heard of them but had never used them. We then went for a bike ride around the site having a look at all the facilities. I called into reception to check whether the internet was back on-line. We continued our ride around the site and down to the river. We first visited this part of the Dordogne over 20 years ago and I remember that we hired a couple of canoes although we were staying at a different campsite. During the late afternoon the weather brightened up but it was nowhere near as warm.
Thursday 13th September. We had rain overnight and it was still wet when we got up although it did start to get brighter but the temperature was well down on previous days. Given the dull weather it seemed a bit pointless to visit the gardens we had planned so instead we drove to Sarlat to do some shopping. It was also an opportunity to check out the alternative approach to the campsite. Both are narrow but I think the one from the Sarlat direction is marginally better. We will see when itís time to leave. When we drove through Sarlat it was surprising how many motorhomes parked everywhere. I wonder how long it will be before local authorities will start clamping down on where they park as in some places they seem to be taking over! It is also strange that most French tourist towns don't have Park and Rides like other countries, this would perhaps help solve the issue. During the afternoon it did brighten up with some sunshine so I set off the take some pictures of the river and the campsite. It seems to be getting darker much quicker now in the evenings.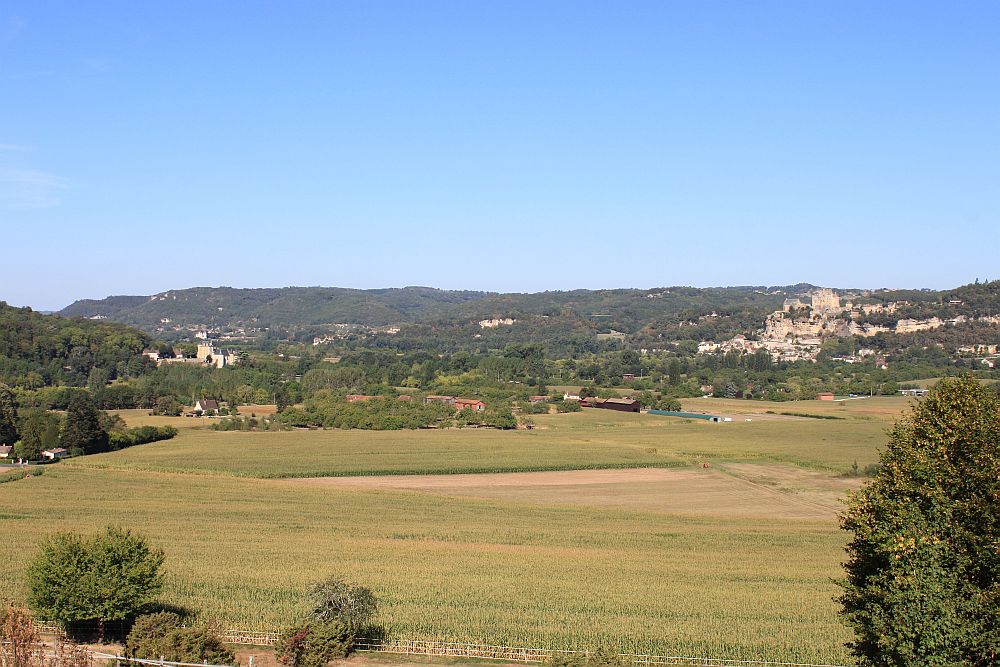 Thursday 14th September. Quite chilly overnight but at least there were signs of a better day when we got up. Mist was still clinging to the rock faces of the river gorge but elsewhere the sky was blue. We decided to visit the Jardins de Marqueyssac today. The gardens are only a few miles from the campsite so it did not take long to get there. The sun was now out with a clear blue sky and the mist gone but there was a fairly strong breeze which would keep temperatures down, perhaps no bad thing given the amount of walking. Marqueyssac is set out on a promontory in the Dordogne valley and as such affords wonderful views up and down the river towards La Roque Gageac in one direction and Domme in another. Several large chateaux can also be seen in the distance. Itís almost worth visiting for the views! However Marqueyssac is famous for its Topiary, although from the brochure you would think the entire garden is covered with closely clipped bushes which is not the case. Most of it is centred around the rear of the Chateau and is somewhat surreal in appearance. You can do a complete circuit of the gardens but it is quite demanding and anyone with walking difficulties might struggle. Once you have exhausted the gardens and yourself you can take refuge in the Terrace Restaurant overlooking the river valley. We made our way back to the campsite but not before checking out our original route to the campsite.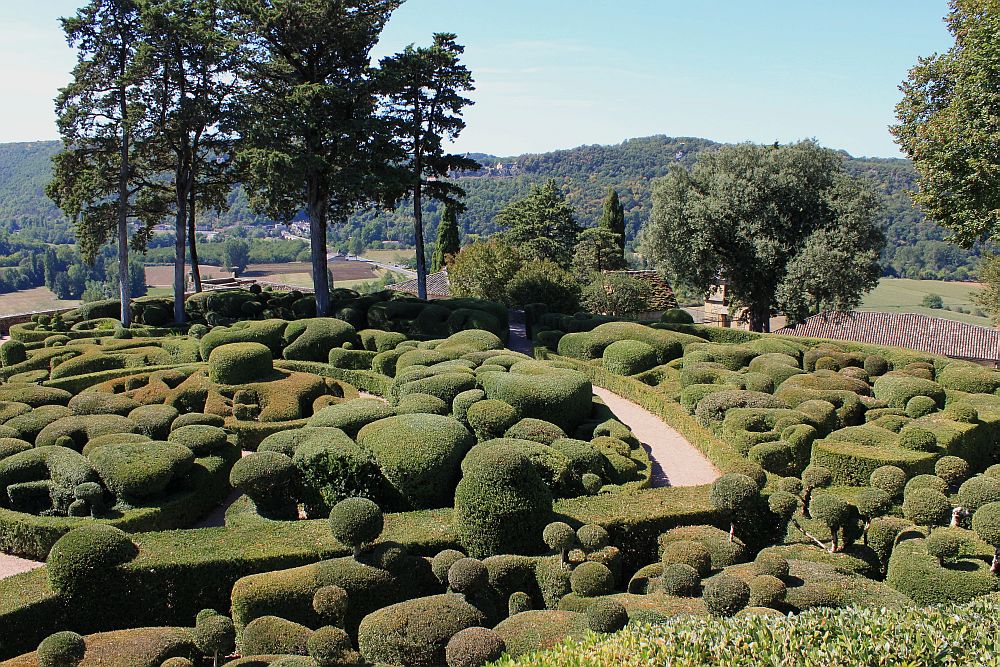 Saturday 15th September. Washing clothes might not be considered something you do whilst on holiday but given that you canít realistically bring enough with you on a longer trip you have no choice but to avail yourself of the campsite laundry facilities. Despite this campsite being well equipped and good quality facilities it could do with a few more washing machines. At our end of the site there are just two machines and there always seems to be a queue! At Ä5 a time I would have thought it would have been a nice little money earner. There has been a lot of activity on site today as Eurocamp are starting to dismantle their tents. I asked one of the Eurocamp staff how long it would take and she reckoned about 3 days. Being an inquisitive sort of person (Margaret calls it nosy) I enquired how long the tents last and I was surprised to learn that they are used for around 10 years. There are now quite a few empty pitches but there also seem to be more newcomers arrived today, mainly, it seems, Brits. In our little enclave there are eight pitches and all but one is occupied by couples from the UK. After lunch we went for a walk along the river. Surprised to see the Canoe Station closed for the weekend but I suppose giving that we are getting later in the season there is not such a pool of likely customers to make opening worthwhile.
Sunday 16th September. Certainly not warm when we get up these days but as the day goes on the temperature does improve, helped today by very little breeze. Today we visited another well know garden in the Dordogne called Les Jardins du Manoir díEyrignac. It was quite a tortuous route to get there but we eventually did. Had it taken any longer to buy our tickets it would have been dark! Just joking but the French have a way of ignoring what is happening around them and just concentrating on what is in front of them. The customers they are dealing with seem equally oblivious to anyone following them in the queue so no change there! To cap it all when I tried to pay by my Visa credit card it would not accept the card, this despite a ritual of waving the machine around in the air to try and get a wireless connection! Fortunately Master Card were more on the ball.
Once free of the administration we were in the Garden. We were aided in our visit by a nice plan, in English, which made it easy to plot a route around the garden. The features are reasonably compact and you can move from one feature to another without the need for a long trek. The Hornbeam Alley is a classic of Topiary design with long vistas of neatly clipped hedges. The problem with being a photographer is that you are sometimes affected by photographeritis which means that you spend, what seems ages standing trying to get the perfect picture but people just stand in the way. A French guy and I stood in one place for what seemed an eternity waiting for people to get out of the way. What amuses me is that they stare down the barrel of the camera lens without twigging that you would prefer them not to be in the picture. Henri Cartier-Bresson was right about his moment in time idea. You could grow old before getting the picture you want! So a plea to all readers at famous sites please take pity on the poor photographer that would prefer not to have you as the centre piece of his picture. As part of the entrance fee you can also visit the Manor House, albeit only the ground floor. Unlike many historical houses it does seem lived in and the kitchen being a case in point with modern American fridge-freezer alongside copper pans over a hundred years old. Other features of the Garden I enjoyed was the Kitchen Garden with everything crammed in making use of every inch of space, Monty Don would have been proud of that. A wild flower garden and perhaps the best bit the White Garden where all flowers were, youíve guessed it, were white! All feature around a central pool with frog fountains shooting water into the pond. For garden enthusiasts I would certainly put this on the visit list if you are in the area.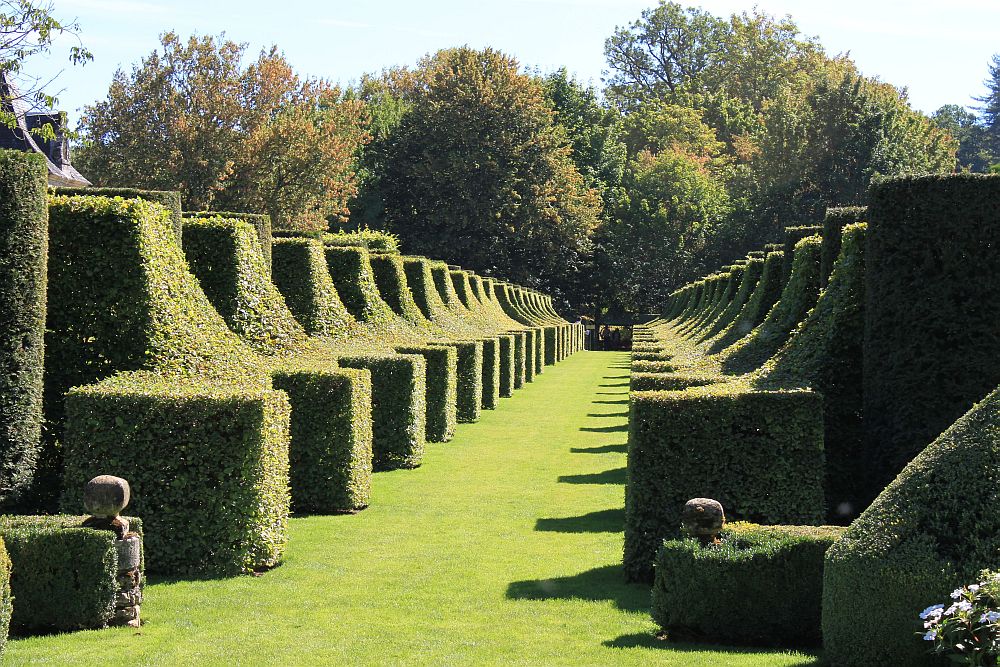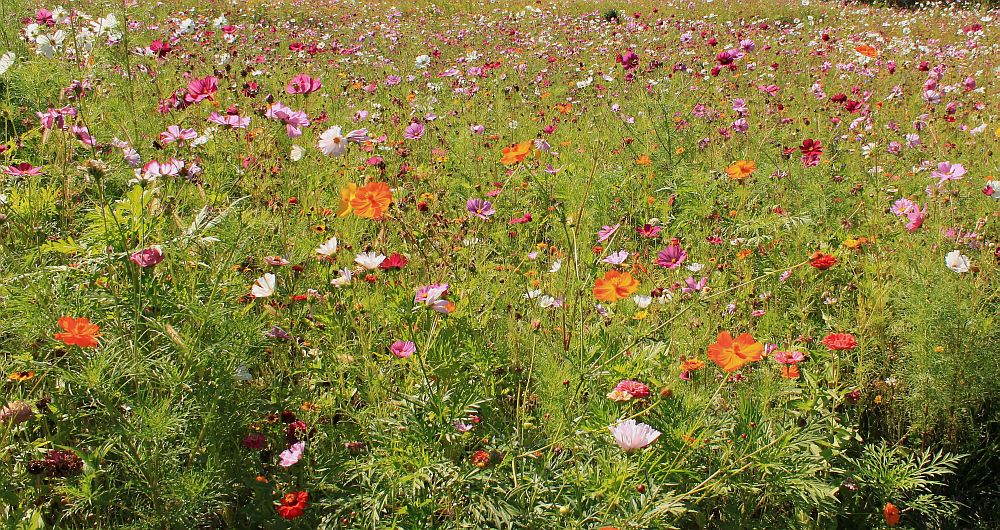 Monday 17th September. Our last day at Soleil Plage. Most of the facilities on the site like the shop/bar/restaurant are now closed but the pool is still open. In fact they were taking down the outdoor part of the restaurant today which gives a very much end of season feel. Having said that the site is still quite busy with campers and there have been new arrivals every day. Our Welsh neighbours, opposite, are here until the last day of site opening in two weekís time. They have a rather engaging Jack Russell called Poppy who seems very friendly, at least she has not tried to lick my toes, sensible dog! In the morning we went off to Sarlat for fuel and some shopping. It was somewhat unsettling whilst filling up my car to be asked by an English lady what colour pump for diesel! I just wondered how she had got this far not being sure of which pump to use. It has been another lovely day here in the Dordogne so perhaps understandable that it is still popular at this time of year. We wandered across to Reception to settle up and reclaim my Camping Cheque card. Have to say the crew in reception have all been very nice, both friendly and helpful. I now only have 8 Cheques left which will see us OK for our next site but the one after may require some cash towards the site fees.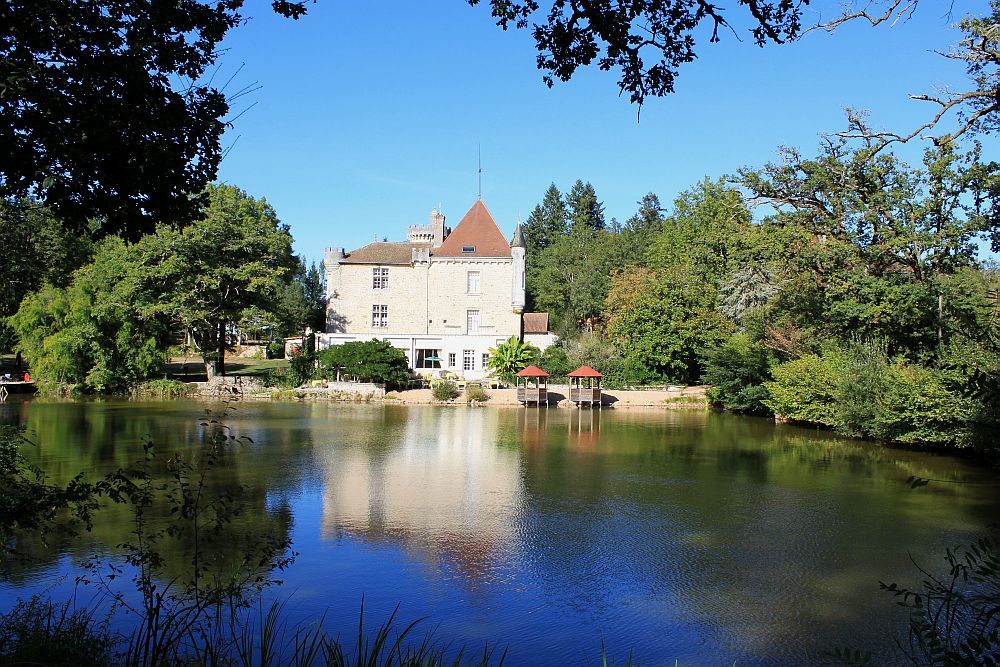 Tuesday 18th September. Our journey today was only 98 miles but it took just over 3 hours to complete. This is the penalty or the pleasure of using cross country routes! Roads in the Dordogne are not fast. As we arrive at Chateau Le Verdoyer we were concerned that reception might be closed but there was someone there who gave us a site plan and suggested a couple of places to pitch and said come back when we had settled in. We had a look at the pitches suggested which were at either end of the site. We could not use one area because there was a Caravan Club Rally in progress. In the end we decided on a pitch with a more open aspect because we wanted to be able to get a satellite picture. I sometimes wonder if campsites take the interest of satellite users into account with their tree management. Whilst itís nice to have shade many trees are just too tall? I have to admit to doing a terrible thing. All the pitches seem to have their own taps so I connected up my hose to fill the Aquaroll turned on the tape and for some inexplicable reason, other than a senior moment or worse, completely forgot I had left the tap on! By the time I had remembered water was flooding across the next two pitches which were both occupied but fortunately both owners were out. This allowed us a bit of time to get rid of some of the evidence. I had to go and apologise to both of them when they returned and fortunately both were very good about it. I think the trouble when you arrive on site there are so many things to do and if you try and rush things like this can happen. It had been a very dull day and I think the threat of rain, which did eventually come, spurred us on to complete all the tasks quicker than we normally would. Initial thoughts on Camping Chateau le Verdoyer is that it is a bit rough and ready as campsites go. Having said that we met one English couple who first came here in their caravan and liked it so much they purchased their own static on site.
Wednesday 19th September. I canít remember quite when it was but I would imagine 25-30 years ago I read about a village in France in the Sunday Times Magazine. That village was Oradour sur Glane not far from Limoges. The intriguing thing about the village was that it had been left exactly as it was on 10th June 1944 when German SS Troops massacred all the inhabitants in the village including many, many children. I have wanted to visit Oradour sur Glane for years but until now have not really been near enough. Even from this campsite it was 40 miles away. After the dull day yesterday at least it dawned bright and sunny although there was a chill in the air. Since that fateful day Oradour sur Glane has been completely rebuild adjacent to the original site. Today the original village is known as the Martyrís Village. Next to the site is a Visitors Centre which tells the story of what they think happened or rather why it happened? There is quite a lot of padding of history in the lead up to the massacre. Interestingly the parts involving the Naziís is also in English but those parts involving the French are only in their own language so make of that what you will! Whilst you pay to an entry fee for the Visitor Centre access to the Martyrís Village is free. The village is surprisingly large and all buildings are derelict having been in the main been burnt down by the SS Troops. It is a very eerie place to walk round especially being aware of what happened there. This particularly applies to the church where many of the children were killed. The horror must have been unimaginable. Old cars lay rusting where they were burnt out. There seems to be no specific reason why Oradour sur Glane was targeted by the SS and even those sent to trial when the war ended have been unable to provide a definitive answer. Some think the wrong village was targeted and in fact it should have been Oradour sur Vayres which is about 20 miles away and there had been some reported Resistance activity there. The real truth will no doubt remain a mystery. The Cemetery is a very poignant place to visit. There are family graves, many with the 10th June 1944 engraved on them. There was one I noticed showing children that died on that day but a member of the family born in 1895 who died 100 years later. At the top end of the Cemetery there is a memorial with all the names of those who died. So sad to see the ages of many children that died. I challenge anyone to visit that memorial and not get a tear forming in the eye. Given the horror of what happened here all those years ago you would have thought that lessons had been learnt but unfortunately there are those that wreck the same havoc on people still. I suppose the only difference is that the Naziís did not do it in the name of religion!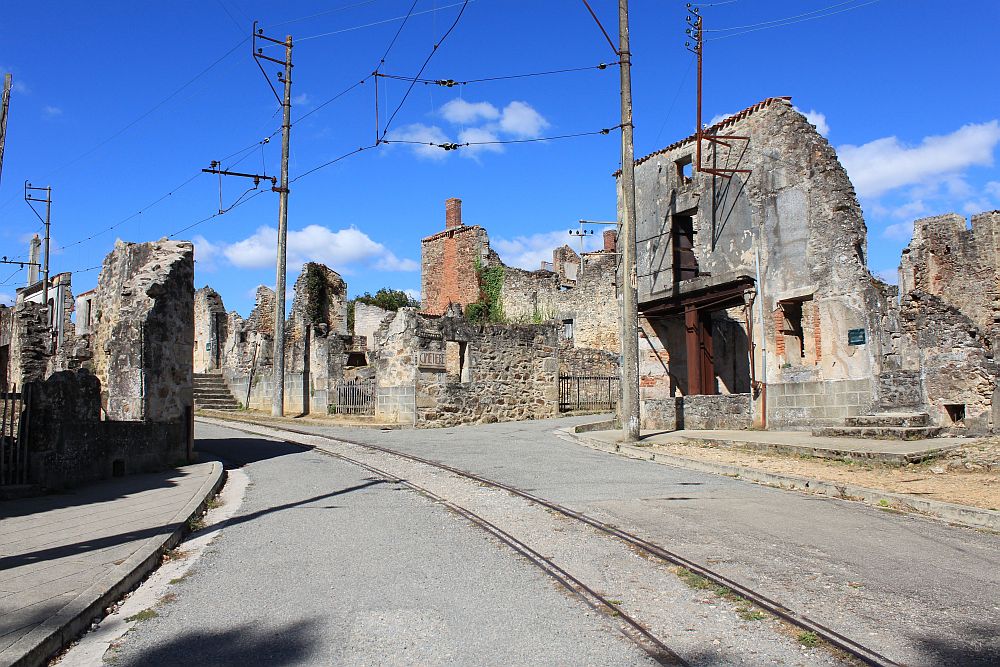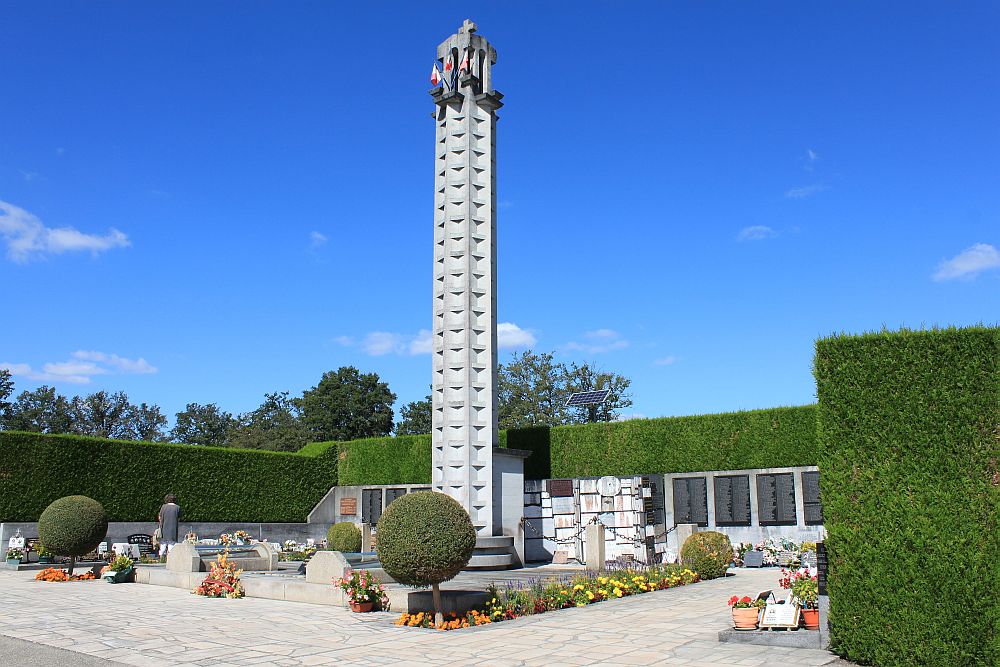 As an aside we were eating our sandwiches in the car before setting off for the campsite when I noticed a group of four Brits heading for the Visitors Centre and no doubt the village beyond. One of the men was in shorts and a vest and the women hardly any better. Call me old fashioned but that seems hardly a respectful way to dress when visiting such a place, surely a little more solemnity is required?

Thursday 20th September. What a lazy day. We sat around in the sun today which was a bit warmer than yesterday as the wind chill was not as much. Spent a bit of time looking at campsites further on in our journey. Also trying to make a decision whether to stay here until after the weekend or go as previously planned on Saturday. We will have to decide by tomorrow!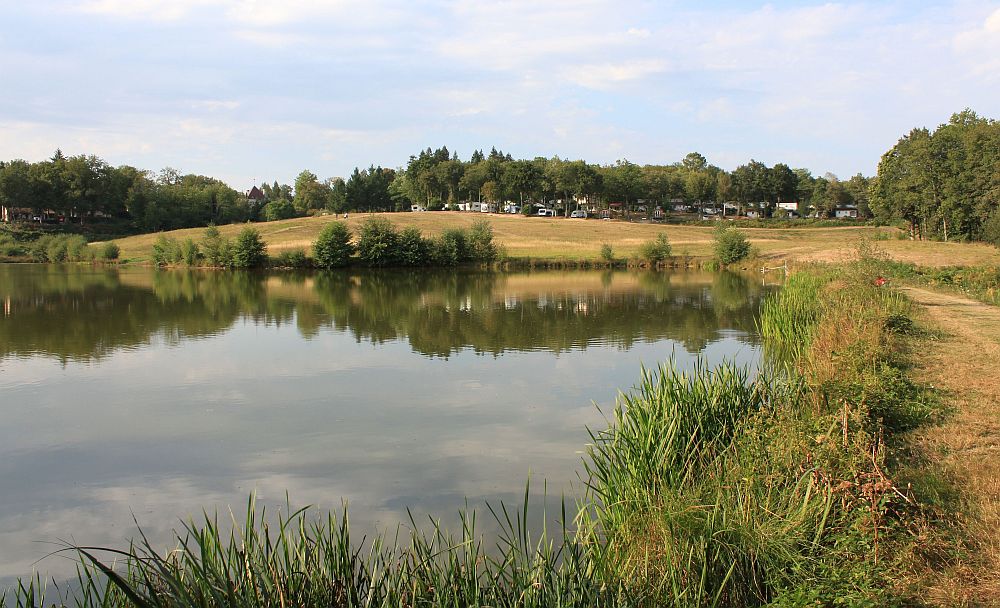 Friday 21st September. Well we came to a decision, we will leave on Saturday. This campsite is pretty remote so to visit anywhere requires a longish drive, rather like when we went to Oradour sur Glane. Whilst this campsite is a peaceful place you do tend to get fed up with just sitting around. We were not quite sure what the weather would do today, although it started bright enough there were concerns about rain. Although we had a few spots during the day it then cleared up to sunshine but then heavier rain during the evening with thunder! We were trying to decide on the best route north. Back to Chalus and the N21 seemed the obvious but we wondered about a more cross country route to avoid Limoges which was going slightly east rather than directly north. We needed fuel and shopping so we headed for Nontron. The route there was not too bad but road works in the town could make it difficult. Likewise the cross country road we went to explore was not of a very good quality so it looks like Limoges. We found a nice Super U and afterwards made out way back to the van. As we started to take down the Caravanstore our Dutch neighbours also started to take down their awning. I had a chat to them about Camping Cheques. They collect bonus stamps which once you have stayed four nights in five campsites you get a free week at a designated campsite. He understood what I meant when I said he was being a bit ĎScottishí ! I went to pay, or rather use my Camping Cheques and was surprised that the Tourist Tax was only 25 cents each per night one of the lowest we had experienced. Later on we had another chat to the English couple who own a static on the site, as it transpires they actually own two, and one is for sale! We avoided the temptation!
Saturday 22nd September. The day dawned dry if not very bright and still a bit chilly. Our Dutch neighbours were away a bit before us, we managed to get away by about 9.30am. Our journey today was 158 miles, none of which was on motorway and only a fraction on dual carriageways. So In the main it was a day of two-way roads. Obviously progress was much slower and it took nearly 4 hours to do that 158 miles. Interestingly I am not convinced the car is any more economical on the slower cross country journeys and for those that strive to avoid motorways to save tolls may in fact be saving very little. Just a theory of course! Camping Iílsle de Verte has a nice position alongside the Loire River and Montsoreau on the other side. It was pretty busy when we arrived given that itís the third week of September.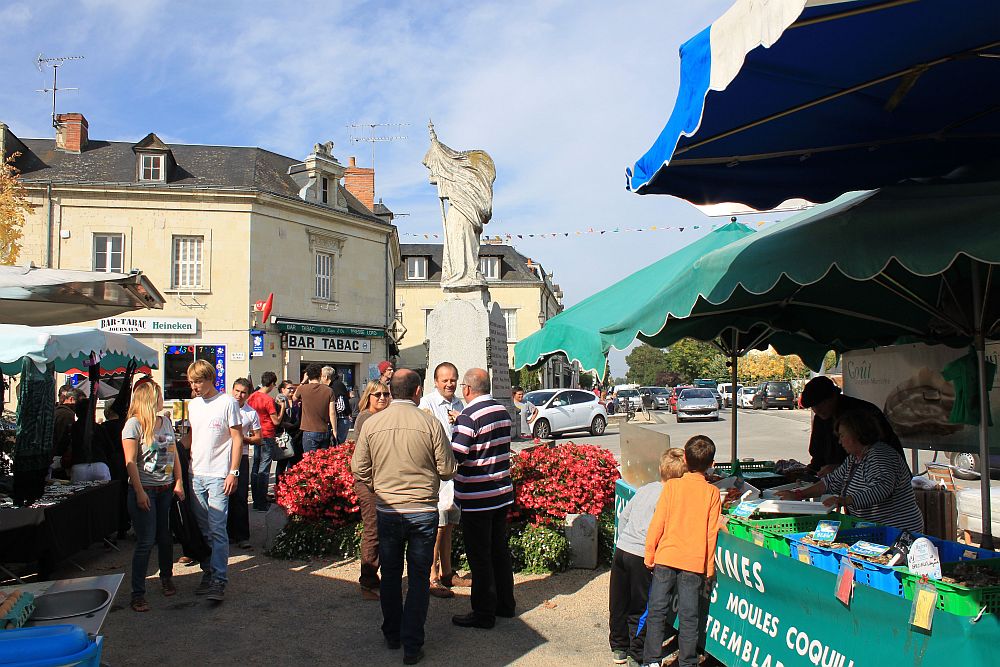 Sunday 23rd September. Brighter today and quite muggy. We thought we would ride the bikes along to the centre of Montsoreau but soon discovered that it was very busy with what seemed a popular Sunday Market. We thought better of the bikes and returned them to the van and walked into the town to give us a better opportunity to look round the market. Afterwards we walked up through the town to the Chateau, we did not bother going in as we did not have enough time. We took one of the narrow roads down to the river. The Loire is a wide river but in a fairly wide shallow valley in this part, so not particularly attractive. As with many rivers itís whatís built along the river that adds the character. In the afternoon we watched the Singapore Grand Prix. The pole sitter, Lewis Hamilton had an engine problem halfway through the race which gifted the lead to Sebastian Vettal with Jenson Button second and Alonso third. Still six races to go and you certainly canít rule out Alonso as he has been very consistent this season, it could be Vettal but he does have some ground to make up. Quite a few have left the campsite today and not so many arrived. It is perhaps understandable that so many sites donít stay open as long as they do in the UK.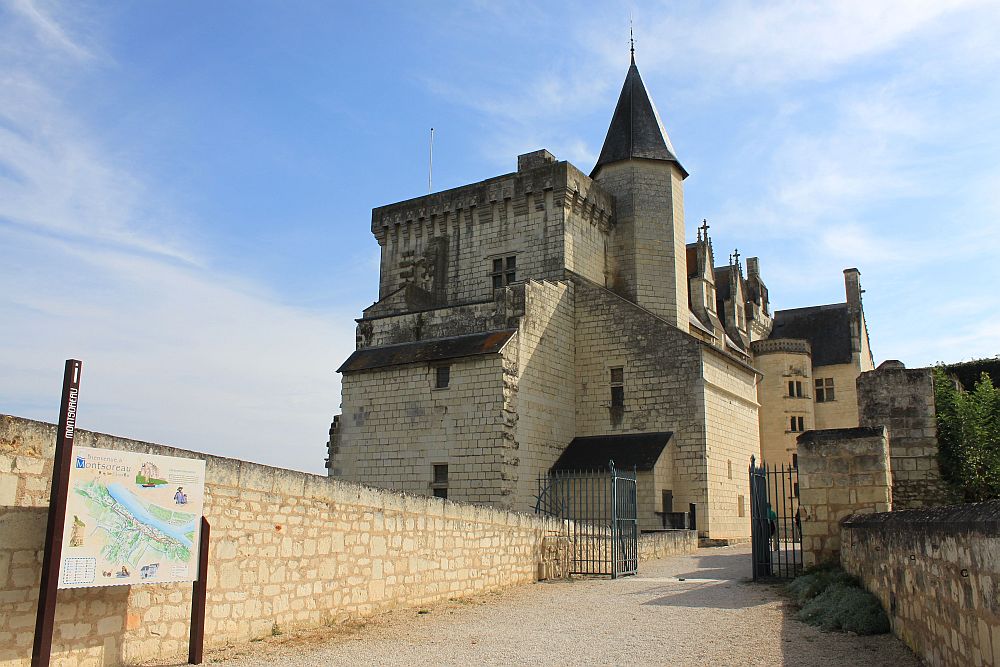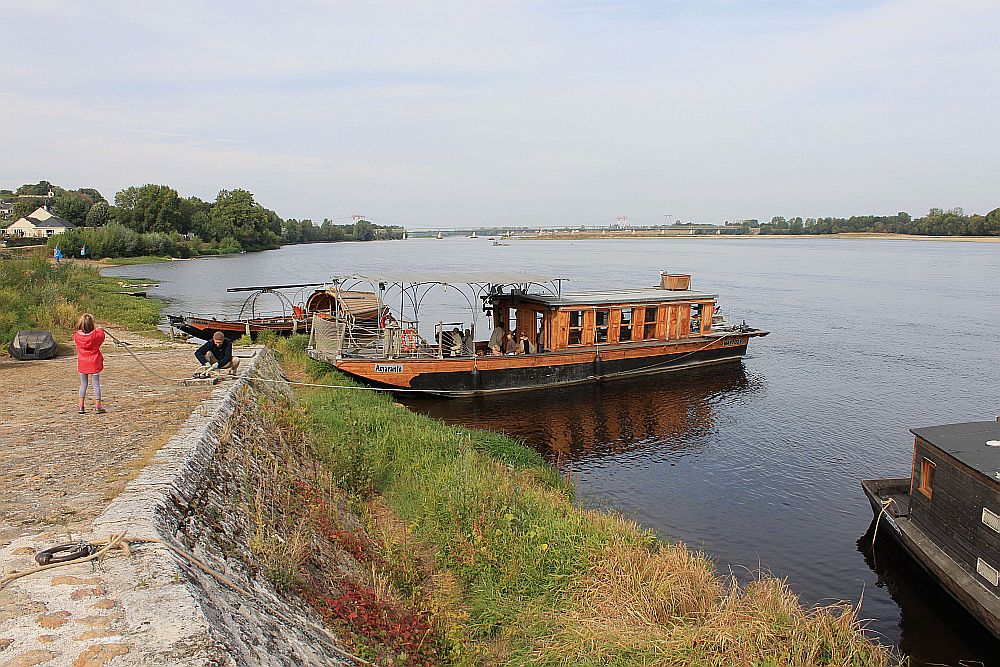 Monday 24th September. Well, what a night! Some rain but very strong winds which were blowing bits off the trees above us. The Caravanstore was also flapping about which tended to wake us up every now and then. When we went to bed it was also strangely muggy which also did not help the sleep situation. By 6.00am we were out taking down the Caravanstore (first time this holiday). However we were still being bombarded from above with bits from the trees being blown off and landing on the roof. We decided that it would be better to move onto the next pitch which did not have any overhanging trees, although the potential downside is that it is opposite the play area, although we are hoping that being mid-week there will not be any children!!! Several Dutch caravans have left today, certainly donít envy them their journeys in this wind. It seems to be almost a year to the day when we were struggling with the effects of Hurricane Katia in Scotland!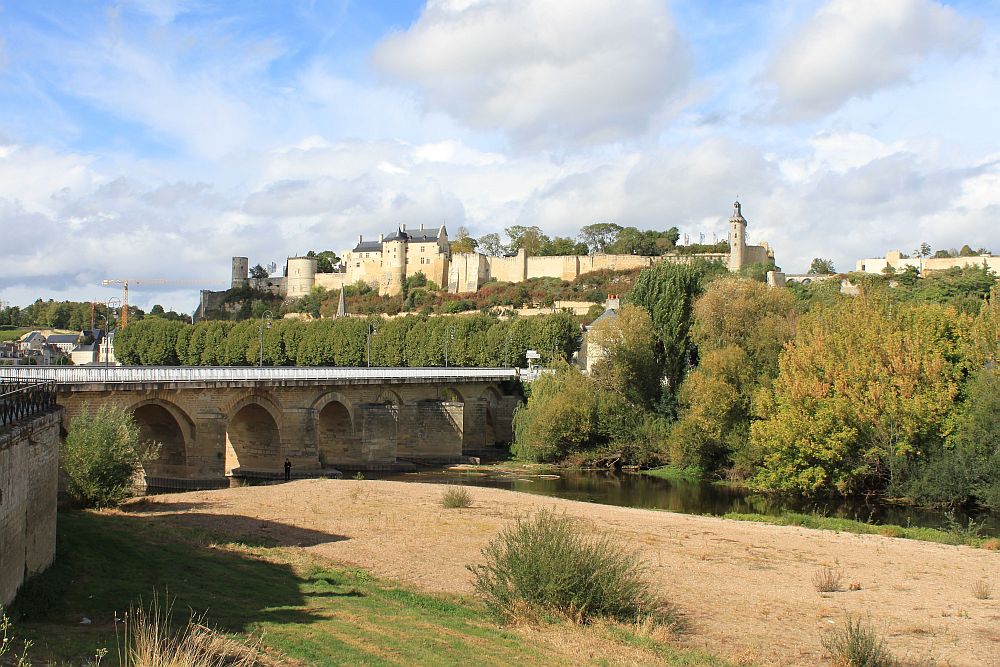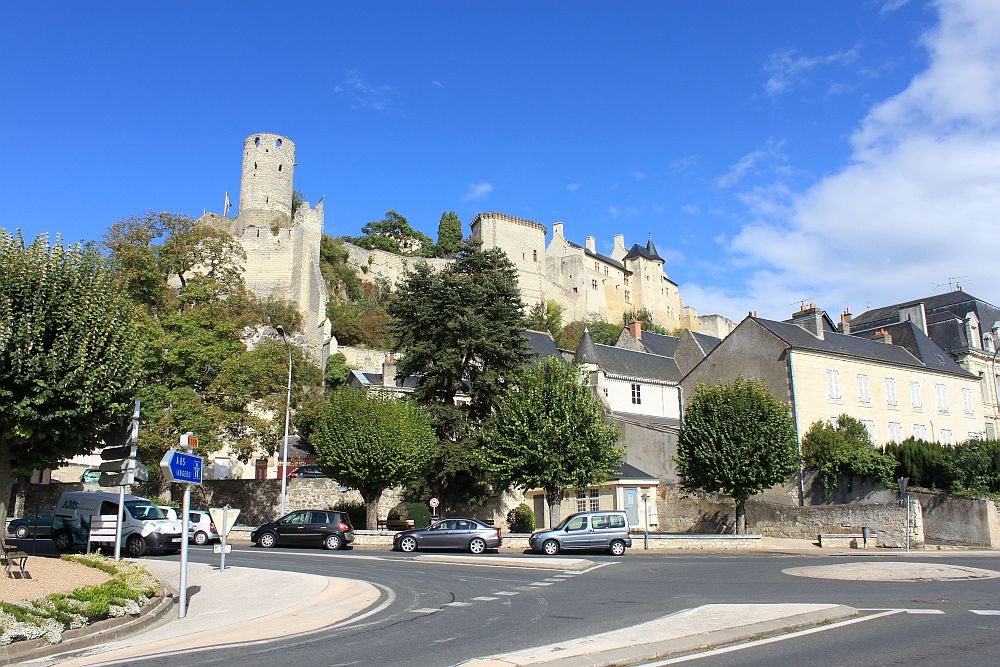 The weather has continued to be unpredictable all day, one minute bright sunshine and the next threatening skies. At least the wind has abated somewhat. After lunch we drove out to Chinon which is on the banks of the Vienne rather than the Loire. The town is dominated by the fortified Chateau overlooking the river from high above. Having found a parking place at one end of the town we walked towards the centre through those strange streets which are half pedestrianised and half open to traffic which the French seem to like. There were many shops that were not open and many which looked as if they had closed for good. Clearly the economic conditions are really hitting places like Chinon. Whilst the Dutch caravan contingent has gone today we seem to have had an influx of motorhomes amongst them lots of Brits and even the odd German. The couple opposite us have had a serious gearbox problem with the tow car which is currently at a Volvo garage in Tours. They heard today that the repair would cost Ä5000 to have it done here in France so Red Pennant have agreed to have their car transported back to the UK and they are sending out a replacement tow car.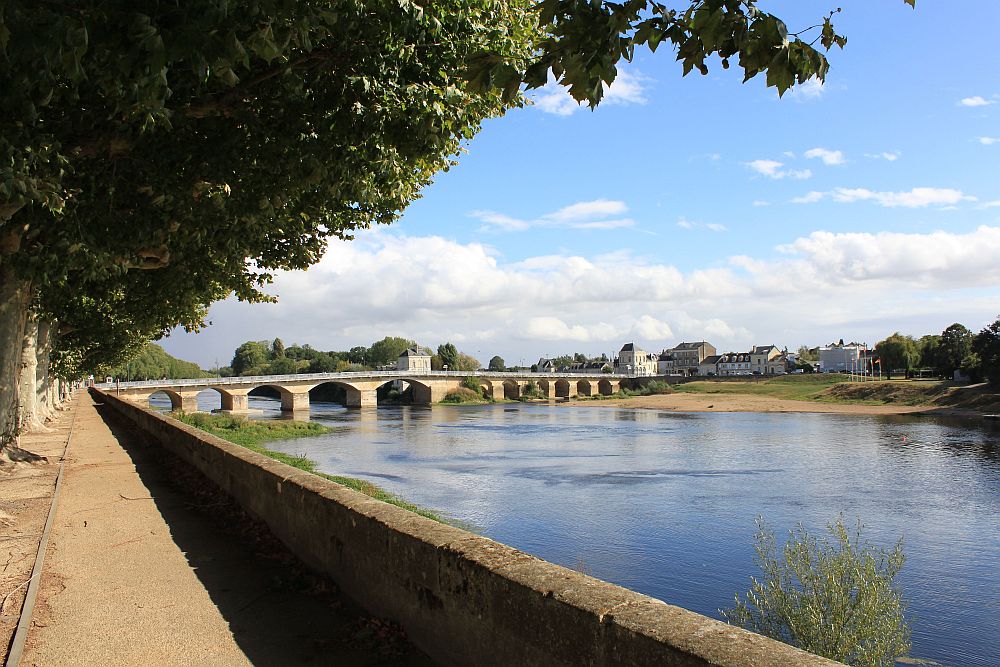 Tuesday 25th September. After very heavy rain overnight and the day remained dull and wet all day. During the morning we drove out to Chinon for fuel and shopping. We had thought that we would stay at Montsoreau a little longer but the weather forecast is not good for the next few days so we would rather head a bit further north. It was quite convenient in a way because I only had four Camping Cheques left on my card so this site has left me with a zero balance. The guy on reception did have a few problems with getting connected to CC but he managed in the end. Our neighbours with the car issue had their Volvo returned to the site on a low loader. They are now just waiting for the replacement tow car to arrive from the UK. Good
Wednesday 26th September. A very changeable day weather wise today, alternating between rain and sunshine and its not been warm all day. We made good progress going north, mainly on the old N roads but we did use a bit of autoroute around Tours. Our intended site was at Bonneval but could we find it? After several attempts and several narrow roads we gave up and headed elsewhere. We did think about Chartres but decided to go somewhere a little less urban. Our new choice was Camping Les Ilots se St Val just north of Maintenon. Whilst the site was well signed the roads in Maintenon were not the widest! We eventually found the site with no difficulties but were surprised that we were the only touring unit on site. The campsite is pretty big but 80% of the pitches are given over to season pitches. Not sure if it has recently come under new ownership but there does seem to be some changes being made to encourage more touring units. Having set up we went back to Maintenon to fill up with fuel and then drove up to Nogent-le-Roi to check the road out but that seemed worse. Looking at the map I was surprised to see how close we are to western Paris.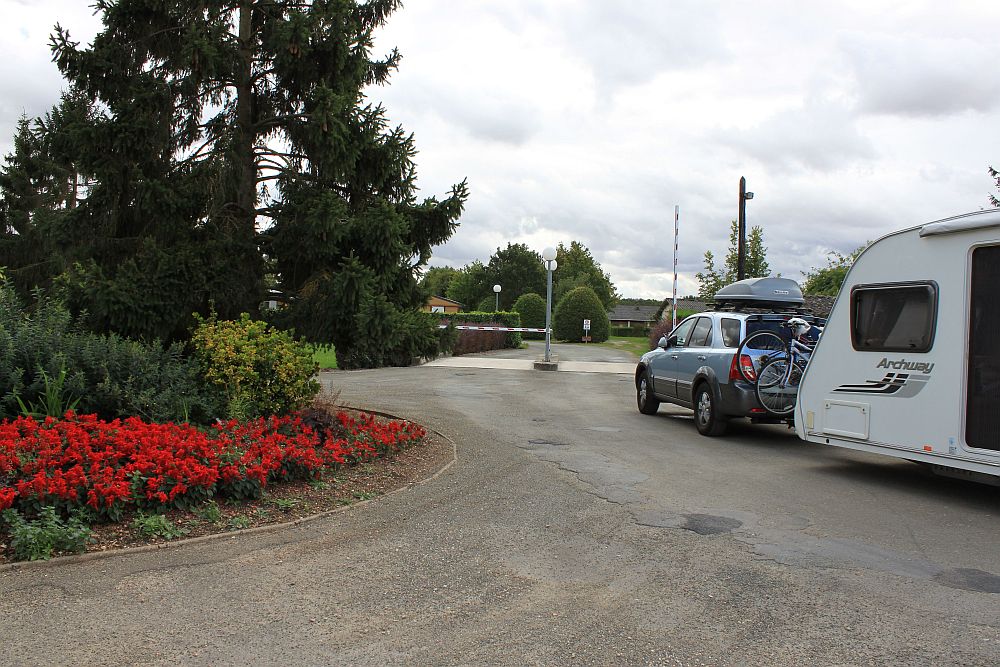 Thursday 27th September. Despite a pink sky the night before it dawned grey and wet this morning. It was another day of strange weather sometimes sunny and other times wet and grey. When we arrived at this campsite yesterday we were the only touring unit there but we were later joined by another UK van and a French motorhome. As we were getting ready to leave this morning we were also aware of the other UK van also starting to pack up although I think we were a bit ahead of them. As we had gone onto the pitch hitch first we needed to use the mover to get us off the pitch which slowed things down a bit and as we were getting ready to hitch up the other van was already behind us ready to go, there was no room to get by. I thought this was bad form as it put pressure on us which could mean we might have made a hitching error. Eventually I pulled into the nearby motorhome service point to let him by.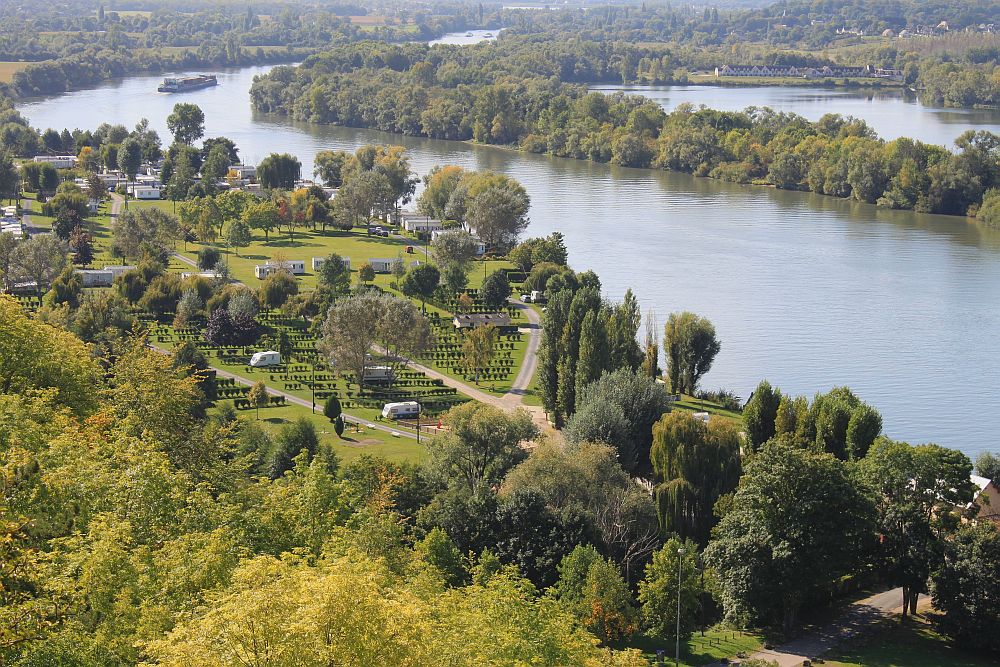 Todayís journey was only 79 miles and mainly on the N154. The last section to Les Andelys was across some twisty country roads but they did not cause any problems. When we arrived at Camping IíIles des Trois Rois we were given a big pitch right on the banks of the River Seine so we had a front row seat watching the barges go up and down the river. During the late afternoon we walked into the town of Les Andelys which looked quite nice although there is more still to explore. The campsite and town are dominated by Chateau Gaillard which towers above everything on an outcrop of white rock. By the evening the campsite was pretty full given that it is near the end of September.
Friday 28th September. It was cold overnight but it still dawned grey this morning although in fairness it did improve as the day went on with the afternoon being quite sunny. After breakfast we had a drive through Les Andelys which turned out to be quite a big place. We went beyond the town to check out the route which seemed OK as far as we went! The sunshine provided the opportunity to get the Caravanstore out so that we could dry it off as it had been put away wet several days ago. Likewise the large ground cover mat we used was hung on the bushes to dry. After we sorted that we went for a bike ride along the river. We were given the impression that we could cycle along the river for some kilometres but we ran out of paved path and ended up riding across grass so we turned round and headed back. Got chatting to our neighbours who arrived a bit after us yesterday. They run a B&B and they undertake all bookings via the internet. When they go on holiday they just say they are fully booked which I thought was clever as it just reinforces with customers how popular the place is!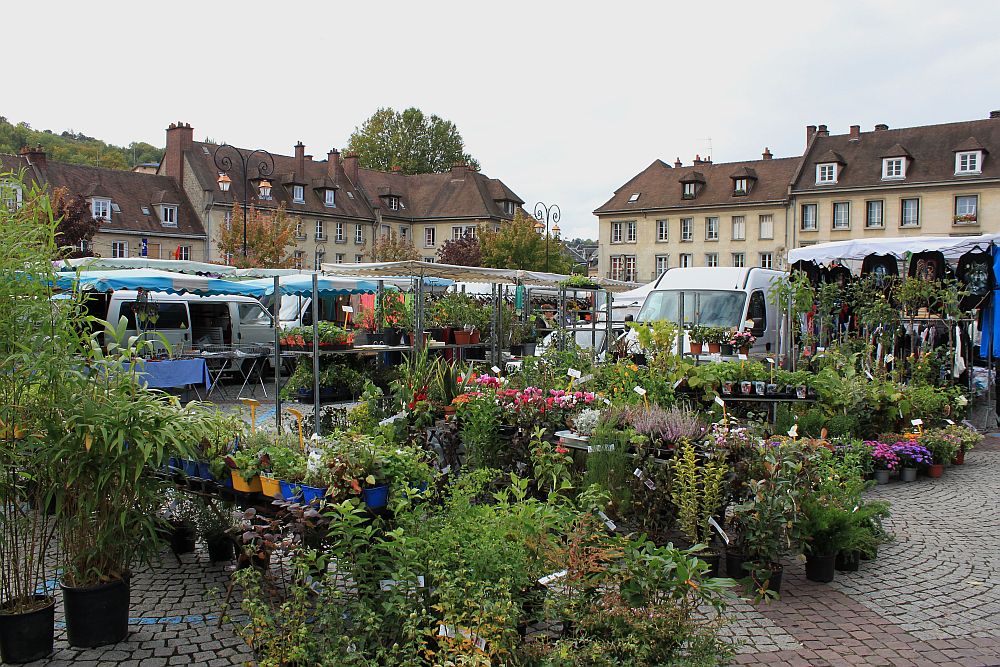 Saturday 29th September. When we woke up there was a completely blue sky but by the time we had breakfast it had become cloudy. Lots of people have left today and we were down to about half a dozen neighbours. Itís Market Day in Les Andelys today so we thought we would walk in and have a look. It was further than we thought but we did manage to get there before it closed! A lot of French towns are quite dead at the weekends but here seemed quite busy. As we wandered around a respectable looking man of around my age, offered me a leaflet. My usual reaction is a friendly ĎNon Mercií He then started to talk to me and I tried the one about being a stranger in these parts. He cottoned to the fact that I was in fact English, a language which it transpired he spoke very well. He was handing out leaflets on behalf of the French Socialists. If I understood him correctly he seemed not to have much time for either our PM or his own President. It would have been interesting to talk further but Margaret had more important things on her mind, shopping! We donít often buy much on markets but we came away with a scarf, for Margaret and some fruit for both of us. Rather than return to the site via the main road we walked down through Petit Andelys which in effect is the old town on the river. The weather here is very changeable with bright sunshine one minute and grey skies the next, fortunately the rain has stayed away.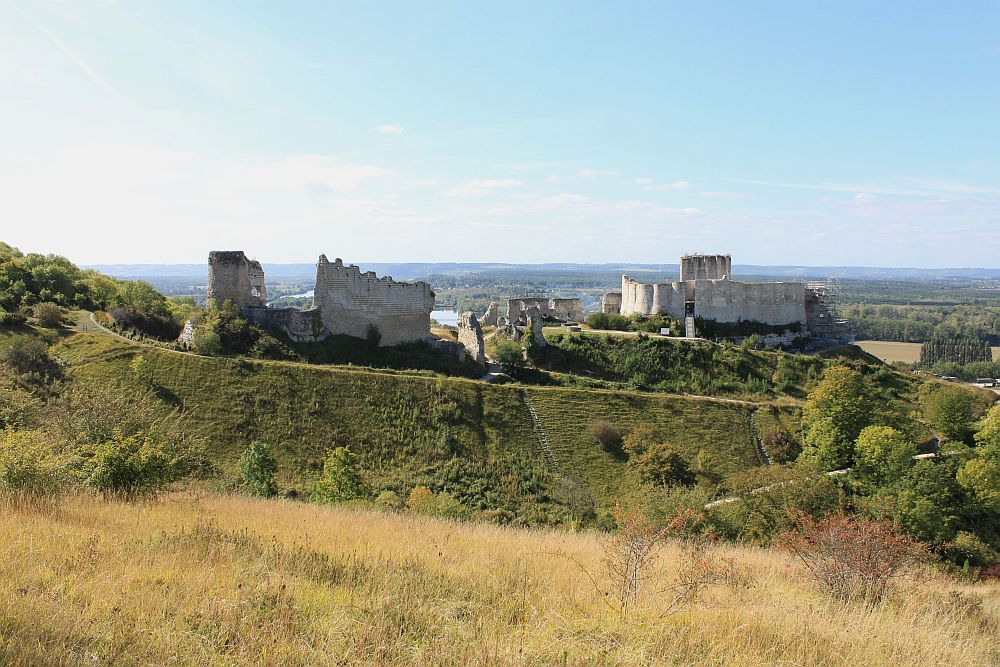 Sunday 30th September. A very foggy start to the day but it meant that we had one of the best dayís weather wise for a week or two. Perhaps it was a swansong for September. We had been looking up at Chateau Gaillard ever since we arrived at this site so we decided to go up and have a closer look. We could have walked up but it looked a pretty steep climb and I am not sure we felt able to do that so we drove up to the car park. When we got to the car park the French were spread out on the grass enjoying their picnics. Have to say that you are unlikely to find a spot with more impressive views. As well as having an excellent view of the ruined Castle which has associations with Richard the Lionheart, there are wonderful views down over the Seine and Petit Andelys. We saw a sign to a car park nearer the ruins but when we got there it did not look particularly good so we returned to the original place and walked to the Castle. The paths were pretty rough and it surprised me that greater attention had not been paid to the access. There is no charge for just looking around the ruins but there is for visiting the Keep. However in typical French fashion it was closed during the lunch break! From a couple of the viewpoints there were good views of the campsite below. On the way back to the car park we decided to take a short cut up an extremely steep and long bank. I think we realised that it was a bit foolish as we both struggled and had fears of doing more than just being out of breath! It took us a while to compose ourselves before making our way back to the van. In the main the afternoon was spent sitting in the sun on the riverís bank Barge Watching. We thought that being Sunday there would be less river traffic but there seemed more. I have found this a particularly fascinating aspect of this campsite. In the sun it was quite hot but out of the sun quite chilly although there was little wind, no doubt the reason for the fog earlier in the day.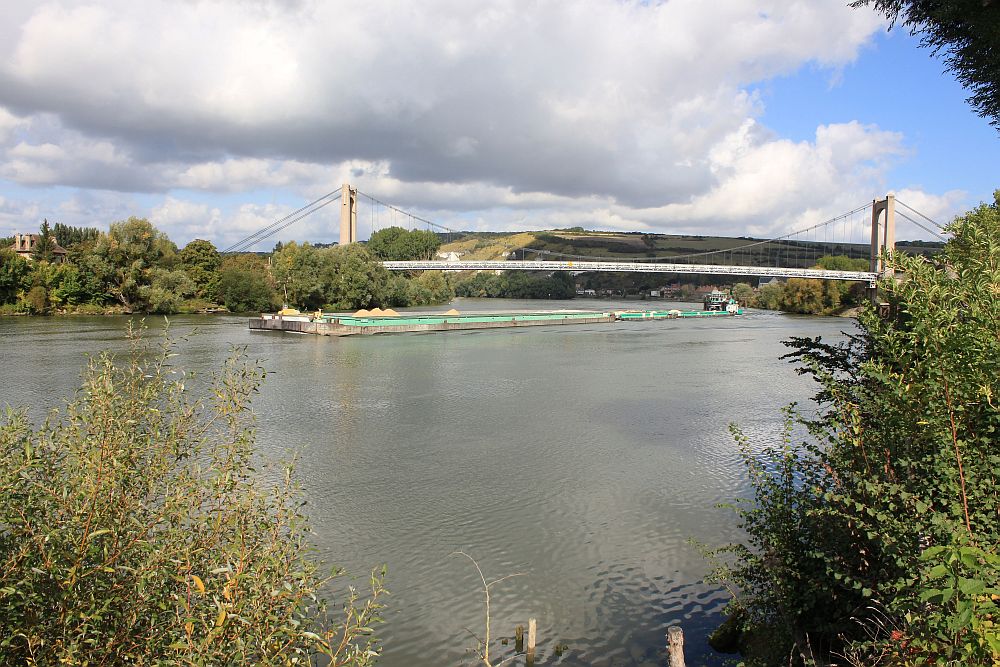 Monday 1st October. The first day of October, winter must be on the way! First thing it was quite bright and sunny but as the day wore on it has become cloudier. During the Morning we went off to buy fuel and do a bit of shopping although with the prospect of a proper Waitrose shop within the week we are only buying for our immediate needs. After lunch we decided to have one last bike ride to Petit Andelys along the river. By the park was a large Viking River Cruiser. We were able to have a closer look and found, apart from sheer size it seemed similar to a cruise liner. It must be a nice way of seeing Europe, simply stopping off at towns and villages along the way and no Bay of Biscay! Back at the van we started to pack a few things away. We noticed that one of the toilet blocks in the touring section has been closed today despite the site seeming to have as many units as it did last week. Despite being the first week of October they are still arriving albeit in smaller numbers. Margaret ventured the thought that this is one of the most enjoyable site we have stayed on this holiday. Not because it has the best facilities but the location is superb, right on the River Seine. You can spend hours watching the river traffic go by. On top of the that you have an attractive town on the doorstep. This is our last day here as tomorrow we are moving north to be near Calais.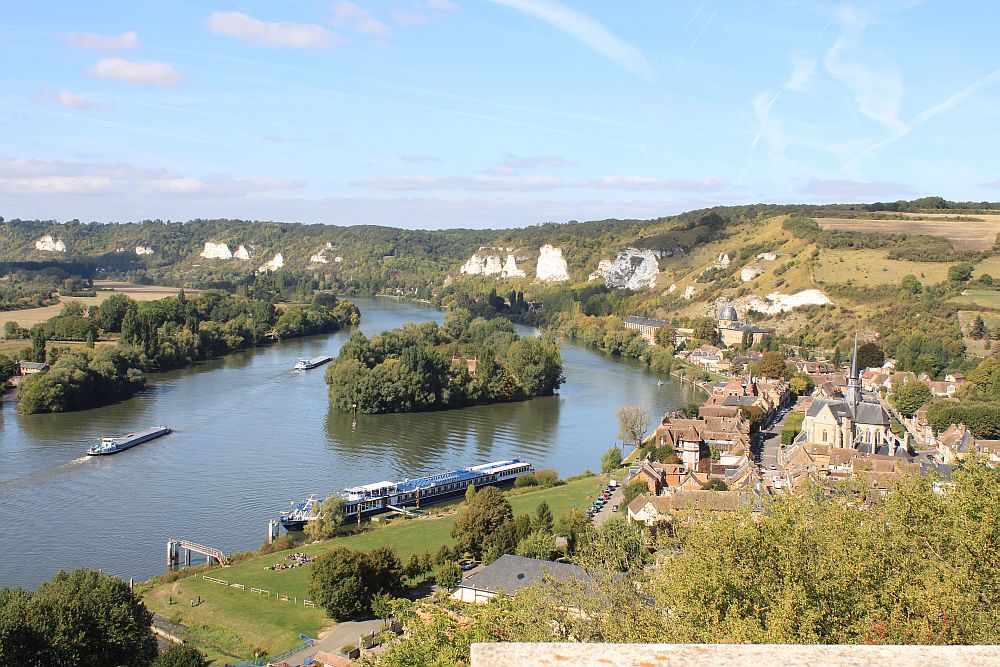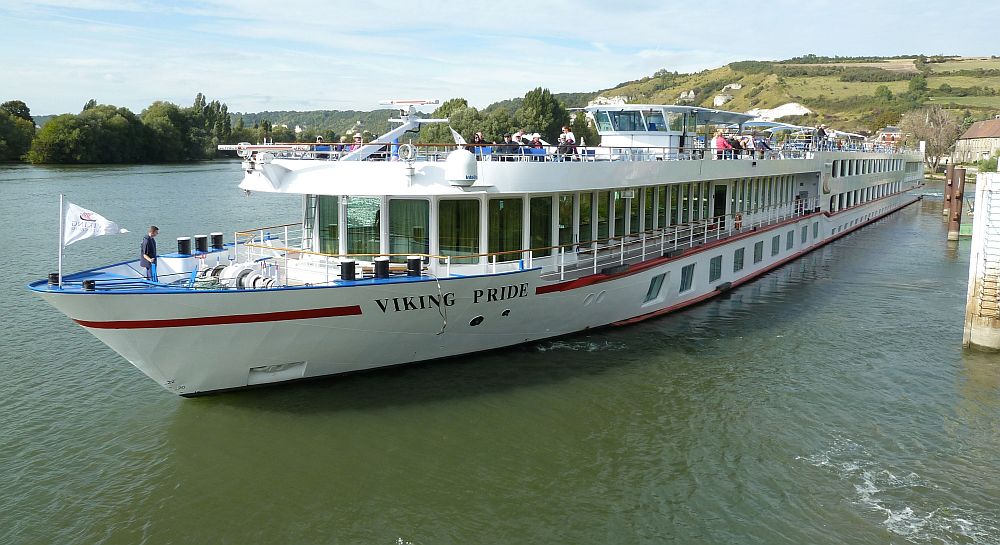 Tuesday 2nd October. There was rain overnight but it was dry as we were packing up. It was quite a torturous journey across country, by the time we got to the A28 a distance of about 60 miles it had taken two hours! This did include a rather long Ďdeviationí around one of the towns en route. We arrived at Les Epinettes at Peuplingues around 1.30pm. This campsite only has about 15 touring pitches but not all of them are being used.
This was the second time this year we have used this site prior to our return to the UK.
Wednesday 3rd October. Very heavy rain overnight which made it difficult to get to sleep. Apart from a few bright periods through the day it continued wet for most of the day. This is our last full day in France as we go home tomorrow. As seems to be the tradition of our end of holiday stays we were off to the Supermarket to stock up with wine. We decided to go a bit later so that we could have lunch before we started the serious stuff. Nothing fancy, just a Flunch at lunch! On the way to the Cite de Europe we thought we would do a detour to have a look at another campsite near Sangette called Camping Fort Lapin. It was very near to Calais and has access to the Channel beach. It only seems to have a few touring pitches but would no doubt be acceptable as an overnight stop.
Thursday 4th October. Another rough and noisy night because of the rain. Margaret faired better than me in the sleep department as she used her F1 ear plugs! It was pretty soggy everywhere because of the rain but we managed to get away OK and were soon at the Eurotunnel Terminal. Unlike the journey out we were able to get on an earlier Shuttle. The journey on the UK side was the usual slog but fortunately without hold-ups. We were home by mid day and the caravan back in the garden as though we had never been away!
Retrospective
We came back from this trip wondering whether a second trip to Europe in a year should be continued. There seem to have been a number of issues on this trip which have given cause to asking this question. I appreciate that it has been a poor year for weather generally but we seem to have had the heating on more this trip than we recall in the past! On these later trips we have gradually, over the course of three trips, come back a few days earlier each trip. We also seem to have experienced a couple of unpleasant situations with French neighbours something we don't recall in the past. Perhaps we have done this sort of trip so often that we perhaps need a change. Whilst we don't particularly want to over winter in Spain maybe a longer trip at this time of year using the long ferry crossings to Spain needs to be investigated.
For those that like statistics we towed 1884 miles and 2390 miles overall. We used
526 litres of diesel which cost £614. We stayed at 12 campsites in France and one in the UK for a total of 44 nights, which cost in total just under £600. Where possible we made use of the ACSI and Camping Cheque discount schemes which meant on average we spent about £13.50 a night on site fees.