Camping de la Filature, Route de Chouvigny, Ebreuil, Tel 0470907201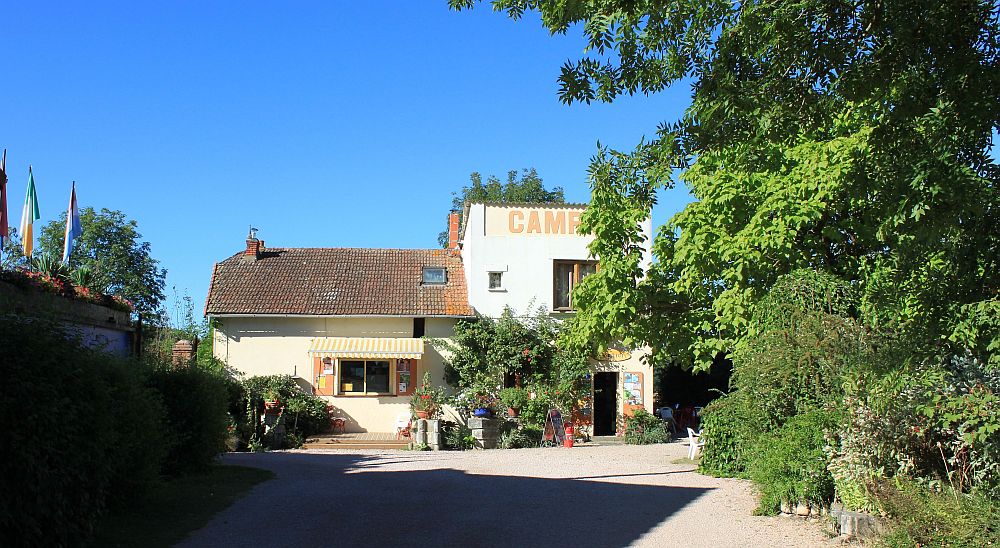 Please note that I have been informed, also confirmed by a note on their website, that this site is now permanently closed. That is the extent of the information I have. There is no indication that the site is likely to be sold to new owners, just that it is closed. See their Facebook page.
To Find Site:- Leave A71 at junction 12 towards Ebreuil. Continue through Ebreuil and turn left onto D915, ignore signs to Municipal campsite and site is on the left just after canoe hire base.
Camping de la Filature is just outside the attractive village of Ebreuil on the banks of the River Sioule. Reception has limited opening hours during the middle of the day but a notice on the door invites you to find a space and report back later, this may vary in the high season. This campsite is something of an enigma in that it seems to be caught in a time warp, I doubt whether itís changed much over the years although that is also part of its charm. Itís quite rustic in nature with lots of tree cover, particularly along the river. There are around 80 pitches most of which are of a generous size. Some can be driven through which makes access, even for larger vans, relatively easy. Water points are dotted around the campsite although they have the rather inconvenient push button controls. Other than under a hedge the only grey water disposal is that the chemical toilet point. Electric points are rated at 6 amps and accept CEE17 blue connectors. The toilet shower facilities, whilst keep clean, can only be described as just adequate and long overdue for a rebuild. Toilets are seated pedestal with paper provided but some cubicles are small and in some cases there is not sufficient light during the day. Shower cubicles are also on the small side. Reception houses a small shop and next door is an interesting bar with seating on an open terrace. The site also has home prepared takeaway meals which are good value as well as being very tasty. The dish of the day is posted in the morning and the site prefer that people order this in advance. If you bring your own plate and cutlery the meals can be eaten on the terrace. A bread van calls daily. Free WiFi is available in the Reception/Bar area. For children there is play equipment and a crazy golf course as well as table tennis tables. Many will enjoy the river that runs along one side of the site. As we always use our own facilities the short comings of the toilet facilities are not really an issue for us. We found the site peaceful with little noise and a sense of spaciousness. The site is ideal as a stopover off the A71/A75 going north or south. The ACSI Card is accepted in the low season, although high season charges are quite reasonable.
A short distance from the site entrance is a canoe hire base. There are some shops in Ebreuil which is walkable from the site. For more serious shopping you may have to go to Gannat about 10kms away. There are lots of opportunities for excursions from the site. You can drive out from the site and follow the River Sioule and its Gorge.