Camping Airotel Les Calquieres, 17 Avenue Jean Moulin, 12150 Severac Le Chateau, Tel 0565476482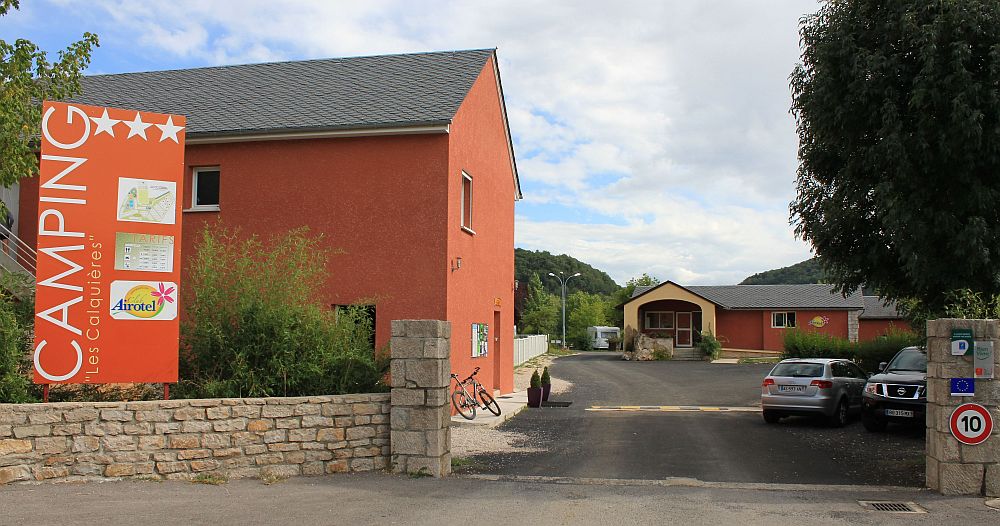 To Find Site:- From Junction 42 on A75 take road towards Severac Le Chateau. Follow signs to campsite and Centre Sportif. Perhaps best not to rely on sat nav as there is a risk of being taken along some narrow roads.
Camping Calquieres is set at the foot of the old town of Severac Le Chateau. It makes a handy stop over en route north or south on the A75. New arrivals are invited, when reception is closed, to find a pitch and report back later. The site is terraced but pitches are generally level with perhaps a little fore and aft levelling required. All pitches are on grass and are divided by young hedging. Some have trees in awkward places which might have been caused by making the pitches larger. They vary in size but most are of reasonable size and some quite large. Electric points are rated at 6 amps and have a mix of CEE17 and 2 pin connectors. Water is generally available from the toilet blocks although there are a few taps dotted around. The two Unisex toilet blocks are of a good standard and contain unseated pedestal toilets with paper provided in the cubicle. At the back of reception is a Bar/Snack/Restaurant area with a terrace overlooking the rather nice covered swimming pool. There is also a small playground. Across from reception is a TV/WiFi room. The Wifi is only available in this area of the campsite but is free. The site accepts the ACSI Card during the low season.
From the site there is a footpath up to the old town which dominates the surrounding area. For shopping there is a Netto and an Intermarche within about a kilometre of the site. For those staying longer than a transit stop there are many excursions that could be taken from the campsite.