Domaine de Soleil Plage, 242000 Vitrac, Tel 0553283333,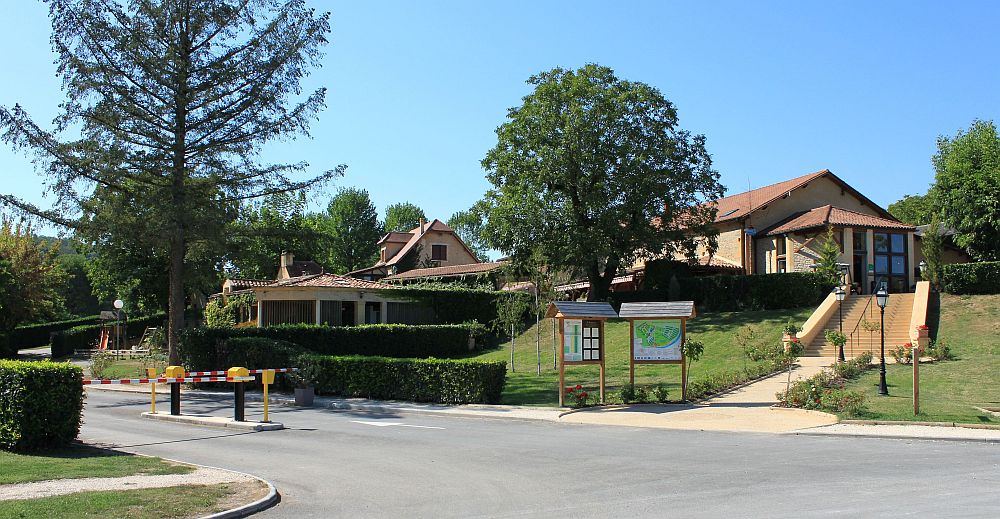 To find site:- Getting to the site requires care from both directions! From south or east on D704 turn left onto D703 at Carsac signed for Montfort. This road has high rock face on one side and is fairly narrow although two vehicles can pass but care is required. Near Montfort watch out for some stripe signs to Soleil Plage and turn left to the campsite, passing canoe station on right. From Sarlat take D46 south signed for Vitrac and La Roque Gageac. At Vitrac donít take first left to village but continue for another 100 metres or so and turn left signed for Carsac. This road follows the rock face on the left for a short distance. Take first road on right signed with strip signs to campsite. At T junction turn right for the campsite, details as above. Once at the campsite there is plenty of parking space in order to wait whilst booking in. Reception is closed between midday and 2.00pm.
Domaine de Soleil Plage is a spacious campsite with in the region of 120 touring pitches in addition to the many static caravans and chalets for hire. There are also tour operators on site. The site has a lovely situation on the banks of the Dordogne River with some pitches having direct views over the river. There are two touring areas each with its own facilities, although it is a fair walk to reception and pool from the furthest pitches. Pitches vary in size but most are quite generous and some enormous. They are all hedged so there is a good measure of privacy and there are many mature trees to provide shade. The only downside is that it can make it difficult to get a satellite signal. Most pitches seem to have a water tap and electric point, some also have drainage. There is an addition surcharge on some pitches, mainly those overlooking the river. There is one parking area set aside for motorhomes. Electric points are rated at a useful 10 amps and use CEE17 blue connectors. Toilet blocks are unisex and to a good standard with unseated pedestal toilets and paper provided. The site has an excellent swimming pool complex which should suit all ages. Around the site are various games option for children of all ages. In the reception area is a small supermarket where bread can be ordered for the following day. On the other side of reception is a bar/restaurant area with most things being open until mid September but the swimming pool remains open and bread can be ordered from reception until the site closes. Site wide WiFi is available but it is pretty expensive unless you buy a longer period. The campsite accepts Camping Cheques in the low season.
There are many things on site to entertain visitors and near to the entrance is a canoe hire station for trips on the river. The location of the campsite puts it within a 15 mile radius of virtually all the major Dordogne tourist sites. Sarlat is only about 6 miles away which is a must to visit, there are also a couple of supermarkets there, although we found the Carrefour Market at the northern end of town better than the Casino nearer to the site. For fans of Gardens Marqueyssac and Eyrignac are well worth a visit.