Camping Les Epinettes, 62231 Peuplingues, Tel 0321852224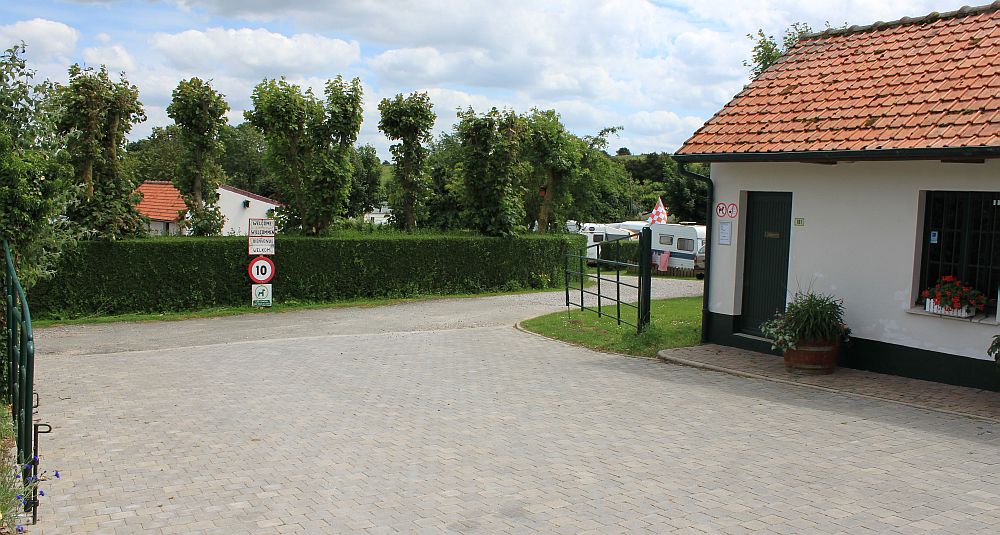 To Find Site:- Leave A16 at junction 40 and head for Peuplingues. Continue through village and just as you start ascending hill watch out for sign to campsite pointing to the left. Final approach is down a short narrow road but with clear sight of the entrance.
Les Epinettes is a small campsite to the west of Calais about two miles from the motorway and is handy as an overnight stop to and from the Channel crossings. There are about 90 pitches but many of these are taken up with permanent and seasonal users leaving between 20/25 pitches for touring units. The site will reserve a pitch without deposit, although they put reserve labels on the pitches they donít put names on! Generally the form seems to be to find a pitch and report to reception when it opens. All pitches are on grass and vary in size. Many used by touring units are long rather than wide, especially those near reception. Further into the site there are a few larger pitches and anyone wanting to stay longer might want to look here. All pitches will require some degree of minor levelling. Electric hook-ups are in the main via CEE17 blue connectors but they are only rated at 4 amps, however we found we could use most of our appliances perfectly satisfactorily. There are two small toilet blocks which are of a nice quality with seated pedestal toilets and paper provided. Showers require a token from reception. The chemical deposal is in the second block although strangely there is no means of rinsing the cassette when emptied! Reception keeps very restricted hours, only being open in the morning and for an hour in the evening. You therefore have to be aware of this when wanting to pay and of course to purchase your shower tokens! Bread can be ordered from reception. The site has free WiFi available to campers. I think this campsite is fine for a day or two stop over en route to the ferries but it did not strike me as a sitting about site. Mind you for Ä13 a night for two people with electrics it is certainly excellent value, there are better equipped sites nearby charging almost three times that in high season. Although not open all year I understand the owner is prepared to allow people to stay overnight by special arrangement. For children there is a play area in the far corner of the site.
Date of visit early July 2012
The convenience of this site is its closeness to the Port of Calais and the Channel Tunnel and reasonably easy access. It is also not far from the Cite De Europe for shopping. For those staying longer there are all sorts of excursion close by including the coast.