Aktiv Camping Prutz, Pontlatzstrasse 22, A-6522 Prutz. Tel 0043(0)5472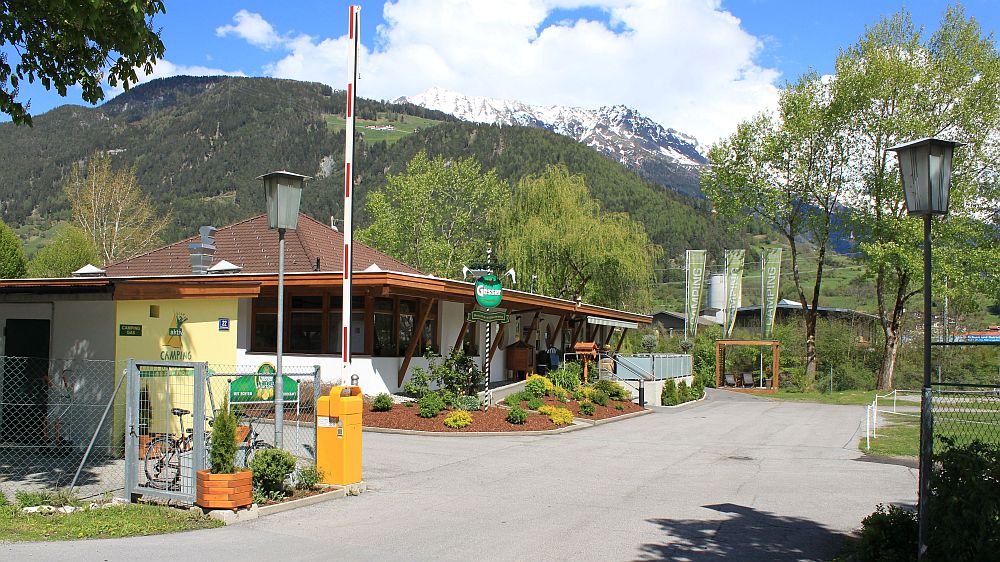 To find site:- On entering Prutz from the Landeck direction pass SPAR supermarket on left and at traffic lights opposite the Shell Garage turn right over river. Take care when crossing the bridge as it not quite wide enough for vehicles to pass. Once over bridge turn right and follow road to campsite in about 200 metres.
Aktiv Camping is set out along the banks of the River Inn on the opposite bank from the town of Prutz. It is a handy stop off point for anyone intending to use the Reschen Pass to get to Italy. The site is in two halves separated by the Facility block which houses, reception, toilets, bar/restaurant and drying room. All the facilities are of a very high standard with seated toilets with paper provide. There is also a drying room. In all there are around 130 pitches although some are occupied by long term campers. The main touring section is to the right of reception as you enter the site. They vary in size and whilst not generously sized they are adequate. The base of the pitches is a mix of grass and gravel chippings as the site is open during the winter. Each pitch has its own water tap but no drain. Electrical points use CEE17 blue connectors and are rated at 6 amps, although we seem to have been able to use more than that without tripping the switch. The site has Wi-Fi available at a reasonable daily cost and we were half way down the site and I got a good reception in the van. For older children there is a games room within the reception block and there is a small public playground through a gate at the end of the site. During the busier part of the season there is a bar/restaurant. In the low season the reception keeps very restricted opening ours, 8.00am to 10.00am during our stay in early May. The advantage is that you can arrive at any time as there is no lunch time closure. On the reception door there is a list of free pitches and you can select any that are not booked. The site accepts the ACSI Card and in 2012 it was €14 a night, however be warned that like some other Austrian sites there is a hefty local tax and environment tax which adds nearly €5 a night to the cost. Payment can be made by credit card if it amounts to over €50. The main road through the Valley is just across the river so there is some traffic noise although we did not find it a nuisance
For anyone staying longer than a transit stay there are many places to visit in the locality and the eastern Tirol is nearby. For shopping there is a supermarkets Prutz across the river from the campsite as well as a fuel station.