AZUR Camping Turmbergblick, Tiengenerstassa 40, D-76227 Karlsruhe-Durlack, +49 (0721) 407236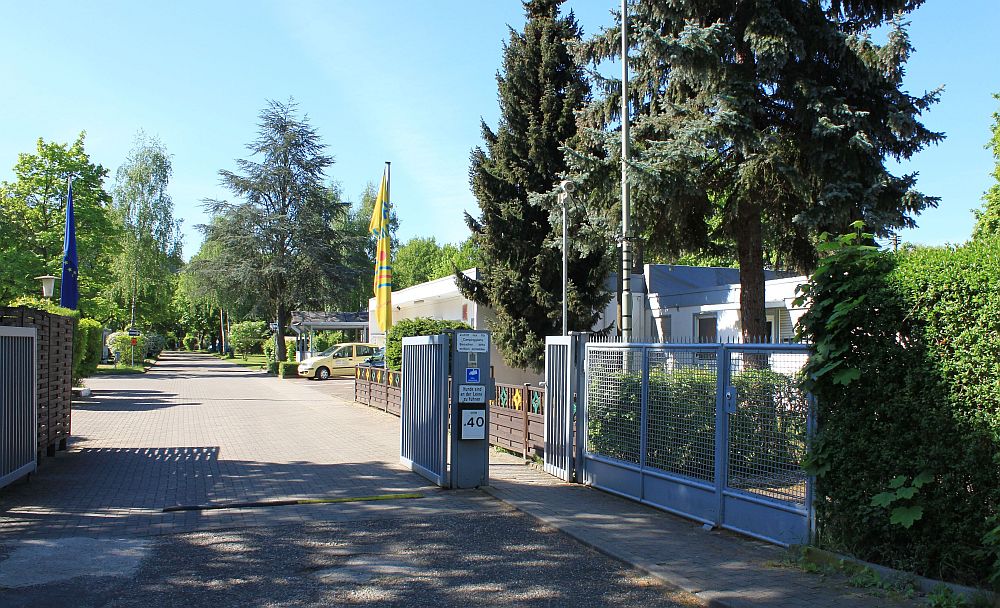 To find site:- The site is quite will signed once in Durlack although the route is quite torturous.
This is quite a large site with over 300 pitches although about half are given over to permanent units. The main touring section is immediately in front of Reception. It is pleasantly wooded with mature trees which gives a nice look to the site. Pitches vary in size and it is best to have a good look round to select one to suit the size for your outfit. There is a separate tent area near the entrance. Just inside the entrance is a small area with water, waste and electrics which I assume is just for overnight use as the area is quite small. Electric points are situated on the ends of rows of pitches so a long lead may be required. The connections are rated at 10amps and use CEE17 blue connectors. One disappointing thing about the site is that the main touring part does not have any water points. Water is only available at the toilet block so quite a walk from some pitches. The toilet block is of a good standard with seated pedestal toilets and paper provided. There is a playground area for children. We visited this site in early May and it seems that not all facilities were open all the time, these include a restaurant which seemed to open at the weekend and a small shop which was being prepared for the season. The site also offers W-Lan (WiFi) although I thought that it was pretty expensive with one hour costing €5. This site is near both a motorway and a railway so some noise is to be expected although we did not find it intrusive. This campsite accepts the ACSI discount card at €16 a night.
We used this site as a stop off point en route to Italy as its not far off the motorway. It would be a good base to visit the City of Karlsruhe. There are many other places of interest within easy travelling distance including Baden Baden and Museum Sinsheim. If you want to make use of public transport there is a station at Grotzingen within walking distance of the site. For shopping there is an Aldi store within walking distance. We also found a REWE a little further away, which is handy if you want to pay by credit card. Bread can be ordered from reception.