Blackpool South CMC Site, Cropper Road, Blackpool, FY4 5LB, Tel 01253762051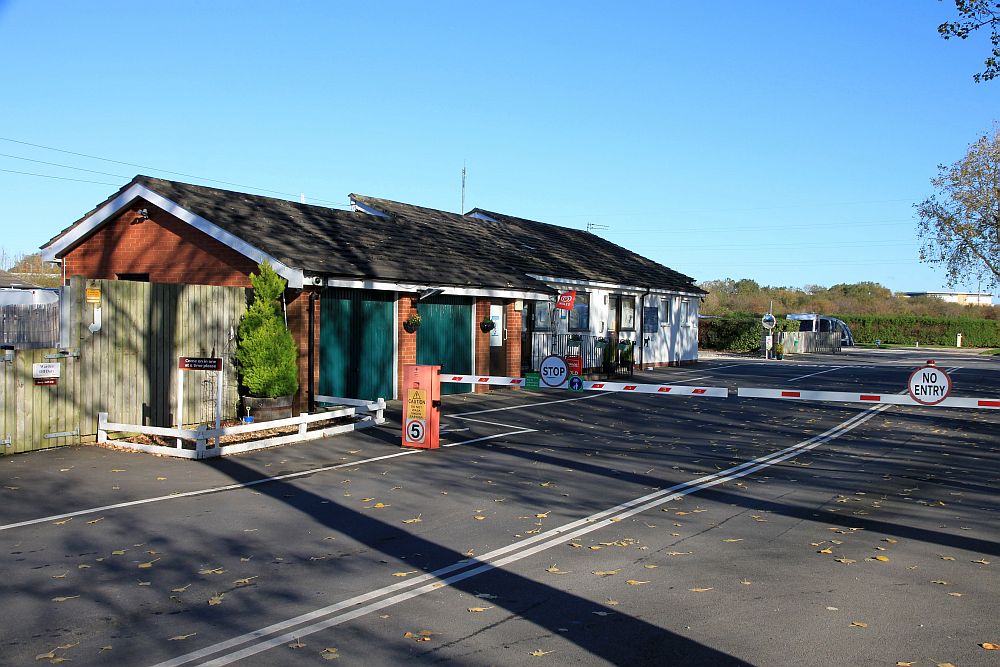 To Find Site:- Leave M55 at junction 4 and turn left at Roundabout. At next roundabout take second exit into narrow lane and site entrance is a short distance on the left. This site has a double barrier entrance. The first barrier should open for you on arrival which should be after 1.00pm. There is no waiting space.
The Blackpool South site is situated in a semi urban environment on the outskirts of Blackpool with easy access off the M55. One end of the site is near to some main roads so you will experience some traffic noise although we did not find it problem. Quieter pitches will be those situated to the right and straight ahead of reception as you enter the site. In total there are 95 hardstanding pitches, 83 of them can accept awnings. Some of the pitches have privacy hedges but the reverse of that is that some pitches are on gravel without delineation except for the pitch marker. There is one central toilet block which is of a good quality and the block also contains a dish washing room and a laundry. There are addition unisex toilets available when the main block is being cleaned. In addition the main toilet block there are a couple of other service points but some pitches have a longer walk to get water and dispose of grey water. Likewise there are only two chemical emptying points. The motorhome service point still has heavy drain covers rather than an open grill for waste water disposal. For children there is a small adventure style playground. There is site wide WiFi which seemed to work reasonably well despite the fullness of the site. There was also a reasonable 4G signal for those wanting to use their phones for the internet. Reception sells a few essentials including gas and newspapers can be ordered.
This site is fine for visiting Blackpool and the surrounding area if you have your own transport. Things become more difficult if you wish to leave your outfit on site and use public transport. The wardens have worked hard to provide information on getting into Blackpool by other means. Unfortunately the nearest bus stop is currently over a mile away. Taking a taxi is probably the best option and the site has arranged some fixed price fares, from £8, to key points from the site. On returning from Blackpool there is a taxi rank near to Blackpool Tower and we found metered fares similar to the set rates. The town centre has a good range of shops. For eating out, if you like fish and chips you will find Blackpool a sort of paradise! If you are visiting Blackpool I am sure people will be well aware of the many attractions it has to offer. For food shopping M&S have a good Food Hall in their town centre shop and most of the large supermarkets are represented within striking distance of the site.