Camp'Eure, Quai Marechal Foch, 273540 Pont de L'Arche, Tel 0235230671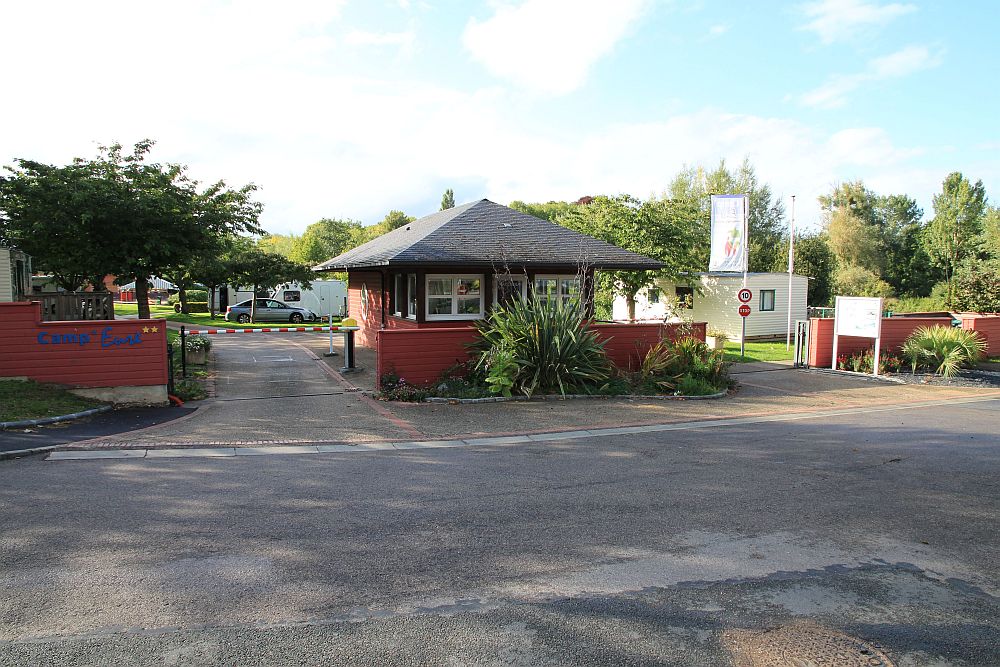 To Find Site:- Access to the site is not to straightforward because of narrow roads. Assuming there are no events happening in the vicinity the most straight forward way is to turn left immediately after crossing the bridge and following the road down under the bridge you have just come over, tight left turn to go back towards town. Go past the car park on the right to the campsite a little further on.
Alternatively you can come through the town and head down to the river and approach site from the other direction
This nicely situated municipal campsite on the banks of the River Eure near to where it joins with the Seine on one side and right by the town on the other side. It is a fairly small campsite with only 57 pitches which are all on grass some of which are taken up with seasonal units. Some of them are drive through making it easier for larger units to manoeuvre, however care needs to be taken as site roads are not that wide. There are some additional motorhome parking immediately outside the entrance where also the motorhome service point is situated, free to empty but a charge for water. The electrical supply is either 6 or 10 amps and this might dictate which pitch you have. The bollards have CEE17 blue connectors. There is one central toilet block which is functional rather than luxurious with seat less English style toilets but no paper provide. WiFi provided by Orange WiFi and is free but is limited to one hour of use. For children there is a small play area. Some English is spoken at reception. Reception has limited opening hours (or at least it did in September) and we had to wait until 4.00pm before we could get in the campsite so early arrival is not recommended as there is nowhere for caravans to park.
Motorhomes wanting to use the actual site could park in the motorhome parking area.
Access to the town is just across the road from the campsite and has a mix of shops, cafes, banks and bars. For more serious food shopping there is a Super U just over the river but not really within walking distance, however access to fuel is good for motorhomes. This campsite could be used for excursions into Rouen and the surrounding area but I suspect it is mainly used as an overnight stop.