Camping A L'Ombre des Micocouliers, Chemin de la Lande, Trebes, Tel 0468786175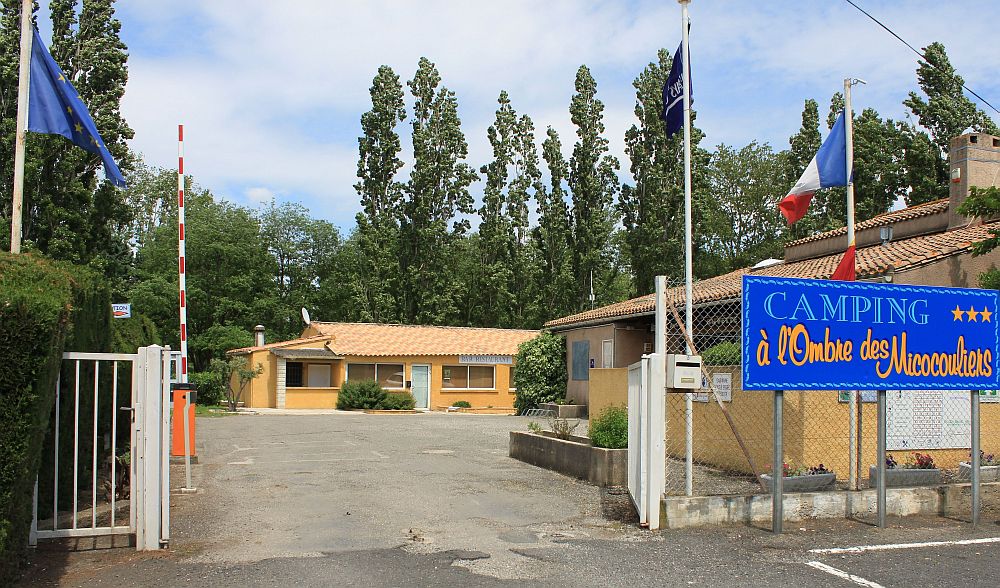 To Find Site:- Leave A61 at junction 24 and follow signs to Trebes. In the outskirts of town go under railway bridge and watch out for left turn into Avenue General de Gaulle. Just before bridge turn right into Chemin de la Landes and campsite is on right in about 100 metres. Alternatively, rather than turning left into Avenue General de Gaulle you can continue straight on the roundabout next to the Super U and turn left and this will also bring to the campsite.
Please note:- According to the campsite website they will be closed for the 2019 season because of the damage done in the floods of October 2018. I have no information beyond 2019 so best to check with their website. 2021 update such as it is. Sadly this site seems to be permanently close and their website just returns an error and on Google Earth Street View all campsites signs have been removed.
This campsite is in an urban environment on the banks of the River L'Aude. There are about 70 touring pitches which vary in size quite a lot from quite small and only really suitable for small tents and no car to quite large with ample room for car/caravan/awning. Although some pitches do have grass most are on compacted earth. There is substantial tree cover tree cover which gives lots of shade but can be a problem for satellite reception although not impossible. Electric connections are rated at 16 amps and use CEE17 blue connectors. Water taps are spaced at regular intervals around the site. Grey water disposal seems only possible at the chemical disposal point of the motorhome service point at the rear of reception. There are two toilet blocks, both of similar vintage, and perhaps could do with a makeover. The block nearest the pitches has mainly seated toilets with the odd Turkish one but no paper provided. Another issue for those with mobility problems is that access to the main block, including chemical disposal, is up 14 steps. The second block which is behind reception has mainly Turkish toilets in the men's but ladies have European seated toilets. During the peak season the site has a bar/restaurant with a terrace over looking the pitches but bread can be ordered from reception at other times, they also sell local wines. There is site wide WiFi and time can be purchased online although by most standards it is expensive and also not the best WiFi I have experienced. The campsite accepts the ACSI Card, but only up to the middle of June and from mid September, although non ACSI prices is around €18. For 2013 the charge was €12 a night which is excellent value but it does tend to make it very popular so early arrival is recommended.
The old town of Trebes is just across the river from the campsite and is within walking distance. Likewise the Canal du Midi is just the other side of the town with it's boat basin and quay side restaurants. It is a good departure point for cycle rides along the canal and Carcassonne is within reasonable cycling distance. For shopping there is a Super U within walking distance of the site.