Camping au bord de L'Aisne, 14 bis rue de Godins, 12190 Guignicourt, Tel 0323797458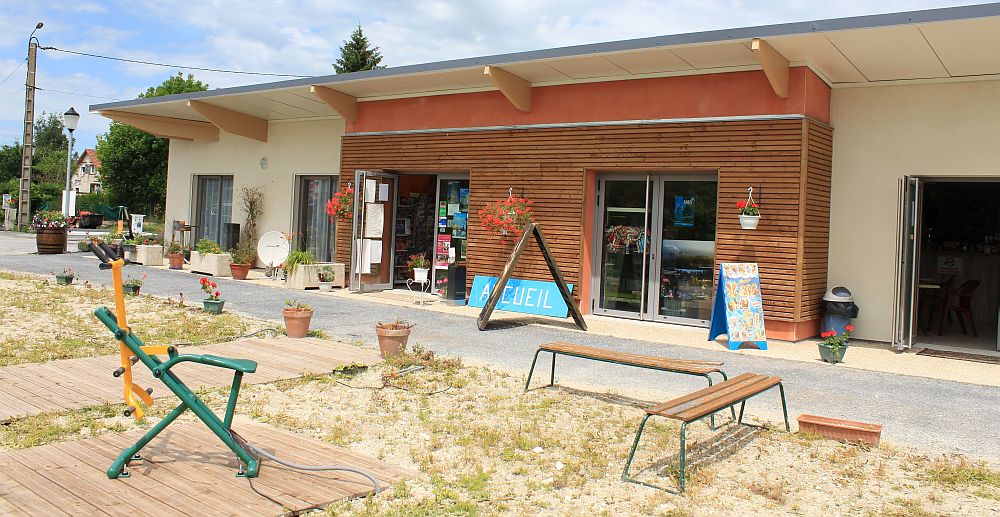 To Find Site:- Leave junction 14 on A26 onto D925 in the direction of Guignicourt. On entering town pass under railway bridge and continue through town. Watch out for camping sign just before Peugeot Garage and turn sharp right down the side of garage. At the end of the road do a right/left dogleg into site entrance. The final approach to reception is down a short sloping ramp and watch for slightly raised kerb and drain across road at entrance.
This delightful campsite is on the edge of the small town of Guignicourt is set out along the banks of the River Aisne. The former Municipal Campsite is now in private hands. The reception/bar/snack building is fairly recent as is the rather nice small sliding roofed swimming pool. The delineation of the 80 or so pitches also looks as if they have been recently changed as many to the shrubs, dividing the pitches, are still quite new and not yet fully established. Pitches are all on grass and vary in size. Whilst there are a few smaller ones most are well over 100 sq mts and some just massive! There are some mobile homes for hire although these are in their own section of the site. There are also some seasonal pitches. Electric points use CEE17 blue connectors and are rated at 6 amps. Might be best to check for reverse polarity. Water points are dotted around the campsite although there are not many within easy reach of some of the riverside pitches. Perhaps the one disappointment of the campsite is the toilet block which is of the older variety with a mix of Turkish and unseated pedestal toilets and no paper provided. Given the upgrades elsewhere on site perhaps the toilet block is next on the list? Bread can be ordered at reception. Pizzas are available either as a takeaway or at the Bar. There is site wide WiFi at an additional charge. Date of visit early July 2012.
I have received information that for 2013 the toilet block has been completely refurbished and now has modern up to date facilities.
The town is a short walk from the campsite either along the river or the road. The site is ideally based for a stopover point, about 2 miles from the A26, to and from Calais although it does warrant a longer stay. Many of the First World War sites are within easy reach and reception has a stock of leaflets, including some in English. For shopping there is a small Carrefour Market supermarket in the town centre about half a mile from the site and they also have a small fuel station, however large motorhomes could have difficulties with access to the pumps.