Camping Bad Ossiacher See, A-9520 Annenheim, Villach. Tel 042482757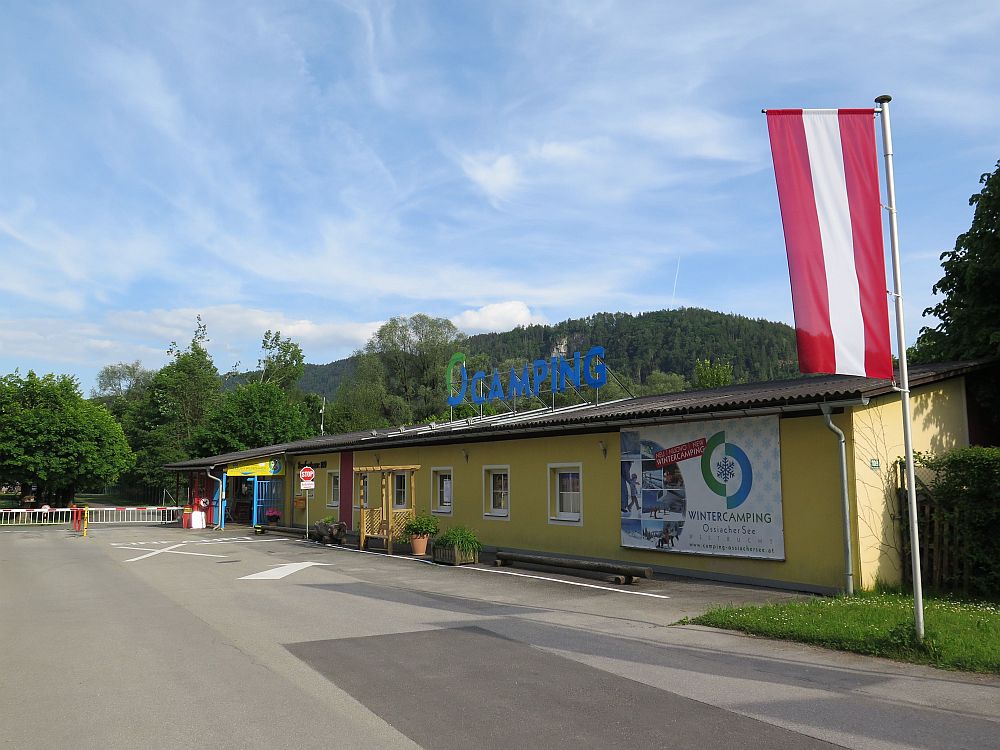 To Find Site:- Leave A10 autobahn at junction 178, Villach/Ossiacher See. Follow road 94 towards Annenheim and in about half a mile turn right towards St Andra in a couple of hundred metres turn sharp left to campsite.
Camping Bad Ossiacher See is a large campsite with nearly 300 pitches on the Western end of the Ossiacher See with direct access to the 10 kms long lake. When you arrive, very pleasant welcome from the staff, you are asked to go and select a pitch and then come back to but in. Reception closes at 6.00pm, at least in the low season. The barrier is left open and campers are invited to find a pitch and book in the next day. All pitches are on grass and are classified by coloured markings on the adjacent road. White pitches are the standard ones. They are of a reasonable size, at least lengthwise to the road but not that deep. Blue designated pitches are much larger, perhaps by half again but, of course, incur additional cost per night. The final category of pitch are those closer to the lake which also attract an additional charge. Electric points are convenient to all pitches although a longer lead might be required for some. They use German style two pin connectors and are rated at a useful 16 amps. There are a few water points dotted around the site but the only ground level place to dispose of grey water is the motorhome service point. There are two facility blocks of really excellent quality. They have seated toilets and paper provided. Each block contains covered washing up areas and laundry facilities as well as disabled and baby rooms. The site has a popular restaurant which also seems to be open to the general public. Next door is a shop selling various provisions and bread. The site has a Sauna. Whilst it does not have a swimming pool it does have an enclosed section of the lake for swimming. For children there is a large play area with various items of play equipment. There is site wide WiFi which is free but it can be slow at certain times of day depending on how many are using it. The site accepts the ACSI Card in the low season but with added taxes you need to allow for about €5 night on top of the standard ACSI charge. Given the site facilities I still feel this represents good value. Important to note that no dogs are allowed on this campsite.
Many will be happy to spend their time on site particularly in hot weather with the direct access to the lake. For those that want to explore there will be many opportunities for excursions and reception has lots on local information. For those wanting to visit Villach there is a train station about a 10/15 minute walk from the site and tickets can be purchased from the machine on the platform, instructions in English. The train only takes ten minutes to get to Villach Hauptbahnhof. On the lake adjacent to the station is the departure point for lake steamers with a minimum of three services a day. There are many opportunities for cycling and again maps are available at reception. For shopping there are three supermarkets within about a mile of the campsite.