Camping Bella Augusta, Muhlhauser Strasse, Augsburg, Tel 0821707575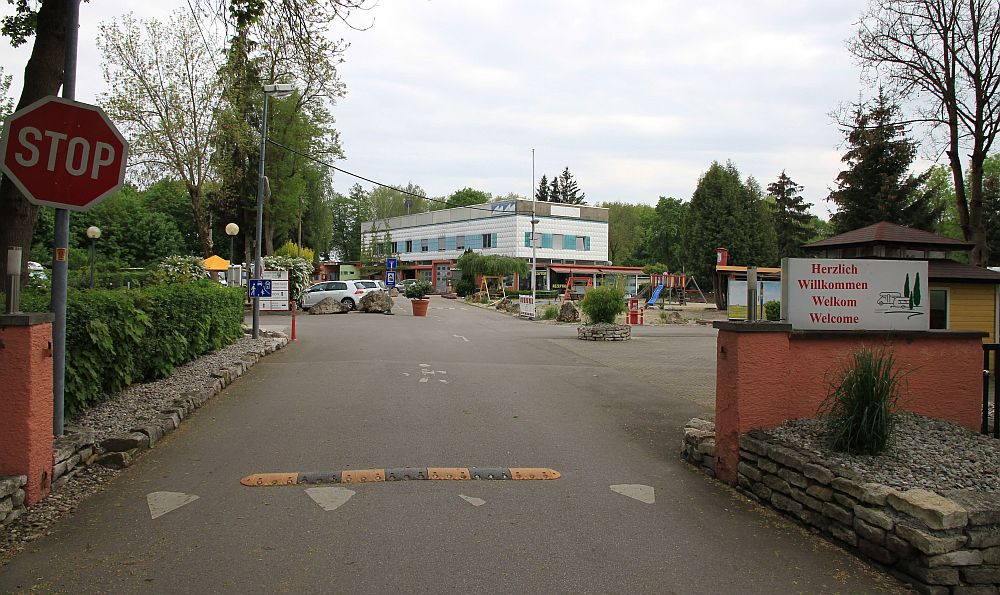 To Find Site:- Exit A8 Autobahn at junction 73 and head towards Neuburg and the airport. At first set of traffic lights turn right and site is on right in a couple of hundred metres.
Bella Augusta is typical of many German sites in that it has a large section of permanent statics and a smaller section, near the entrance, devoted to touring units. The touring section is actually quite nice with pitches of a good size, on some it's even possible to leave the car and caravan hitched up. The pitch surfaces are basically grass but with added gravel chippings which will make them better in bad weather, especially for motorhomes. Electric points are dotted around the site although from some pitches you will require a long lead. The connection is by two pin German plugs, handy if you have reverse polarity as the plug can just be reverse in the plug in the socket. There are also water points around the site but no grey water drains except at the motorhome service point which is opposite the toilets. The toilet and shower facilities are very good with seated toilets and paper provided. As we were only staying the one night we both used the showers which were nicely appointed with plenty of hot water. In another building is the enclosed dishwash area although here the water was not as hot. There is a good laundry with three Miele washing machines and one tumble dryer. The motorhome service point is opposite the toilet block. One important point to mention is that when you book in you are given an electronic access card which is not only used for the barriers but also all the facilities like toilets etc and rather surprisingly even the rubbish!!! For children there is some play equipment in front of reception. The site also has a shop and restaurant although these did not appear to be open during our stay in early May. A Park with a lake can be access from the site, it also has better play equipment for children. There is site wide WiFi which is free to use. This campsite is all but alongside the A8 Autobahn so there will be some road noise. Fortunately the touring pitches are at the furthest point from the road. Nearby is an airfield so there is some light aircraft movements.
This is an excellent overnight stop for those travelling to Austria via Munich and beyond. It could also be handy for a slightly longer stay if you wanted to explore Augsburg which is a few kilometres away. For shopping there is a supermarket in the next village three or four kilometres away.