Camping Cimbria, Wiesenweg 1, Neckarzimmern, Tel 062612562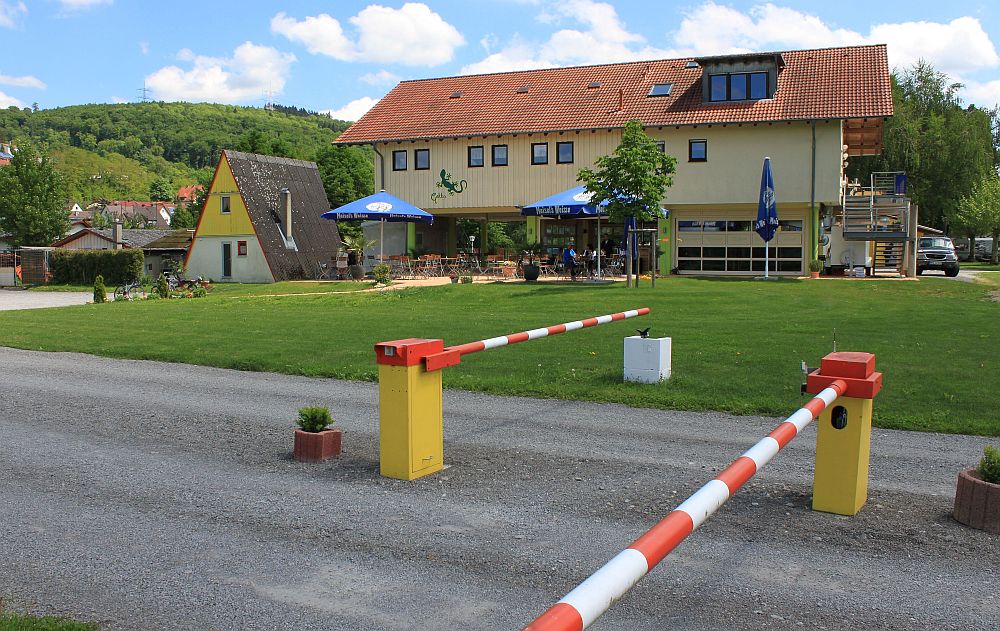 To Find Site:- On road 27 toward Mosbach the campsite is signed through Neckarzimmern at end of town.
This campsite is situated on the banks of the river Neckar in the small town of Neckarzimmern. The pitches are mainly on grass and are quite generous in size. There are a few hardstandings where previous permanent caravans have been sited. The section of the site far right from reception is reserved for groups, so away from the individual pitches. This site has more of a touring feel about it. Electricity supply is rated at 16 amps and accepts CEE17 blue European sockets. Depending on what pricing structure you are on its either on a night by night basis or is metered. Water taps are few and far between and the only grey water waste is at the toilet block. There is one small toilet block which appears somewhat old fashioned but the interior is fine with modern facilities include seated toilets and paper provided in the cubicles. At the front of the site is a small swimming pool and alongside that a small children's playground. The main reception building is also the bar/restaurant serving good value food, if you are English the owner will even try and sell you a pint of draught Guinness! There seems to be no shop as such but bread can be ordered, and paid for, the day before. WiFi is available via Hotspots.de and time can be purchased online at the rate of €1 an hour, although with a credit card the minimum purchase is €5. The site accepts the ACSI Card outside the peak season. Credit cards are accepted.
There is a small convenience store in Neckarzimmern but for a proper supermarket you will need to travel a bit further afield. The town has good transport links via rail and there are some bus services. There are lots of cycling routes directly from the campsite. Not far from the site is a river lock where it is interesting to watch the barges go through the lock.