Camping Cisano. Vito, Via Peschiera, 48, 1-37011 Cisano di Bardolino, Tel +39 045 62290998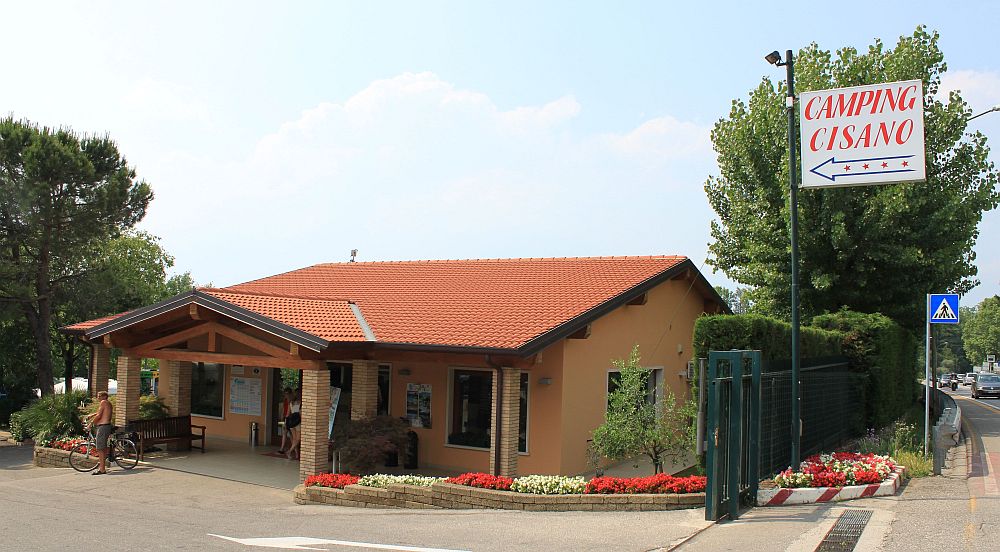 To find site:- Exit A22 at Garda Sud. Follow signs for Bardolino/Largo di Garda. In Bardolino take a sharp left on the roundabout towards Lazise. The site is on the right as you enter Cisano and is signed. Do not use a sat nav once off the motorway as you risk being taken down some totally unsuitable roads!
Camping Cisano is a large site on the eastern shore of Lake Garda. There are two pitching areas on either side of the road interconnected by a tunnel for cars and pedestrians, motorhomes and caravans obviously need to use the road route. The associated Camping Vito seems to be either statics or seasonal caravans with only a handful of touring pitches. There is a friendly reception where English is widely spoken. Not only is the site large but also very busy and for anyone wanting a peaceful early season stay it would be wise to avoid the first week of June which seems to coincides with one of the main German school holidays. Apart from camping pitches there is also a wide variety of other holiday accommodation available including Tour Operators. The actual touring pitches vary in size but on average around 80 sq. metres. There are some larger pitches available but these are quickly snapped up, usually by those that bide their time on one of the smaller pitches. There are a fair number of seasonal pitches which can make to site feel crowded. The site is slightly terraced so some on pitch levelling will be require. Some of the site roads are quite tight, particularly with trees and parked cars so you need to take care when arriving and departing. On arrival you are usually taken round the site on a golf buggy to select a suitable pitch for your unit. Electrical connections are via CEE17 blue plugs and are rated at 4 amps although you do have the option of requesting and upgrade to 6 amps at no extra charge. There are no water taps near to pitches and water can only be obtained from the toilet blocks which could mean some distance depending on where you are pitched. The are several sets of toilet blocks which in the main are of a high standard and contain seated pedestal toilets but no paper provided. Washing machines and dryers are also available at the main blocks. The site not only has a beach area on the lake but also an excellent pool complex. Next to Camping Vito is a good sized site supermarket. On site is a Pizza Restaurant which can also be used for takeaway food. The site does have a WiFi service (new this year I understand) however it is expensive and access points are not very reliable. The best place seems to be the side and rear of the main reception building but the site have forgotten to provide any means of sitting down to use the service! Out of the main season the site accepts the ACSI discount card although there are restrictions on what pitches can be used, i.e. not the first three rows by the lake. Camping Cheques are also accepted but during the first week of June there seems to be a substantial additional charge. Dogs are not accepted on this site.
Many people will come here because of the onsite facilities but of course there is much to see and do around the shores of Lake Garda. Verona is about 17 miles away and is worth a visit. Food shopping facilities are a bit limited in the immediate area with a Lidl in Bardolino although if you are willing to travel a little further towards the larger towns you will find more choice.