Camping Comanges, Avenue du General de Gaulle, Argeles-sur-Mer, Tel 0468811562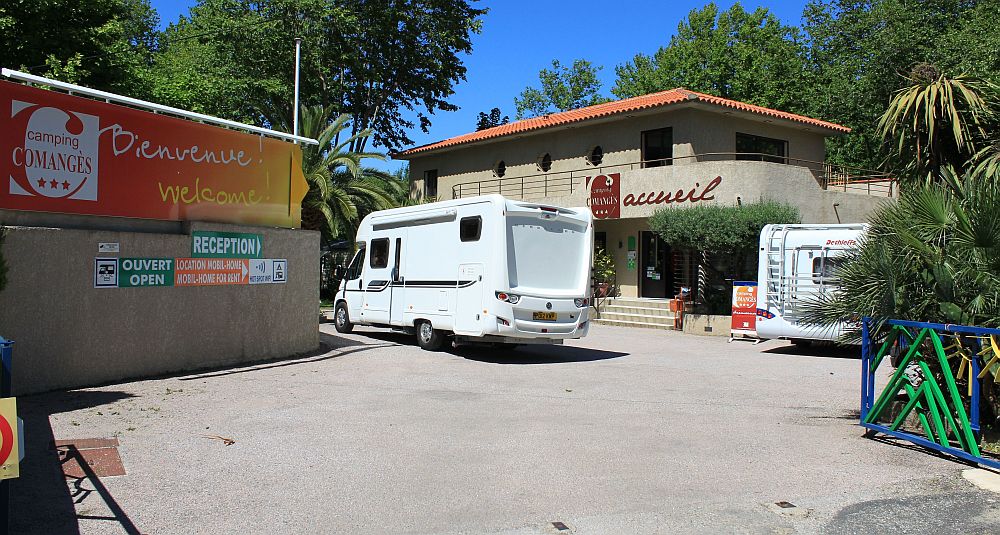 To Find Site:-
Leave D914 at junction 12 and head towards Argeles. At roundabout turn left onto D114 and continue to next main roundabout and take first exit onto D2E. Cross next four roundabouts in the direction of the Plage. Watch out for river bridge and turn left immediately over bridge, this leads to three campsites and Camping Comanges is to the right at the end of the road.
Camping Comanges is situated near the centre of Argeles sur Mer and is within walking distance of the beach. Comanges is one of about half a dozen campsites that border each other. It is a fairly small basic campsite with about 70 touring pitches in addition to a limited number of mobile homes for hire all situated near to reception. There are many mature trees that provide lots of shade although equally make it difficult if you want to use a satellite dish. The pitches are on grass and vary in size and are divided by shrubs and trees, if you have a larger outfit it might be an idea to contact the site in advance to make sure they can accommodate you, especially as the season progresses. Electrical connections are rated at 10amps and use mainly CEE17 connectors but there are also a few 2 Pin connectors, the latter being quite stiff to get the plug into. Also best to check for reverse polarity. The single toilet block is functional rather than luxurious with seatless toilets and no paper provided. The motorhome service point is at the front of the site next to reception although its not marked on the site map. The site has no restaurant or bar but these facilities are available from virtually outside the gate. There is a small playground for children and a volley ball court. The campsite offers free WiFi but it is a strange system as login only lasts two hours and sometimes the connection drops which is a little inconvenient. The site accepts the ACSI discount card in the low season at a competitive €14 a night, plus tourist tax. During the low season the site is reasonably peaceful but I suspect that during the peak season it might not be so because of its closeness to the centre of the town and its various amenities.
The advantage of this site is that it is almost in the middle of the lively resort of Argeles with all amenities within easy walking distance of the site. There are many cycle routes from the site. For shopping there are two small supermarkets within walking distance of the site and several others a little further out. Buses ran along the coast if you wish not to use your own transport at a flat rate charge of one euro per trip.