Camping d'Uzurat, 40 Avenue d'Uzurat, 87280 Limoges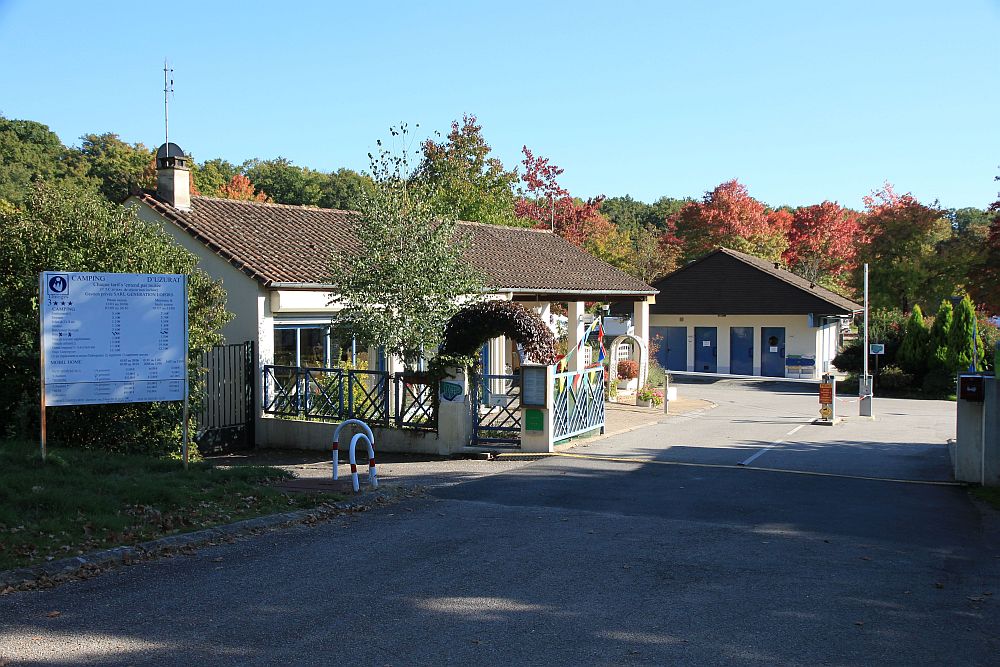 To Find Site:- Leave A20 at junction 31 and take Boulevard Robert Schuman towards Limoges. At first roundabout take second exit continuing on Boulevard Robert Schuman. Take slip road with campsite sign and then take Avenue Louis Armand around the head of the lake. Take next turning right by Novotel Hotel and follow Avenue d'Uzurat round to campsite entrance.
Please Note - It has come to my notice from posts on camping forums that this site may have permanently closed. Their website is still live but no up to date information.
Camping d'Uzurat is situated in a semi urban environment in parkland with many mature trees on the edge of Limoges and is open from mid-March to the end of October making it useful for early and late season travellers. You get an excellent welcome from the gentleman on reception who speaks excellent English and is very keen to give you information on visiting the City. We arrived at the site on the 1st October so well out of season so the review reflects that point. There are about 140 touring pitches plus some mobile homes. Unusually for France the majority of the pitches, about a hundred, have what might be described as hardstanding/all-weather bases as they have a layer of stone chippings which is very useful for early/late touring. The arrangement of the pitches is a little unusual in that the two pitches onto the site road have a short access road between them giving access to two further pitches behind. The pitches are divided by low fence panels. They vary size wise but most are quite generous. As an observation the pitch layout could make the site feel quite crowed when full? Electric points are convenient to all pitches and use CEE17 blue connectors rated at a useful 10 amps. All pitches have access to a water point which would allow direct connection although during our stay not all of them were on. There are small drains at each water point site but I doubt they are designed to take waste grey water, for this you would need to either use the chemical emptying points at the toilet blocks or the motorhome service point, the latter also having a chemical disposal point and good access for motorhome. There are two toilet blocks of a good standard and contain pedestal seated toilets but don't have toilet paper in the cubicles. The dishwash sinks had a good supply of hot water but were a bit short on draining space. The site has a small swimming pool. For children there is a small playground although the park next door is much better equipped with play equipment. There is site wide WiFi at a very modest cost. Reception has a wealth of information on the local area and bread can be ordered. Given its location there can be some traffic noise at certain times of day but we did not find this intrusive and will vary depending on where you are pitched. For 2016 the site will be in the ACSI Card discount scheme although even current fees are good value.
Whilst this site will often be used as a stopover because of its location near to the A20 it also makes a worthwhile short say site if you want to explore Limoges. There is a bus (service 200) from the main road about a ten minute walk from the site which takes you into the City Centre. For shopping there is a large supermarket even nearer although it seems not to be suitable for motorhomes as there are multi-storey car parks and height barriers.
The fuel station is manageable with a motorhome but care is required because of fairly tight space on entry.