Camping de la Maye, 80120 Rue, Tel 0322250955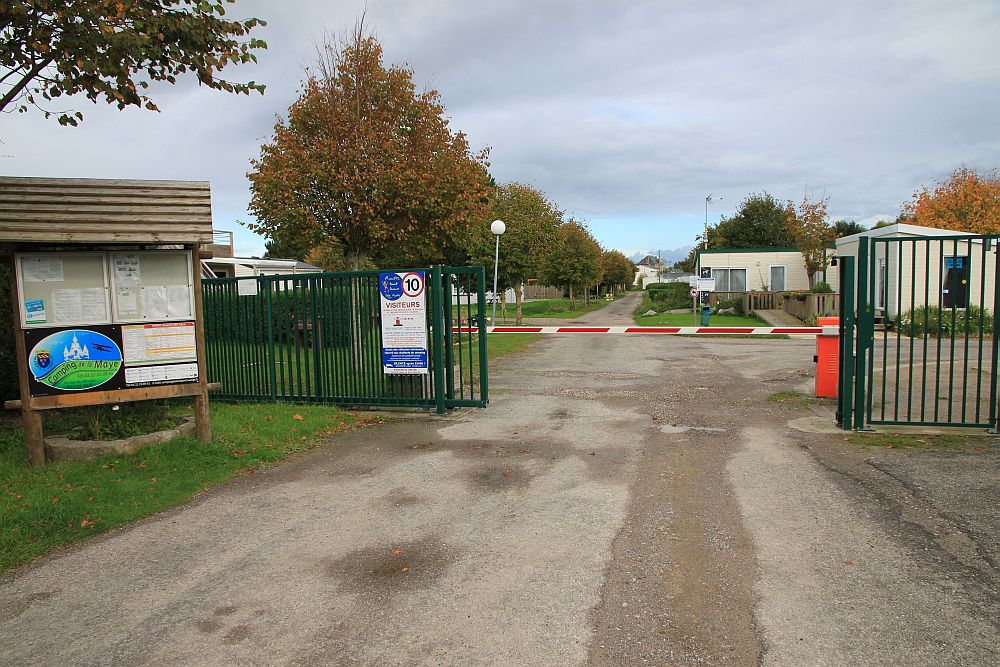 To Find site:- From junction 24 on the A16 follow signs to Rue. Rather than going through the town from the first roundabout take bypass following signs for Quend. Take first right at roundabout next to Carrefour Market and the site is on the left opposite the supermarket.
Camping de la Maye (previously known by a different name) is situated on the edge of the small town of Rue, conveniently opposite a supermarket. The site has a fairly long opening season from the beginning of April until the end of October making it a useful stopover for early and late campers. Although on first sight it looks as if it's all mobile homes there are a surprising number of touring pitches spread throughout the site. They are all on grass and vary in size but most should find a pitch to suit. Electric points are rated at 6 amps and in the main use two pin Continental adaptors. Access to some of the bollards can be a little difficult because they can be in the hedges. Best to check for reverse polarity. There seem to be a good supply of water points throughout the site. There is one central toilet block which is of a good standard. During our stay only one side (men's) was open, it contained a mix of Turkish and seatless pedestal toilets and no paper supplied. The only chemical toilet emptying point seems to be at the motorhome service point but I felt this to be unsatisfactory as this did not have any running water! There is a tap with a long hose on the other side of the road but it concerns me that it is used both for filling motorhome tanks and rinsing toilet cassettes! Likewise there are no dedicated grey water waste points except the above. Having said that access to motorhomes is good. The site does have a WiFi facility which covers some of the site and time can be purchased online but the maximum time is five hours. The site accepts the ACSI Card in the low season. Only limited English is spoken at Reception.
Being close to the town there will be some traffic noise but only at certain times of day.
I suspect this campsite is more likely to be used as an overnight/short stay destination rather than for longer stays. It is about 60 miles from Calais so useful as a first/last stop for anyone with a slightly later crossing and well away from any problems in the Pas de Calais. For any last minute shopping the Carrefour Market opposite has a good selection of wine. They do have a fuel station but it is a bit tight for larger motorhomes. The interesting town of Rue is and easy walk from the site with more shops and places to eat. Look into the Tourist Office where there is an interesting exhibition on early aircraft and flying in the local area. For longer stays the Baie de Somme is within easy reach.
Up-Date 2016. We revisited this campsite overnight before returning back to the UK in late June. Because of the wet weather the site allowed us to park on the hardstanding opposite reception which was appreciated. The chemical emptying point is now supplied with its own water supply which is an improvement on our last visit. Would suggest that motorhome don't use the hose to replenish fresh water tanks! It was disappointing to note bird droppings on the floor in the toilet block which would suggest less than regular cleaning?